🙂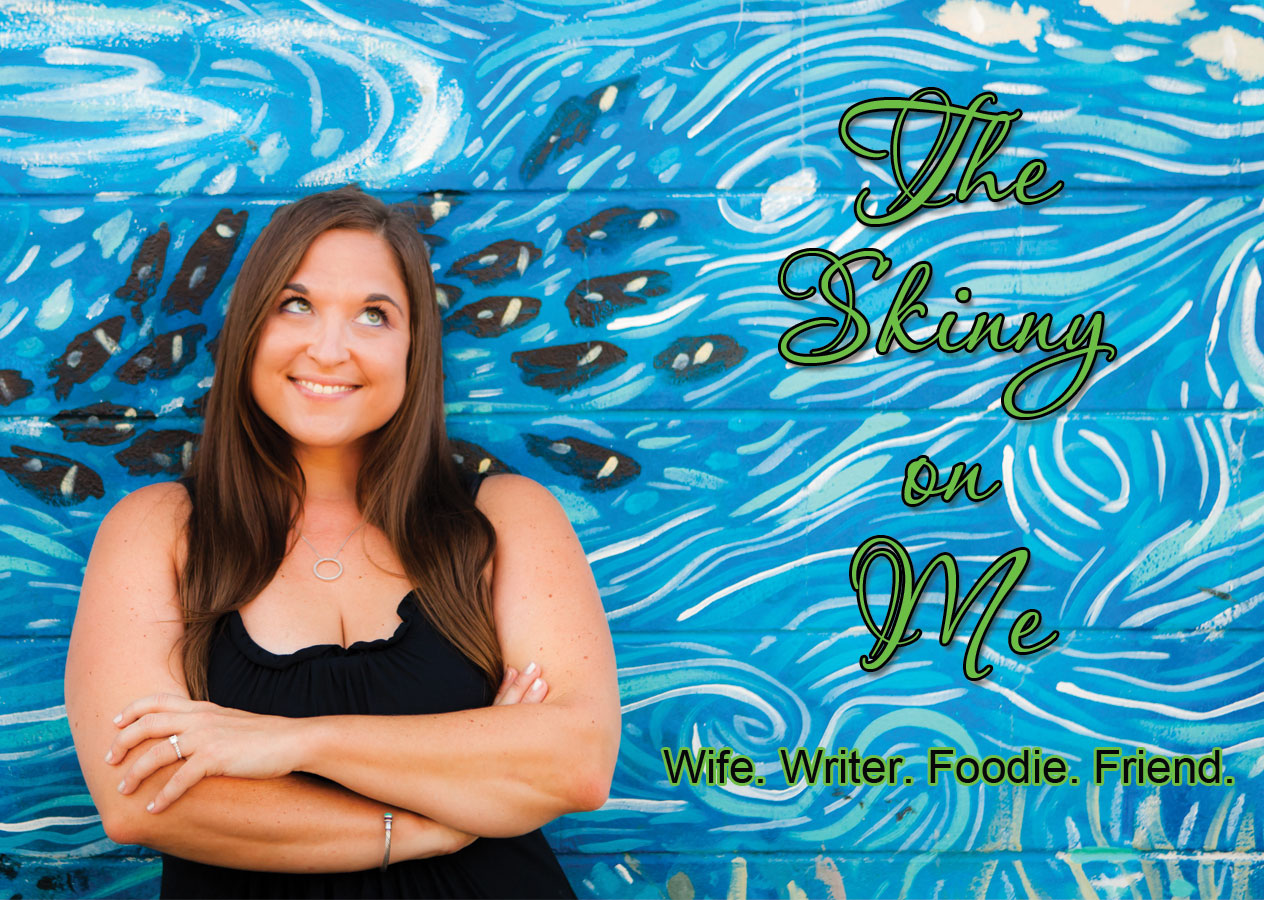 Y'all...
My birthday week has been phenomenally fun!
So much fun though, it has barely given me time to write any recipes or cook anything for y'all.
I was thinking of just throwing something together, taking some mediocre pictures, and slapping them on the site for y'all to see, but I thought that was just plain rude and redonkulous.
Plus I don't want to do something half hearted, so I've decided to do this instead.
A round up of the actual Pinterest projects and ideas I have tested.
Does that work for y'all?
Ok, good....here we go!
Chocolate Witches Hats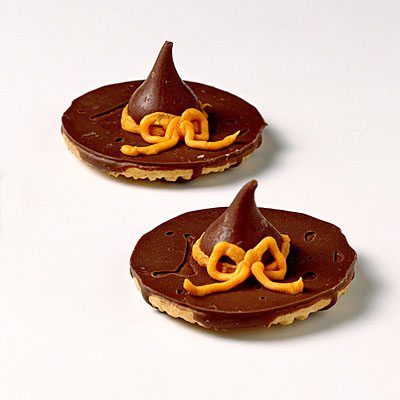 Chocolate Witches Hats: Southern Living
As you've read, I am completely and utterly obsessed with Harry Potter. So much so, I had sprinkles of the stories spread out around our wedding (I'll tell you more about the actual event closer to our anniversary. Just a few more months to go). One thing we did to save money was we had cupcakes instead of an immaculately decorated wedding cake. You know from earlier this week that I adore cupcakes, so that really wasn't a very hard decision for us to make.
Another thing I did to save money was make all of the cupcake toppers myself. We had one very special flavored cupcake that needed a very special topper, so when I ran across these on Pinterest, I just *KNEW* I had to make them! The original recipe I saw called for fudge stripe cookies as the base, which was just waaaaay too big so, as I do for most of my recipes, I improvised by using chocolate gold coins, orange candy melts, and hershey kisses. They were perfect!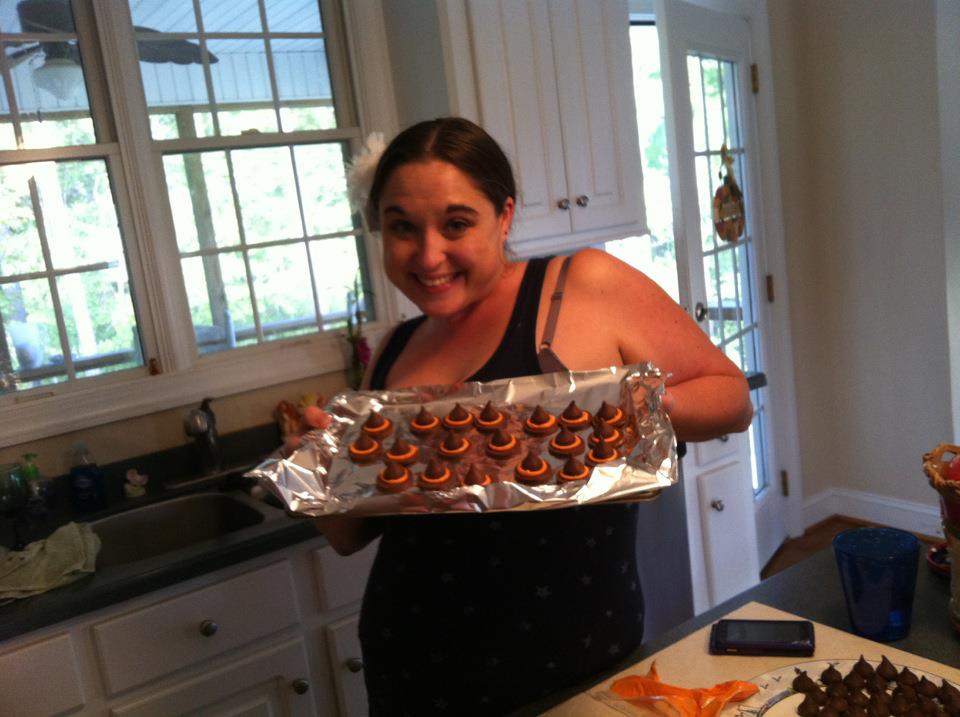 Tiffany & Co. Pedicure 
Another idea I loved were Tiffany nails! This was actually my something blue.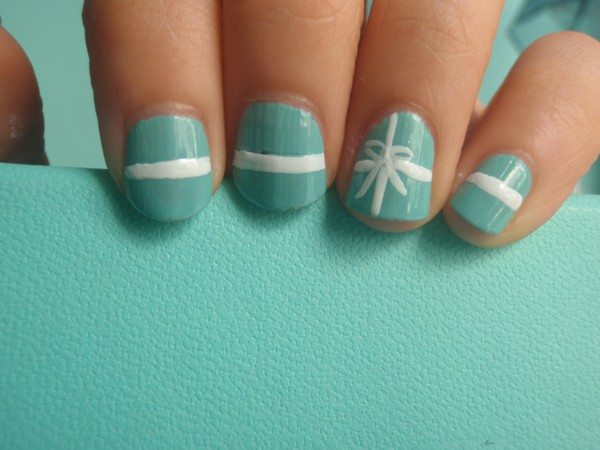 *original source no longer exists 🙁 *
My wedding day pedicure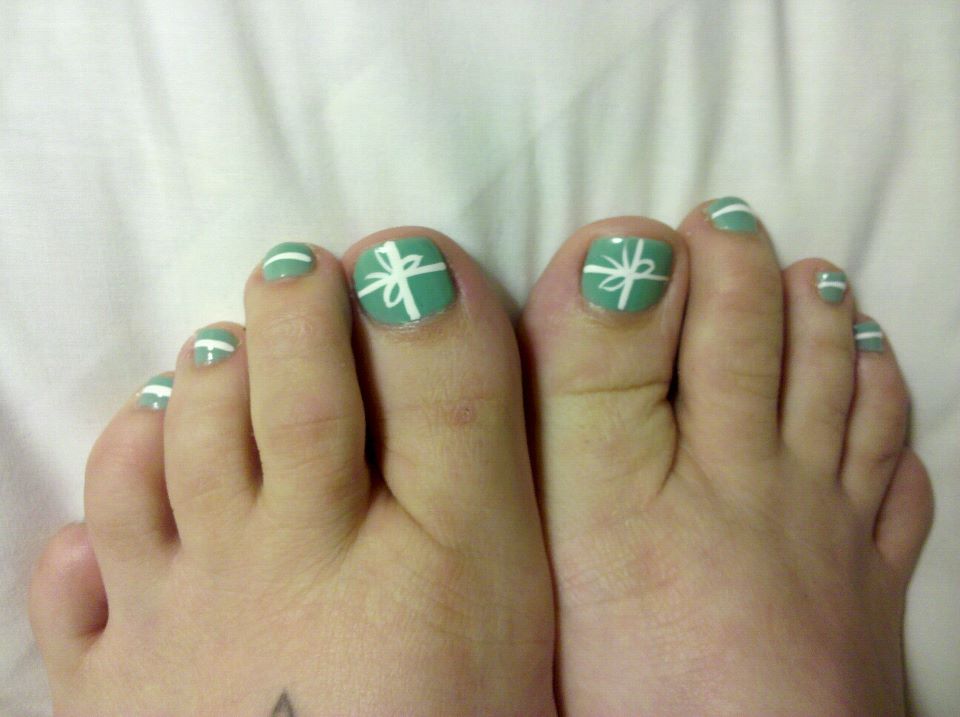 Marshmallow Frosting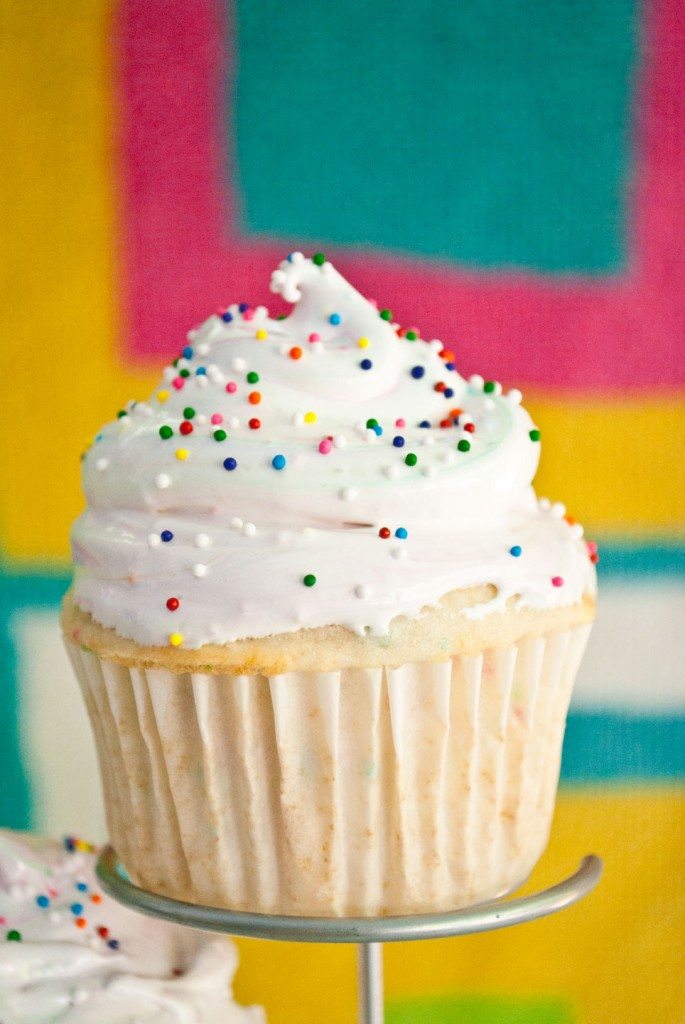 This recipe is just brilliant. It is the base recipe I used when developing my recipe for my Skinny Funfetti Cupcakes. I forgot to give Pixels & Paperie a shout out in that post, but I am making sure to do it now!  Please forgive me! Anywho, this is the best frosting I have ever eaten, and I will never use another one again. Ever.
Banana Split Truffles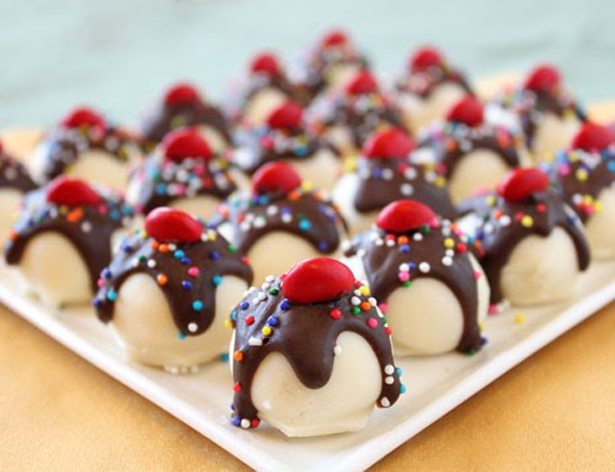 Banana Split Truffles: About.com
This recipe was just an utter disappointment. I tried it TWICE and they still didn't turn out well for me. For starters, the banana ganache did.not.work. I don't know what happened, but again, I tried it twice, and it just bombed. I ended up improvising again (and shooting this pic before all hell broke loose), and I had to throw a good portion of them away. That was last summer, so maybe it's time to try again?!?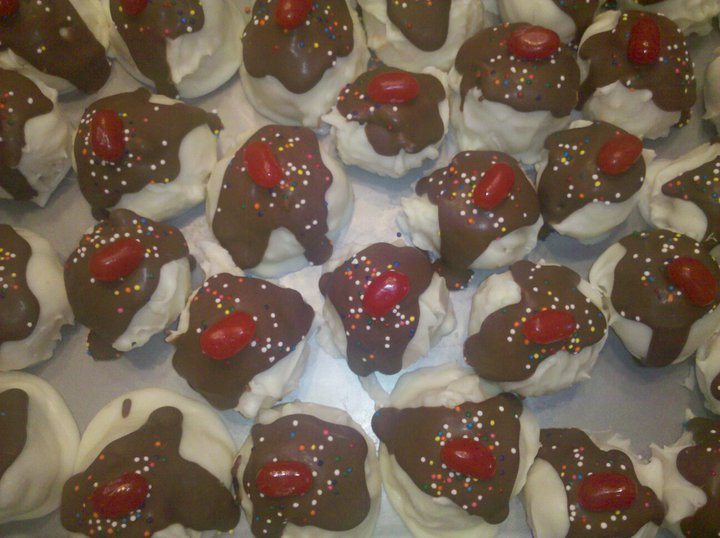 Chocolate Covered Katie's
Ultimate Chocolate Fudge Pie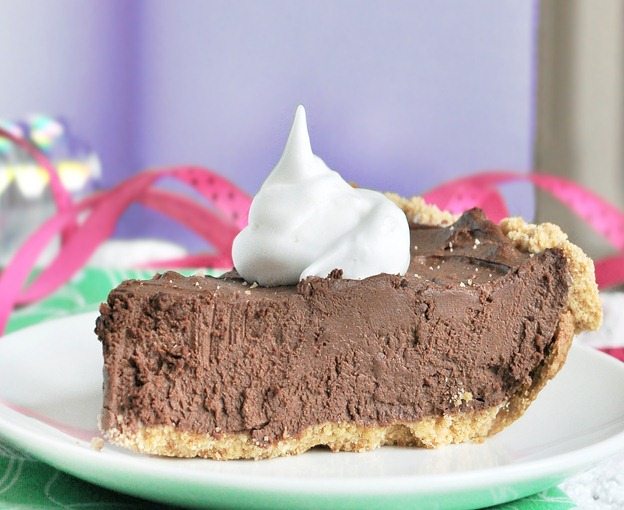 The Ultimate Chocolate Fudge Pie: Chocolate Covered Katie
Hello, my name is Amber, and I am a Chocolate Covered Katie-aholic.
As I've told you before, I am *obsessed* with her blog and her recipes. She is BRILLIANT, and everything she makes is vegan and healthy. The secret ingredient in this pie is...wait for it, wait for it...TOFU!!! Yep, you read that right. The best part is that you would never know it. I tested it out on the hubs and my heterosexual life partner and they had *no clue* tofu was in it. I told you, the woman is a genius!
Grilled Fontina + Blackberry Basil Smash Sandwiches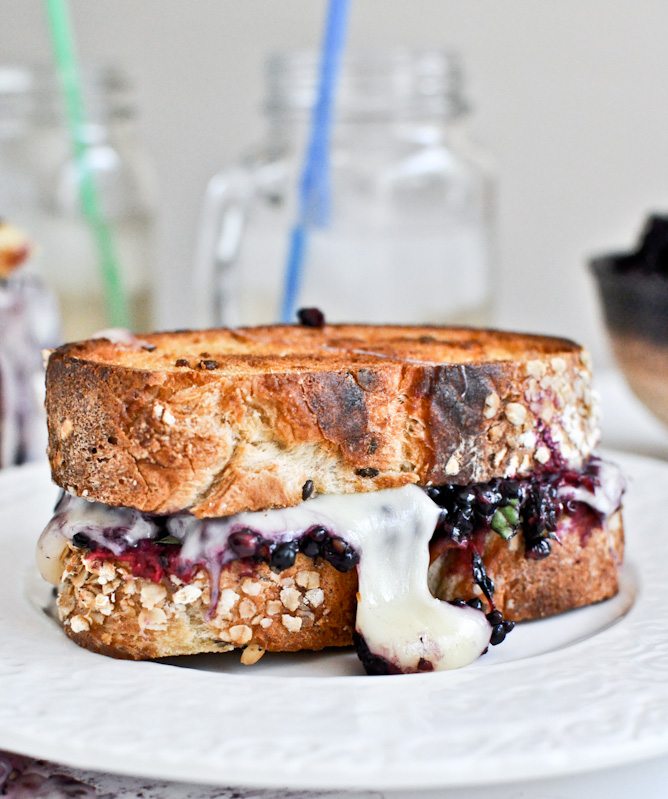 Blackberry Basil Smash Sandwiches: How Sweet It Is
How Sweet It Is is my 2nd favorite blogger/girl crush. I'm obsessed with her recipes and writing style. She is quite hilarious! When I ran across this recipe I about had a heart attack. I mean...is that *not* the most beautiful sandwich you have ever seen?!?!? I didn't have blackberries or fontina on hand when I made these, but I subbed with blueberries and goat cheese and it.was.fabulous. I could eat at least 155 of these babies a day.
Tie Dyed Hair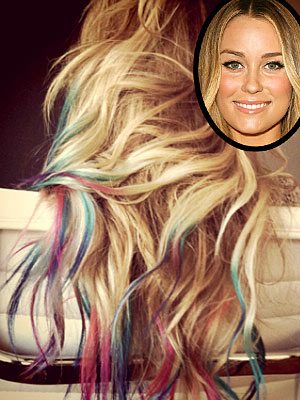 Colorful Hair Tips: Lauren Conrad
When i first saw these, I fell in love instantly and knew right away that I was going to do it. BUT when I found out I was preggers I realized that I'd be waiting a lot longer than I expected to :/  Well, now that I'm not any more, I decided to go ahead and do it before I got knocked up again. Here's a sneak peek. You'll see the rest on Tuesday!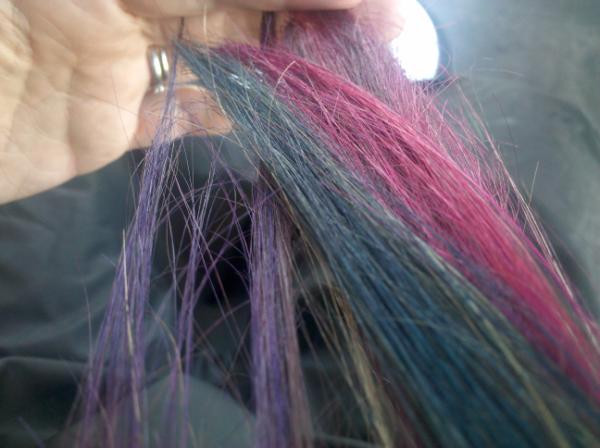 Thanks again for your patience and understanding regarding my slack blogging this week! I heart y'all more than you know, and sincerely appreciate all of your support! XOXO
Getting to know you...
What are your Pinterest favs?
Have you ever dyed your hair crazy colors?
What blogger do you have a platonic crush on?