🙂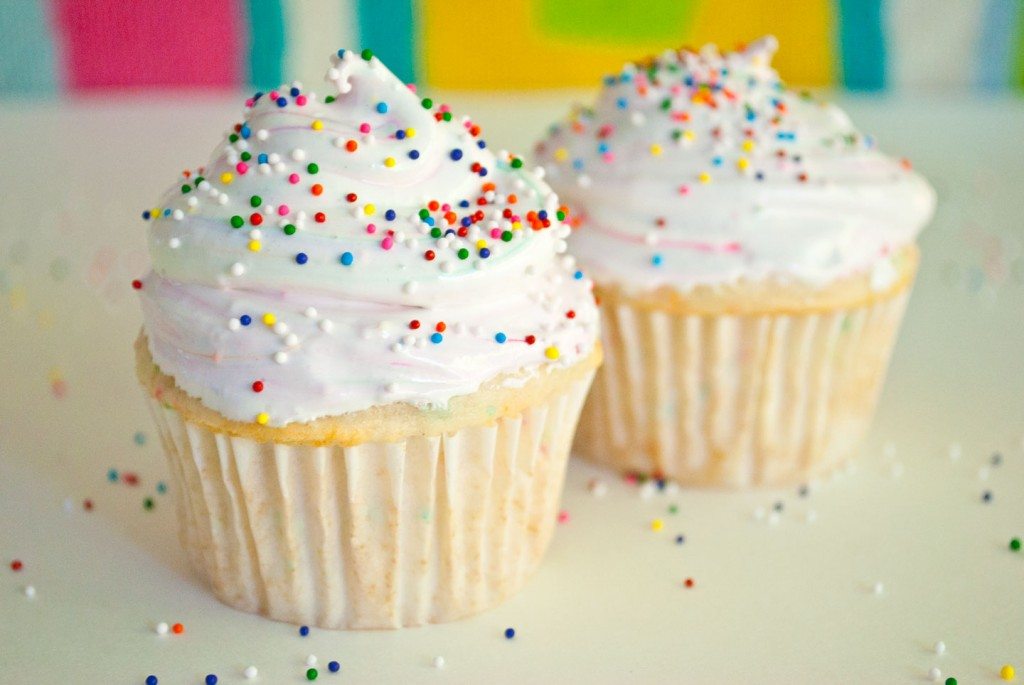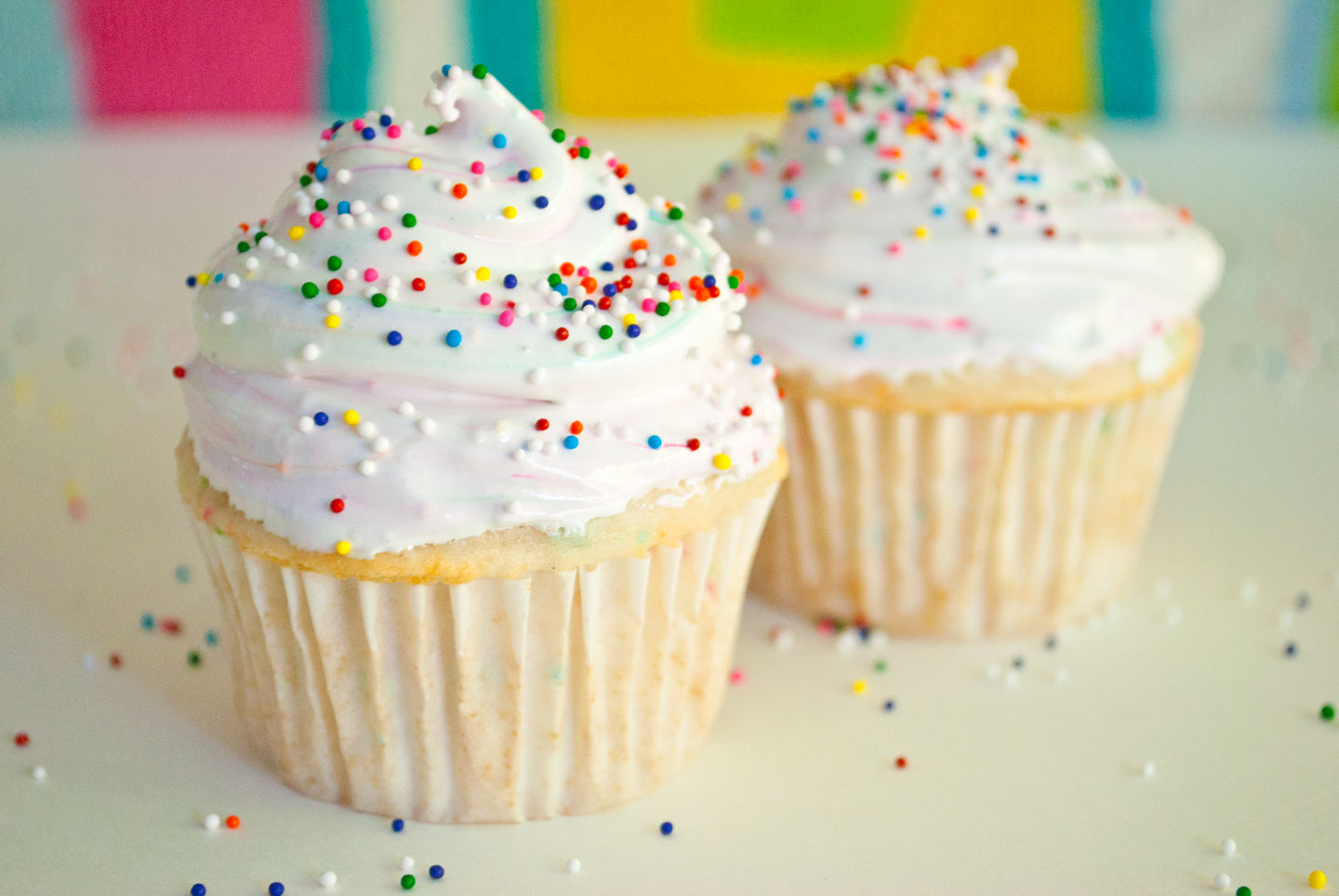 Happy birthday to me! Happy birthday to me! Happy birthday to meeeee, happy birthday to me!!!
Today marks the 2nd anniversary of my 29th birthday and the start of my birthday week, and I couldn't be more excited!
And the only reason I am excited is because of this flipping recipe.
Ok, maybe not the only reason, but this is by far the best birthday present I have *EVER* given to myself.
What's that you say?
You want to give me a birthday gift as well by following me on Twitter and Pinterest, liking my Facebook page, and subscribing to my posts?!?
Awwww thanks, y'all!!!! You just made my day even more special!!!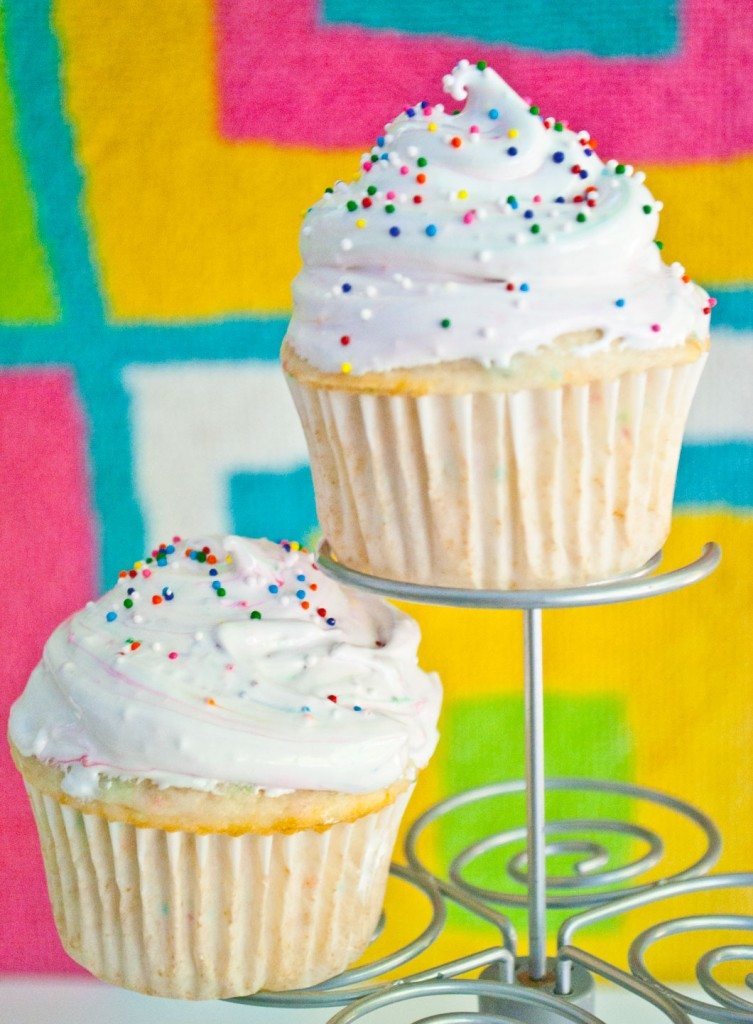 These gorgeous tasty morsels of funfetti fantasticness are like ittybitty bites of birthday heaven hand delivered to moi by the big man upstairs.
And they are only 87 calories and 2 WWpts each!!!!
87 calories!!!!!!!!!!
If you don't believe in miracles after eating one (or both) of these cuppity cakes then something is clearly wrong with you...bless your heart...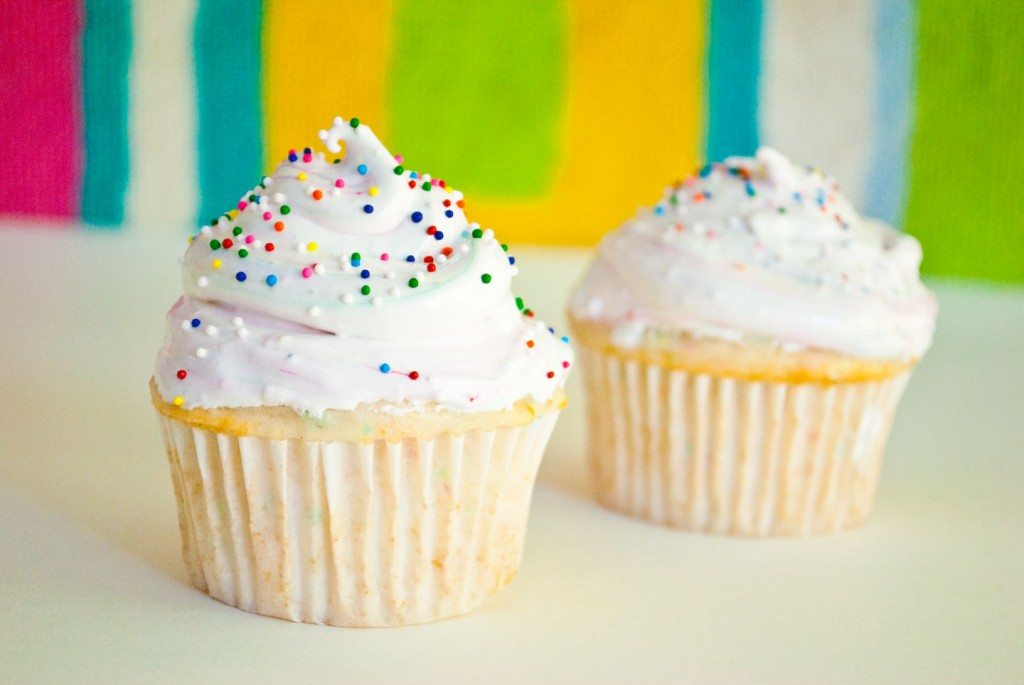 Also, I will never ever, never ever ever make another type of cake icing again. This is the absolute best I've ever eaten, and you would never know that it is super low calorie and kinda, sorta, a little bit good for you.
This frosting is ooey, gooey goodness and is taken over the edge by one very special ingredient...
Butter extract.
IMHO, butter extract makes the world go round.
It is that extra special ingredient that makes recipes taste like cake batter without having to actually use cake batter &/or mix.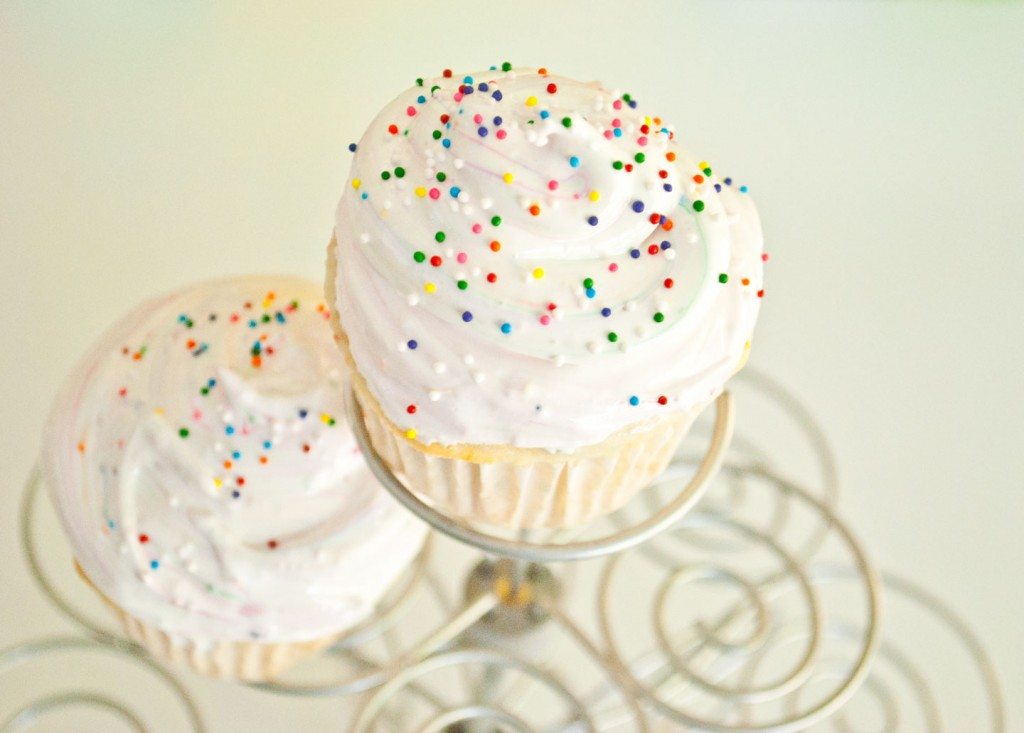 Another great thing about this recipe is that it only makes two cupcakes.
Hallelujah praise the Lord because if y'all are anything like me, you can't stay away from cupcakes if they are anywhere within your vicinity. Also, I promise you will never miss the eggs, butter, and oil that are missing from this cake.
The only wet ingredient you will need is a bit of flavored soda water of your choosing and you are good to go! (No soda water? Use diet sprite or cream soda instead). 
My sweet tooth is horrible and unrelenting, but because of this awesome recipe, I have finally found the perfect way to have my cake and eat it...for two!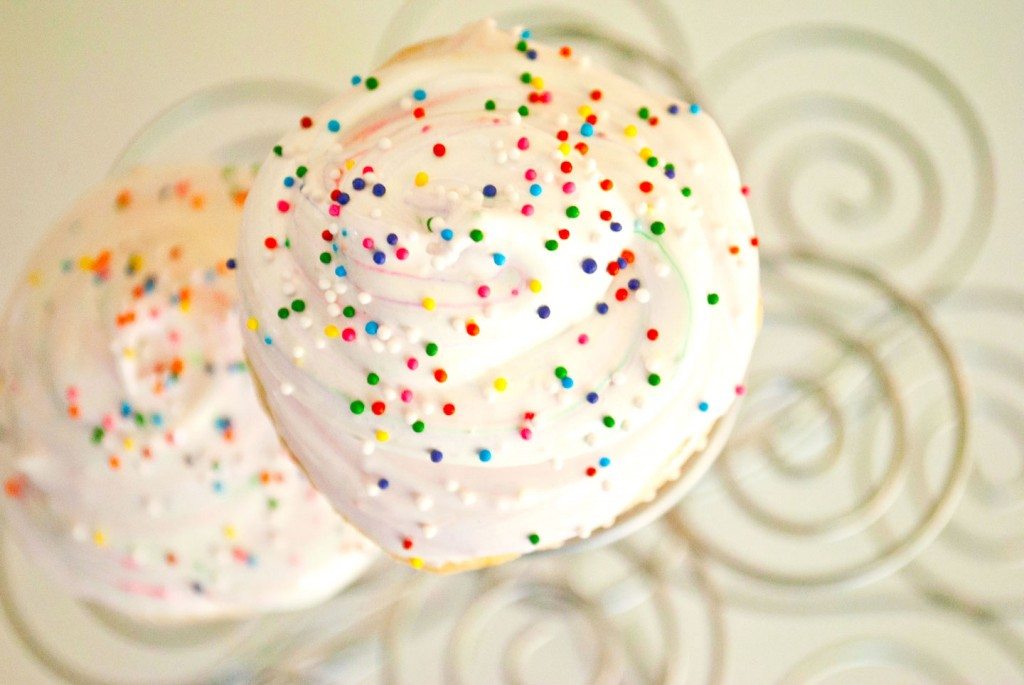 Getting to Know You...
Chocolate or Vanilla?
Coffee or Tea?
What's your sign?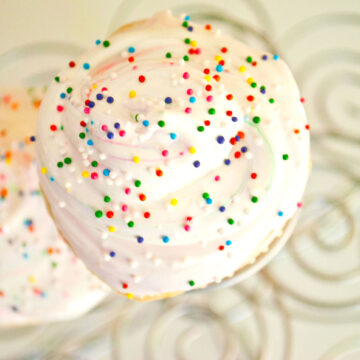 Skinny Funfetti Cupcakes w/ Cake Batter Marshmallow Frosting for Two!
Funfetti cake mix is combined with a surprising ingredient and topped with a fluffy cloud of homemade cake batter marshmallow frosting
Print
Rate
Ingredients
For the cake:
¼

cup

+ 2 tablespoon Funfetti or Rainbow Chip boxed cake mix

3 ½

tablespoon

zero calorie naturally flavored soda water of choice

I used Fuji Apple Pear
For the frosting:
1

cup

water

1

large egg white

¼

cup

white granulated sugar

⅛

teaspoon

butter extract

⅛

teaspoon

pure vanilla extract

1

teaspoon

sprinkles/nonpareils
Instructions
For the cake:
Preheat oven to 350°.

Mix cake mix and soda water until well blended.

Pour batter into two lined cups of a large cupcake pan.

Bake for 12-15 minutes or until a toothpick comes out clean.

Let cool completely.
For the frosting:
Pour water into a small pot and place on stove over medium-low heat.

Combine egg white and sugar in a medium glass bowl and place over the water, creating a double boiler.

Constantly whisk the egg mixture over the simmering water until the sugar is dissolved and the mixture is warm to the touch, about 5 minutes.

Remove from heat and add to the bowl of a stand mixer beating on high for 2 mins. (Just use regular beaters if you don't have a mixer).

Add extracts and continue beating for another minute or two or until mixture is light and fluffy and resembles marshmallow fluff.

Gently stir in sprinkles.

Refrigerate until ready to frost cupcakes.
Time to top the cake:
Using a piping bag or a small ziplock bag, pipe the icing onto the cooled cake.

Top with more sprinkles.

Enjoy!
Notes
*WWpts and WWpts+= 2 pts per serving
Nutrition
Serving:
1
g
|
Calories:
87
kcal
|
Carbohydrates:
20
g
|
Protein:
1
g