Slim Pickin's Kitchen is reader supporter, and this post may contain affiliate links. I may earn a small commission when you click on the links at no additional cost to you. As an Amazon Affiliate, I earn from qualifying purchases. You can read my full disclaimer here. 
Home brewed Pineapple Orange Green Tea is crisp and cool with a hint of citrus and pineapple to get you ready for spring! Serve as is for a family friendly St. Patrick's Day, Easter, or Mother's Day drink or sassify it w/ a shot of rum or Irish whiskey.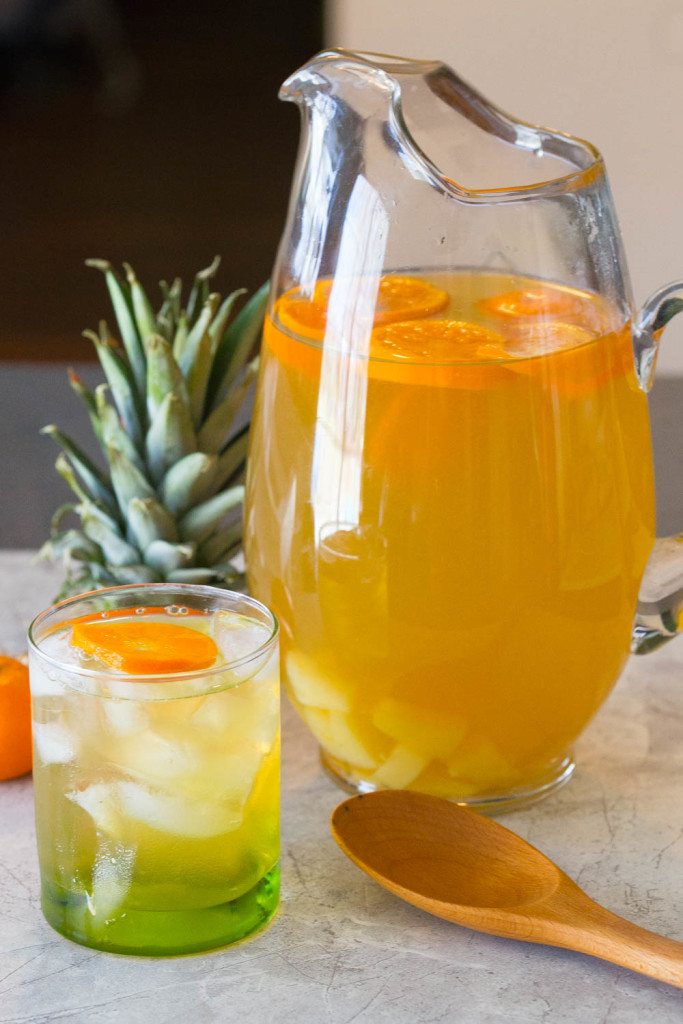 Here is my contribution to the St. Patrick's Day and Irish themed recipes which are blowing up the blogosphere.
I'm sure you've seen your fair share of Shamrock Shake concoctions and Guinness soaked chocolate something or anothers so I'm going to switch it up and share something which will work for all St. Patrick's Day, Easter, Spring revivals and Mother's Day shindigs.
It has the word "green" in it so it will totally work for St. Paddy's, but this recipe is family friendly so you don't have to keep it away from your kids!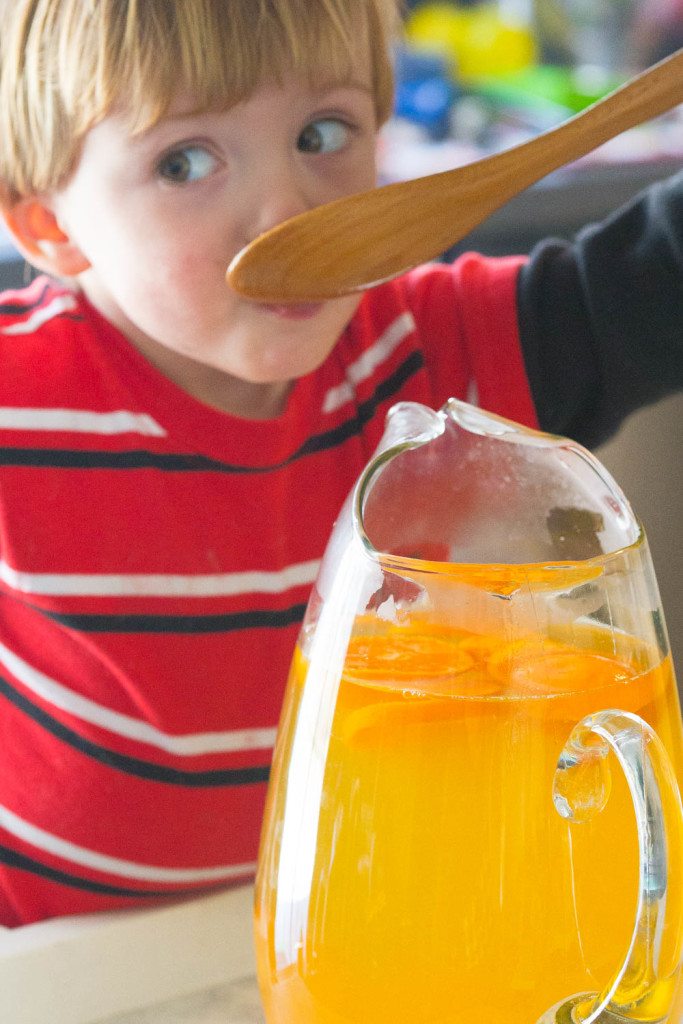 The hubs and I have been on a get healthy kick lately, and we are trying really hard to cut out all crap from our diet. Both of us have a pure love for zero calorie soft drinks (I know, I know, it's horrible yet delicious), but we needed something to help us get over that 3 o'clock afternoon slump especially since Will is working nights right now.
Cue green tea.
For whatever reason, I didn't think I was a fan of green tea. Being from the South, I've always consumed black tea loaded w/sugar but, again, we have a goal to get healthy! So I knew that wasn't something we should be drinking on a regular basis.
I love to flavor my water with fresh fruit in the spring and summer months (I'll be posting plenty of those recipes this year!) so I figured I'd give flavoring green tea a whirl.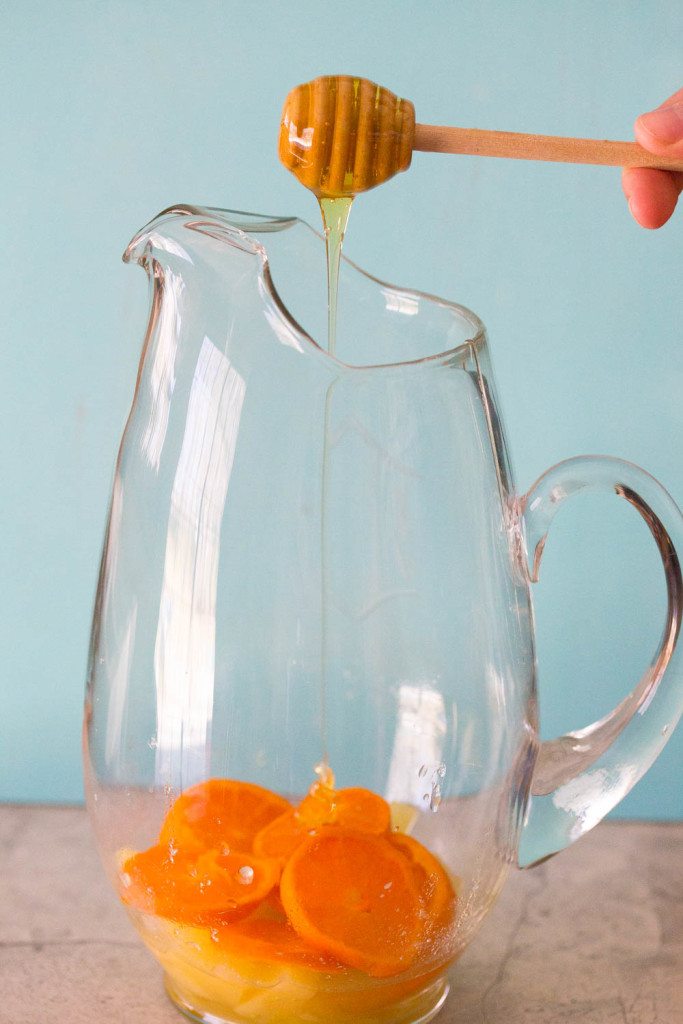 Green tea has become our new obsession, and I can really tell a difference between getting our caffeine boost from organic, naturally sweetened products vs crappola out of a can sweetened w/ poison.
The great thing about this "recipe" is that the flavor combinations are endless. I also adore a strawberry orange version, but I've already posted a strawberry tea recipe here so that just wouldn't fly.
Unlike the strawberry tea, this green tea is sweetened w/ honey which also gives the drink an added boost of nutrition!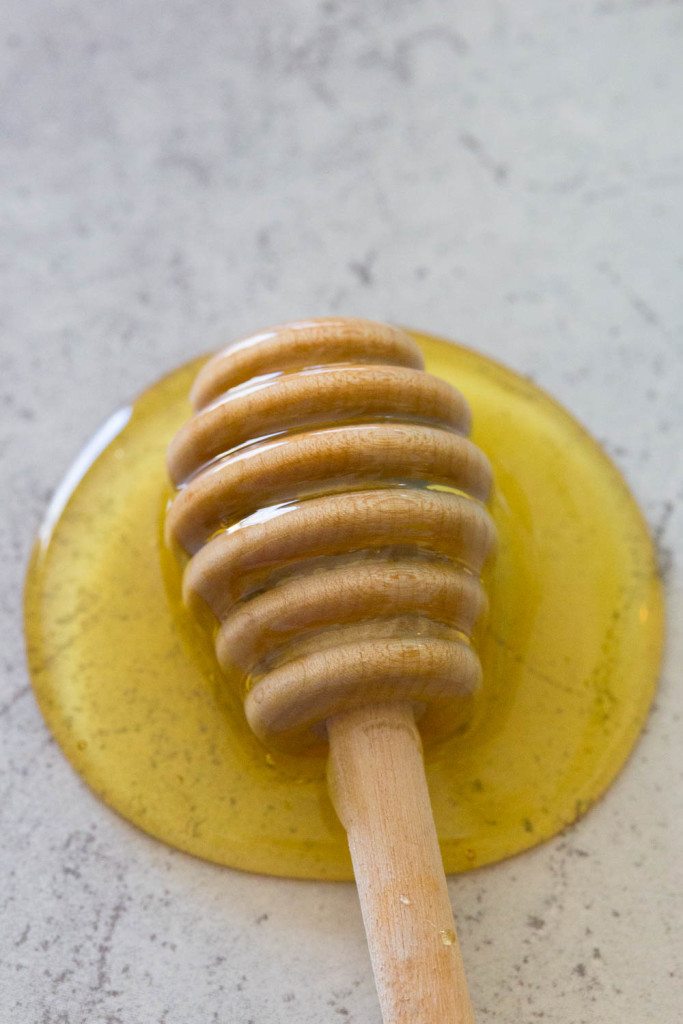 Pineapple and orange is such a classic flavor combo, and I've got my mind on planning a vacation so the tropical undertones most certainly don't hurt my endevours.
I seriously, seriously doubt we will be able to pull it off, but this October will be our five year wedding anniversary. We had such an incredible Hawaiian honeymoon and, though I know we'll never top that, I'm trying really hard to find an inexpensive tropical trip for us which we will love just as much.
I'm scrapping together every penny we have, selling things around the house we don't want, and working my tail off so we can make this trip happen. Anyone have an ideas on where we could go? I'm thinking an all-inclusive to Costa Rica or the Dominican Republic. Anyone have any insight into those destinations?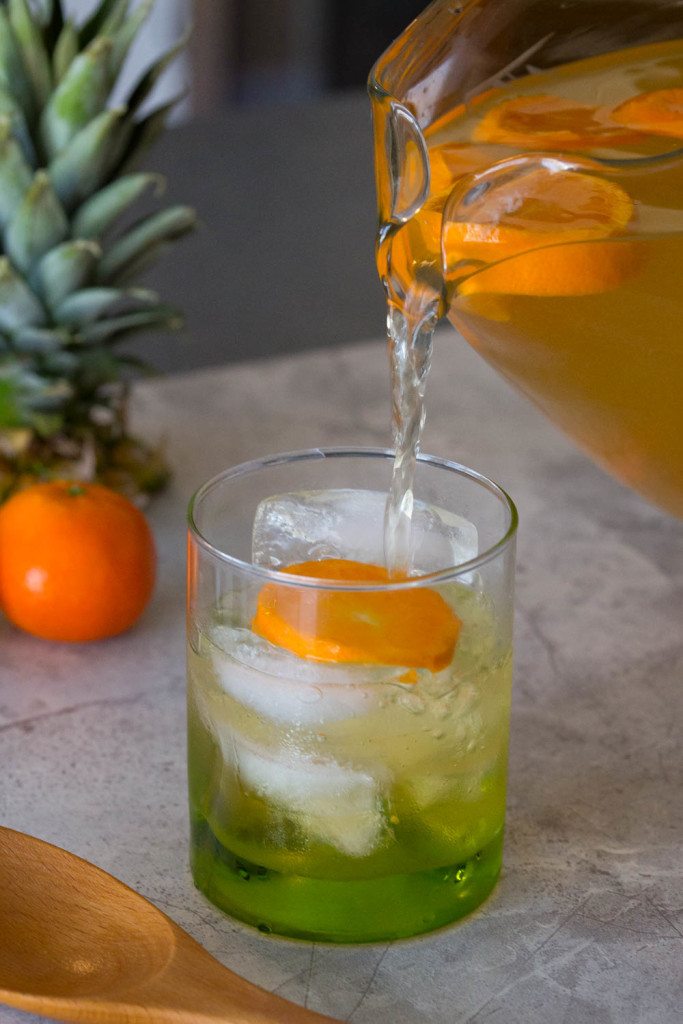 See? Now your minds are on the tropics too aren't they?
I'm so ready for it to be warm again, and this drink is so comforting it helps keeps my spirits high. I love making a tall glass of it and drinking it outside in the afternoon while Owen plays in the backyard. With the sunshine warming my face, the birds singing their sweet melodies in the trees, and the smell of the blooming azaleas wafting through the breeze I know spring has nearly sprung and summer isn't too far behind.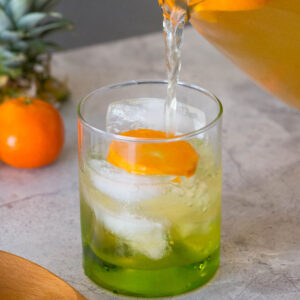 Pineapple Orange Green Tea
Home brewed Pineapple Orange Green Tea is crisp and cool with a hint of citrus and pineapple to get you ready for spring! Serve as is for a family friendly St. Patrick's Day, Mother's Day, or Easter drink or sassify it w/ a shot of rum or Irish whiskey.
Print
Rate
Ingredients
6

green tea bags

10

cups

water

divided

1

cup

fresh

frozen, or canned (in juice!) pineapple chunks

1

medium orange or 2 small clementines or tangerines

sliced

1/2

cup

honey
Instructions
In a medium saucepan, bring 6 cups of water to a rolling boil. Remove pan from heat, and add tea bags. Allow to steep for 5 minutes.

While tea steeps, add pineapple chunks (if using canned add in the juice too), orange slices, and honey to a large, heat proof pitcher.

Once tea is ready, remove tea bags w/ a slotted spoon and discard.

Pour warm tea mixture over the pineapple, oranges, & honey, and stir until well mixed and the honey has melted.

Add the remaining 4 cups water to the tea and stir.

Refrigerate until ready to serve!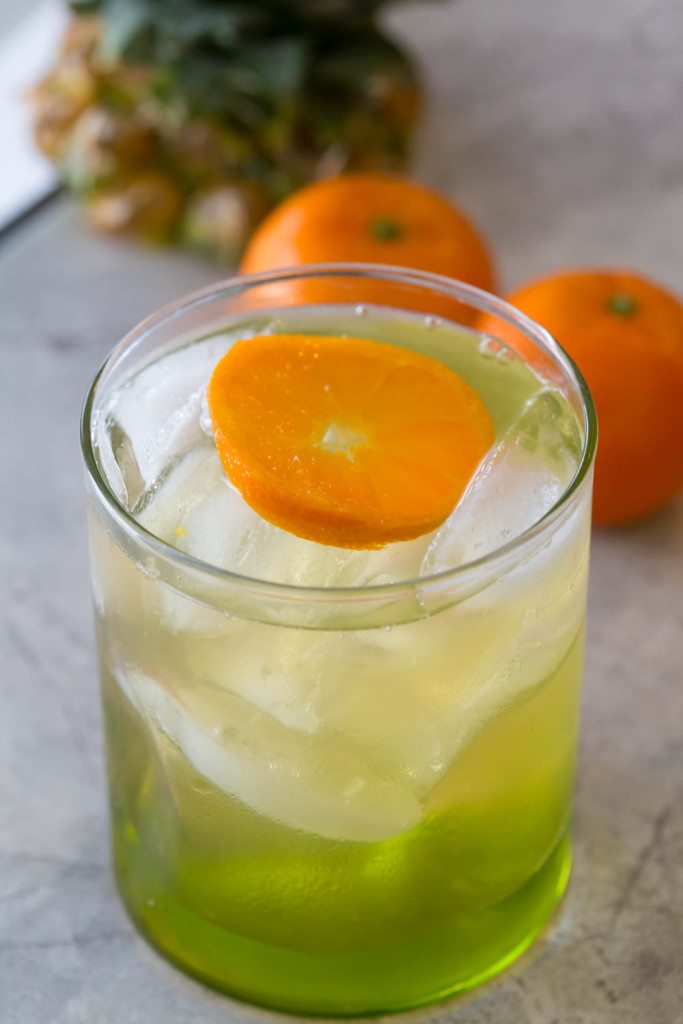 Love y'all!