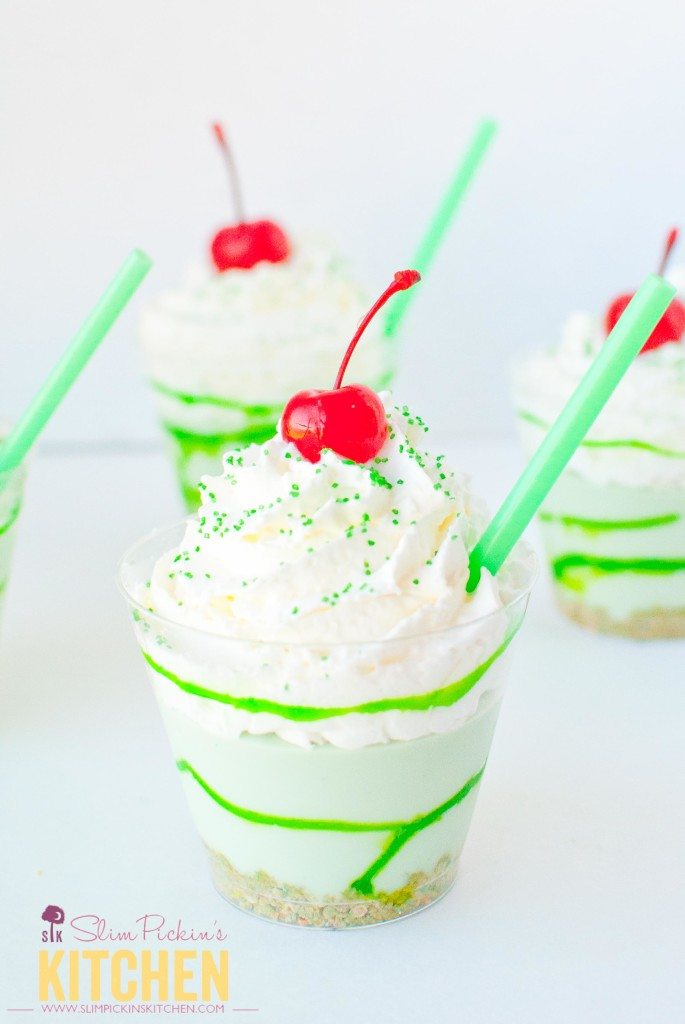 Never have I ever had an actual, real deal Shamrock Shake.
The thought of stepping foot into the place that shall not be named just totally skeevs me out. Plus "real" Shamrock Shakes don't have booze in them do they? Um...where's the fun in that? Y'all should know my motto by now...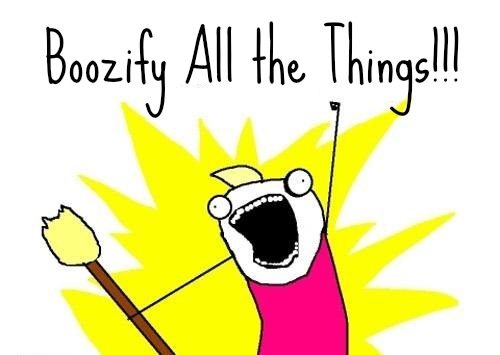 Plus St. Patrick's Day will be upon us soon so what's more perfect for Saint Patty's Day than a mini Boozy Lucky Charms Shamrock Shake No Bake Cheesecake?!? These little treats taste so good that I ate one for breakfast the day after I made them. #noshame
And OMG. Could that title be any longer? Buut...It needed to be that long because you can't tell from the picture, but the crust is totally made from Lucky Charms! I'm stoked by their addition. The crust really sets this Shamrock Shake recipe apart from the rest. I know, I know, I know. I'm sure you're asking yourself, "How in the world is using Lucky Charms any better than stepping into a place with golden arches?"
Well...it's probably not. But here's my reasoning: I used a bottle of emerald green creme de menthe that has clearly been in my family's possession since the war between the states. The bottle has collected even more cobwebs since the last time I used it. If that electric green elixir doesn't kill me, nothing will.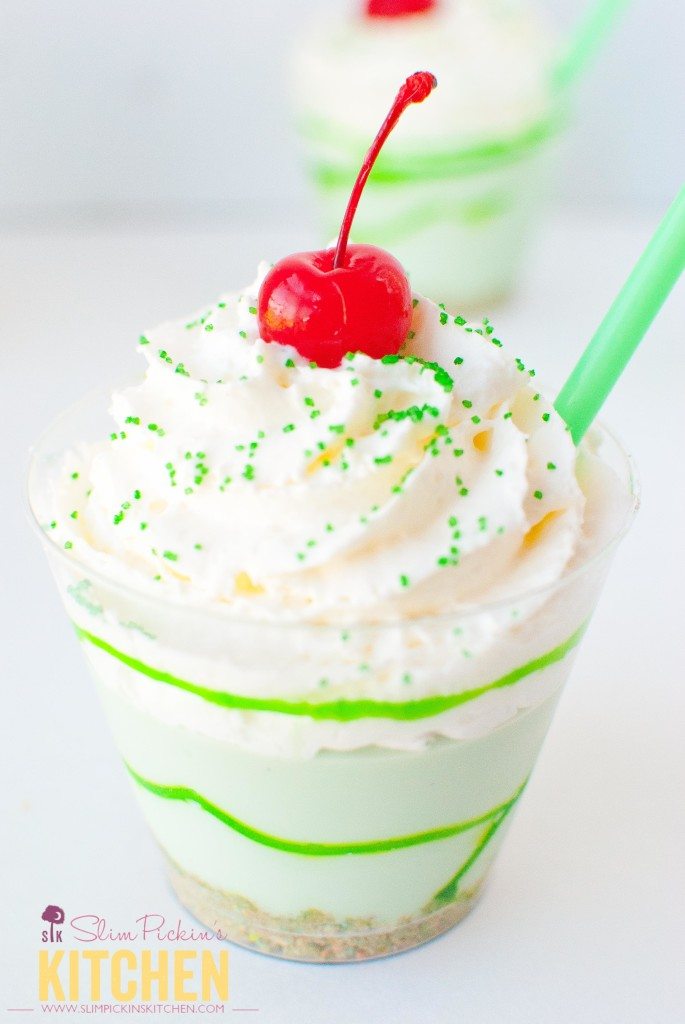 The good news is that I've heard there is a much healthier, sketch-free alternative to Lucky Charms on the market that might fit into your lifestyle much better. I haven't personally tried them, but I'd love to hear from someone who has. Get yourself some of those and a bottle of dye-free creme de menthe, and you might just find yourself dancing an Irish jig.
But, remember, this is a St. Patrick's Day dessert recipe, y'all. Between the Guinness, Bass Snakebites, Shamrock Shakes, Corned Beef and Cabbage and Killian's and Irish Car Bombs and Jameson and Irish Car Bombs and short rib sliders and Irish Car Bombs, I'm sure a wee bit of Lucky Charms and a glug of a glow worm in our no bake cheesecake won't throw us too far off course.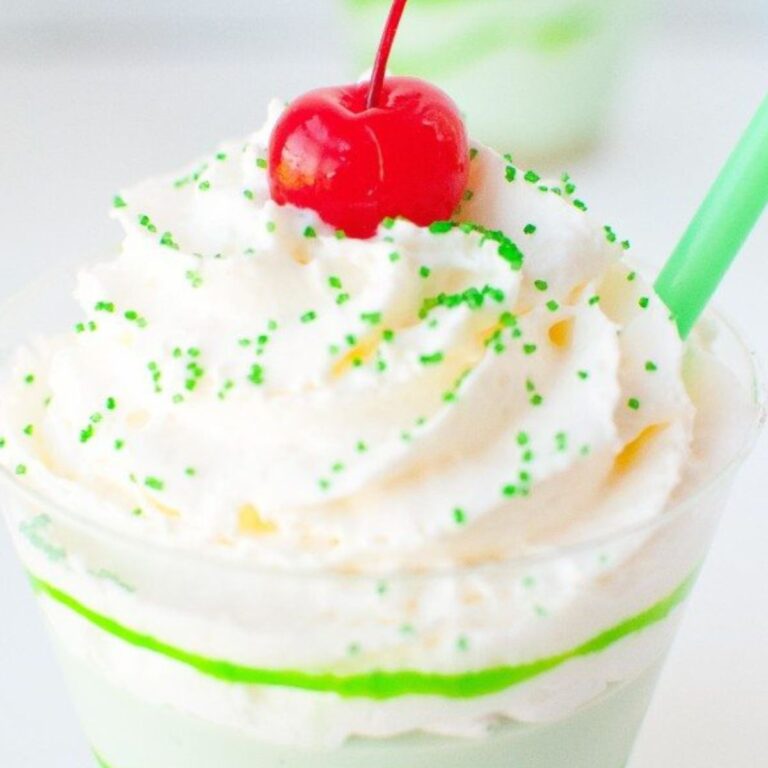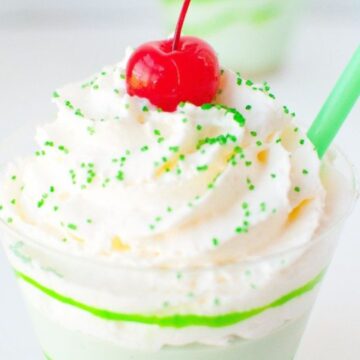 Boozy Lucky Charms Shamrock Shake No Bake Cheesecake
Everyone's favorite St. Patrick's Day Dessert, the Shamrock Shake, is re-created into a super simple, no fuss, booze filled no bake cheesecake with a crunchy Lucky Charms crust.
Print
Rate
Ingredients
For the Lucky Charms Crust:
For the Shamrock Shake No Bake Cheesecake:
2

blocks cream cheese

softened (you can use neufchatel cheese, but it will be more like pudding)

1

5 or 6 oz container vanilla Greek yogurt

½

cup

+ 2 tablespoon pure cane sugar or sugar of choice

3

tablespoon

creme de menthe

2

tablespoon

creme de cocoa OR Bailey's Irish Cream

1-2

tablespoon

milk of choice

if needed

Homemade whipped cream

or Bailey's Whipped Cream, green sugar, and cherries for garnish, optional
Instructions
For the Lucky Charms Crust:
Add lucky charms to a small food processor or personal blender and pulse into coarse crumbs.

Pour in melted oil or butter and process until a dough forms.

Evenly divide the crust mixture into 4-6 small serving dishes, about 2 tablespoon per dish, and use your fingers to lightly pack down the crust.
For the Shamrock Shake No Bake Cheesecake:
Add all ingredients to a food processor or high speed blender and blend until smooth, making sure to stop and scrape down the sides as needed. If the filling is too thick, add in milk, one tablespoon at a time, until it's just pourable.

Evenly pour or spoon the no bake cheesecake mixture on top of each of the prepared crusts.

Refrigerate for 2-3 hours to set.

To serve, garnish each with whipped cream, a sprinkling of green sugar, and a cherry.

Enjoy!