These BooBerry Biscuits have all the flavor of Bojangles Boberry biscuits, and are a super fun way to serve your kids a tasty, ghoulish breakfast this Halloween! Bursting with juicy berries and dripping with a lemon glaze, your family will be requesting these copycat biscuits for many years to come!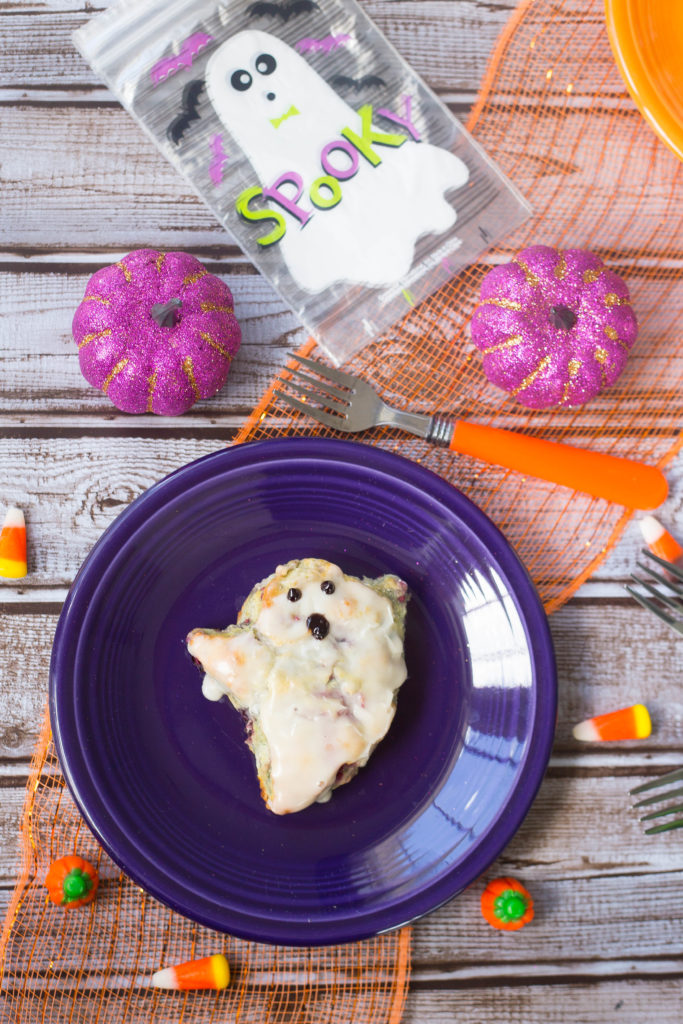 Who wouldn't love a boberry biscuit dressed up for Halloween?
Every inch of my house is decorated with Halloween decor, my house smells of pumpkin spice, and all of my upcoming recipes will be comforting soups, fun finger foods, hearty weeknight suppers and ministry meals, and my take on traditional holiday fare.
These Southern BooBerry Biscuits are just the start of some amazing recipes coming your way.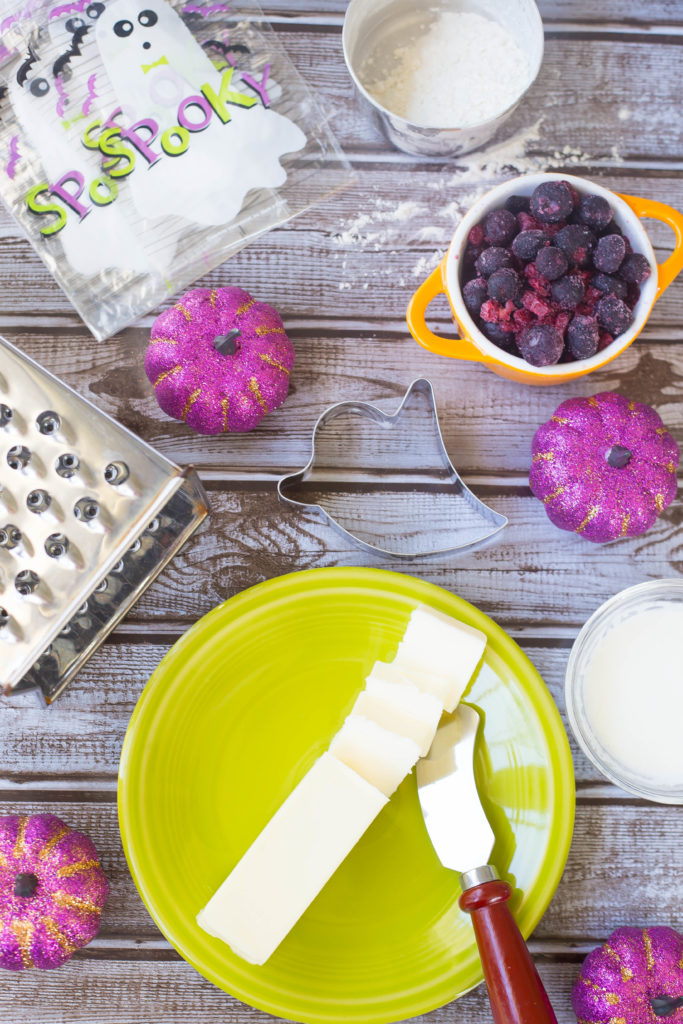 Bojangles BoBerry Biscuits
Have you ever had a Bojangles boberry biscuit? They used to be my most favoritest thing ever because they are sweet and downright heavenly. They come in packs of two! Loaded with buttermilk, specks of blueberry flavor, and coated in a lemony gooey glaze,boberry biscuits are big, buttery, and perfectly crispy on the outside while being soft and fluffy on the inside.
I'm not one to indulge in fast food too much these days (except Chick-fil-a, of course) so I decided it was high time I figured out how to make boberry biscuits myself. I tested this recipe at least 4 times before I perfected it to the point I was able to share it with y'all!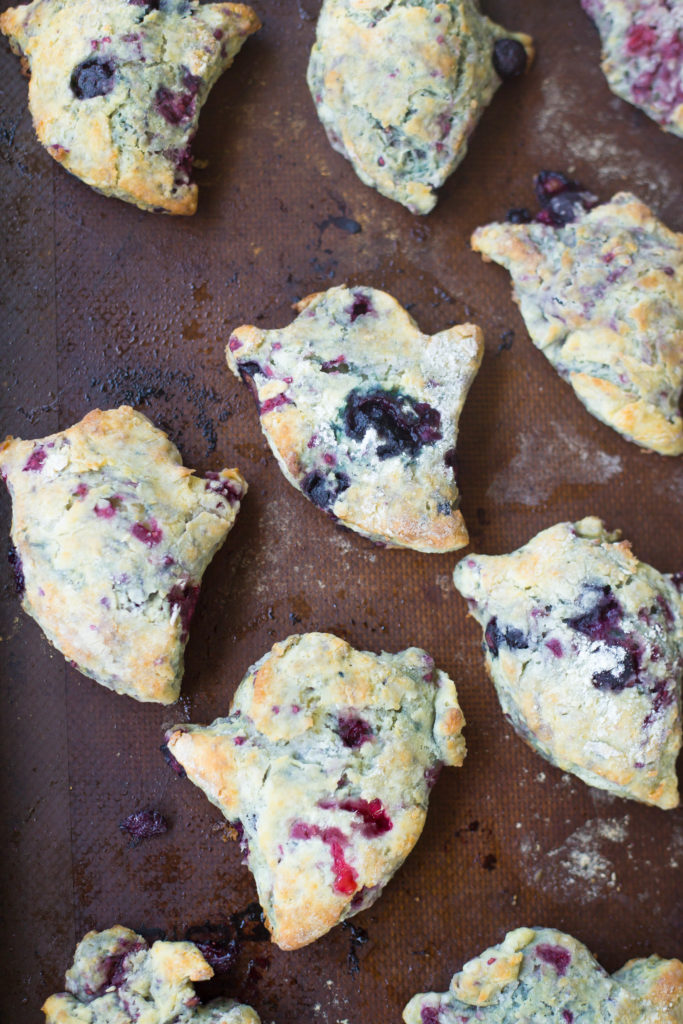 How to Make Bojangles Boberry Biscuits
The biggest question I get asked as a southerner is: How do you make homemade biscuits that actually rise?
The answer to perfect buttermilk biscuits is easy: ICE COLD INGREDIENTS!
Ok, listen. Don't freak out by all the info below.
Homemade biscuits really are super simple to make, but your technique can make your biscuits fall flatter than a pancake so you gotta pay attention now, ya hear?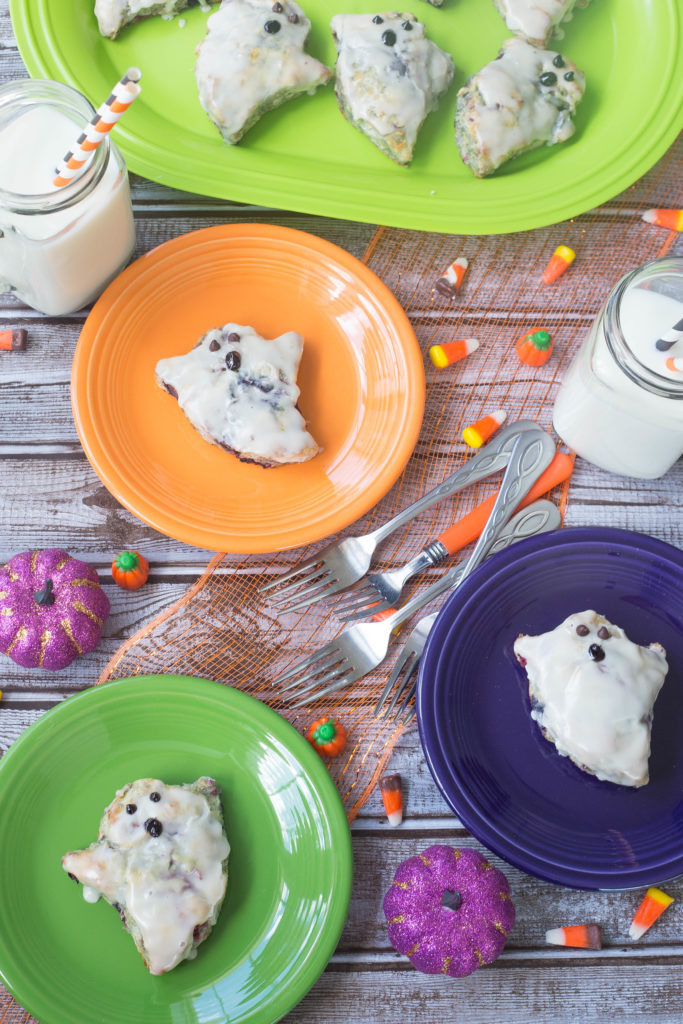 Tips to Southern Buttermilk Biscuits
Cold butter is key to perfect biscuits and is what makes biscuits rise. How do you keep butter cold while making biscuits? Work quickly and keep everything else cold too! I keep ALL of my ingredients ice cold! I mix my dry ingredients in a metal bowl and pop them and my stick of butter into the freezer while the oven preheats. Then, I pop the cut biscuits back into the freezer again before they bake. This will give the butter a chance to harden back up plus give us a few minutes to clean up the messy kitchen. I mean, you want those babies to rise to the heavens, Dontcha?
Do not overwork the dough! Overworking the dough can do two things: The heat from your hands will cause the butter to soften and overworking will release the gluten in the flour causing the biscuits to become tough as hockey pucks. Do NOT use a hand mixer and do NOT use a stand mixer. Truly, the only utensil you need for making biscuits is your hands and something to cut out the biscuits with.
After you pour in the milk (and berries in this case), gently mix the dough with your fingers until it all just pulls together. It will still be sticky and may even have a few dry spots left, and that's perfectly fine. Just dump it out onto your floured surface. You'll fix all that in the next step.
Sprinkle the dough with flour then knead aka fold the dough over itself 5 or 6 times. No more, no less. This is what causes the perfectly flaky layers in your biscuits. Then, flatten with your hands, DO NOT USE A ROLLING PIN, and cut those booberry biscuits out with this super cute little ghost cookie cutter or a drinking glass or a mason jar or a regular ole biscuit cutter!!! Also, don't be afraid to add more flour if the dough is too sticky!
"📖 Recipe"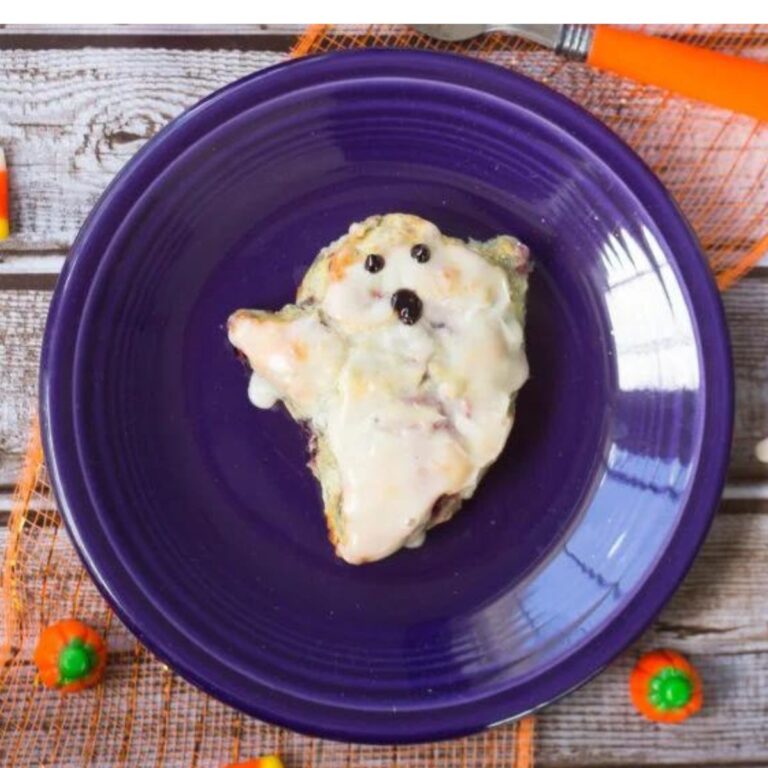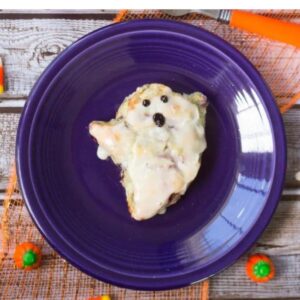 Easy Homemade BooBerry Biscuits
Easy Homemade BooBerry Biscuits are a super fun way to serve your kids a tasty, ghoulish breakfast this Halloween! Bursting with juicy berries and dripping with a lemon glaze, your family will be requesting these Copycat Bojangles BoBerry biscuits for many years to come!
Print
Rate
Ingredients
For the Easy BooBerry Biscuits:
2

cups

all-purpose flour

+ more, as needed, for dusting

2 ½

teaspoon

baking powder

½

teaspoon

baking soda

1

teaspoon

sea salt

3

tablespoon

sugar

1

stick

cold buttermilk

1

cup

frozen blueberries or mixed berries

¾

cup

cold buttermilk

Mini chocolate chips and black decorating gel

for garnish
For the BooBerry Biscuit Glaze:
Instructions
For the Easy BooBerry Biscuits:
In a medium metal bowl, whisk 2 cups flour, baking powder, baking soda, salt, and sugar until well mixed. Add the bowl to the freezer until the oven preheats.

Using a box grater, carefully shred the cold stick of butter into the flour mixture then, using your hands, gently work the butter through the dough until there are small pea-size pieces of dough throughout and the mixture resembles coarse crumbs.

Add in frozen berries, pour in the buttermilk and, using your hands or a wooden spoon, stir to combine until the mixture *just* comes together. DO NOT OVERMIX. Note: The dough may still be a little crumbly at this point, but that's ok! You'll fix that in the next step. 

Dump the dough onto your well-floured surface, flour your hands, and sprinkle the top of the dough w/ a little bit of flour. Gently knead and lightly work the dough until it pulls together and becomes manageable, sprinkling in more flour as needed if it is too sticky. Once the dough comes together, fold it in half over itself, then repeat this step 5-6 more times, but taking care not to overwork the dough.

Continue using your hands to flatten to ¾" thick and dip your ghost cookie cutter into some of the excess flour. Press the cookie cutter into the dough and transfer the biscuits to the prepared baking sheet. Once you have cut as many BooBerry Biscuits as possible from the dough continue to gently rework and flatten the dough, making as many biscuits as you can. 

Pop the biscuits back in the freezer for about 10 minutes or so while you clean up the mess and make the icing. This will allow the butter to harden back up so your biscuits will be as tall and as fluffy as possible.

Bake for 8-10 minutes or until lightly golden brown. Once cool to the touch, dip the tops of the boo berry biscuits into the glaze and use the chocolate chips &/or gel to add eyes and a mouth to the biscuits to make the faces of the ghosts. 

These are best when served immediately!
For the BooBerry Biscuit Glaze:
Mix powdered sugar, vanilla, lemon juice, and 1 tablespoon spoon of milk until smooth. If icing is too thick, add more milk, one tablespoon at a time, until desired consistency is reached.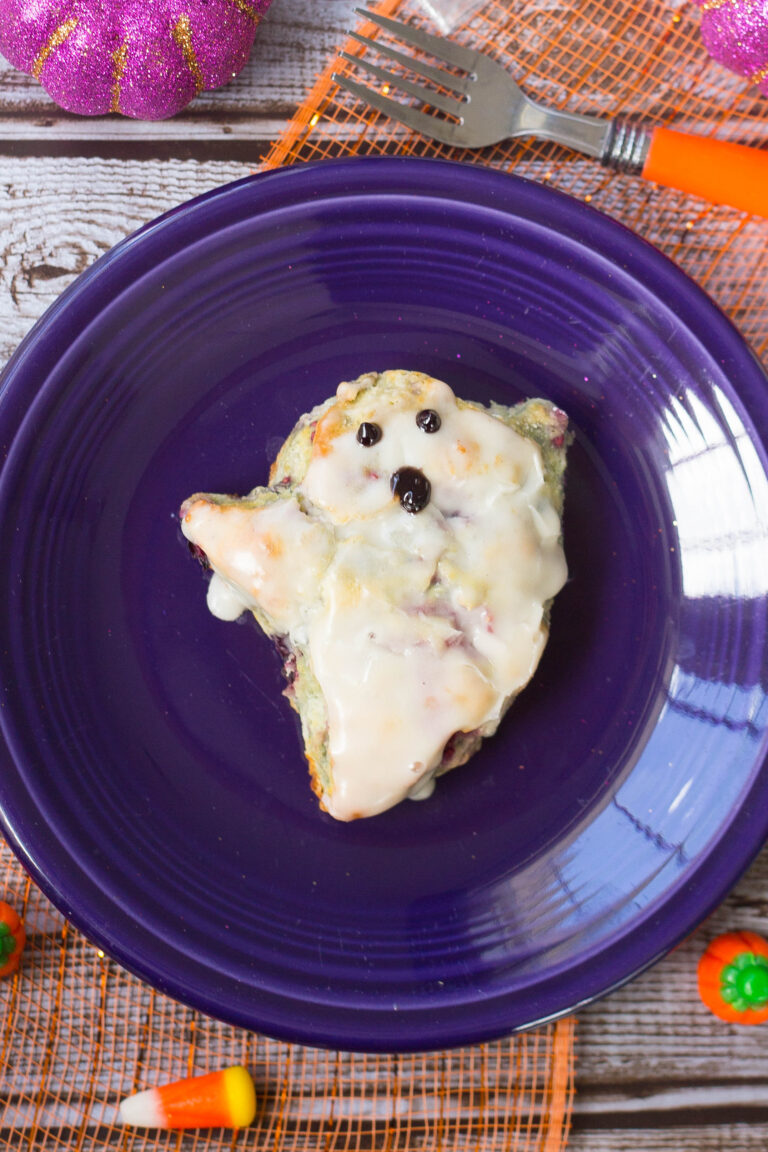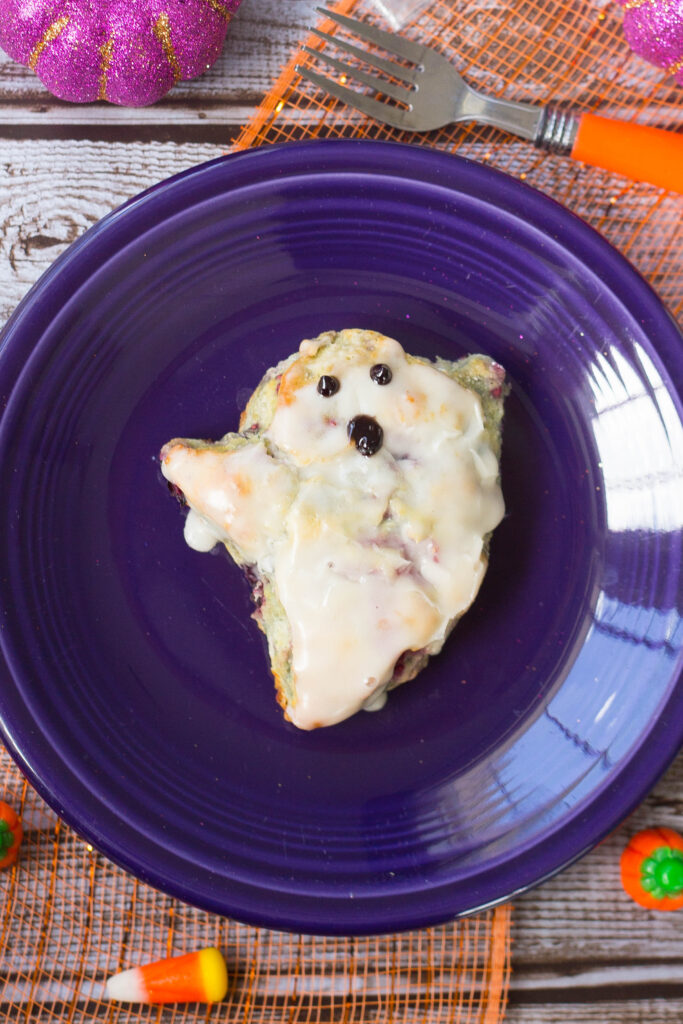 Now that you've had breakfast, are you ready to serve up some lunch?
Check out these awesome kid-friendly Halloween lunch ideas!
Don't forget to pine this in this recipe for later!