Tropical Green Smoothies will kick your holiday detox into high gear! Loaded w/ frozen tropical fruits, fresh spinach, and a bit of clean protein, you'll feel good about starting your day with one of these in hand.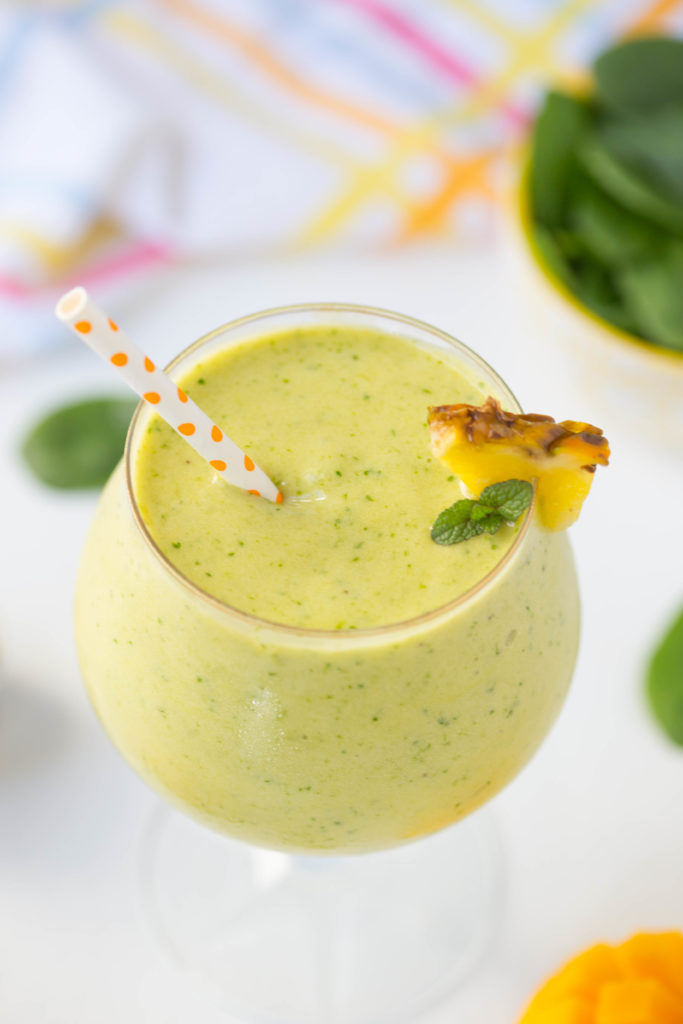 Tropical green smoothies make you feel so lean, clean, and green don't they?
I've been on a major health kick because I've been trying SO HARD to lose the 60lbs I gained after having brain surgery, and green smoothies and protein shakes have become a staple ever since.
My 5 year also loves to have smoothies for breakfast, second breakfast, snack, lunch, snack, appetizer, supper, and a midnight snack so they're also a great way to get some protein and added veggies into his growing bones.
I have to admit, when it comes to my son, I got the pick of the litter. He's so freaking funny, smart, and strong-willed so I know he's going to become a great leader one day. Another great thing? He's not a picky eater!!!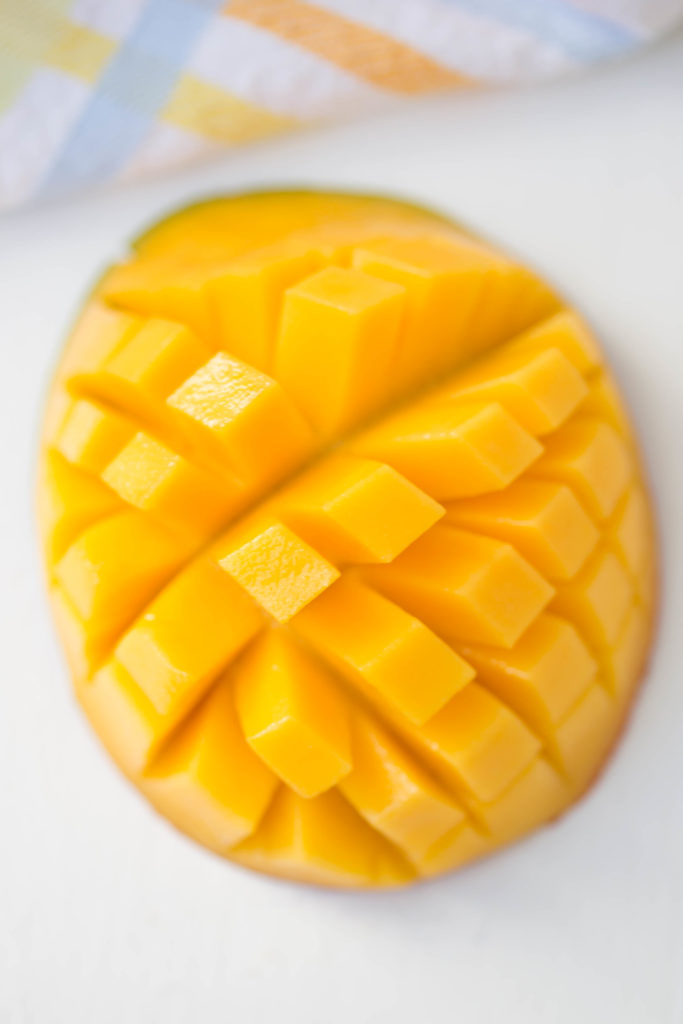 No lie, the kid is unlike any child I've ever met. He will at least taste most anything put in front of him including Scotch eggs, soft shell crab, eel, and ROASTED CRICKETS!!!!
People who don't know him are shocked by his range of tastes, and they just rave about him when they see him eating plates of peel and eat shrimp, baked fish, steamed oysters, roasted broccoli, and green beans. His favorite ice creams are rainbow sherbet or candy cane, and he'd choose fruit over french fries any day of the week.
His only major dislikes are actually quite hilarious because they are staples in most kids diets: potatoes, sweet potatoes and anything breaded and fried are major turn offs for him. Chick-fil-a nuggets being the exception, of course, because he is southern after all!
Now...having him sit still long enough to actually eat a full meal at meal times? Ha! I don't think so.
Getting him to calm down EVER is like trying to herd fleas on a plate.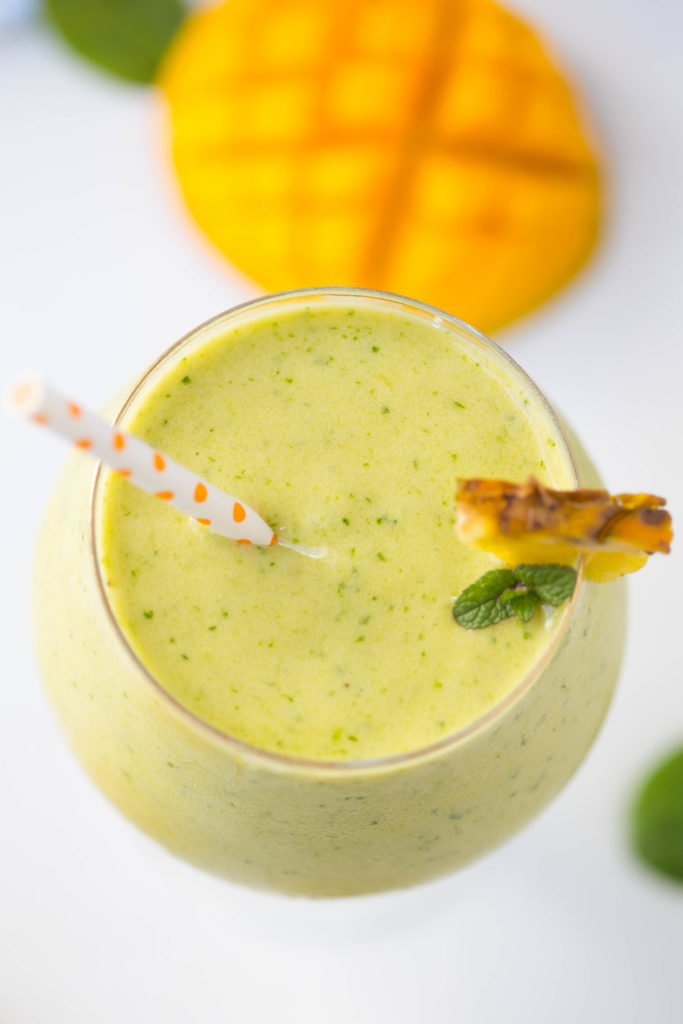 Tropical green smoothies are one of his most favorite breakfasts, and he absolutely adores helping me make them.
His favorite part is adding in the fresh spinach because he'll snag a leaf and suck up it up in his mouth like young Phineus in The Greatest Showman when he makes Charity spit out her tea. Ha! Ha!
He is also a super fan of another awesome smoothie I make which includes cocoa, banana, and my favorite smoothie ingredient EVER. Which I'll you about on another day.
Tropical Green Smoothie Recipe
These tropical green smoothies are a cinch to throw together! Frozen bananas, mango, and pineapple are zsooshed together w/ fresh spinach, pineapple mango juice, almond milk, and protein powder (which is optional) so your breakfast can really be finished in 5 minutes flat.
We don't mind having the teensy green specks of spinach in our smoothie, in fact I find them quite beautiful, but if you're a stickler for for fully pureed spinach then I suggest you add the leaves and the liquids together at the beginning and give them a good blend before adding in the other ingredients.
As far as protein powders go, I use Tone It Up Vanilla because it is the cleanest one I can find that doesn't cost one bazillion dollars and is readily available at Target. I'm totally open to trying other protein powders so feel free to tell me about what you use!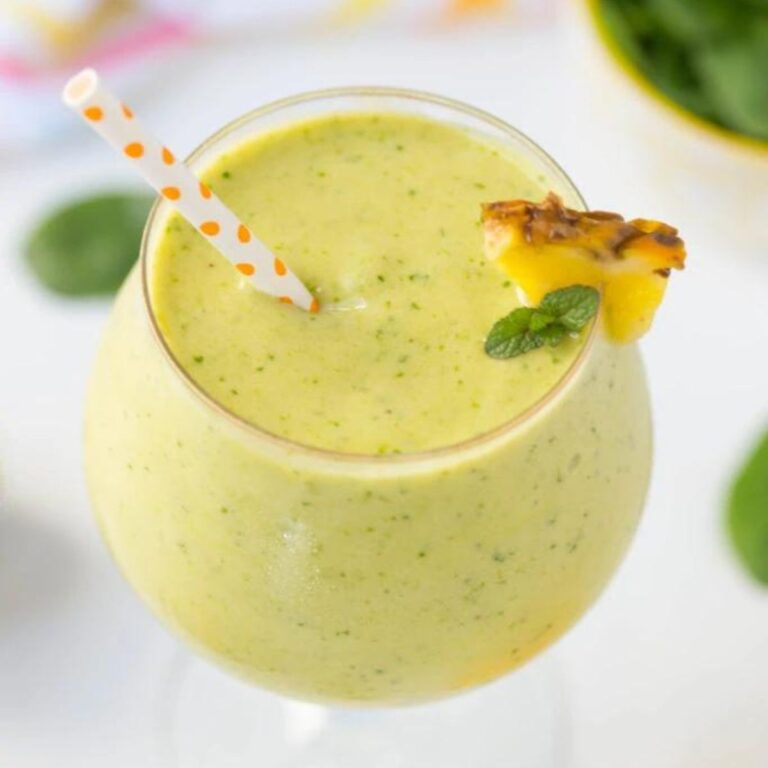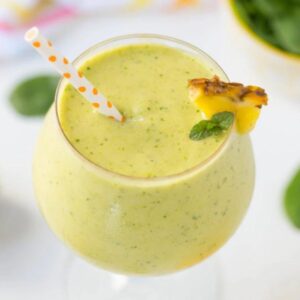 Tropical Green Smoothie
TROPICAL GREEN SMOOTHIES WILL KICK YOUR HOLIDAY DETOX INTO HIGH GEAR! LOADED W/ FROZEN TROPICAL FRUITS, FRESH SPINACH, AND A BIT OF CLEAN PROTEIN, YOU'LL FEEL GOOD ABOUT STARTING YOUR DAY WITH ONE OF THESE IN HAND.
Print
Rate
Ingredients
2

cups

fresh spinach

2

small/medium

frozen bananas

1

cup

frozen pineapple

1

cup

frozen mango

¾

cup

unsweetened vanilla almond milk

or more juice

2

scoops

Vanilla Protein Powder

roughly ½ cup
Instructions
Add all ingredients to a blender and pulse until the large chunks are broken down. Blend on high until smooth, and serve!
Notes
If making smoothie packs, add blended tropical green smoothie to silicon ice cube trays and freeze until solid. When ready, pop about 4 or 5 smoothie cubes into a blender w/ a couple of splashes of liquid and blend until smooth!