No shindig is complete without a big plate of these easy southern deviled eggs. Filled with the classic flavors of mayonnaise, mustard, vinegar, relish or pickles, and a dash of paprika, you can guarantee these beauties will be the first to disappear from the table.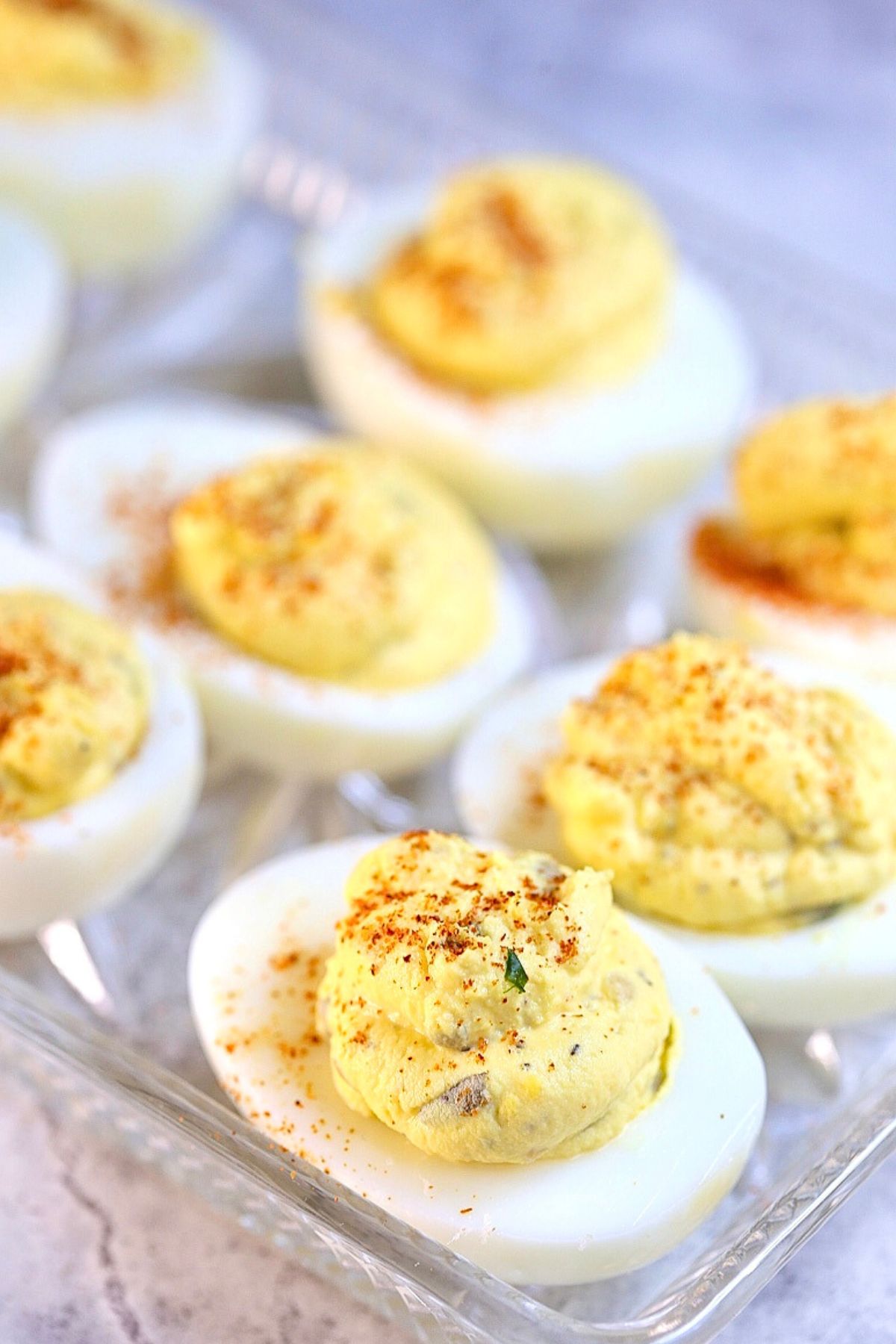 Deviled eggs are such a classic and nostalgic recipe.
Growing up in the south, I never went to a family function where I didn't see one, if not several, plates of good ole southern deviled eggs on the table.
Everyone makes their deviled eggs differently so it's always fun tasting the variations and combos people come up with. No two deviled eggs are ever alike.
The same goes for the 5 bajillion deviled egg recipes on the interwebz. Each one has slightly different ingredients, techniques, and styles.
I gotta say though...these here are the best deviled eggs you're ever gonna eat. Ha!
What Makes Hard Boiled Eggs Easy to Peel?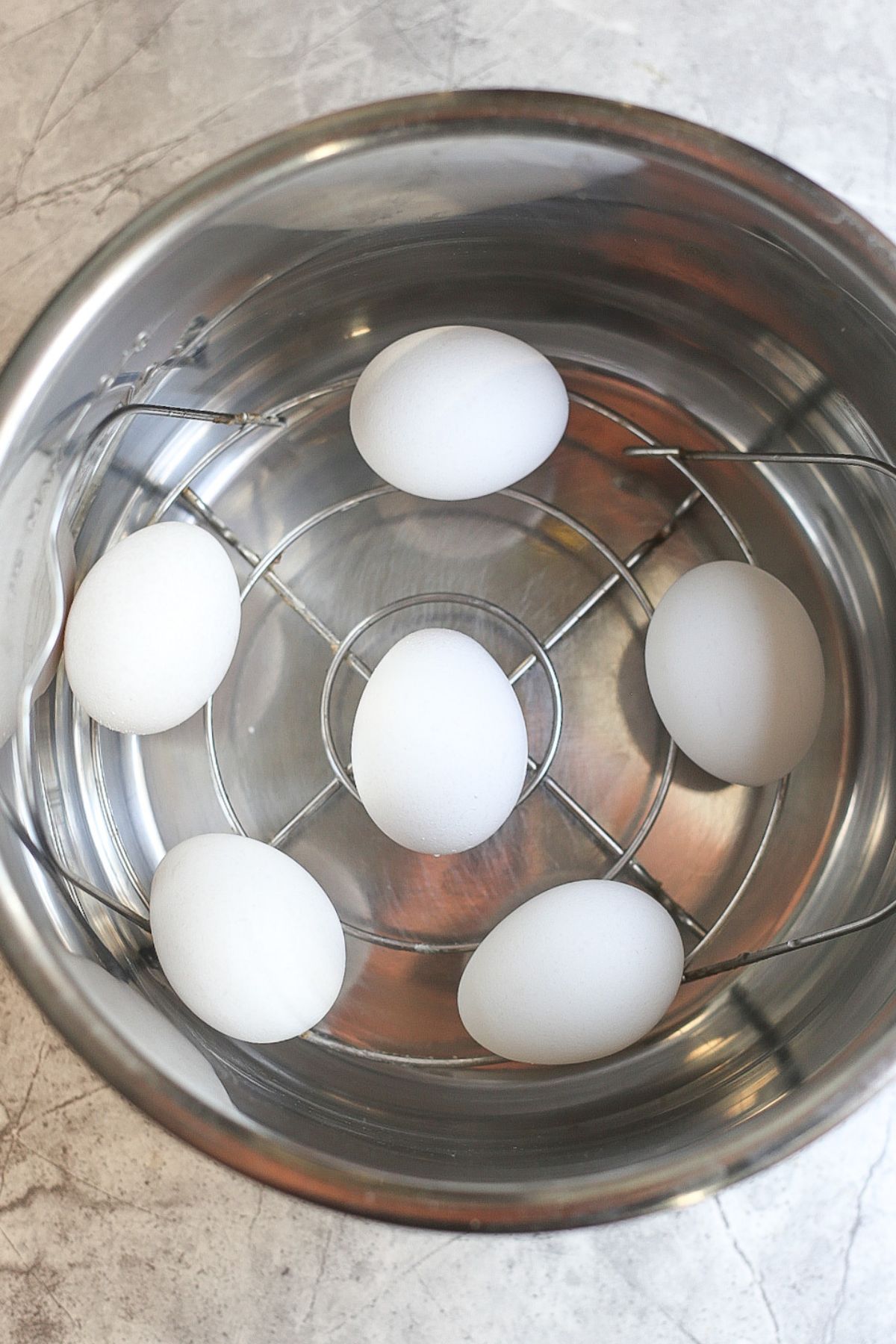 My husband and son absolutely adore deviled eggs, but for a while, I loathed making them. They were just so hard to peel!
None of the so-called "tricks" for easy peeling worked for me so I would only make them for special occasions.
Then I discovered there are now SO MANY WAYS to make hard boiled eggs that are incredibly easy to peel and it is the cooking technique that makes all the difference.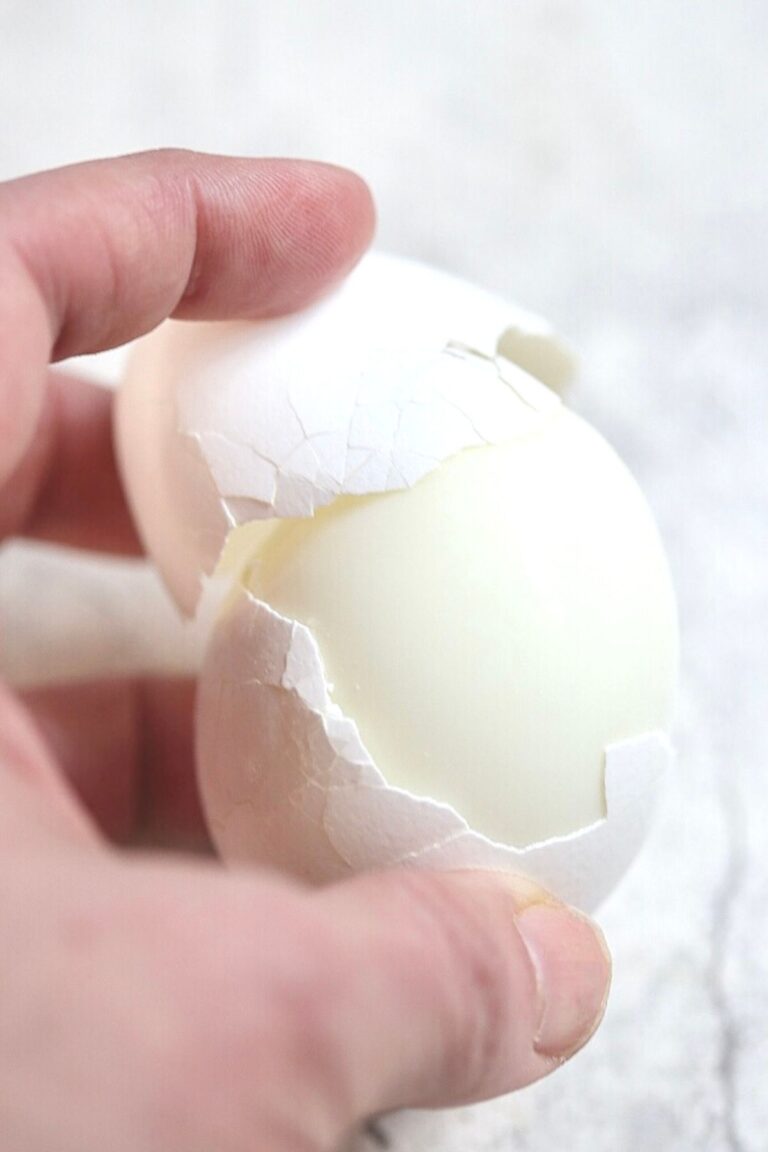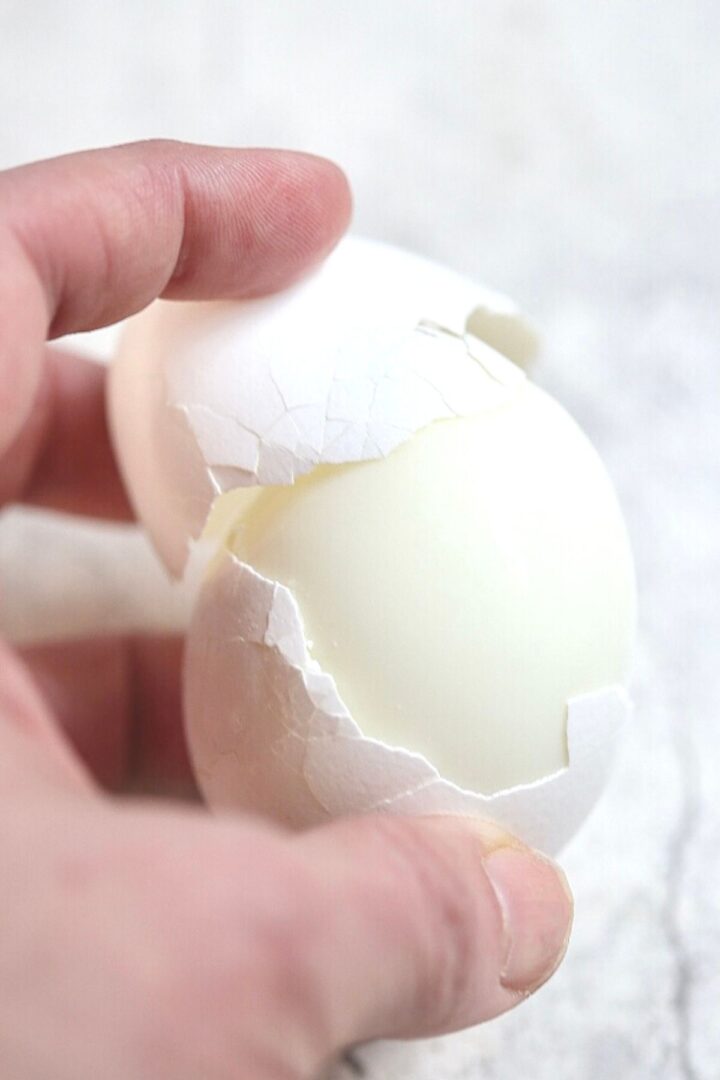 Easy Peel Hard Boiled Eggs
Just as people have different recipes for deviled eggs, everyone also has differing opinions on the best way to cook the perfect hard boiled egg. In my experience, they all seem to work gloriously so you do you, boo!
Regardless if you pressure cook, bake, or steam eggs, the reason they become easy to peel is that the steam &/or water permeates the shell, helping to loosen the bond holding the shell to the white.
How is this Deviled Egg Recipe Southern?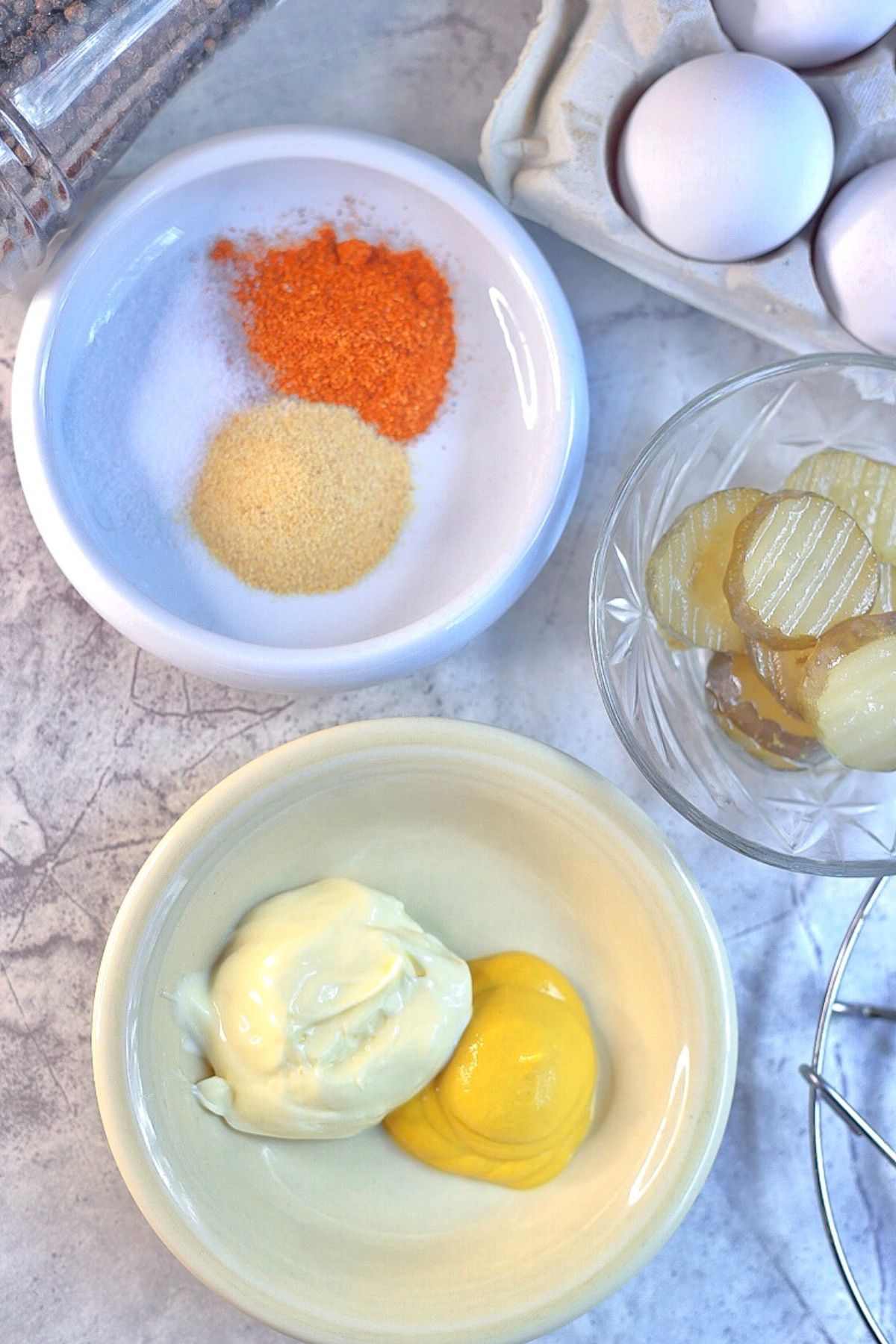 Good question! Southern deviled eggs are made using either sweet or dill pickle relish OR finely chopped sweet or dill pickles. I've never in my life come across a deviled egg recipe made by a southerner that didn't have at least one of these two ingredients.
I have also found that southerners like to add the teensiest splish of white vinegar to their deviled egg recipes. Ask them why they add it, and they'll tell you it's because "That's how my mama made them."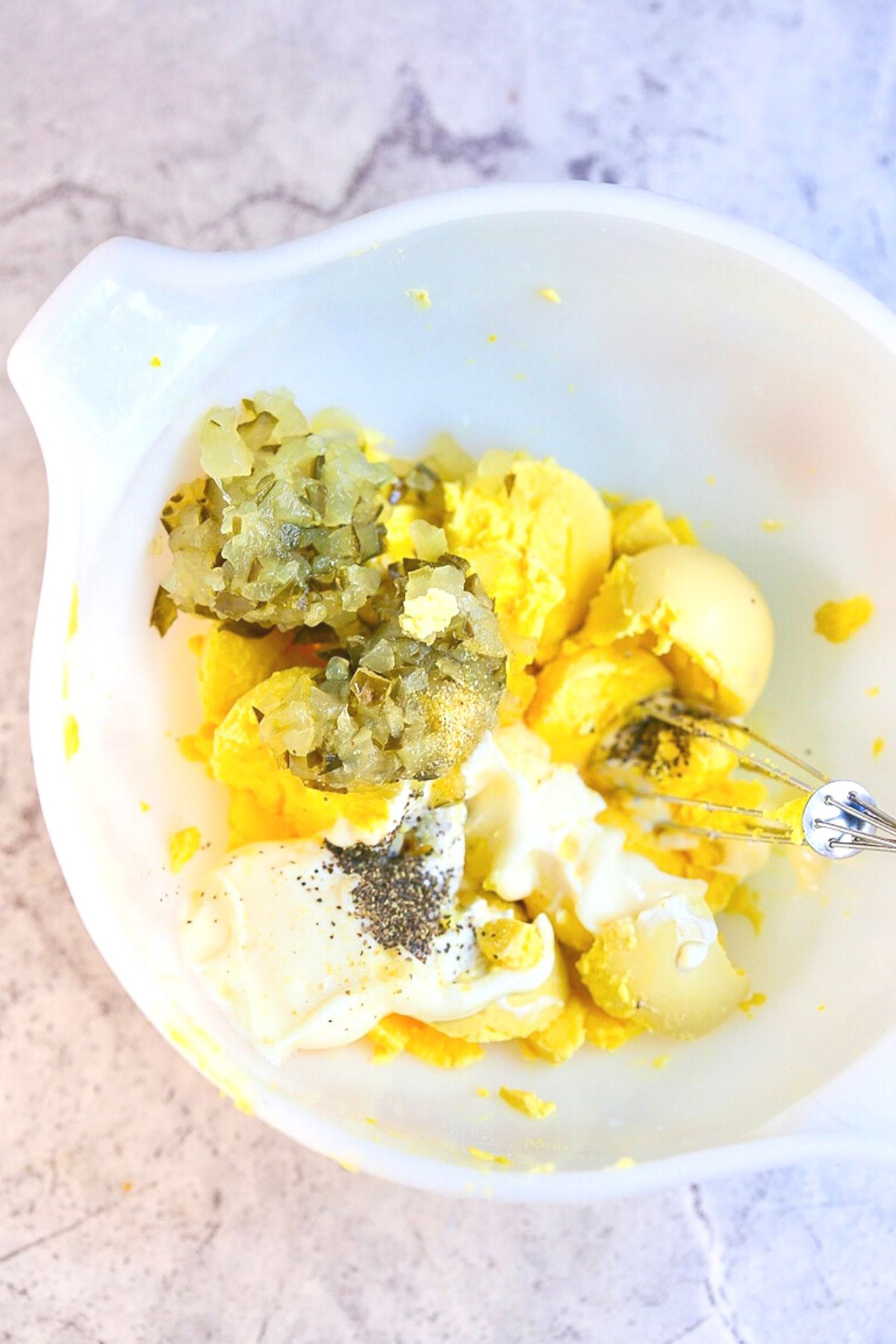 Now, the vinegar is optional, but I absolutely suggest you don't leave it out! We southerners know what we're doing in the kitchen, y'all.
The vinegar adds a touch of acidity to the heaviness of the egg yolk, mayo, and mustard helping to create an airy, light, and creamy filling making these deviled eggs extra supple and succulent.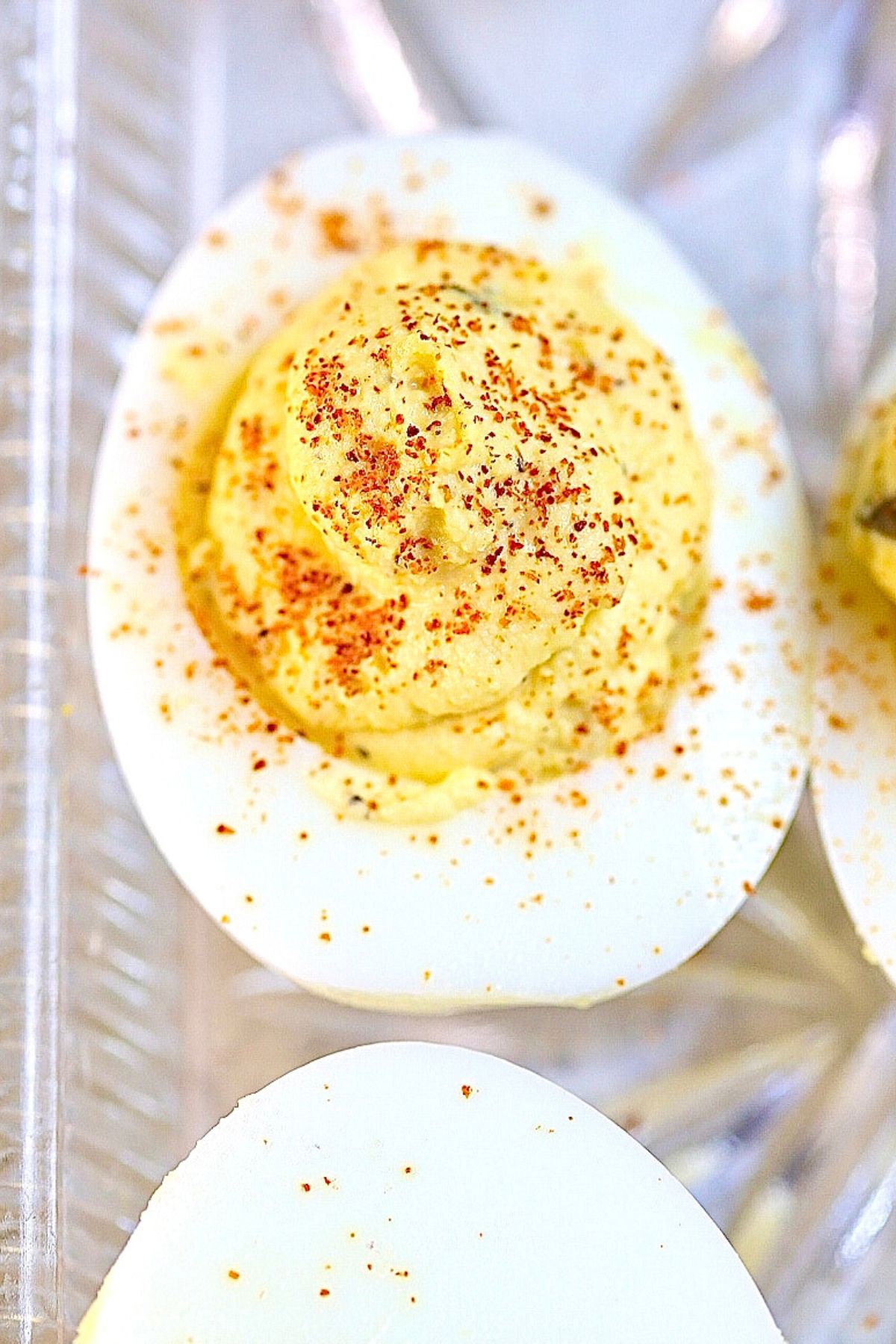 How to Make Southern Deviled Eggs
The ingredients and directions couldn't be more simple. The ingredients include:
Hard boiled Eggs: Cooked any easy way you like and allow them to cool completely.
Mayonnaise: Us southerners use Duke's, but you can use anything you like or make your own.
Prepared Yellow Mustard: Yellow mustard is classic and traditional. Dijon makes them bougie. You can also use ground mustard but cut the amount in half and you'll need to add a bit more mayo to keep the filling creamy.
Relish or pickles: Use sweet or dill relish or finely mince sweet or dill pickles. Whatever you have on hand will do.
Vinegar: The tiniest bit of plain ole white vinegar is the classic ingredient, but anything you have in your pantry will work (apple cider, champagne, red wine, etc).
Pickle Juice: I add a little bit of sweet pickle juice to mine because that's the way my family likes them!
Garlic Powder: I like to add a touch of garlic powder for a bit of extra flavor.
Salt & Pepper: These speak for themselves
Paprika: Use sweet or smoked, whichever you like. My husband likes smoked and my son likes sweet so sometimes I mix them together and use both!
Cut the eggs in half lengthwise, pop out the yolks, and put them in a bowl. Set the whites aside. Add the remaining ingredients, except paprika, to the yolks and mix well. Spoon or pipe the deviled egg mixture into the egg whites then sprinkle the paprika on top. That's it!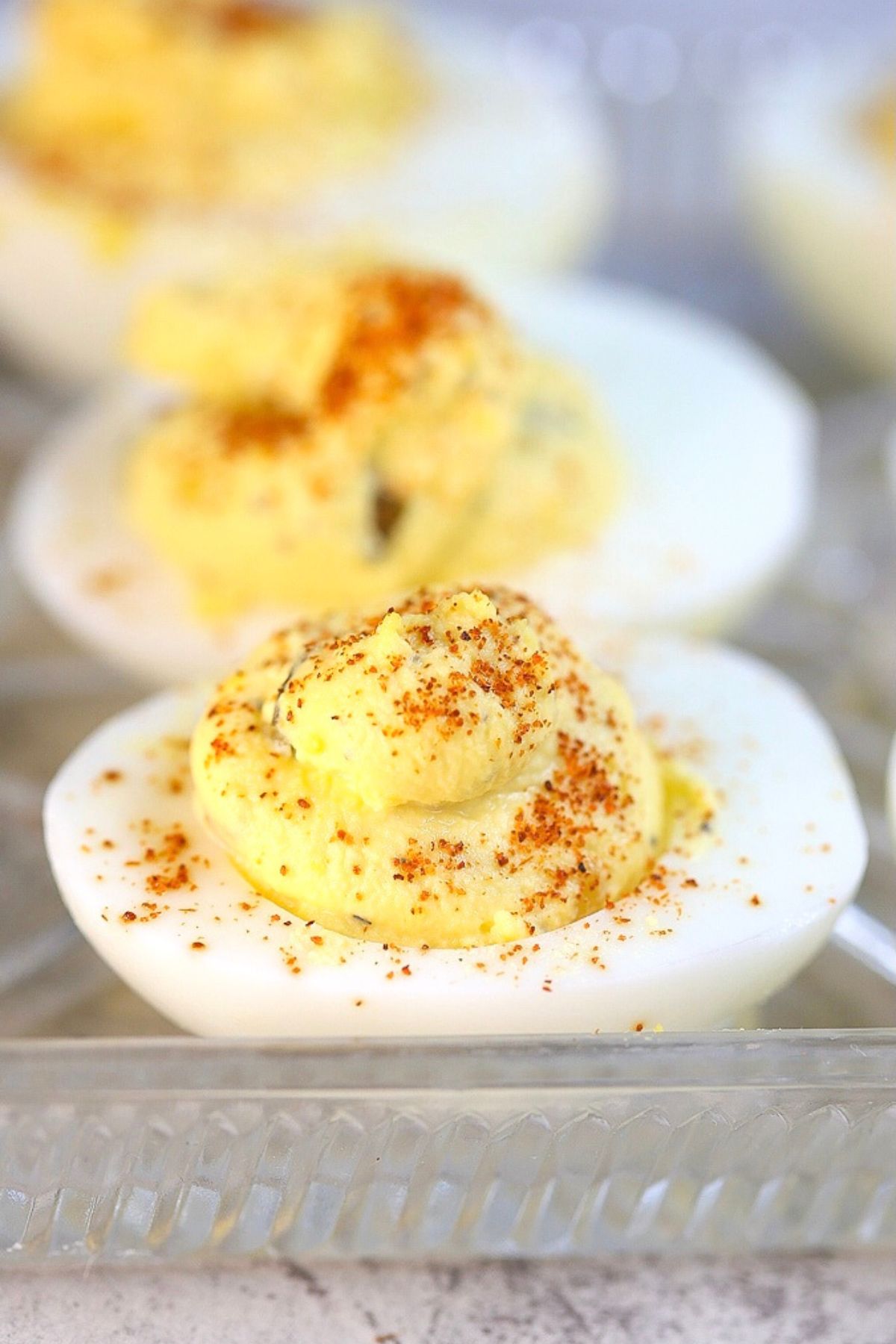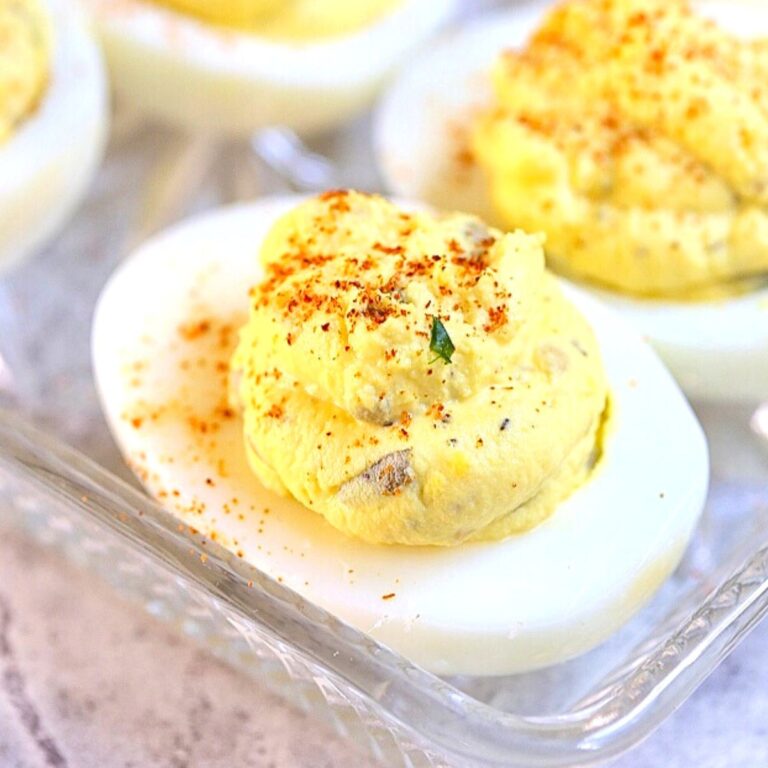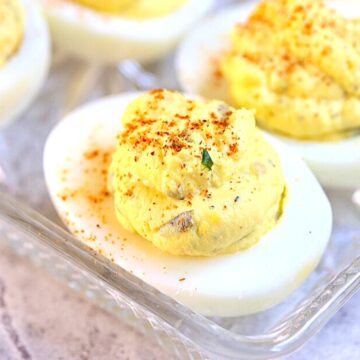 Easy Southern Deviled Eggs (Relish or Pickles)
These easy southern deviled eggs can be made with relish or pickles, and are the perfect party appetizer for Easter, spring potlucks, or any family gathering throughout the year.
Print
Rate
Servings:
12
deviled eggs
Instructions
For the Southern Deviled Eggs:

Hard boil your eggs in any easy peel way you prefer. Cool completely and peel.

Cut the eggs in half lengthwise. Using a spoon or small spatula, gently pop out the yolks and place them in a medium mixing bowl. Set the whites aside on a serving platter.

Mash the yolks until they're broken up and no lumps remain. Add mayonnaise, mustard, relish or pickles, vinegar, pickle juice, garlic powder, salt and pepper, and mix until creamy and well combined. Taste the deviled egg filling to see if any additional salt and pepper are needed. Adjust to your liking.

Spoon or pipe the mixture into the reserved eggs whites and sprinkle with paprika. You can also top with some finely chopped fresh dill or chives for some greenery.

Regrigerate until ready to serve!
Notes
I prefer to hard boil eggs using the 5-5-5 method in the Instant Pot
Southern deviled eggs will last up in an air-tight container in your fridge for up to 4 days, but you should eat them within 2 days for optimal freshness.