Instant Pot Hard Boiled Eggs, made using the 5-5-5 method, are super easy to peel, and you'll get perfectly boiled eggs every single time!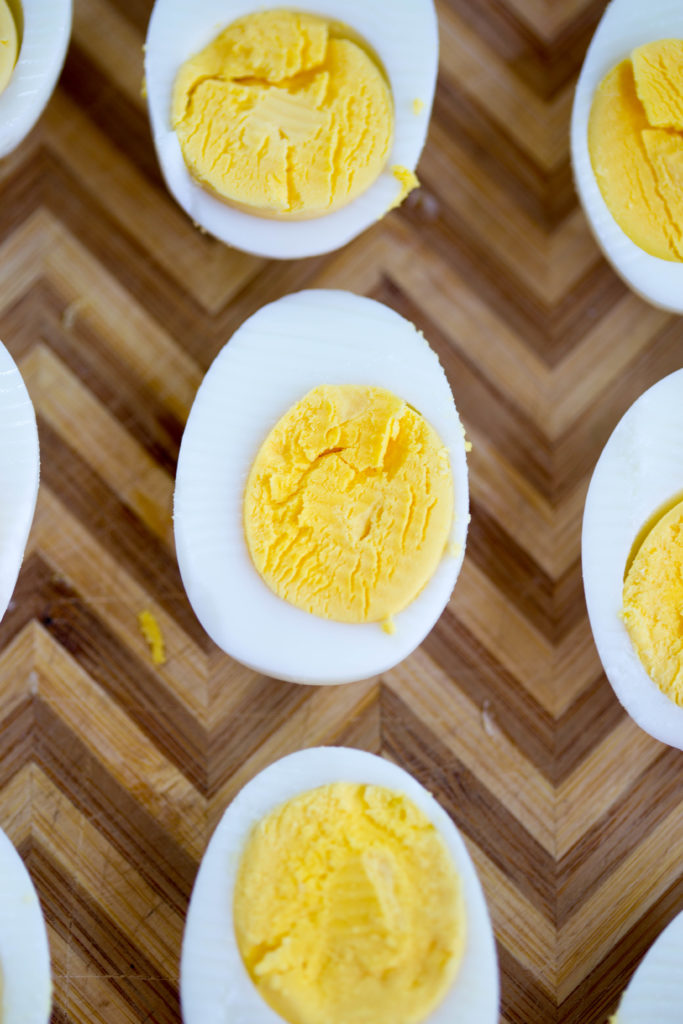 Instant Pot Boiled Eggs
My family loves boiled eggs, my son and husband eat them around the clock, but before I learned to make hard boiled eggs in the Instant Pot using the 5-5-5 method, I hated cooking them!
The eggs never boiled evenly the same way twice, peeling them was always a disaster, and that gross green supher ring? Eeeeeew, no thank you! Plus, I just wasn't a fan of eating them after all that work. But now? I love them!
How to Make Instant Pot Hard Boiled Eggs
Please allow me to introduce making Instant Pot hard boiled eggs!!! They are insanely reliable which is the best part. They cook perfectly each and every time, and their shells slip off like a dream!
Instant Pot Hard Boiled Eggs using the 5-5-5 method may be one of my favorite like hacks ever....if it's actually considered a life hack?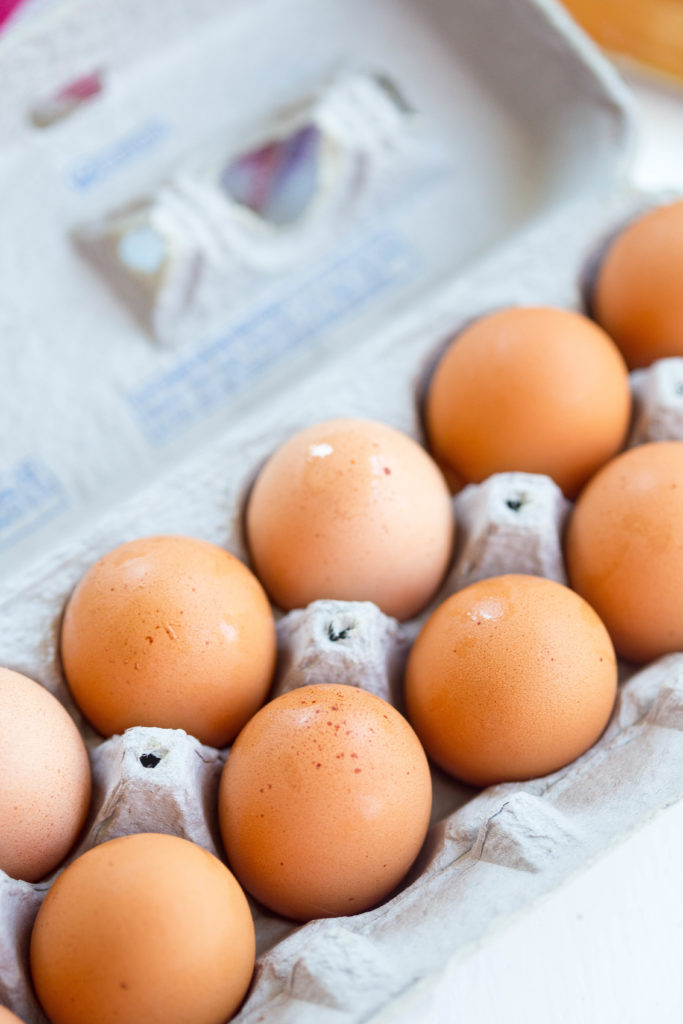 What Is the 5-5-5 Method?
The best way to get perfect, easy peel hard boiled eggs in the Instant Pot is with the 5-5-5 step process. It is absolutely no fail. The 5-5-5 step process is super simple and easy to remember: 5 minutes cook time in the pressure cooker, 5 minutes natural pressure release, and a 5 minute ice bath:
5 minutes to cook in the Pressure Cooker: Once at pressure, the eggs will cook for 5 minutes. Your instant Pot will beep several times loudly at this point, but don't release the pressure just yet!
5 minutes natural release: Allow the pressure cooker to naturally release for 5 minutes before venting.
5 minutes to rest in an ice bath: Using a slotted spoon or spider, immediately remove the eggs from the Instant Pot and place them in a bowl of ice water to cool completely. Remove from the water, crack the shell, and be amazed as the shell slides right off!
NOTE: It's best to peel eggs immediately after their ice bath!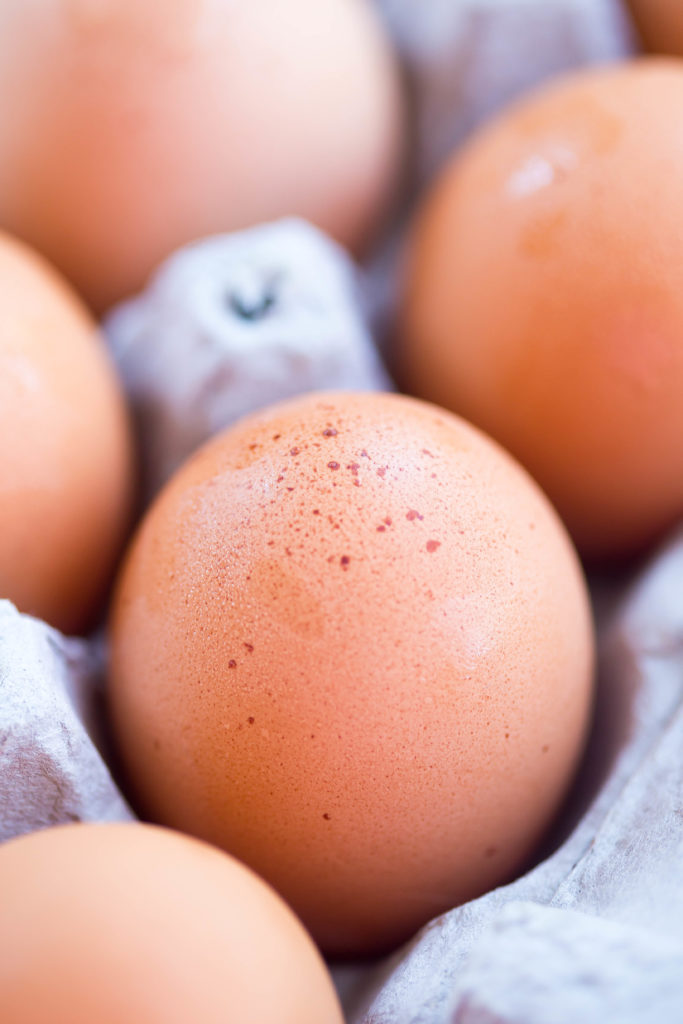 Recipes Using Hard Boiled Eggs
Easy Peel Hard Boiled Eggs FAQ
Why do hard boiled eggs need an ice bath?
Cold eggs peel best. Always add hard boiled eggs to an ice bath or run under cold water immediately after removing from the pot in order to stop the cooking process. This will also allow the eggs to decompress, making the shells easier to peel.
How long will hard boiled eggs last?
Eggs will last for 3 days in the fridge, if peeled, and up to a week if left unpeeled. Hard boiled eggs will last for up to two hours on the counter if not refrigerated.
Can I make a soft boiled eggs in the Instant Pot?
Yes! For soft boiled eggs in the Instant Pot, cook the eggs for 3 minutes and then do a quick release instead of a natural release.
How Many Eggs Can You Hard Boil at Once in the Instant Pot?
You can make as many aa 18 at once with just once cup of water! Just gently stack them on top of each other.
Can You Freeze Hard Boiled Eggs?
It's not recommended to freeze hard boiled eggs with the whites (they'll be too rubbery), but the boiled egg yolks can be frozen and grated over salads, side dishes, etc.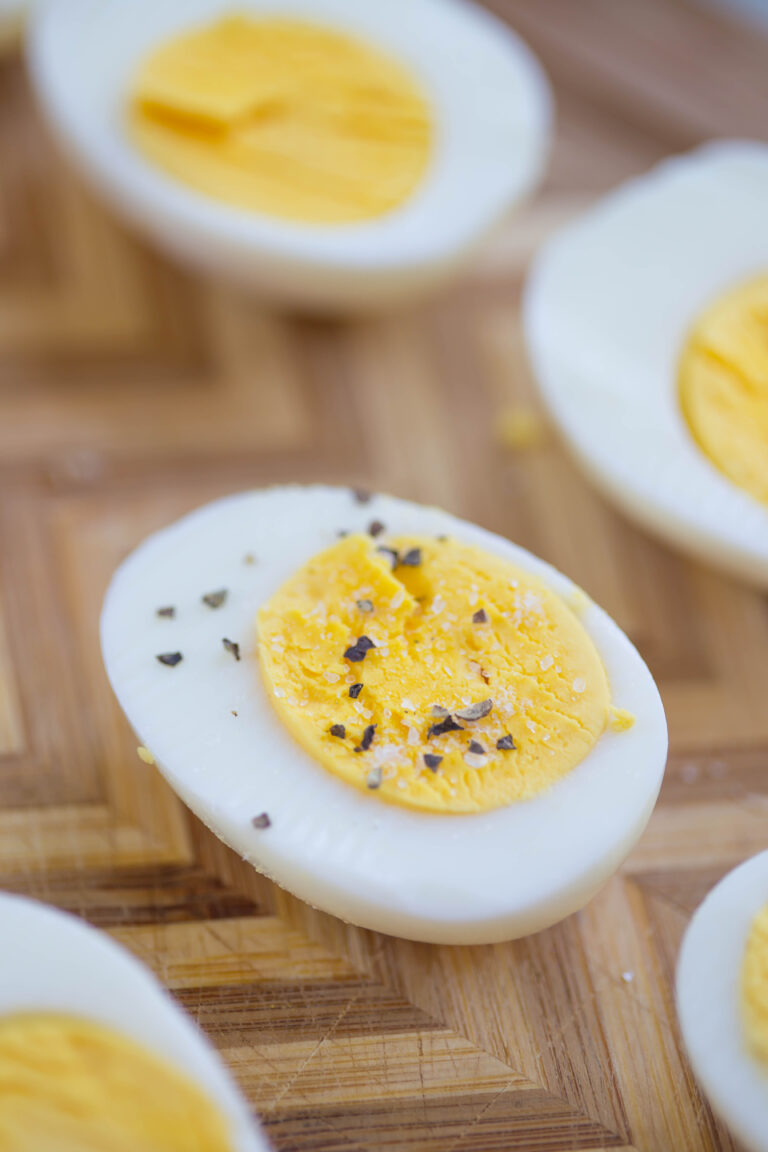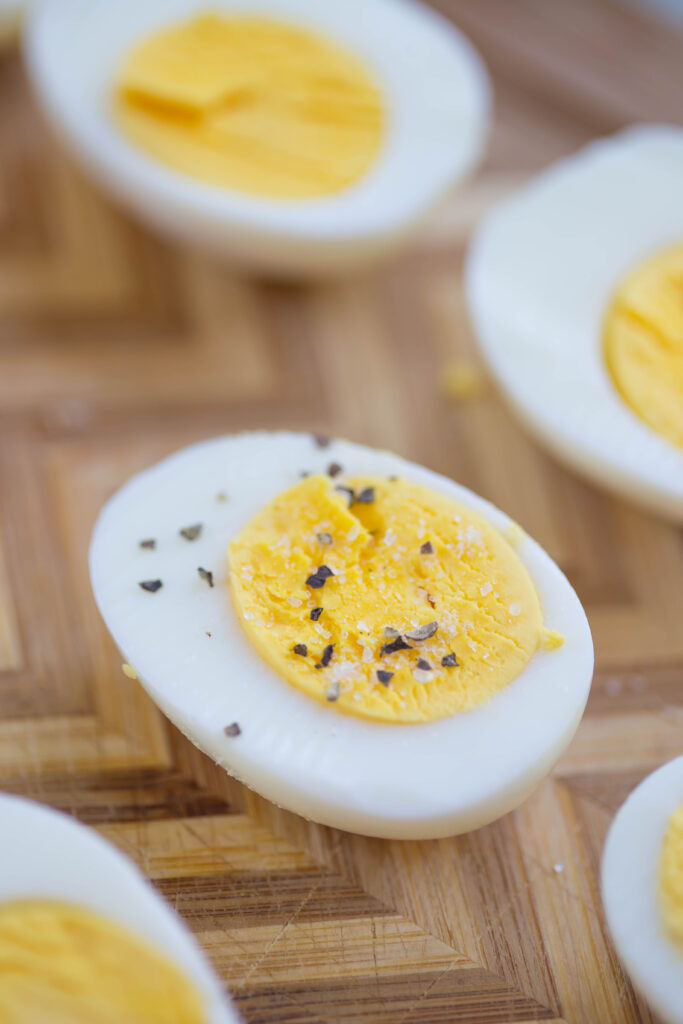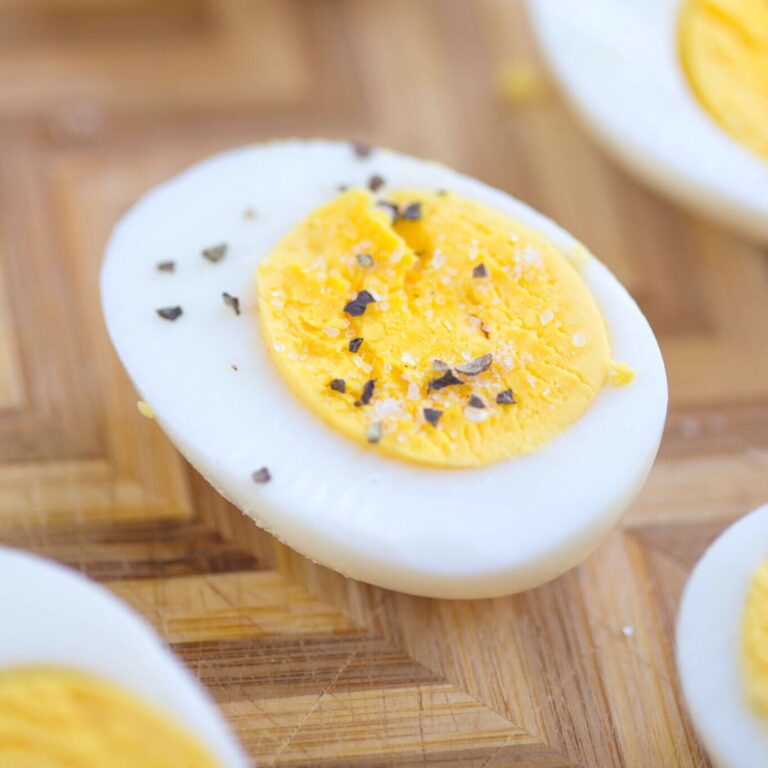 Instant Pot Hard Boiled Eggs (5-5-5 Method)
Instant Pot Hard Boiled Eggs using the 5-5-5 method will dramatically change your life!
Print
Ingredients
6

Eggs

or up to 18

1

cup

Cold water

for 6 quart and 1.5 cups for 8 quart

Steam Rack Trivet for Instant Pot
Instructions
Add Steam Rack trivet and cold water to the inner pot of a 6 quart Instant Pot and gently place 6 eggs (or as many as you'd like) on top of rack.*

Lock the lid into place and set the valve to sealing. Set Instant Pot to Manual/High Pressure for 5 minutes and press start. 

While eggs are cooking, prepare an ice bath by filling a large bowl with ice and water.

Once eggs have cooked, allow pressure cooker to naturally release for 5 minutes then quick release any remaining pressure. 

Remove hard boiled eggs with a slotted spoon and immediately transfer to prepared ice bath. Allow to cool for 5 minutes.

To peel: Llightly tap the hard boiled egg on the counter or a hard service to crack the shell then be amazed as you peel the shell right off!

Serve/use immediately or place in an air tight container and refrigerate for up to 3 days (peeled) or 7 days (unpeeled).
Notes
*Add 1.5 cups water if using an 8 quart Instant Pot
*If using more than 6 eggs, gently stack eggs on top of each other, if needed.