Ambrosia Watergate Salad with coconut is the classic green treat of a pistachio pudding salad (aka Watergate salad) mixed with an old-fashioned southern Ambrosia salad! Creamy pistachio pudding, fluffy whipped cream, crushed pineapple, tropical coconut, juicy mandarin oranges, sweet maraschino cherries, mini marshmallows, and crunchy pecans are mixed into a delightful dessert that's perfect to serve for any holiday or shindig.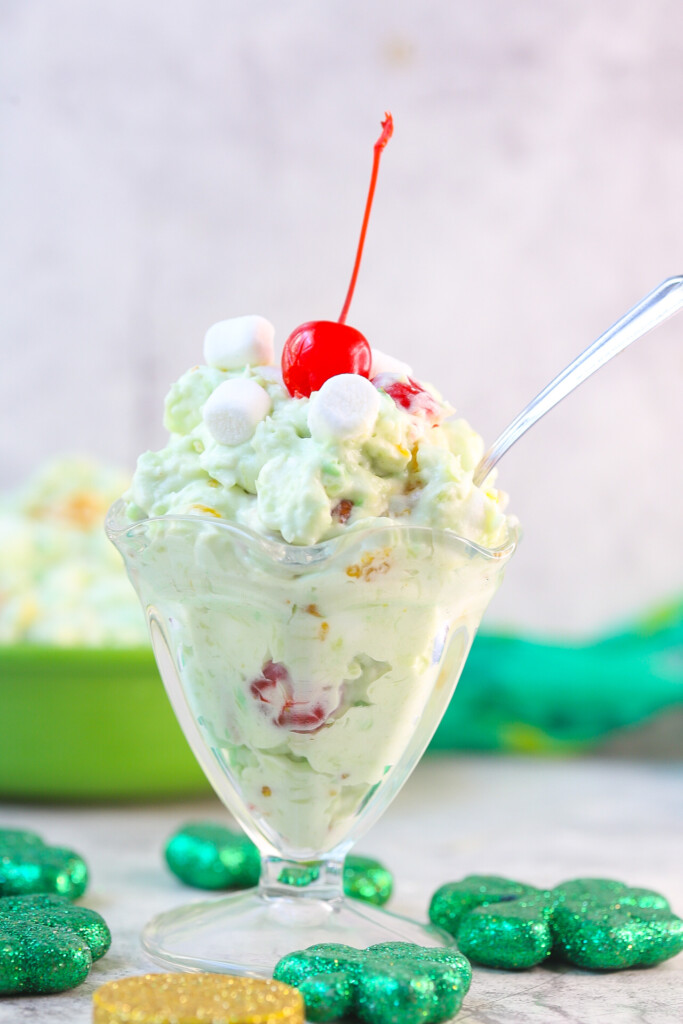 What is Watergate Salad?
Watergate Salad is known by many other names across the country. Possibly even the world?
Pistachio Salad, Pistachio Fluff, Pistachio Fluff Salad, Pistachio Delight, Pistachio Pineapple Delight, Green Fluff, Green Goop, or even Ambrosia Watergate salad, but the recipe is essentially the same.
Pistachio pudding, crushed pineapple, and the old-faithful cool whip make up the base.
Why do they call it Watergate Salad?
Watergate Salad is a delightful dish of the 70's when instant gelatin was a new phenom and the closest things to greens in salads were the glowing chartreuse hues of pistachio pudding or lime-flavored Jell-O molds strewn across the Discos.
Watergate salad more than likely originated from the Jell-O corp when it introduced its pistachio flavored pudding in 1976, and NPR suggest "Watergate Salad" was named after the
"Watergate Cake" that also used pistachio pudding in its batter.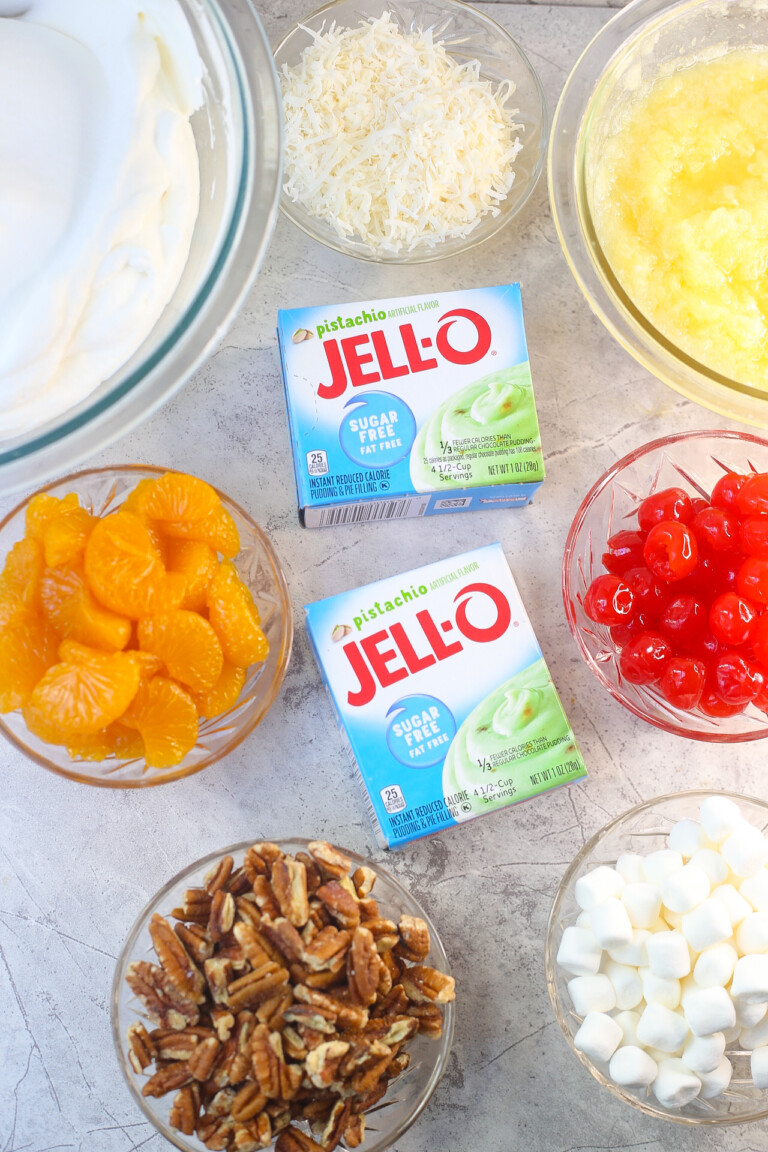 What are the ingredients in Watergate Salad?
My mother-in-law makes Watergate Salad several times a year, and I had to get the recipe from her originally when I first started making it. Of course, as a blogger, I ended up putting my own spin on it.
The Watergate Salad original recipe calls for:
2 boxes instant pistachio pudding mix
1 14 oz. can crushed pineapple (don't drain the juice)
1 tub Cool Whip (thawed)
2 cups mini marshmallows
1 cup chopped pecans (toasted)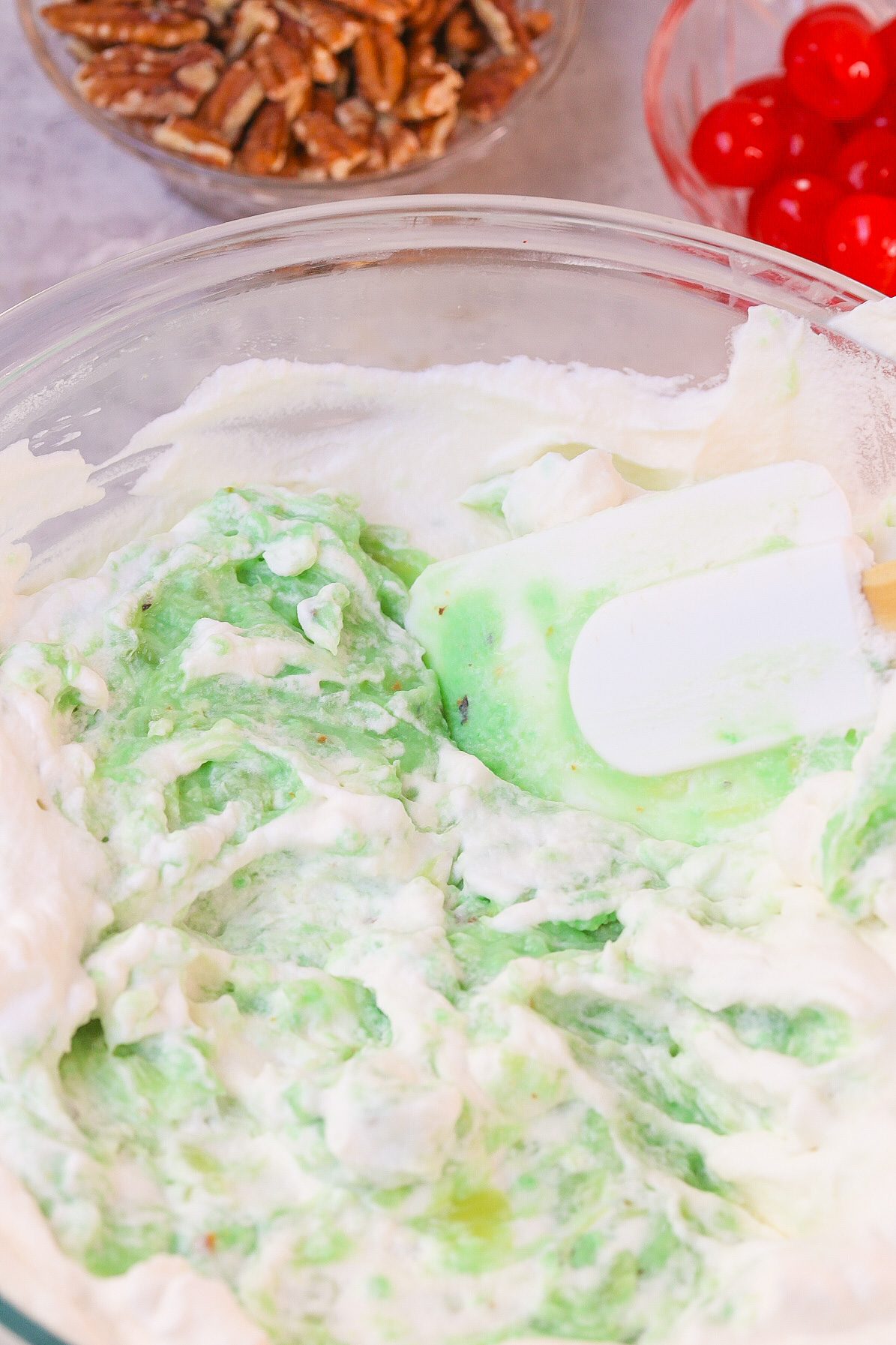 What ingredients are in Southern Ambrosia Salad?
My grandmother's old-fashioned Southern Ambrosia salad was made with:
Cool whip
sour cream
fruit cocktail
pineapple tidbits
green grapes
sweetened coconut flakes
maraschino cherries
chopped pecans
Ambrosia Watergate Salad With Coconut
My husband and son are cuckoo-for-pistachio fluff, and my mother-in-law makes Watergate Salad every chance she gets. I love Ambrosia so it makes ense that, over the years, I've made a few tweaks and turned an original Watergate salad into a combo of two '70s classic.
With my fluffy green pistachio pudding ambrosia salad...
I skipped the sour cream and cool whip and made homemade whipped cream instead.
I tossed in 1 cup shredded unsweetened coconut (toasted or untoasted. Whichever!)
I folded in a (10 oz.) jar of stemless marachino cherries (drained).
I stirred in 1 (11 oz.) can of mandarin oranges (drained)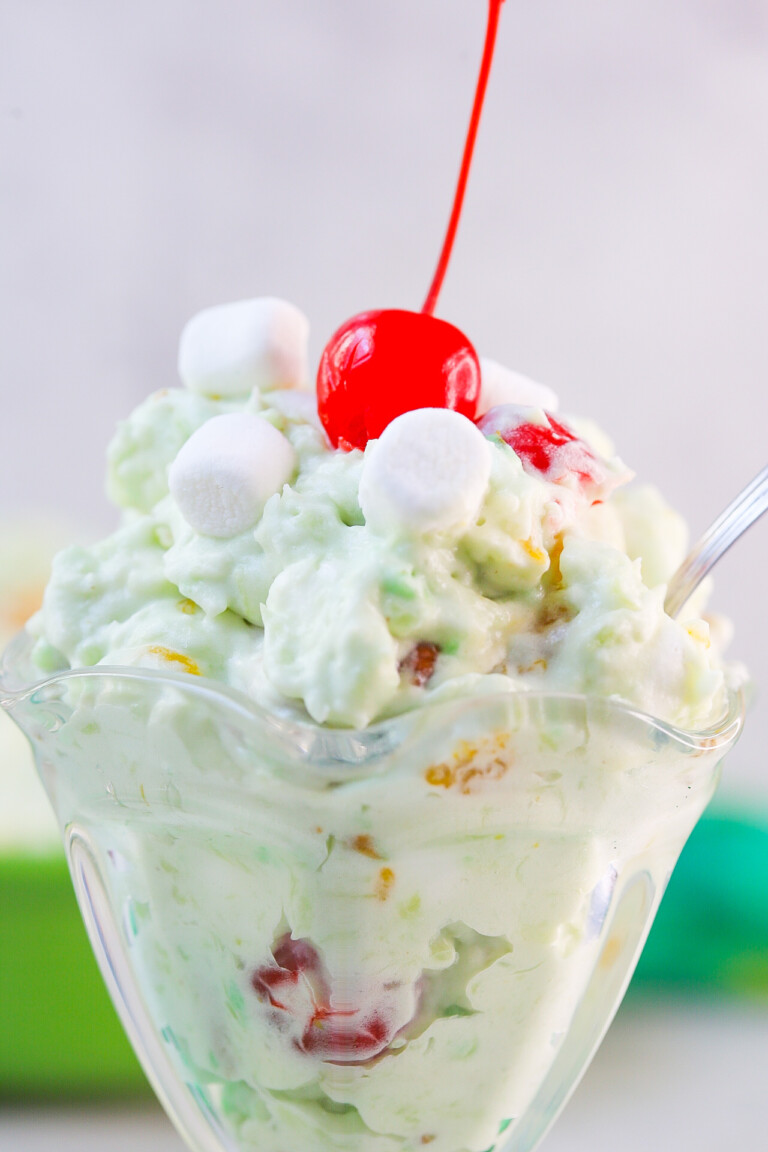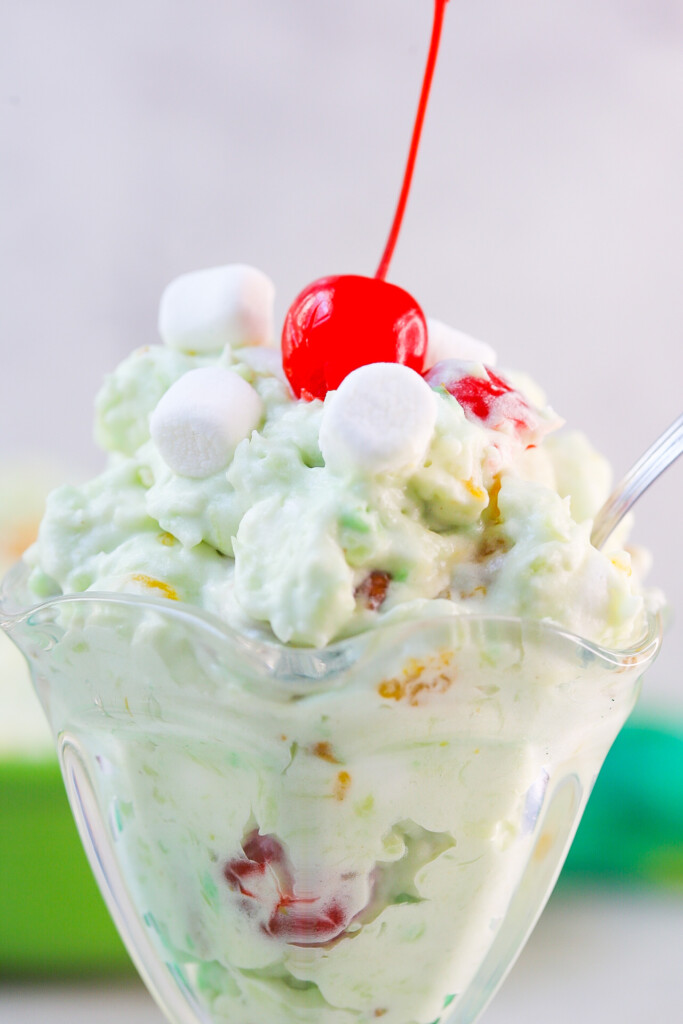 More Fun and Fluffy Salad Recipes
Banana Fluff Pudding Salad
Oreo Fluff Salad
Waldorf Salad
Layered Jello Rainbow Salad
Great Grandma's Frozen Fruit Salad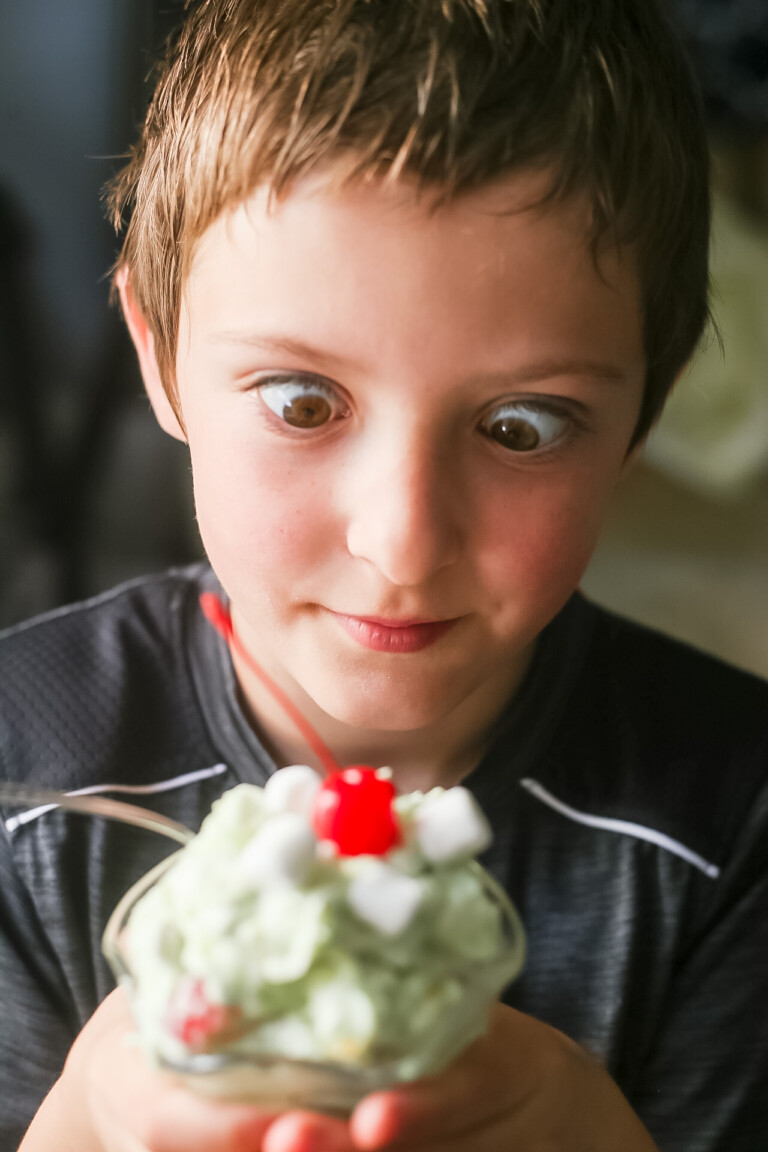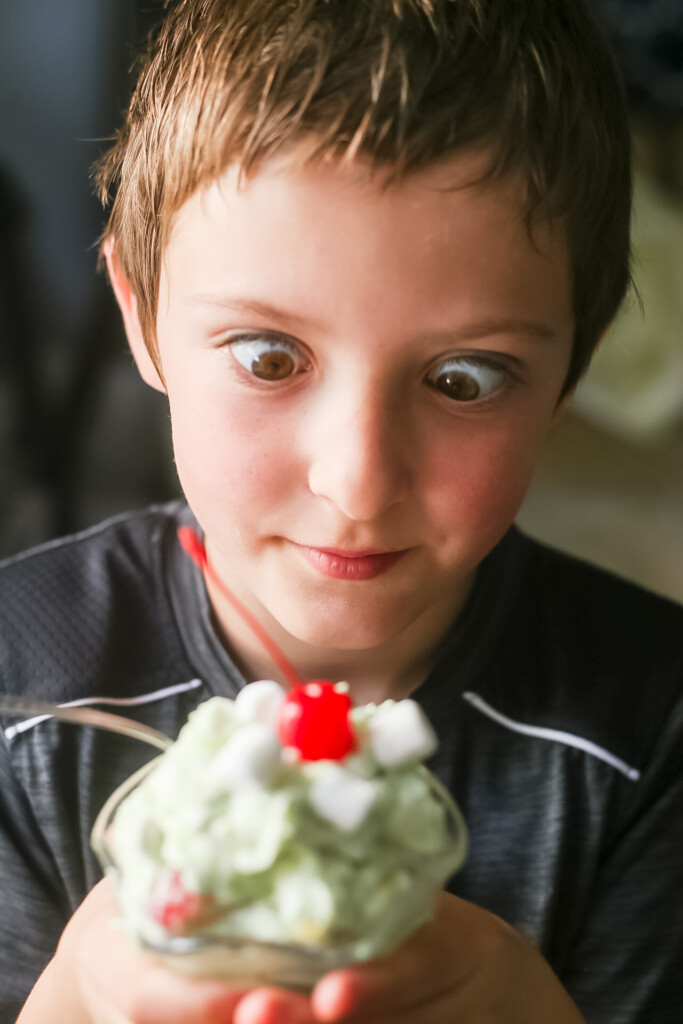 Ambrosia Watergate Salad is also the perfect shade of green to serve up for St. Patrick's Day, for a spring fling, a summer shindig, or during the holidays!
"📖 Recipe"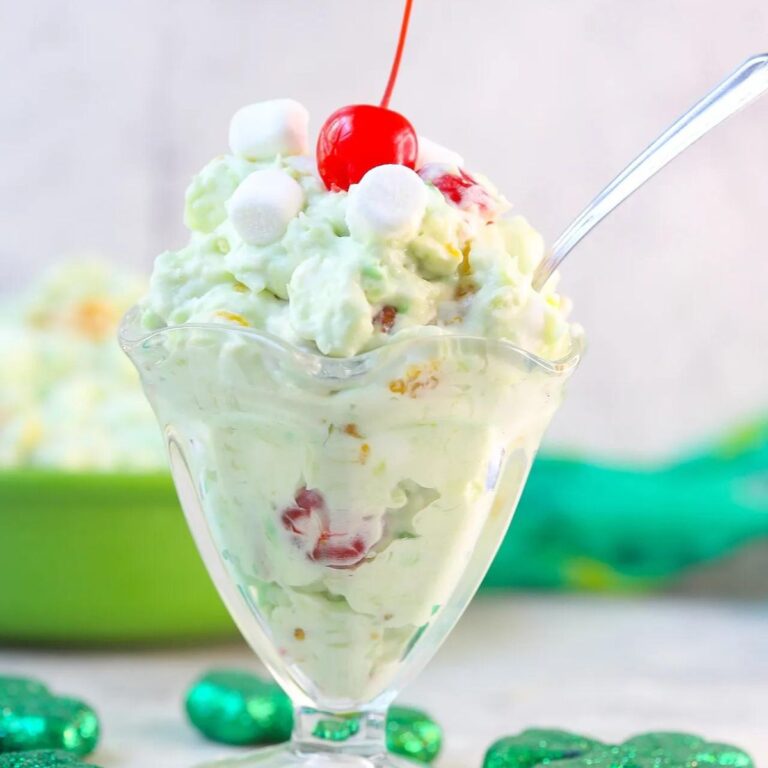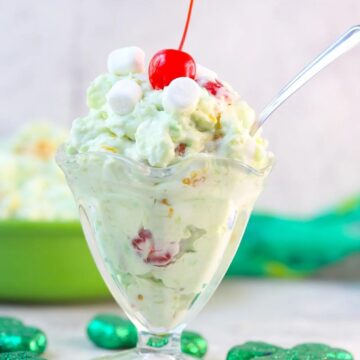 Ambrosia Watergate Salad with Coconut
Ambrosia watergate Salad is a classic green treat loaded with creamy pistachio pudding, fluffy whipped cream, crushed pineapple, coconut, mini marshmallows, and pecans. It's an excellent light dessert and a southern side dish to most any spring meal.8
Print
Rate
Ingredients
For the Ambrosia Watergate Salad with Coconut:
Instructions
For the Ambrosia Watergate Salad:
In a large glass mixing bowl, stir together the pistachio pudding mix and crushed pineapple w/ the juices until it turns a gorgeous Chartreuse green and is well combined.

In a separate large glass bowl and using a hand mixer OR using the bowl of a stand mixer, add the heavy whipping cream vanilla and beat until soft peaks form. Sprinkle in powdered sugar and beat a 1 minute more.

Fold whipped cream into pistachio pudding mixture until thoroughly mixed then stir in coconut, oranges, cherries, marshmallows, and pecans. Mix well.

Cover and refrigerate for 1-2 hours or until thoroughly chilled before serving.
Notes
Ambrosia Watergate Salad lasts for up to 3 days in the refrigerator if properly covered and sealed.