Everything Irish Soda Bread is fluffy and flavorful and needs no time to proof! Ready in just 45 minutes, this easy soda bread recipe is a delicious twist on a traditional favorite for any St.Patrick's Day shindig.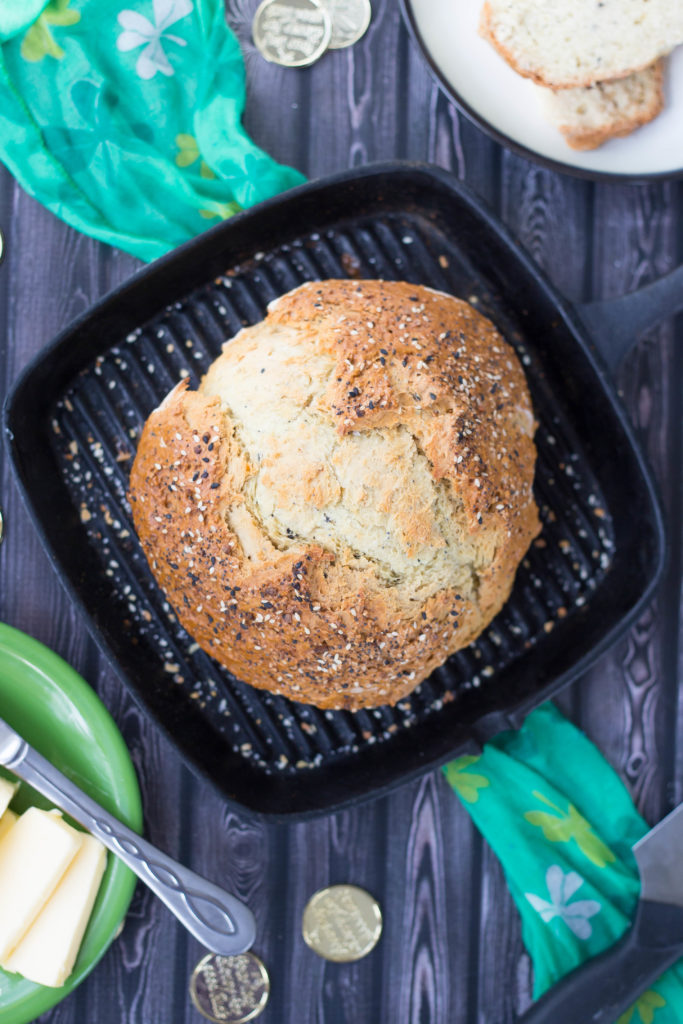 Everybody loves everything seasoning!
Everything seasoning is a delicious spice blend I first fell in love with when I was a teenager working at a local bagel shop. The flavorful mix is loaded with white and black sesame seeds, dried garlic, dried onion, course sea salt, and the ingredients can be found in nearly every grocery store known to man.
As far as I know, Trader Joe's was the first to start selling the spice mix as a blend, but don't fret! If you don't have a TJ's around, Amazon sells the stuff in a two pack so you can ensure you'll always have it on hand, or you can just go ahead and make it yourself.
I wanted to keep this Irish Soda Bread recipe super, super simple so my recipe calls for the pre-made stuff, but all you'll need are the ingredients below to make it yourself if you wish!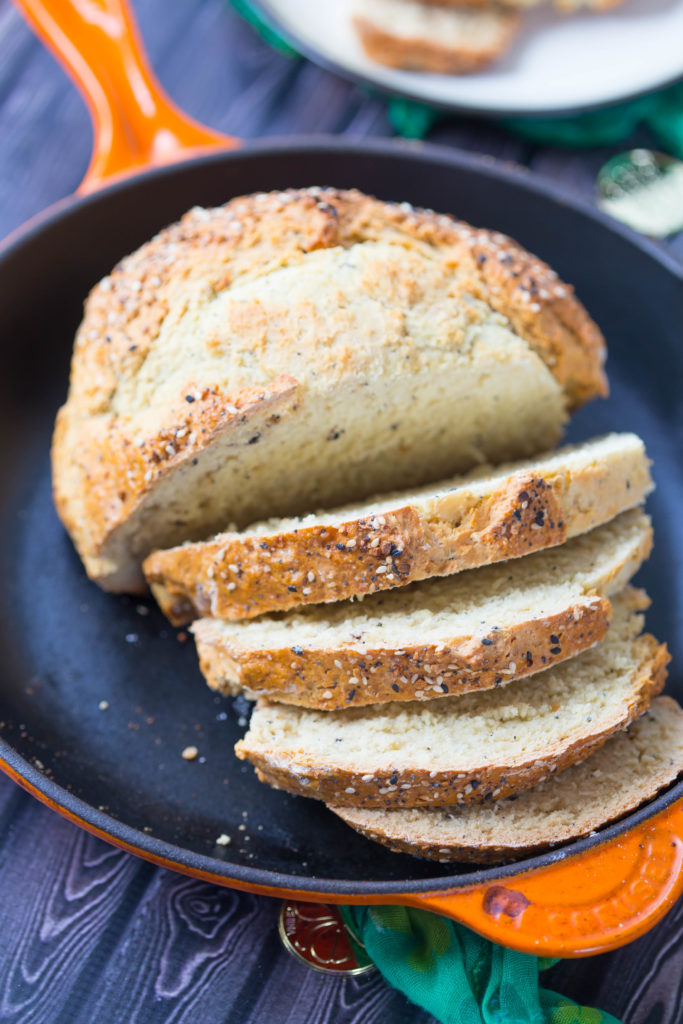 I love making bread at home, but most of the time homemade bread recipes take a ton of patience, exorbitant amounts of time, and carefully weighed out measurements and ingredients.
Um, hi. I'm the mom to a 5 year old cyclone deeply involved in jiu jitsu, t-ball, and quality time with family. Plus I work part-time, have obligations to church and the school PTA, and hello! My health is a hot mess.
As much as I would love to spend hours of my time in the kitchen baking bread like my great grandmother used to do, as the old adage goes...
Ain't nobody got time for that.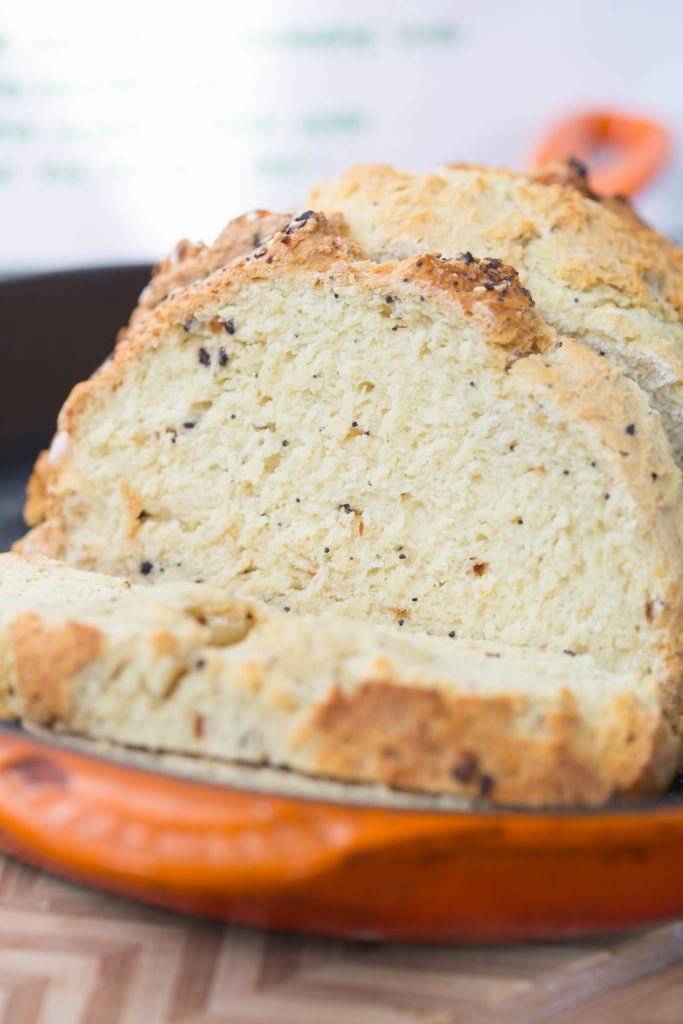 Traditional Irish Soda Bread
My heart lives deeply in my Scot-Irish heritage so it was very important for me to feature a soda bread recipe that stuck to tradition as closely as possible.
Traditional Irish Soda Bread is a quick bread made with the most basic ingredients because it was first developed in poorer times. Baking soda is used as the leavening agent instead of yeast, and caraway seeds and salt add flavor. Soured milk (or buttermilk) activates the soda, and it's then baked in an iron pan so the bread rises into a delicious, round loaf with a tender, tangy taste and a thick, hard crust.
This soda bread recipe calls for everything seasoning instead of the traditional caraway seeds, but other than that this is an awesome homemade bread that's seeped in Irish tradition.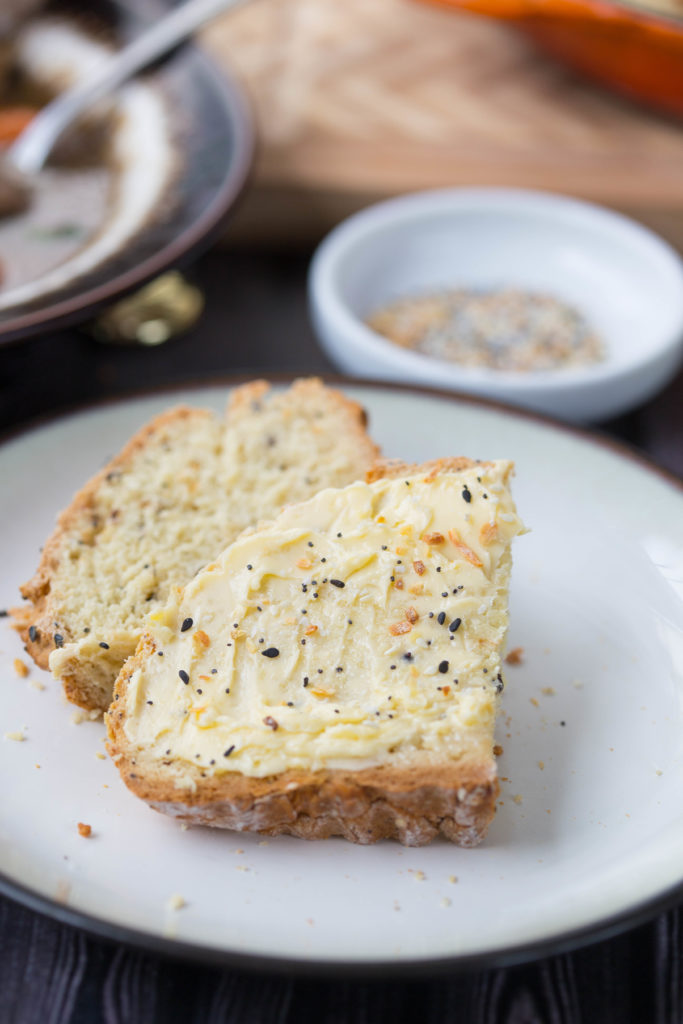 How to Make Irish Soda Bread
The best part about this recipe is there is no proofing involved. You simply make the dough, plop it in a pan, score it, and bake straight away! Yay!
When it comes to kneading the dough, I learned it can go one of two ways: knead it too little and the dough is a bit bumpy on top after it bakes so it will look a bit more rustic. Knead it just a bit longer, and the top will be a little smoother and a wee bit prettier. During my testing, I came to the conclusion that kneading the dough about 50 times will make the dough exactly how you want it.
Tradition calls for soda bread to be baked in a cast iron pan which beautifully blends with my southern background and, legend has it, a cross is then cut on the top to protect your home and ward off evil. So if you're planning on partying extra hard this St.Patrick's Day go ahead and make that cross extra big.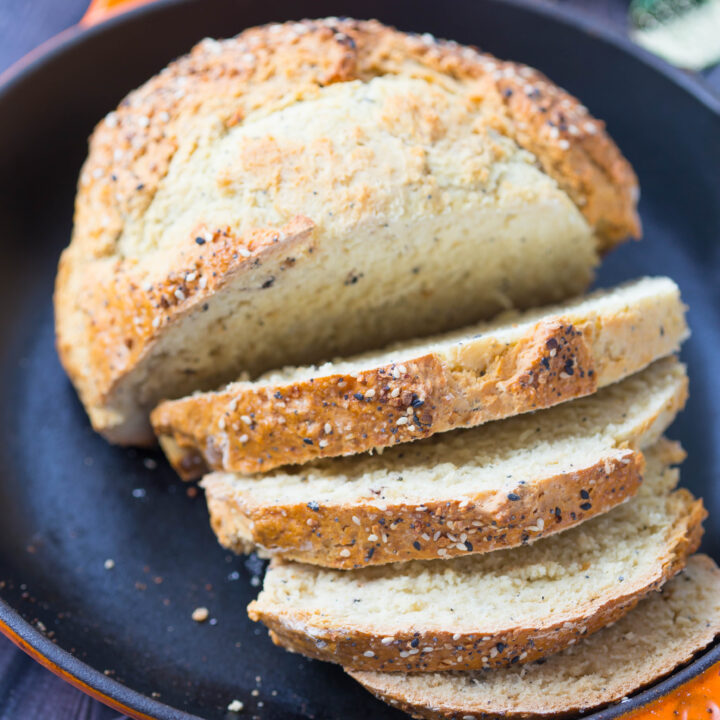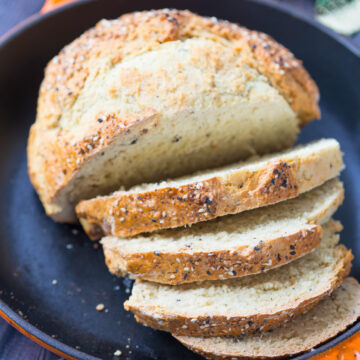 Everything Irish Soda Bread
Everything Irish Soda Bread is fluffy and flavorful and needs no time to proof! Ready in just 45 minutes, this easy soda bread recipe is a delicious twist on a traditional favorite for any St.Patrick's Day shindig.
Print
Rate
Instructions
Preheat oven to 425 degrees F and sprinkle a workspace or cutting board with flour to prevent sticking when kneading the dough. Set aside.

Mix flour, everything seasoning, baking soda, sea salt, and soured milk until lumps form and it just pulls together. Dump the dough onto the floured workspace, sprinkle with a touch more flour (I also flour my hands a bit) and knead about 50 times until the dough forms a smooth ball.

Place the dough ball into a non-greased, round cast iron skillet. Score, or cut, an X on the dough so it extends from one end until the other. Brush the whole surface of the dough with the egg wash then sprinkle with the remaining 1 teaspoon of everything seasoning.

Bake for 15-20 minutes, or until a golden crust forms, then lower heat to 400, cover the loaf with tin foil, and continue to bake for 25-30 minutes or until it sounds hallow when tapped.
Notes
To Sour Milk: 
Stir together 1 ½ cups milk or half and half with 1 ½ tablespoon fresh lemon juice or white vinegar. Allow to sit for 5 minutes before using. 
For Everything Seasoning stir the following spices together : 
2 tablespoon poppy seeds
1 tablespoon white sesame seeds
1 tablespoon black sesame seeds
1 ½ tablespoon dried minced garlic
1 tablespoon dried minced onion
2 teaspoons course sea salt