Slim Pickin's Kitchen is reader supporter, and this post may contain affiliate links. I may earn a small commission when you click on the links at no additional cost to you. As an Amazon Affiliate, I earn from qualifying purchases. You can read my full disclaimer here.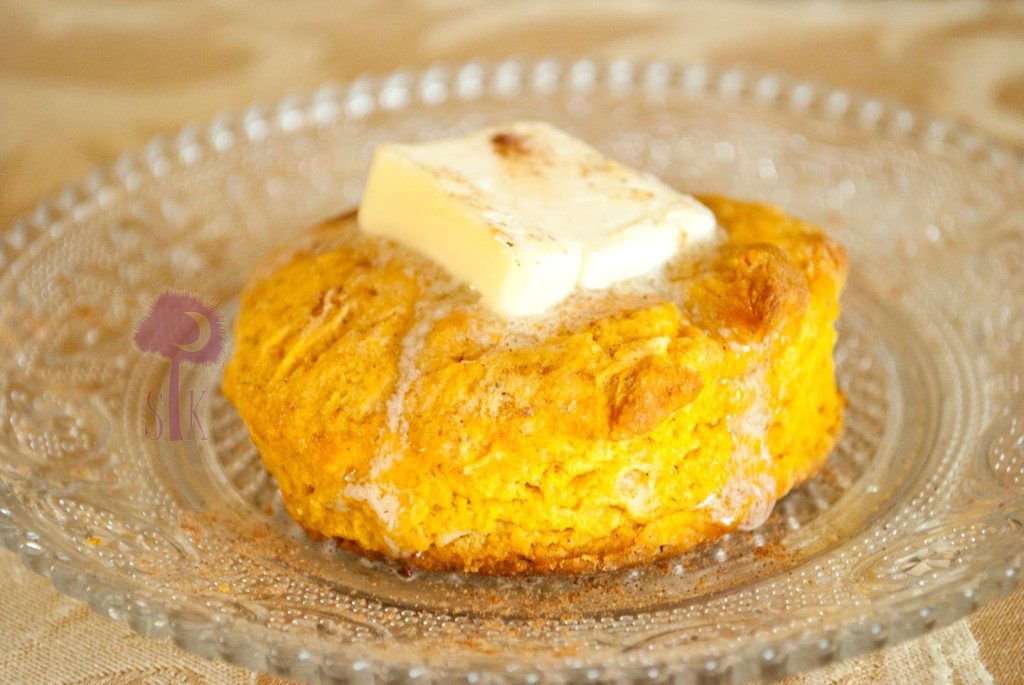 Sometimes simple is so much better than sassy…
And these sweet potato biscuits are the epitome of that statement.
One of our appetizers during the cocktail portion of our wedding were bite size ham & sweet potato biscuits. We were so busy with pictures I never got to try them, so I've been wanting to make the biscuit portion of that app ever since.
Nearly a year later, I finally got it done!
Now, I've had sweet potato biscuits before, but they have always left me thinking that I could make them so much better at home.
Yeah…I'm a total brat like that.
But I was also right…very, very, very right.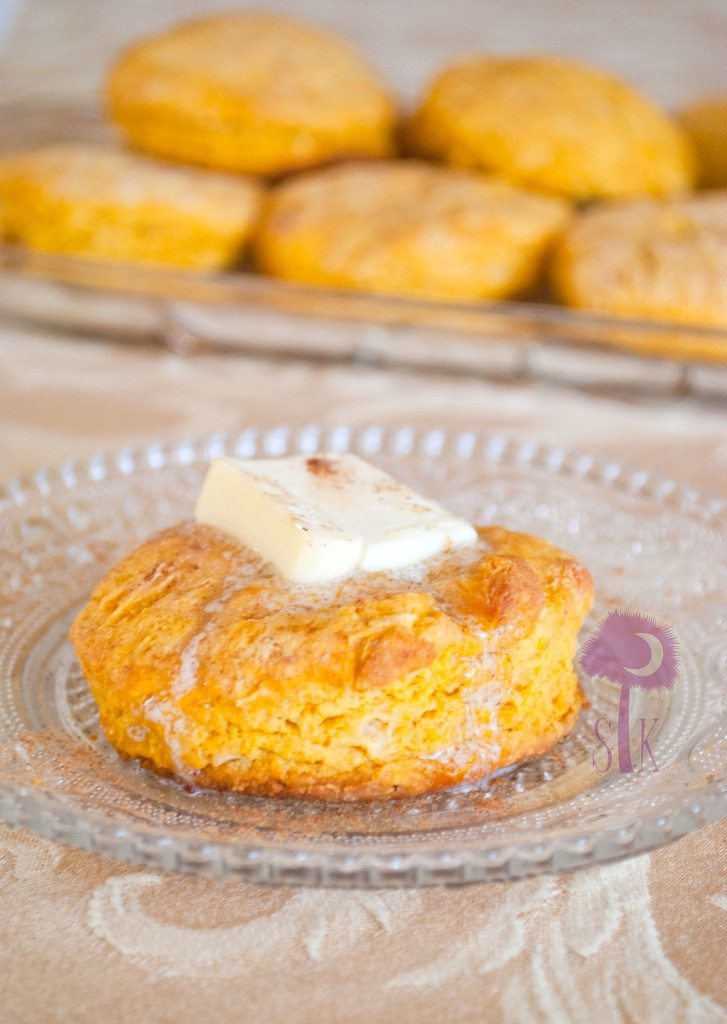 These biscuits will absolutely melt in your mouth and after ONE BITE, I threw my practically paleo way of eating right down the garbage disposal and stuffed my face full of the rest (good thing I used mostly paleo friendly ingredients). I could've easily sat in the corner with a failure hat on my head scarfing down biscuit after biscuit after biscuit with a giant smile on my face without a smidgen of guilt.
Don't judge.
These biscuits are thick and fluffy, silky smooth, and downright delicious. Sweetened with a hint of cinnamon and a touch of maple syrup, these beauties are an absolute must for this year's fall recipe repertoire.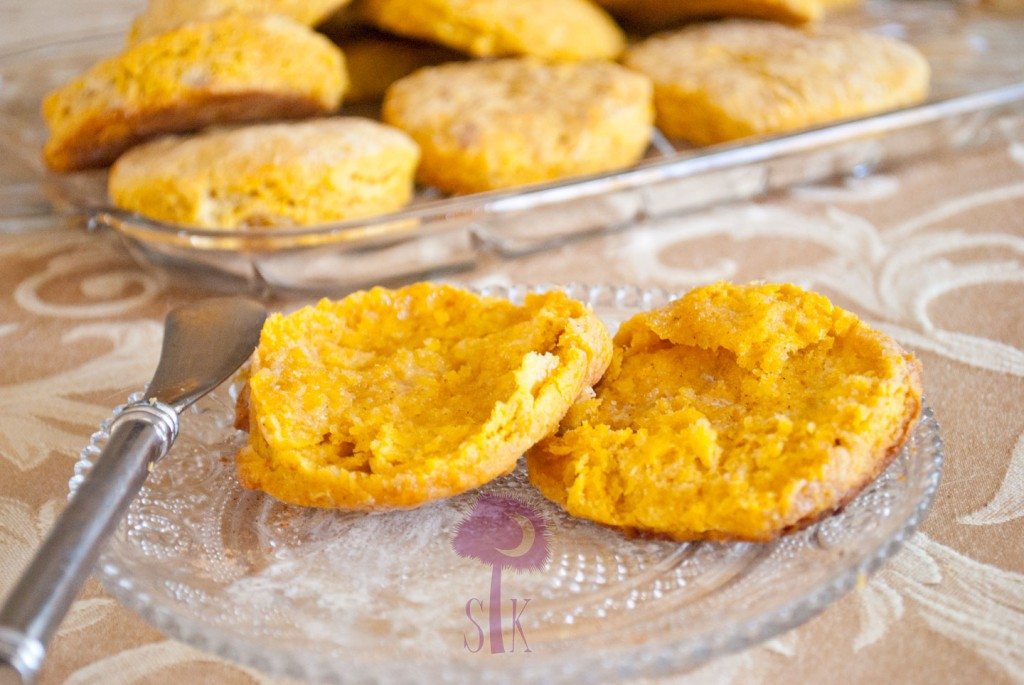 When I first got in the kitchen to make these, I had every intention of making them all fancy and speckled with flavor (maple bacon sweet potato biscuits anyone?!?), but I wanted to test the recipe before I added any crazy components.
Boy am I glad I did.
I swear I nailed it on the absolute first try, and I am thrilled with the way they turned out. As soon as I pulled them out of the oven, I put a pat of butter on one and brought it upstairs for my dad to taste test. He moaned & groaned when he ate it then immediately went back downstairs and snacked on two more.
I texted my husband a picture of them and as soon as he got home from work he tried one out and then proceeded to eat a total of three before suppertime.
Yes, ma'am…they are that dang good.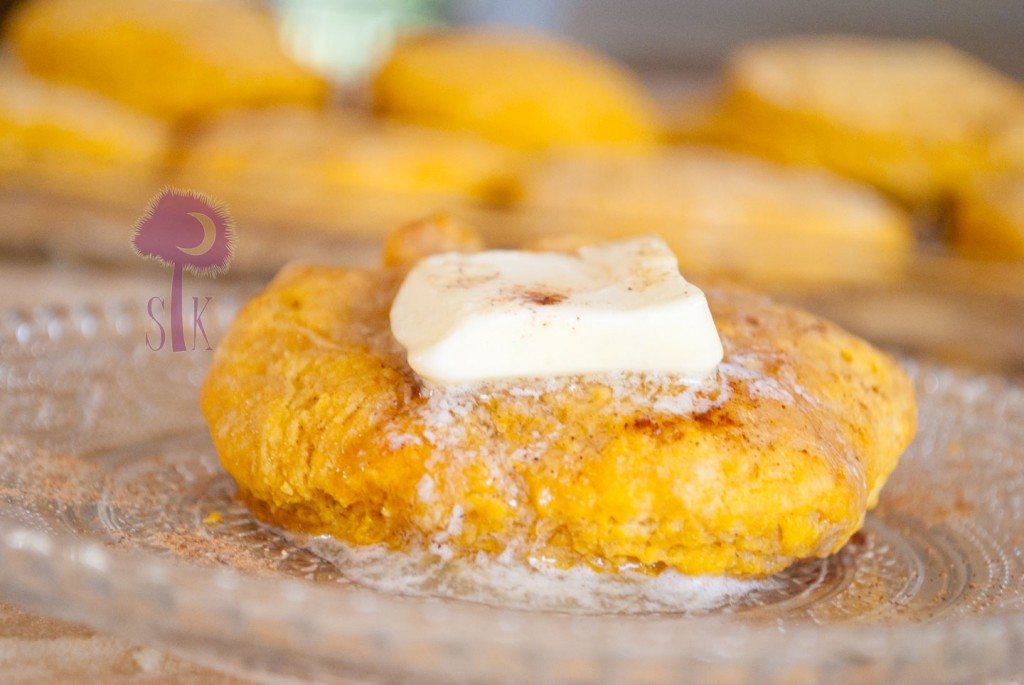 NOTE: It is very, very, very important that you use very cold ingredients when making this recipe. Please make sure to chill the flour in the refrigerator and pop the butter in the freezer for a few minutes before attempting to make the biscuits. If the ingredients aren't cold enough, it is very likely that they won't rise properly. Try to knead the dough as quickly as possible as well since your hands can cause the butter to soften! Lastly, the original recipe I posted called for self-rising flour b/c that was all I had on hand at the time, but I have since changed that! If you don't have all purpose flour, you can still use self-rising flour, but omit the baking powder & salt BUT ADD THE BAKING SODA.
Getting to know you…
Have you ever had a sweet potato biscuit?
Do you like to make biscuits from scratch?
What's your favorite super simple recipe?
Super Simple Sweet Potato Biscuits

Print recipe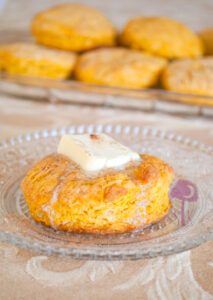 | | |
| --- | --- |
| Serves | 10-12 |
| Prep time | 10 minutes |
| Cook time | 20 minutes |
| Total time | 30 minutes |
| Meal type | Bread |
Ingredients
1 cup cold, unbleached all purpose flour (+ more for flouring the board and kneading)
1 cup cold whole wheat flour (or omit and use another cup of unbleached all purpose)
3 teaspoons baking powder
1 teaspoon baking soda
1 teaspoon salt
1/2 teaspoon pumpkin pie spice
1/2 teaspoon cinnamon
1/4 cup (1/2 stick) ice cold sweet cream butter (cut into small cubes)
3 tablespoons pure virgin coconut oil (measured solid DO NOT MELT)
1 Medium sweet potato (cooked and skin removed (about 1 cup))
2 tablespoons pure maple syrup
1 teaspoon pure vanilla extract
3 1/2 tablespoons unsweetened vanilla almond milk (plain and/or sweetened are fine also)
Note
*WWpts=3 pts per serving*
*WWpts+=4 pts per serving*
Directions
Step 1
Preheat oven to 400 degrees (F).
Step 2
In a small bowl, combine the flours, baking powder, baking soda, salt and spices and whisk until well incorporated.
Step 3
Using a pastry cutter or fork, cut in the butter and coconut oil until the mixture becomes grainy and small pieces of butter and oil can be seen throughout.
Step 4
Place the mixture in the freezer until ready to use.
Step 5
In a separate bowl, mash together the sweet potato, maple syrup, vanilla, and almond milk then stir until well combined.
Step 6
Add the sweet potato mixture (all at once) to the flour mixture and, using clean hands, mix and mush together as gently as possible until the dough is just combined.
Step 7
Working as quickly as possible, dump the dough onto a very well floured cutting board or surface and knead until the dough is slightly firm and tight. About 2 minutes.
Step 8
Roll or spread the dough until it is about 1/2-3/4 inch thick.
Step 9
Using a biscuit cutter or a glass dipped in flour, cut out your biscuits and place on a baking sheet lined with parchment paper.
Step 10
Bake for 18-20 minutes or until slightly golden brown.
Step 11
Enjoy!
Love y'all!