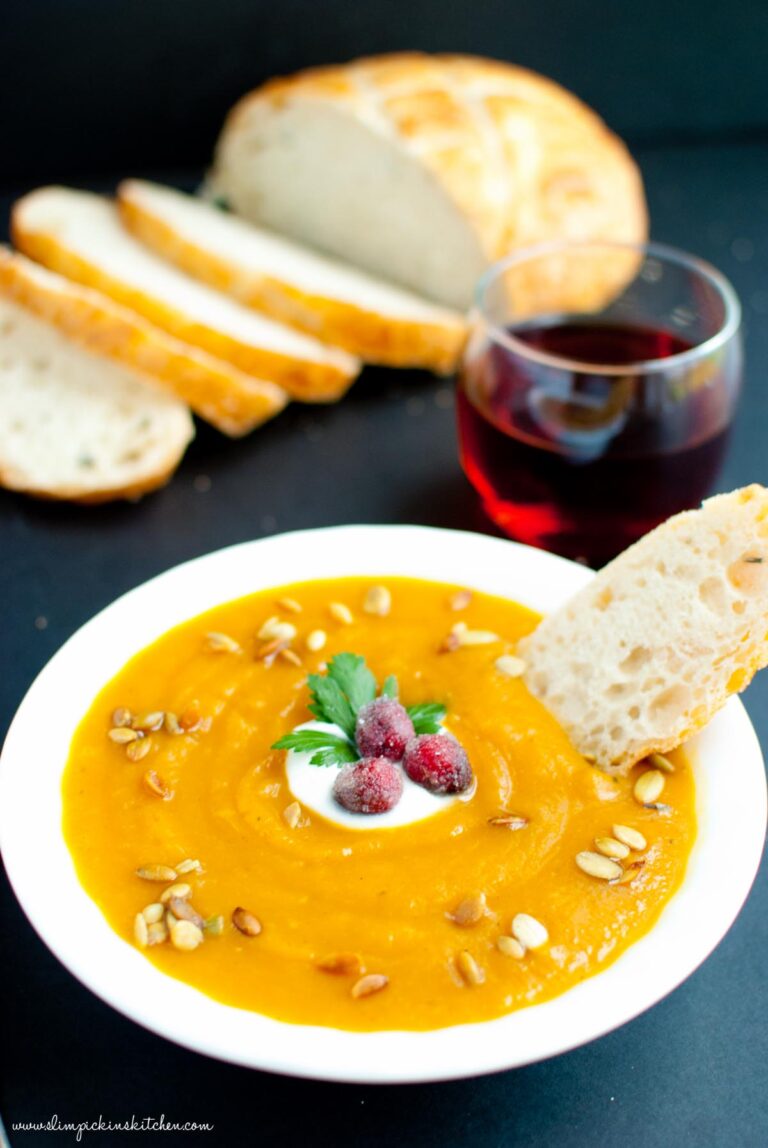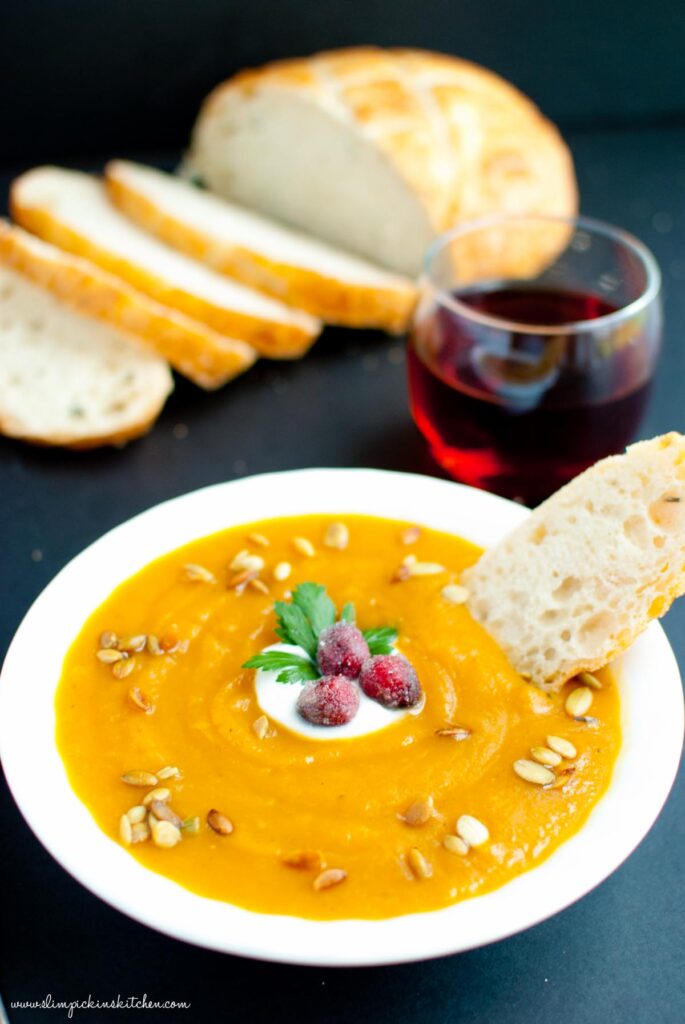 Prepare yourself for fall soup face plantage...
Because the moment the flavor of this autumn harvest soup hits you, you're going to plunge your face straight into the bowl and slurp it up like mommy's little piggy, just a oink, oink, oinking all the while and not giving two cahoots to who's listening.
It's like a giant frickin' basket full of fall favorites fell into a crock pot and magically created this bowl full of yum. You'll instantly be in an over sized sweater and fuzzy boots crunching through colorful leaves on a crisp autumn day in Vermont.
It doesn't matter if it's still 1,000 degrees where you live. After eating this soup, you'll be ready for the changing seasons.
If you're not, then something is definitely wrong with you.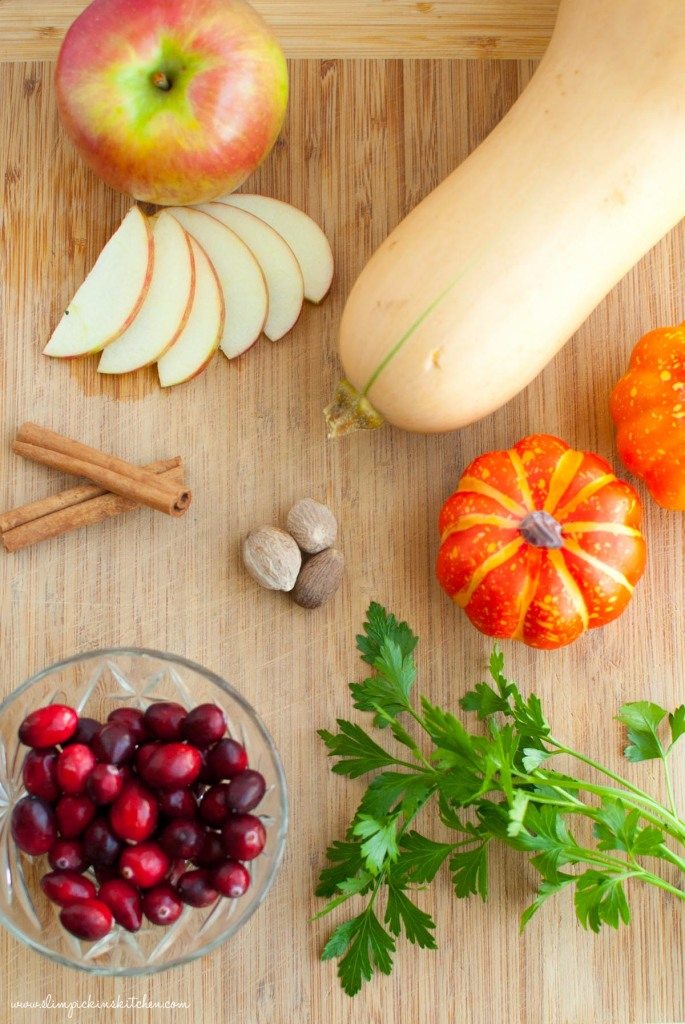 Oh.em.gee. because the honeycrisp apples! And the butternut squash! And the pumpkin! And holy crap, the cranberries!!!
The cranberries sparkle and burst in your mouth like giant pop rocks, and they transform this soup into supernatural territory. They truly take the soup from being ordinary to absolutely over the moon extraordinary.
I mean, those little beauties basically soak in a brown sugar bath overnight.
As Ina Garten would say, how bad can that be?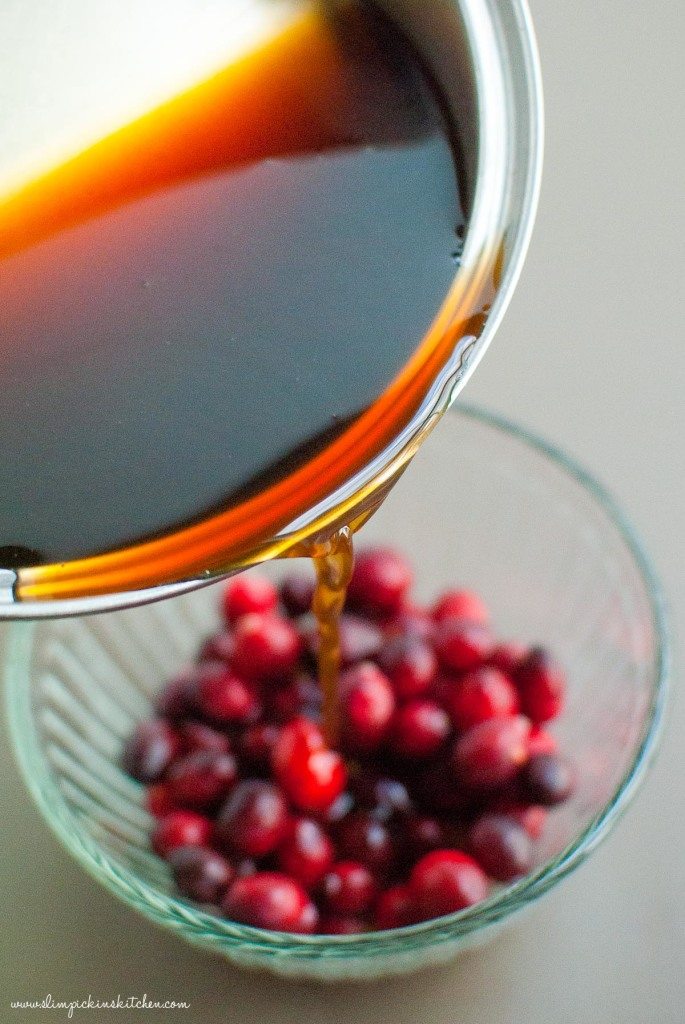 Not to mention, if you can find pre-cut or frozen butternut squash, this may be one of the simplest soups recipes ever.
This is just one of the many soup recipes I have planned for y'all this fall/winter/season that's supposed to be cold but it's actually still hot. In fact, don't be surprised if I inundate you with soups over the next couple of months.
I have a feeling that won't be a problem.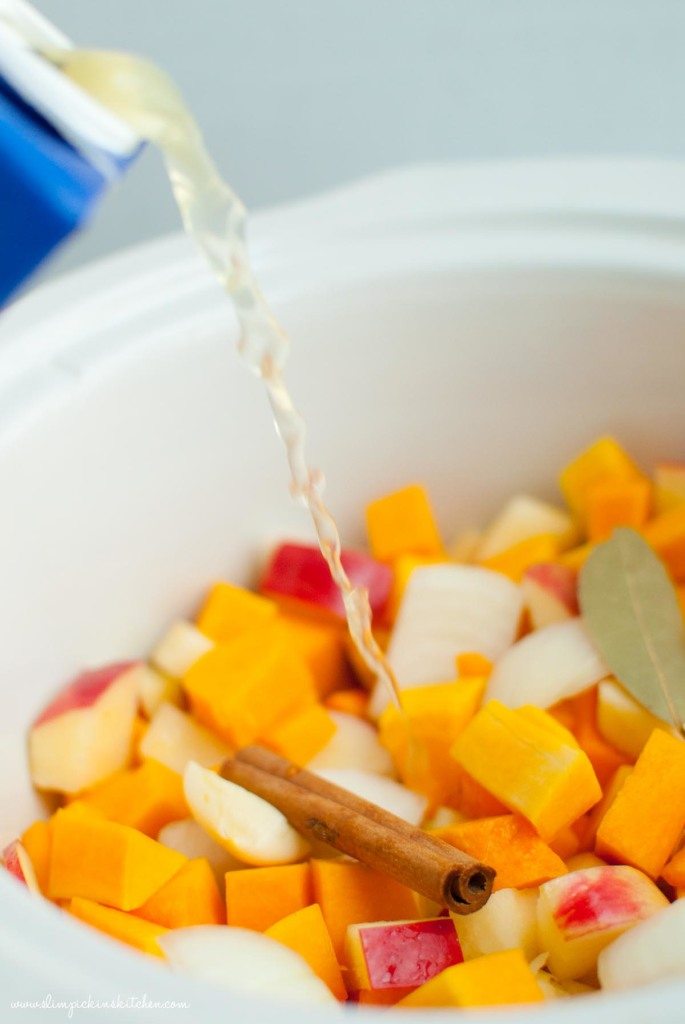 If you're anything like me, once September hits, all you want to do is cozy up with a giant bowl of soup and a hunk of crusty bread and dip, dip, dip away to your heart's content.
Also, because the holidays are just around the corner, you'll probably want to save your days and free up your evenings for Christmas shopping or watching The Walking Dead rather than slaving away in the kitchen cooking supper for your crew.
If that's the case, this recipe is for you! The majority of the recipe consists of nothing more than throwing a few choice ingredients into the crock pot then setting it and forgetting it. The most labor intensive part about it, if you even want to call it that, is prepping the cranberries the night before so they can soak in that incredible sugar bath we discussed earlier.
But, considering they are the best part, you really, really won't mind getting it done.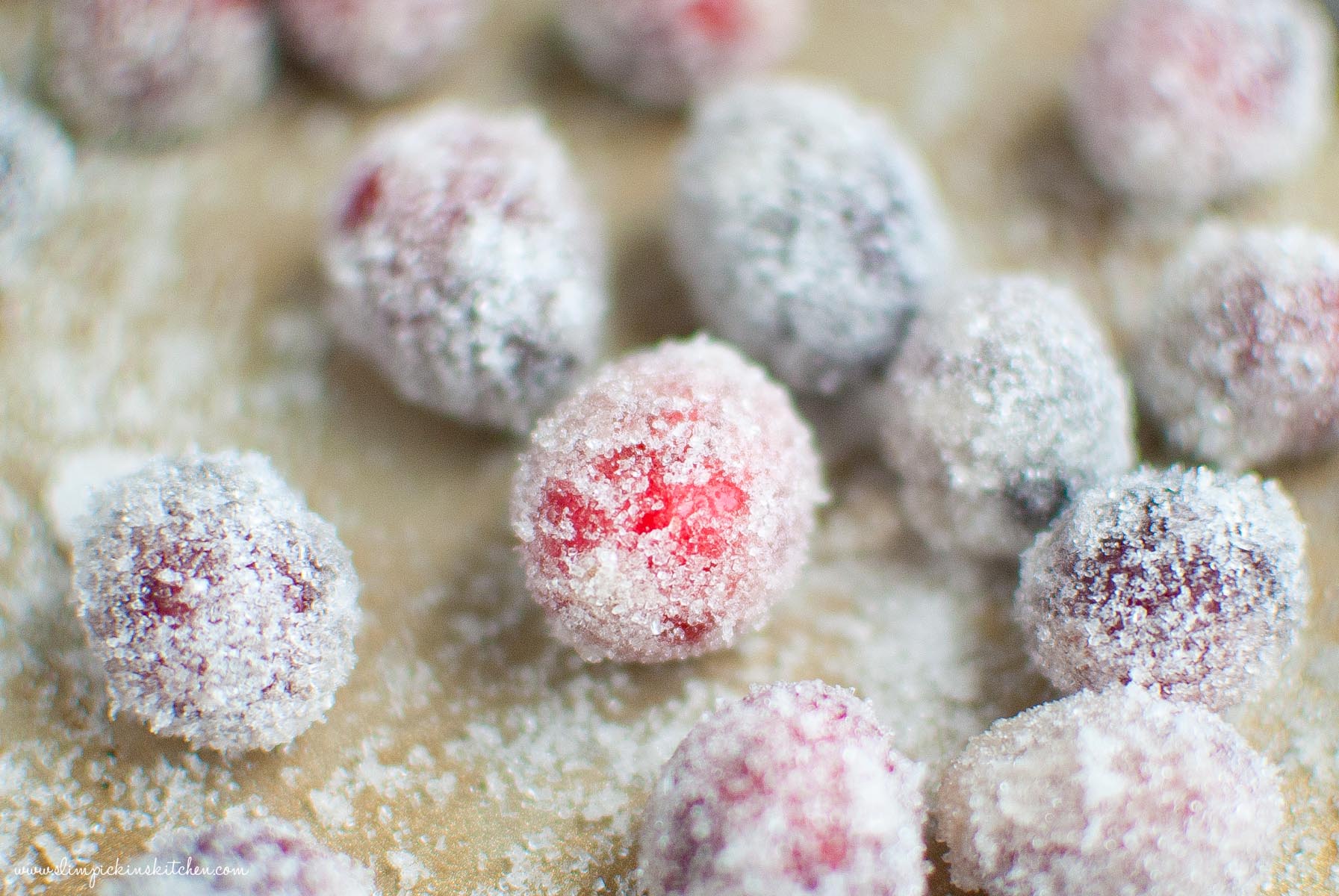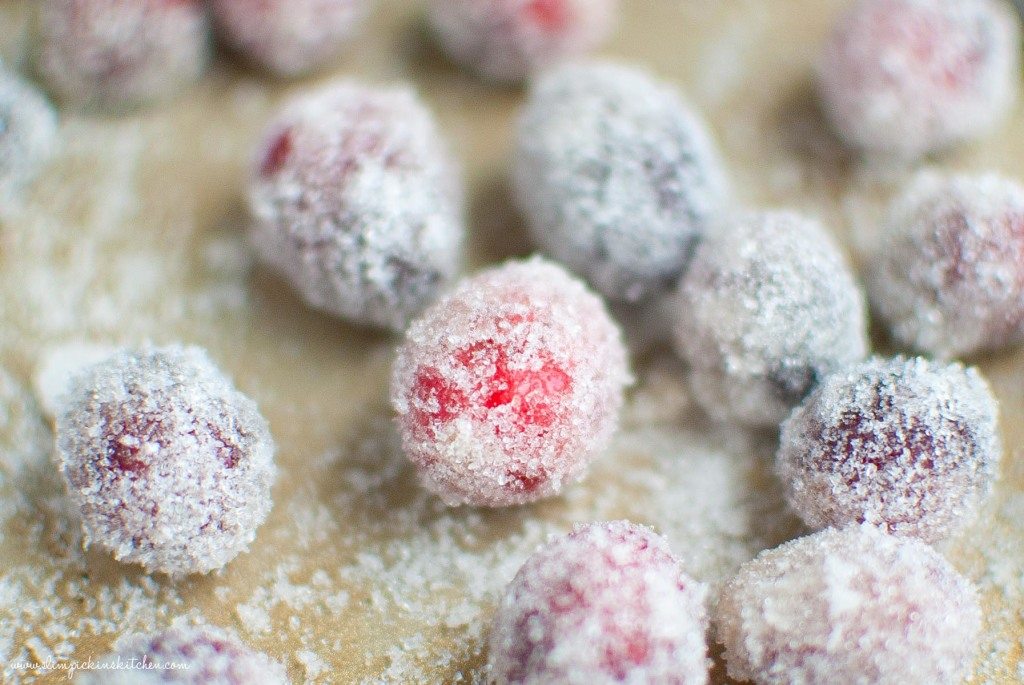 Oh, and speaking of The Walking Dead!
How amazing is that show?!? I love it so much I can't even stand it, and Daryl? Y'all, Daryl is one of the sexiest dirty rotten rednecks I've ever laid my eyes upon. There just really aren't many classy, appropriate or ladylike words I could use to describe what that man does for me. And, Will, if you're reading this, you might want to think about being Daryl for Halloween.
Just sayin'...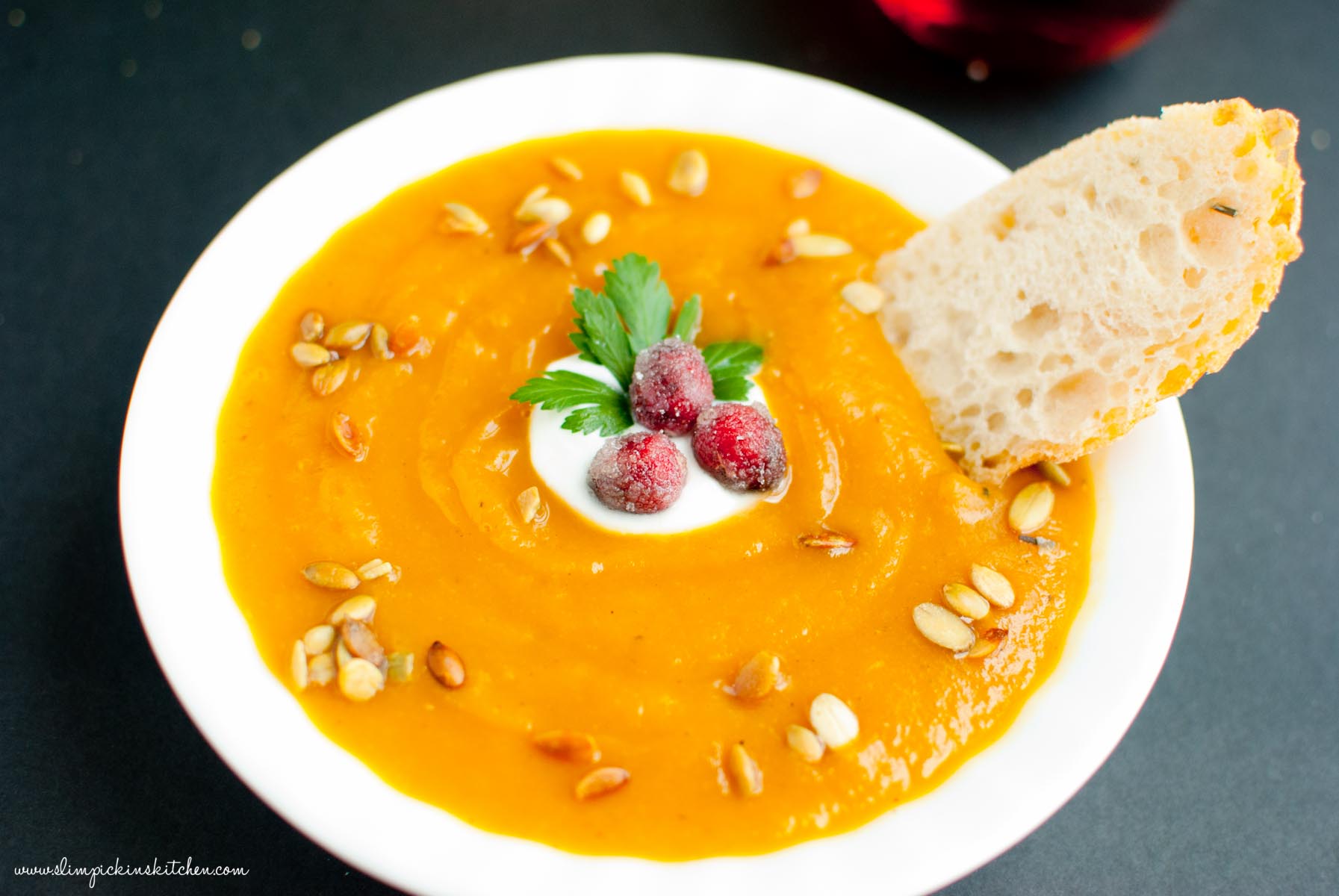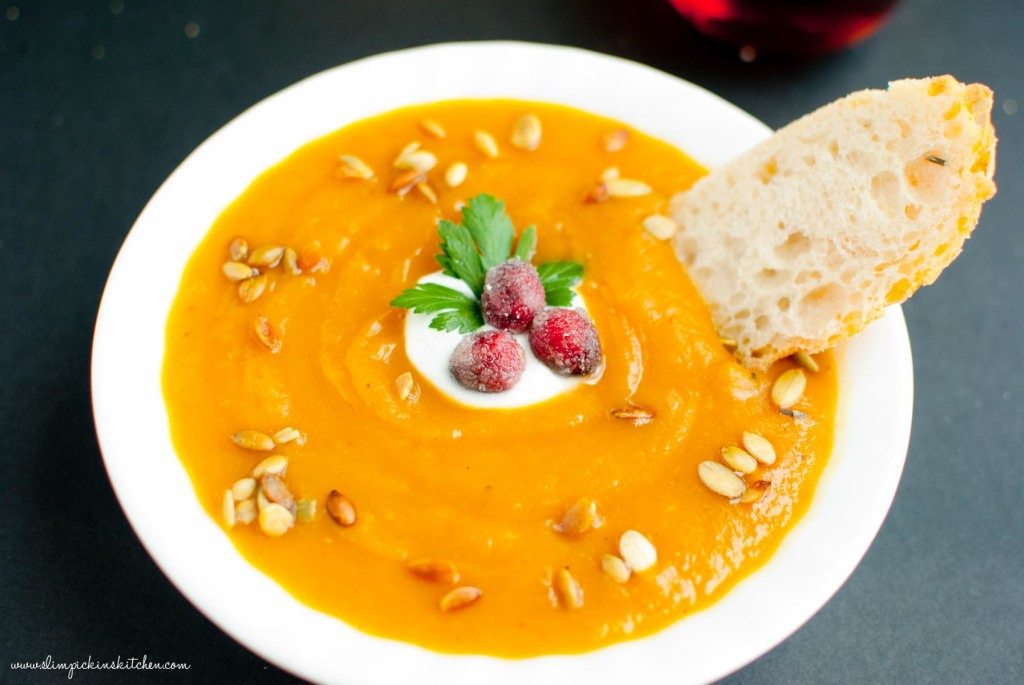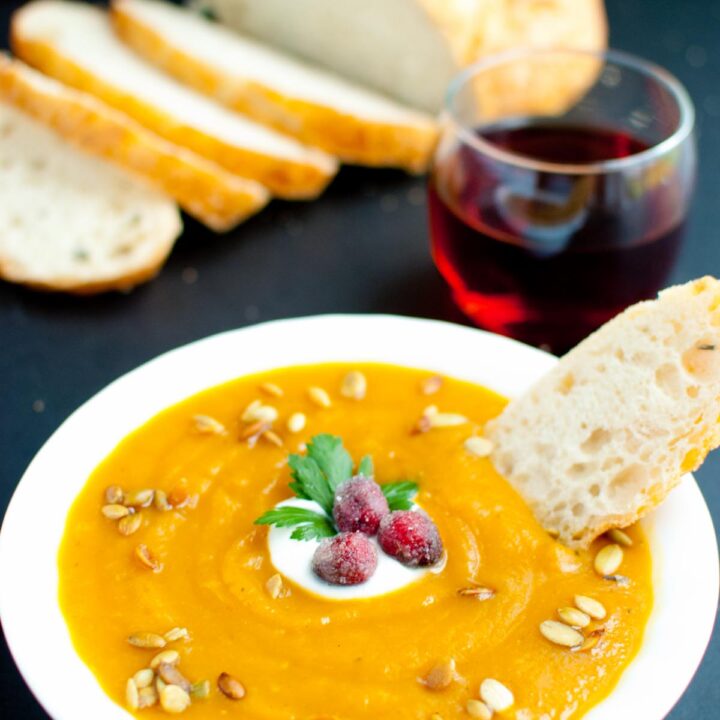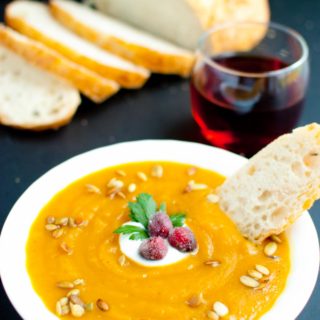 Ingredients
For the Autumn Harvest Soup:
1

medium butternut squash

peeled, seeded, & cut into cubes (about 2-3lbs or 5 cups)

2

medium Honeycrisp apples

cored then chopped

1

cup

pumpkin puree

½

small onion

peeled & quartered

4

cups

chicken or veggie stock

1

bay leaf

1

cinnamon stick

¼

teaspoon

freshly grated nutmeg

½

teaspoon

ground sage

freshly chopped parsley&/or sage & plain greek yogurt

for garnish

crusty bread for dipping
For the Candied Cranberries:
1

cup

water

1

cup

fresh cranberries

½

cup

pure cane sugar
Instructions
For the Candied Cranberries:
The night before you make the soup, combine water and sugar in a small saucepan over medium heat and bring to a simmer. Remove from the heat and stir constantly until the sugar dissolves.

Let cool for 5 minutes. NOTE: DON'T RUSH THIS OR THE BERRIES WILL BURST IF THE SYRUP IS TOO HOT!

Once cooled, pour the sugar syrup over the cranberries, transfer to an air tight container and refrigerate overnight.

To serve: Add the cane sugar to medium bowl or casserole dish and line a small baking sheet with parchment paper. Set aside.

Pour the cranberries into a colander and allow the syrup to drain very well. NOTE: DO NOT RINSE!

Using a slotted spoon, scoop the cranberries into the cane sugar and gently stir until the cranberries are well coated. Transfer the candied cranberries to the prepared baking sheet and allow to sit for 5 minutes to set.

Serve with the Autumn Harvest soup and keep any leftovers in a sealed container for up to 3 days.
For the Autumn Harvest Soup:
Add all ingredients, except the garnishes, to a slow cooker and cook on low for 6 hours.

Remove the cinnamon stick and bay leaf.

Allow to cool for a few minutes then, working in batches, add a couple of ladles full of the soup to a blender or food processor and blend until smooth. Continue until the whole batch has been blended.

Serve with a dollop of greek yogurt, chopped fresh parsley or sage, a few candied cranberries, and a hunk of crusty bread.

Enjoy!
Candied Cranberries adapted from my Sparkling Blueberry Pomegranate Bruschetta.