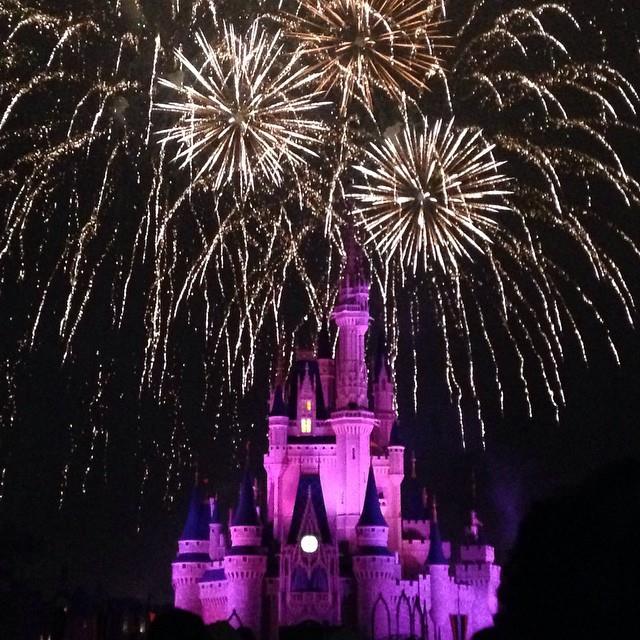 Was anyone else's Monday explosive?
My day started off with a glass measuring cup bursting into a bajillion pieces as I was reaching for a cheese grater so I could make Owen some cheese eggs. Then we had to take him to his 18 month check up (how is he a year and a half old already?!?)  where we waited for over an hour and a half before he was even seen. The best part was that Owen hadn't napped nor eaten lunch.
Yeah, our morning was lovely.
To keep myself from being in a horrid mood, it's time to tell y'all about Food Blog Forum 2015 which just so happened to also be my first ever blogging conference. This trip was absolutely magical, and I don't think any other food conference, or any trip to Disney World for that matter, could ever top this enchanting experience.

Food Blog Forum is a a small, intimate conference put together by Jaden & Scott of The Steamy Kitchen, Todd & Diane of White On Rice Couple, Lindsay from Love and Olive Oil, and Julie from The Little Kitchen. Their own experience and passion for our industry shined through EVERY.SINGLE.MOMENT. of this event, and I am so eternally grateful for the opportunity to become a part of their community. There were only 100 tickets available for this forum so it's just mind blowing to me that I even got to go. Make sure to sign up to their mailing list to ensure you know about all upcoming events.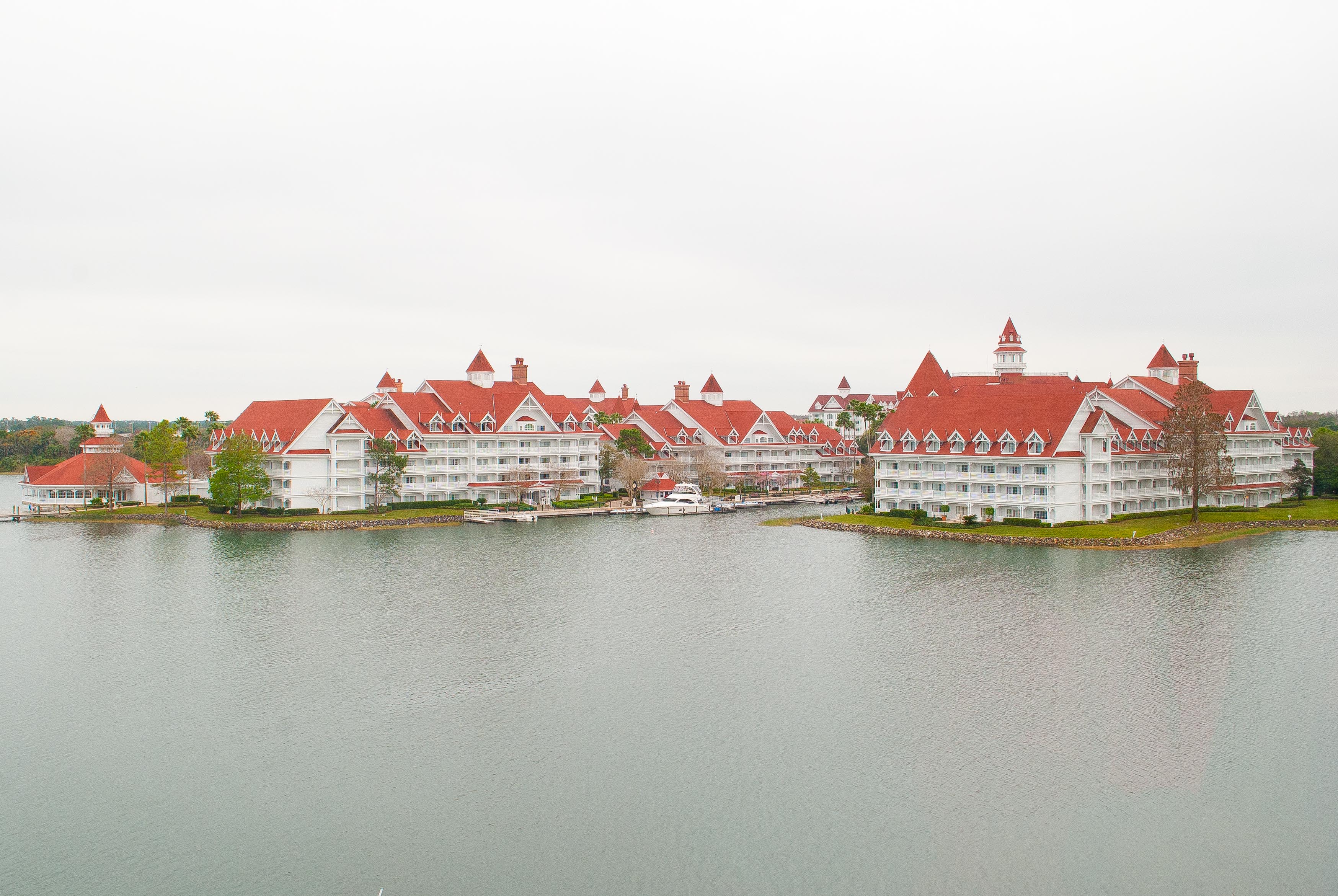 I was able to score the family package which included hotel accommodations at Disney's Grand Floridian Resort, park hopper passes for the duration of our stay, and media fast passes for FOUR people. So Will and I were able to share this experience with another couple who also have a little one, and we all enjoyed our first ever child-free vacay at the happiest place on Earth!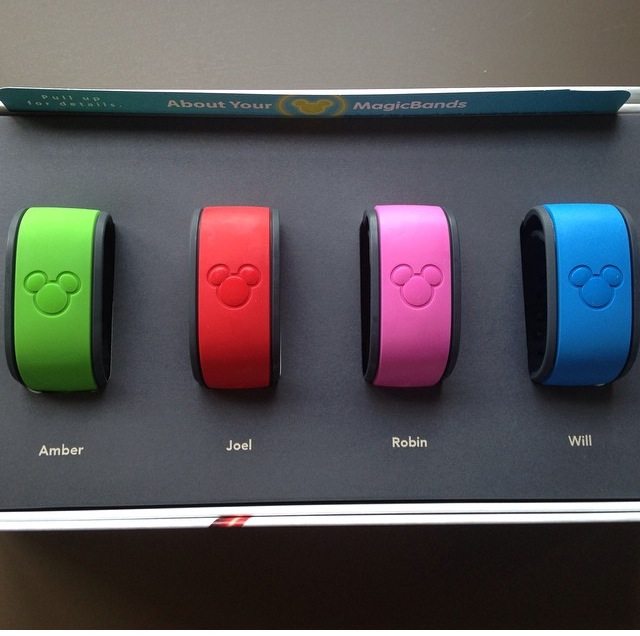 I can say, though, that this trip didn't necessarily start off on the best foot. We originally had a direct flight from Norfolk to Orlando that was supposed to only take us two hours but, naturally, we got hit by a snow storm the night before we were supposed to leave, and our two hour trip ended up being a 15 hour day!
Oy vey.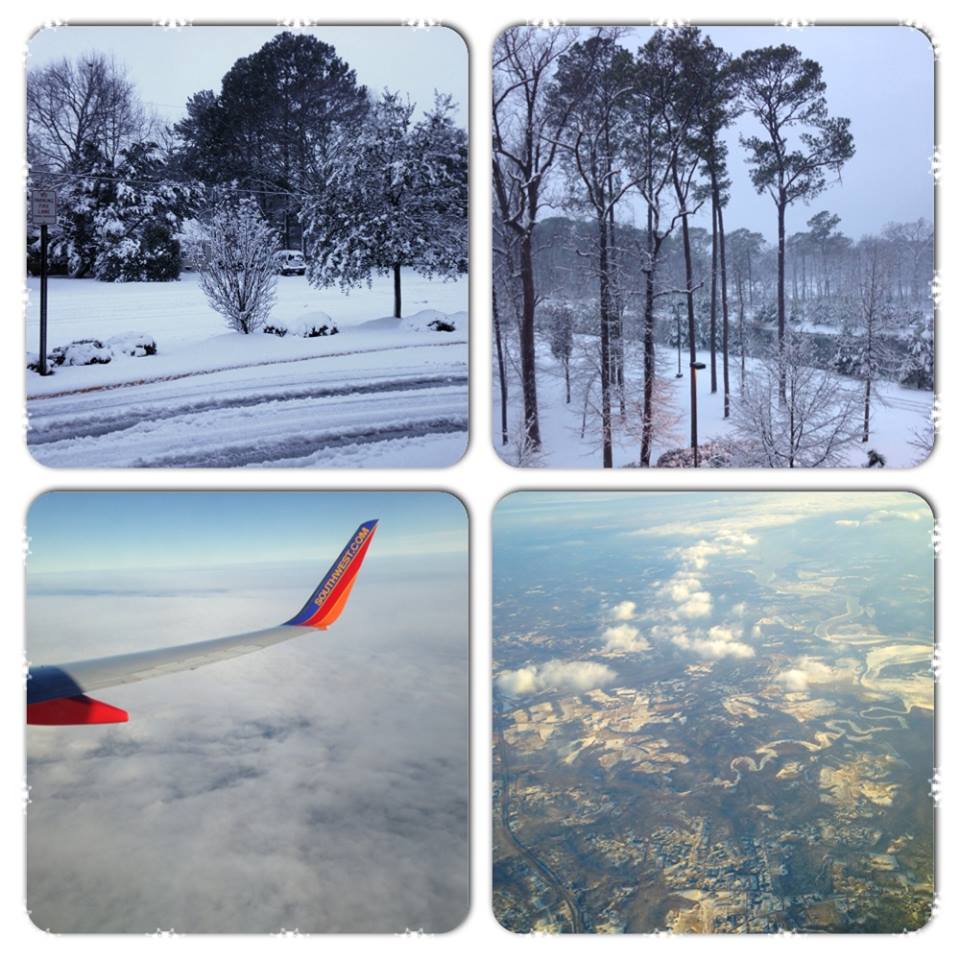 The highlight of our airport stay was, by far, the $14 strawberry mimosas that ended up being nothing more than champagne and strawberry daiquiri mix! Ha! I shudder just thinking about it, but it did end up being a fantastic ice breaker at the conference plus it gave me an amazing drink recipe to recreate for y'all one day.
An Easter cocktail, perhaps?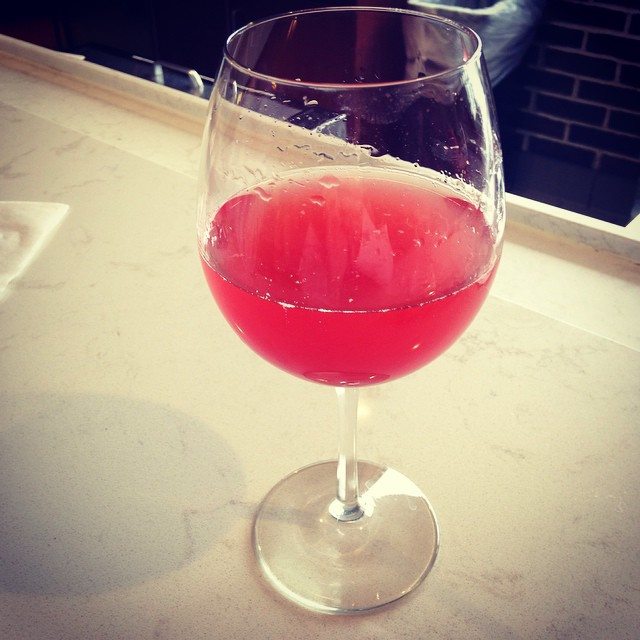 After the long flight and the cocktail fiasco, everything else was just phenomenal.
Disney's Grand Floridian is just gorgeous and as soon as we walked in we were immediately intoxicated by its blissful, botanical aroma. The lobby was open and majestic and a gorgeous chandelier dangled from the ceiling below a rounded skylight. We arrived about 3 hours prior to check-in, but luckily our room was ready.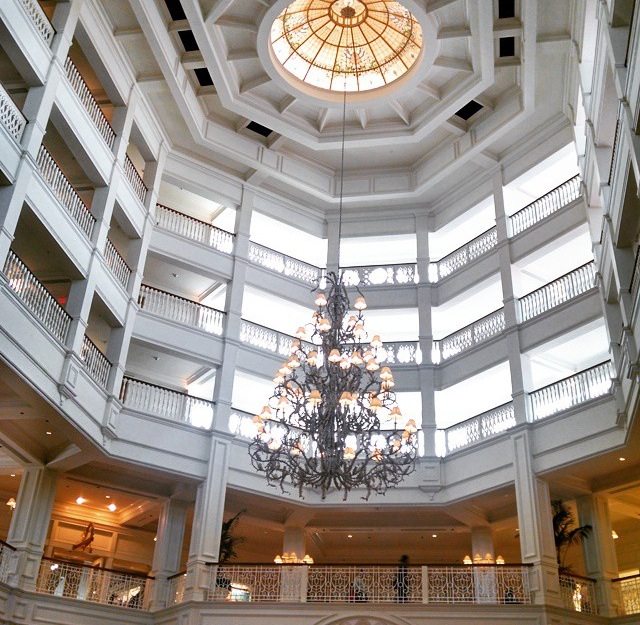 Photo provided by Mandy from Kitchen Joy.  Thanks, girl!
Our check-in cast member was so helpful, and he told us everything we needed to know about the hotel and the surrounding area. We were, like, a 3 minute monorail ride from the Magic Kingdom which was awesome!
As soon as we got to our room, we took a few pics, put our bags down and left right away to go to the Magic Kingdom. I wanted to get on a few rides before I had to leave to go to the welcome reception hosted by the Four Seasons-Orlando.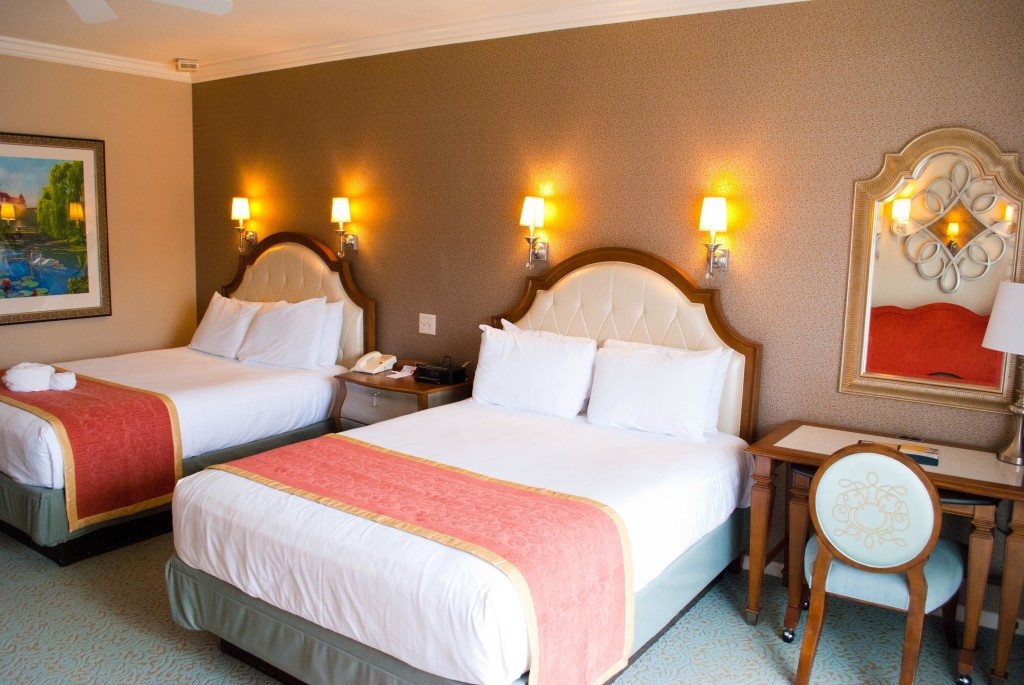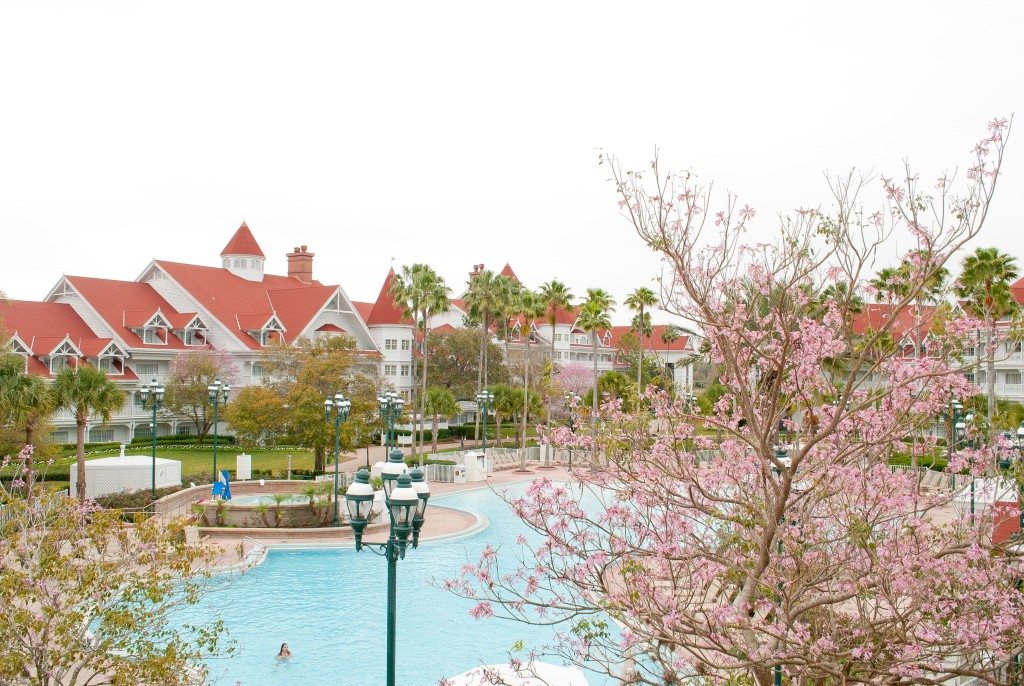 One of the highlights of the trip was that we received media fast passes which basically meant we had fast passes for every single ride all day, err day. There  was nothing to schedule and nothing to do other than use them. Apparently we were super lucky because Disney rarely offers these passes, and we *NEVER ONCE* waited in line more than 5 minutes!!! Those fast passes completely spoiled us, and I had just enough time to ride Pirates of the Caribbean and the Haunted Mansion before I had to leave to get ready.
Little did I know I was perfectly positioned to get stuck by Disney's Festival of Fantasy Parade when I was leaving!  It was definitely a blessing in disguise even though it almost made me late for the first event.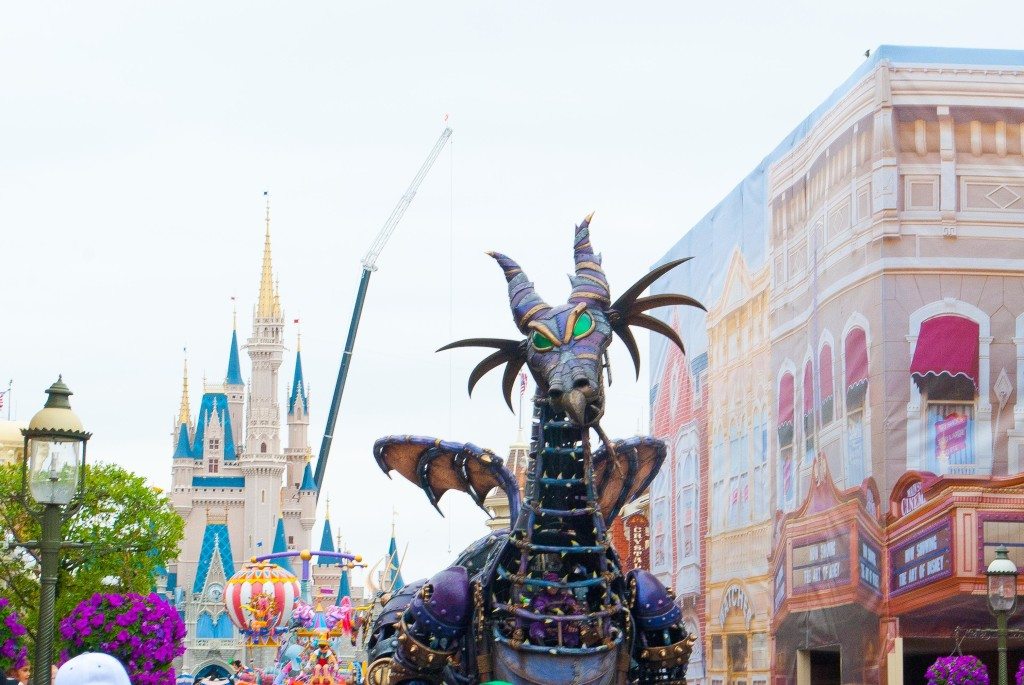 Stupid crane. Ugh.
As soon as the parade was over I hightailed it to the monorail, got on the wrong one, scrambled to get on the right one then booked it to my room to get ready. After a hot shower, a candy apple cosmo on the rocks, and some primping I was good to go.
When I met up with the other bloggers, I immediately spotted my new bloggie bestie, Erica from The Crumby Cupcake, and we proceeded to spend the rest of the weekend together laughing and talking as if we had known each other all of our lives. It is not very often that you can instantaneously form relationships with like-minded people so I can honestly say, without a shadow of a doubt, her company at the conference made this trip even more spectacular.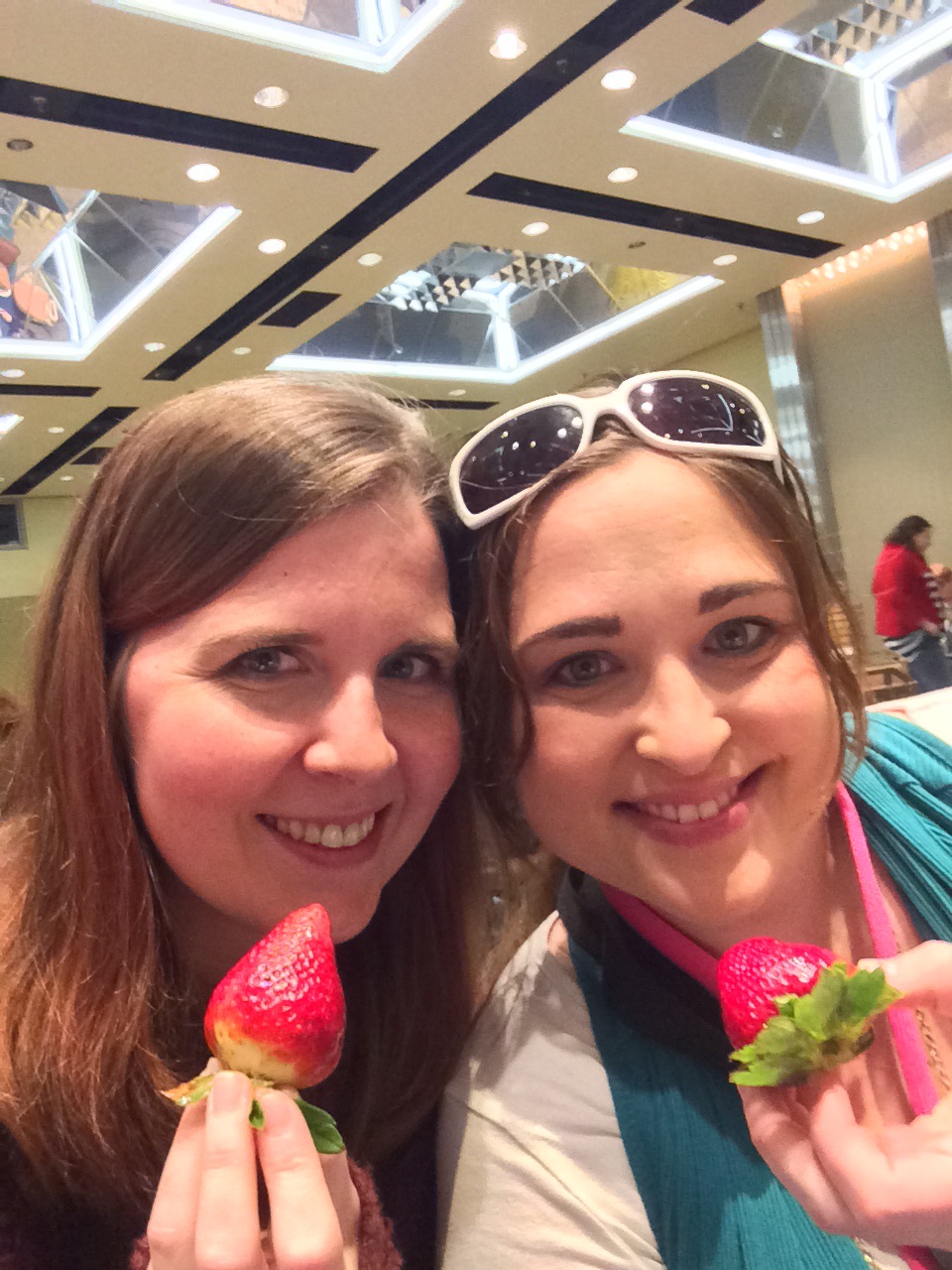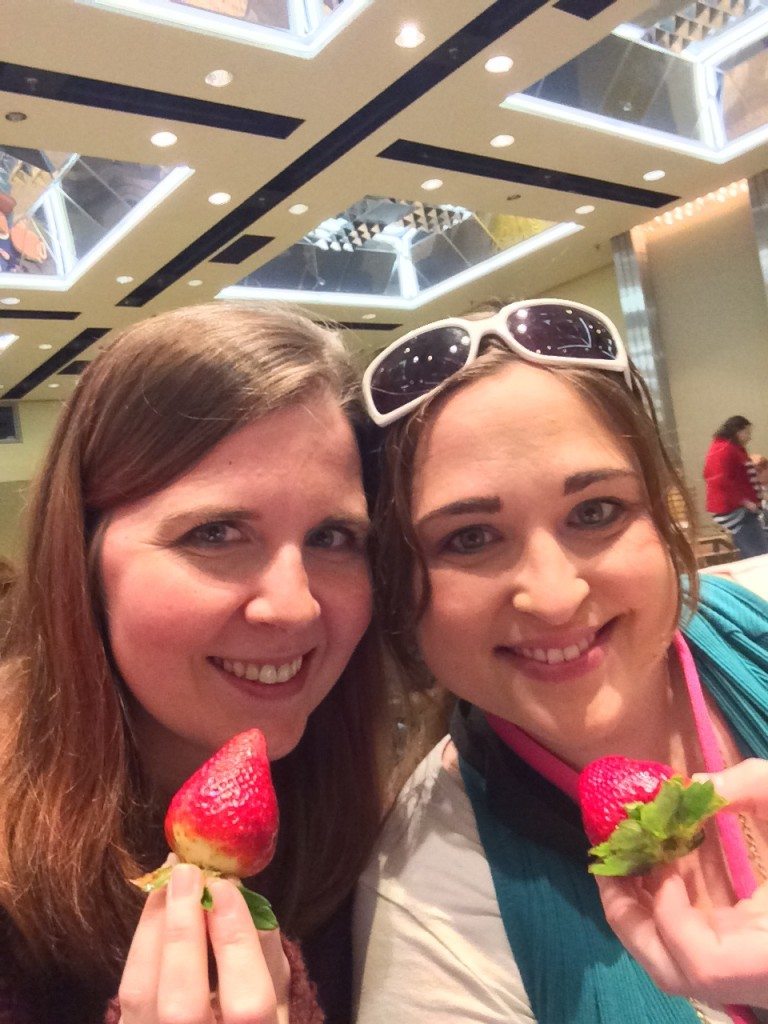 Photo Provided by Erica at The Crumby Cupcake. Follow her on IG, y'all.

 So, the Welcome Event. OMG.
It was hosted by The Four Seasons Orlando at Walt Disney World® Resort and the food was provided by PB&G their poolside restaurant which specializes in "southern-inspired food with a fresh Florida flare".
Here are just a few glimpses of what we enjoyed...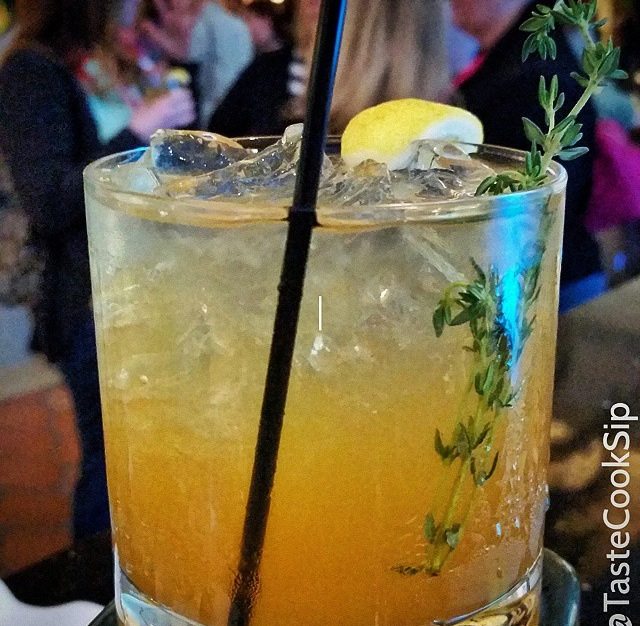 De Peche Mode Southern Spirit: Peach Absolut, Rishi Black Tea, Simple Syrup, & Thyme
(photo provided by Lisa at Taste, Cook, Sip. Follow her on IG too!)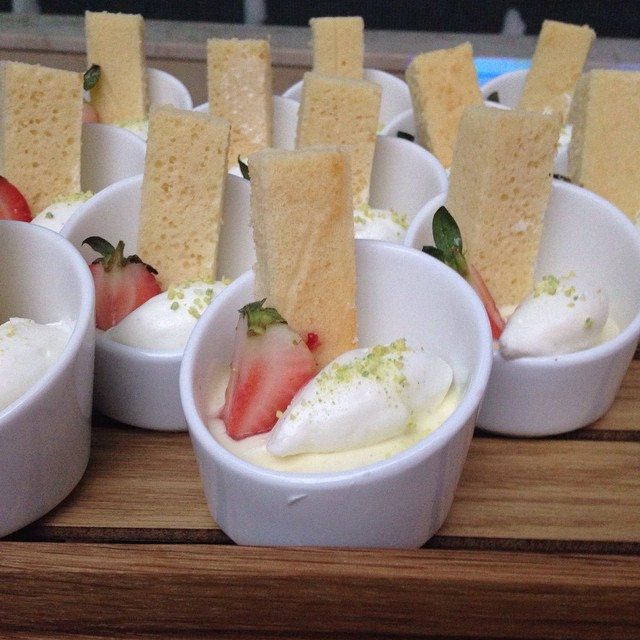 Strawberry Shortcake with vanilla custard and fresh, homemade pound cake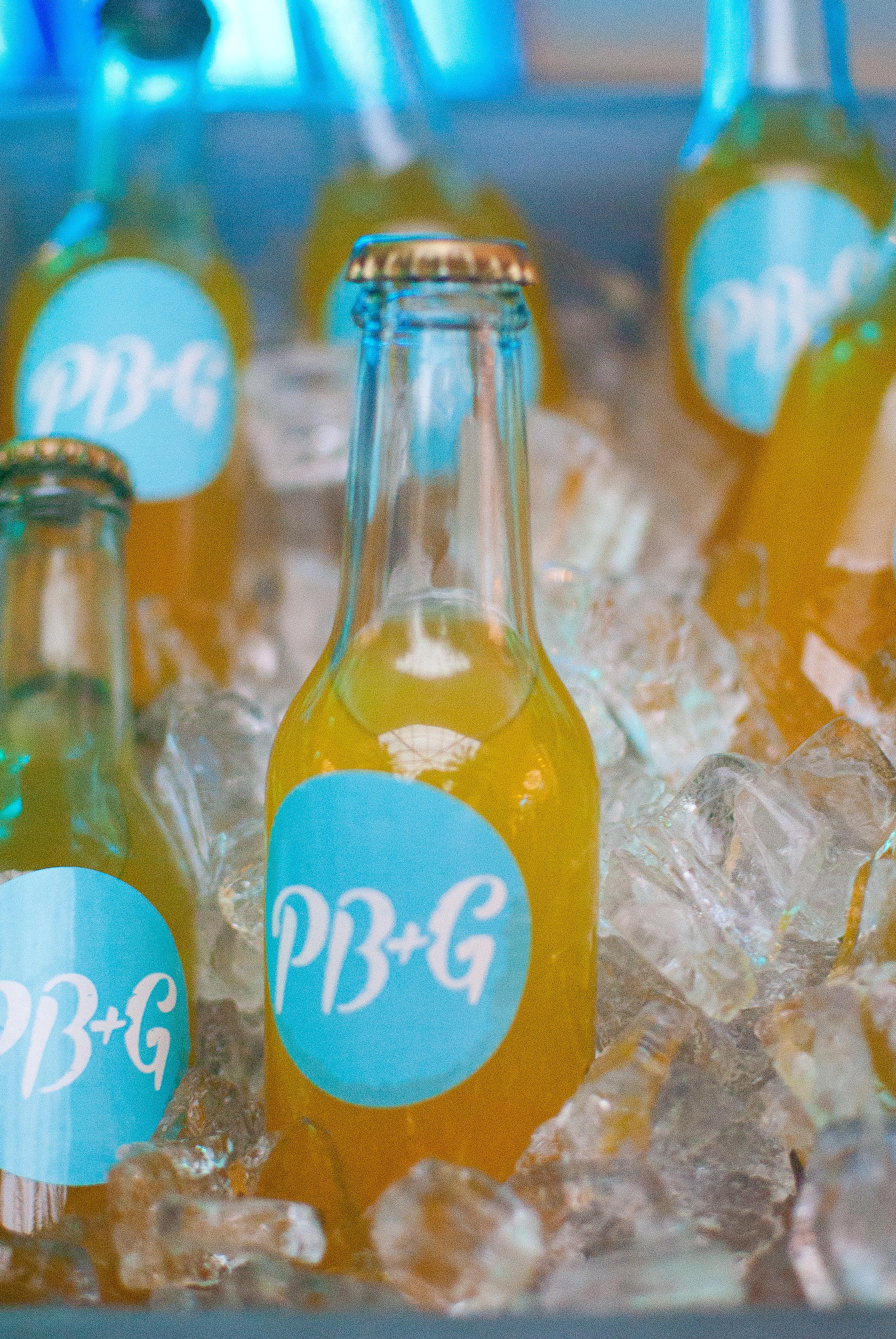 House made Passionfruit Soda & vanilla Gelato floats from Lickity Split.
The passionfruit soda was awesome, but the frozen custard stole.the.show.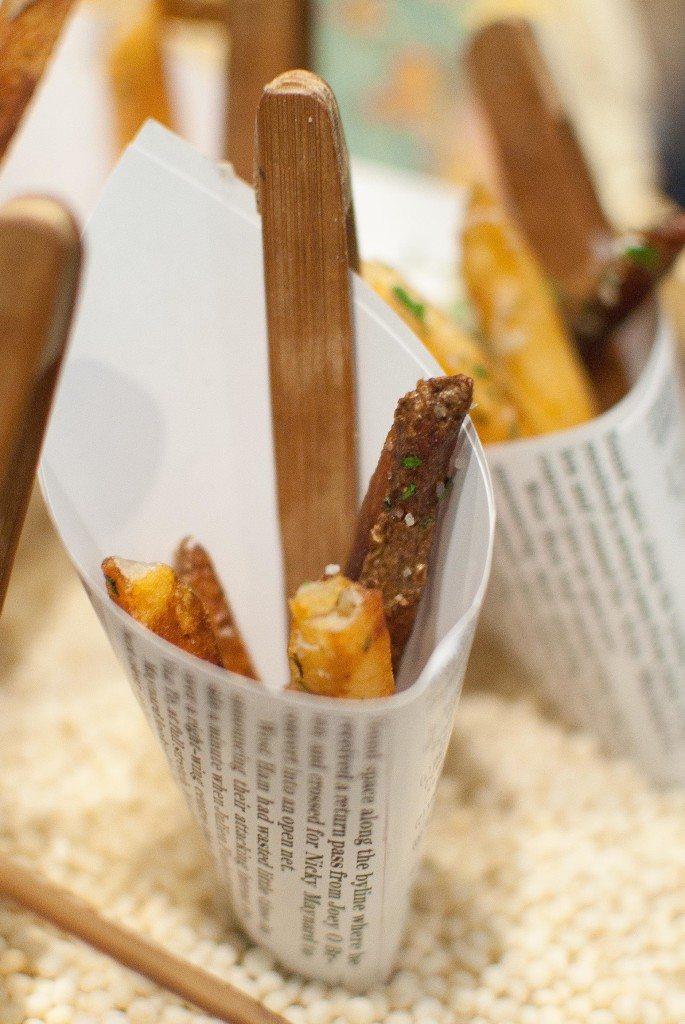 Hand-cut garlic & herb french fries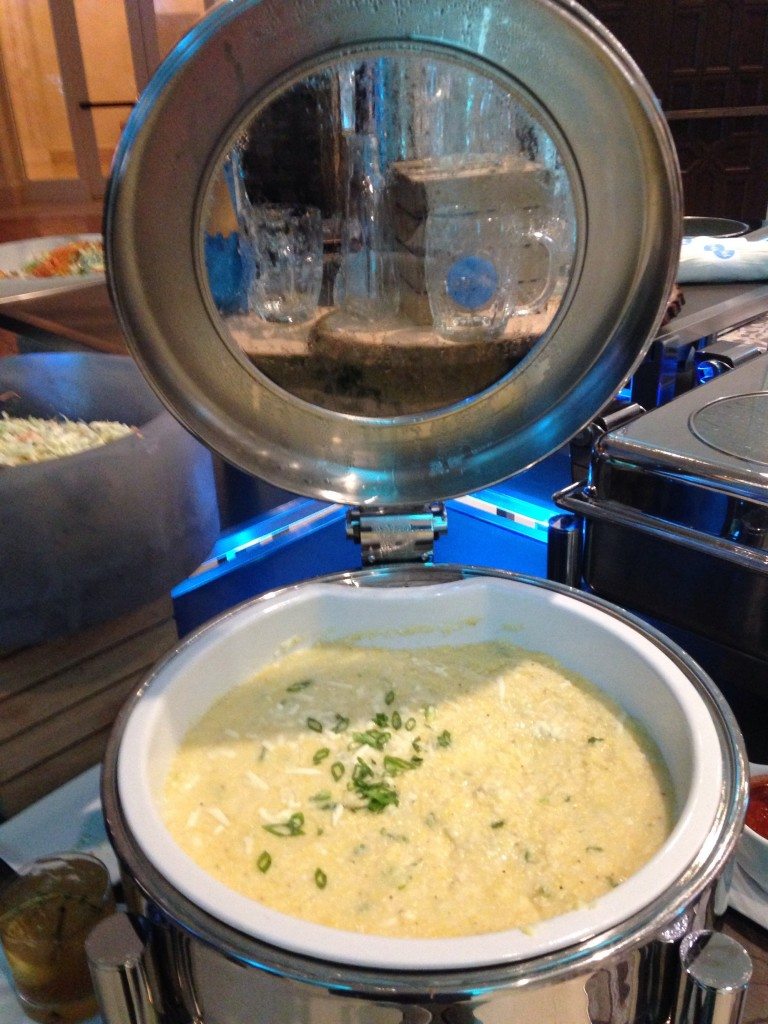 Geechie Boy Grits that were actually from Charleston!!! Holla! I loved having a taste of home while I was away.  When I told Stephen, the Director of F & B at the Four Seasons, that I was from Charleston, he got really excited and brought out the head chef of PB&G to talk to me about my beloved City and how he personally traveled and made connections with the suppliers of the grits he served that night. It's a small world after all!
If that wasn't enough, there was even more food to be had like red velvet cake skewers, roasted chicken, BBQ ribs, and deviled eggs, but I was too busy drinking shcmoozing to taste or photograph any of it! #foodbloggerfail
I did get to meet some really awesome bloggers, though, whom I hope I continue to have a relationship with as the year progresses!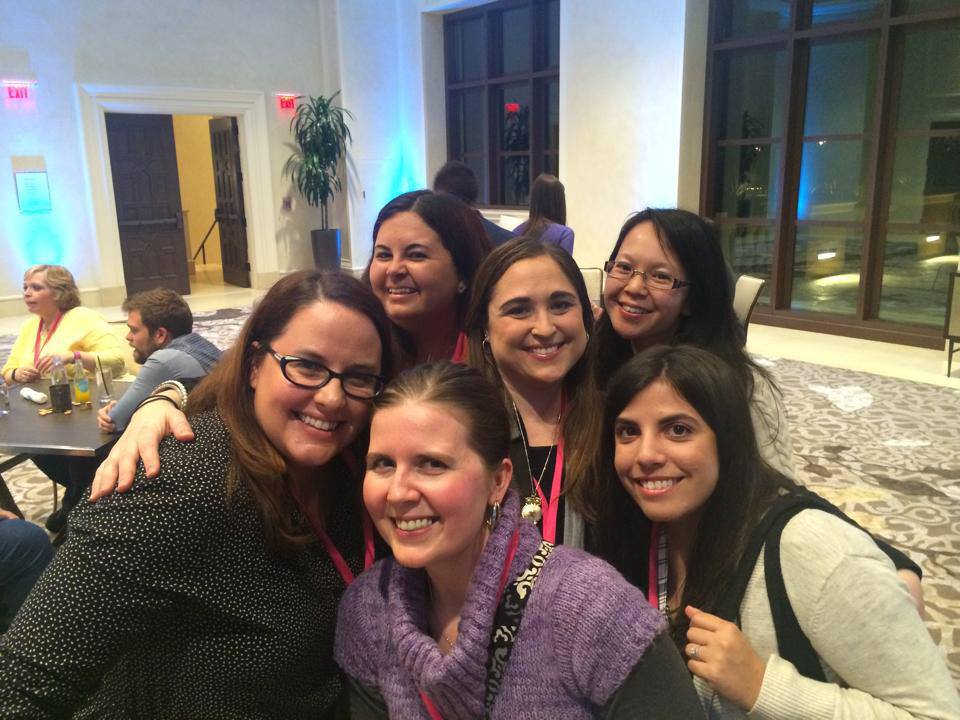 Erica at The Crumby Cupcake, the Disney Foodie, Krystal at Krystal's Kitsch, Suzanne at KoKo Cooks, and Jennifer at The Foodie Patootie.
Ok, I think that's enough of a recap for today? I'll be back later this week to tell you all about our incredible 10 course feast cooked by the top chefs at Disney and hosted by the California Grill at Disney's Contemporary Resort!