Planning a Safari Theme Party? I've got all you'll need right here! From the menu, to the cake, to the invitations, I've got all the ideas you'll need for a super fun safari birthday party!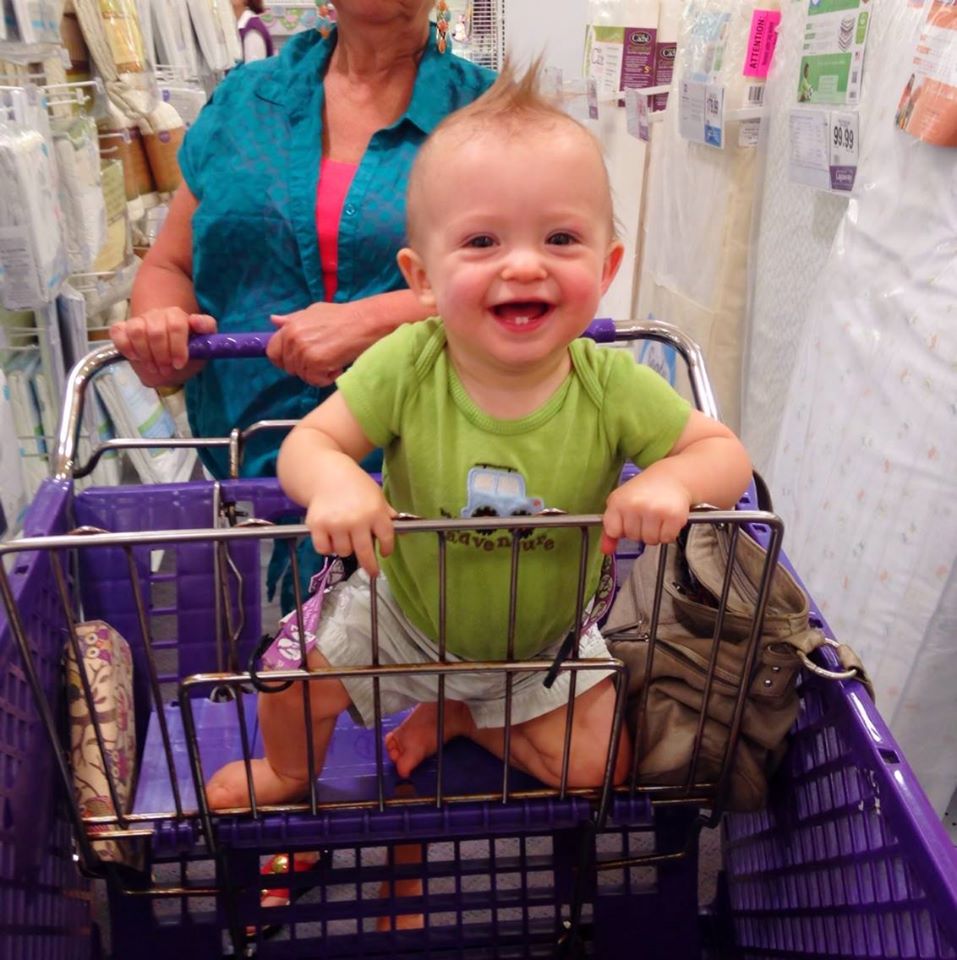 Please excuse me while I crawl into a cupboard and cry my face off because my sweet little miracle baby is already a year old!
My husband chose the safari birthday party theme, gave me a budget, and away I went planning, preparing, and pinning like cray-zay. Everyone at the party inflated my ego like whoa, swooning about the food, decor, and paying me off for all of my hard work.
Today I'll pay it forward by giving you all of the deets and links I used to make this safari theme party all I wanted it to be. We had somewhere between 40-45 people at the party, and we had the perfect amount of food with zero leftovers.
I will add all of the recipes on one card at the end of the post so you can print them all at once so your own safari theme party will be a super success!
Safari Theme Party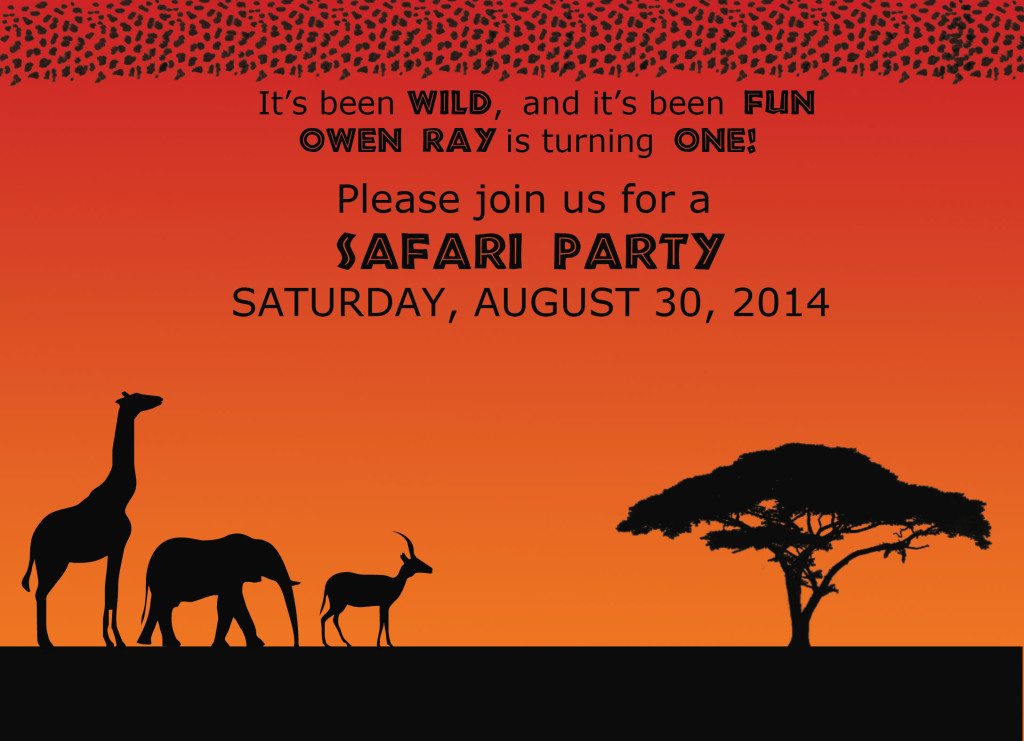 Invitation Design: You can't have a party without a great invitation. I designed Owen's in Photoshop by downloading a free African tree brush pack and a free animal font as well as a safari-esqe font. However, this is an older post, so nowadays you can easily design your own invitations on Canva for free or order super cute editable printables from Etsy that you can print from home or have printed professionally.
Printing: I had mine printed for a great price (also try here) and shipped to me. Try to allow at least 2-3 for shipping if you don't want to pay outrageous shipping charges!
Envelopes: You can get envelopes in an array of colors to match whichever safari party design you choose.
Safari Birthday Party Menu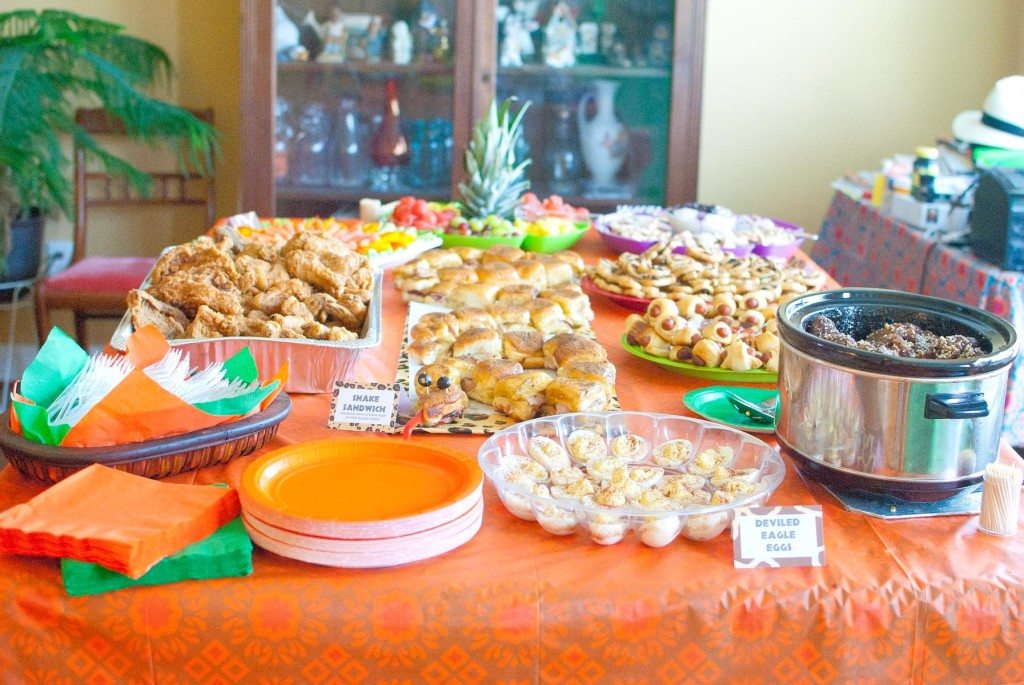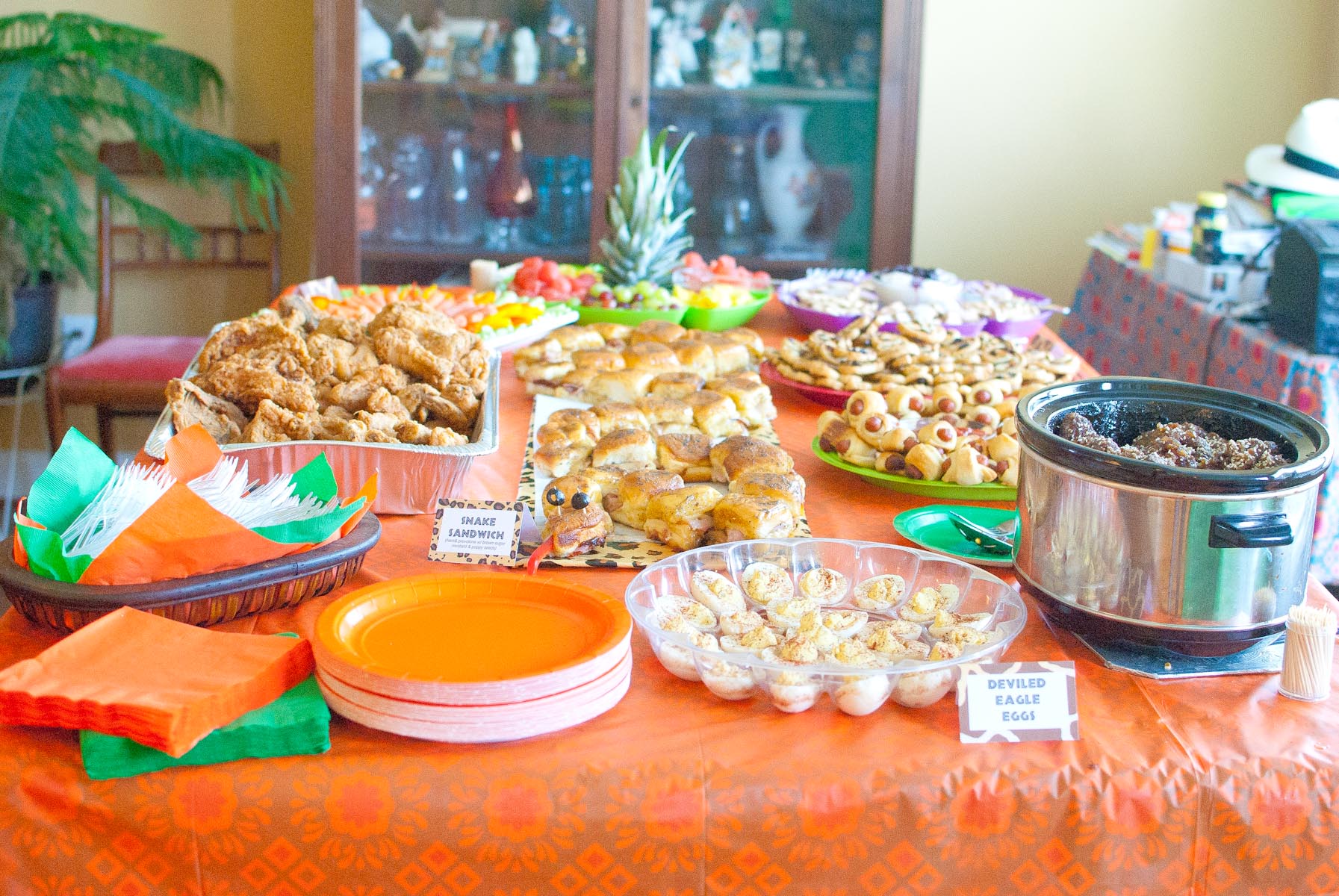 Planning this safari theme party menu was so much fun! I have some serious back issues so I tried to plan things that were quick, easy, and delicious. I also made myself a strict timeline so I could make and freeze some of the food ahead of time in order to just throw them in the oven the day of the party.
The menu was completely safari themed, and I had such a blast putting everything together. The menu included:
Snake Sandwich: Ham & provolone w/ brown sugar mustard & poppy seeds
African Meatballs: Asian inspired w/ an African flair
Simba's Veggie Tray: Veggie tray made to look like a lion's made
Guano Funfetti Dip Funfetti w/ Animal Cookies
Elephant Ears Palmiers
Deviled Eagle Eggs
Fried Ostrich
Hippos in a Blanket
Gorilla Grape Fruit Tray
Chocolate Cat Tails
Zebra Cakes
Safari Sangria
Green Apple Jungle Juice
Yes, it seems like a lot, but remember this safari party menu is really nothing, but finger foods. We had a huuuuuuuge guest list and we had ZERO leftovers. NONE-ZO.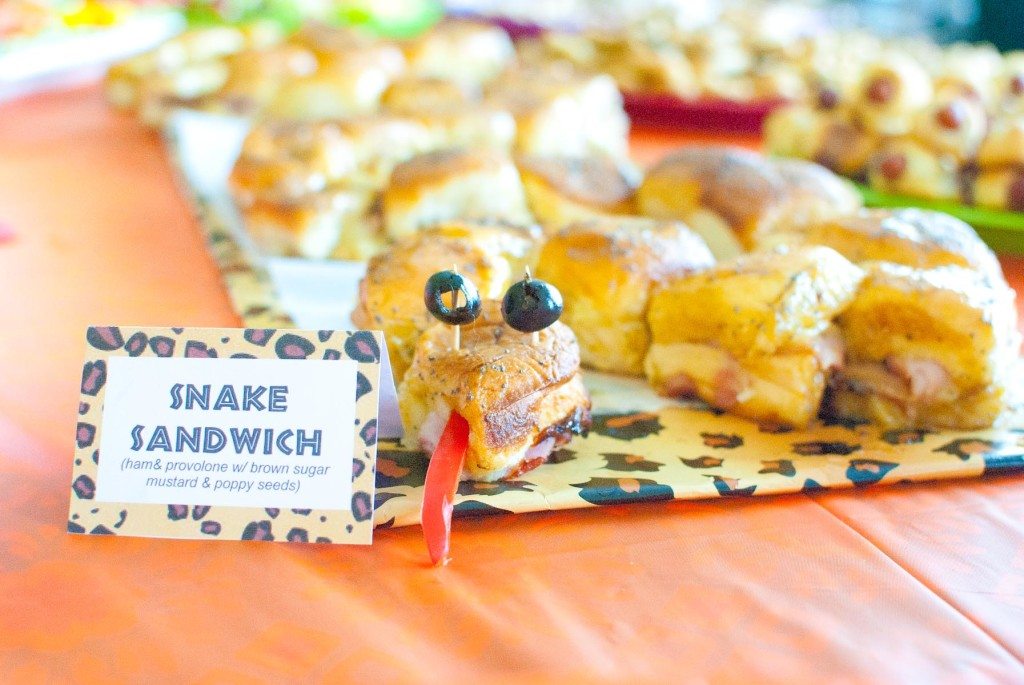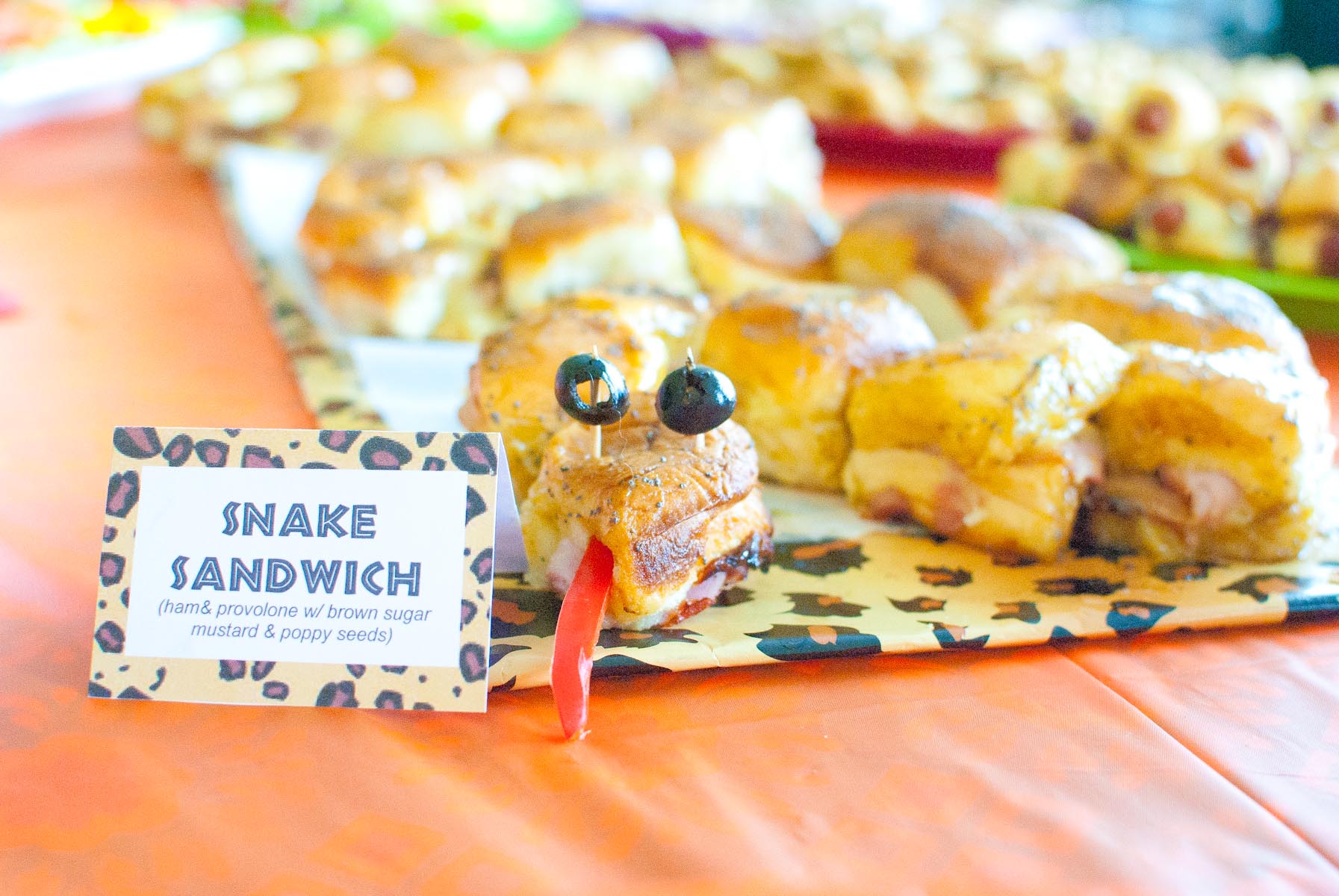 The snake sandwich sliders slithered their way into the stomachs of my guests, and they were an absolute smash.
The recipe is a cinch and you may have even seen them called funeral sandwiches at some point because the original recipe blew up Pinterest several years ago. I've made them a ton, and they are always the first thing to go at a gathering.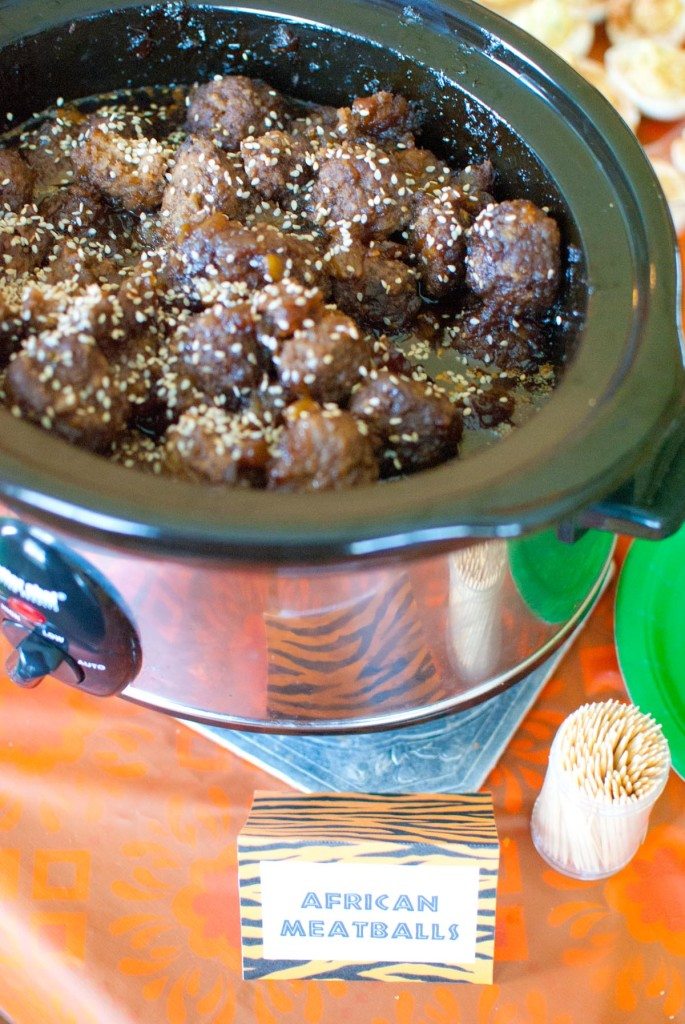 The next biggest hit were the meatballs which I adapted from this recipe from Gimme Some Oven as well as this one from The Crockpot Ladies.
These things were incredible!!! I probably ate about 457 of them before I ever served them to my guests. They were more like Asian meatballs rather than Afrian, but whatevs. They were the bomb diggity.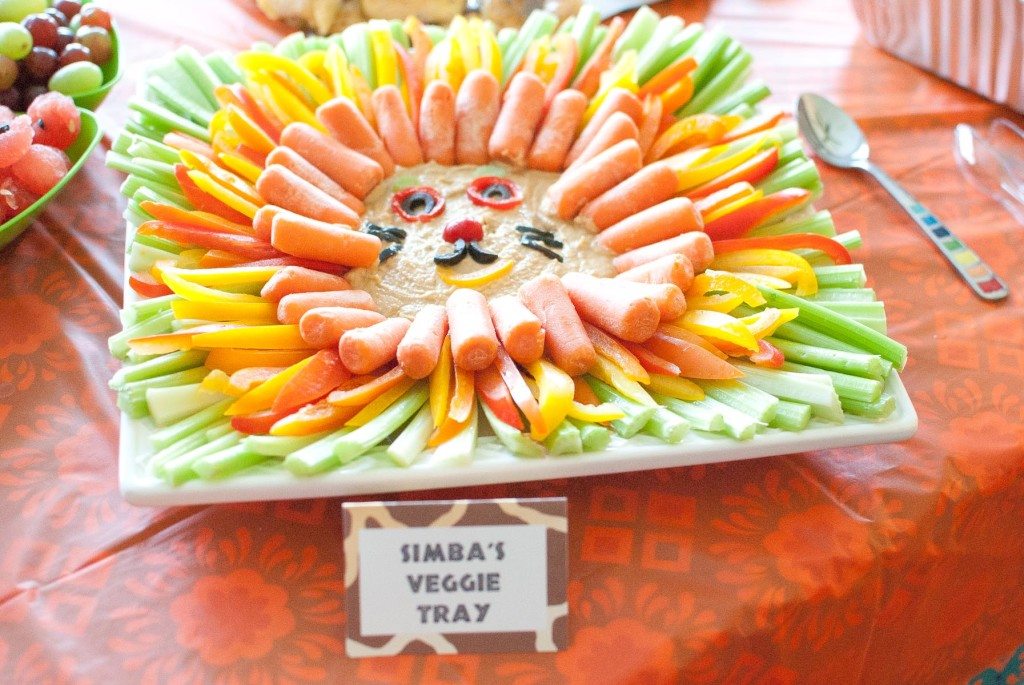 Next up was Simba's lion veggie tray. People were so impressed by it , but it really couldn't have been simpler. Some people even commented that they didn't want to eat it because it was a work of art.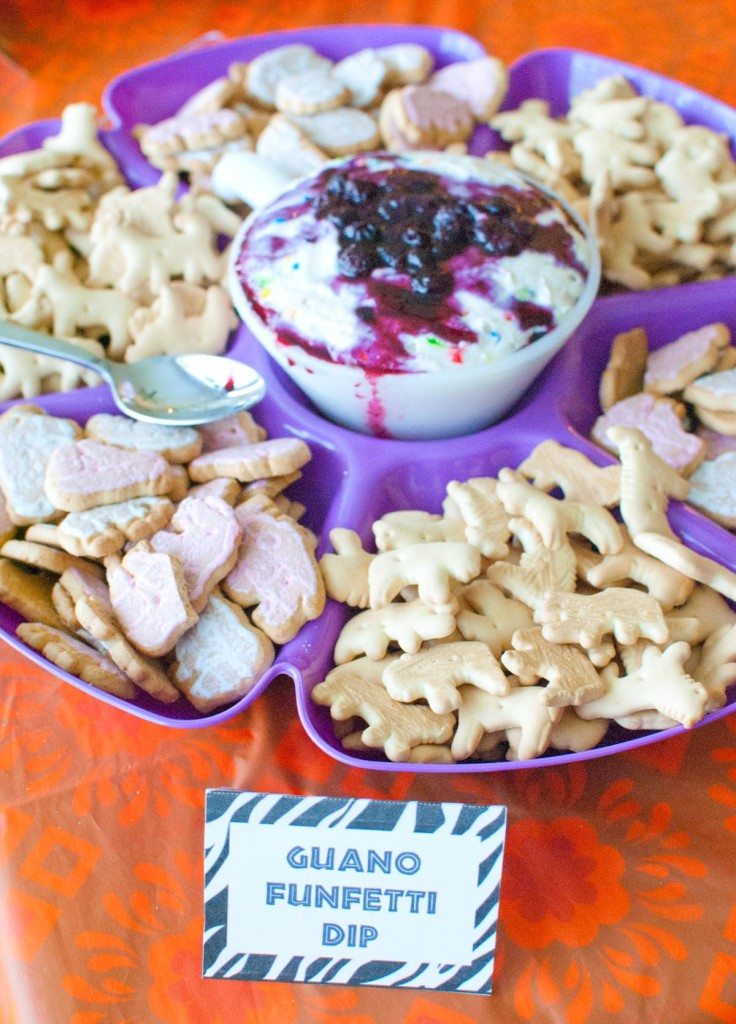 The "guano" funfetti dip was my husband's idea, and I thought it was disgustingly hilarious. Y'all know what guano is, right? #googleit
With our over abundance of blueberries, I couldn't resist, and it ended up being pretty good. Serve them up w/ animal crackers, and it just added to the awesomeness of the safari theme party!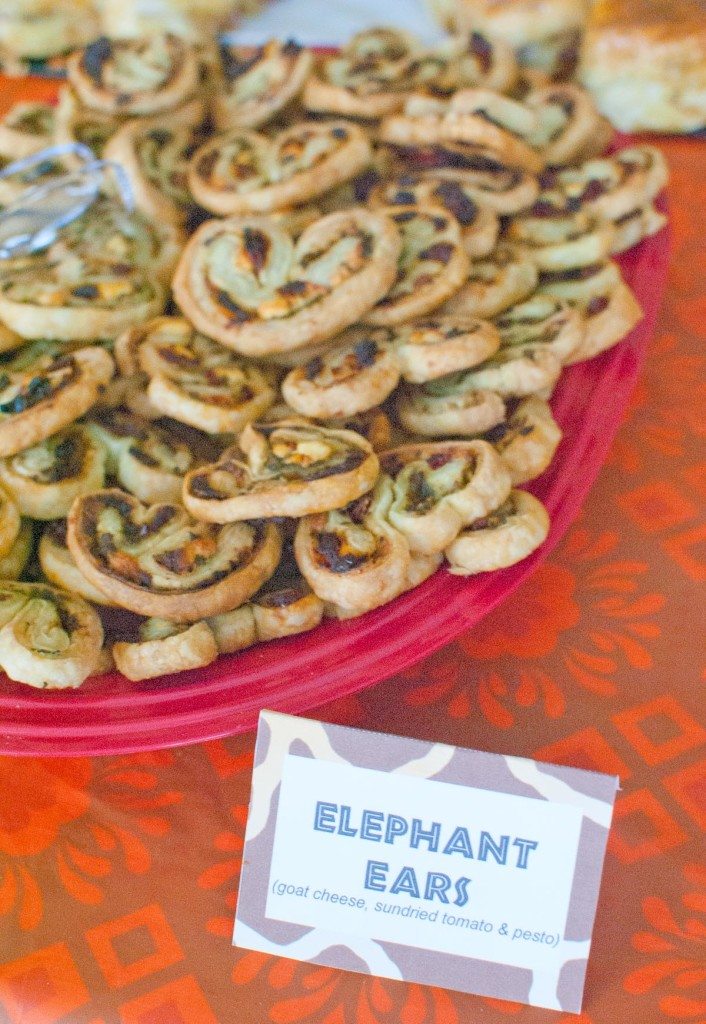 Next up were the "elephant ears" or savory palmiers which are a recipe from Ina Garten on the Food Network. These were made with puff pastry, pesto, sun dried tomatoes, and goat cheese. This recipe was one that I made in advance, cut, froze, then baked on the morning of the party.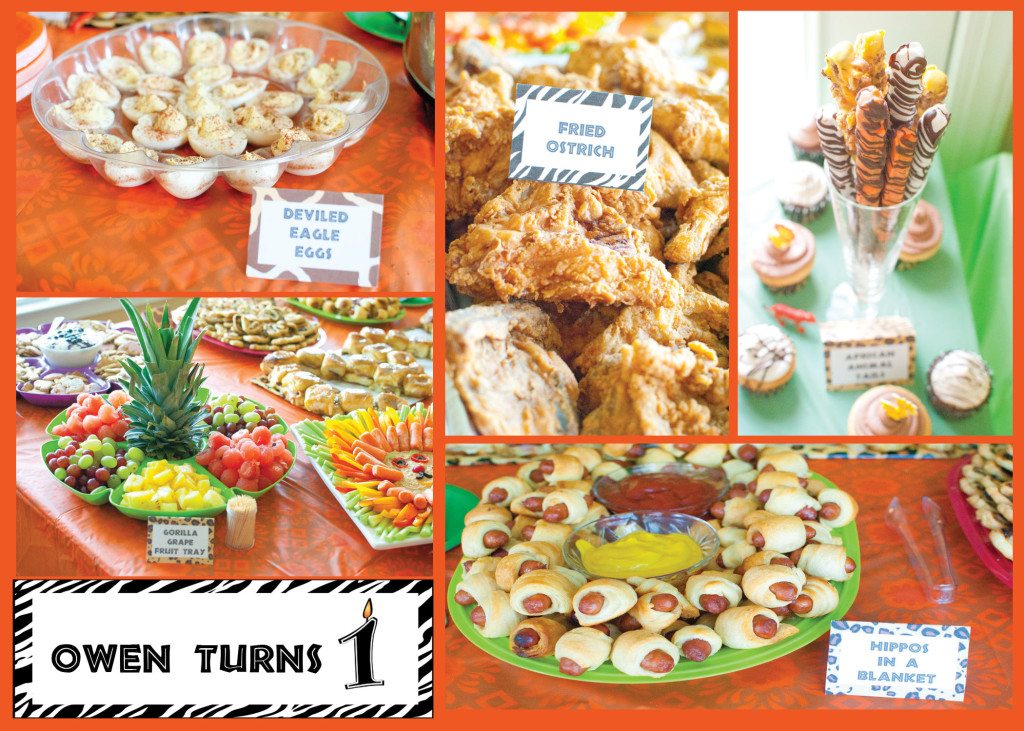 The remainder of the menu was just some basics: deviled eggs, fried "ostrich" (aka fried chicken) from our favorite chicken joint, chocolate covered pretzel rods that looked like tiger, zebra, leopard, and giraffe tails, a fruit tray, and "hippos" in a blanket that I made several days in advance, froze, then reheated on the day of the party.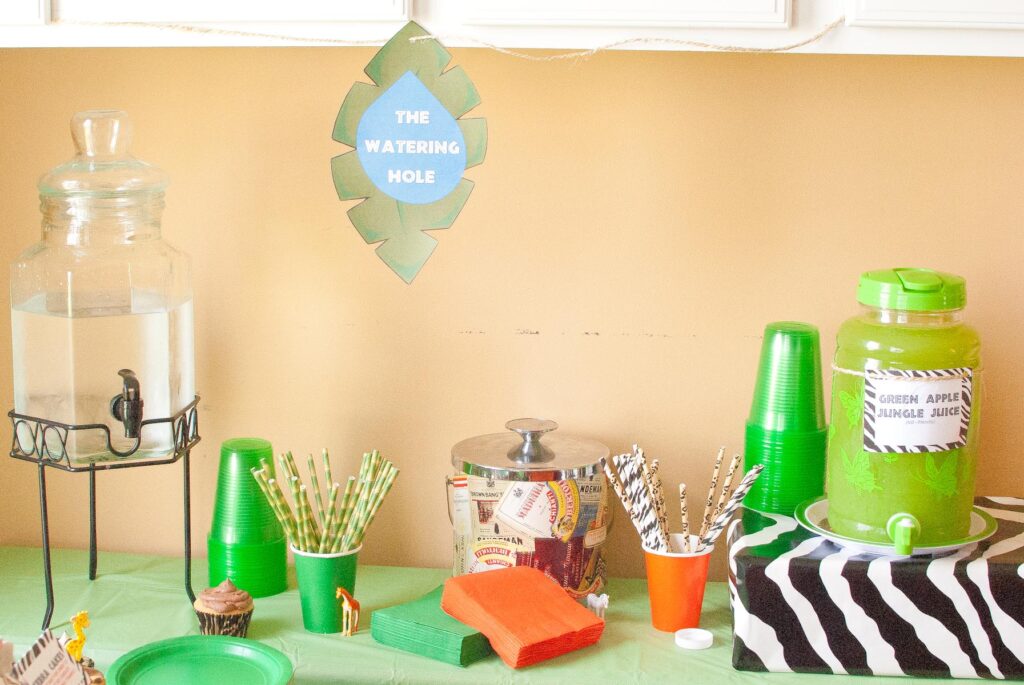 At the "watering hole" I served a green apple jungle juice and ice water with bamboo paper straws
and zebra and leopard print straws. The green apple jungle juice was sweet and tart with just enough added fizz. We didn't have too many kids there so if you plan to have a larger group, I would suggest doubling the recipe.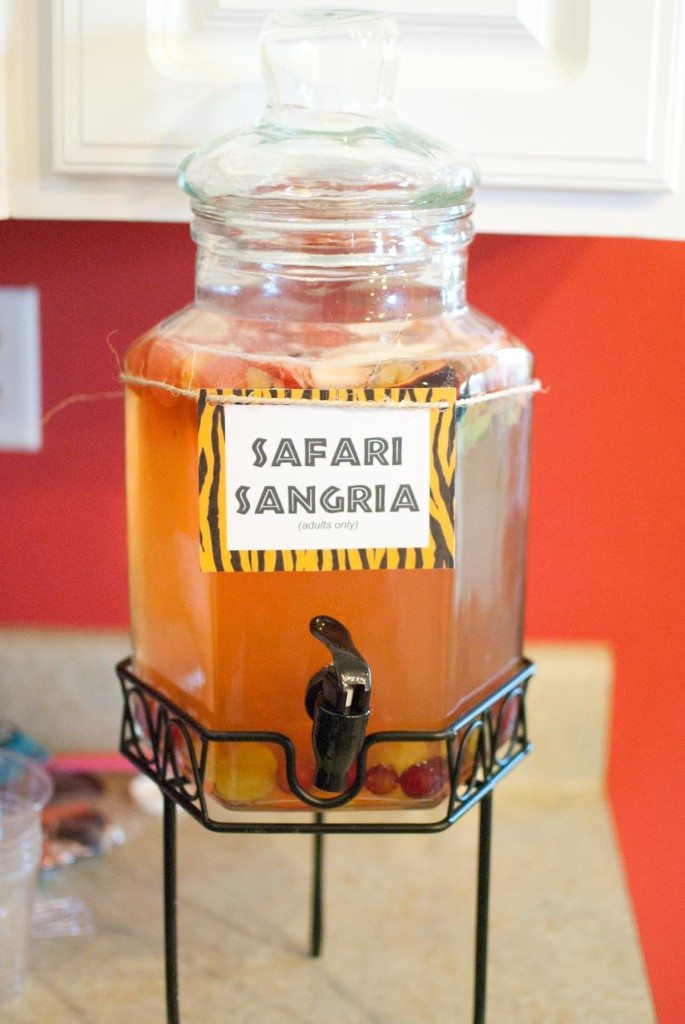 For the adults I had a Safari sangria that was completely swoonworthy. I soaked kiwis, watermelon, grapes, strawberries, peaches and plums overnight in half a bottle of Smirnoff Sorbet Light mango passionfruit vodka then added that to the rest of the drink, and dear heavens I could swim in that stuff all day long.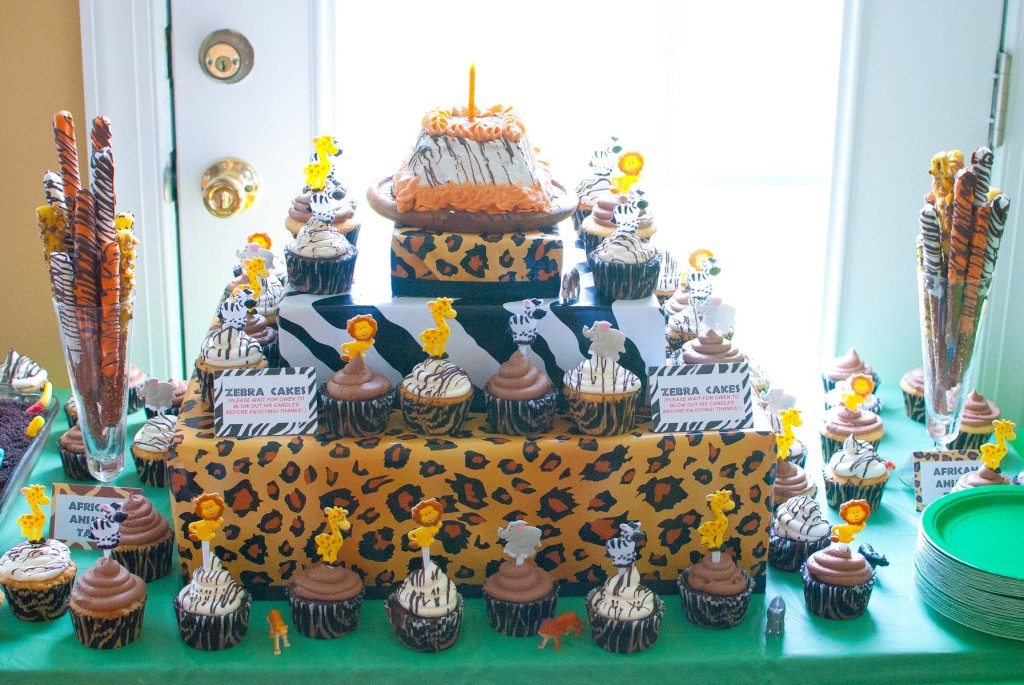 Last but not least were the cupcakes! I was so happy with them. First off, the cupcake stand is nothing but cardboard boxes wrapped in dollar store wrapping paper, stacked, and taped together with duct tape. I also hot glued a ribbon around the bottoms of each box.
I got the cupcake toppers (along with the majority of the decorations) from this website and the cupcake wrappers from Walmart.
I made one double batch of my go-to chocolate lover's cupcakes (cake only) using Jessica's recipe from How Sweet Eats, and I also made one large batch of vanilla from The Little Kitchen. In total I ended up with about 65 cupcakes.
I made the cupcakes on Thursday, stored them in cupcake containers
and frosted them with chocolate and vanilla buttercream on Friday night. So all I had to do on Saturday morning was give the vanilla cupcakes a chocolate drizzle, arrange them on the stand, and add the toppers.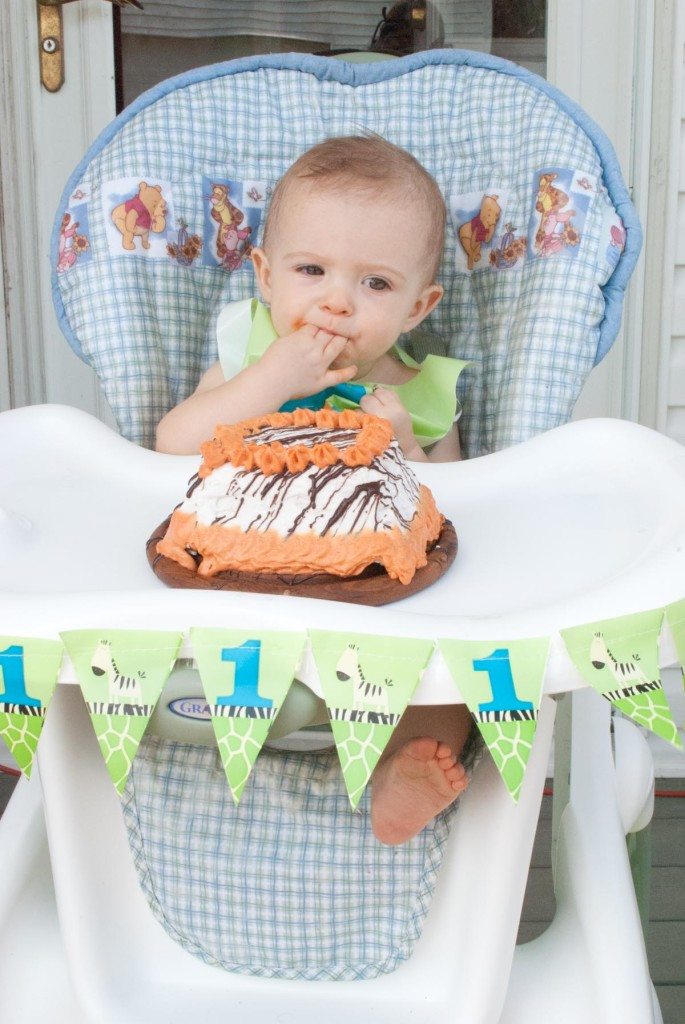 Owen had a gluten-free, grain-free, refined sugar-free smash cake with coconut whipped cream frosting.
Since Owen has been feeding himself from the beginning, he didn't really go too crazy over his cake. He didn't really smash anything, but we're going to give him the real deal (probably using Jessica's funfetti cupcakes this time) on his actual birthday so maybe he'll tear that one apart instead.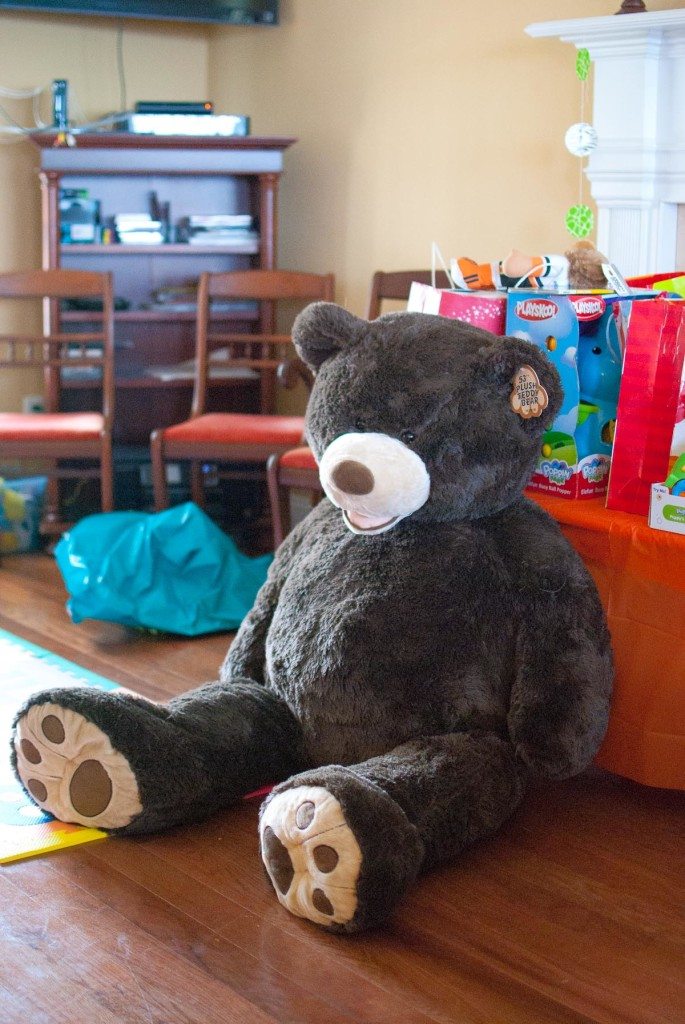 Owen got a ton of wonderful gifts, but his absolute favorite was the giant teddy bear that is bigger than I am. This teddy bear was given to him by his great aunt who has given one of these to each of the great grandchildren in the family.
Owen can't get enough, and he likes to bite the bear's nose.
Well, I think that's it! I know it's a ton of information, but I'm hoping this post will help a mom like me who wants to throw an amazing safari party without having to scour the internet for every single little detail.
You can just bookmark this page and have all the links, recipes, and ideas stored in one place and make things a little bit easier for yourself.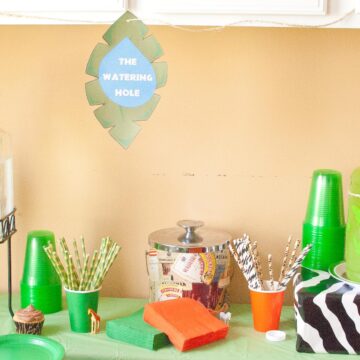 Ingredients
Snake Sandwich Sliders:
4

packages King's Hawaiian Rolls

sliced in half

2.5

lbs

thinly sliced Black Forest ham

stacked and cut into quarters

2

lbs

sliced provolone or Swiss cheese

stacked and cut into quarters

3

sticks butter

melted

2

tablespoon

spicy deli or dijon mustard

1

tablespoon

Worcestershire sauce

1

teaspoon

onion powder

1

tablespoon

poppy seeds

2

black olives

1

small slice red bell pepper
For the African Meatballs:
4

lbs

ground beef

1

small sweet onion

minced

3

garlic cloves

minced

2

teaspoon

fresh or ground ginger

3

teaspoon

sesame oil

1

cup

Panko bread crumbs

2 18

oz

jars pineapple preserves

2 7

oz

jars hoisin sauce

1

teaspoon

fresh or ground ginger

1

teaspoon

sriracha sauce

or to taste

toasted sesame seeds and fresh cilantro

for garnish
For Simba's Lion Veggie Tray:
1

batch or package sweet potato

boiled peanut, or store bought hummus

1

bunch celery

sliced into sticks

1

red bell pepper

sliced into strips

1

orange bell pepper

sliced into strips

1

yellow bell pepper

sliced into strips

1

package baby carrots

6

black olive rings

1

small cherry tomato or cherry pepper

6

bell pepper strips
For the Guano Funfetti Cake Batter Dip:
1

box Funfetti cake mix

1 8

oz

carton heavy whipping cream

1

cup

vanilla yogurt

1

cup

fresh or frozen blueberries

2

tablespoon

pure cane or coconut sugar
For the Green Apple Jungle Juice:
1

packet unsweetened green apple Koolaid

½

cup

monk fruit in the raw

2

quarts

water

1 46

oz

can pineapple juice

12

oz

frozen lemonade concentrate

thawed

3

liters

of ginger ale
For the Safari Sangria:
1

peach

sliced

1

plum

sliced

2

kiwis

peeled & sliced

1

cup

strawberries

quartered

1

cup

green grapes

1

cup

purple grapes

½

bottle Smirnoff Sorbet Light Mango Passionfruit vodka

1

magnum bottle

1.5 liters Yellowtail Pinot Grigio

1

750ml

bottle Yellowtail Moscato

1 33

oz

container guava nectar

3-4

cans Sprite zero
Instructions
For the Snake Sandwich Sliders:
In a small bowl whisk together the butter, brown sugar, mustard, Worcestershire, onion powder, and poppy seeds until well combined. Set aside.

Place the bottoms of the rolls on a large baking sheet(s) lined with parchment NOTE: IT'S FINE IF THE SANDWICHES TOUCH.

Add one small slice of provolone to each bottom, then add two slices of ham on top of the cheese, follow up with another small slice of provolone, then sandwich each slider with the tops of the rolls.

Liberally brush the brown sugar mustard on top of each slider, cover with tin foil, then refrigerate for a minimum of 4 hours, but 24 hours is best. Refrigerate the brown sugar mixture in a sealed container.

To serve, pre-heat the oven to 375 degrees (F).

Re-melt the brown sugar mixture, remove the foil, then liberally brush the tops of each roll again. Pour any remaining sauce over the tops of the rolls, recover with the foil, then bake for 10 minutes. Remove the foil and bake for another 10 minutes or until they are golden brown.

Using one of the rolls from the corner of a package, secure two black olives with toothpicks for the snake's eyes and add one slice of red pepper for the tongue.

Place the remaining sliders behind the snake's head in a slithering shape and serve.
For the African Meatballs:
Preheat oven to 400 degrees. Combine beef, onion, garlic, ginger, sesame oil, and breadcrumbs in a large bowl. Using your hands, mix together until well combined. NOTE: DO NOT OVER WORK THE MEAT OR THEY'LL GET TOUGH.

Using a small cookie scoop or spoon, shape the mixture into 60-65 balls and place on a baking sheet lined with parchment. Bake for 10-12 minutes or until cooked through. Allow to cool completely.

Put baking sheets directly into the freezer and freeze the meatballs for 2 hours then transfer to large freezer bags until party day.

On the day of the party, add meatballs to a large crockpot, whisk together pineapple preserves, hoisin sauce, ginger, and sriracha then pour over the meatballs. Cook on low for 4-5 hours, stirring occasionally. Sprinkle with sesame seeds and cilantro right before serving.
For Simba's lion veggie tray:
Spoon the hummus into the middle of a large serving platter and smooth into a circle.

Starting from the outside edges of the platter and working in, arrange the celery in a large circle, followed by the bell pepper, and finally the baby carrots.

Use two whole olive rings for the eyes, a cherry pepper or tomato for the nose, and sliced olive rings for the mouth and whiskers.
For the Guano Funfetti Cake Batter Dip:
Add blueberries and sugar to a large heat safe bowl and microwave for 4 minutes or until hot and bubbly and sugar is dissolved. Cool completely.

Pour whipping cream into the bowl of a stand mixer (or use a hand mixer) and beat until stiff peaks form. Stir in the cake mix until there are no lumps left then fold in the yogurt.

Transfer to a serving bowl, top with half of the blueberry mixture, and serve with animal crackers of choice.
For the Green Apple Jungle Juice:
Add kool aid packet and monk fruit to a large pitcher, top with water, and stir until monk fruit is dissolved.

Add pineapple juice and lemonade concentrate and stir.

Right before serving, pour in gingerale.
For the Safari Sangria:
Add the fruit and vodka to a large plastic container and refrigerate overnight, stirring occasionally.

In a large drink dispenser, combine wine, guava nectar, and sprite and stir.

Stir in fruit and half of the vodka (or more if you want it super strong) and serve.
*Disclosure: By following the links above and completing a purchase, Slim Pickin's Kitchen may receive compensation via discounts on products or monetary means from the respective affiliate programs*