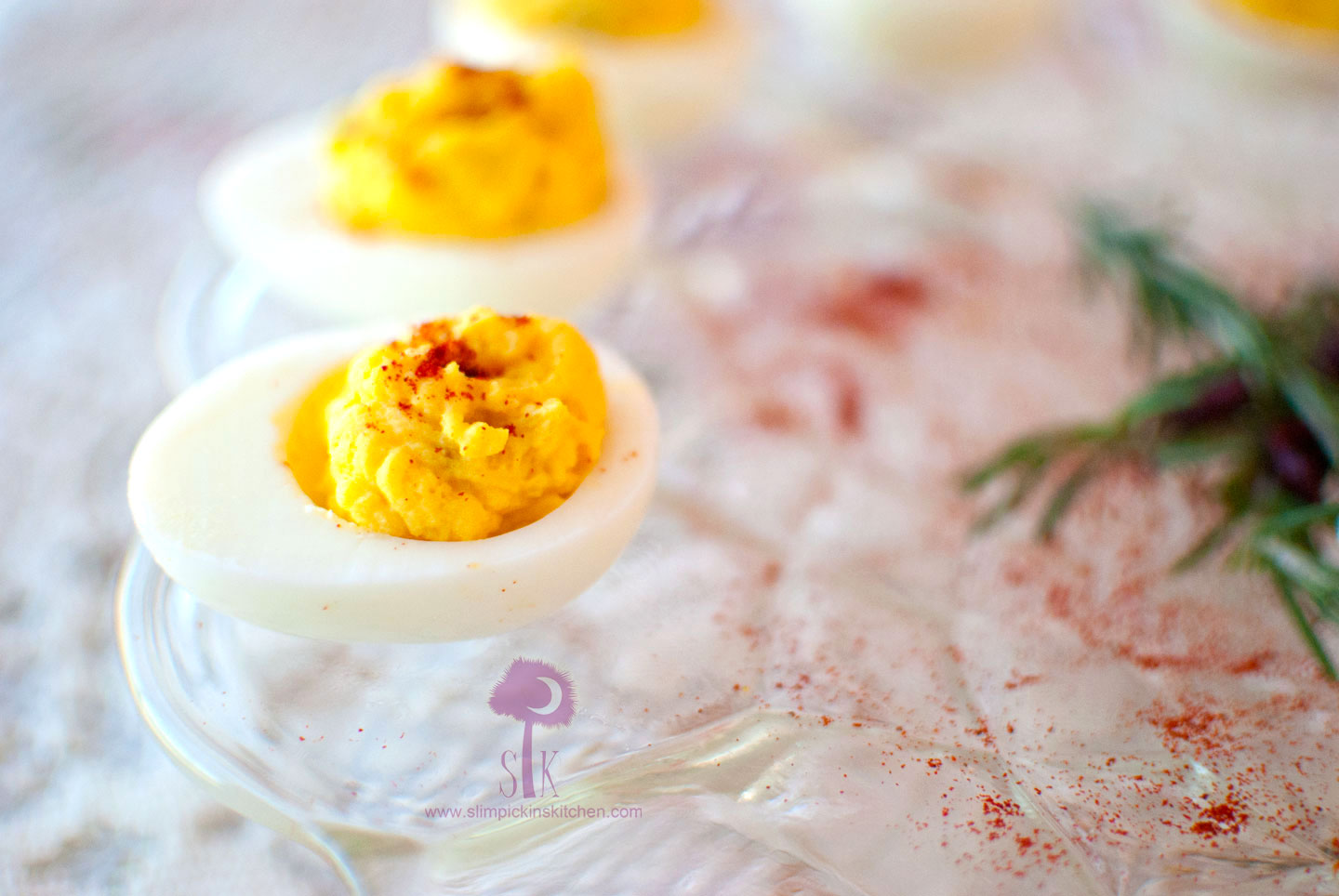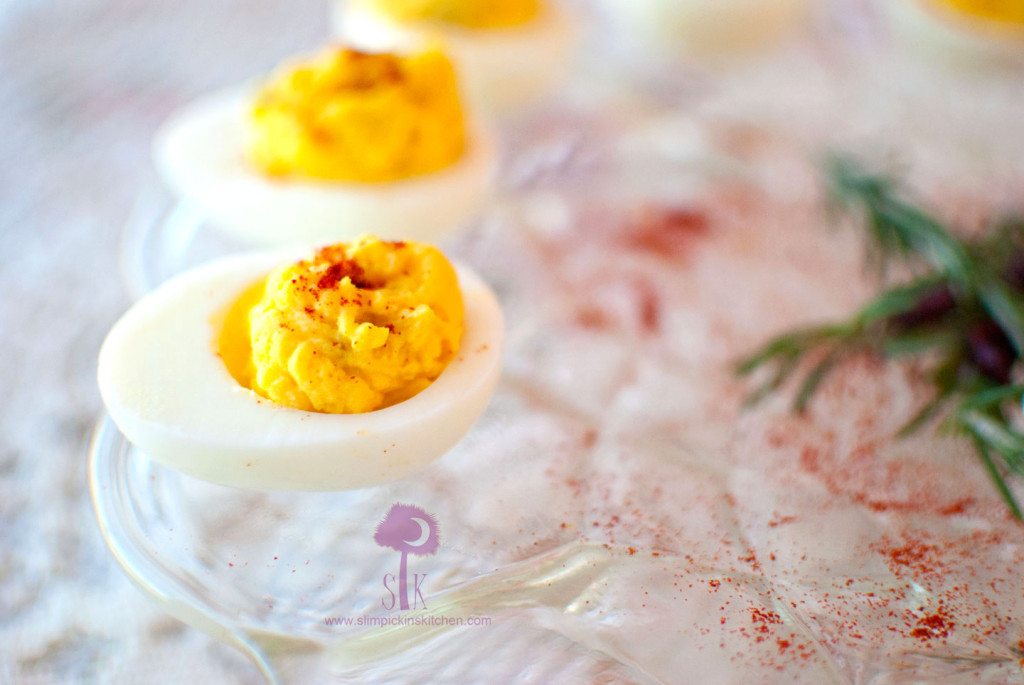 These ain't yo mama's deviled eggs.
Homey don't play that.
They do taste just like them though...well, almost...
If you've been reading for a while now, then you know I despise mayonnaise. I absolutely loathe the stuff and would rather eat a mud cake sprinkled with egg shells than a stacked cold cut club slathered with the m word. I just can't take the stuff and, because mayo is nothing but egg yolks and oil, I'm not really a fan of egg yolks either.
So, how in the crap did I make deviled eggs and then write a post about them then?
Because I have a trick up my sleeve, y'all...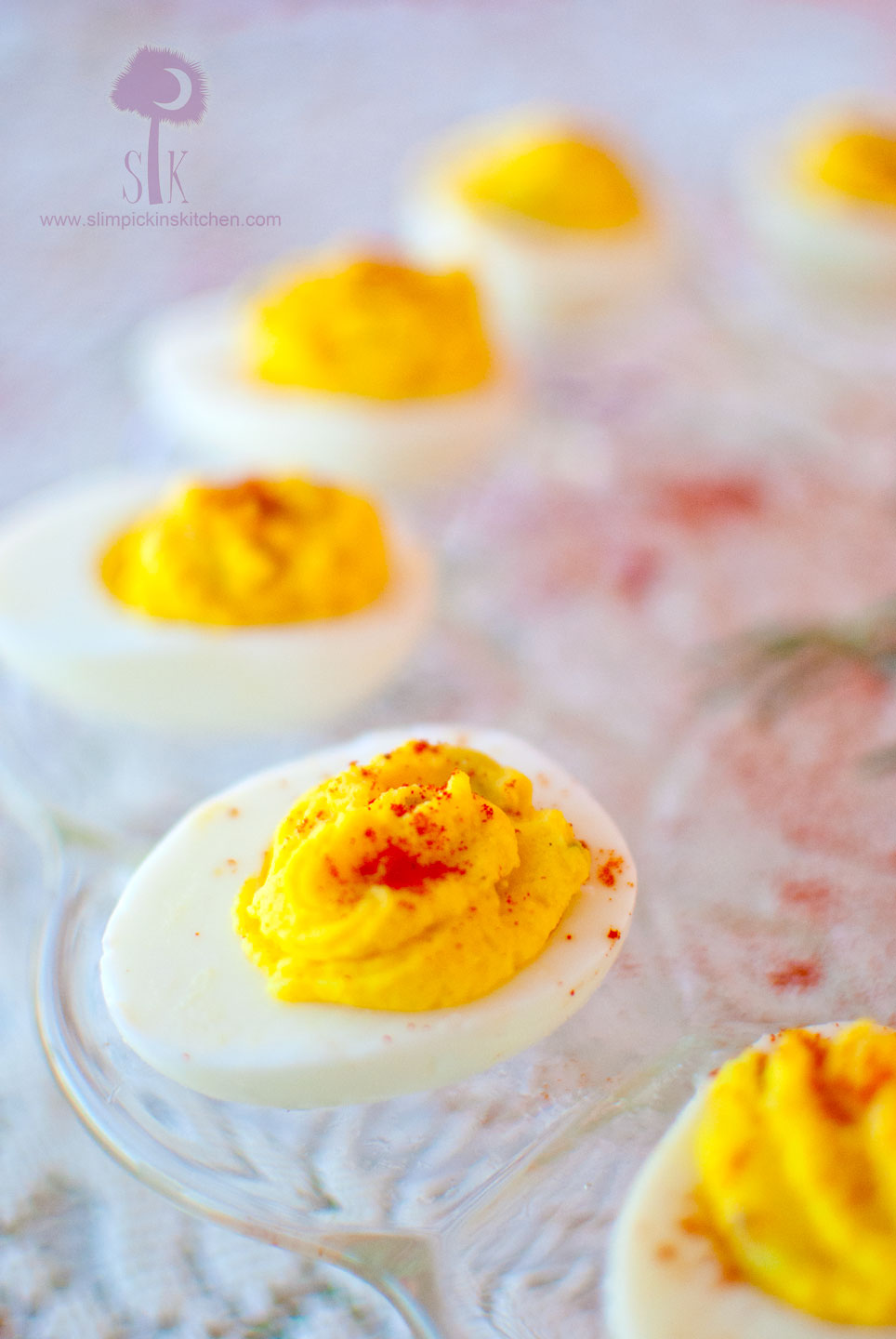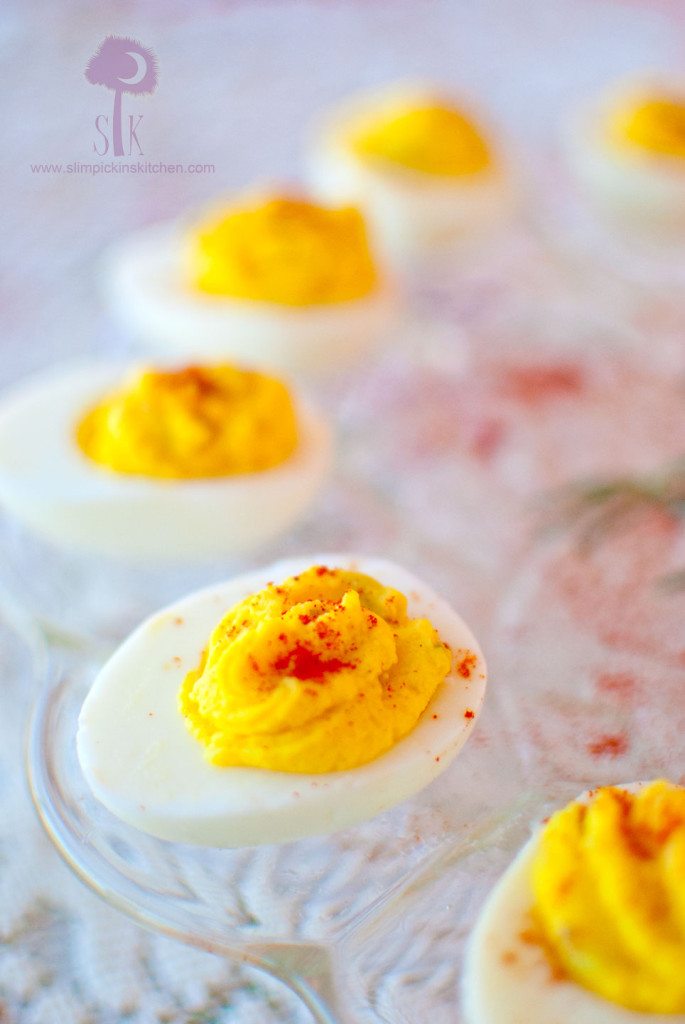 A few weeks ago my in-laws took us to their "shop" (as they call it) to move and rearrange some things to make room for some of our belongings that we are storing until we can find a place of our own.
I could spend hours in that place because it is essentially a treasure trove of antique furniture, mismatched fine china, and a plethora of cutlery, cups, and spoons my husband's parents have collected over the years of working in the auctioning business. While we were there, I went through every nook and cranny searching for things I could find to use for food styling and photographs, and I ended up finding a box full of cookbooks, most of which were geared towards "fat-free" or "healthy" recipes.
Score.
Clearly, I carried as many books out the door as I could possibly handle, and I have been flipping and searching through the recipes ever since.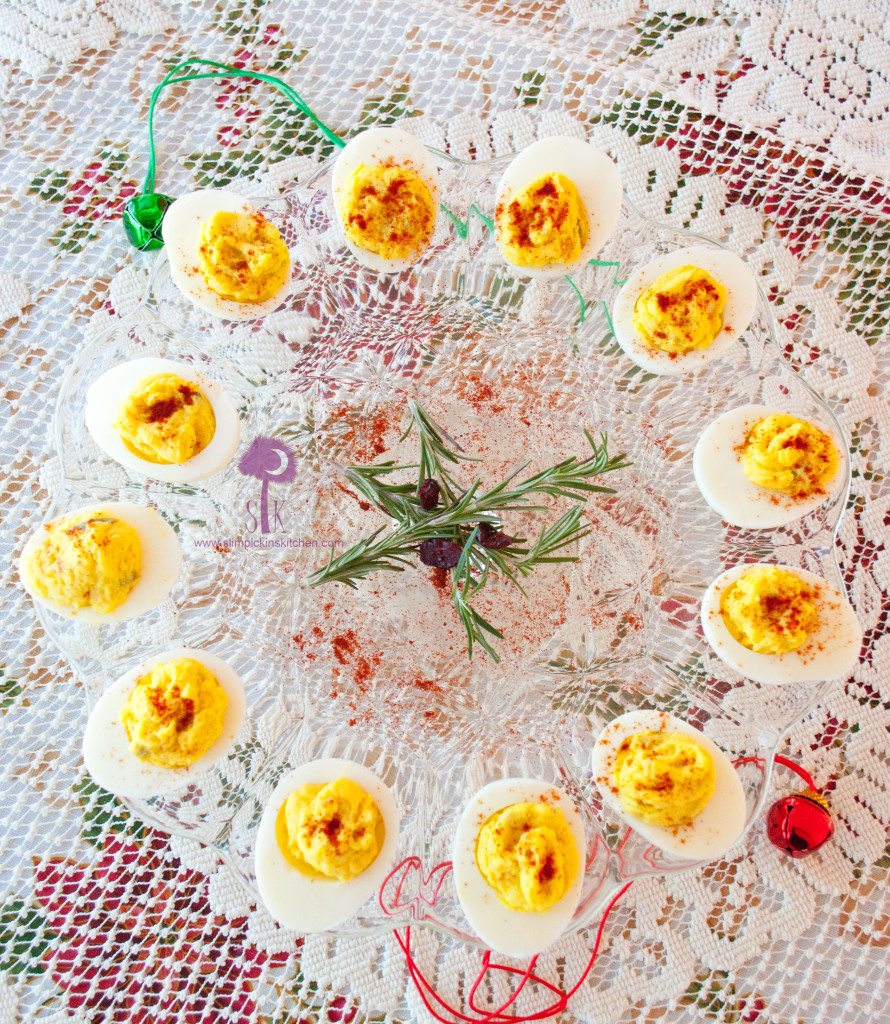 I can honestly tell you that I have never once, not ONCE, ever eaten a deviled egg. Hence my development of the Egg White Rockefeller appetizer that's absolutely da bomb. As mentioned above I don't like two of the main ingredients of a traditional deviled egg, so there really was no reason for me to try one. BUT I have always wanted to try one because everyone I know (for the most part) loves, loves, loves them...my husband included.
So, imagine my surprise when I found a recipe in a fat free cook book for "no yolk" deviled eggs that used potatoes as the star ingredient.
Yup.
Good 'ole fashioned white patatahs.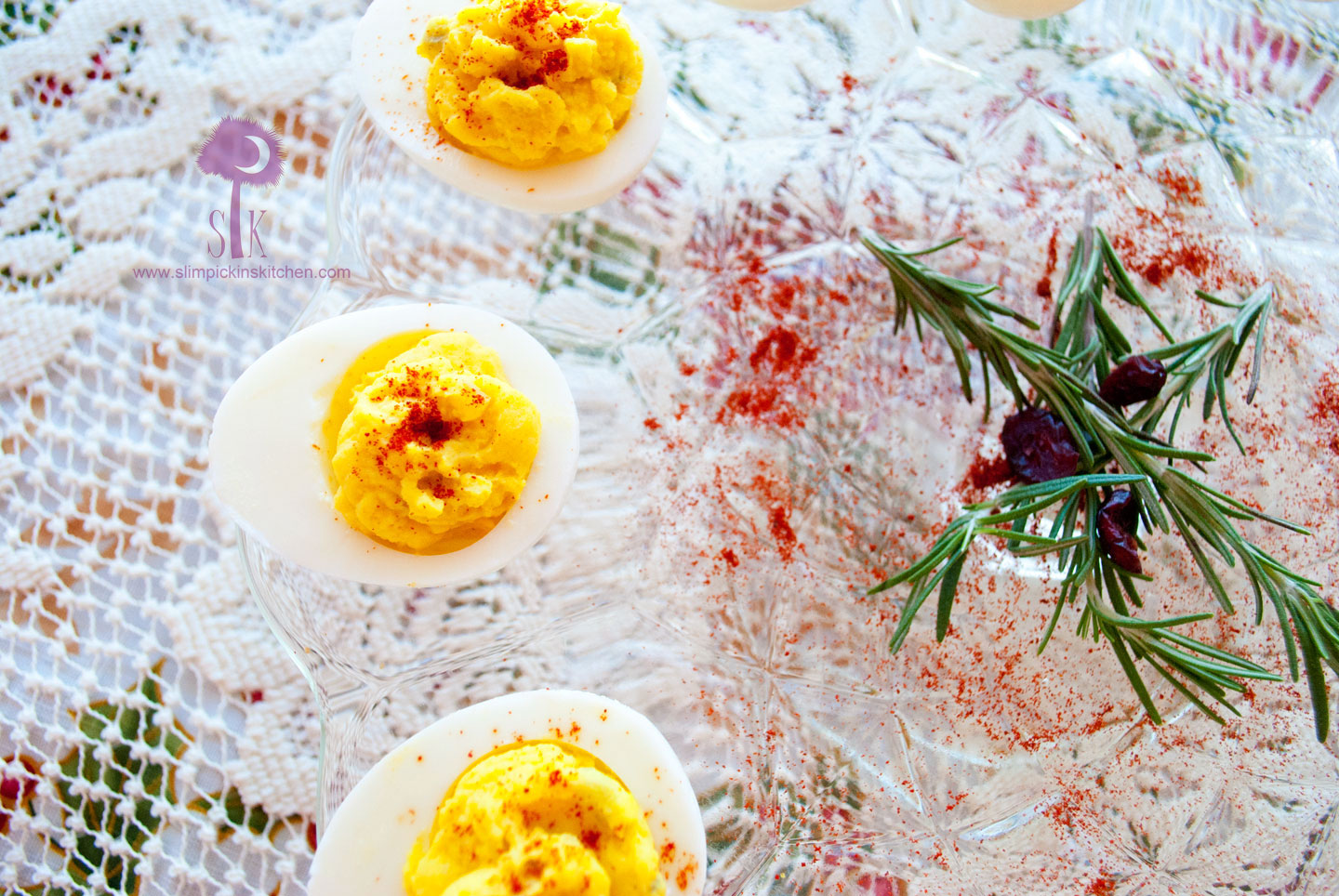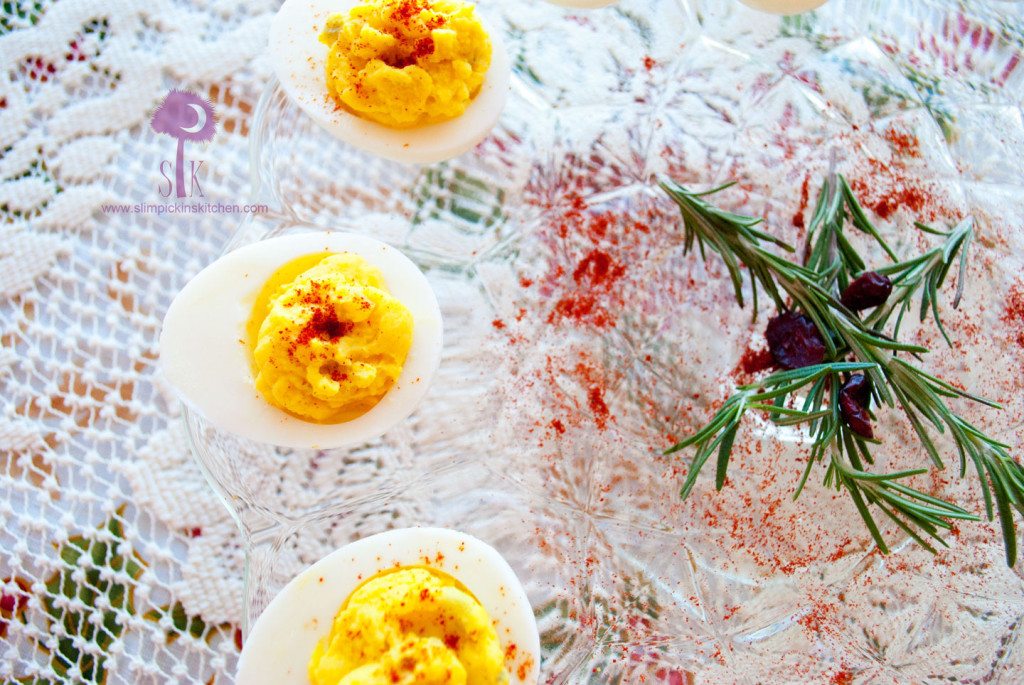 I thought the idea was brilliant!  I was so excited when my husband taste tested my version and said they tasted almost exactly like the fat and mayonnaise laden eggs that have graced every single southern social for the past million years.  I even tricked my father-in-law who had no idea they weren't the real thing.
The ingredients I used are all 100% to taste, so please feel free to mix and match everything as you see fit. The only thing my FIL said about the eggs was that they needed more sweet relish so if you have a sweet tooth like him, by all means add more relish. But, from what I understand, traditional deviled eggs don't have relish anyway so it really does boil (get it? Ha!) down to your family's preference.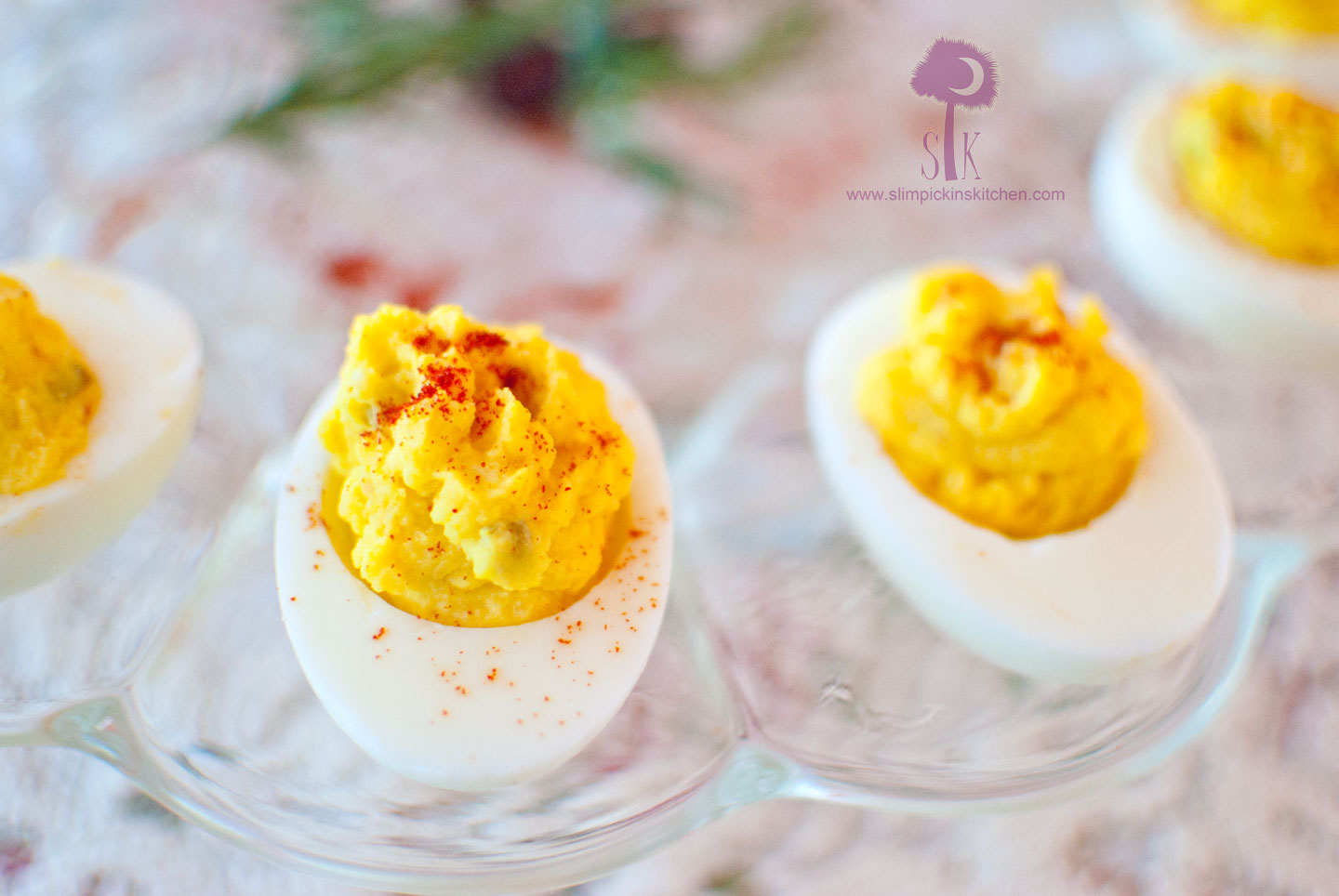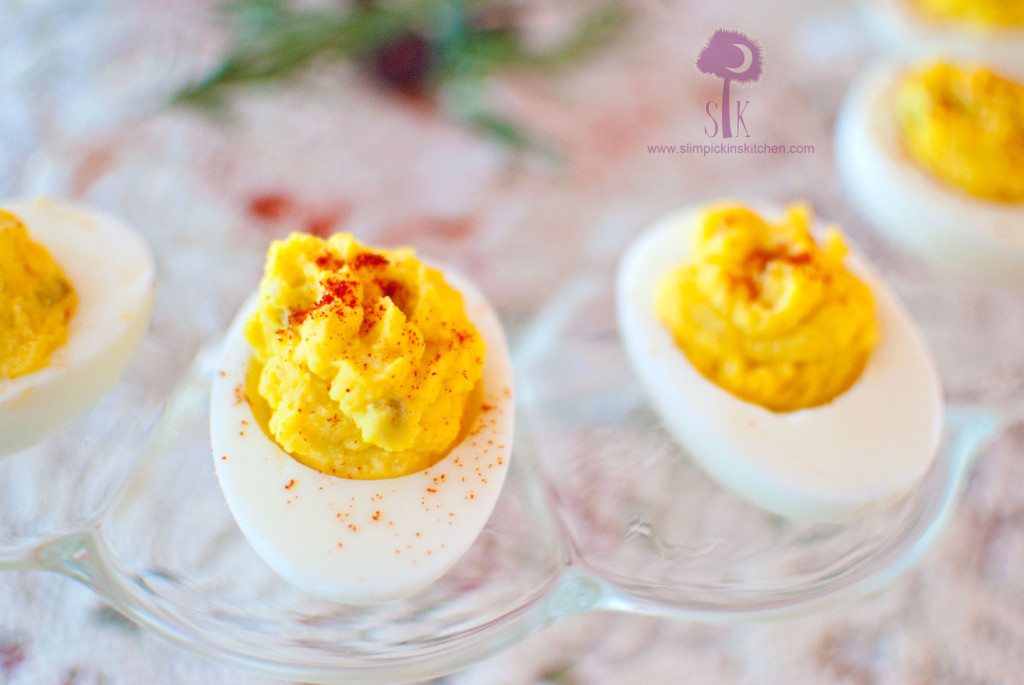 Getting to know you...
Do you put relish in your deviled eggs?
Do you like mayonnaise?
What's your favorite cookbook?
Mayo Free & Guiltless Deviled Eggs

Print recipe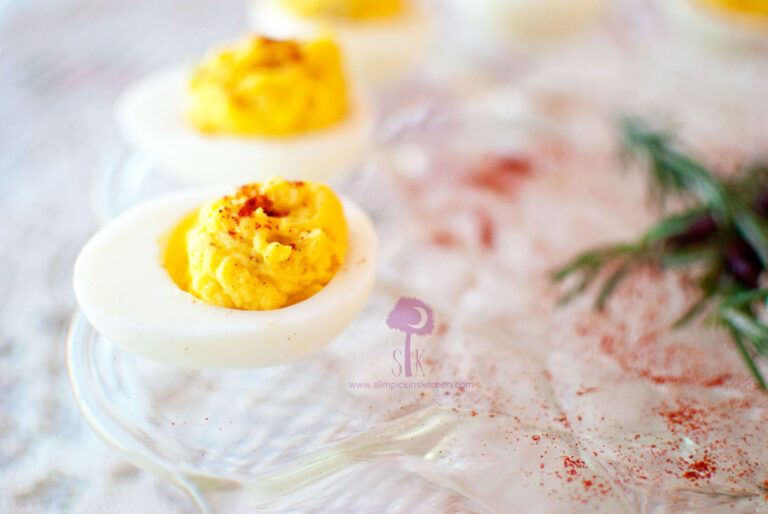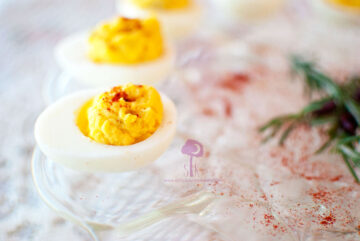 | | |
| --- | --- |
| Serves | 24 |
| Prep time | 30 minutes |
| Cook time | 20 minutes |
| Total time | 50 minutes |
| Allergy | Egg |
| Dietary | Gluten Free |
| Meal type | Appetizer, Breakfast, Snack, Starter |
| Misc | Child Friendly, Pre-preparable, Serve Cold |
| Occasion | Barbecue, Birthday Party, Casual Party, Christmas, Easter, Formal Party, Thanksgiving |
| From book | Recipe Adapted From Taste of Home Guilt Free Cooking |
Ingredients
10 Large cage free, vegetarian fed all natural eggs
2-3 Small roughly 10-12 oz. russet or yukon gold potatoes (washed, peeled, and cubed in large egg size chunks)
¼ teaspoon sea salt
¼ cup unsweetened almond milk
¼ cup plain 0% Chobani Greek yogurt
1 ½ teaspoon prepared yellow mustard
1 teaspoon white vinegar
¼ cup sugar free sweet relish (more or less to taste)
1 teaspoon ground tumeric powder (for coloring)
A few cranks of freshly ground black pepper
Smoked paprika (for sprinkling )
Note
*WWpts & WWpts+= 1 pt per serving*
Directions
Step 1
Place potatoes and eggs in a large pot, fill with water until everything is just covered, then place on stove and bring to a gentle boil.
Step 2
Once boiling, add the salt, gently stir, then remove the pan from the heat, cover, and let sit on the back burner for 10-12 minutes.
Step 3
While the eggs are cooking through, fill a large bowl with water, add two or three handfuls of ice, and set aside.
Step 4
Once the eggs are cooked, remove them from the pot with a slotted spoon and transfer into the bowl of ice water, letting them cool completely. Peel, cut in half, and discard all but 4 cooked yolks. NOTE: I always gently crack my eggs against the counter top during transfer which makes for easier peeling.
Step 5
Place the pot of potatoes back on the burner and return to a boil. Continue to cook until fork tender, about 8-10 minutes. Once cooked, drain the potatoes then return to the pot. Add the four cooked egg yolks, milk, yogurt, mustard, vinegar, relish, and pepper and mash until smooth and creamy. Add any further seasonings to taste, then pipe into empty egg whites.
Step 6
Sprinkle with paprika and refrigerate until ready to serve.
Step 7
Enjoy!