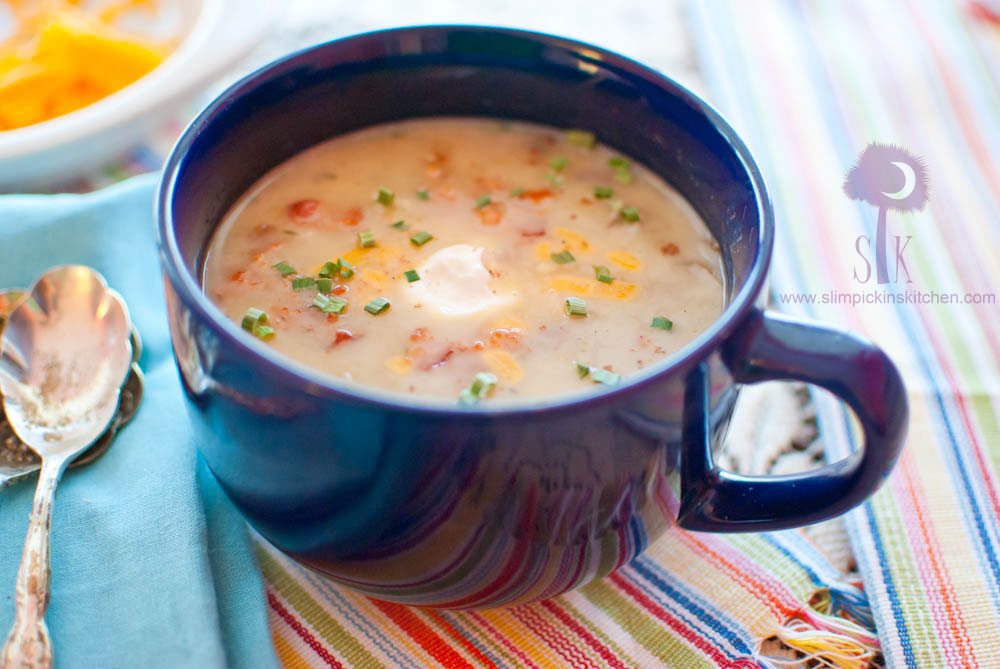 That's right.
Loaded baked potato soup that's "skinny".
A potato soup that's full of the essential elements of a fabulous baked potato oozing with bacon and sour cream yet it's drastically lower in calories and you won't feel as bloated as a microwaved marshmallow after eating  it.
And by essential elements I mean REAL bacon, REAL cheddar cheese, and REAL sour cream...and how much goes into it depends on you.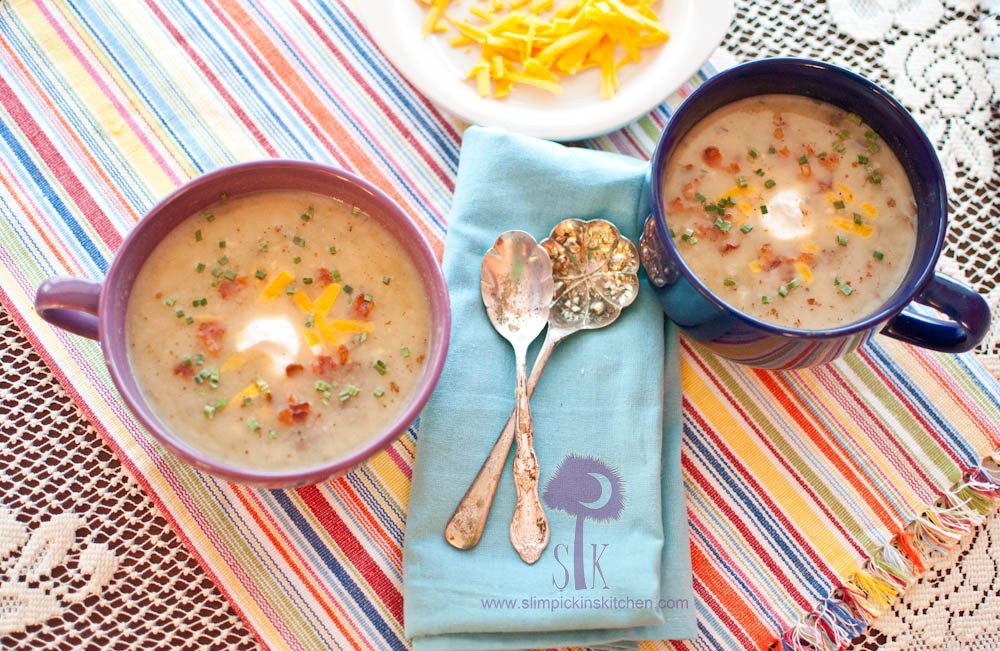 I'm also incredibly stoked about this recipe b/c I've finally made a meal my father-in-law will eat!
Praise the Lord.
Let me explain…my FIL is a wee bit, how can I say this nicely…stuck in his ways? Picky? Bullheaded? Stubborn as a sinking Artex in the Swamp of Sadness?
Yeah…that's putting it lightly…bless his heart.
The man (we'll call him Papa F) likes to have things the way he likes them. If something doesn't suit his fancy or if said thing is not the way he thinks it should be, well then, it's wrong.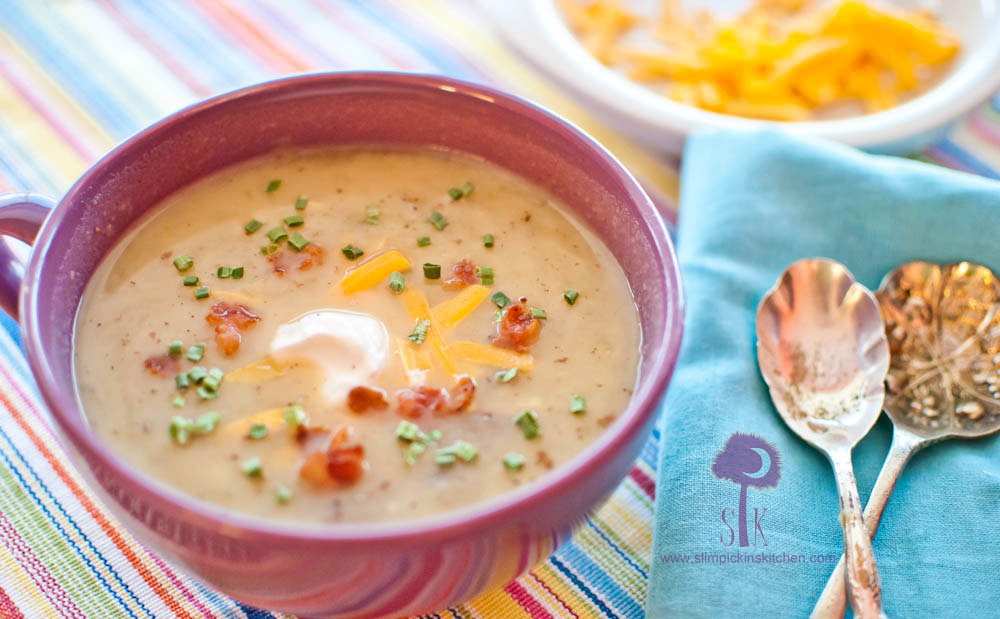 Case in point: A few weeks ago, I noticed that Mama F had several packs of sea scallops in her freezer along with two giant steaks. So, clearly, my mind went to a surf and turf dinner served alongside some oven roasted Brussels sprouts and mashed sweet potatoes. Delish, right?
Not so much…at least for Papa F.
When he got wind that I was cooking scallops (drenched in white wine and tarragon…swoon) with steak he said, "You don't eat scallops with damn steak…you eat 'em with slaw and damn stewed patatahs."
Uuuuum, stewed what?
Okay, listen…to me the word "stewed" ranks right up there with the word "moist", ya feel me? Anything that has been "stewed" freaks me out and my mind automatically flashes to an image of an emaciated commoner in a medieval swinery screeching,  "If you don't eat yer meat, ya can't have any pudding" while stirring a giant pot of bubbling brown sludge. (I have no idea. I have no control over such things.)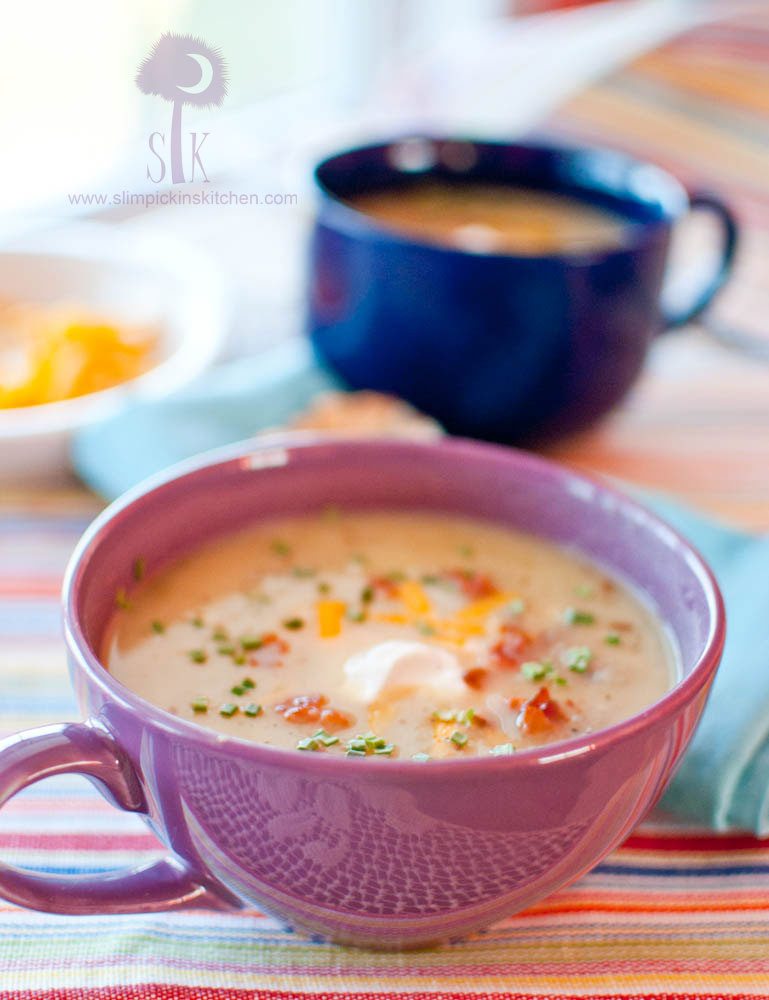 Yes I grew up in the South, but I didn't grow up surrounded by cotton fields like I am now so, until a few weeks ago, I really had absolutely no idea what a frickin' stewed patatah was. Oh, AND unless you're planning to drench some cabbage in sesame oil and Soyabi sauce and dump it on top of a teriyaki BBQ pork sandwich then don't even *THINK* I'm going to be whipping up a bowl of mayo drenched slaw.
Ick.
Apparently everything Papa Forbes eats has to be served with "damn stewed patatahs", so much so, he even spazzed out a bit when we went to the "Gossip Shop" (the local diner) and he realized they didn't have them as one of the vegetables of the day. Luckily they had his lemon ice cream (which they stock in their kitchen just for him) so our server got off kind of easy that day.
So what are stewed patatahs? When I consulted with my husband and Mama F about what they were exactly they both kinda mumbled, "Peeled potatoes, onions, bacon grease…." and then quizzical glances were exchanged between the two of them and their explanations tapered off because apparently they have no idea what they are either.
But tonight after supper was served and the hubs, Mama F, and I were licking our bowls clean, I asked Papa F if he liked the soup, and he said, "Of course I did…it was nothing but damn stewed patatahs."
So there ya go.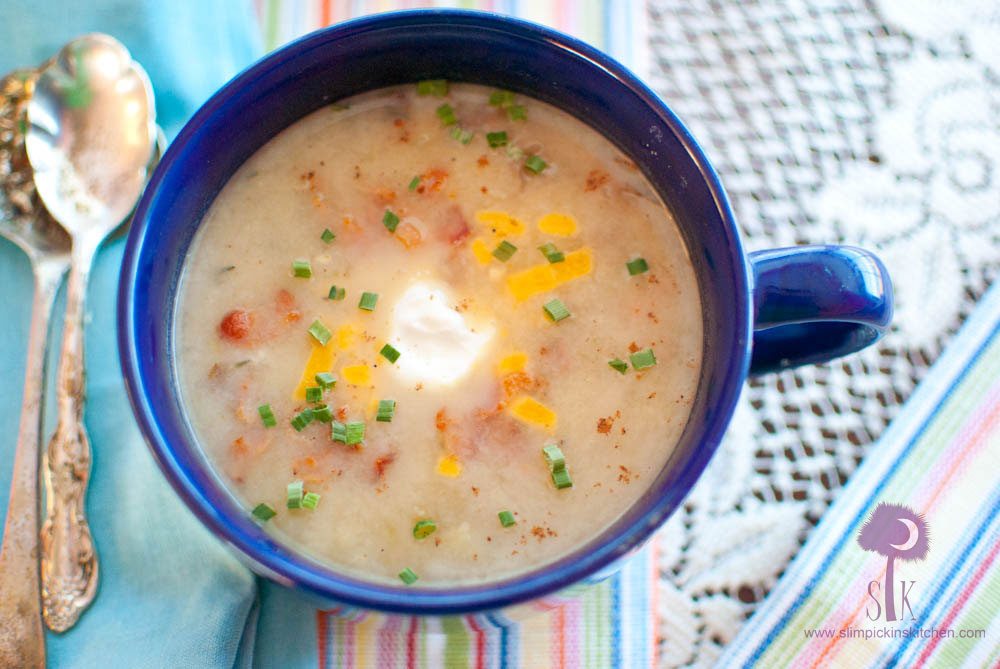 Getting to know you...
Do you get along with your in-laws?
Are you going to use real bacon or turkey bacon or omit completely?
Did you know what a stewed patatah was?
Skinny Loaded Baked Potato Soup

Print recipe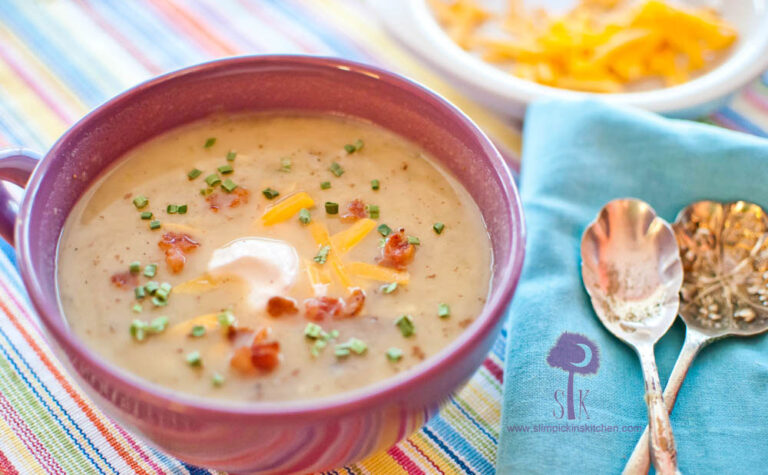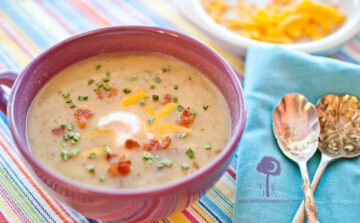 | | |
| --- | --- |
| Serves | 6 |
| Prep time | 10 minutes |
| Cook time | 20 minutes |
| Total time | 30 minutes |
| Allergy | Milk |
| Meal type | Soup |
| Misc | Freezable, Pre-preparable, Serve Hot |
Ingredients
1 Medium sweet onion
1 Medium celery stalk
3 slices nitrate free, all natural bacon (cut into bite size pieces)
¼ teaspoon sea salt
freshly ground black pepper
2 Small garlic cloves (minced)
6 cups organic chicken stock or broth
5-6 sprigs fresh thyme (leaves removed from stem)
1 ½lb Russet or Yukon Gold potatoes (scrubbed and cubed)
¼ cup organic half & half (or milk of choice)
organic shredded sharp cheddar cheese (to taste)
chives (to taste)
organic sour cream (to taste)
Note
*WWpts= 3 pts per serving*
*WWpts= 4 pts per serving*
Directions
Step 1
Puree onion and celery in a food processor and set aside.
Step 2
Preheat a large stock pot over medium-medium high heat, spritz with olive oil spray, add bacon, and cook until the fat has rendered out and it is brown and crispy, about 3-5 minutes. Remove with a slotted spoon and transfer to a paper towel lined plate. Set aside.
Step 3
Pour the majority of the remaining bacon grease into a grease keeper or bowl lined with aluminum foil, reserving about 1 teaspoon in the pot for the veggies. Add the onion and celery puree and cook for 2-3 minutes or until it starts to slightly brown. Add the salt, pepper, and garlic and cook for another 2-3 minutes.
Step 4
Slowly stir in the stock then add the thyme leaves and bring to a boil. Lower heat to medium, gently drop in the potatoes and simmer for 18-20 minutes or until they are fork tender. Reduce heat to low.

Step 5
Leave the soup as is or do what I did and mash the potatoes just a bit so you will have both a chunky and smooth soup.

Step 6
Right before you are ready to serve, stir in the half and half then let everyone garnish their own bowls with shredded cheddar, sour cream, chives, and the reserved bacon bits.
Step 7
Enjoy!