Witch fingers cheese straws are ghoulishly good and the perfect Halloween finger food for your party guests!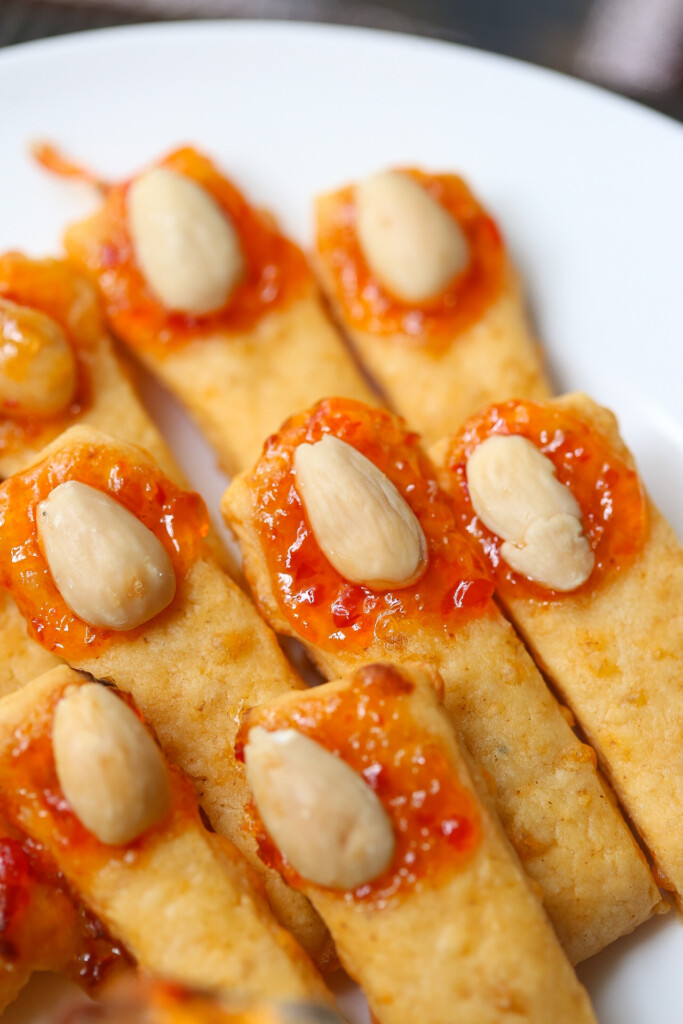 It's officially fall witch (👀🤪) means it's time for ALL THINGS HALLOWEEN!!
I've been wanting to make my southern baptist grandmother's cheese straws recipe into Halloween witch fingers for oh so long, and I'm so thrilled to bring them here for you today!
Everyone in the south knows a good party needs a big platter of cheese straws, and what's a Halloween shindig with out some gross looking finger foods?!?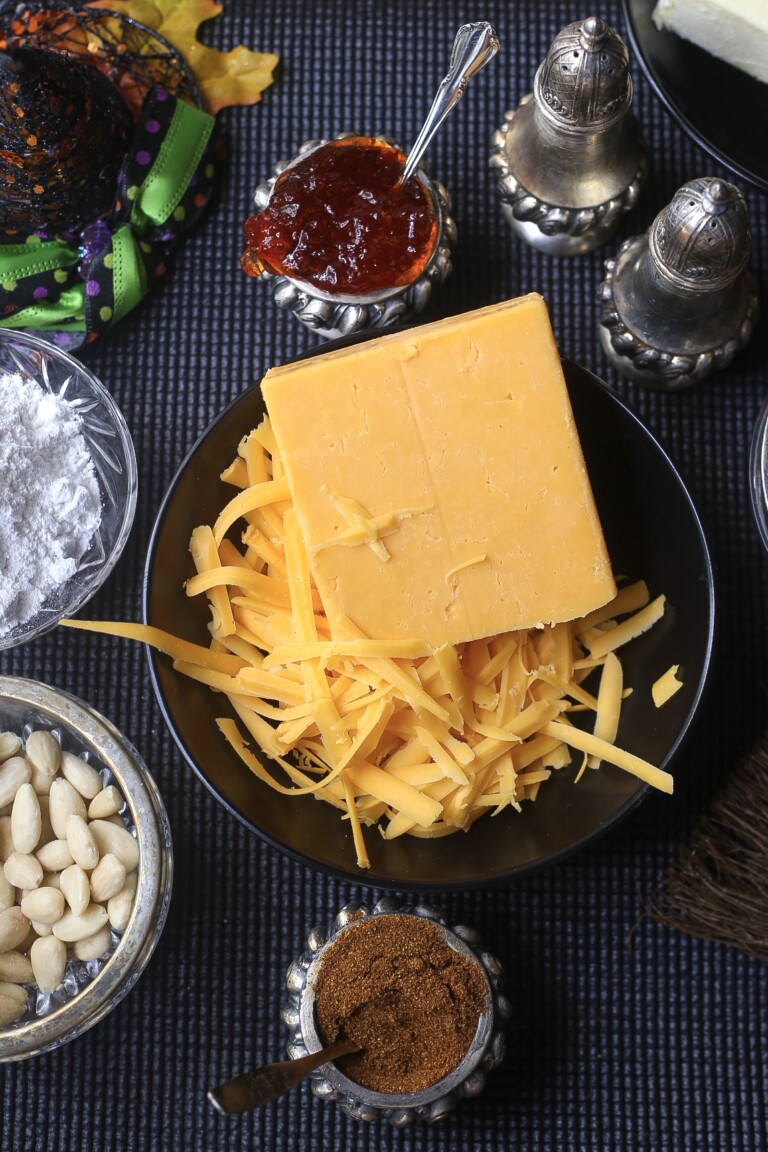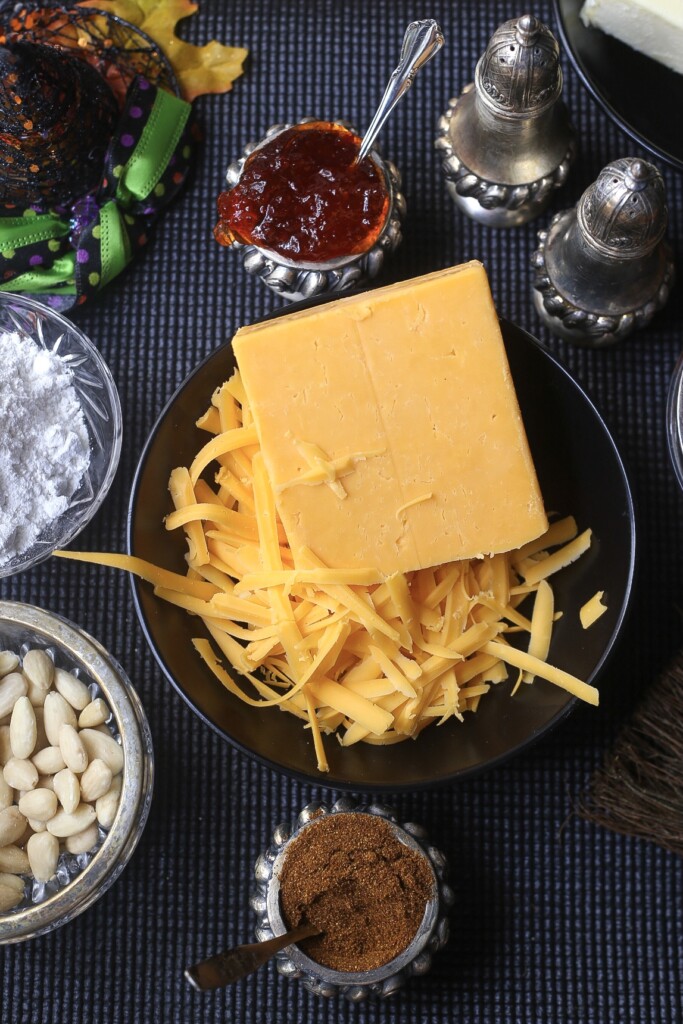 Southern Cheese Straws
I grew up eating cheese straws at every family holiday gathering. My mom and I would take a whole day before thanksgiving and Christmas to bake away in the kitchen, and we'd always make "cheese wafers" (cheese straws shaped into coins).
Sure, it's easy to buy them in stores or have them shipped to your house, but nothing store-bought will ever taste as delicious as a cheesy, buttery fresh-baked cheese straw. Plus, who doesn't want to make memories baking in the kitchen with their mamas?
If you've never had southern cheese straws you're in for a treat! They are addictive as all get out and are pure, unadulterated savory cheddary crack crackers. And when dipped in red pepper jelly and topped with Marcona almonds?
Lawd have mercy, if I had eaten one more the day I made these, my husband would have had to roll me to the hospital in a wheelbarrow. I ate one every time I walked by the kitchen, and you best believe I made up reasons just to walk by the kitchen "one last time". Ha! Ha!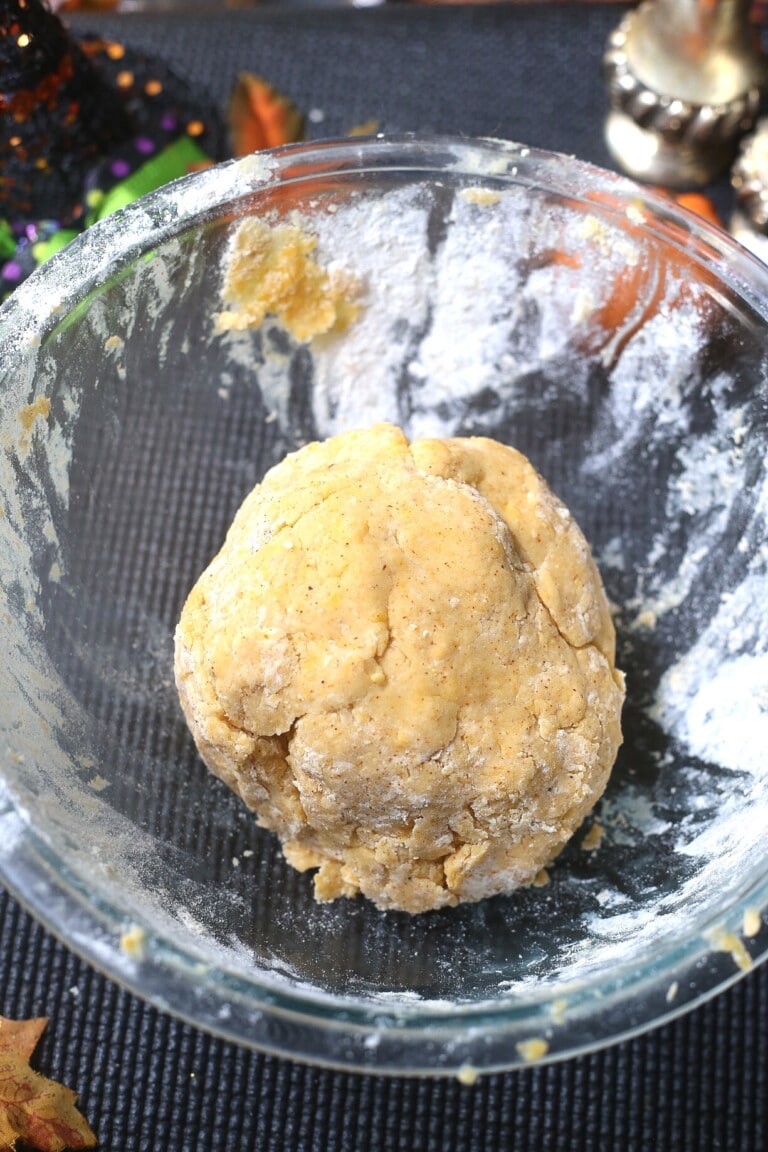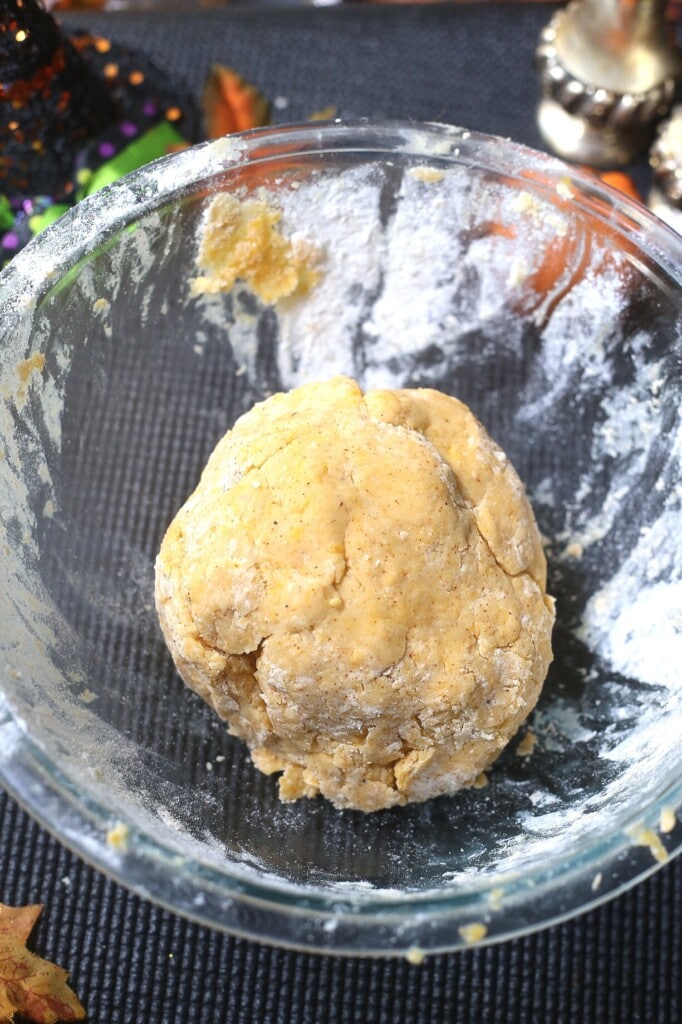 Cheese Straw Recipe
There are various cheese straw recipes out there, but I guarantee you mine is tried and true. Over the years I've zsooshed it up and popped in some pizazz, boosting up the flavor a bit from the original southern cheese straw recipe my grandmother gave to me. Here are the ingredients you'll need for the most flavorful cheese straws ever:
Shredded sharp cheddar cheese
Unsalted butter
All-purpose flour
Garlic powder
Mustard powder (or yellow mustard)
Sweet Paprika
Sea Salt
Black Pepper
Cayenne (optional)
Now, every cheese straw recipe you read on the interwebz will tell you to use a mixer to cream together the cheese and butter. I'm telling you NOT TO USE A MIXER. There's no reason to dirty up any additional equipment when you have two perfectly good tools right in front of you. YOUR IMPECCABLY CLEAN HANDS.
To get real, authentic southern cheese straws, blend and squish cheddar cheese and butter together with your hands just as our grandmothers, great grandmothers, and the older generations did before us.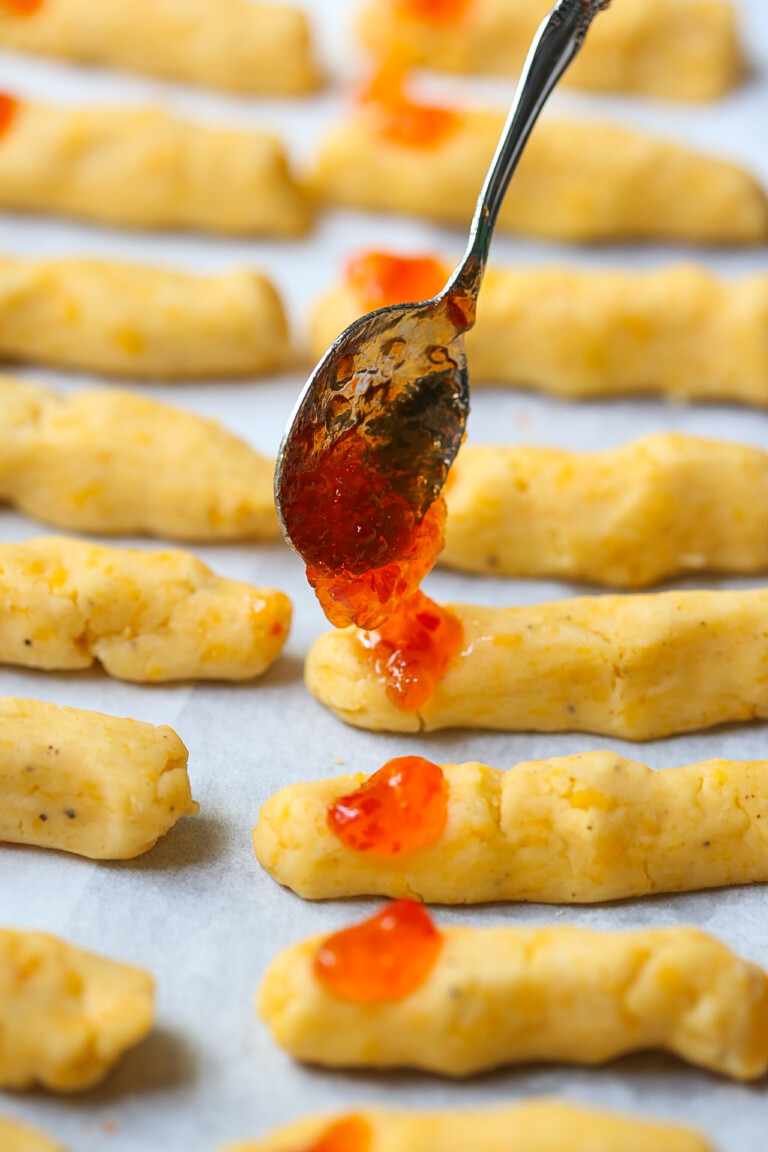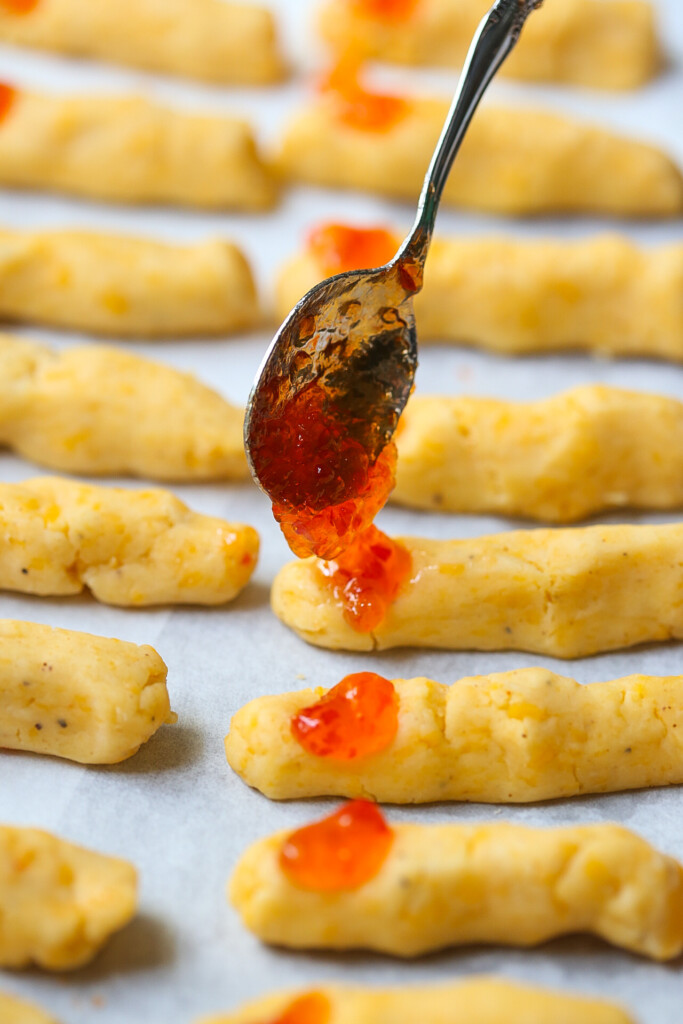 Witch Fingers Cheese Straws
My favorite part about this witch fingers recipe is how quickly they pull together and how easy they are to assemble. There is no hand rolling or single shaping to be done and no special piping tools or cookie presses with star tips to be had.
Just take one half of the cheese straw dough and roll it into a long rectangle. Then slice it all up with a pizza cutter. Dollop a dab of sweet and spicy red pepper jelly on each one then top with a Marcona almond. Bake for 12-14 mins on 350.
Remove to a cooling rack. Done and done!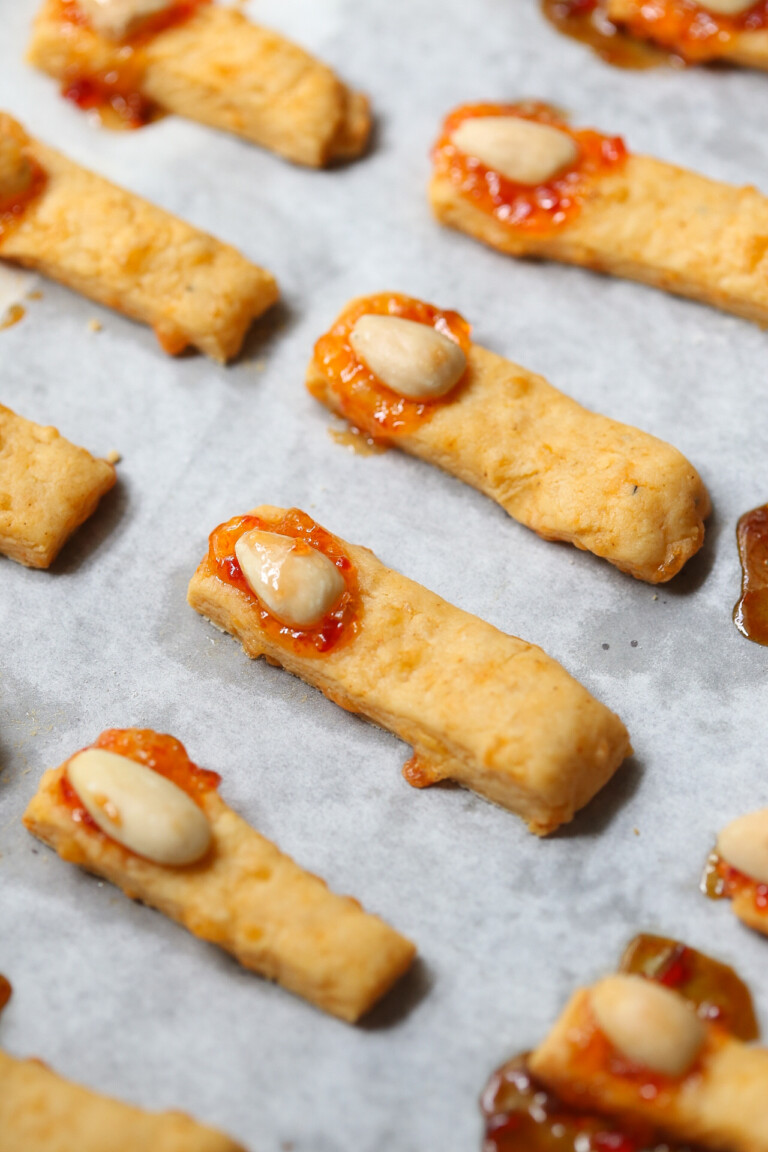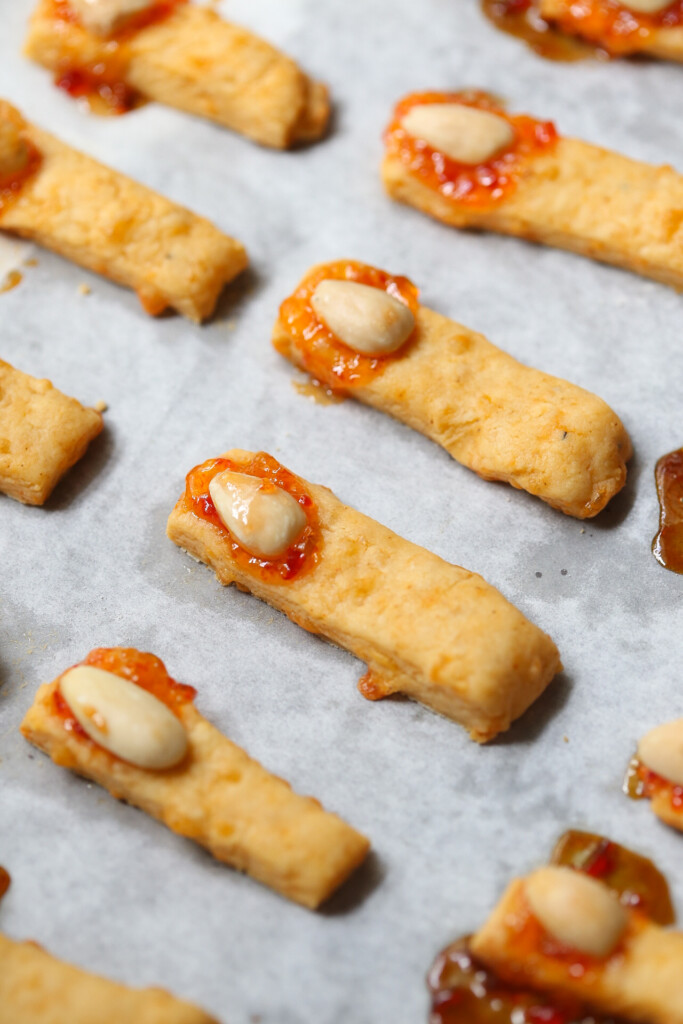 More Fun Halloween Recipes...
Wicked Witches Brew
Spooky Halloween Monster Muddy Buddies
BooBerry Biscuits
Spooky Charcuterie
Mummy Hot Dogs
Mummy in a Coffin Pizza
Halloween Monster Mash Party Mix
Mini Carrot Mummies
"📖 Recipe"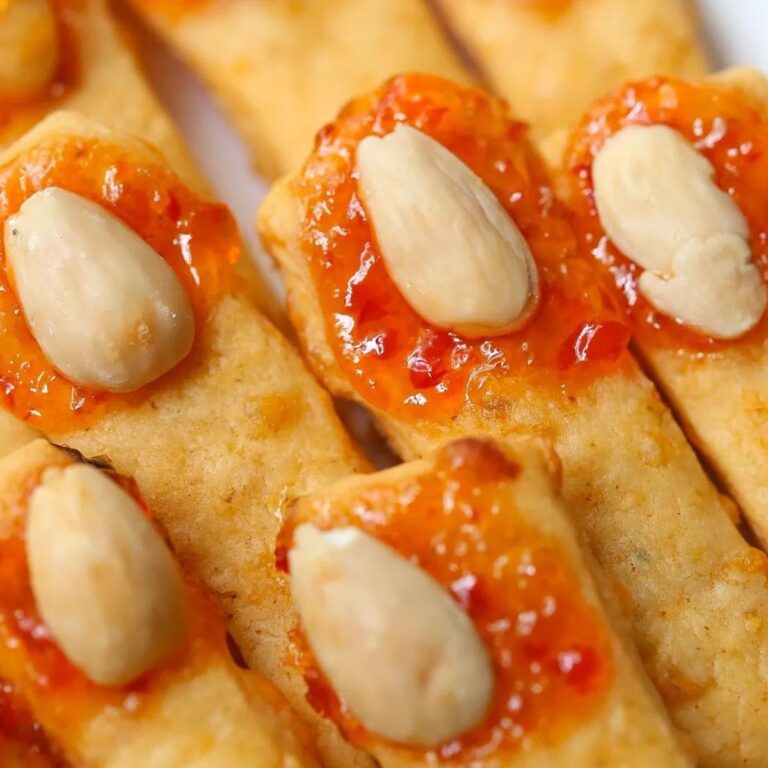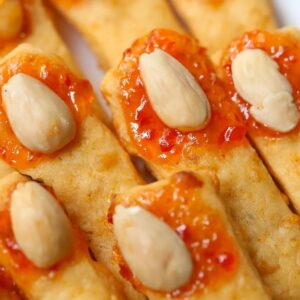 Witch Fingers Cheese Straws
Witch fingers cheese straws are ghoulishly good and the perfect Halloween finger food for your party guests!
Print
Rate
Equipment
Cheese grater

Pizza Cutter

Spatula

Baking Sheets
Ingredients
For the Witch Fingers Cheese Straws:
1

stick

unsalted butter

½ cup

1

block

cheddar cheese, freshly grated

8 ounces

1.5

cups

all-purpose flour

½

teaspoon

sweet paprika

½

teaspoon

ground mustard

¼

teaspoon

garlic powder

½

teaspoon

sea salt

pinch of freshly cracked black pepper

pinch of ground cayenne

to taste

red pepper jelly

Marcona almonds
Instructions
For the Witch Fingers Cheese Straws:
Preheat oven to 350 degrees F, and line a baking sheet w/ parchment paper. Set aside.

In a small bowl, whisk together flour, paprika, ground mustard, garlic powder, salt and pepper. Set aside.

In a separate bowl and using impeccably clean hands, cream and squish together butter and cheddar cheese and very well combined.

Slowly sprinkle in the flour mixture, a spoonful at a time, mixing well with your hands after each addition. Keep mixing until all of the flour has been added. The dough may be somewhat shaggy and stiff, but the heat from your hands will help soften it so keep mixing until it softens and pulls together. Cut the dough in half.

Transfer one piece of the dough to a floured surface and, using a rolling pin, roll it out into a small rectangle roughly ¼" thick 12" long and 4" wide. Cut the dough down the middle lengthwise then cut the dough into small strips. Transfer to a baking sheet about an inch apart.

Dollop ¼ of a teaspoon of red pepper jelly onto the tip of each witch finger then top with a Marcona almond. Bake for 12-14 minutes or until golden brown. Allow to cool for 5 minutes before transferring to a cooling rack to cool completely.