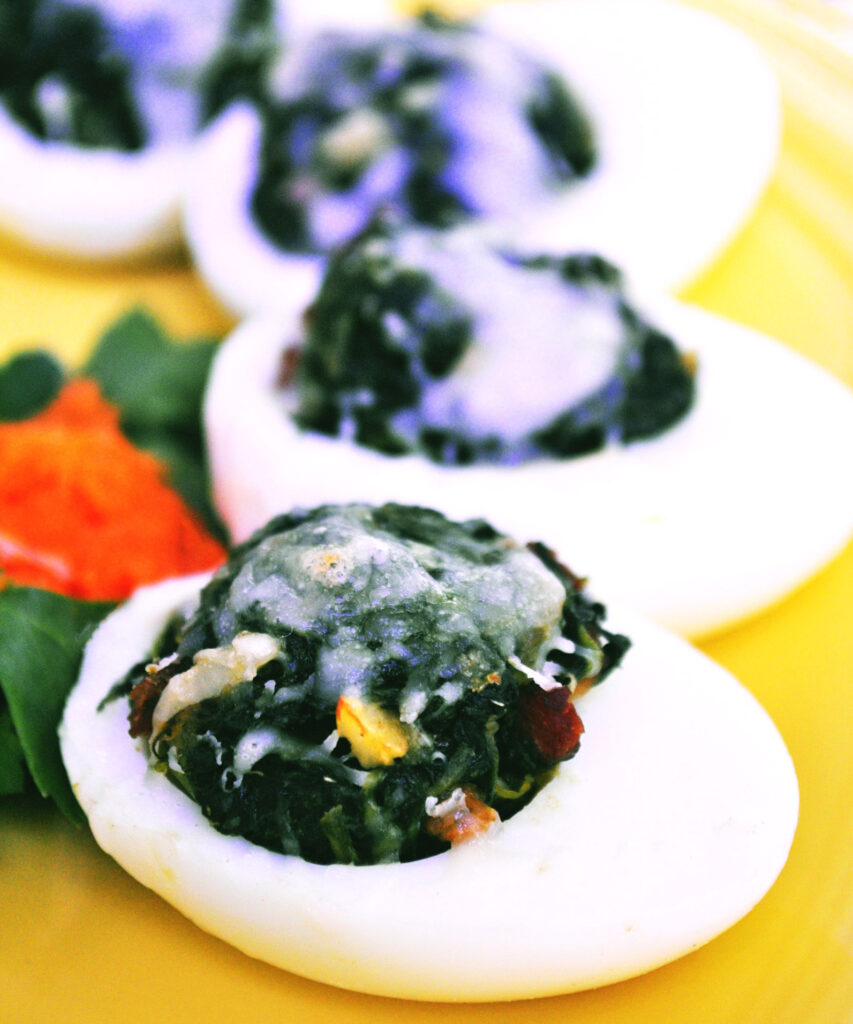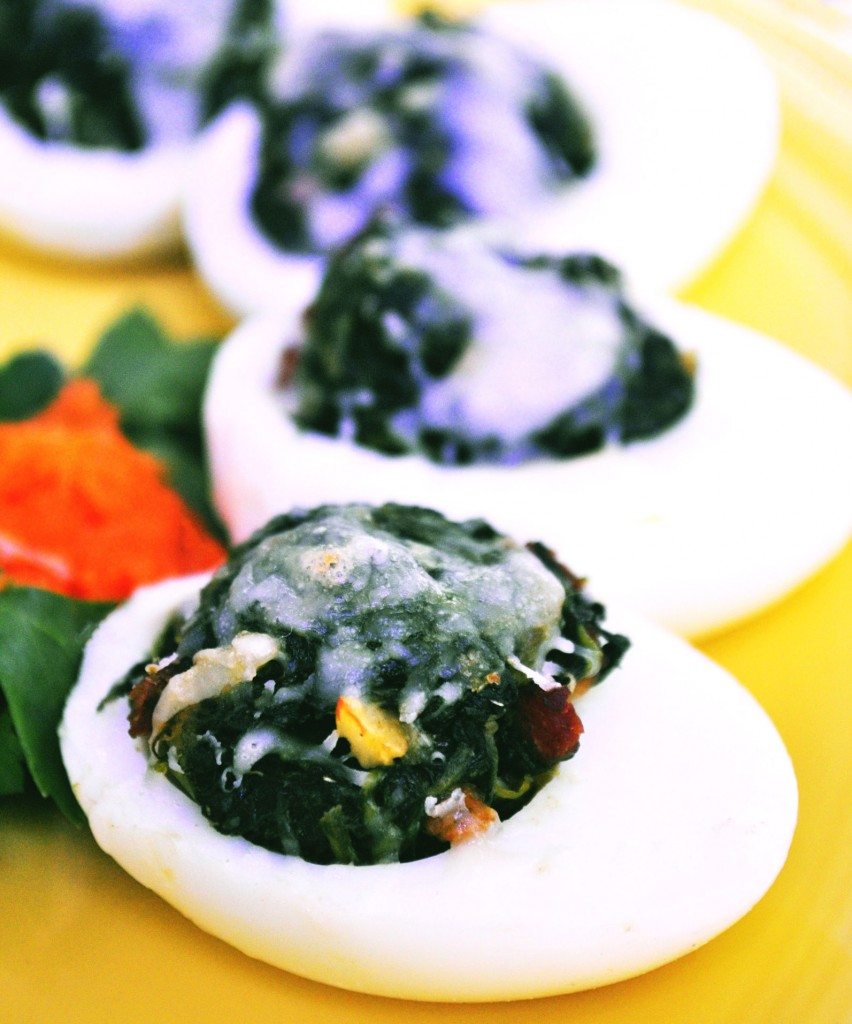 Easter is among us. That usually entails eggs. Lots and lots and lots of eggs. Poached eggs, deviled eggs, dyed eggs, plastic eggs, chocolate eggs, peanut butter eggs, and every egg in between.  Eggs for breakfast, eggs for lunch, eggs for play time, and eggs for dessert.
*Blech*
I don't know about you, but I'm pretty sure I don't like eggs enough to eat them that much (except for maybe the chocolate & PB ones. I could eat those all day). First off, you know deviled eggs are out of the question b/c of the M word. I know, I know. I'm sure I could think of another way to make them, but, in all honesty, I'm not really a fan of egg yolks either.
I mean, the M word is nothing but egg yolks and oil so they are kind of the same thing...and they are both gross.
I'm kinda picky. Can you tell? 🙂
Now, egg whites are on a completely different plane. Eggspecially if they are stuffed with delicious goodness such as bacon, spiced spinach, and cheese.
My recipe originated from my love of oysters rockefeller, which is as southern as southern gets. The original dish consists of oysters on the half shell, topped with spinach and cheese, and then baked to perfection.
I didn't have any oysters (which I won't really touch after January any way), but I knew that at some point this weekend we would all be in the midst of plenty of eggs.
It is a known fact: Spinach + cheese + egg whites = deliciousness
To make this recipe even easier, you could always peel any leftover dyed eggs that you have no idea what to do with and transform them into this!
Note: I ran across the Food and Whine blog on Pinterest today which gives you tons of ways to utilize your left over egg yolks. Also, I peeled my eggs by running them under cold water, but if anyone has any other ideas please let me know! Lastly, the first part of the recipe is my secret to making the perfect hard boiled egg. Your yolks should not have any of that icky green tint to them. They should be beautifully and purely golden in color.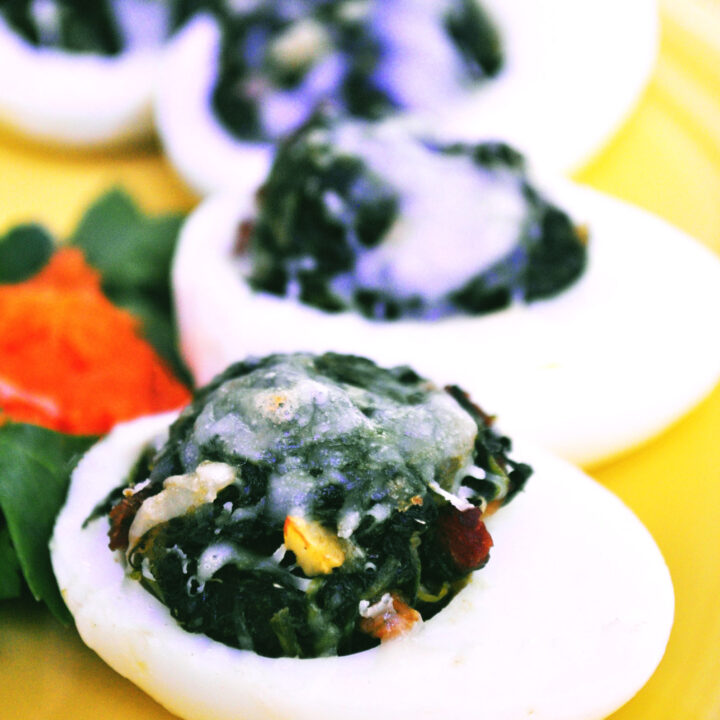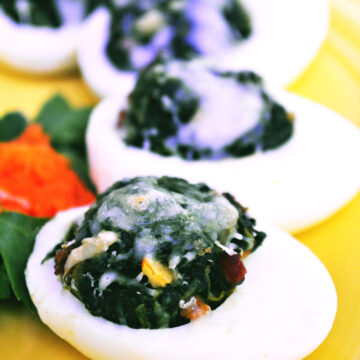 Egg White Rockefeller
A spin on the tried and true favorite, Oysters Rockefeller
Print
Rate
Ingredients
6

large eggs

4

cups

water

2

slices

thick

center cut bacon, cut into small pieces

¼

of a large sweet onion

2

garlic cloves

1

box frozen spinach

¼

cup

chicken or vegetable stock

½

teaspoon

ground fennel

¼

teaspoon

freshly grated nutmeg

¼

cup

+ 2 tablespoon freshly grated parmesan cheese
Instructions
Put eggs in medium saucepan and add water, making sure all eggs are completely submerged. Cover with lid.

Place pan over medium-high heat and slowly bring up to a boil.

As soon as the water is boiling, take completely off heat and leave covered for 12-14 minutes.

In the meantime, defrost spinach in the microwave and drain any excess liquid in a clean kitchen towel.

Grate and separate cheese, chop onion, and mince garlic.

After 12-14 minutes, use the lid of the pot and carefully drain the hot water from the eggs.

Gently place eggs in a colander and run under cold water until they are cool to the touch.

Return the eggs to saucepan, cover with cold water, and let sit until completely cooled. About 6-7 minutes.

While eggs are cooling, preheat a sauté pan over med-high heat until slightly smoking.

Add bacon and fry until golden brown. About 3-4 minutes.

Scoop out bacon pieces with a slotted spoon and drain on a paper towel. Pour excess bacon grease into a coffee mug or grease keeper. DO NOT WIPE CLEAN!

Return pan to stove, lower heat to medium, and add onion and garlic. Sauté until onion is translucent and garlic slightly golden. About 3-4 minutes.

Add spinach, bacon pieces, and chicken stock. Stir until stock evaporates.

Add fennel, nutmeg, and parmesan cheese. Stir until cheese is melted.

Add salt & pepper to taste.

Turn off the heat, but leave pan on burner.

Set oven to broil, making sure the top oven rack is set at the highest level it can go.

Line a mini muffin pan with tin foil.

Peel eggs, cut in half, and remove yolks.

Fill the empty egg whites with ¾ tablespoon of spinach mixture and place on muffin pan.

Sprinkle the top of each egg with the remainder of the parmesan cheese.

Place in oven and broil until the cheese is golden brown. Between 2-4 minutes, depending on your broiler.

Let cool completely.

Enjoy!!!
Notes
*WWpts & WWpts+=1pt per serving*
Nutrition
Serving:
1
g
|
Calories:
35
kcal
|
Carbohydrates:
2
g
|
Protein:
4
g
|
Fat:
1
g