🙂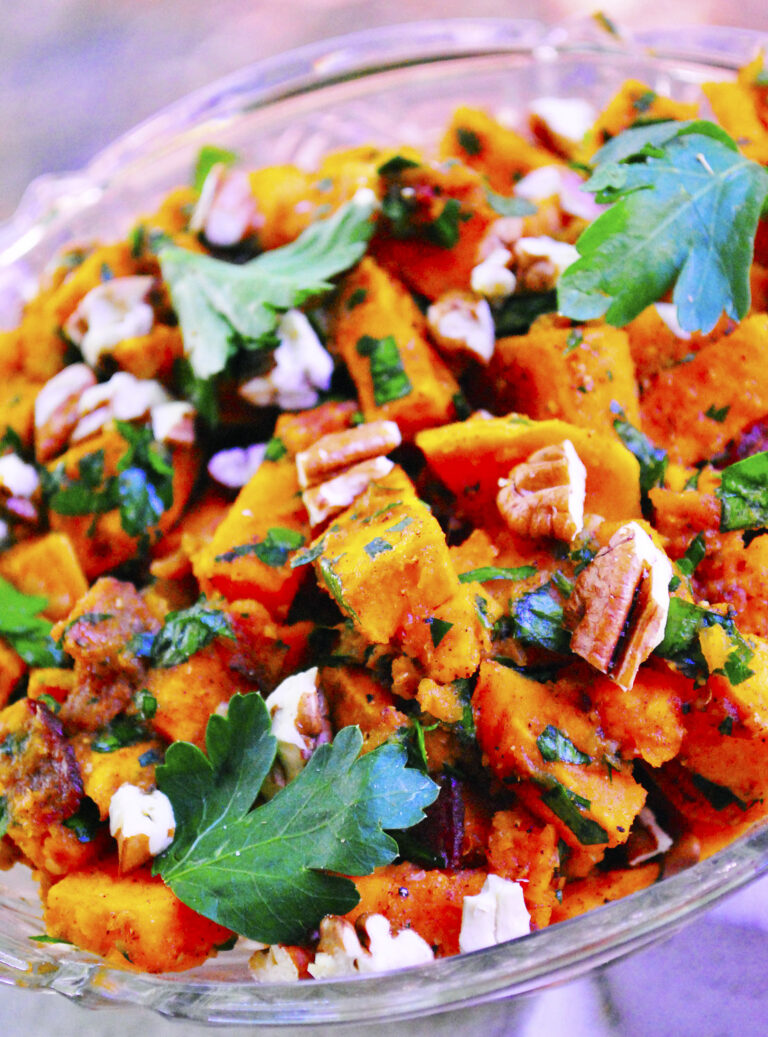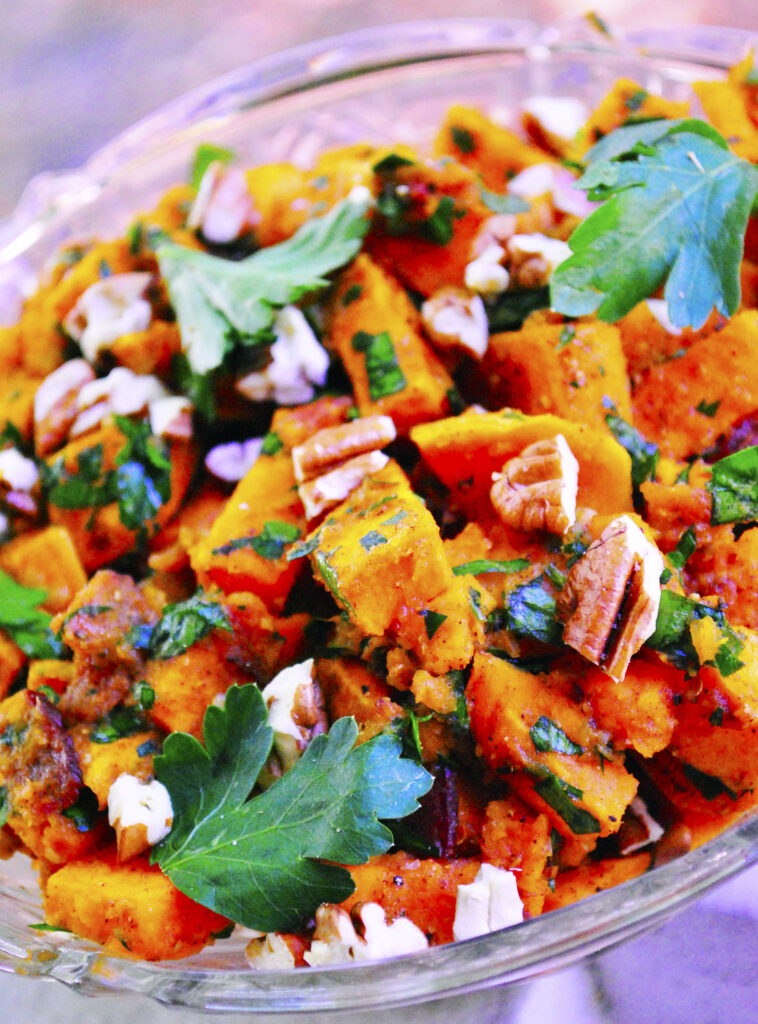 Ahhhh, spring has sprung and the smell of sweet flowers fills the air!
I love this time of year.  Everywhere I turn, blossoms are blooming in myriad shades of pink and sweet melodies from birds drift down from the trees. It's really difficult not to instantly put a smile on your face when you walk out off your home and are immediately enveloped by the intoxicating signs of the season. Even if those signs include copious amounts of pollen puddling the streets. 
It is also that time when grills are uncovered and coolers are rescued from the murky depths of the garage while neighbors, friends, and family mingle and laugh, absentmindedly munching on buckets of soggy fried chicken, potato chips, and congealed, over mayonnaised pasta and potato salads.
*Shudders*
There is no food on this planet that I hate more than mayonnaise. It completely grosses me out. Especially when globs of it are slopped into random vats of quirky salads whose ingredients can range from eggs, onions, and relish to cool whip, jello, and sour cream.
*Shudders again*
Anyone who knows me has this understanding: If you come to my house for a cook-out you best BYOM b/c it does not have a place in my kitchen. So, if there is one thing I can promise my readers, it is that no recipe of mine will EVER contain the M word. Never, ever, ever, ever.
Insert bacon & brown sugar roasted potato salad. It's like combining my two favorite seasons, fall and spring, into one!  Amazing!
The best part about this salad (besides the no M-word) is that it can be served warm, at room temperature, or cold!
*Note: I don't really like onions either :/ I can't stand biting into them! I do know, however, that onions are imperative to quality cooking, so I know I can't omit them. Here is what I do instead: I pulverize them in a food processor until they are completely pureed. That way, I don't have to bite into any big pieces that may make me gag, but the flavor of them is still there! So, any time you see onion in my recipes just know that mine are pureed, but that doesn't mean that yours has to be!!!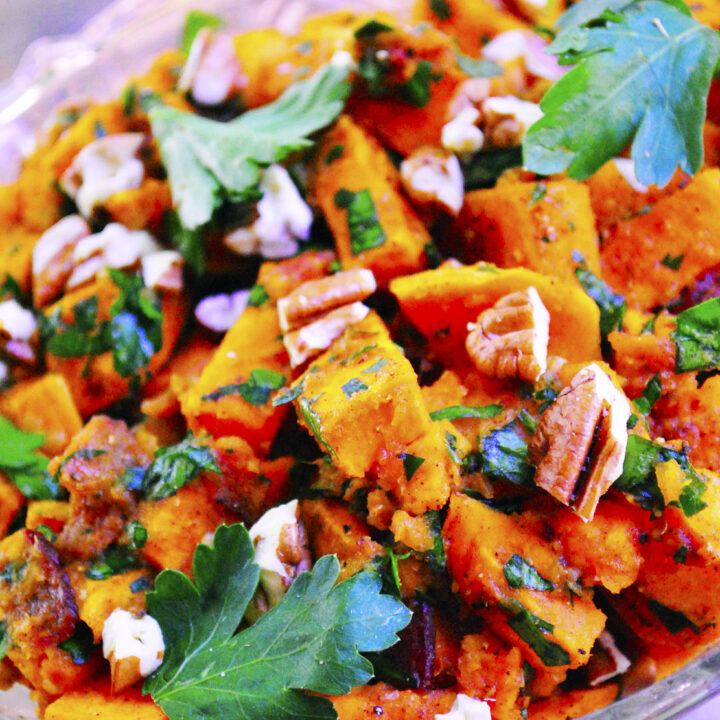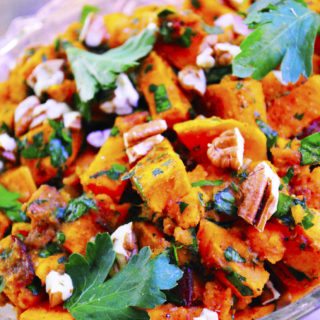 Bacon & Brown Sugar Roasted Sweet Potato Salad
A fall favorite becomes a summer time treat!
Print
Rate
Instructions
Preheat oven to 400°F.

While oven is heating, wash & dry sweet potatoes, peel with vegetable peeler, and chop into bite size pieces.

Transfer potatoes to cookie sheet lined with tin foil and sprayed with non-stick spray.

Drizzle 2 teaspoon EVOO, ½ teaspoon salt, and ¼ teaspoon pepper over potatoes. With clean hands, mix the potatoes around on the cookie sheet until well coated with oil and seasoning.

Once coated, spread potatoes into a single layer, making sure all pieces are lying flat.

Place the whole garlic cloves in a corner of the cookie sheet, drizzling a tiny amount of EVOO over each one.

Put in the oven and roast for 20 minutes.

While the potatoes are roasting, fry bacon in a sauté pan over med to med-high heat, cooking until desired crispness.

Remove bacon from pan and place on a plate or cutting board lined with a paper towel.

Pour excess bacon grease from the frying pan into a coffee mug or grease keeper. DO NOT WIPE CLEAN.

Place frying pan back on burner and add onion, cooking until translucent &/or slightly brown in color, about 2-3 minutes. Take off the heat.

After 20 minutes, take the garlic cloves out of the oven and continue cooking the potatoes for another 5-10 minutes or until fork tender. Let the cloves cool to the touch.

Peel garlic cloves and place in a mini food processor with onion, apple cider vinegar, mustard, brown sugar, coriander, and pumpkin pie spice. Blend until smooth.

Pour brown sugar mixture into the bottom of a large bowl, add warm potatoes, and stir until well coated.

Add salt and pepper to taste.

Crumble bacon and sprinkle over the salad along with the chopped parsley and pecans.

Stir until well combined.

Enjoy!
Notes
*DO NOT sub dried parsley for fresh parsley if you can help it. If you can't, only use a teaspoon or two of dried parsley instead of tbsps!* *Nutrition facts include pecans* *WWpts & WWpts+=3 pts per serving* *If you enjoy this or any of my other recipes, please share with your friends, subscribe, and follow me on twitter (@SlimPicksKitch) and Pinterest!*
Nutrition
Serving:
1
g
|
Calories:
125
kcal
|
Carbohydrates:
15
g
|
Protein:
3
g
|
Fat:
6
g
|
Fiber:
2
g