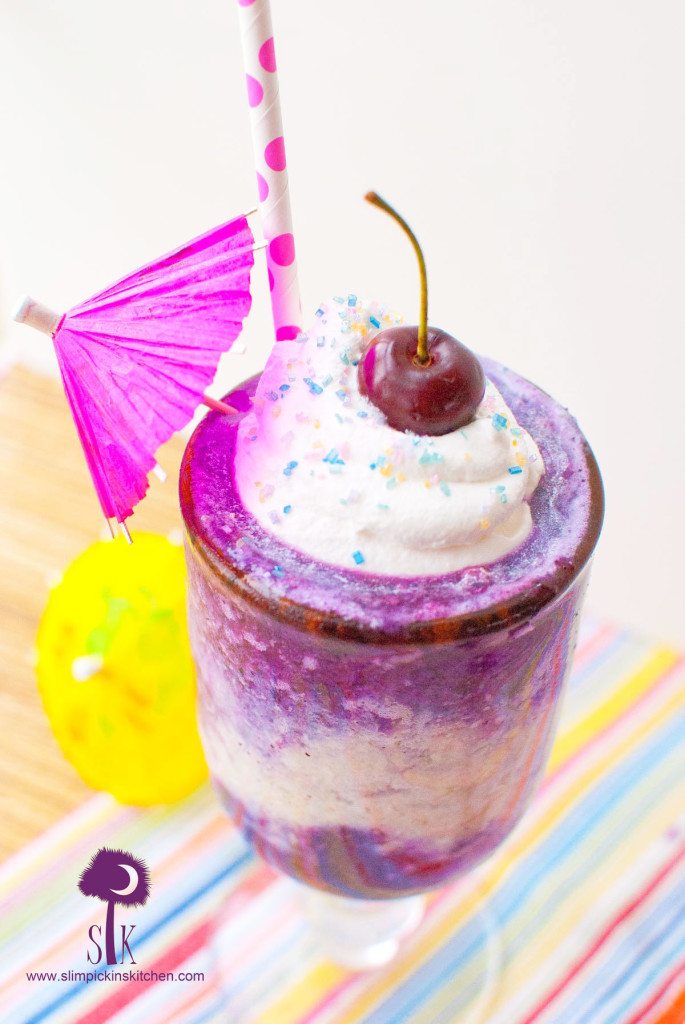 All hail the Miami Vice.
And, no, I'm not talking about Don Johnson and his super smokin' all white ensemble and his fancy feathered hair.
The Miami Vice I'm speaking of is the super sweet strawberry daiquiri and delectably dreamy piña colada combo that you've probably had if you've ever been on a cruise, snorkeling in the bahamas, honeymooning in Hawaii, or partying it up like LC and Kristin in Cabo San Lucas, Mehico. 
My Miami Vice is just like that...but totes different.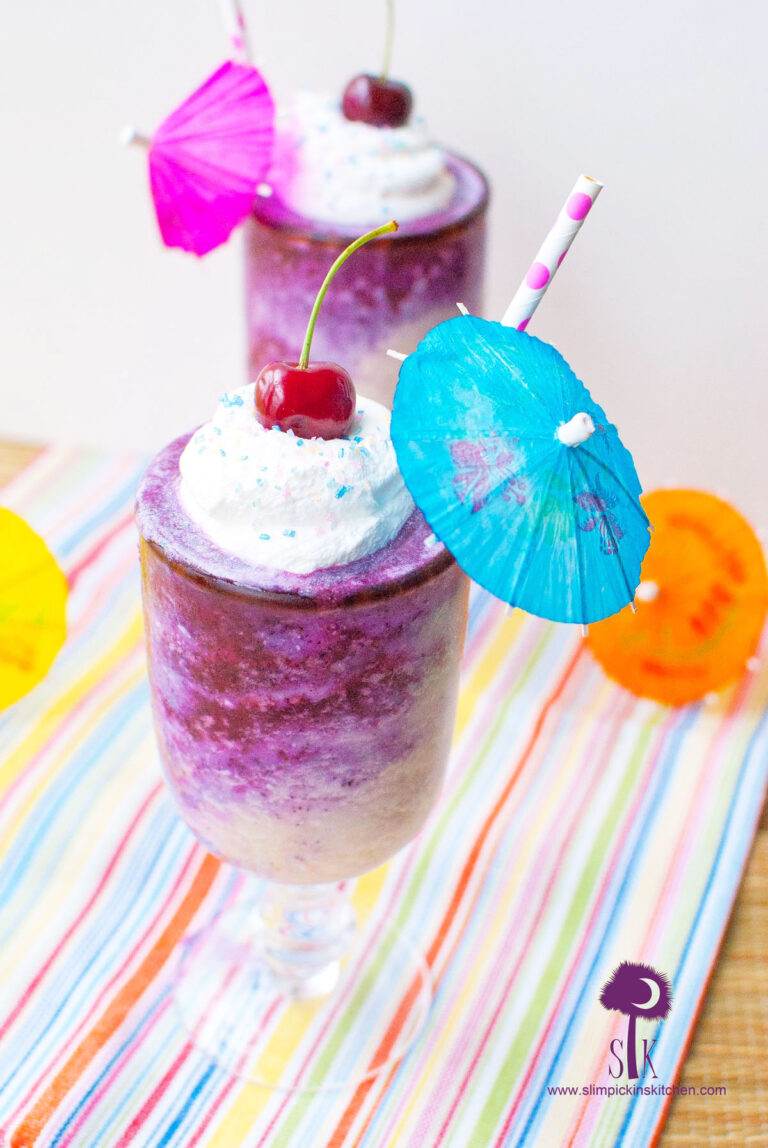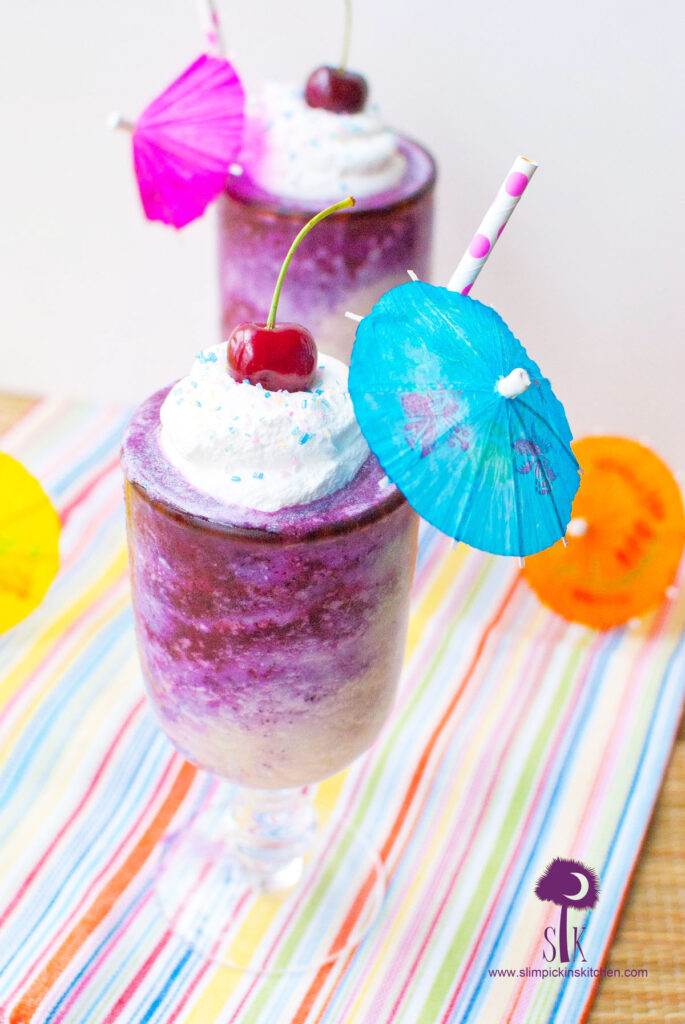 At this current moment we have two enormous bowls of freshly picked blueberries in our fridge and no less than 12 gallon sized bags of them stocked away in our freezer as well.  It's almost like Violet Beauregarde got a hold of another piece of 3 course gum and exploded her blue bits all up in my house.
Um, on a side note, I totally just referenced like three different decades of pop culture in just a few short sentences. I'm not sure if that's cool or cah-ra-zay? I'm also wondering if some of you invisible friends of the interwebz even have a clue as to what in the crap I've talked about so far? Are y'all scratching your heads in confusion willing me to just go ahead with the dang cocktail recipe already?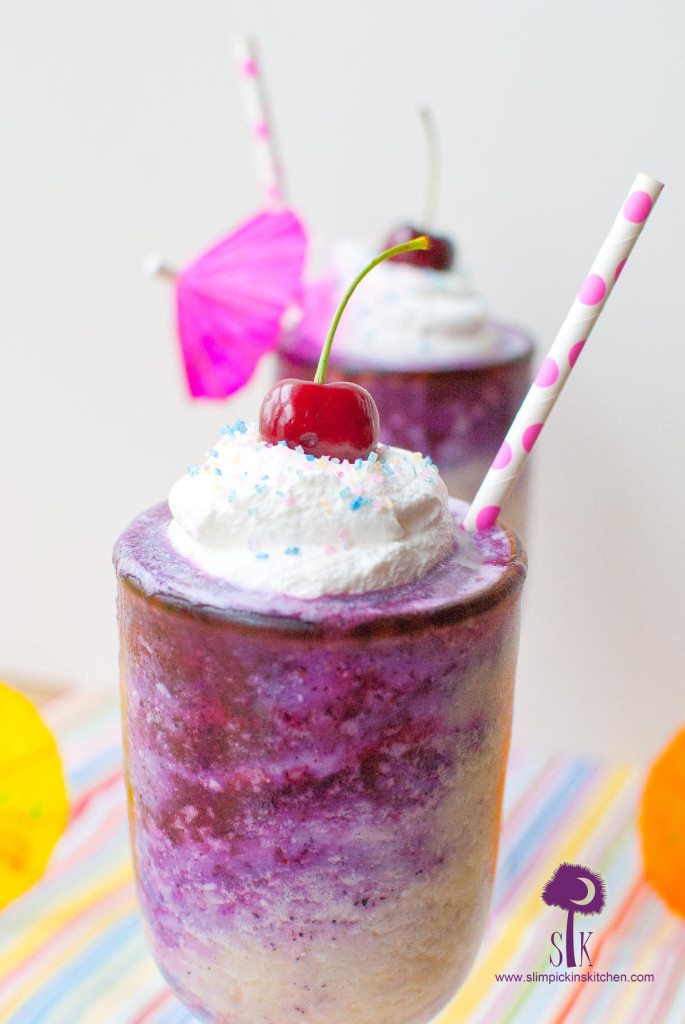 Anywhoozers, so yeah, blueberries. All up in my face at the moment. Why? Because my dad blame father-in-law can't stop picking the dang things from the super secret stash he found nestled in the country somewhere.
It probably wouldn't be too much of a problem if he actually contributed to the washing and storing of the little beauts, but, alas, he feels as if he has done his part just by bringing them into the house so our weekends have basically been bamboozled by the blasted blueberries.
I know I probably sound like a douche canoe for complaining about a copious supply of free berries, but we will never, ever, ever use this many of them, y'all, like, NEV-ER.
Ok, so maybe that isn't really the truth because I have created one of the most amazeballs cockity tails that has ever been sipped upon.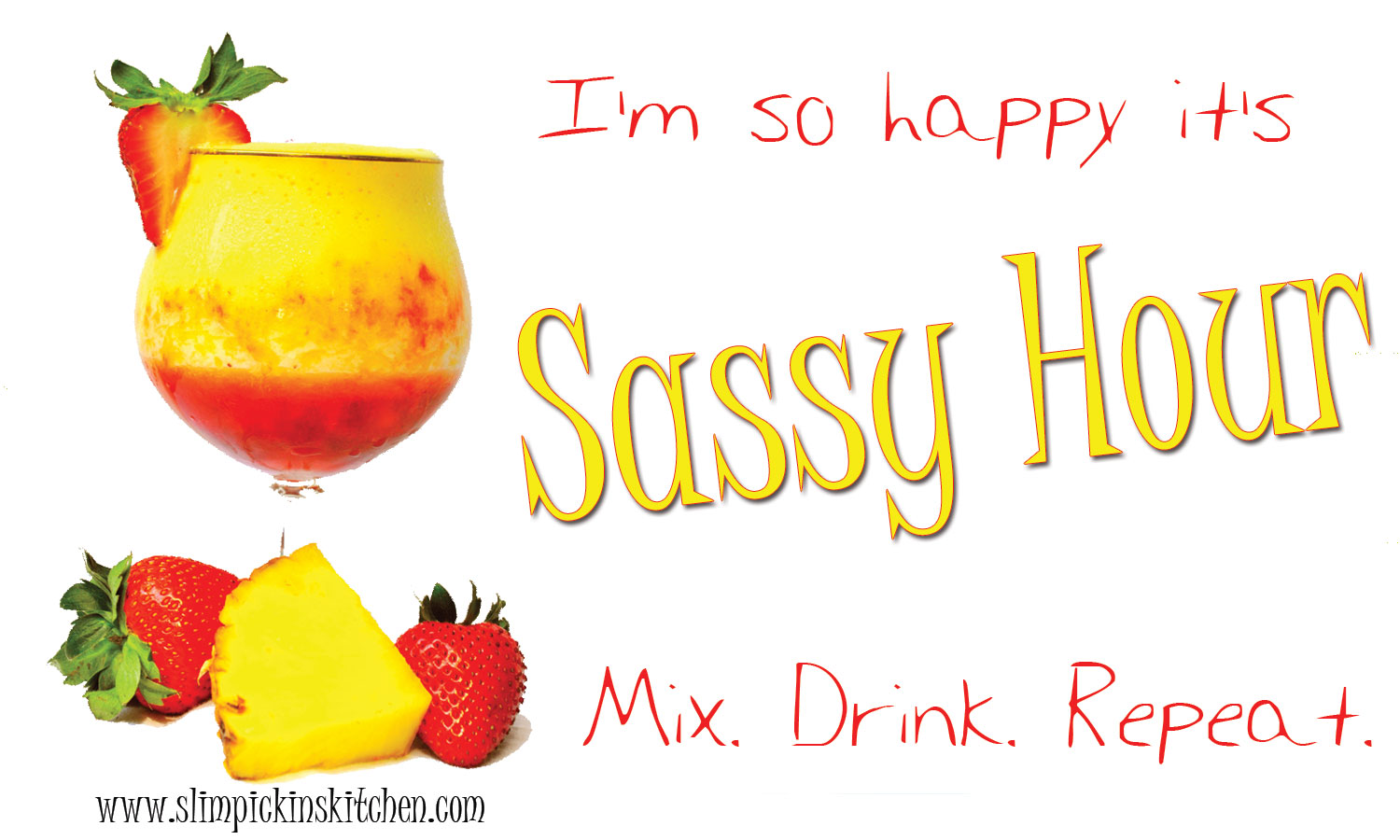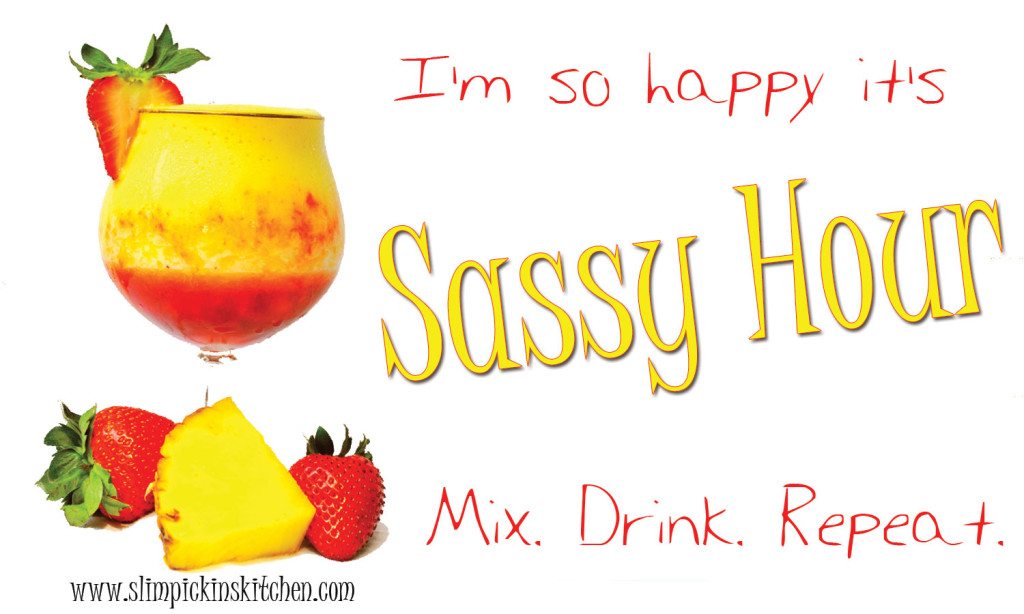 Ugh. Are y'all as stoked as I am that I have finally brought back Sassy Hour after what? Like two years of promising that I would? Please forgive the delay, but raising a human is hard. I'm pretty sure I have a decent excuse, right?
But I'm not really sure that excuse covers the over use of question marks in this post? Does it?
#questionmarkallthethings
This drink really is insane doe.
It twirls together a tart and tangy blueberry daiquiri that's spiked with Bacardi Limon and my creamy skinny coconut colada that is so tropically delish you'll probably just lick the blender clean rather than wasting time cleaning it with soap and water.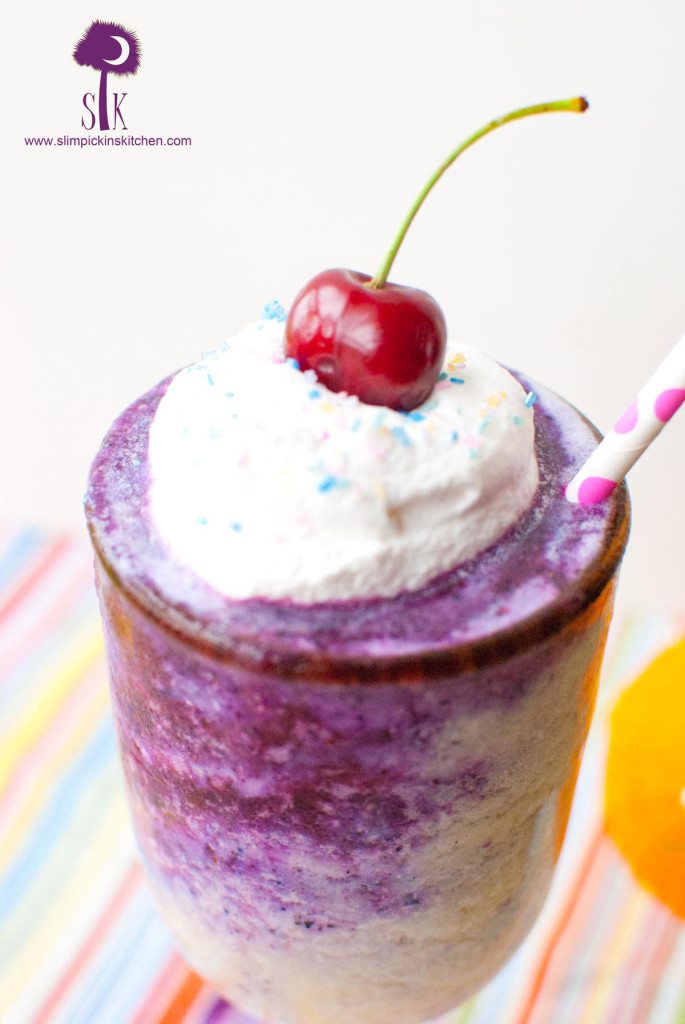 It is the perfect cocktail to make for a girls only getaway or the last hoorah of summer also known as Labor Day weekend.
Speaking of Labor Day!
We're planning Owen's first birthday for that weekend! His FIRST BIRTHDAY. He will be ONE YEAR OLD!
Where in the crap did the time go?!? How is my little peanut a year old already? I just don't know if I can handle it. This has probably been the most stressfully fulfilling year of my life, and I just can't grasp the fact that it has passed so fast. As cliche as it is, it really seems like yesterday that I was announcing his early arrival.
And now? He's crawling and pulling up and saying "Hey!" and "Da Da" and waving and winking at you like he's already the fifteen year old heart throb I'll expect he'll be.
Ok, I'm going to go cuddle on the couch with my preemie pumpkin and savor every last bit of lovin' I can get from my little man before I drown my sorrows in a giant Blueberry Miami Vice.
Maybe having all these blueberries isn't such a bad thing after all.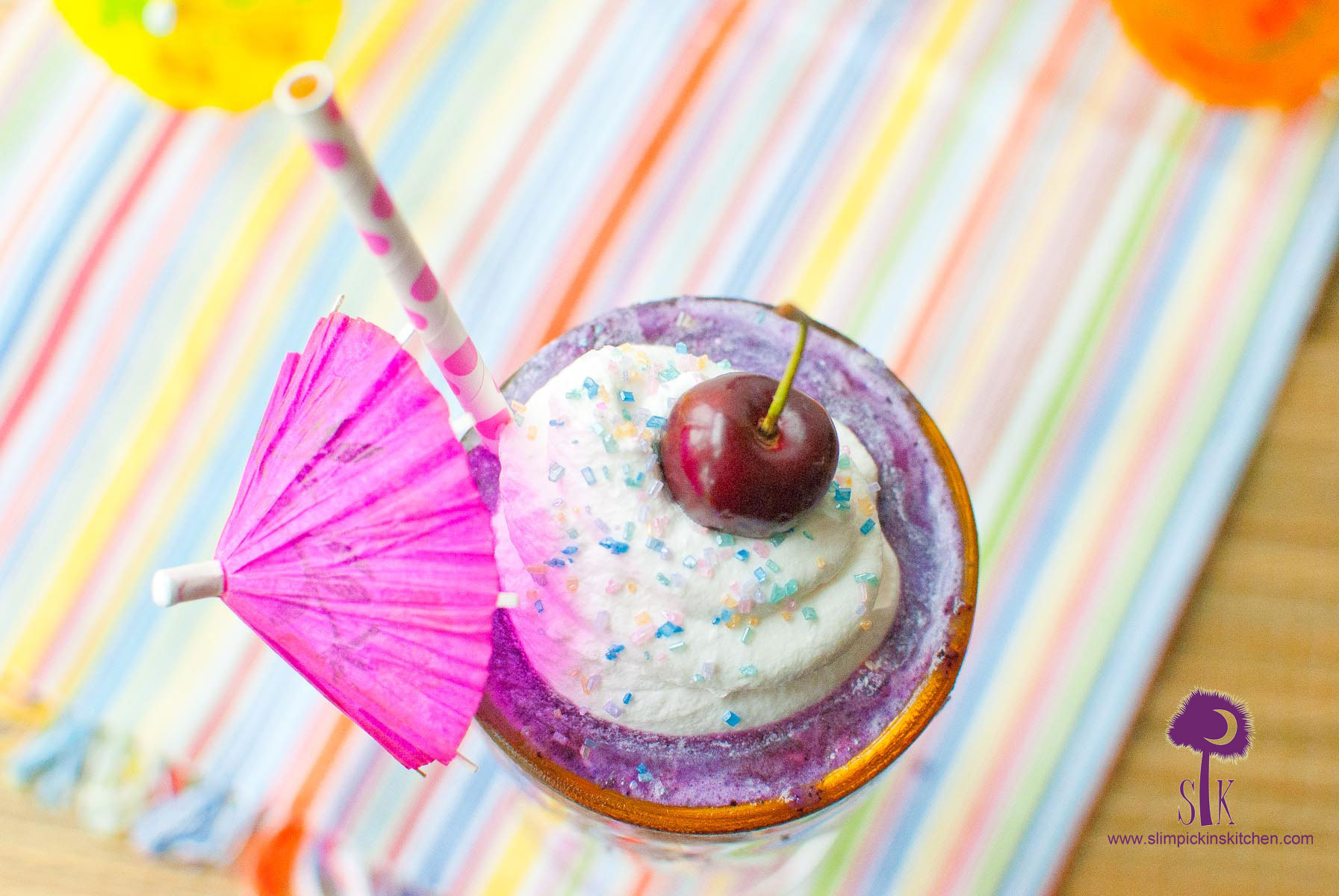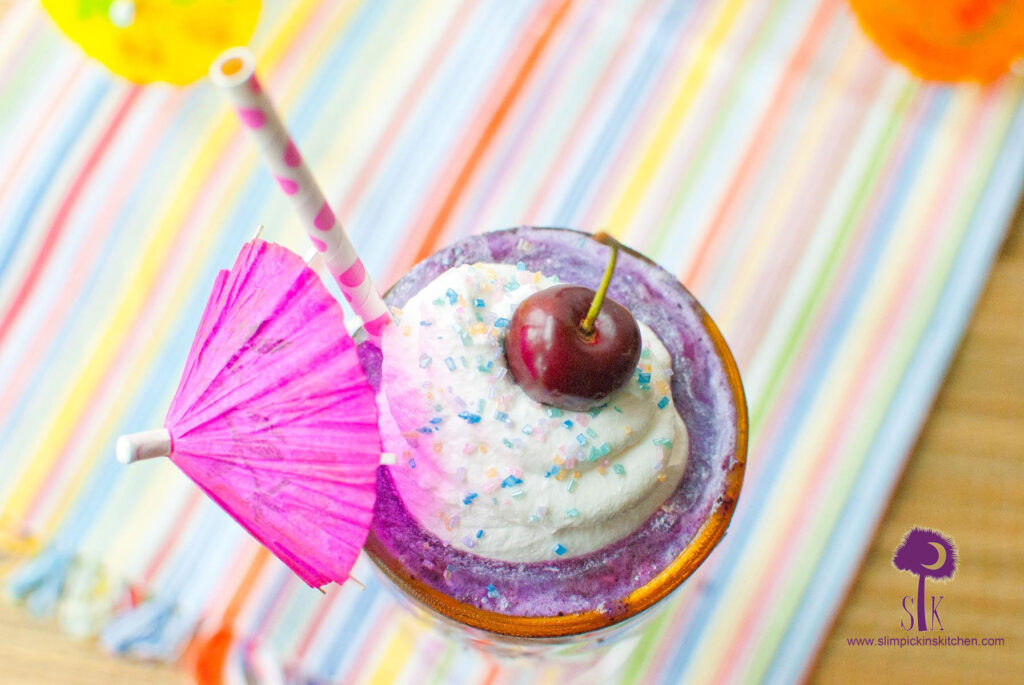 "📖 Recipe"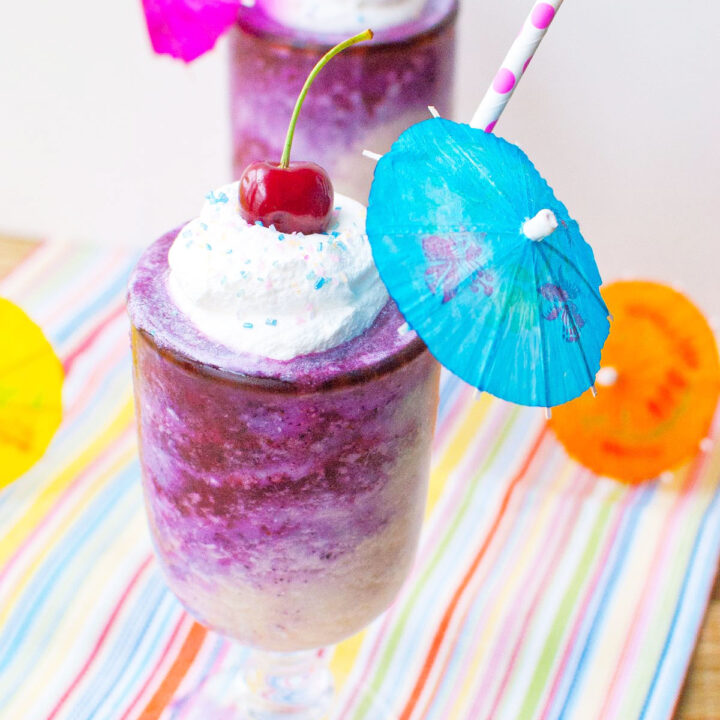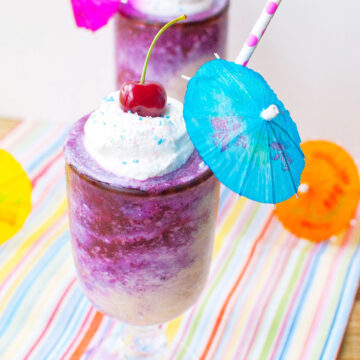 Blueberry Miami Vice Cocktail
A tart and tangy blueberry daiquiri is twirled with a tropical skinny coconut colada
Print
Rate
Ingredients
1

batch of my Skinny Coconut Colada NOTE: You could probably skip the freezing process and just add all ingredients to the blender with a couple of cups of ice and blend

but I can't vouch for the results.

2 ½

cups

frozen blueberries

4 ½

oz

pineapple juice

1 ½

shots Stoli Blueberry vodka

1 ½

shots Bacardi Limon rum

10-15

liquid stevia drops or 2 Nunaturals Stevia packets

4

fresh sweet cherries
Instructions
Prepare the Skinny Coconut Colada as directed and pour into a large plastic freezer bag and set aside in freezer.

Combine the blueberries, pineapple juice, vodka, rum, and stevia in a blender and blend until smooth.

Layer the Skinny Coconut Colada and the blueberry daiquiri mixture into four glasses.

Top with whipped cream and a cherry and serve immediately.

Enjoy!
Nutrition