🙂
It's Friday! Friday! Gotta get down on Friday!
And what better way to celebrate the start of the weekend than with a weekly Sassy Hour recipe series?!?  It's time to sit back, unwind, kick up those feet, and indulge in something sassy and sweet!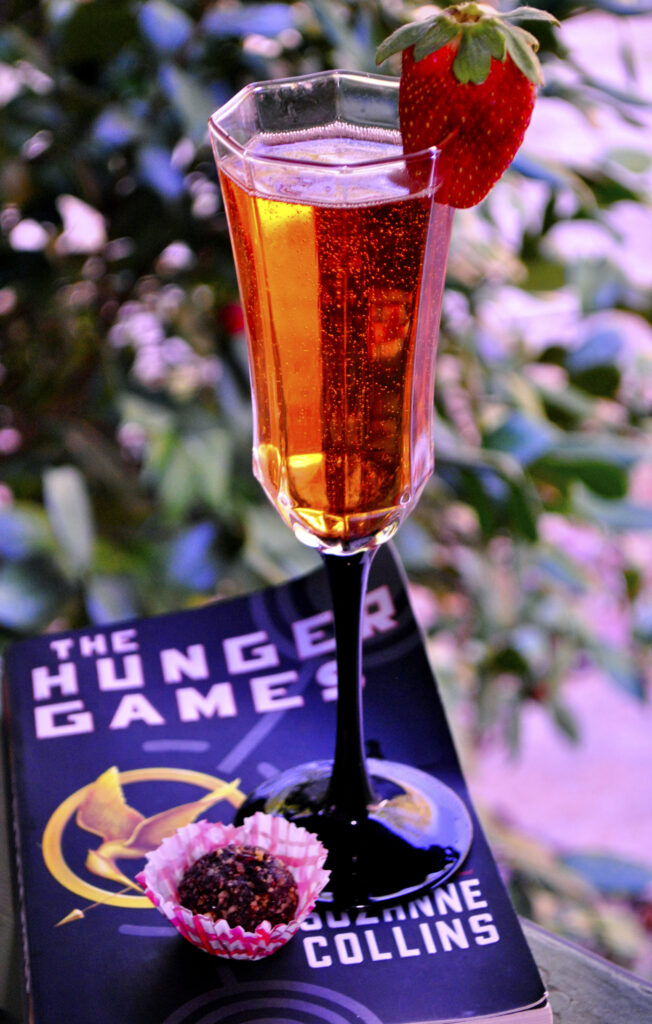 Today's Sassy Hour menu is brought to you by The Hunger Games trilogy by Suzanne Collins. These recipes are my own little celebration of the premiere of the first movie which I am STOKED about. If you haven't read the books, read more about the series on Wikipedia .
************************************************BEWARE: SPOILER ALERT******************************
At first, I was stumped as to what I should make to celebrate the mark of this special occasion. I mean, after all, a good portion of the books deal with the lack of food and people suffering from starvation, so I wasn't sure what course I should take. I consulted with my brother who writes his own weight loss blog (The Business of Losing Weight), and he mentioned the lamb stew that Katniss loved so much while she was training for the games. I thought that was a really good idea, but it is mid-March in the south and even the thought of making a simmering stew made me break out into a sweat. So, I kept digging, and I started thinking about the poisonous berries Katniss finds and how instrumental and significant they are for her and the other citizens of the districts throughout the series. So, something with berries was definitely the winner. From there, my mind kept jumping from idea to idea to idea, and that went a little something like this:
Berries: represent rebellion and strength in the hearts of the district's citizens
Nuts: They go very well with berries and Katniss, Peeta, Gale, & Haymitch definitely have them
Nuts & berries: This reminds me of a delicious yet rarely requested shot made during my bar-tending days, consisting of Chambord, Frangelico, & Cream
Alcohol: Haymitch. Duh. Ooooh...I should do a sassy hour, happy hour series!!!
Frangelico: Hazelnut liquor, drooool, hazelnuts are nuts
Chambord: Black raspberry liquor, berries, I adore it in champagne
Champagne: Celebration of Katniss & Peeta's first win and the premiere of the movie
Bubbles: A giant bubble surrounded the arena in the Quarter Quell which Katniss ultimately destroys
Truffles: chocolate...Katniss adored hot chocolate when she first tasted it, but again, it's too hot outside for that
Nuts + berries+bubbles+truffles= PERFECT!
These recipes could not be any easier to make!!!! They are both soooo good, and super decadent. BE CAREFUL though!!! The cocktail packs a serious punch! Note to self: Remember to pace yourself while taking next week's Sassy Hour pictures!
The idea for the truffles came from my new obsession, Chocolate Covered Katie and her fudge babies recipe. Her recipes are absolutely amazing, taste phenomenal, and are completely VEGAN. She blows me away! Anyway, instead of dates & walnuts, I used toasted hazelnuts and dried cranberries. YUMMO.
"📖 Recipe"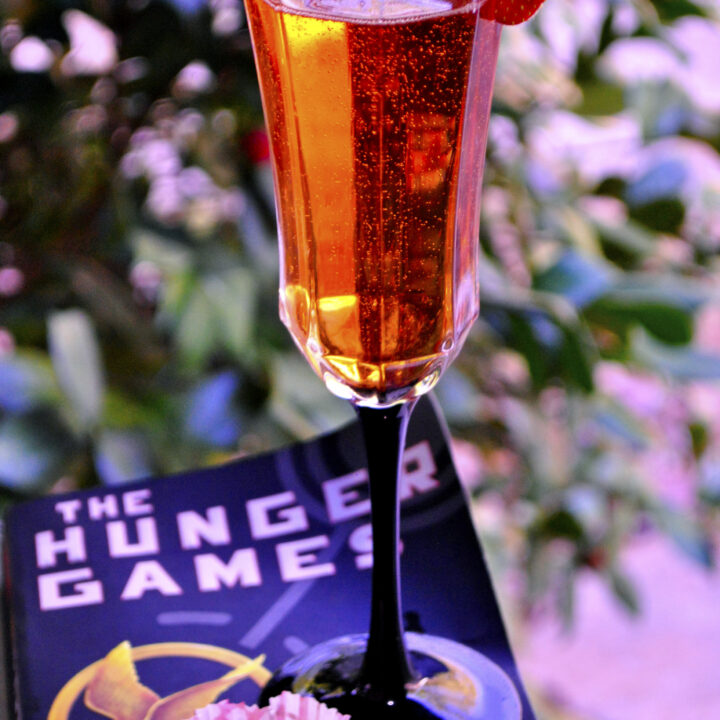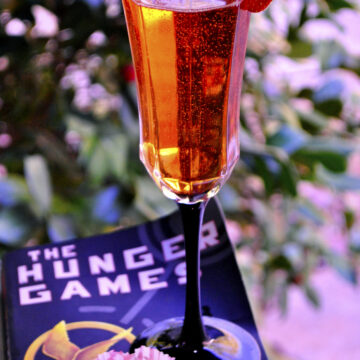 Ingredients
Nuts & Berries Chocolate Truffles
1

cup

toasted hazelnuts

1 ¼

cup

dried cranberries

1

teaspoon

pure vanilla extract

4

tablespoon

cocoa powder

Add all ingredients to a food processor and let 'er rip.

Remove blade from food processor

grab a handful of the mixture, and form into balls.

That's it!!!
Nuts & Berries Champagne Cocktail
½

oz

Frangelico

or hazelnut liquor

½

oz

Chambord

or raspberry liquor

Chilled Champagne

A Champagne Flute

1

hulled Strawberry
Instructions
Pour Frangelico and Chambord into champagne flute and top off with champagne. Garnish with hulled strawberry.

That's it!
Notes
*The mixture for the truffles will be very grainy* *Yeild 24 truffles* *Nutritional information from www.myfitnesspal.com recipe calculator. Subject to change* *Also, if you enjoy this or any of my other recipes, please share with your friends, subscribe, and follow me on twitter (@SlimPicksKitch) and Pinterest!*
Nutrition
Serving:
1
g
|
Calories:
257
kcal
|
Carbohydrates:
27
g
|
Protein:
2
g
|
Fat:
6
g