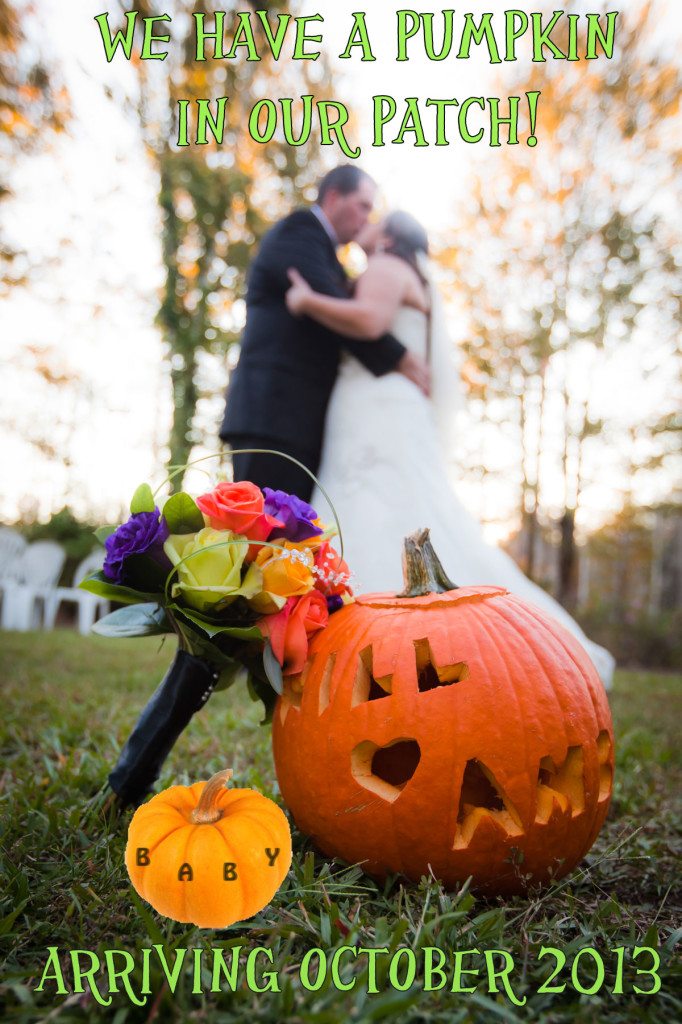 Soooooo...you know how I used to post on a regular basis, including boozy Sassy Hour recipes, and then I suddenly fell off the face of the planet because I've been complaining about being super sick and not having the energy to get in the kitchen and cook?
Well, the truth is, I have been sick with various ailments that have completely knocked me into oblivion, but I've kind of been fibbing about the whole not cooking thing.  I've been cooking y'all.  I've been cooking a lot. I just haven't been cooking in my kitchen.
For the past 3 months, my body has craftily been cooking a fruity bun in the oven whose flavor changes as the weeks go by. Right now, I'm baking a plum biscuit!
If you follow me on Facebook, then you heard this news on Friday, but...
I am knocked up, got a baby on board, am eating for two, got a pea in the pod, and have a pumpkin in my patch.  The utter shock, excitement, and fear that has consumed our lives over the past (almost) 13 weeks has been a complete cyclone of emotions, and we are just now getting used to the fact that we will very likely be cuddling our own little bambino come October 21st.
Sometime right after Valentine's Day I got a sneaking suspicion that things were amiss.  I didn't necessarily have the standard early pregnancy symptoms, but I could just tell that something was off. I didn't notice the exhaustion too much because I had just recovered from mono and still had lingering fatigue, but something very peculiar happened one evening (and continued to happen for weeks) that was a *BRIGHT RED FLAG* that something might be up.
My husband called one night on his way home from umpiring a game, and he mentioned to me that he was stopping by Chick-fil-a for supper. The moment the words floated into my ears and visions of Chick-fil-a sandwiches and large fruit cups danced in my head, I instantly began salivating like a starving animal staring into the depths of a steaming buffet. No lie, y'all, my mouth filled with saliva, and I started drooling like one of Pavlov's dogs. It was the most bizarre and usual thing, and I instantly suspected that I may be carrying a stowaway.
We confirmed my suspicions about a week later and when I was told that I was due in October, I felt right away that this pregnancy may be different. I also fell into a state of panic, praying every free chance I could that this would be our take home baby. It's hard to explain, but after suffering a loss you feel immediate excitement at the prospect of being pregnant again, but then you are also overwhelmed with an alarming sense of worry that fills your heart with a crushing dread at the occurrence of every unfamiliar twinge, ache, lack of symptoms or slight discomfort.
Unfortunately for me, the lack of symptoms hasn't really been an issue. I'm not sure if the severity of my symptoms has something to do with my weakened immune system, but about a week after our BFP (big fat positive) a tidal wave of symptoms crashed down on me. I was overcome by debilitating exhaustion, feelings of weakness froze in my bones, constant nausea caused me to be straight catatonic, and to top things all off I came down with the most disgustingly horrible upper respiratory infection I have ever faced. I lost all sense of smell and taste, and the exhaustion from the infection mixed with the pregnancy fatigue knocked me out of commission for a solid three weeks. I then got a wee bit of a break (and made y'all some Bojangles french fries) before I was bombarded with a 24 hr stomach bug that lasted 5 days.
I'm happy to say that, though I still get bouts of nausea and the thought of chocolate or gummy candies, lunch meat, and pepperoni makes me want to yak all over this computer, I am starting to gain some of my energy back and will hopefully be able to get back to my regular posting schedule ASAP.
There will be a few slight changes around the bloggie here though, but it will be nothing major so hopefully it won't stop y'all from reading and trying out my recipes!
I do plan to continue with Sassy Hour, but I'm not going to be able to actually taste the drinks I make. So, I may make mocktails instead and then suggest the booze that I think would fit well with the concoction. I also do not intend to continue to use any artificial sweeteners of any kind at this time in any of my recipes. From now on, the only sweeteners I will be using will be raw organic sugars, syrups, and fruits but that doesn't mean that you have to start using them too. I'll just make note for you to use whatever sugar or sugar substitute you choose.  There haven't been enough studies done on Stevia and pregnancy, and I'm just not willing to risk the life of my child to save on a few calories.
I also plan to keep y'all posted about some things baby related, and I also plan to feature some pregnancy related recipes; however, this blog is not going to become a pregnancy blog and the majority of my photos (i.e. bump shots, etc) will be posted on Instagram rather than on here, so if you like that sort of thing make sure to follow me if you'd like to keep up with that sort of fun!
Well, I think that about sums it up! Like I said, I'm going to try very hard to get back into the swing of things and get the posts ramped back up again, but please be patient with me!
I am growing a human after all 😉
Getting to know you...
Did you suspect I was pregnant?
Did you miss me?
Any pregnancy advice?