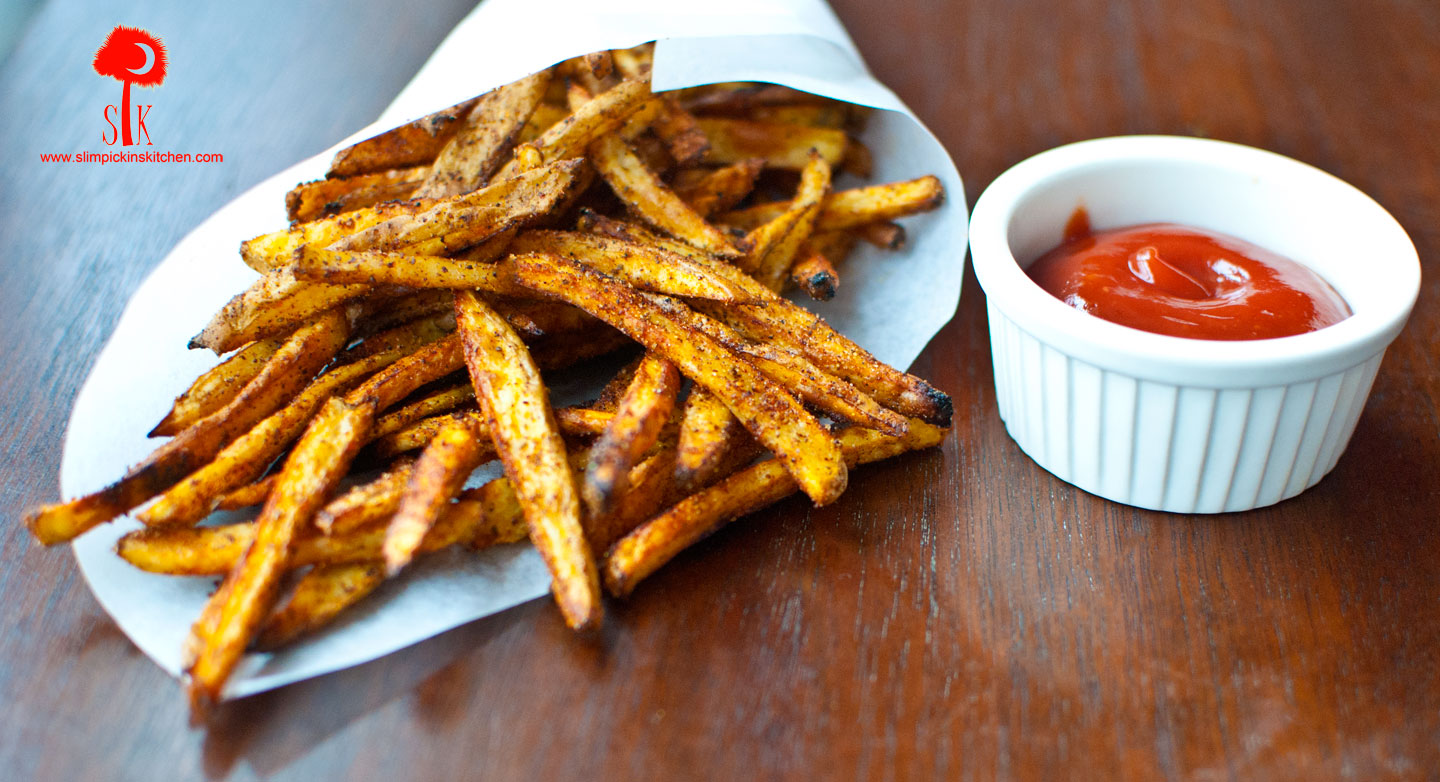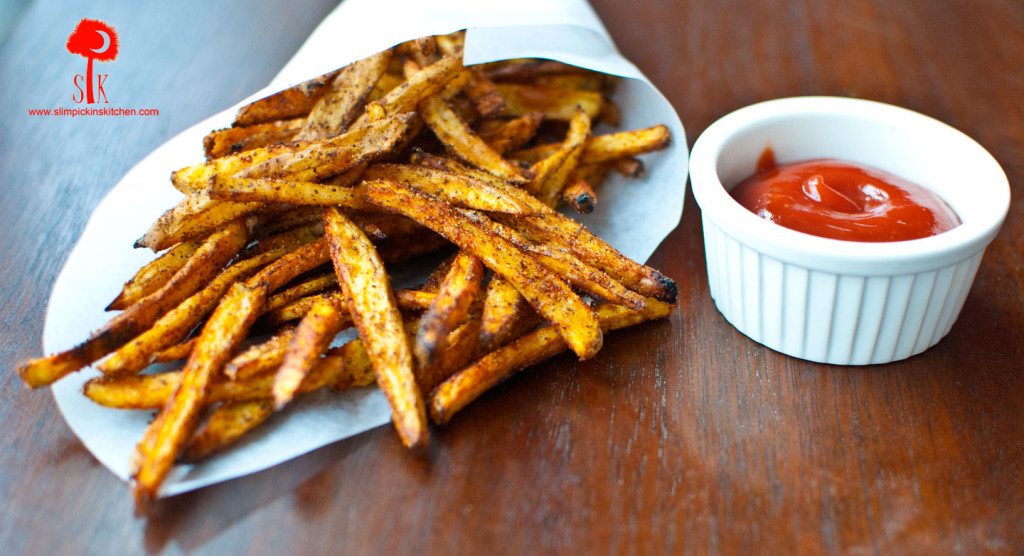 Hello, luvahs.
Get in my belly...
And hopefully you've realized by now that I'm talking to the frenchity fries, not to you, my loverly minions.
Fresh, oven baked french fries that taste JUST.AS.DANG.GOOD. as a piping hot order of the sweet and spicy Bojangles fries which all of us have indulgently scarfed down on many an occasion then immediately regretted because we started thinking about all the junk that we had just force fed into our bodies, and then we realized just how long we would have to be on the dang elliptical to work off those delicious golden morsels of sin.
Not after you eat these though!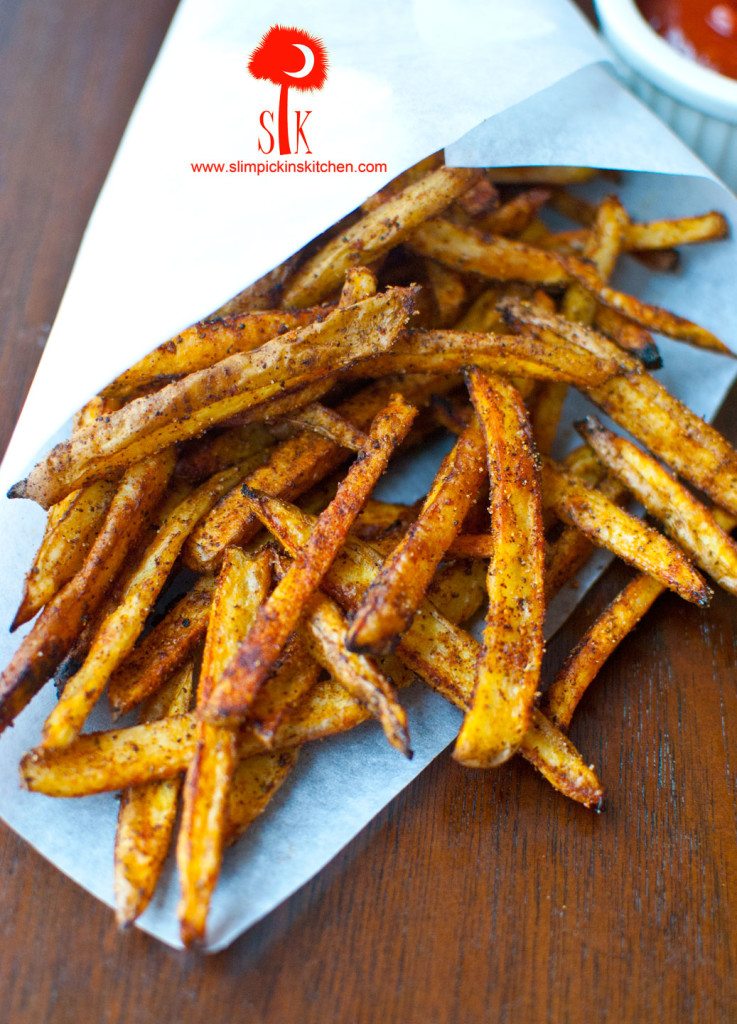 Never had Bojangles fries? They're like a piping hot, potatoey pillow of spicy sweet Cajun heat.
So incredibly good.
These beautiful babies are drizzled with a thin coating of extra-virgin olive oil then sprinkled with a magical dust of super simple spices that you more than likely already have in your pantry.
This, like a lot of recipes on this blog, was totally the brain child of the hubs which just solidifies the fact that I love him to pieces and made the right decision when I said yes!
Any man who can tickle my culinary muse just by saying, "Mmmm...Bojangles french fries" is totally a keeper in my book 😉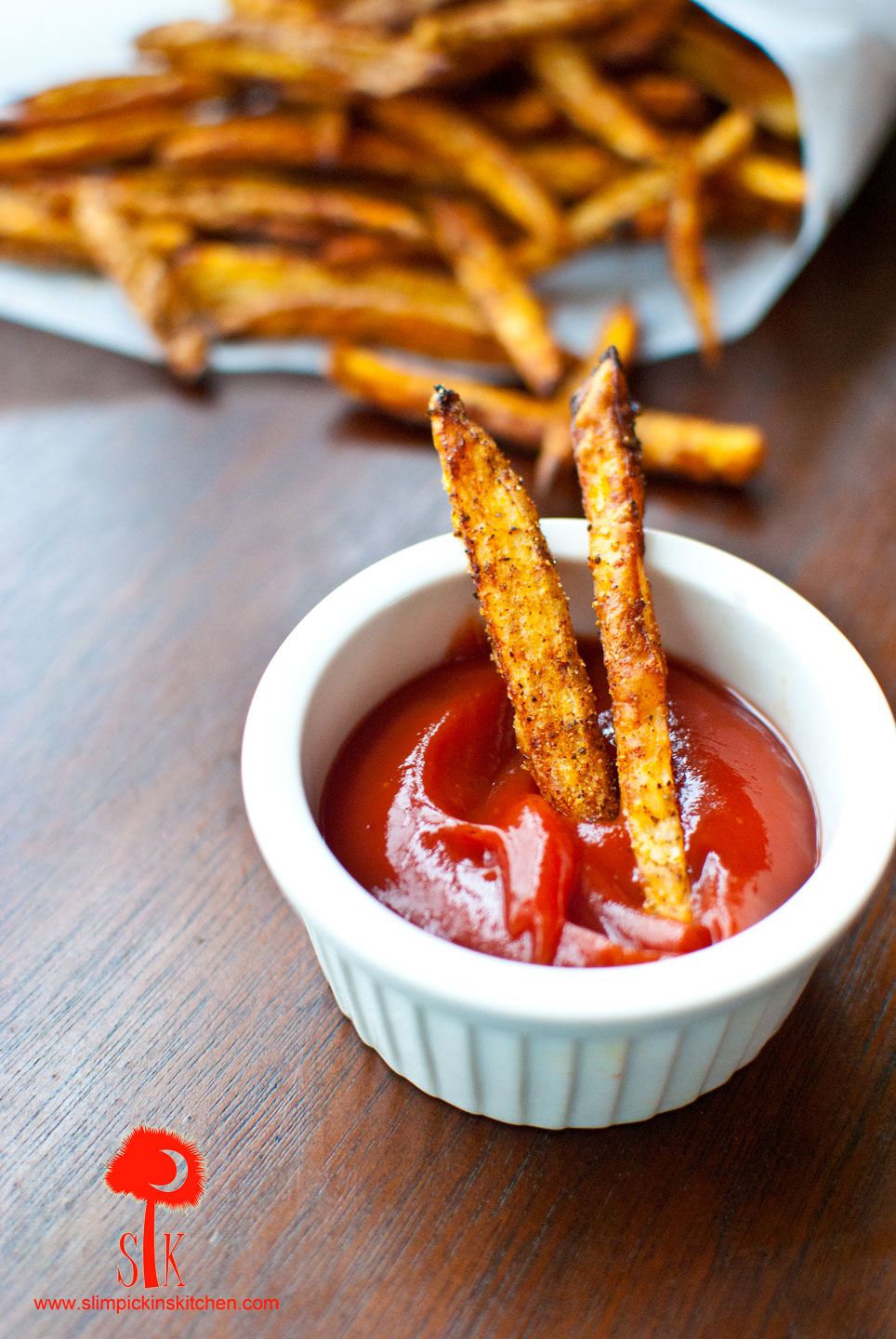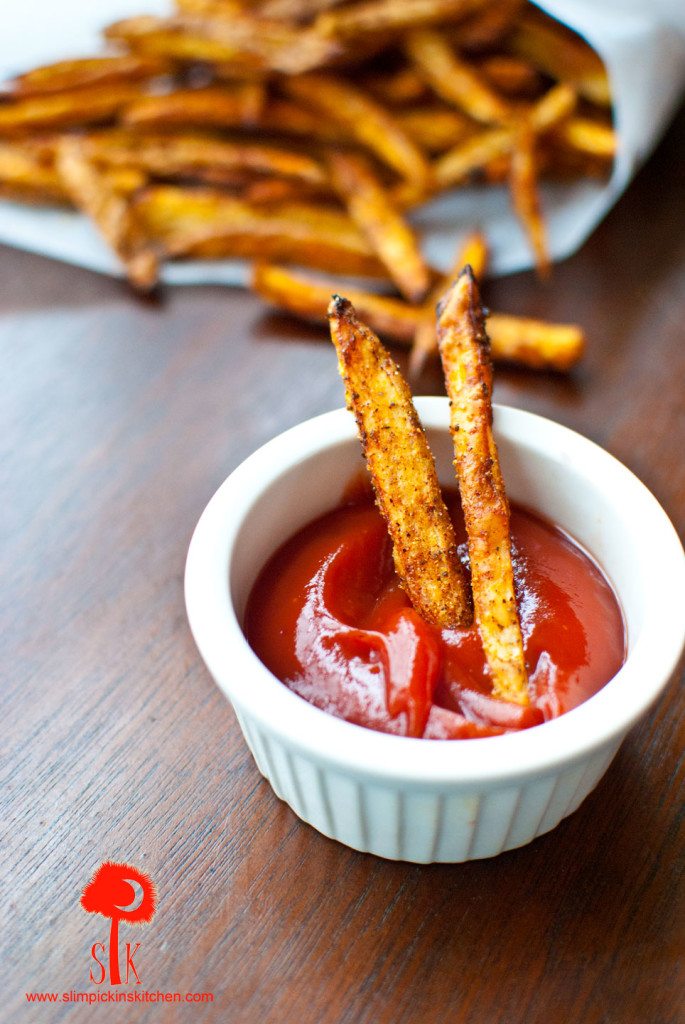 The trick to getting these fries crispy is a little technique I learned in culinary school but then never actually tried out because, well, I'm lazy and impatient and used to just assume that taking frozen fries coated in preservatives and chemical compounds and throwing them onto a cookie sheet would suffice.
Sheesh.
I'm glad that way of thinking is now null and void.
Yay for clean eats!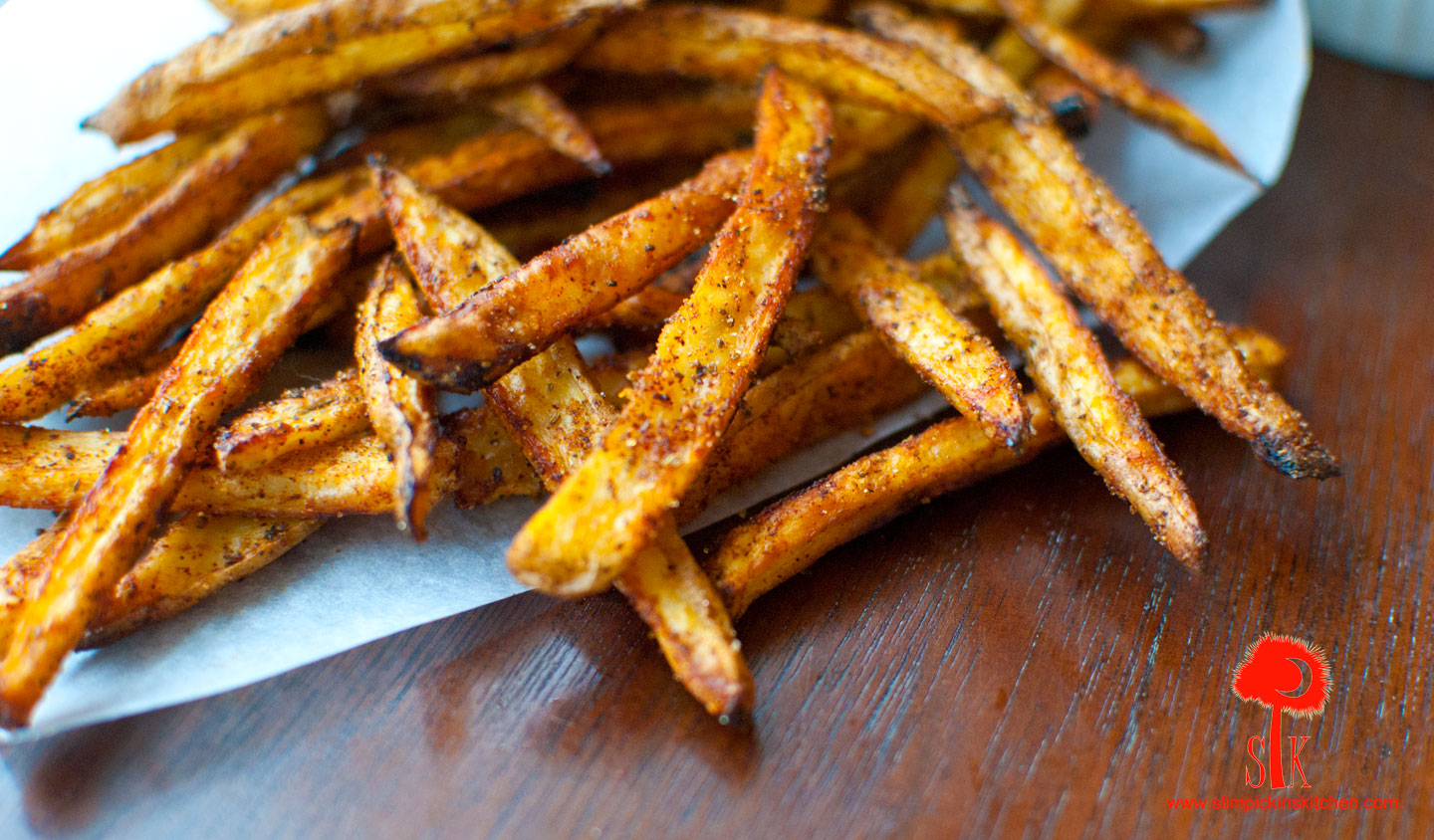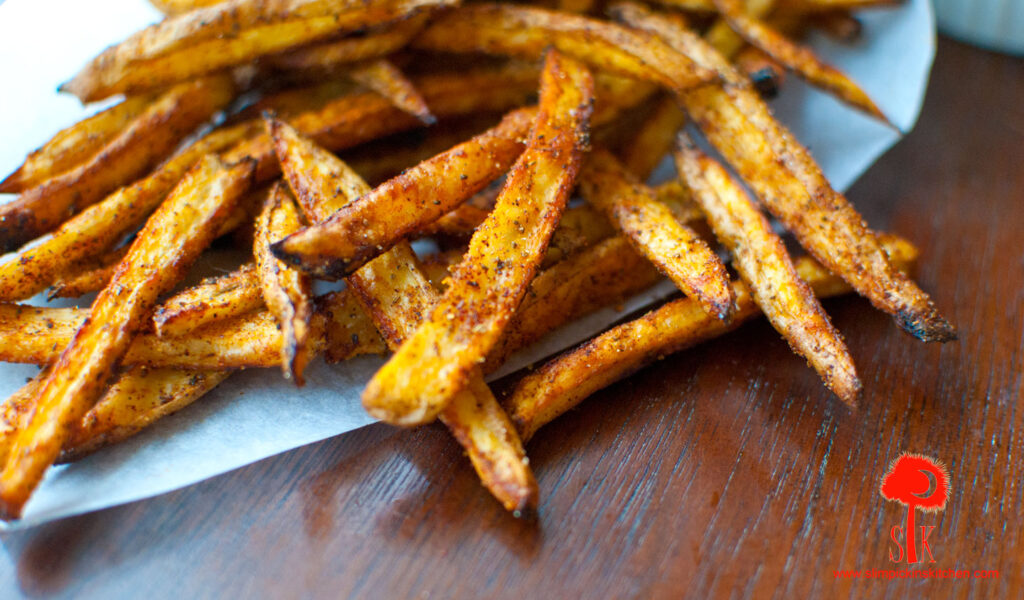 Getting to know you...
What's your favorite fast food fry?
Have you ever made crispy oven fries?
What's your favorite kind of potato?
Crispy Oven Baked "Bojangles" French Fries

Print recipe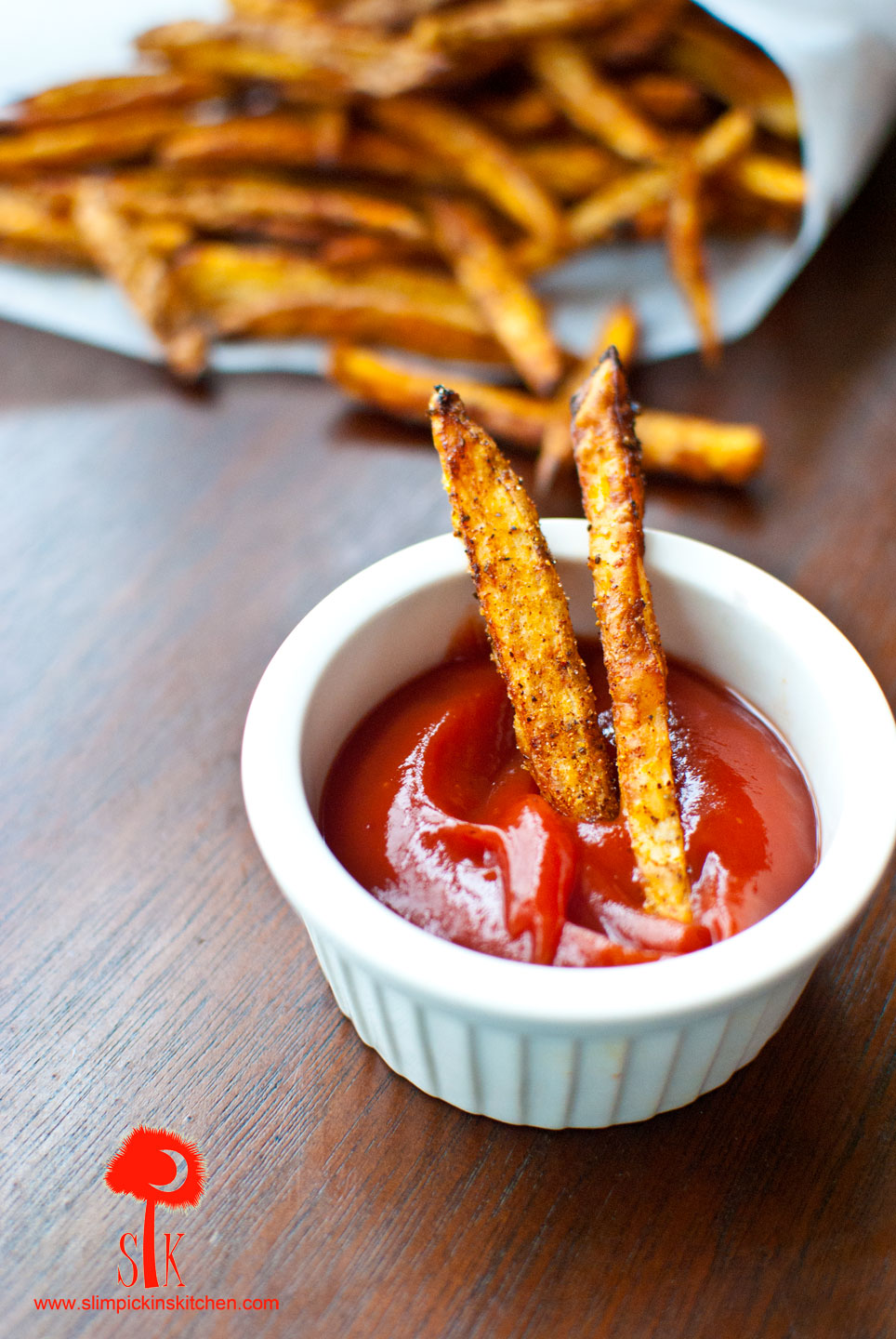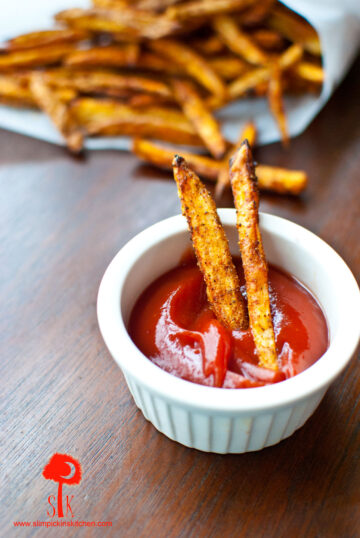 | | |
| --- | --- |
| Serves | 4-5 |
| Prep time | 13 minutes |
| Cook time | 40 minutes |
| Total time | 53 minutes |
| Dietary | Gluten Free, Vegan, Vegetarian |
| Meal type | Side Dish, Snack |
| Misc | Child Friendly, Freezable, Serve Hot |
| Occasion | Barbecue, Birthday Party, Casual Party |
Ingredients
1-1.3 lbs yukon gold potatoes (this is roughly 3 medium sized potatoes)
1 Large bowl of cold water (straight from the tap is fine)
1 teaspoon celery seed
1 ½ teaspoon celery salt
1 teaspoon garlic powder
1 teaspoon onion powder
1 teaspoon chili powder
1 teaspoon paprika
3 teaspoons granulated cane sugar (or powdered sweetener of choice)
¼ teaspoon pink Himalayan sea salt (or regular sea salt)
1 ½ tablespoon extra virgin olive oil
Note
*WWpts= 2 pts per serving*
*WWpts+= 3 pts per serving*
Directions
Step 1
Preheat oven to 450 degrees F.
Step 2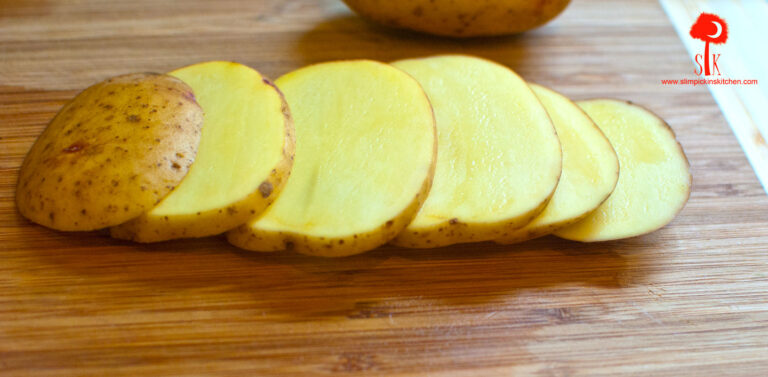 Cut potatoes lengthwise into 4-6 sections (depending on desired thickness) then stack and slice into thin strips.
Step 3
Immediately place cut fries into the bowl of cold water and allow to soak for 10-12 minutes.
Step 4
While the potatoes are soaking, stir together all of the spices and set aside.
Step 5
Remove the potatoes from the water and thoroughly dry using clean kitchen towels.
Step 6
Add fries to a large baking sheet lined with parchment, drizzle with olive oil, heavily season with some of the spice mixture, and toss until each fry is evenly coated. Spread the fries into a single layer (use two baking sheets if you can't get them into one layer) then bake for 20 minutes.
Step 7
Remove sheet from oven, sprinkle the fries with more seasoning, then stir and flip to ensure even browning. Continue baking for another 20 minutes.
Step 8
Remove from the oven when fries are golden brown and crispy. Sprinkle with more seasoning if desired and serve immediately.
Step 9
Enjoy!