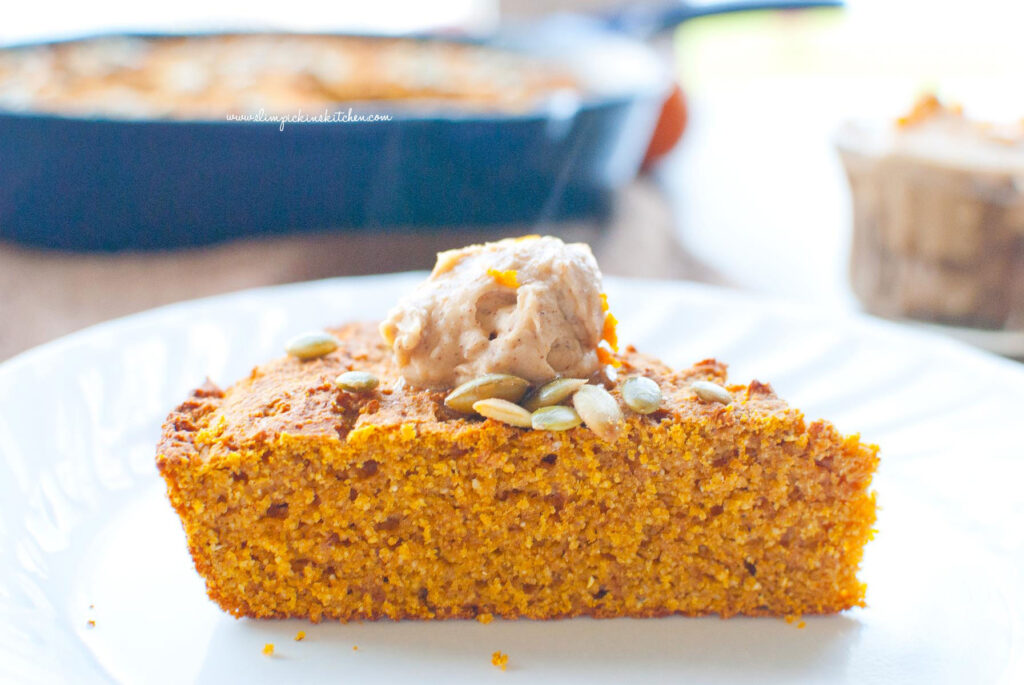 Yay for my first pumpkin recipe of the season!
And this is totally the perfect way to start your Monday off right.
Actually, eating this pumpkin cornbread for breakfast every morning will ensure that you'll have the most fabulous week of your life! Although, if you're a cornbread loving pumpkinaholic like me, then you'll be lucky if this pan makes it to the end of the dang day.
So, yeah, go ahead and make a couple of pans while you're at it because…gingerbread butter, y'all.
GIN-GER-BREAD-BUT-TER.
Have mercy…Jesse Katsopolis style.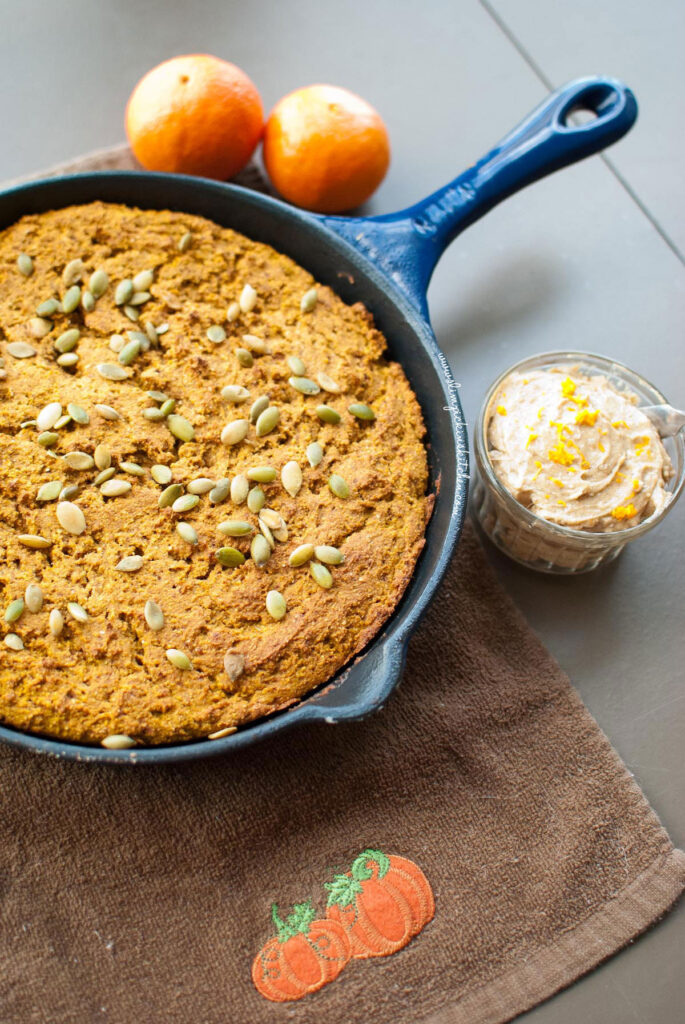 You'll want to slather this butter on every thang.
I've eaten so much of it within the last 48 hours I should've just gone ahead and smeared it on my thighs with a butter knife. Eating it was way more fun though.
And the pumpkin cornbread? It goes great with so many meals! I just made a batch of my honey pecan chicken and it was incredible, and I bet it would also go well with my sweet potato gnocchi too.
Or you could just shovel the slices in by the fistful and eat the gingerbread butter right off of the spoon.
Fine by me.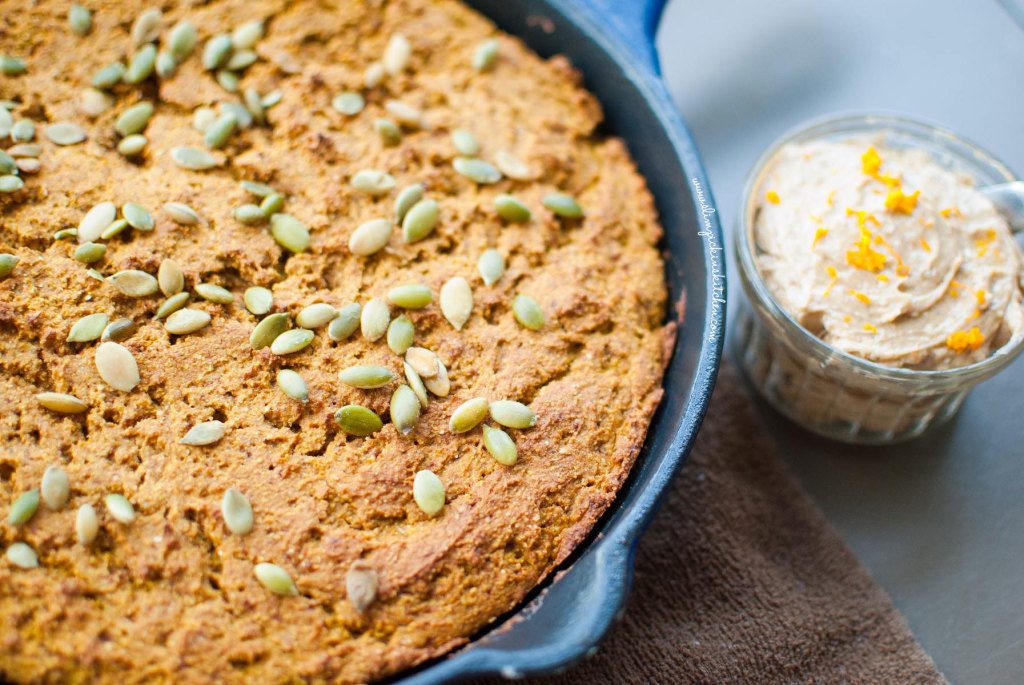 I'm sorta committing blasphemy at the moment b/c sweet cornbread is just not how I was raised and, honestly, I don't even really like it. Mama Mac would probably take one bite, frown, then push her plate away if she wasn't forewarned that it was mildly sweet.
I totally get that too.
Sweet cornbread is more like cornbread cake, and when I want cornbread? I want savory cornbread that I can crumble on salads or dip into hot and spicy soup. Sugary cakey cornbread just doesn't fly with me…unless it has pumpkin in it, apparently.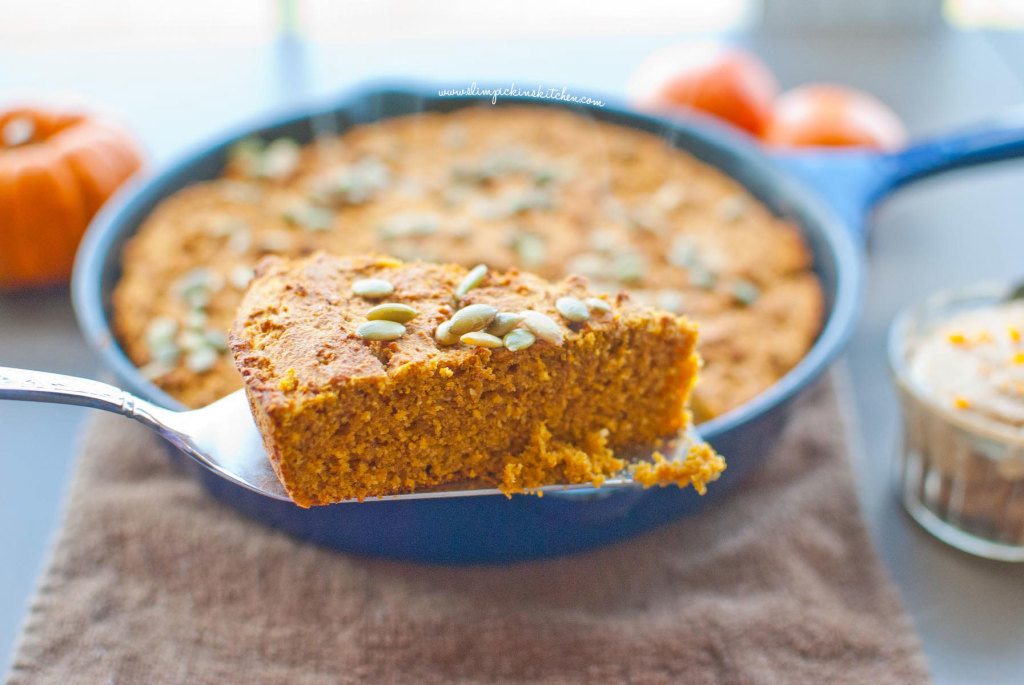 I've become a colossal lover of coconut sugar lately b/c it is molassasy and brown sugary, and you can use it in place of granulated sugar. From what I've heard it has added health benefits and nutrients which just makes it that much better.
The coconut sugar in this cornbread gives it a rich, subtle sweetness without overpowering the pumpkin which, clearly, is the star of the show.
Oh, wait. No it's not. The gingerbread butter definitely takes that award. Whipped and compound butters are one of my favorite spreads, and I eat them on all kinds of things. Just call me Paula Deen! But really though, this gingerbread butter just melts in your mouth and melts so beautifully over the cornbread. I groaned with delight when I first tasted it, and my head almost exploded when I tasted it on the cornbread.
Gingerbread butter + pumpkin cornbread is a match made in fatty foodie heaven.