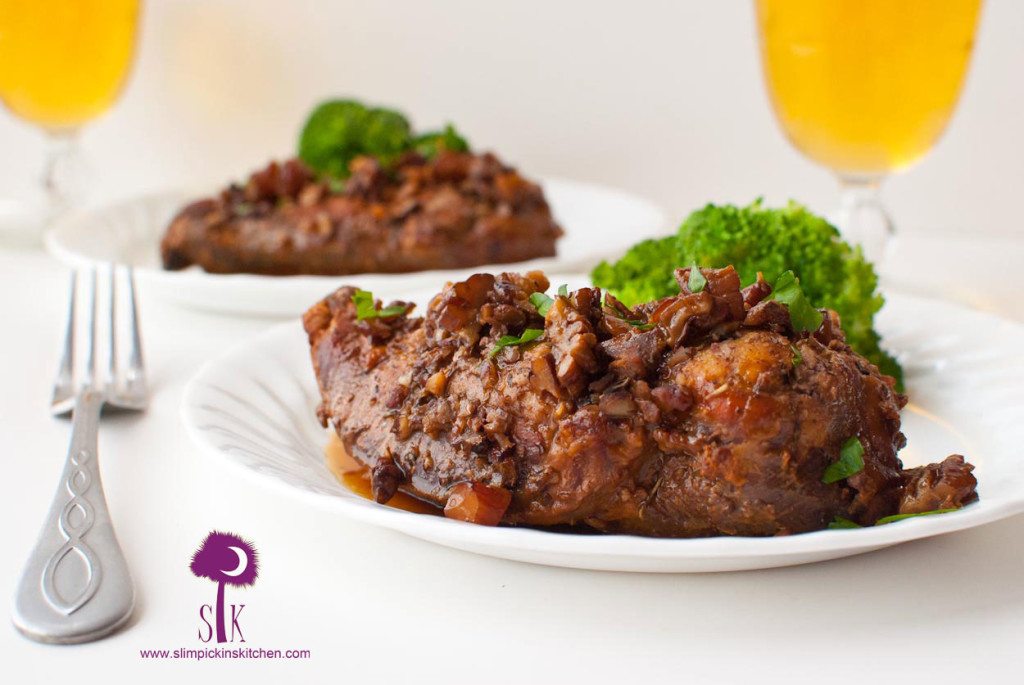 Y'all, it's cold outside.
At least that's what I hear.
I don't really know because, well, that would mean I would actually have to go outside. Uuum...I've seen the frost on the ground in the morning when I wake up.
Homey don't play that.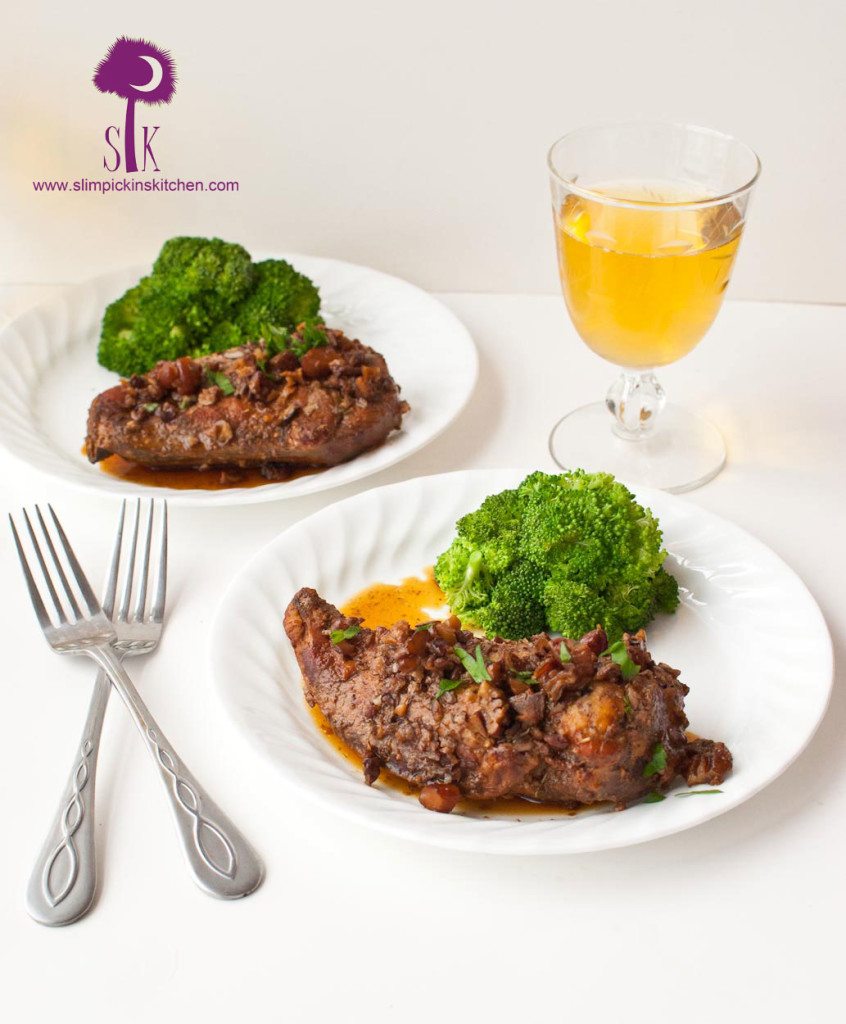 But for real though.
I really haven't gone outside in a while. Liiiike, maybe a couple of days. Well, maybe it's more like 10 days.
Don't judge.
I've got a wee one to attend to, and I live in the South. Do you really think Owen has a parka or a snowsuit or a pink bunny costume or whatever it is people wear when it's below 60 degrees out and the wind is whipping about? I couldn't bear it if my tiny little pumpkin's toesies turned blue and fell off in his socks because I just haaaaaaad to go to nowhere in particular.
That's like the one good thing about living in the country though.
There really isn't anywhere for me to go right now. I mean, I can't go to the walking trail 20 minutes away because it's cold out and the geese are probably frozen to the ice. Where's the fun in that? I also can't go 20 minutes the other way to the Dairy Queen to get a chocolate dipped ice cream cone b/c Lord knows I shoved enough of those in my mouth during my pregnancy, bless my heart. Plus, um hello, it's freezing out! I also can't eat ice cream when it's cold.
Ha! I keed, I keed.
But really, no, I don't feel bad about not stepping foot outdoors in the cold for the past 10 days and waking up every day around 10am after having already been up at 3:30am and 6:00am and then changing into yoga pants that I will wear for the remainder of the day until my husband comes home and I can finally shower off my sexy new baby spit up perfume and the sweat from the 18 minute workout I busted out before the baby woke up because I had to do at least something somewhat productive other than plastering my precious pumpkin with sugary, slobbery kisses and implementing the torturous task know as tummy time. Ya feel me?
No?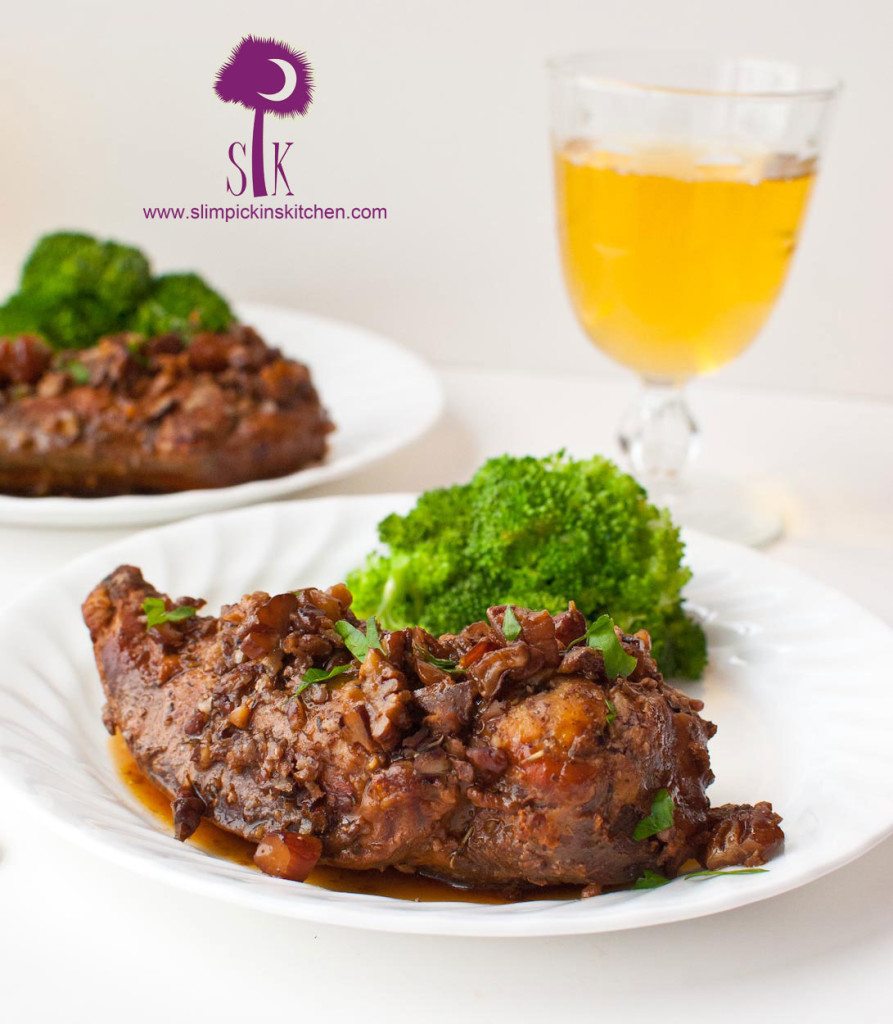 Ok, fine, so maybe sometimes I slap together something warm and sticky and sweet and savory into the crock pot so we can have a comforting, clean eating meal on these freezing cold nights.
Everyone loves a quick and easy supper that you can just toss into the slow cooker, and this honey pecan chicken really couldn't be simpler.
Just sear the chicken breasts, throw them into the pot with the other ingredients and walk away. Serve it along side some caramalized brussels sprouts and smoked gouda zucchini and squash casserole and your husband, girlfriend, wife, boyfriend, significant other, or friend with benefits will think you've been slaving away in the kitchen all day instead of catching up on Downton Abbey while nuzzled up in your king size bed with your kittle cattles now that the baby is asleep again and you finally talked your husband into getting Amazon Prime.
Wait, what?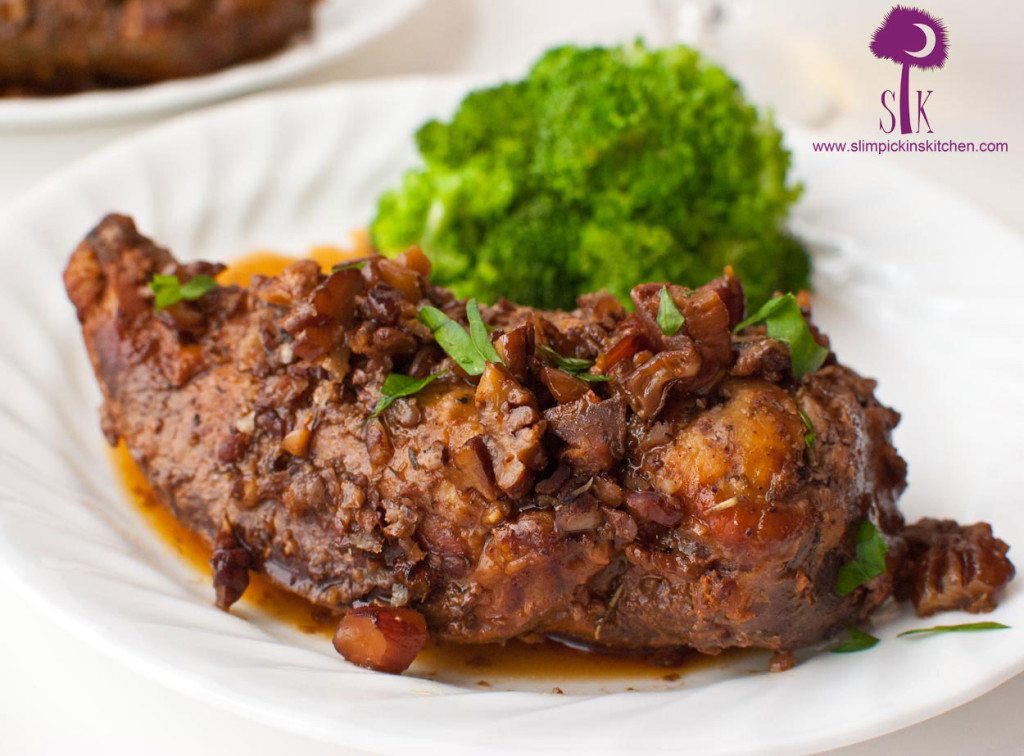 Getting to know you...
How cold is it where you are?
How do you keep in shape during the winter?
Do you watch Downton Abbey?
Clean Eating Sticky Slow Cooker Honey Pecan Chicken

Print recipe
| | |
| --- | --- |
| Serves | 4 |
| Prep time | 5 minutes |
| Cook time | 4 hours |
| Total time | 4 hours, 5 minutes |
| Allergy | Tree Nuts |
| Dietary | Gluten Free |
| Meal type | Lunch, Main Dish |
| Misc | Serve Hot |
Ingredients
4 chicken breasts
1 teaspoon sea salt
freshly ground black pepper
⅔ cups honey
1 cup chopped pecans
3 cloves garlic (minced)
1 tablespoon Herbs de Provence (or Italian Seasoning)
A dash of ground cinnamon
A handful of fresh Italian flat leaf parsley (chopped)
Directions
Step 1
Sprinkle chicken with salt & pepper and place in slow cooker. In a small bowl, add garlic, herbs de Provence, and cinnamon to the honey. Stir and pour over the chicken.
Step 2
Sprinkle on the pecans, and cook on low for 3-4 hours or until the chicken is just cooked through.
Step 3
Once cooked, remove chicken from crock pot, cover w/ aluminum foil, and let rest for 5-10 minutes.
Step 4
Once chicken has rested, shred chicken and add back to the sauce or serve breasts whole w/ the sauce drizzled on top w/ a handful of fresh parsley.
Step 5
Serve w/ veggie &/or starch of choice.
Step 6
Enjoy!