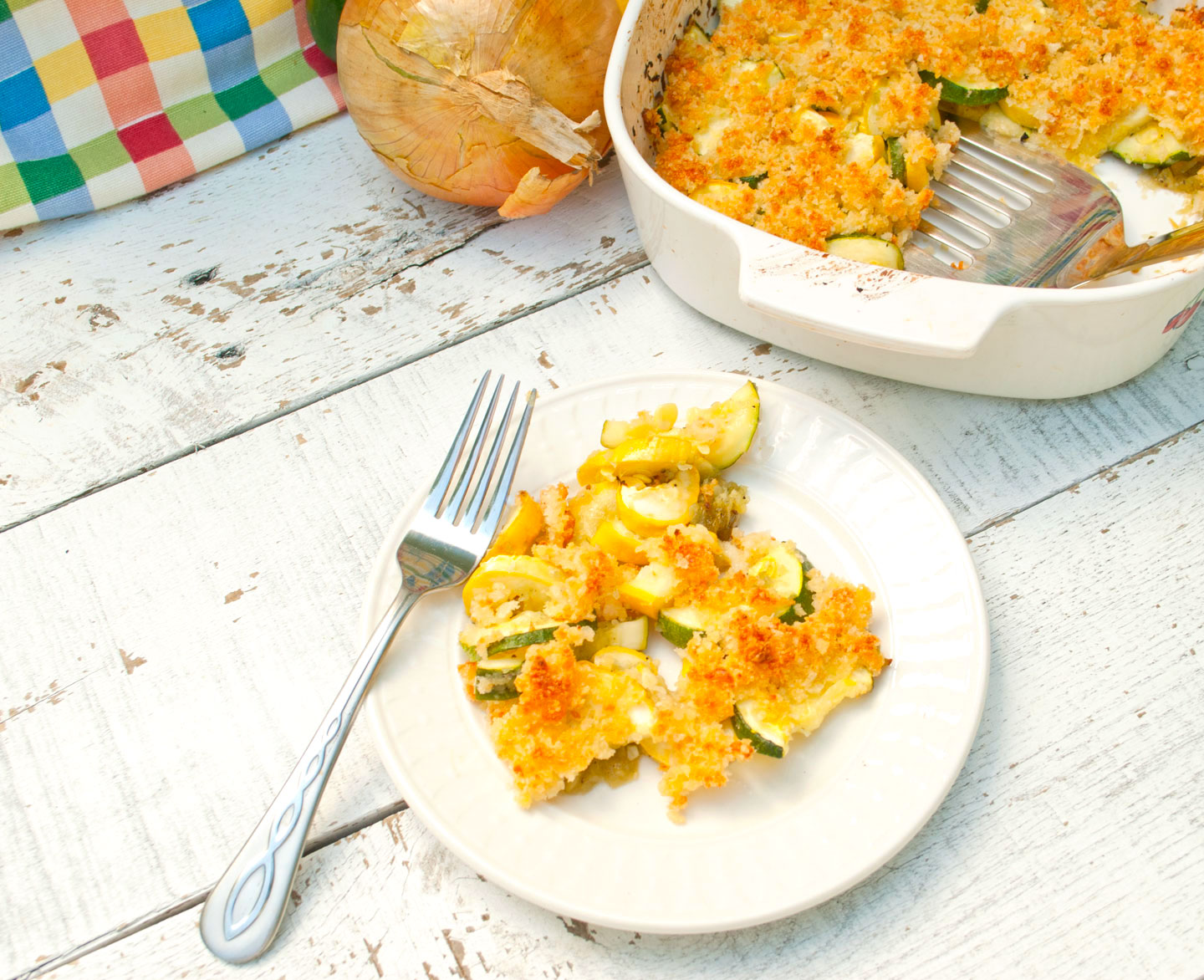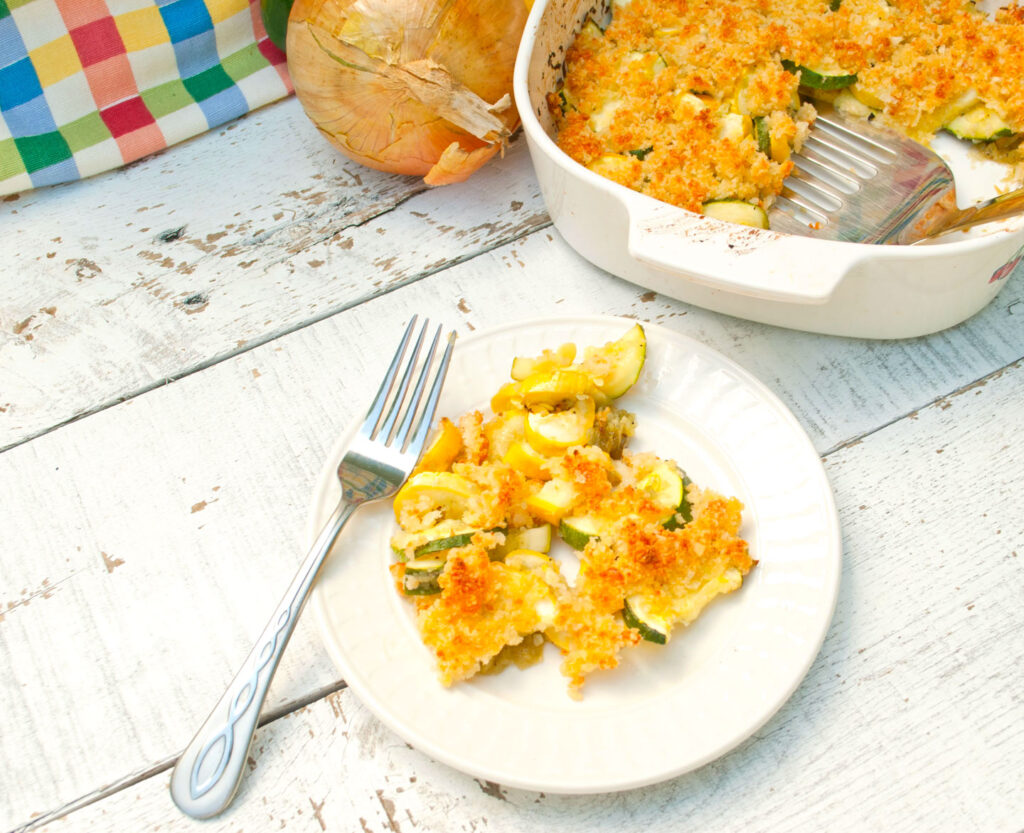 Fresh veggies are something that I look forward to every summer.
And not just any fresh veggies either.
I'm talking about the delicious goodies that are either given to you in a plastic grocery bag from a neighbor down the street or were grown in a garden in your own back yard. I guess the ones you buy at the farmer's market would suffice, but there is just something special about being surprised with a bag full of home grown vegematation 😉
The hubs and I don't have our own garden (I've been known to kill plastic plants), but we have plenty of friends and neighbors who do!
So far this year, we have been gifted with a bag full of NC grown sweet onions, brightly colored banana peppers, cucumbers, and zucchini and squash.
From the first second the hubs laid eyes on the squash he uttered, "Mmmmm...squash casserole..."
Mmmmm, indeed.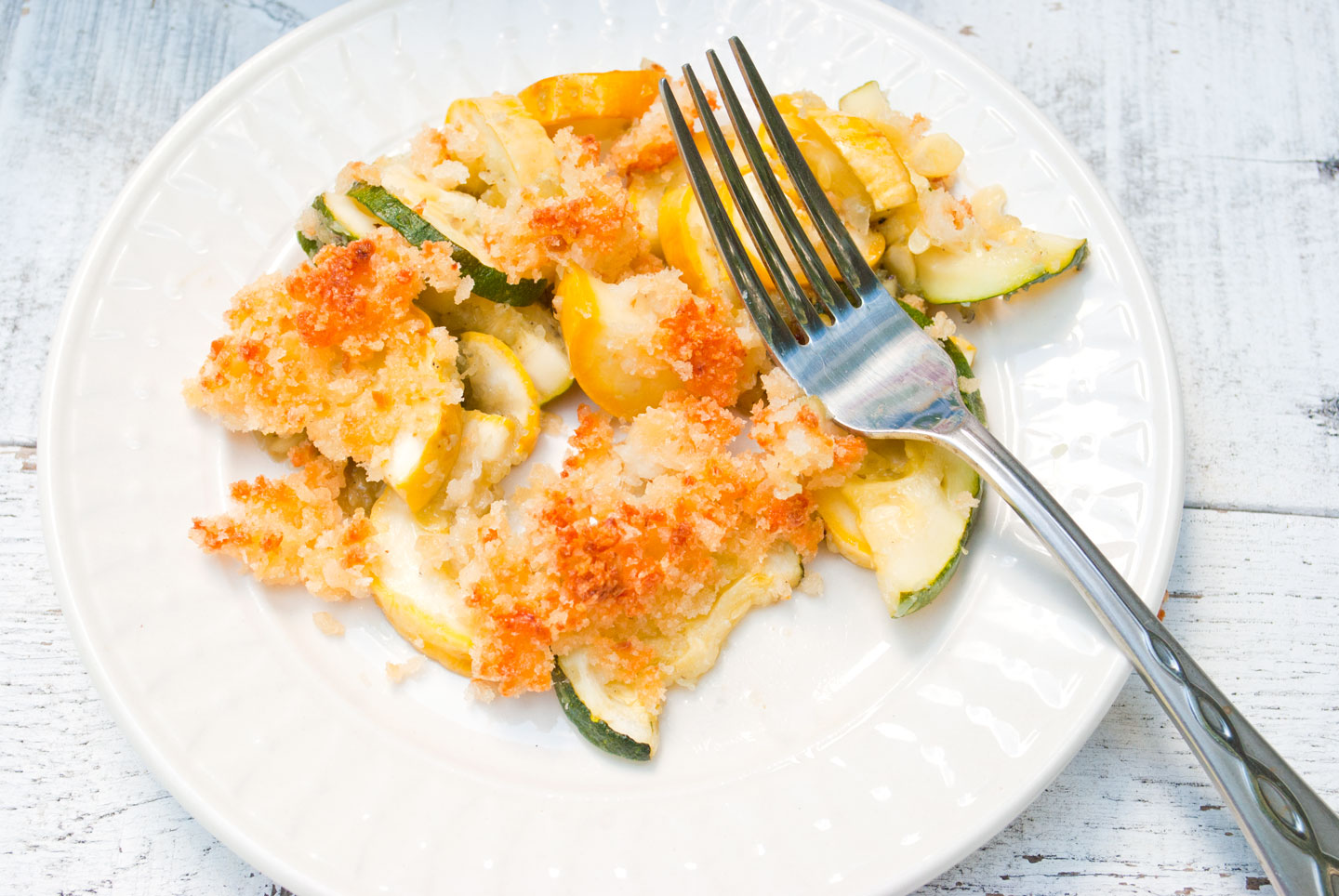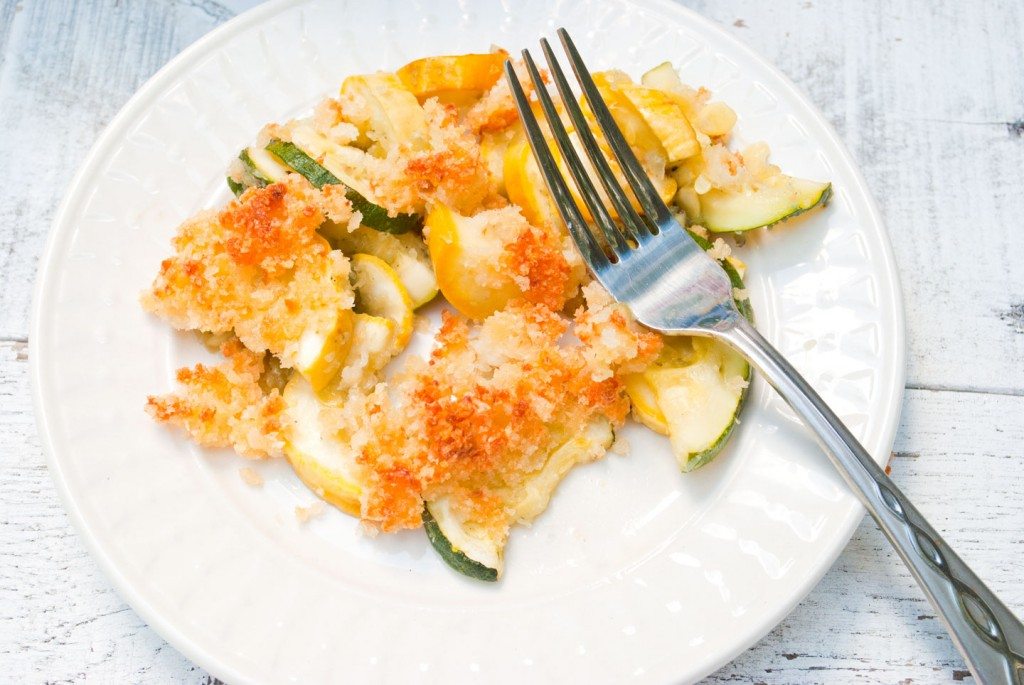 My mom is probably going to die...just DIE...when she sees that I am not only eating squash casserole, but that I'm actually cooking it myself and posting the recipe to prove it!
When I was little, my mom tried to get me to eat a few bites of squash casserole that she had made.
I absolutely refused to touch the stuff.
And I sat at the table with my arms crossed just a huffin' and puffin' away b/c my mom refused to let me get up from the table until I tried it.
I have *no clue* where my stubbornness came from 😉
Finally, after what seemed like days, I gave in and tried it.
And then I involuntarily got my mom back for torturing me with the stuff.
Let's just say the carpet in her beautifully decorated dining room never looked the same after that night...and my mother never again forced foreign foods into my mouth.
Lucky for me, I fell in love with squash years later, and haven't stopped eating it since.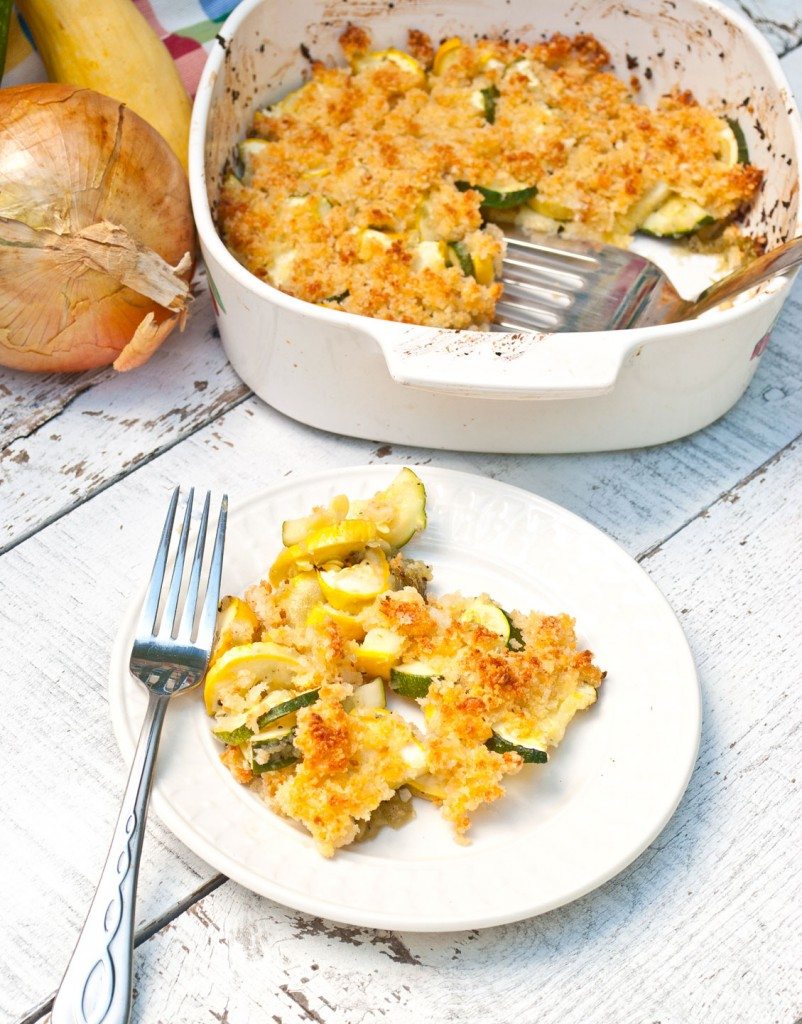 This casserole is light and healthy and is in no way overloaded with copious amounts of cream, butter, cheese, and eggs that most Southern casseroles are known for.
In fact, the butter and cheese can only be found in the topping of the dish.
The topping is crunchy and munchy and OH SO GOOD!
And, as it probably is with most of us, it's my favorite part.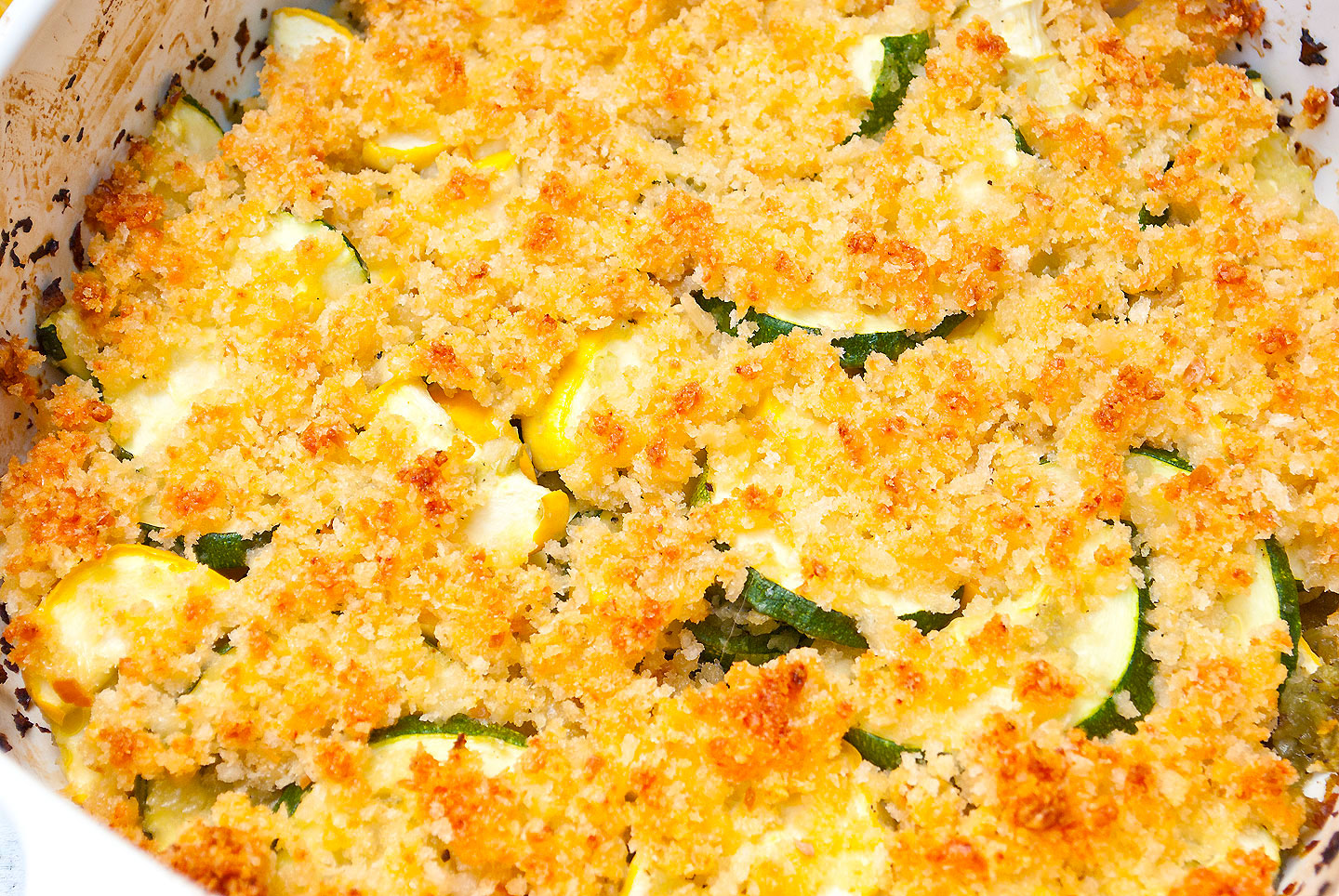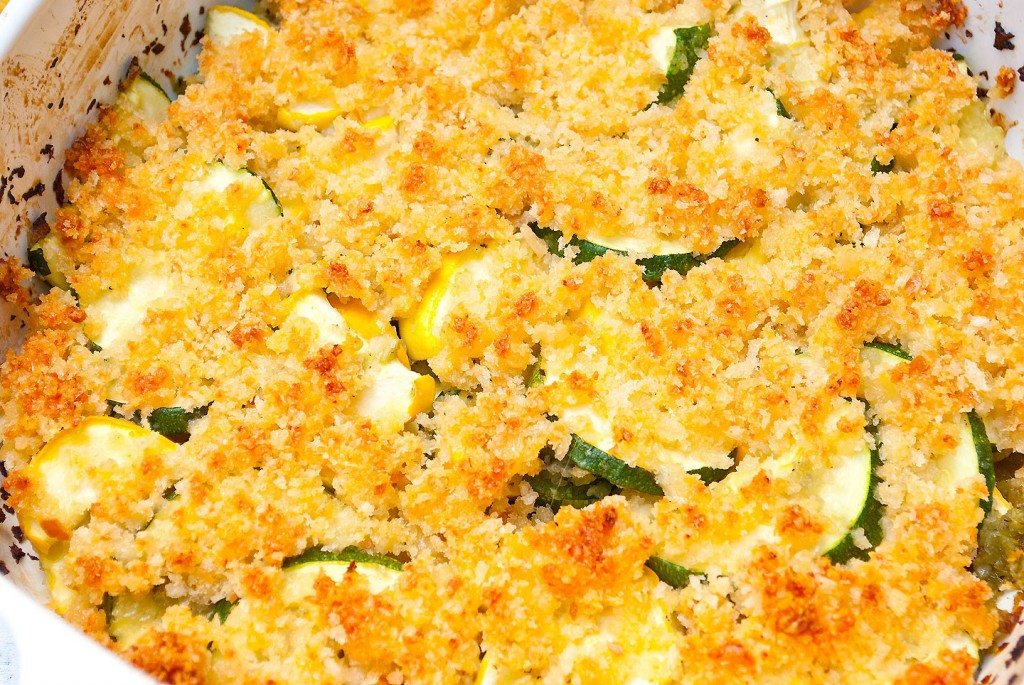 Panko bread crumbs and soft and smoky gouda cheese take this casserole to a whole new level, but the smokiness doesn't overtake the flavor of the vegetables themselves. It just adds a hint of yummy goodness that enhances the brightness of the dish. A slight note of freshly ground nutmeg also adds a smidgen of sweetness and creates a depth to the dish that just isn't the same without it.
Serve this alongside my sweet tea infused roasted chicken (coming up on Wednesday!) and some freshly baked biscuits and you've got yourself a full blown southern supper that's healthy and guilt-free 🙂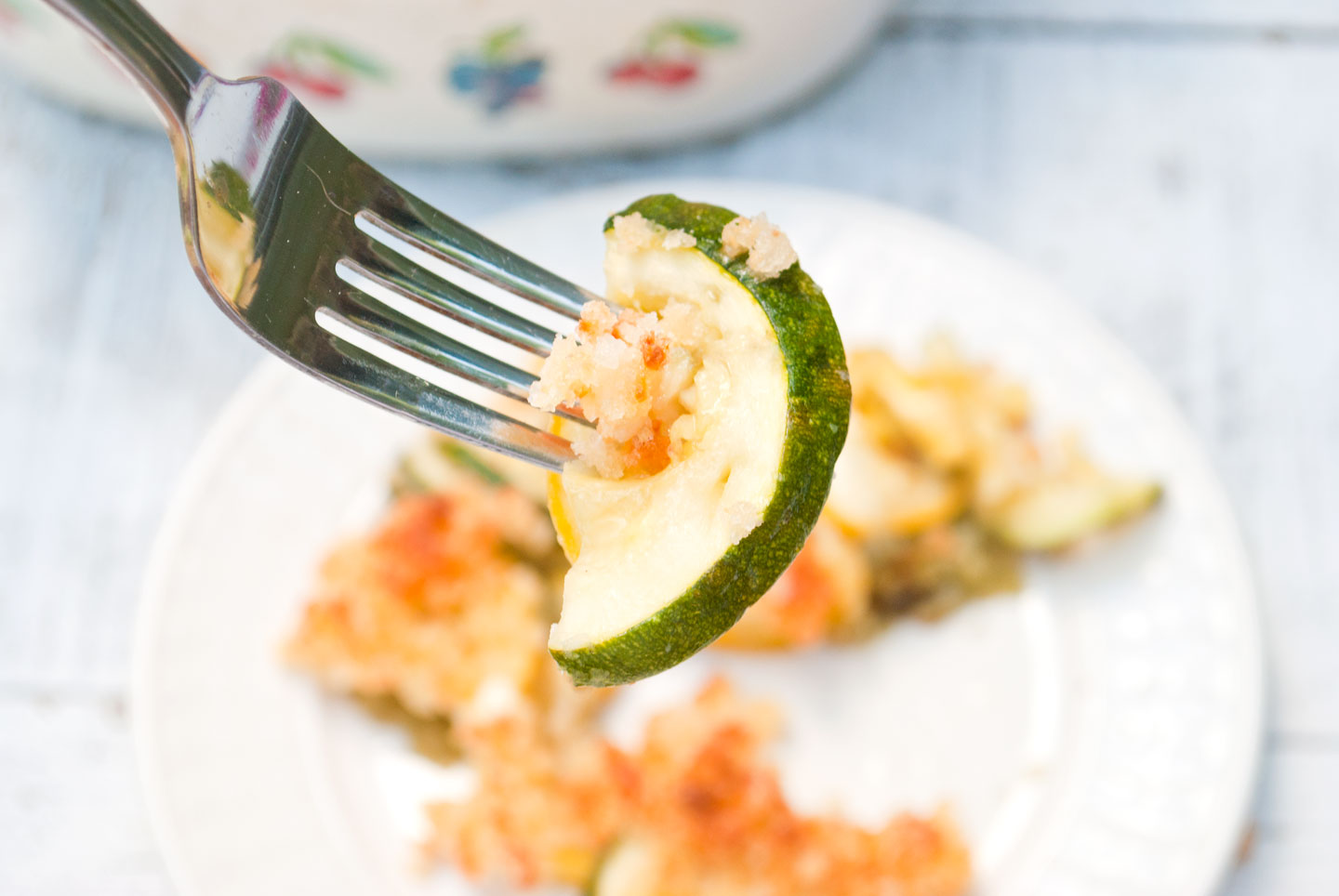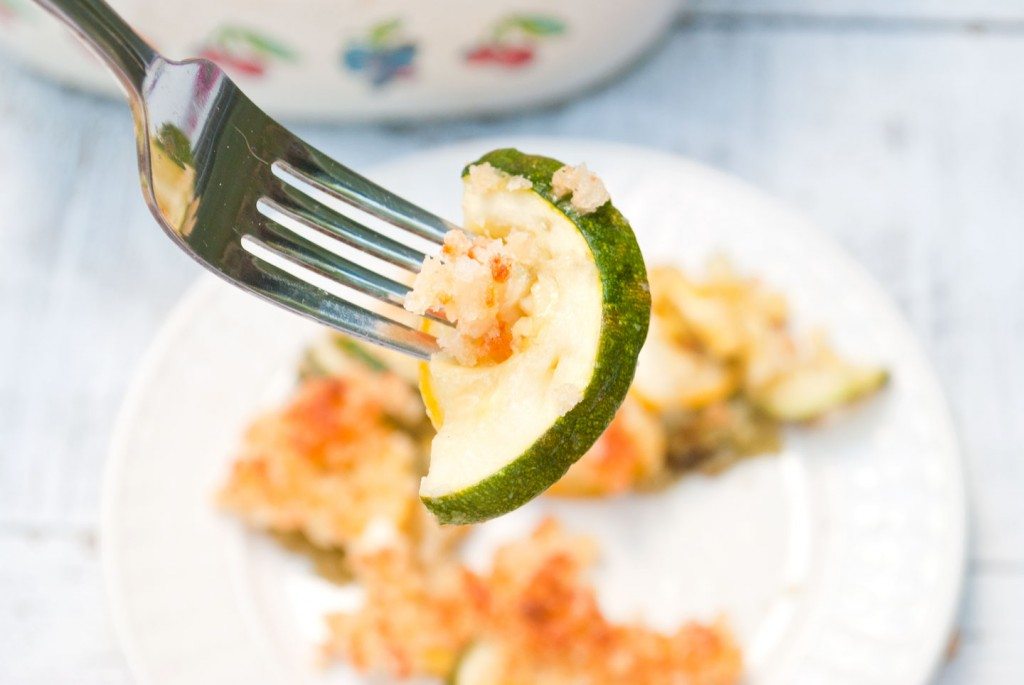 Getting to know you...
Did your parent's ever force veggies down your throat?
What is a vegetable you can't stand?
What's your favorite cheese?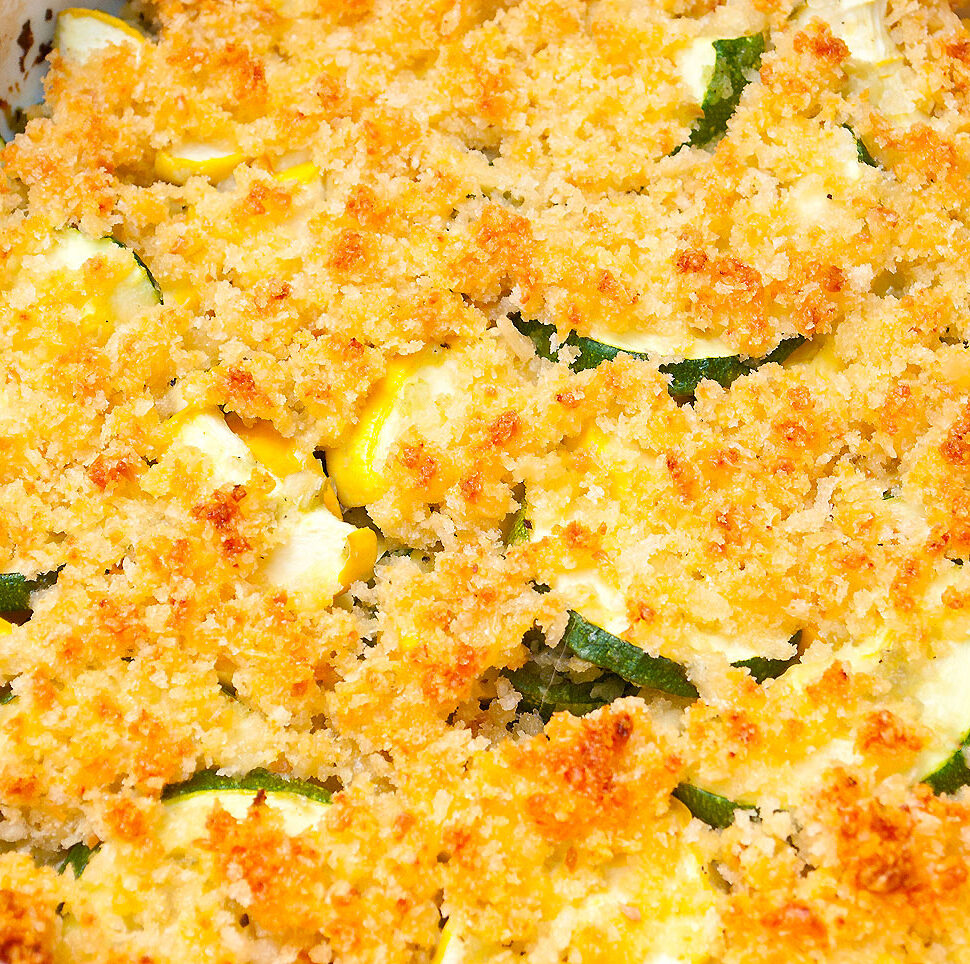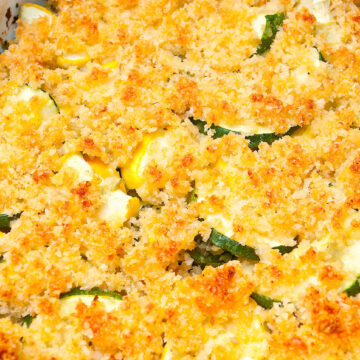 Smoked Gouda Zucchini & Squash Casserole
Smoked gouda and crunchy Panko bread crumbs top this delicious summertime side dish
Print
Rate
Ingredients
1

medium zucchini

cut into halfmoons

1

medium yellow squash

cut into halfmoons

1

teaspoon

extra virgin olive oil

¼

of a large sweet onion

diced

1

large garlic clove

1

teaspoon

salt
freshly cracked black pepper

to taste

½

cup

Panko bread crumbs

2

oz.

smoked gouda cheese

shredded

2

tablespoon

light butter

I use Land-O-Lakes

¼

teaspoon

freshly ground nutmeg
Instructions
Preheat oven to 375°F.

Place sliced zucchini and squash in a small casserole dish.

Heat a sauté pan over medium-high heat, add olive oil then onion, garlic, salt, and pepper and sauté until translucent and slightly browning around edges, about 3-4 minutes.

Add the onion mixture to the casserole dish and stir until evenly distributed around the zucchini and squash.

In a food processor (or even using clean hands) pulse/squeeze together the bread crumbs, cheese, butter, and nutmeg until it just sticks together and is thick and crumbly.

Crumble the bread crumb mixture over the top of the casserole.

Bake for 25-30 minutes or until the topping is golden brown.

Enjoy!
Notes
*WWpts= 4 pts per serving* *WWpts+= 5 pts per serving*
Nutrition
Serving:
1
g
|
Calories:
163
kcal
|
Carbohydrates:
15
g
|
Protein:
6
g
|
Fat:
12
g
|
Fiber:
1
g