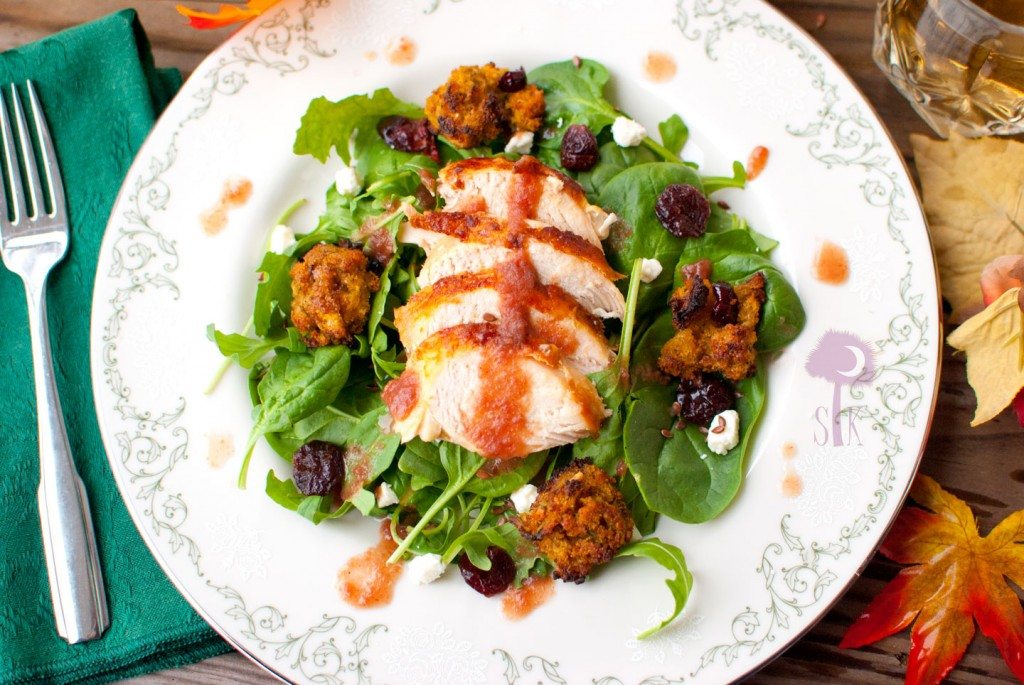 First off...I would like to give thanks to Katie at Chocolate Covered Katie for asking me to write a guest post for her blog yesterday, and for being amazing and featuring my Pumpkin Pie Filled Pumpkin Muffins! Check that post out here. I truly appreciate everything about that girl, and feel blessed to have been given the opportunity. Muah! XOXO
Can y'all believe Thanksgiving day is just 4 days away?
Sometimes I feel like life just passes us by way too quickly.  Before ya know it Thanksgiving will be over and Christmas music will be blasting from every radio around the world.
Ha! Who am I kidding? It already is!
You'll hear no complaints here though. I adore Christmas and Christmas music, and I become a squealing, giddy little girl the second the sun sets at the end of turkey day. As soon as that happens, the countdown to Christmas begins...but it will not start before that for me.
No, sirree...
Call me crazy, but I'm one of those people who actually prefers to celebrate one holiday at a time, thank you very much.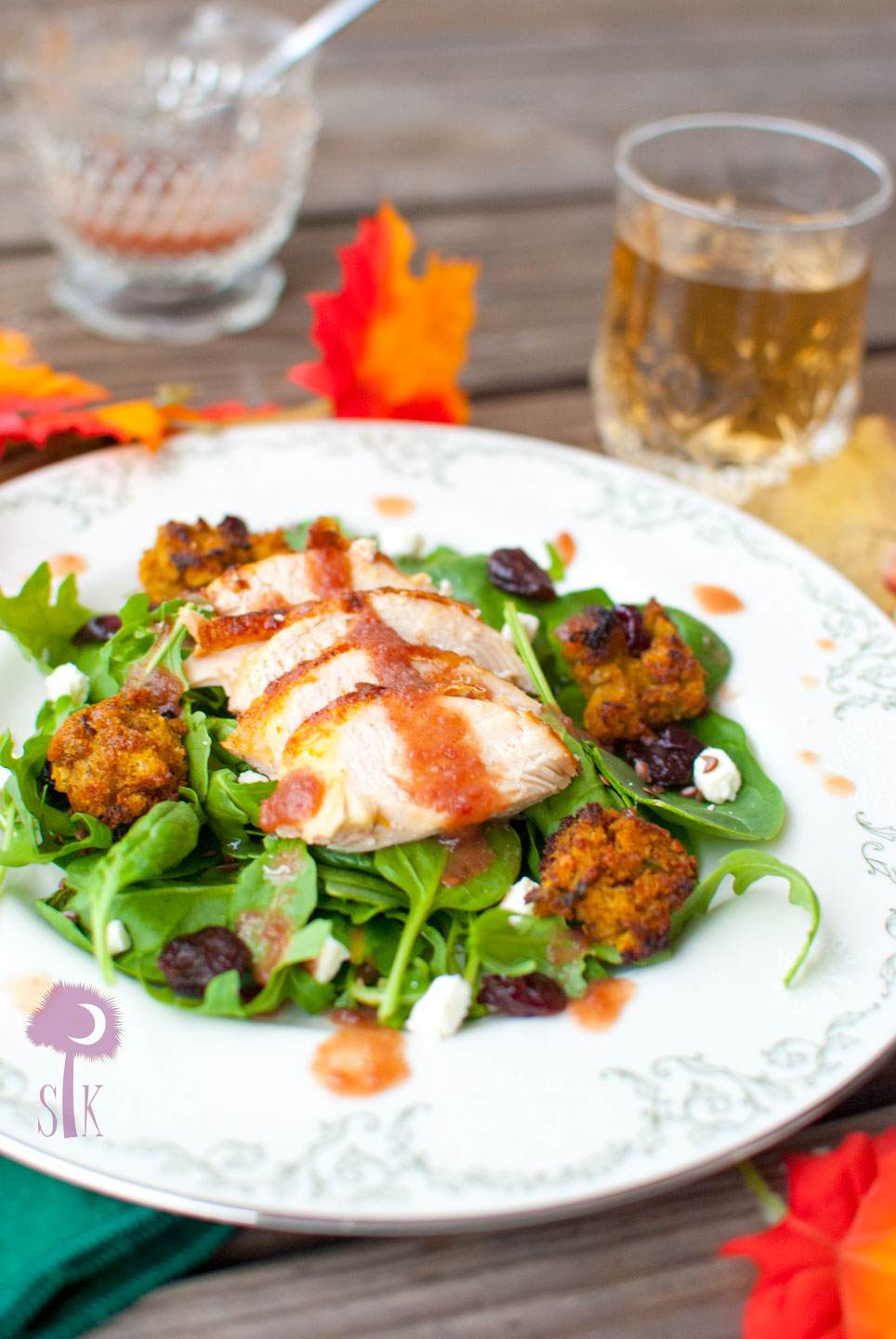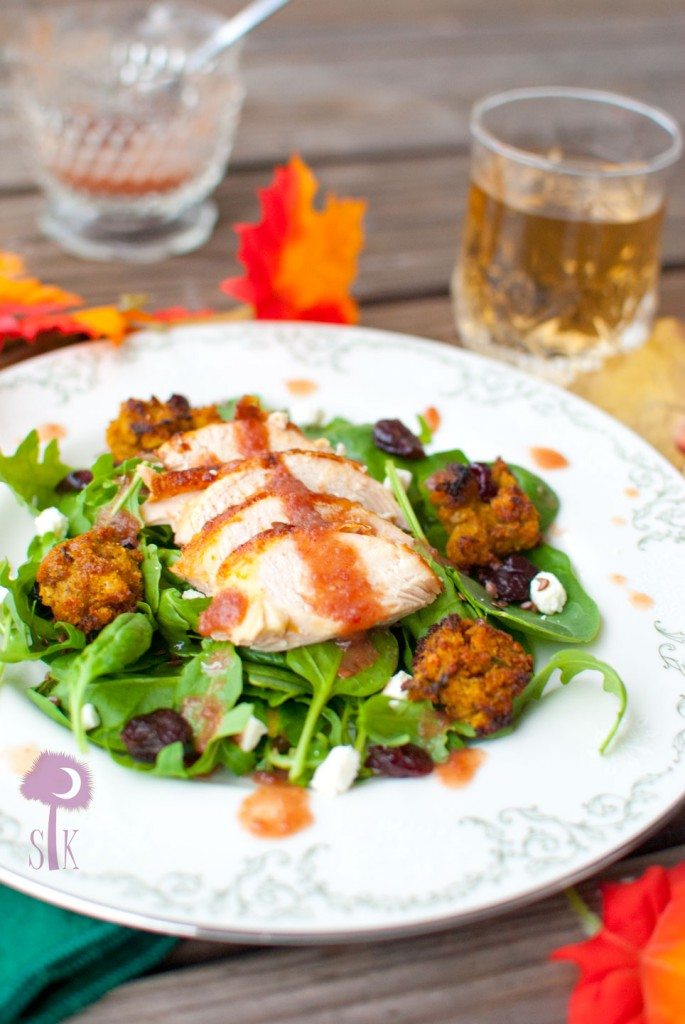 Once the family has left and the turkey day nap has been had, the next best thing about Thanksgiving are the leftovers...which is absolutely insane considering I'm a total brat and usually refuse to eat them on any other day of the week.
Thanksgiving is different though. I mean, I can't really be uber thankful for all of the food that God has provided for me just to turn around and refuse to eat any of it because it has been stuffed into a plastic container and has been sitting in the fridge for a few hours.
Instead I see those containers as a sort of Chopped challenge and my mind starts reeling with new and fresh meal ideas. So, this week I will be posting fun and inventive ways for you to use your leftovers too!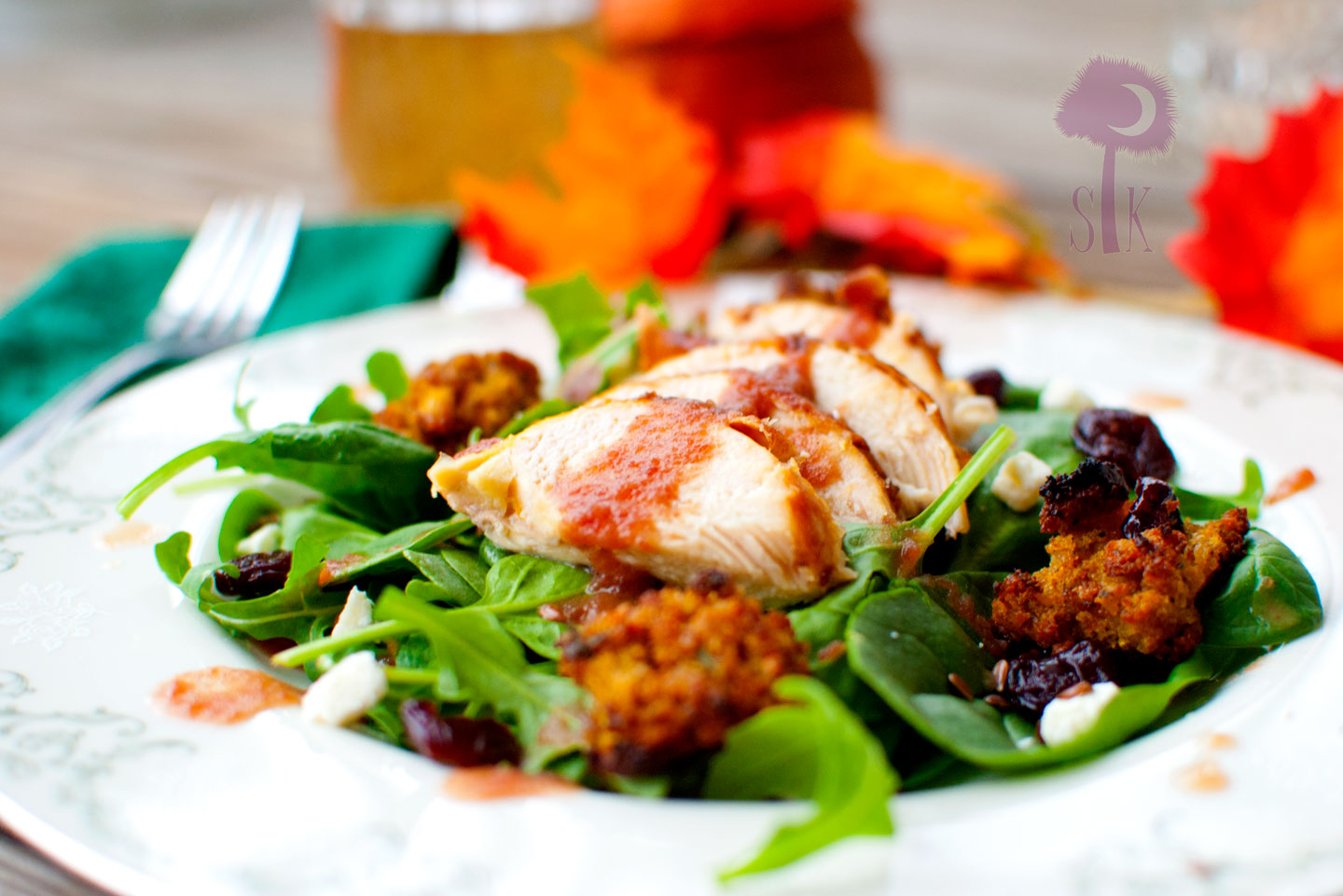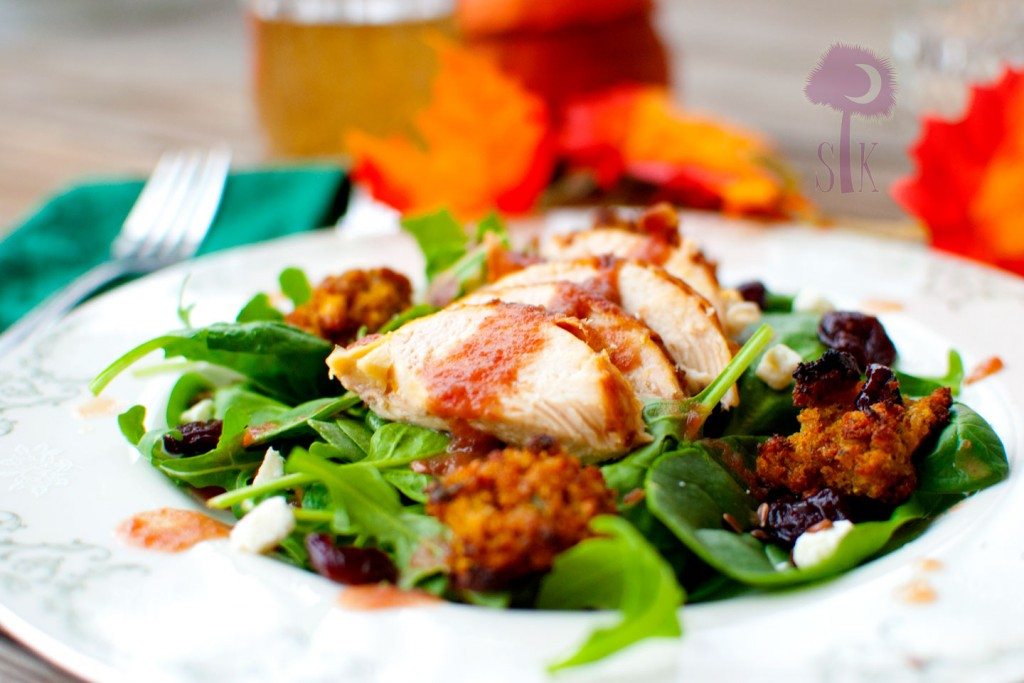 This recipe uses leftover turkey, cornbread stuffing, cranberry sauce, and any other mixed nuts or dried fruits you may have lying around.
This salad is a cinch to make and is the perfect light lunch to get you through the crazy Black Friday crowds! Why not save yourself a few bucks (and a major headache) and stash a container of this in your purse while you maneuver through the mall? Then when it's time to eat lunch you can avoid the lines and the lard laden Food Court and snack on a sensible salad that will energize you instead of drag you down.
And OMG the croutons! The croutons steal the show.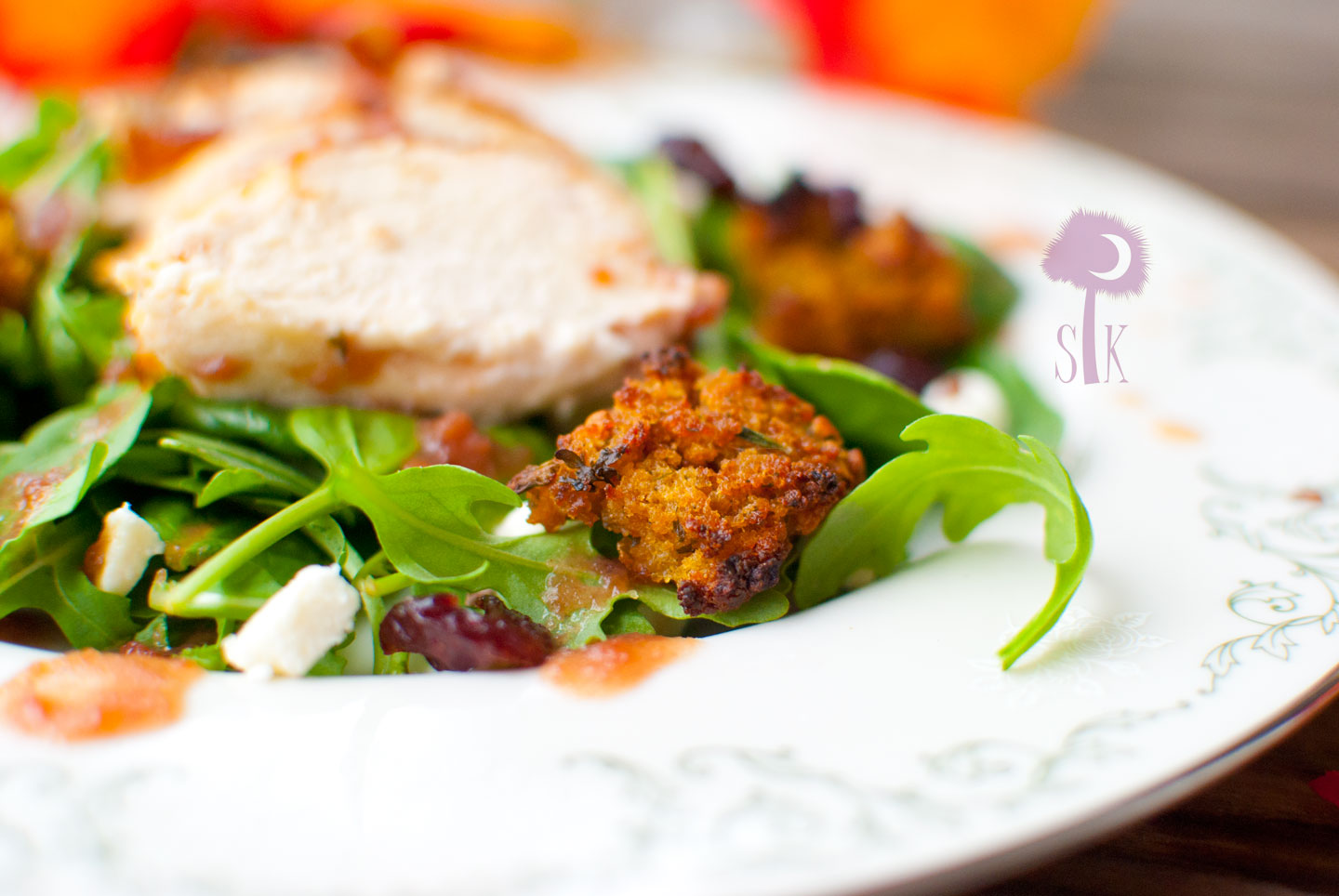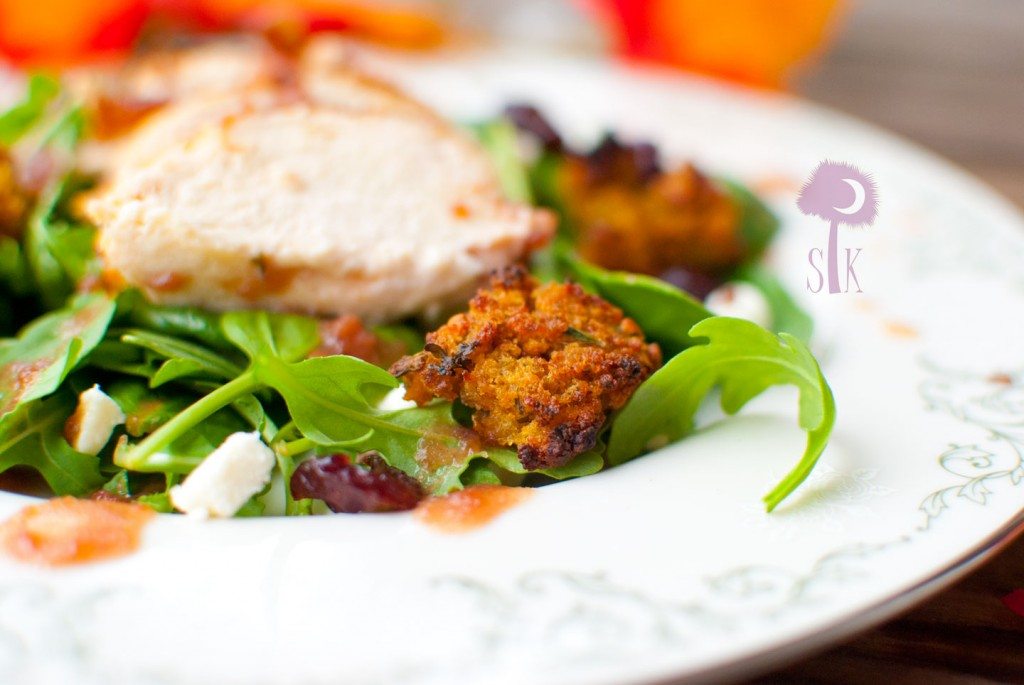 They're like little crunchy pillows of cornbread heaven!
They are nice and toasty on the outside and soft and creamy on the inside, and the texture melds beautifully with the other components of the dish.
This is one of those salads that you can make your own by throwing in anything and everything you happen to have on hand. Candied nuts, random cheeses, steamed green beans, sauteed or raw veggies, white or dark meat...they all will work here.
Just toss it all together, drizzle on the dressing, and feel yourself become full of thanks all over again.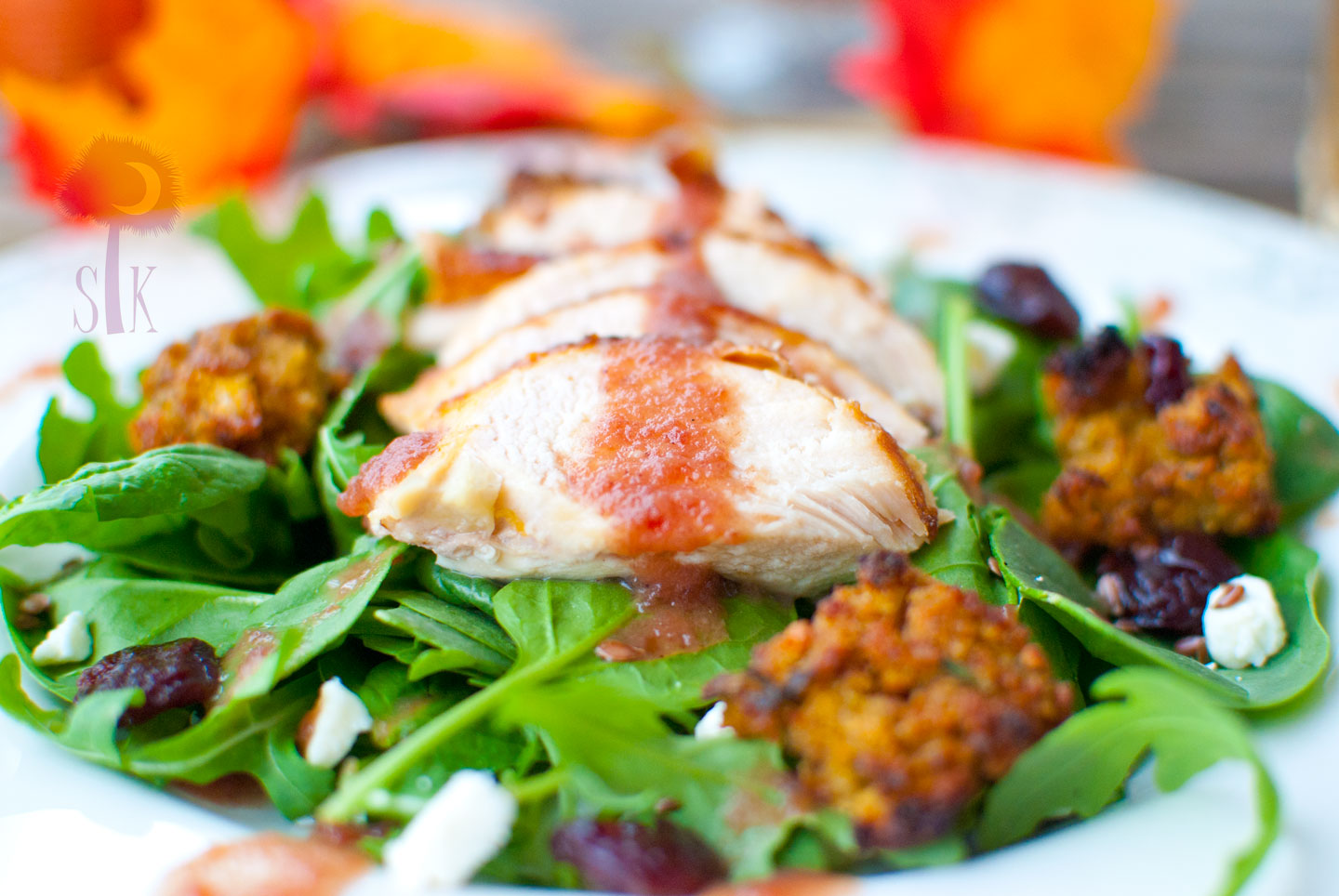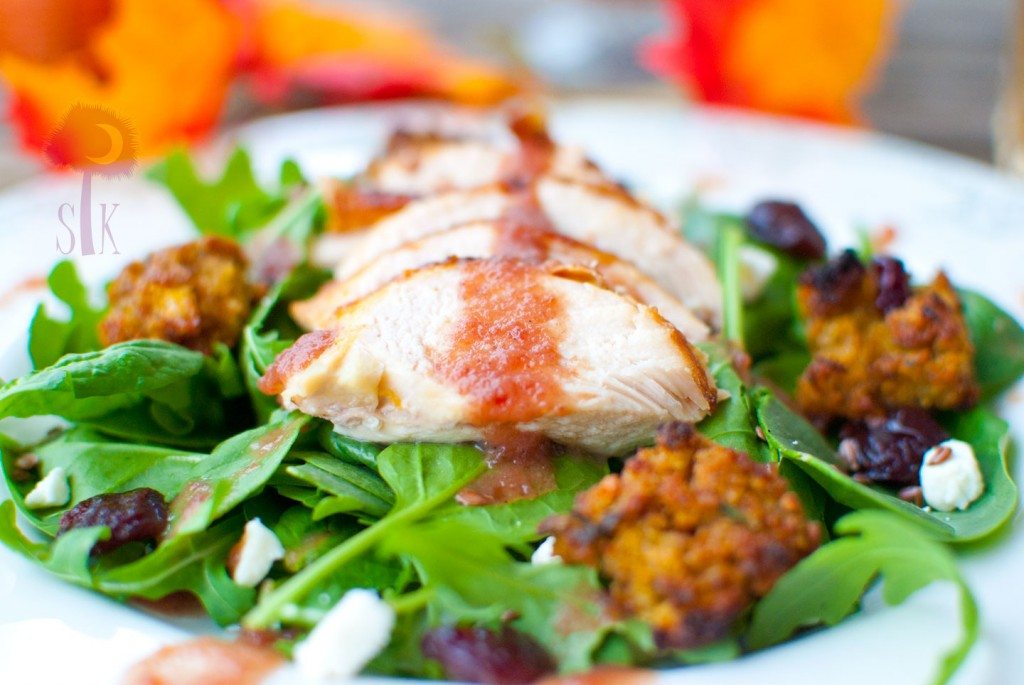 Getting to know you...
What's your favorite Thanksgiving dish?
Do you eat leftovers?
What's your favorite leftover recipe?
Roasted Turkey Arugula Salad w/ Cornbread Croutons & Cranberry Vinaigrette

Print recipe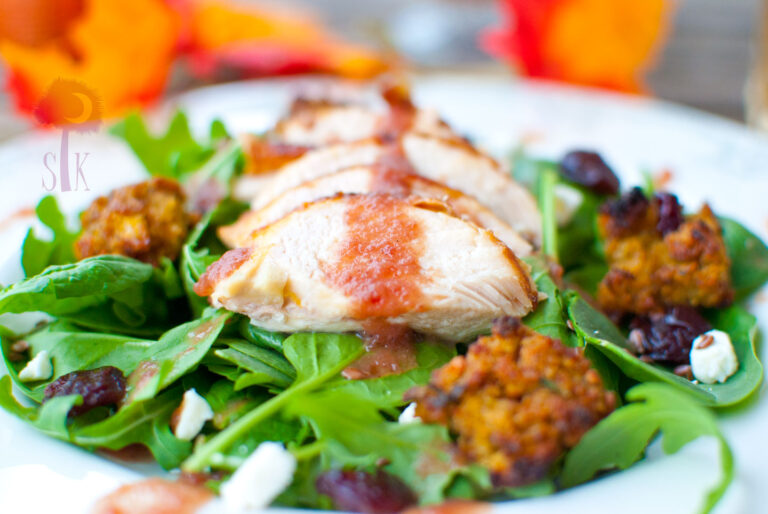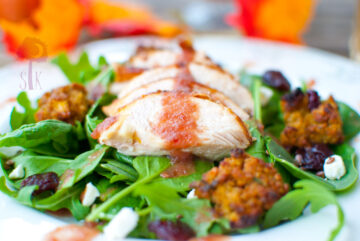 | | |
| --- | --- |
| Serves | 1 |
| Prep time | 3 minutes |
| Cook time | 12 minutes |
| Total time | 15 minutes |
| Meal type | Appetizer, Lunch, Salad, Snack |
| Misc | Child Friendly |
| Occasion | Thanksgiving |
Ingredients
½ cup prepared cornbread stuffing (cut into small cubes)
2 tablespoons cranberry sauce (homemade or canned)
1 tablespoon apple cider or red wine vinegar
1 teaspoon dijon mustard
¼ cup water (or cranberry juice, vegetable or turkey stock)
1 pinch ground cinnamon
1 pinch sea salt
A fewcranks of freshly ground black pepper
2 cups fresh arugula (or mixed greens, spinach, or lettuce of choice)
2 tablespoons dried cherries (or cranberries)
2 tablespoons crumbled feta cheese (or Gorgonzola, goat cheese, brie)
1 tablespoon toasted pecans, chopped (optional)
4oz roasted turkey (white or dark meat)
Directions
Step 1
For the Cornbread Croutons:
Preheat oven to 500 degrees (F). Place the stuffing cubes on a non-stick baking sheet and spritz with olive oil cooking spray. Bake for 10 minutes or until golden brown and crispy. Remove from oven and cool completely.
Step 2
For the dressing:
Combine cranberry sauce, vinegar, mustard and water in a microwave safe bowl and microwave for 1-2 minutes or until the sauce is smooth and melted. Stir, add cinnamon, salt and pepper, and then stir again until well combined. Let cool.
Step 3
Toss mixed greens, dried fruit, nuts, cheeses, and croutons together on a plate or in a bowl then top with turkey. Drizzle with cranberry dressing.
Step 4
Enjoy!