Flavorful butternut squash tacos made with rich and delicious honeynut roasted butternut squash, salty cojita cheese, toasted pumpkin seeds, bright cilantro, and finished with a drizzle of sweet and spicy honey. You'll dream about these tacos for weeks.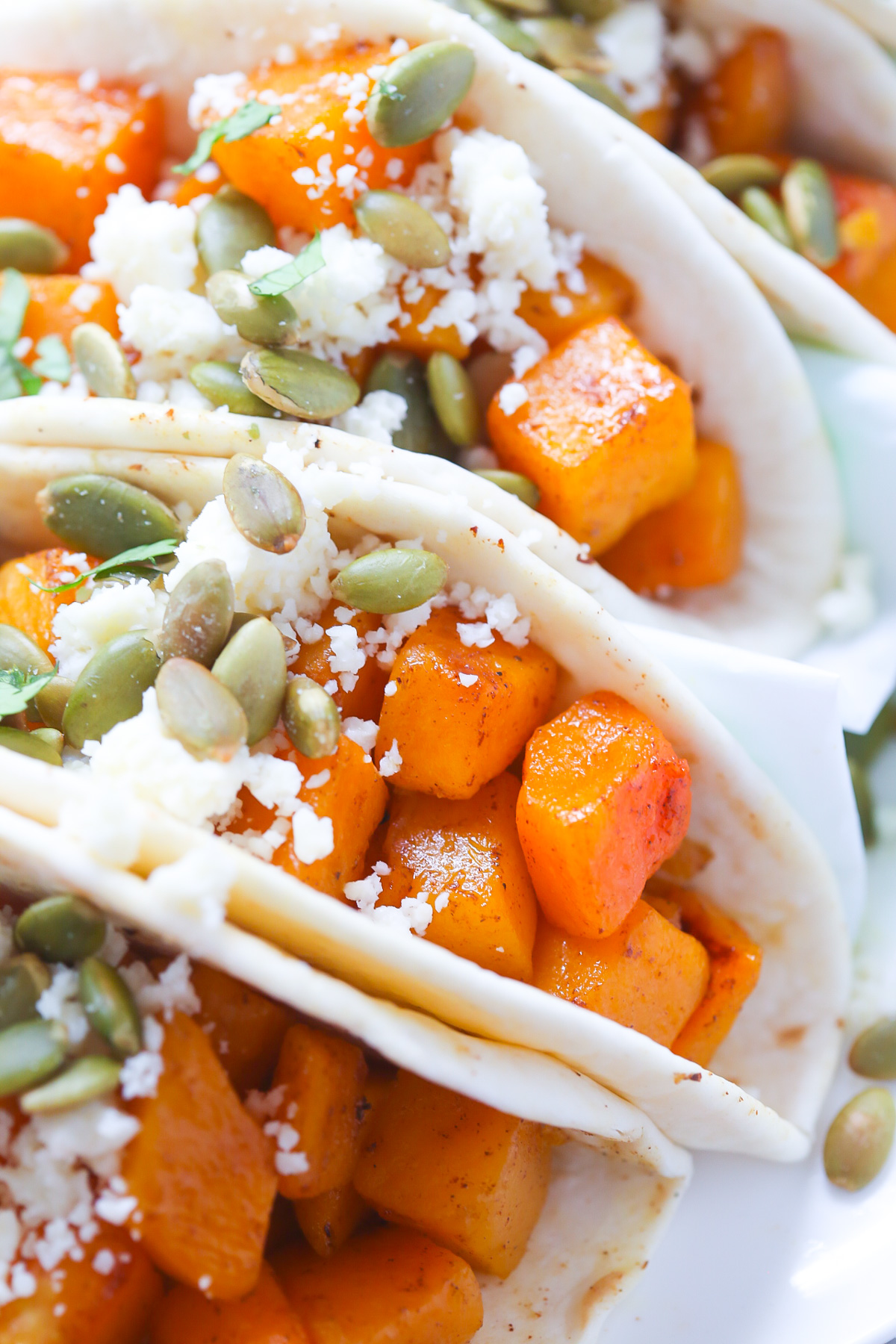 I don't eat vegetarian meals often, but when I do, these butternut squash tacos are number one on my list.
Did you know butternut squash is technically a winter fruit? It is also super healthy for you and nourishes your body with Vitamins A, E, B-6, potassium, niacin, and folate.
When roasted, butternut squash is packed full of flavor making it versatile enough to use in soups, salsas, and these butternut squash tacos.
Roasted Butternut Squash Tacos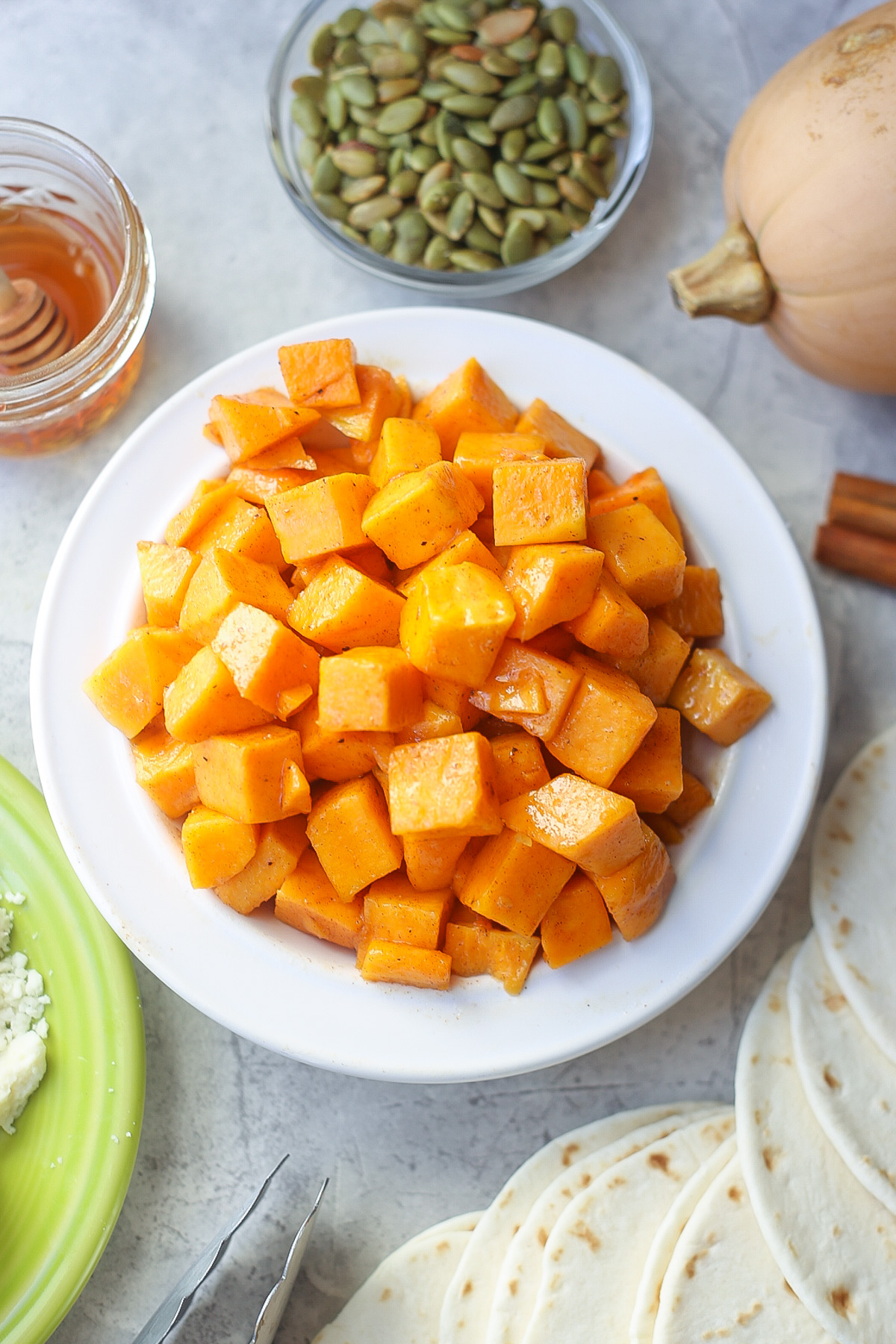 Butternut squash tacos pull together really quickly and can be topped with whatever you like. They're a great option to have on hand for meal planning and are an excellent ministry meal option for your vegetarian family and friends.
How to Make Butternut Squash Tacos:
Butternut Squash: Toss the cubed butternut squash in avocado oil (or light oil of choice), cumin, cinnamon, salt, pepper, and honey, and roast at 400˚F for 10-15 minutes, stir and flip, then continue to cook another 10-15 minutes until caramelized and tender. NOTE: Prepping and cubing your own butternut squash is always best to keep an even roast. But, I'm a mom too, so there is *NOTHING*wrong with taking shortcuts and buying the pre-cubed produce at the grocery store! Just make sure to get the fresh squash, NOT frozen. It's too mushy for these tacos.
Sauce: I've found the only thing you need for these amazing tacos is some good ole Mike's Hot Honey and a squeeze of fresh lime! The honey gives these tacos just a touch of sweet heat and it's insanely swoon-worthy. They're juicy enough without any extra sauce.
Tortillas: Whether you're serving them up on flour or corn tortillas, make sure to warm the tortillas before serving. Simply wrap the tortillas in tin foil and pop them in the oven for the last 5 minutes while the squash is baking, getting them nice and warm. Feel free to char them up in a pan or on the grill if you have time for that.
Cheese & Seeds: I first had a variation of these butternut squash tacos at a restaurant here in Charleston that's no longer around. They were dressed super simple, just as they need to be. A touch of salty cojita (or feta or goat) cheese, a sprinkle of nutty pepitas, some fresh cilantro, a drizzle of Mike's Hot Honey, and maybe a handful of spinach or arugula, is really all you need for the best butternut squash tacos you'll ever eat.
Beans and things: Black beans are the perfect complement to butternut squash. If the tacos themselves aren't enough, serve some black beans and rice on the side to pack in some added protein.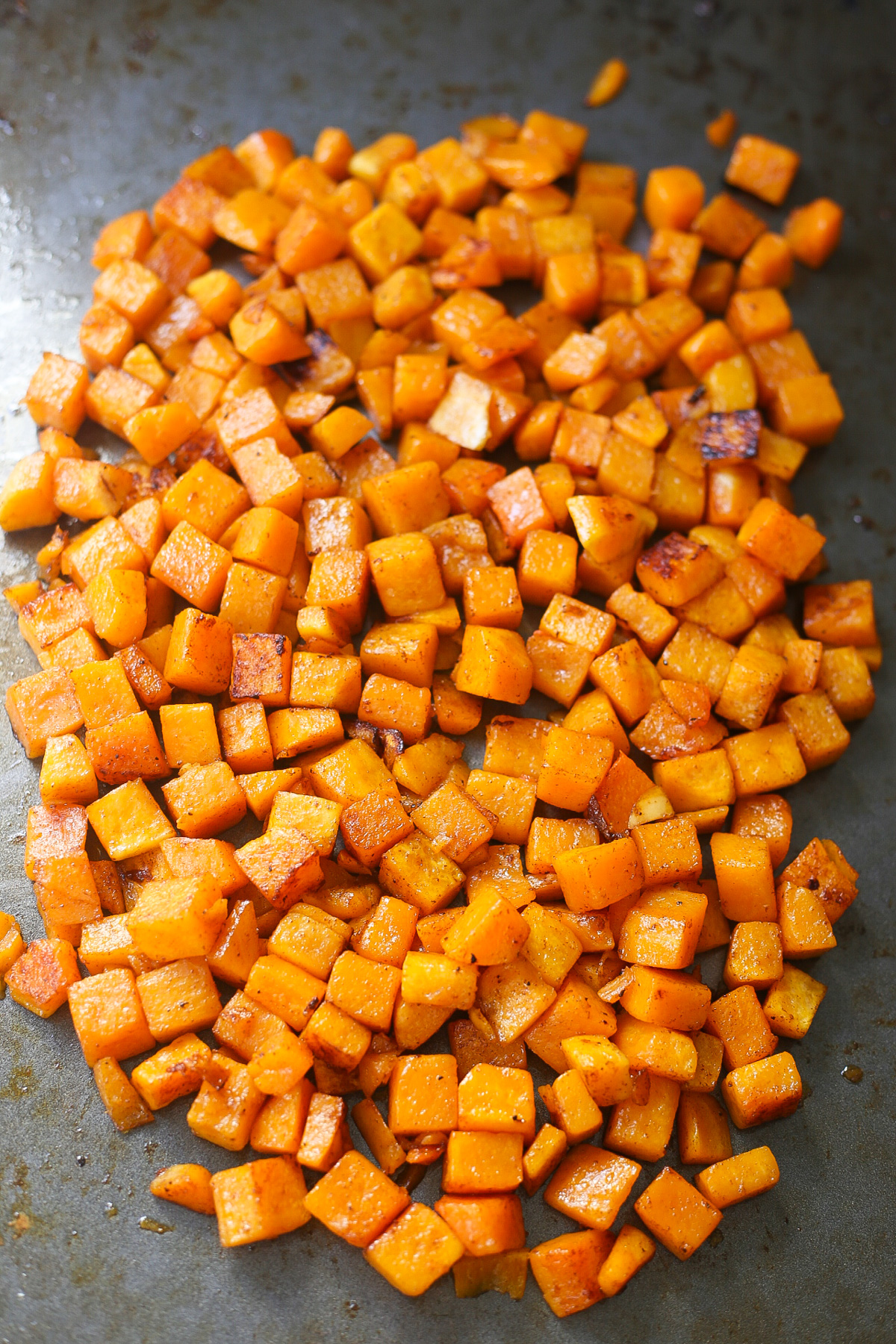 How to Cut Butternut Squash
Slice both ends off of the squash then peel with a vegetable peeler or a paring knife.
Where the butternut squash begins to change shape, cut the squash in half. Next, cut the wider piece in half lengthwise and, using a large spoon, scoop out and discard the seeds.
Continue to cut the squash lengthwise into ¾" slices or steaks. Stack the slices on top of each other then cut into ¾" inch sticks. Finally, cut the sticks crosswise to produce a large 1" dice.
Place the squash on a large baking sheet and toss with spices, honey, and oil.
Roast for 15 minutes, toss, and roast for another 10-15 minutes until tender and caramelized.
Here's a great video on how to cut butternut squash.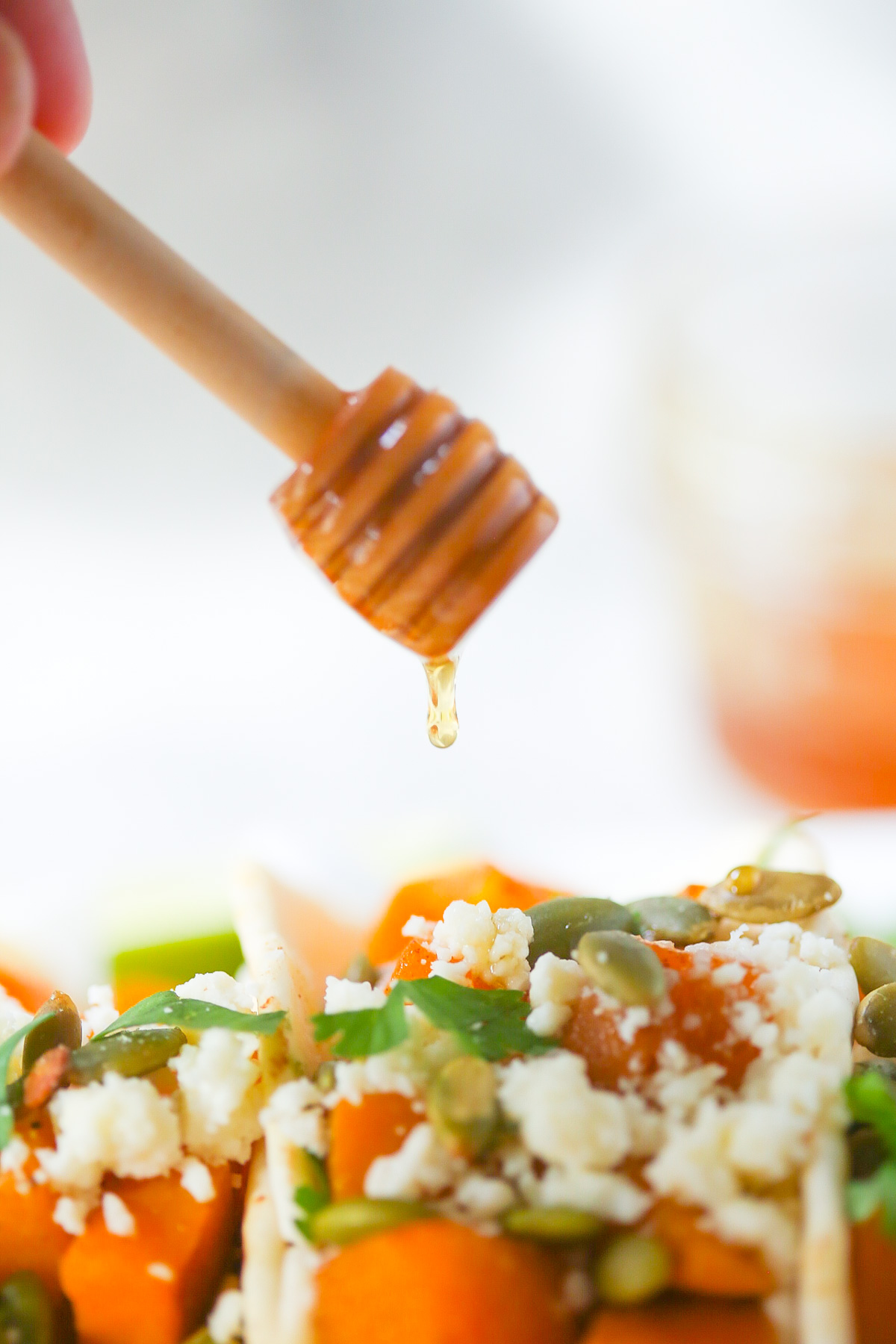 What can I pair with butternut squash?
Butternut squash is so versatile! It pairs well with black beans, quinoa, spinach, risotto, stew, chicken, turkey, and pork.
Can you use butternut squash peel?
You can eat butternut squash peel if you want to, although it may be tough. If you don't want to peel the skin before roasting, you don't have to. Just roast as directed without peeling and serve!
Is butternut squash a carb?
Yes! Butternut squash is a carb so it's best not to eat on a keto diet.
Other Butternut Squash Recipes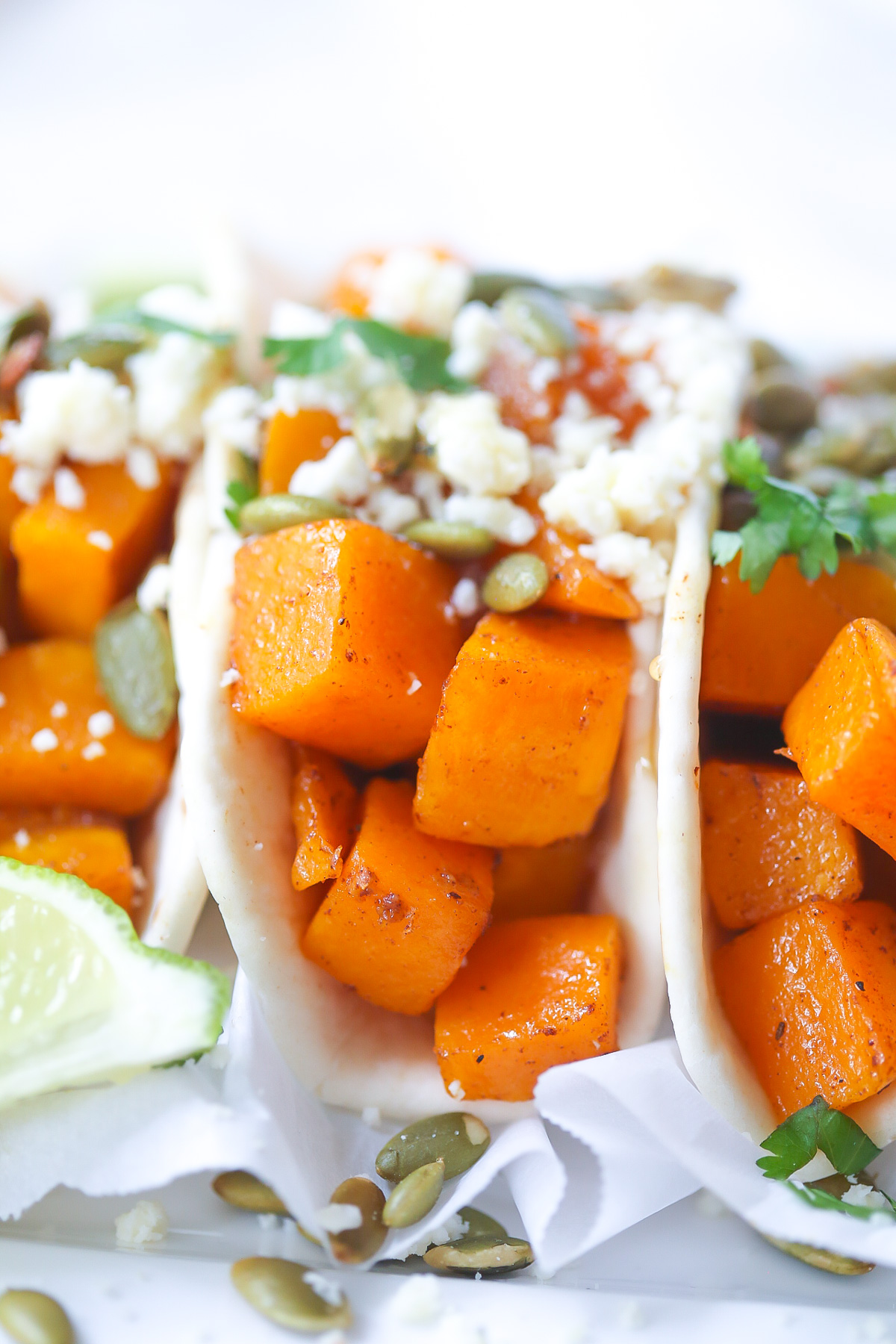 Butternut Squash Tacos Variations
To make this recipe vegan: Either leave out the cojita completely or sub your favorite vegan feta. Whole foods and Trader Joe's has a vast array of vegan-friendly cheeses that taste great. You can't leave out the hot honey though! To keep it vegan friendly, try this homemade vegan-friendly version instead.
To Make this gluten-free: As long as you use certified gluten-free spices and corn tortillas, this recipe should be totally gluten-free.
To make this keto-friendly or low-carb: Although butternut squash isn't necessarily keto-friendly or low-carb within itself, you could make it lower in carbs by skipping the tortillas and opting for a bed of fresh spinach &/or arugula or mixed greens and using a sugar-free honey alternative.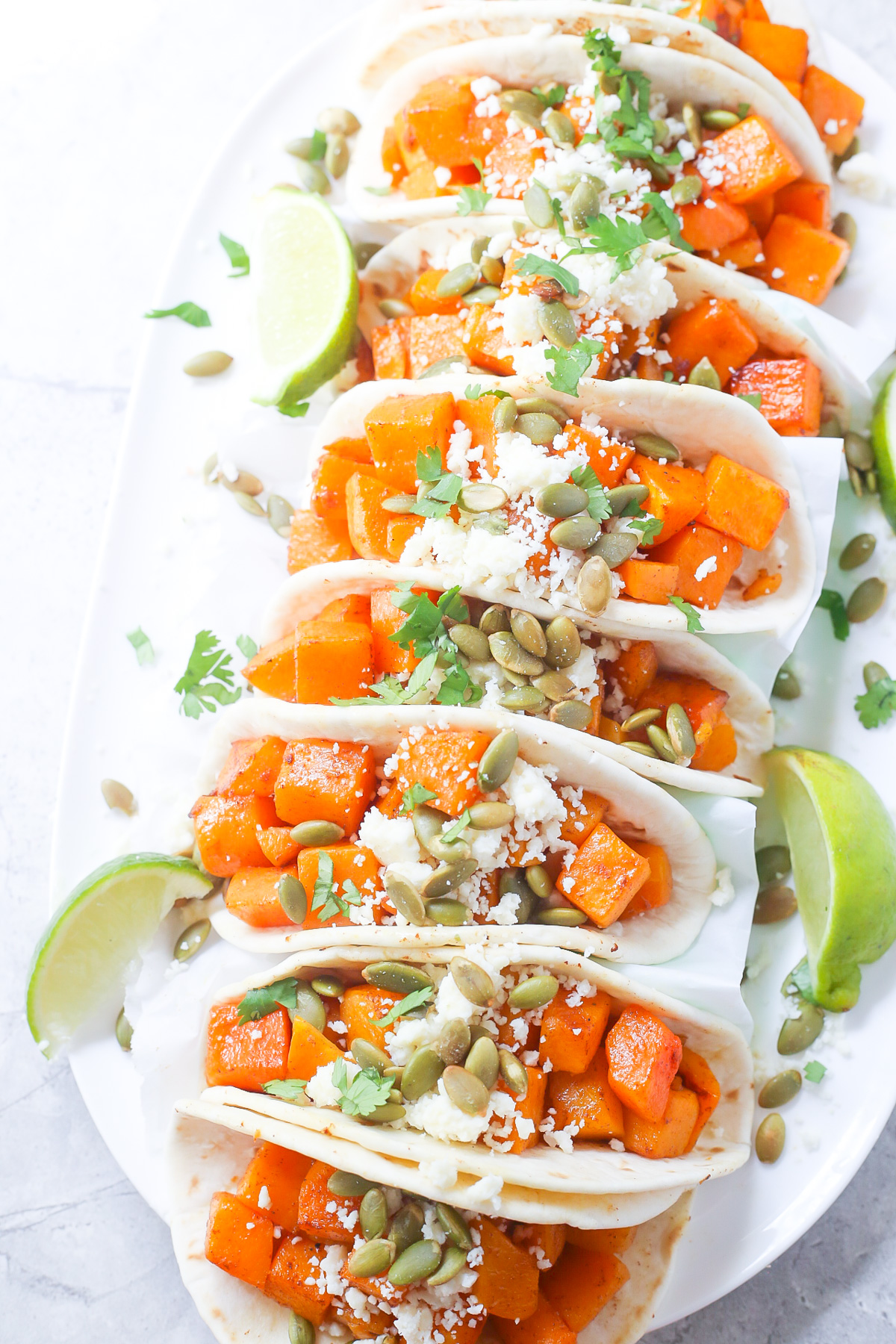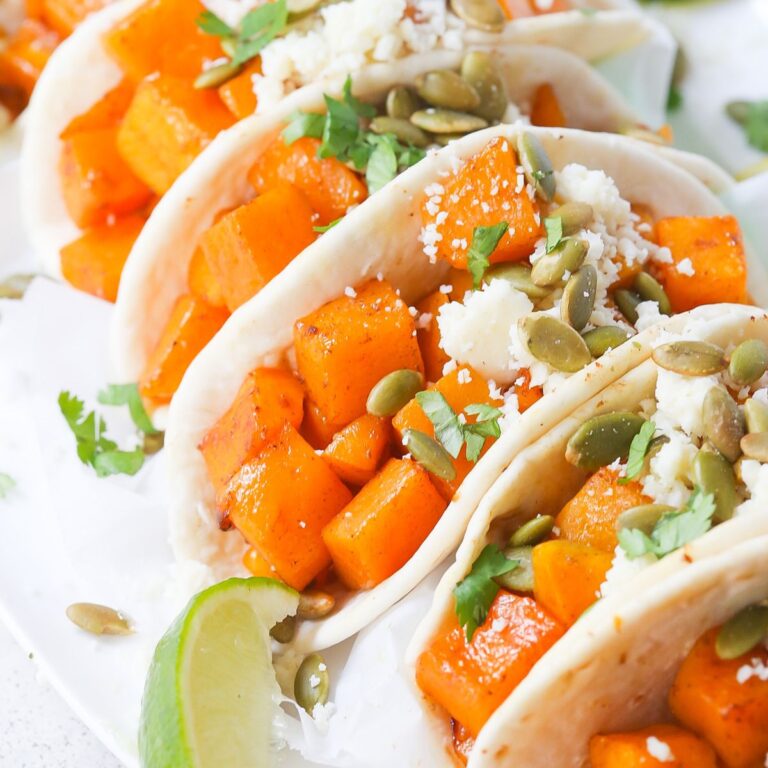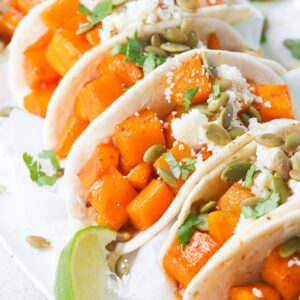 Honeynut Butternut Squash Tacos
These honeynut butternut squash tacos are a delicious fall vegetarian meal made with the perfect amount of sweet heat and are brightened by a squeeze of fresh lime juice.
Print
Rate
Ingredients
For the Honeynut Butternut Squash Tacos:
1

medium

room temperature butternut squash (about 4-5 cups)

peeled, seeded, and diced into 1" cubes

2

cloves

fresh garlic, peeled and finely minced

or ½ teaspoon garlic powder

1

teaspoon

ground cumin

¼

teaspoon

ground cinnamon

½

teaspoon

fine sea salt

¼

teaspoon

freshly ground black pepper

2

tablespoon

Mike's Hot Honey

or regular honey if you don't like spicy

2

tablespoon

avocado oil

or light oil of choice

12

corn or flour tortillas

Cojita cheese, chopped fresh cilantro, roasted pepitas, fresh lime wedges, black beans and rice, and additional Mike's Hot Honey for topping and serving
Instructions
To Make the Butternut Squash Tacos:

Preheat oven to 400˚F and add diced butternut squash to a large baking sheet.

Sprinkle squash with garlic, cumin, cinnamon, salt, pepper, honey, and avocado oil and toss well to combine, making sure everything is evenly coated.

Spread evenly into one layer and bake for 10-15 minutes. Remove from oven, toss and flip to brown on the other side, and continue to bake for another 10-15 minutes or until crisp tender and caramalized golden brown.

In the last 5-8 minutes of baking, wrap your corn or flour tortillas up in some alluminum foil and place in the oven with the butternut squash to warm through.

Assemble the tacos by placing a scoop of roasted butternut squash into a tortilla and topping with cojita cheese, roasted pepitas, fresh cilantro, a squeeze of fresh lime, and a drizzle of Mike's Hot Honey. Serve alongside some black beans and rice or some Butternut Squash and Black Bean Salsa and Chips.