Roasted butternut squash and black bean salsa has a spicy-sweet heat and is an easy fall appetizer to serve yourself as we begin the race toward the holidays!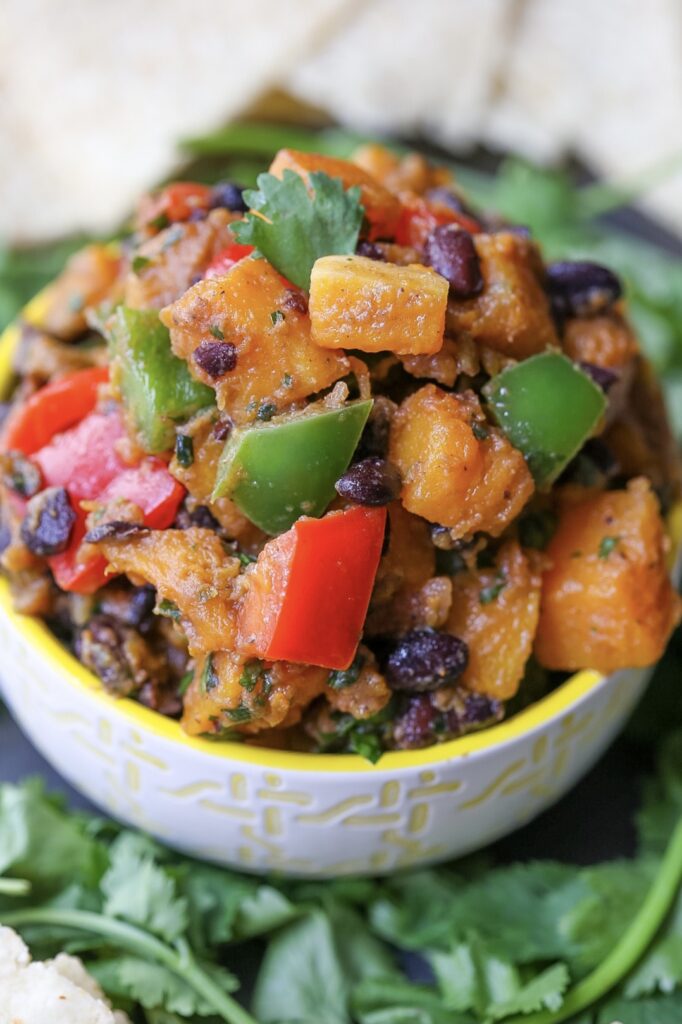 My husband and I stood over this bowl of butternut squash and black bean salsa digging our chips straight into the bowl and scarfing it down like two starving little piggies.
It didn't stand a chance.
Now that it's fall and the holidays are officially upon us, I wanted to revamp one of my tried and true, easy appetizer recipes that is perfect to serve at Thanksgiving or Friendsgiving or whatever celebratory hoopla you choose to celebrate in November.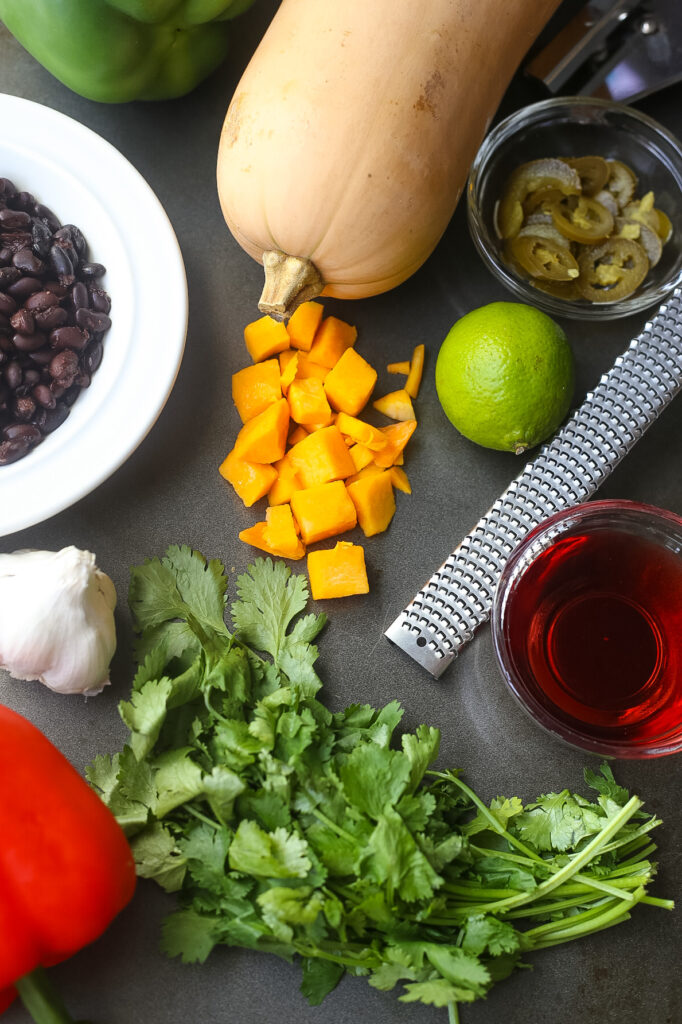 COOKING BUTTERNUT SQUASH
The best thing about this butternut squash salsa recipe is that it is super versatile. You can use any kind of butternut squash you'd like.
I've tried it all, and it all turns out scrumbdiddltyuptious. It all depends on your preferences. Pre-cubed squash is great. Who doesn't love saving that extra step?!? Frozen squash also works too!
Have a whole squash you want to roast? No problem! Just cut in half, scoop out the seeds, lay flesh side down on a baking sheet, and roast at 425 degrees (F) until fork tender.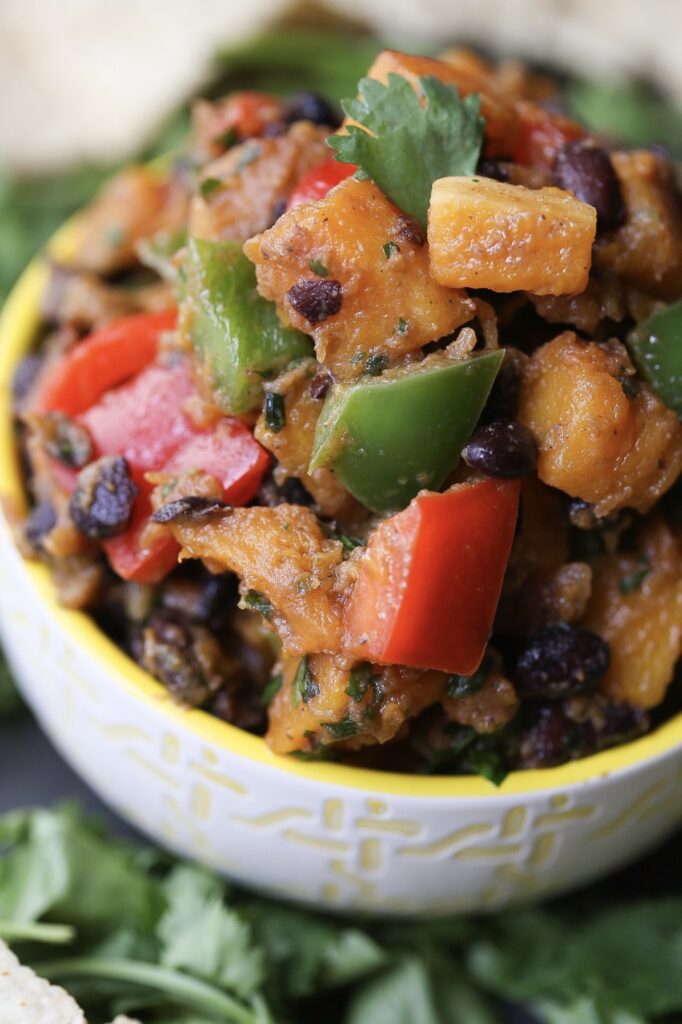 ROASTED BUTTERNUT SQUASH & BLACK BEAN SALSA
This salsa is so fabulous! Seriously. I know "roasted butternut squash and black bean salsa" may sound a little strange, but I swear it is incredible. Your family will beg for it for the holidays!
The golden butternut squash sweetens the salsa and slowly whispers the words, "Fall has arrived." The gorgeous gourd envelops the black beans with a warm, seasonal blanket, and the salsa is sprinkled with a smokiness and a hint of spicy heat.
Now about those spices. They are a MUST. The spices jazz up the flavor so, so much, and the butternut squash salsa is just too bland without them. Whatever you do, don't leave out the spices!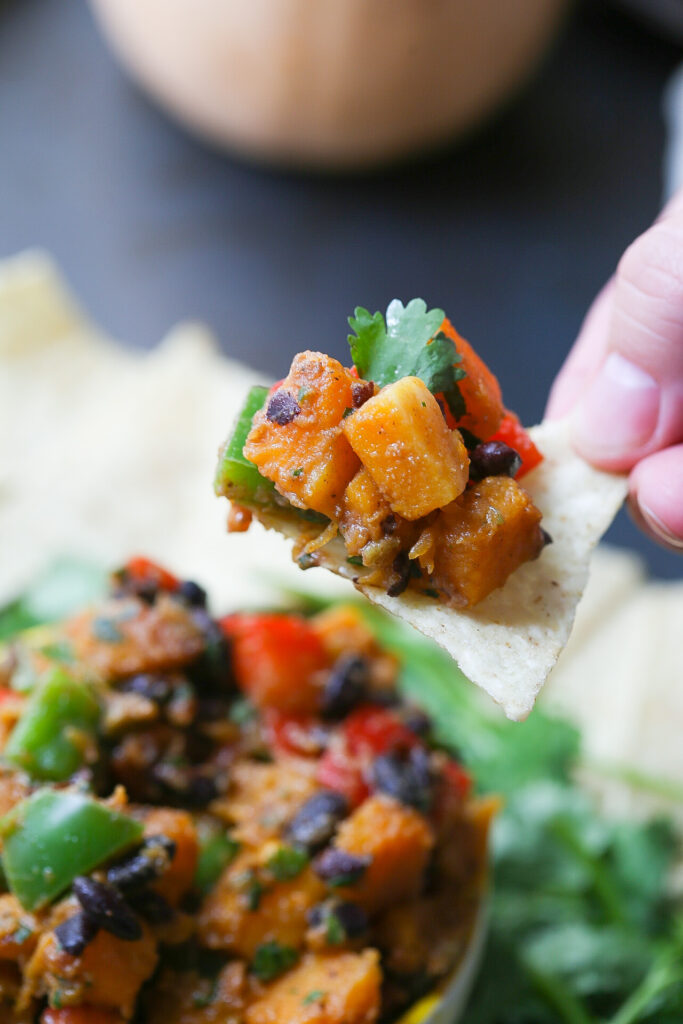 Serve this salsa warm with homemade tortilla chips, cold with crisp celery, or alongside Lemon Pepper Chicken Thighs, or served on top of salads or tacos.
If you're anything like me, you won't be able to stop eating this stuff, which is totally fine since it's practically loaded with ingredients that are good for you.
But I can almost guarantee, as soon as you've licked the bowl clean, you're going to gather up the ingredients and make yourself some more.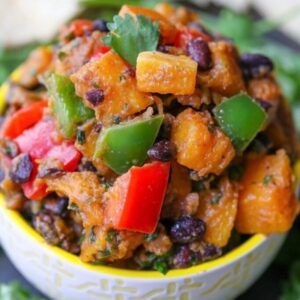 Roasted Butternut Squash and Black Bean Salsa
ROASTED BUTTERNUT SQUASH AND BLACK BEAN SALSA HAS A SPICY-SWEET HEAT AND IS A GREAT FALL APPETIZER TO EAT AS YOU BEGIN THE RACE TOWARD THE HOLIDAYS.
Print
Rate
Instructions
Roasted Butternut Squash & Black Bean Salsa:

Preheat oven to 400 degrees (F). Cut squash in half, and scoop out seeds.

Drizzle with 1 tablespoon oil, sprinkle with just a pinch of salt & pepper, and  place on a baking sheet, flesh side down. Note: If using pre-cubed squash, spread squash in an even layer on the baking sheet. Roast until fork tender, about 35-45 mins.

While squash is roasting, whisk together vinegar, lime juice, honey, and spices in a large bowl until well combined. Slowly drizzle in the remaining ⅓ cup of oil until dressing becomes thick and smooth. Set aside.

Once squash is cool enough to touch, scoop out the flesh and chop into bite size pieces. NOTE: Don't worry about it if it doesn't really stay in perfect cubes. It will break apart as the butternut squash salsa is mixed.

Add squash, black beans, onions, peppers, and jalapenos to the vinegar mixture and gently stir until everything is well coated in the dressing. Adjust the salt and pepper, if needed, and fold in freshly chopped cilantro.