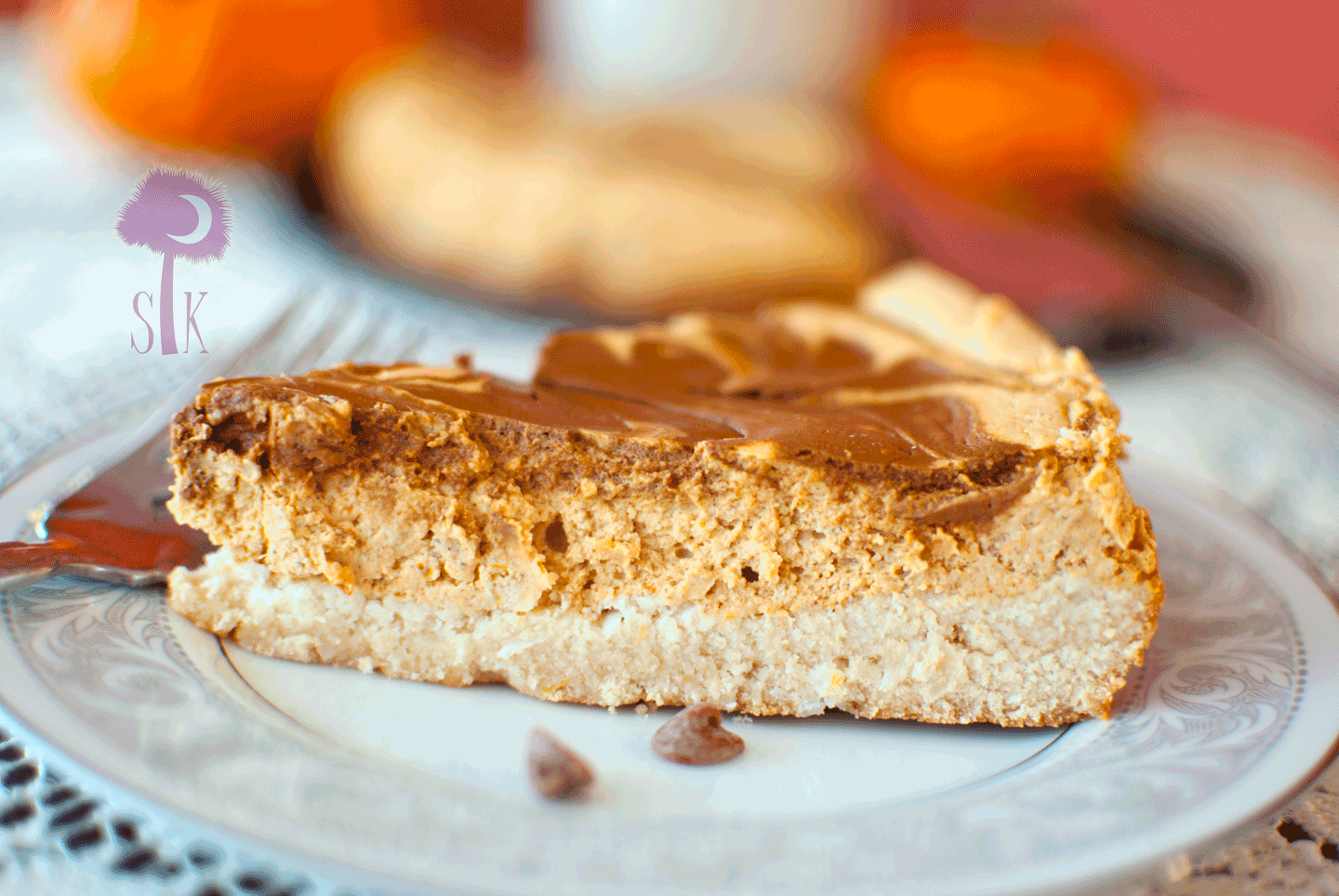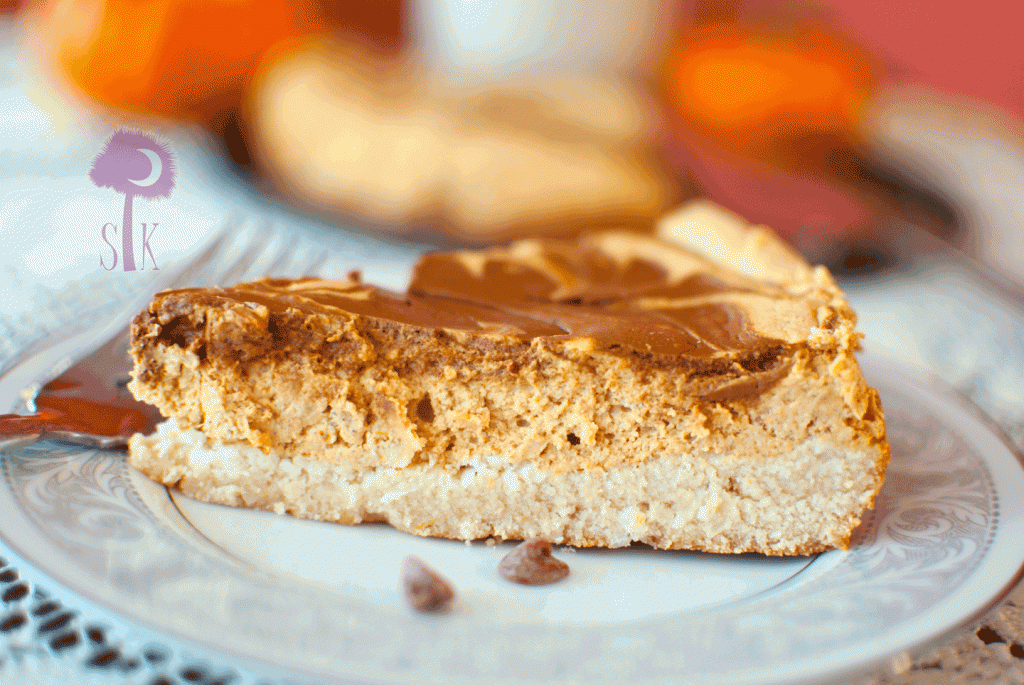 Oops...I did it again...
I made yet another pumpkin recipe. I promise this is the last one for a while!
Unless you don't want that to be the case...because I could easily change the name of this blog to Pumpkin Pickin's Kitchen and be just as happy.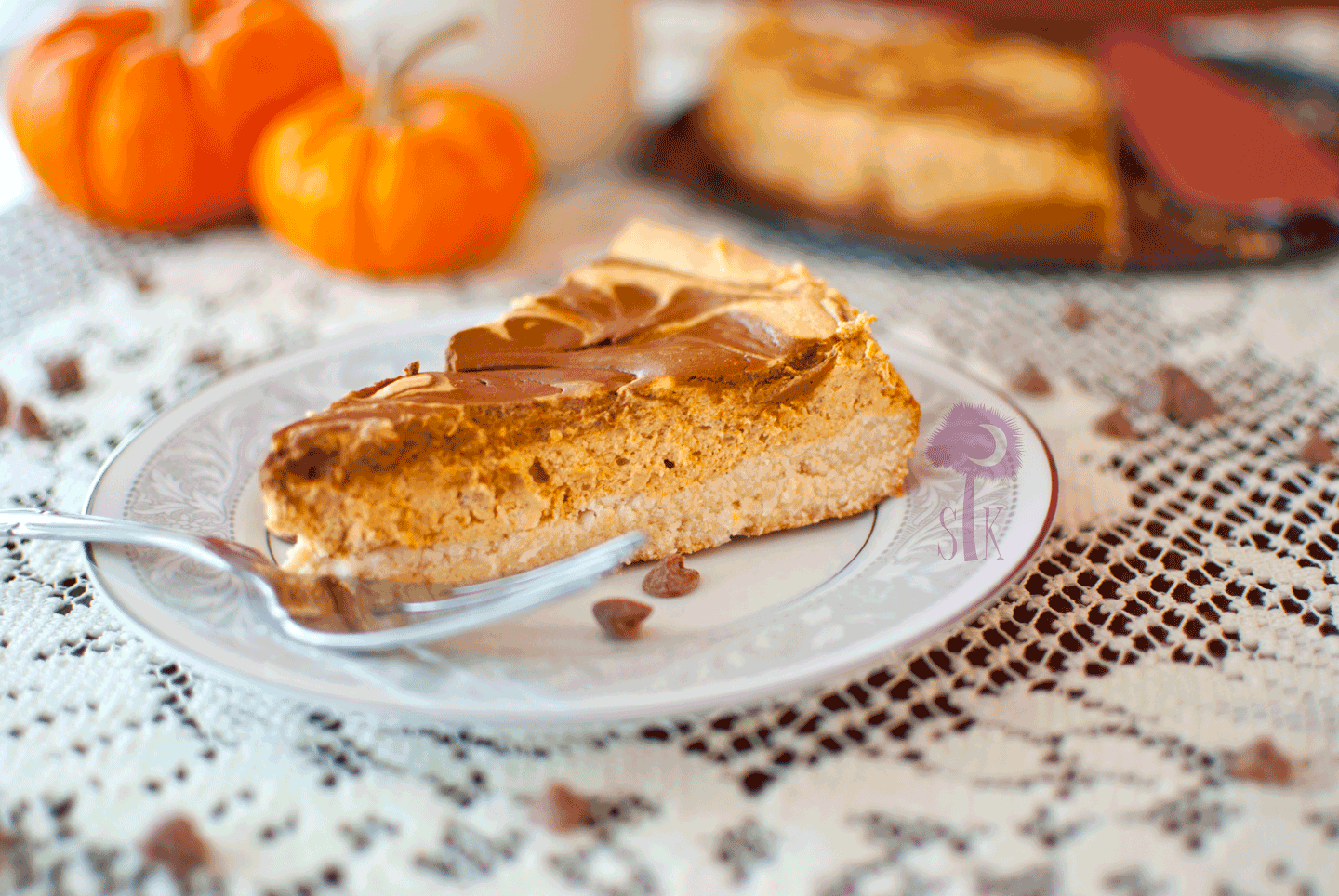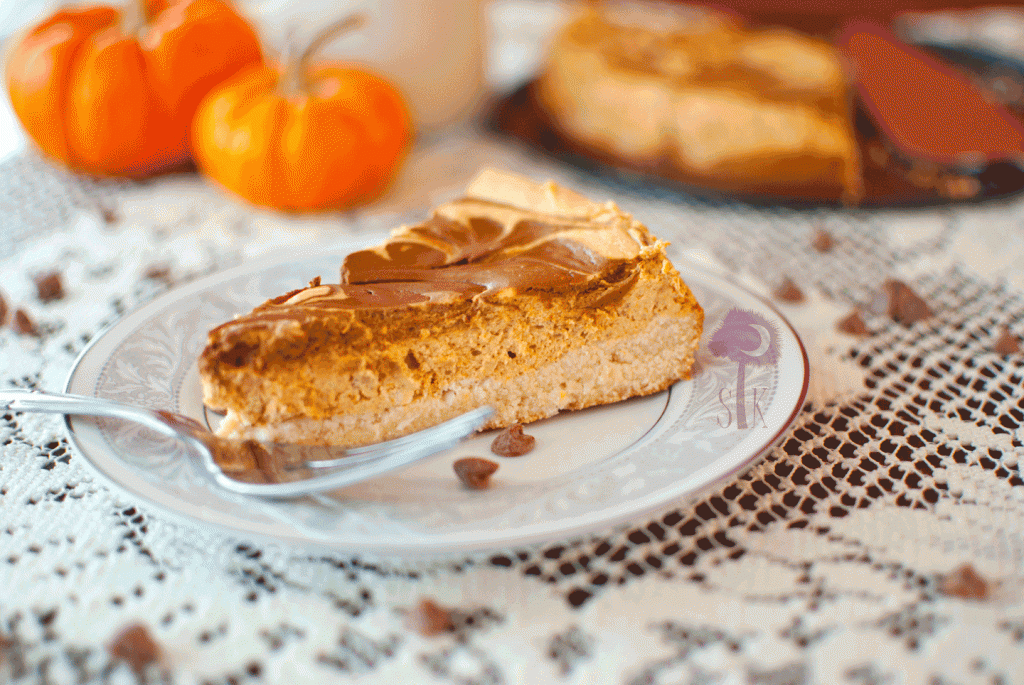 Sooo...have y'all ever had the pleasure of diving face first into a bag of Hershey's cinnamon chips?
Those little morsels of goodness are so dang good, but the problem is they aren't the easiest ingredient to find in my neck of the woods.   My MIL took me to a random grocery store the other day, and I finally found the cinnamon chips I have been just dy-ing to get my hands on for what seems like forever and ever amen.
I left the store with no less than four bags, and I have every intention of using every last one of them.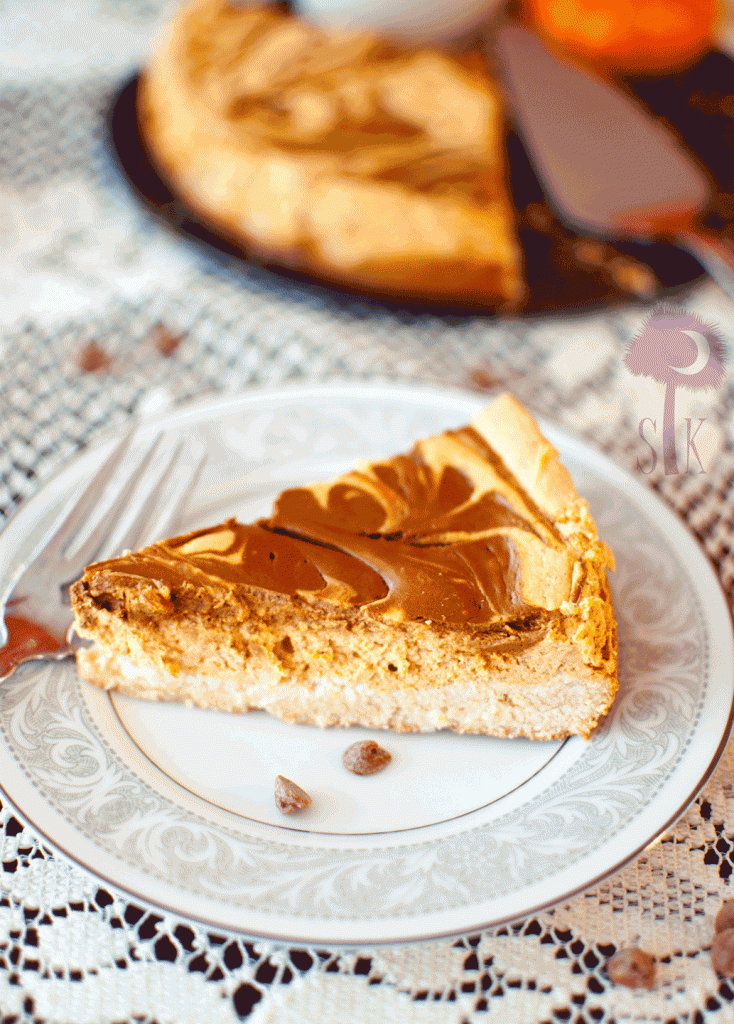 This recipe is probably one of my favorites so far because it's so dang easy.
Oh...and the ingredients I used were incredibly healthy and, depending on the crust you use, this can totally be gluten free!
It is also packed with protein because of the use of greek yogurt PLUS all of the other ingredients (besides the cinnamon chips) are all natural & organic so this cheesecake is not only delicious...but it's good for you too!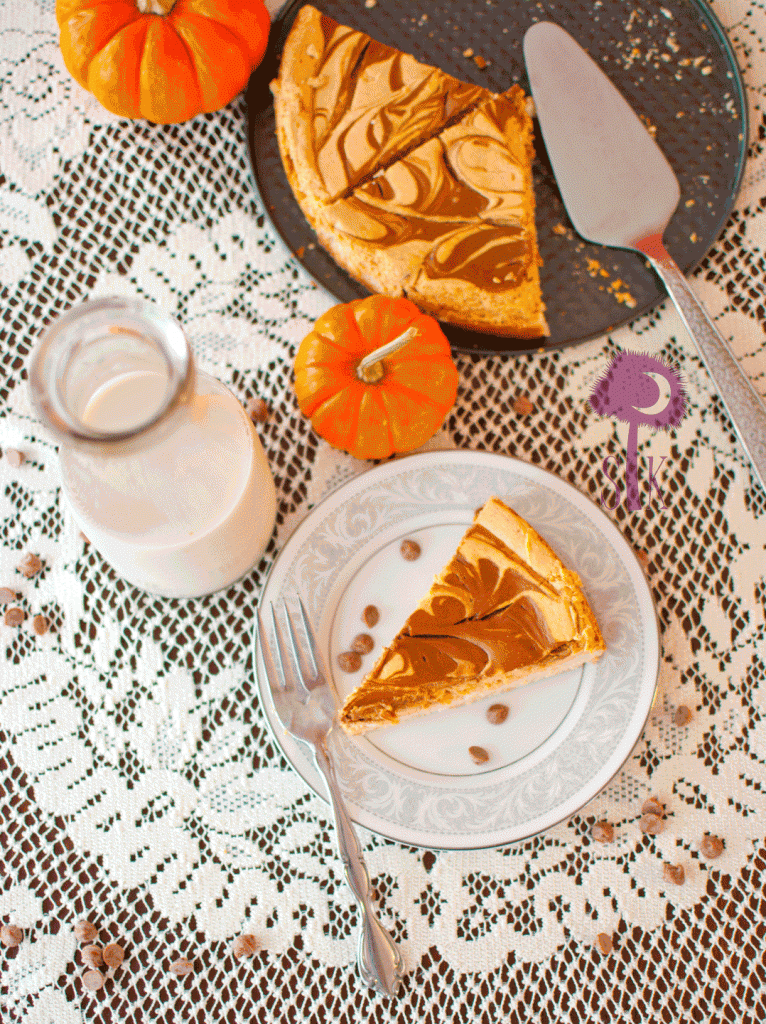 You can also make this stupidly low in calories by changing up the pie crust as well.
I have been experimenting with coconut flour recently, and I followed this recipe for the crust in the pics, but I subbed 2 egg whites and 1 whole egg for the 3 eggs that recipe calls for. I baked it off for about 10 minutes, and then dumped the rest of the filling into it and finished it off.
What resulted was a thick and creamy, fluffy and yummy cheesecake that you don't have to feel guilty about eating...and it was cooked and cooling in less than 30 minutes.
Now that's my kind of recipe 🙂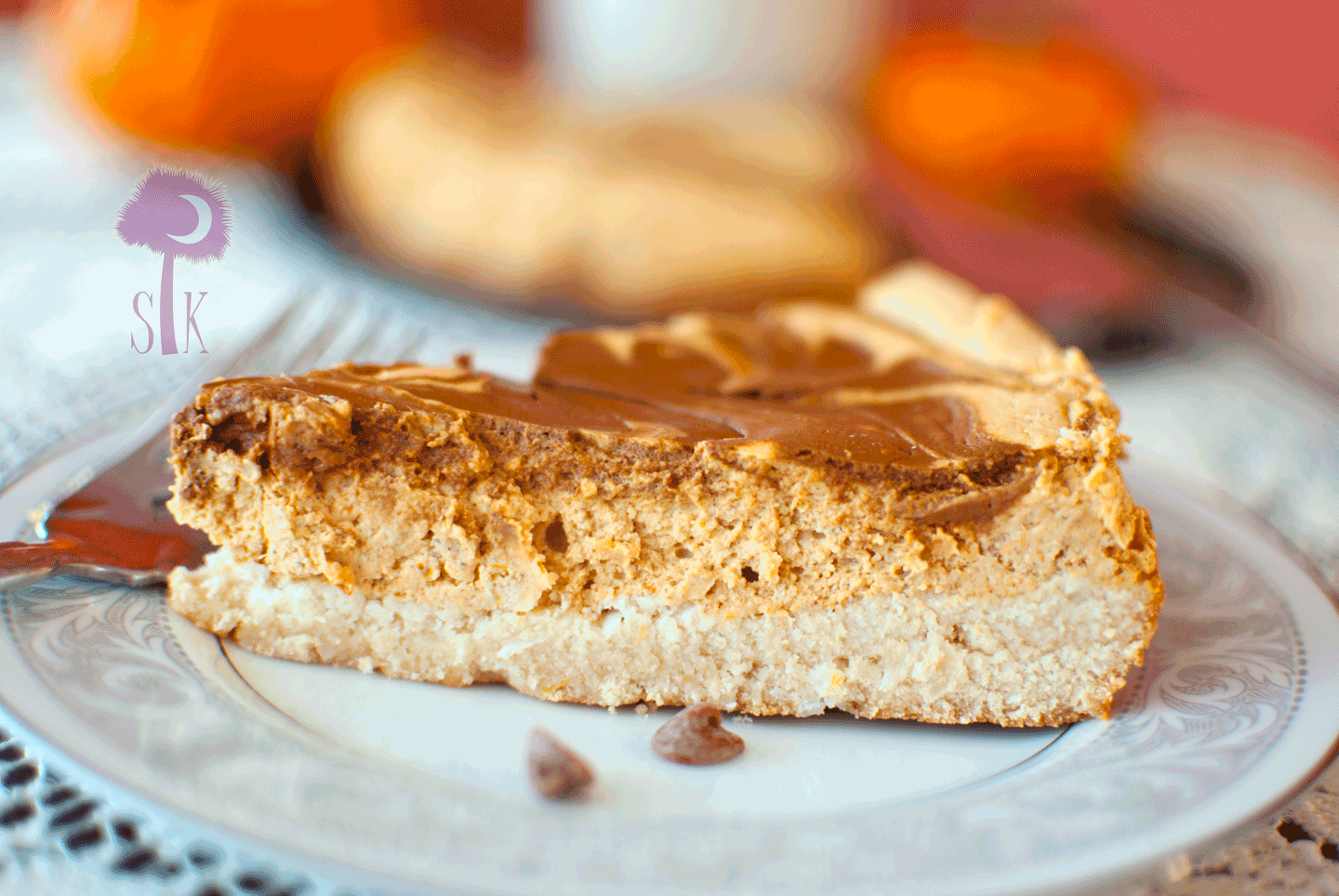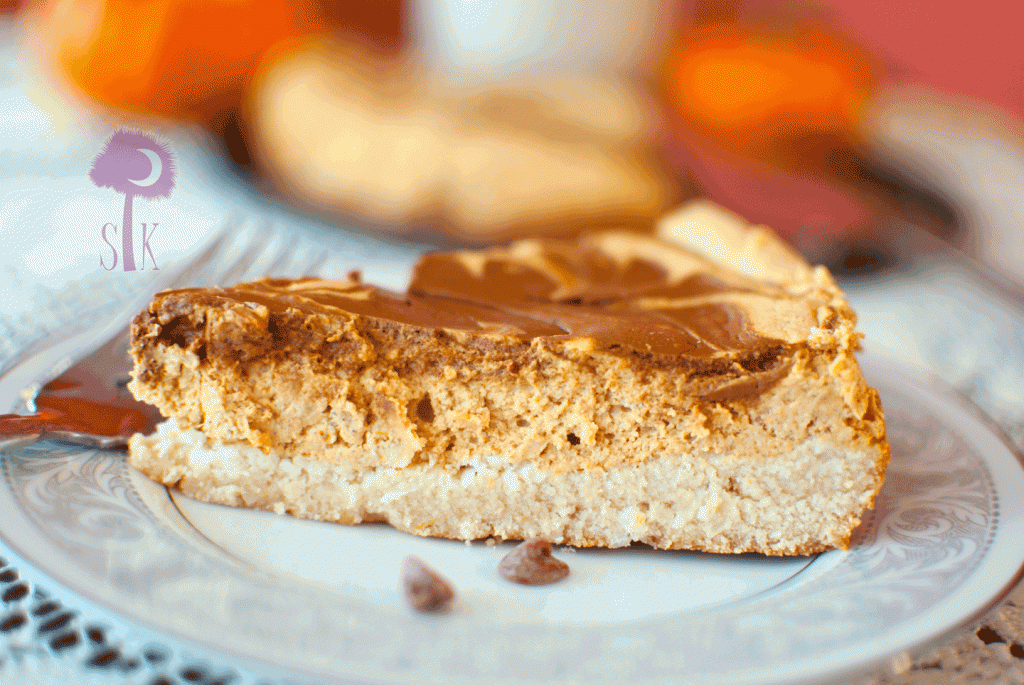 Getting to know you...
Wha'ts your favorite cheesecake flavor? After pumpkin, my 2nd fav flavor would have to be banana pudding! So good! 
Have you ever used cinnamon chips? This is actually the 1st time I've ever used them personally!
Do you cook with coconut flour? I'm liking it so far, but the crust did seem a wee bit dry...Maybe I'll add more oil next time. 
Greek Yogurt Pumpkin Spice Cheesecake with a Chocolate Cinnamon Swirl

Print recipe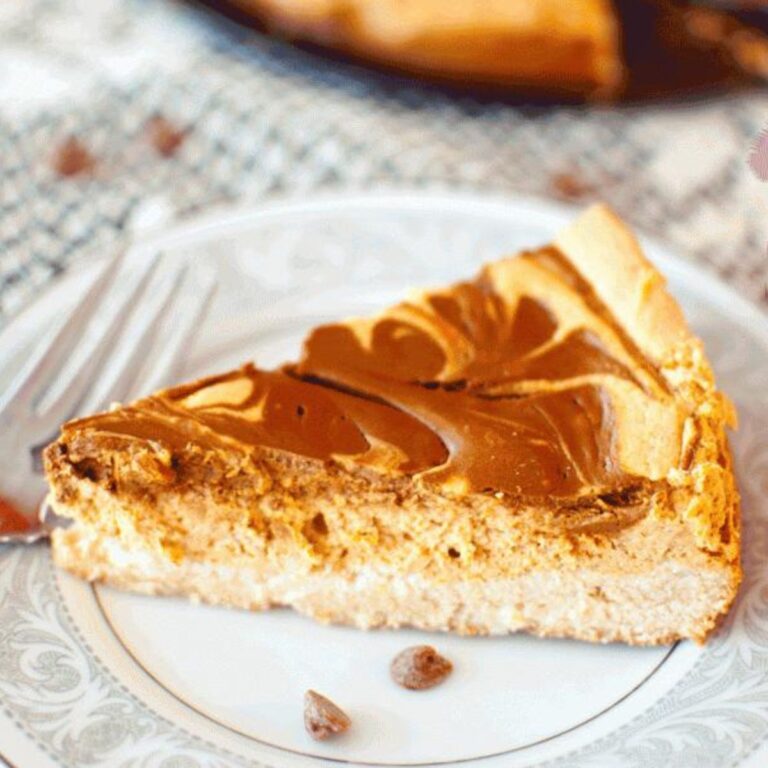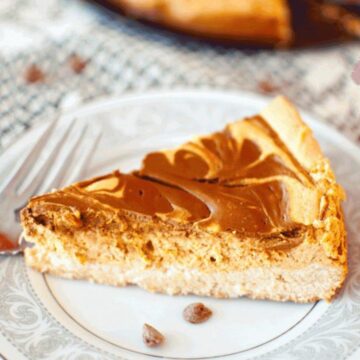 | | |
| --- | --- |
| Serves | 12-14 |
| Prep time | 5 minutes |
| Cook time | 25 minutes |
| Total time | 30 minutes |
| Allergy | Egg |
| Dietary | Diabetic, Gluten Free |
| Meal type | Dessert |
| Misc | Serve Cold |
| Occasion | Halloween, Thanksgiving |
| Website | Recipe adapted from Skinnytaste |
Ingredients
8 oz Organic Valley Neufchatel cheese (softened, or ⅓ fat cream cheese)
¼ cup Stevia in the Raw
1 teaspoon pure vanilla extract
1 pinch sea salt
6oz + ¼ cup plain, nonfat Chobani Greek yogurt (separated)
¾ cups all natural pumpkin puree
2 Large egg whites (cage free, vegetarian fed)
1 tablespoon organic coconut flour
2 teaspoons pumpkin pie spice
1 crust of your choosing (scratch made, graham cracker, etc. prebaked for 10 minutes)
½ cup Hershey's Cinnamon Chips
1 tablespoon organic cocoa powder
Note
*WWpts= 2 pts per serving*
*WWpts+= 3 pts per serving*
NOTE: Nutrition information is based on filling only!!!
Directions
Step 1
Preheat oven to 350 degrees (F).
Step 2
In a large bowl, beat cream cheese, stevia, vanilla, and salt until smooth. Slowly beat in 6 oz. greek yogurt, pumpkin, egg whites, and flour and continue beating until smooth and fluffy.
Step 3
Pour pumpkin mixture into a standard pie crust of your choosing then tap the pie pan/cake pan against the countertop a couple of times to release any air bubbles that may have formed in the batter.
Step 4
Add the cinnamon chips to a small bowl and microwave in 30 second increments until melted.
Step 5
Stir in the remaining Greek yogurt and cocoa powder and continue stirring until well mixed.
Step 6
Add 5-6 dollops of the cinnamon chip mixture onto the top of the cake and, using a butter knife or toothpick, swirl the chip mixture through the cheesecake mixture creating pretty designs.
Step 7
Bake for 25-30 minutes or until the middle is almost set.
Step 8
Let cool then refrigerate until ready to serve.
Step 9
Enjoy!