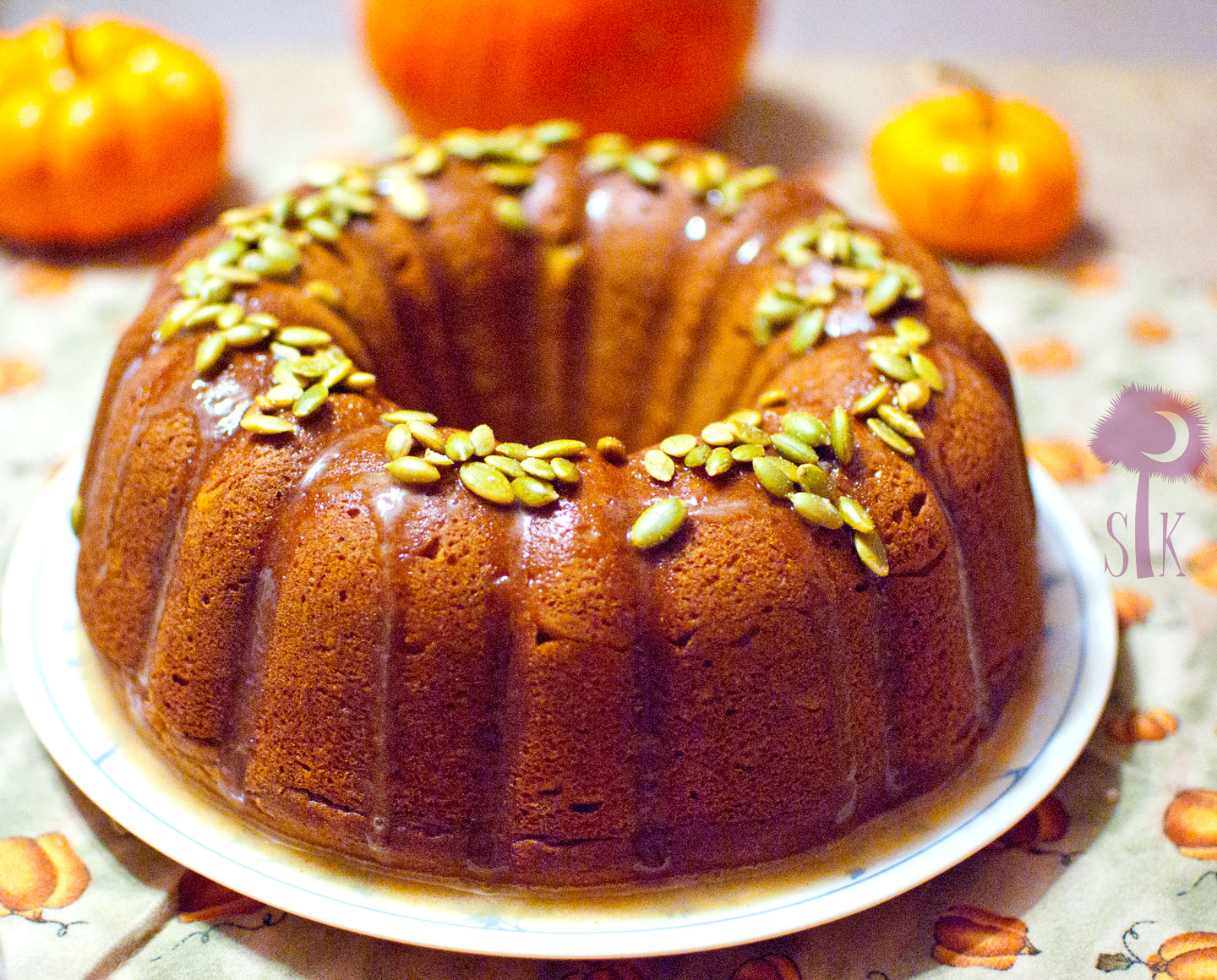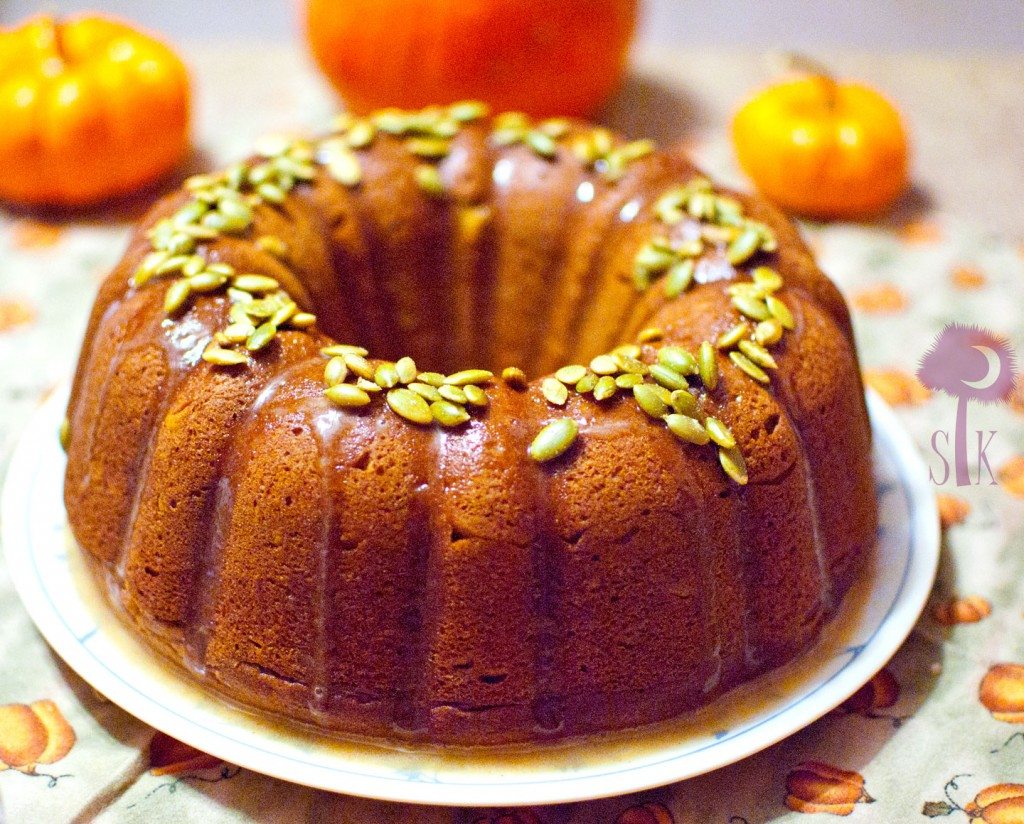 This is, by far, the most delectable, most enjoyable, most fluffiest pumpkin pound cake I've ever eaten in my entire life.
EVER.
As a Southerner who grew up surrounded by pound cakes galore, that is saying something.
It's soft and moist (eek! Yes, I said it!), perfectly spiced, and oh so good.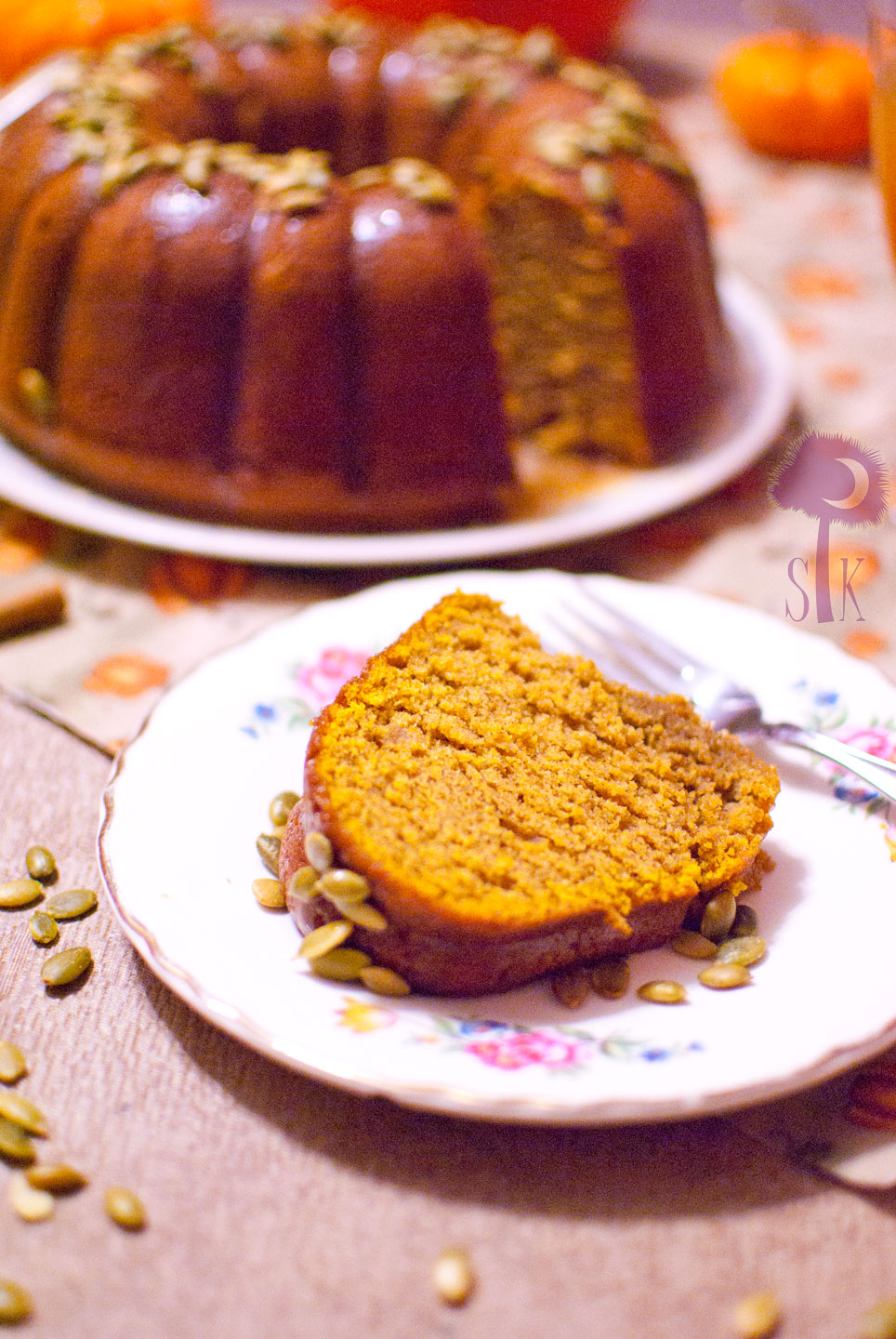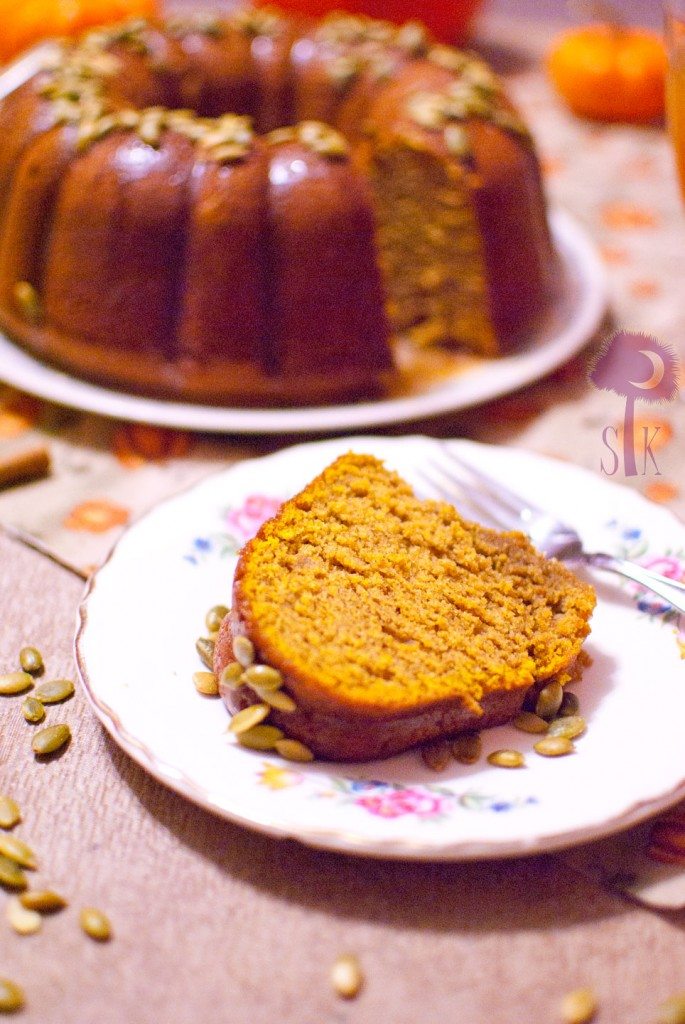 Seriously...the hubs, my mother-in-law, and I all rushed for seconds before we could even pull the fork out of our mouth after the last bite of our first slice.
Not kidding.
And we would've probably had more if we hadn't been sucking back Chocolate Buttery Nipples all night.
Can't.stop.til.I.get.enough.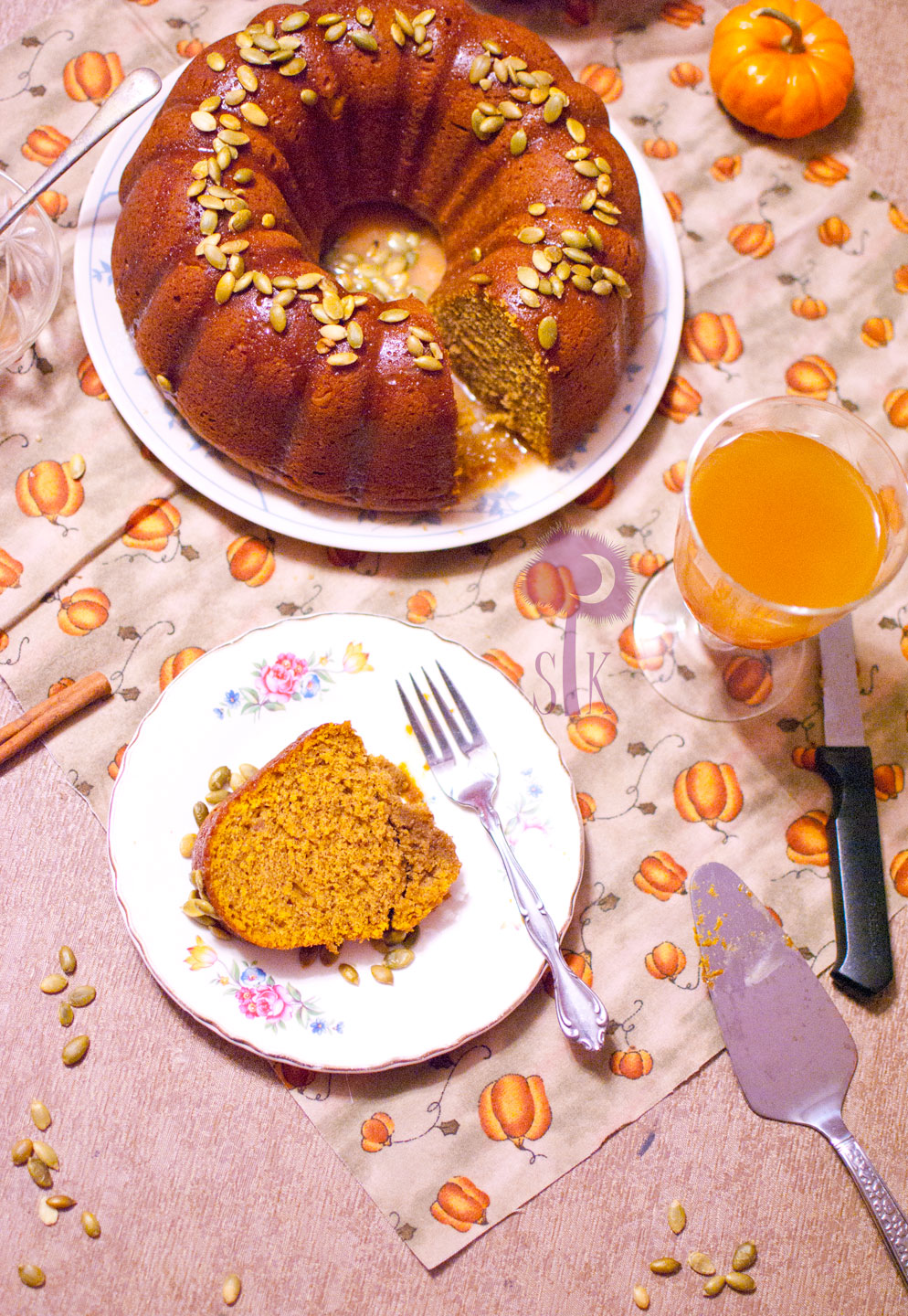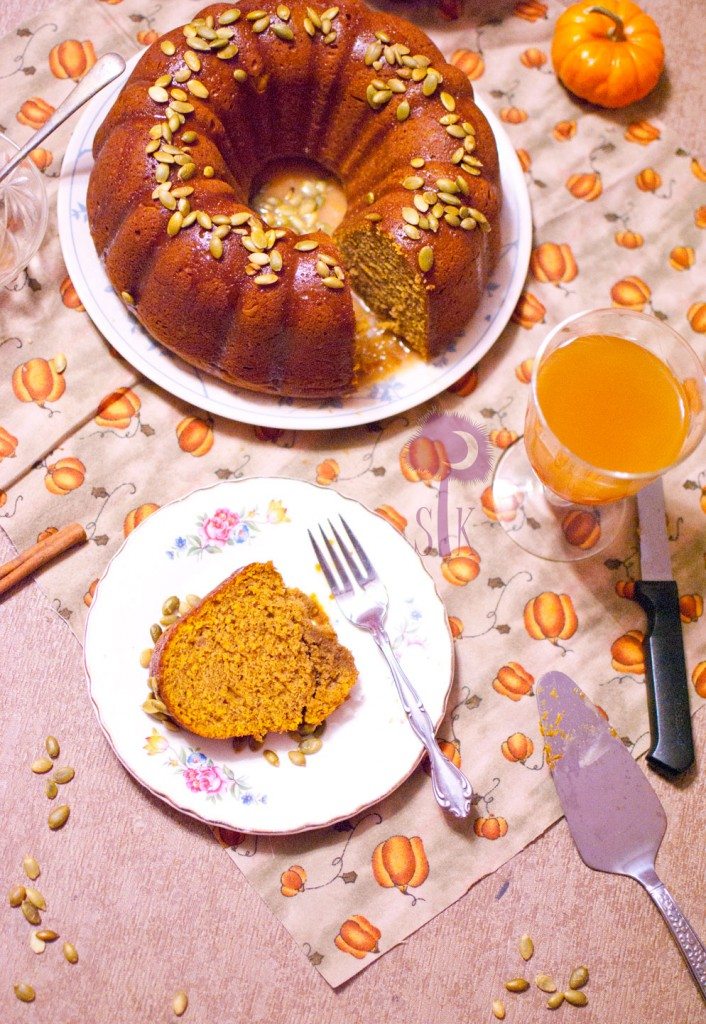 Ok, sooooo...especially after that last comment regarding chocolatey you know whats, I must confess...my cousins and I have this joke...this dirty, filthy, absolutely horrifying, naughty, naughty, naughty family joke about pound cake....
And it is absolutely horrible yet completely hysterical yet incredibly immature but we love it yet it's a secret so I can't tell y'all about it because I just can't...but I'm just DY-ING inside, laughing uncontrollably with myself as I type these awful innuendos about chocolatey buttery things-that-shall-not-be-named (again) and moist pound cake (eek!), and I just can't help myself.
But I'm a lady...a classy lady...so I will not speak another word about it.
Bless my heart 😉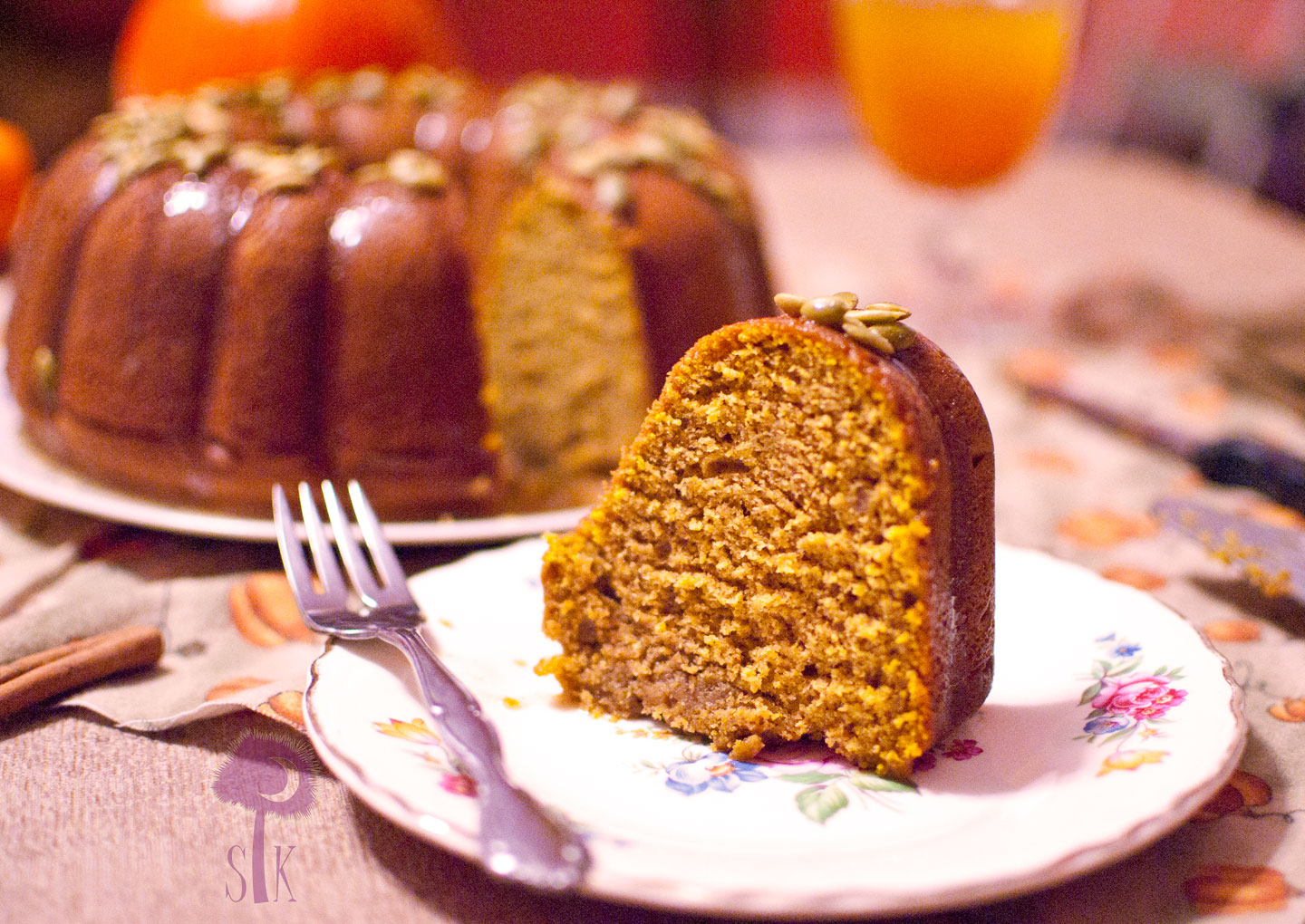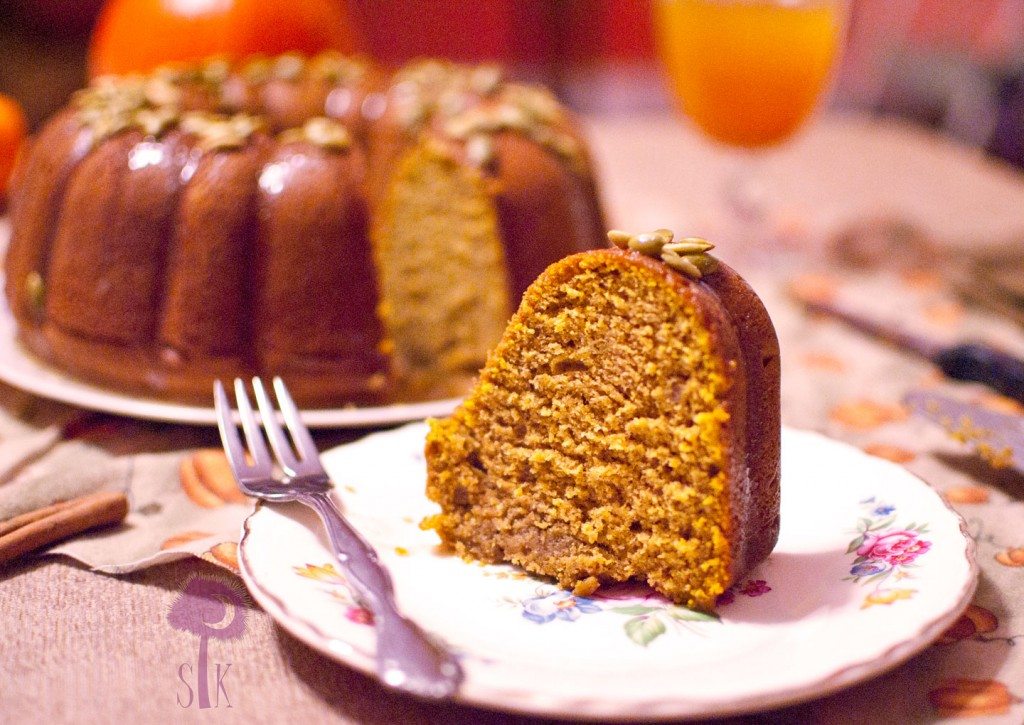 No, but really...I can't tell you how many times I have been thrilled to see a giant pound cake cake in my midst, just to have a slice and take a bite into it a dense, dry, lump of flour cake that was saturated in almond extract.
*VOM* to the *IT*
In my opinion, there is absolutely nothing worse. A dry pound cake is just plain un-American, and I LOATHE almond extract and would rather jump into a vat of mayonnaise than eat the stuff.
Okay, not really, but I really do hate it.
But this pound cake?
This pound cake doesn't even come close to even tip toeing around the word dry. Like seriously, it is amazing.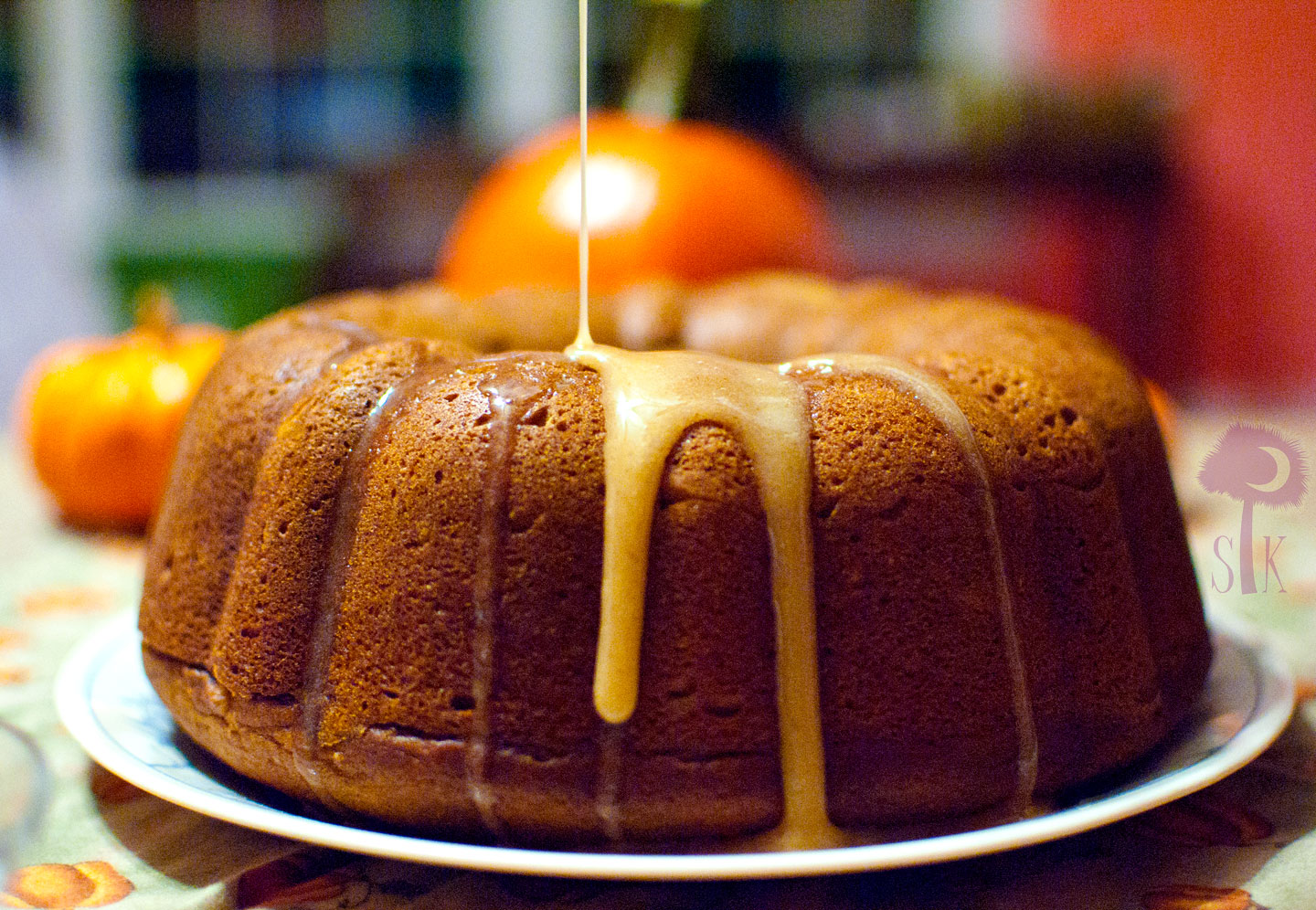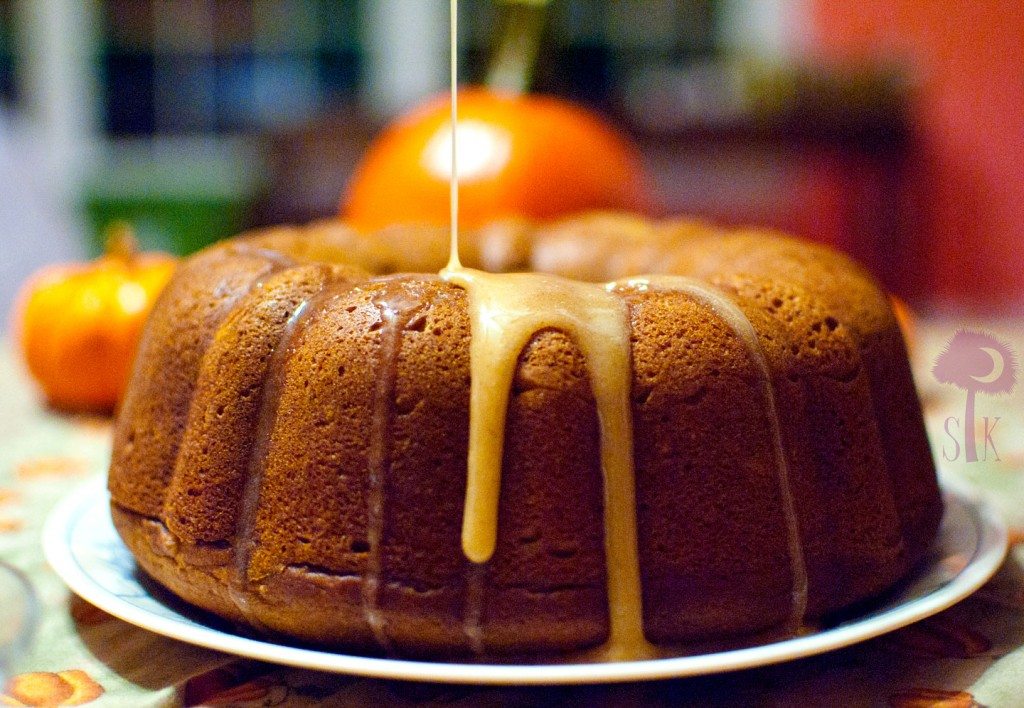 And the drizzling glaze....omg, the glaze...dribble, dribble, dribble, droooooooooooooooooooooool...
There are no other words.
Just make it...go make it right now.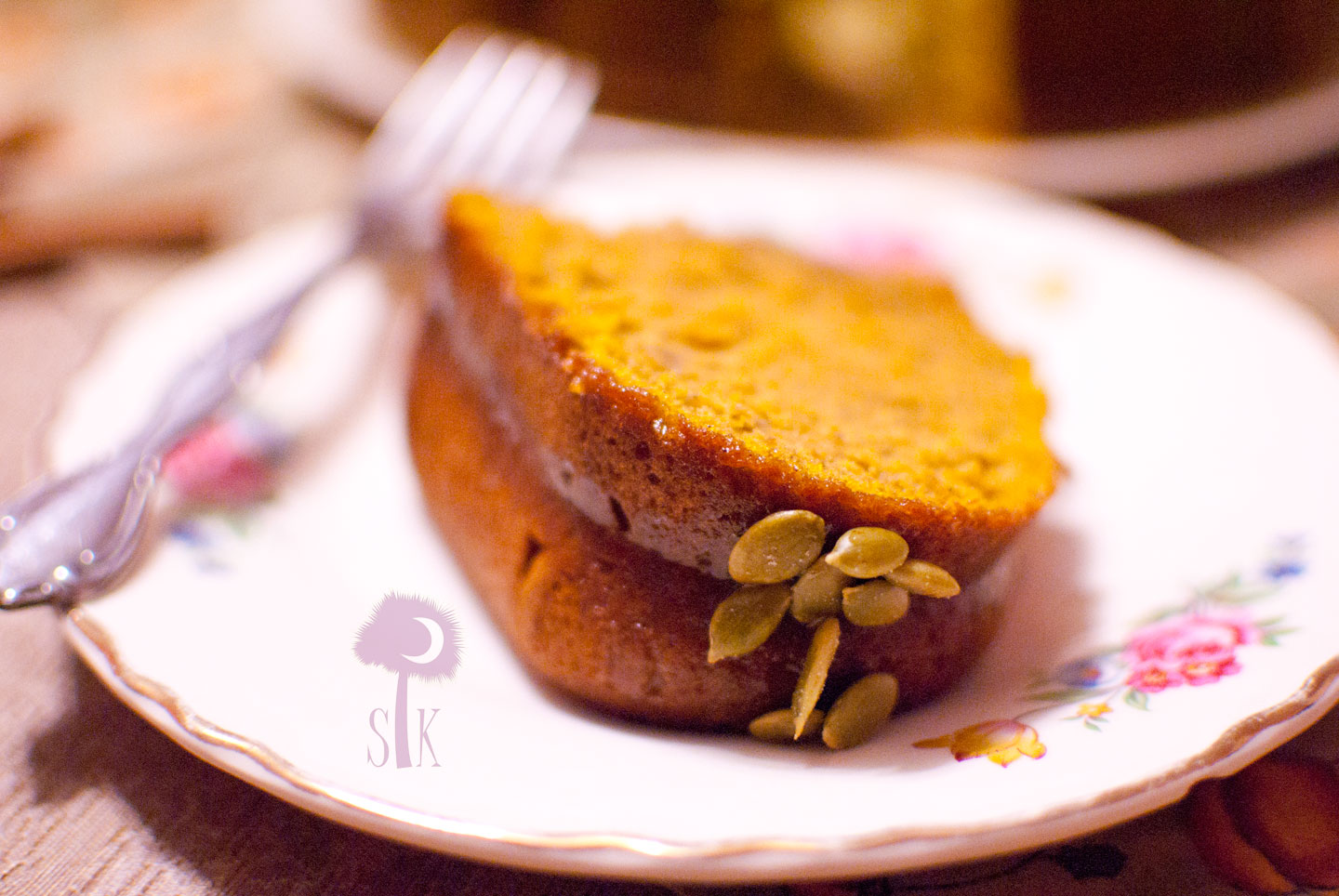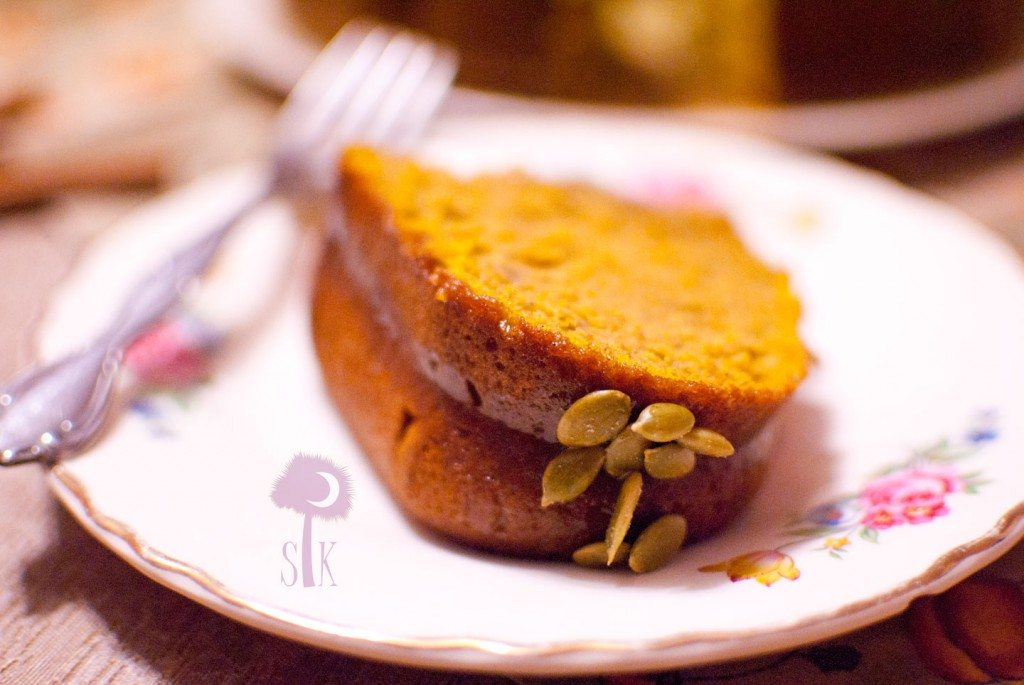 Getting to know you...
Do you have any naughty family jokes?
Have you ever made a dry pound cake?
Do you hate any particular flavors?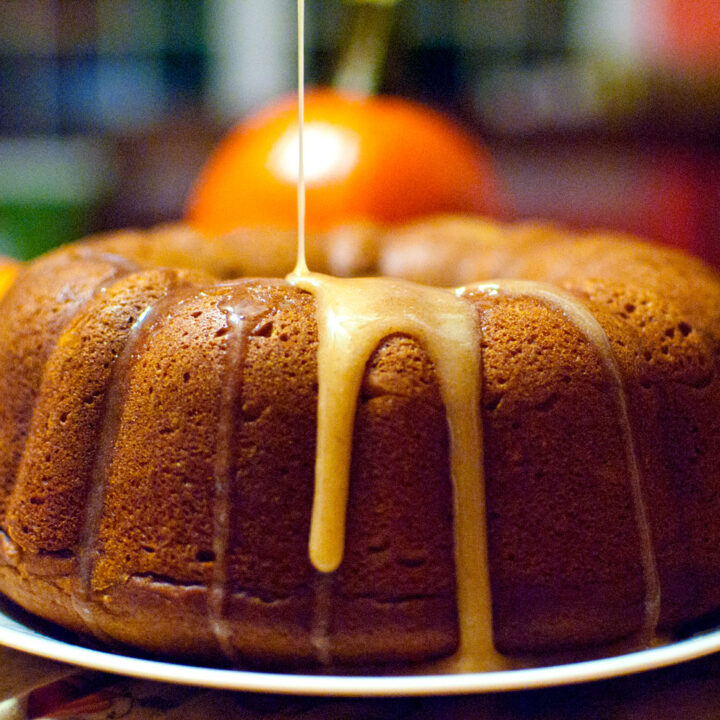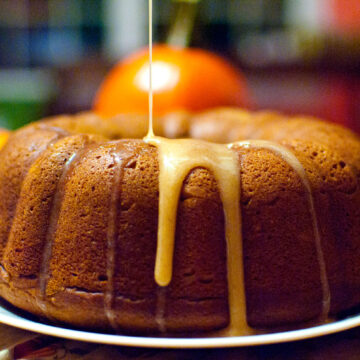 Instructions
Preheat oven to 325 degrees (F). Combine flours, pumpkin pie spice, cinnamon, baking powder, baking soda, and salt in a small bowl and whisk until well blended. Set aside.

In a larger bowl, or using your stand mixer, cream the butter and sugars together until fluffy.

Slowly beat in one egg at a time, making sure to mix well after each addition.

Beat in the apple butter, pumpkin and vanilla and continue mixing until the mixture is well combined. Scrap down the sides and beat about a minute more. NOTE: The pumpkin will make the batter look a bit separated. Don't worry! That's how it is supposed to look!

Slowly add the flour mixture to the pumpkin mixture, about 4-5 heaping tablespoons at a time, being sure to mix in the flour very well after each addition. Continue to add in and mix the flour until it is all incorporated. Scrape down the sides and stir in any flour that stuck to the sides or bottom of the bowl.

Pour the batter into a standard bundt pan (or loaf pans) sprayed with non-stick spray. Smooth and spread the batter until it seems evenly distributed in the pan.

Bake for 55-60 minutes or until a toothpick comes out clean. Allow to cool for 15 min in the pan before trying to transfer.
To Remove the Pumpkin Poundcake from the Pans:
To remove from the pumpkin poundcake from the pan, put a clean dish towel or plate over the top, turn upside down, and place on a flat surface. Gently tap the bottom of the pan with on open hand, then slowly lift the pan off the cake. It should just come right off.
For the Apple Cider Glaze:
Add powdered sugar to a small bowl. Whisk in the apple cider and stir, stir, stir, stir, and stir until the glaze is smooth and no lumps remain.

Spoon or drizzle the glaze over the top of the cake and sprinkle with the pumpkin seeds.