🙂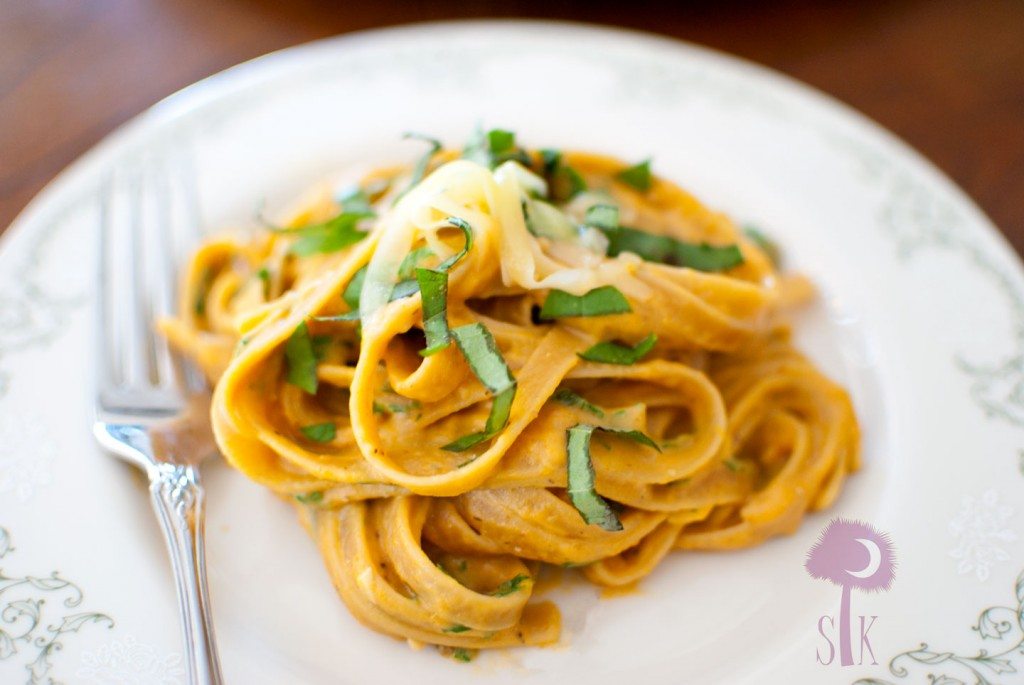 Sugar and spice and everything nice.
That's what pumpkin means to me.
Sometimes, though, the seasonal fall staple needs to shimmy into a savory dish rather than always being added to sweets and treats because it really is as versatile as a succulent butternut squash or any other squash-y vegetable, for that matter.
Insert whole wheat fettuccine noodles soaking up a silky smooth pumpkin parmesan alfredo sauce then sprinkled with fragrant ribbons of fresh basil.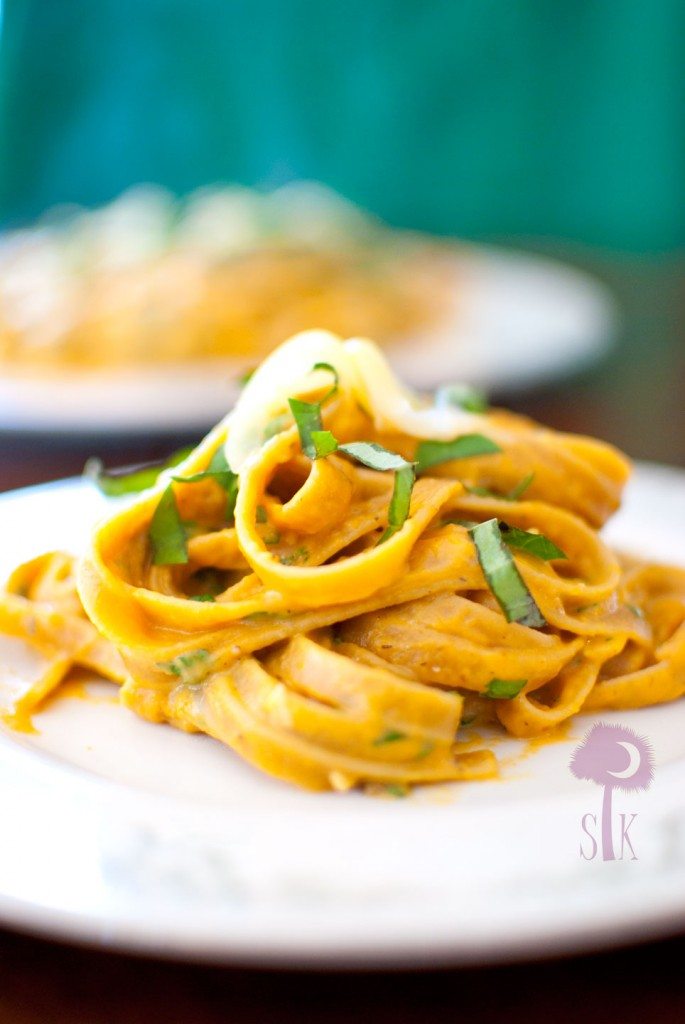 Shut the front door.
I originally saw this idea earlier this spring via Jenn at Peas & Crayons and let me tell ya now, this girl knows some serious deets on all things veggies.
Straight up. This home skillet always knocks her ideas clear out of the park!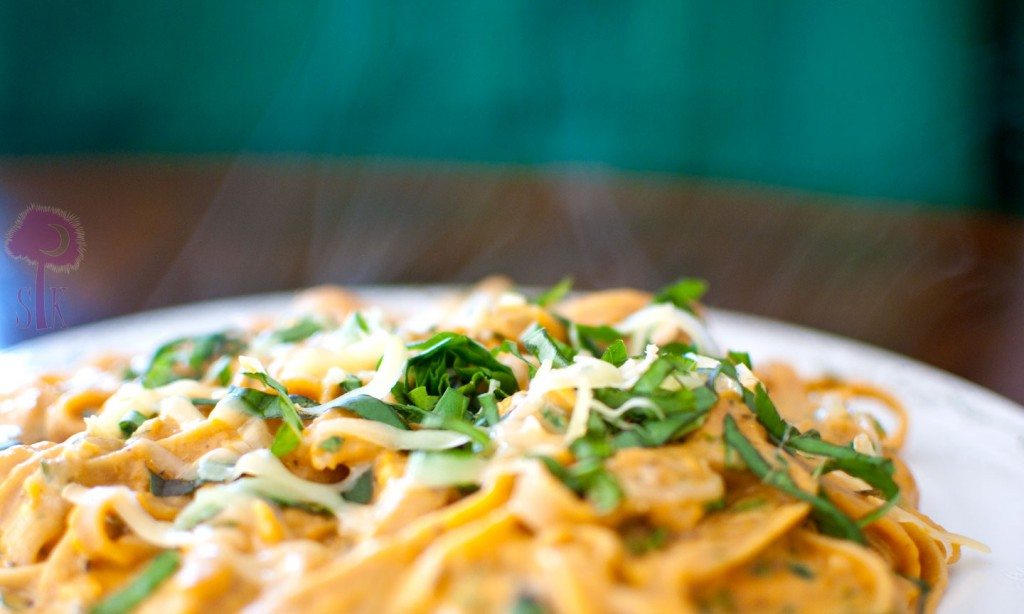 So, I have been thinking about how I was going to make my version of her recipe ever since I first saw her post.
Seriously.
I've been waiting to post this since April!!!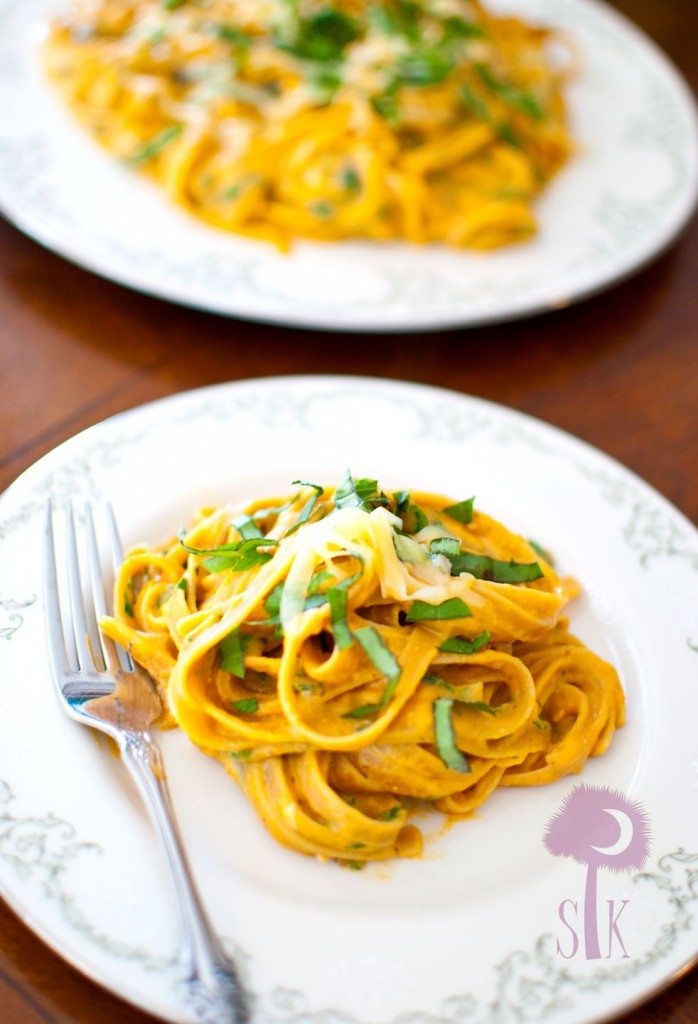 As I've told you a bajillion-zillion times by now, I am trying to steer clear of as many artificial ingredients/pre-packaged foods as I can, but I can honestly say that has proved to be a really tough thing to do since I moved to the boon-docks and apparently can't find a grocery story that has fresh pasta  (or even frozen fresh pasta...WTF?!?!?!?) for sale.
Ugh.
The good news though is that they actually have friggin' almond milk (hooray!) so I guess I'm not going to have to find myself making and bottling that any time soon.
Hallelujah!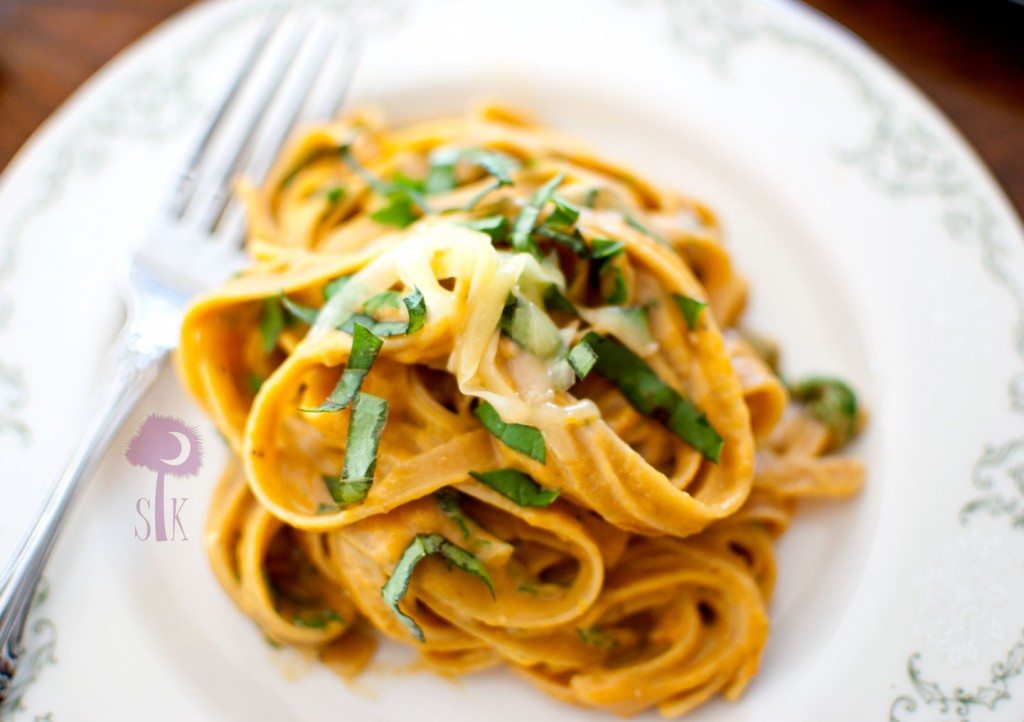 Getting to know you...
What's your favorite kind of pasta?
Have you ever eaten a savory pumpkin dish?
Can you find fresh pasta where you are?
Pumpkin Parmesan Fettuccine Alfredo

Print recipe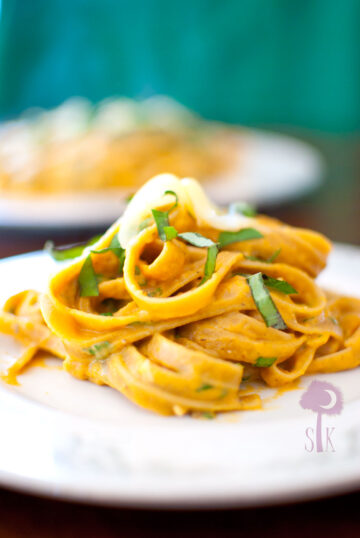 | | |
| --- | --- |
| Serves | 4 |
| Prep time | 15 minutes |
| Meal type | Main Dish |
Ingredients
2 teaspoons extra virgin olive oil
1 teaspoon unsalted sweet cream butter
2 Medium garlic cloves (minced)
1 ½ cup unsweetened almond milk (I used vanilla!)
1 cup pumpkin puree (not pumpkin pie filling)
½ teaspoon herbs de provence (or italian seasoning)
½ teaspoon freshly grated nutmeg
½ teaspoon kosher salt (or more to taste)
freshly ground black pepper
8oz whole wheat fettuccine noodles (cooked according to package directions)
½ cup freshly grated parmesan cheese
½ cup fresh italian parsley (chopped)
10-12 fresh basil leaves (cut into strips)
Directions
Step 1
Heat olive oil and butter in a large skillet over medium heat.
Step 2
Add garlic and cook for 1-2 minutes or until fragrance is released and it turns SLIGHTLY golden brown. DO NOT OVERCOOK!
Step 3
Whisk in almond milk, pumpkin, herbs de provence, nutmeg, salt and pepper and let simmer while the pasta cooks.
Step 4
Right before the pasta seems done, drain and immediately pour into the pumpkin sauce.
Step 5
Stir in grated cheese, parsley, and basil and toss until well combined. Serve immediately.
Step 6
Enjoy!