🙂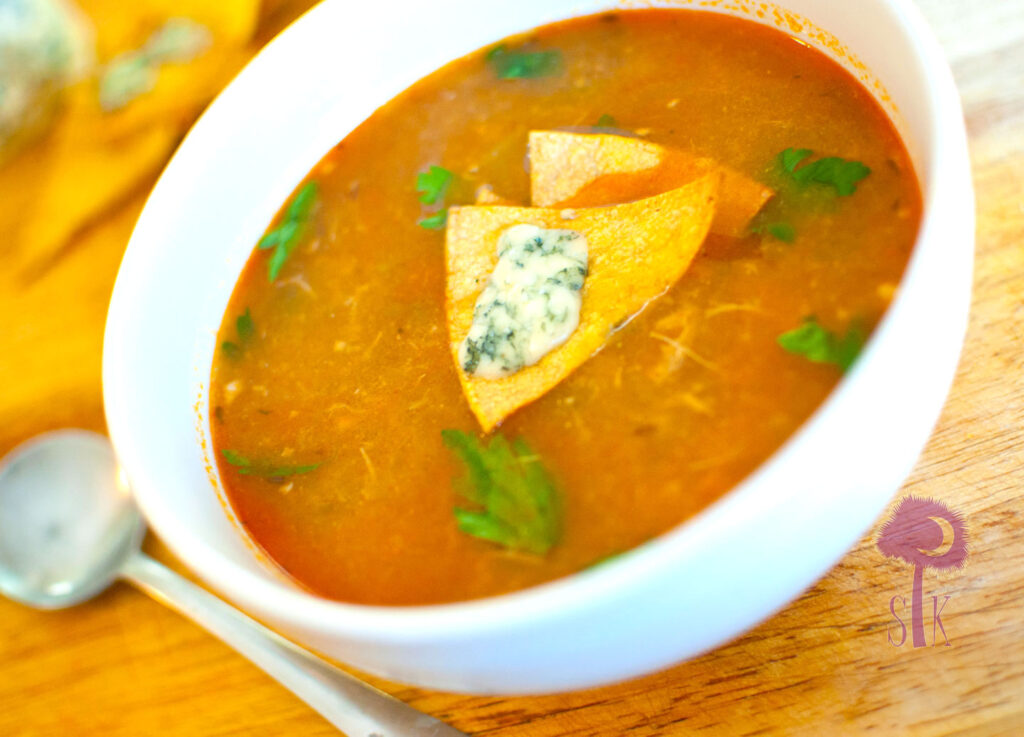 Remember how I told y'all that I've got a gift for throwing ingredients together in times of need?
This recipe is another example of that ability.
I am sick.
Sick, sick, sick, sick, sick.
Like, I feel like I have the flu or something. My body aches, my throat hurts, my ears hurt, my chest feels tight, I'm exhausted, and I want to do nothing but curl up on the couch and watch Paranormal Witness.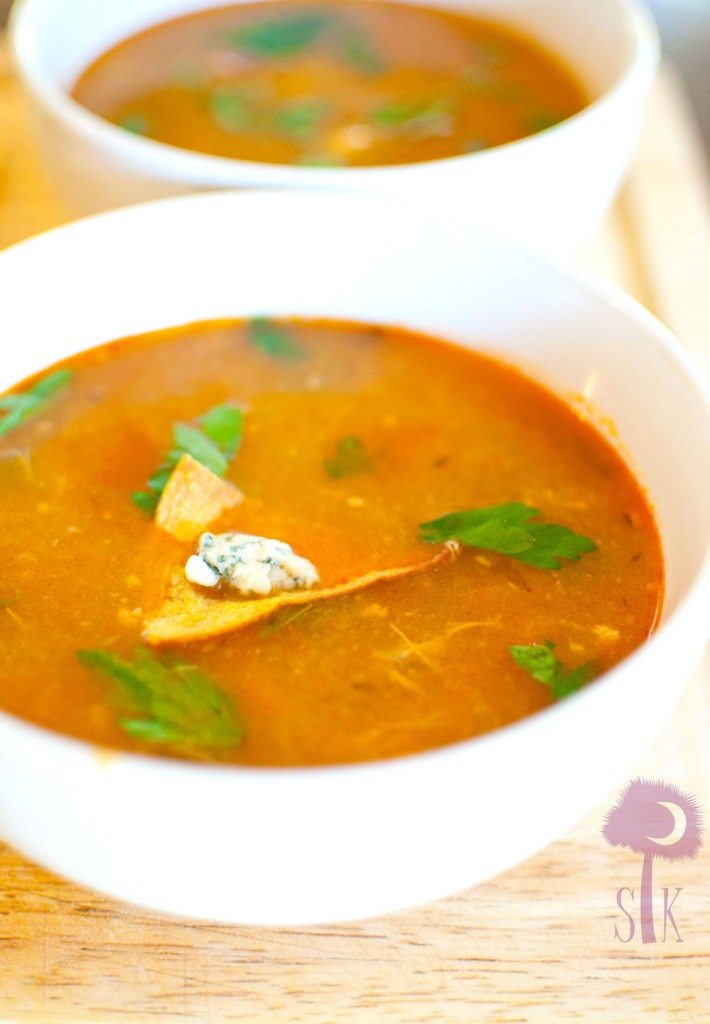 Oh, and eat soup.
Piping hot soup that's spicy and soothing and will rip open the floodgates of my sinuses.
This deliciousness will do just that, and would also go amazingly well with my Skinny Buffalo Chicken Jalapeno Poppers.
I walked into our pantry yesterday with my head swimming and spinning and my legs wobbling and bobbling praying to God that we had some sort of soup in our house.
We did, but we only had French Onion and Lentil, and I didn't want either of those.
Plus, it was canned soup, and I'm trying really hard to stay away from processed & pre-packaged foods.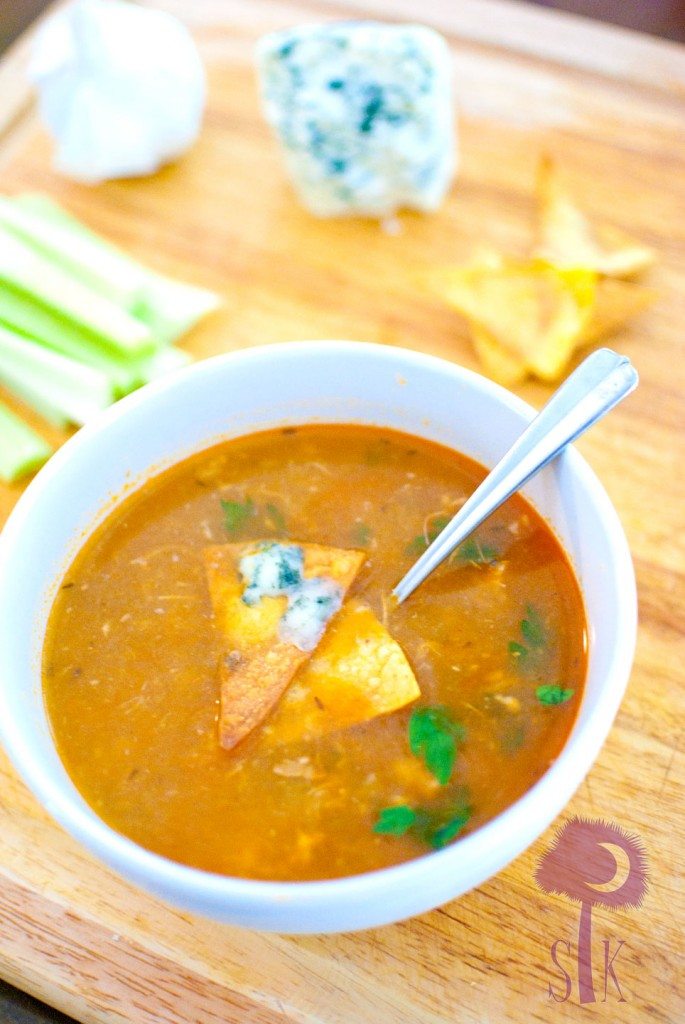 So, I opened up the fridge and scanned my options.
I had a half eaten rotisserie chicken, some celery that needed to be used, and a tiny square of Danish bleu cheese staring back at me.
My husband had just made the most delicious buffalo chicken pizza I had ever eaten in my life the night before, so that automatically stuck out in my mind.
Buffalo Chicken Soup it was.
Buuuuuut the bleu cheese kind of threw me for a loop.
I wasn't feeling the whole crumble some into your piping hot bowl, so I started brainstorming other ideas, and I remembered watching Giada de Laurentiis make her own tortillas chips out of corn tortillas the other day, and it hit me that I could make blue cheese tortilla chips to dip into the buffalo chicken soup!
Sold.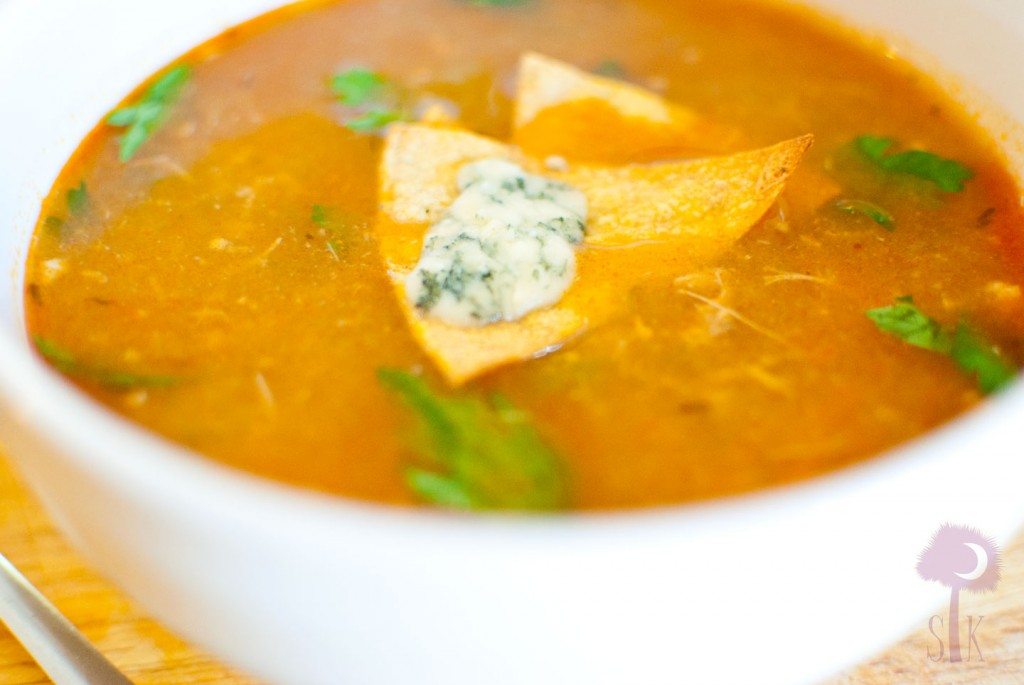 Getting to know you...
What do you like to eat when you're sick?
What is your favorite kind of tortilla chip?
Have you ever had buffalo chicken soup?
Hot & Spicy Buffalo Chicken Tortilla Soup

Print recipe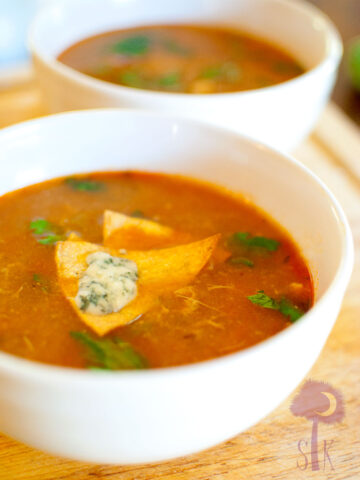 | | |
| --- | --- |
| Serves | 8 |
| Prep time | 10 minutes |
| Cook time | 45 minutes |
| Total time | 55 minutes |
| Meal type | Soup |
| Misc | Freezable, Pre-preparable, Serve Hot |
This soup has the characteristics of a classic chicken tortilla soup with the flavors of buffalo and bleu cheese
Ingredients
1 tablespoon + 2 teaspoon Extra Virgin Olive Oil
1 tablespoon Butter
½ Large Sweet Onion (minced)
2 Large stalks celery (chopped)
1 Small can of diced green chilis (4 oz.)
2 cloves fresh garlic (minced)
2 sprigs fresh thyme
1 bay leaf
2 tablespoons all-purpose flour
2 quarts Low Sodium Chicken Broth
½ cup Buffalo Wing Sauce (I used Moore's. Use more or less to taste.)
4 Small corn tortillas
4oz blue cheese (crumbled)
2 cups rotisserie chicken (shredded or chopped)
¼ cup fresh parsley (chopped)
¼ cup fresh cilantro (chopped)
kosher salt
freshly cracked black pepper
Note
196 calories
*WWpts= 4 pts per serving*
*WWpts+= 5 pts per serving*
Directions
Step 1
Heat a large pot over medium-high heat.
Step 2
Add olive oil and butter and heat until the butter is melted.
Step 3
Add the onion, celery, garlic, green chilis, and a sprinkle of salt and pepper, and saute until translucent and slightly tender. About 3-5 minutes.
Step 4
Sprinkle in the flour and stir until there are no more clumps and the flour is incorporated into the veggies. About 3-5 minutes.
Step 5
Slowly add in chicken stock, stirring constantly to avoid any clumps.
Step 6
Add thyme leaves, bay leaf, buffalo sauce, and another sprinkle of salt and pepper (if needed) and bring to a boil. Lower the heat and simmer for 30-45 minutes.
Step 7
While soup is simmering, preheat oven to 350 degrees.
Step 8
Brush both sides of each corn tortilla with the 2 teaspoon of olive oil and sprinkle with salt. Cut each tortilla into 8 pieces.
Step 9
Spread on a cookie sheet sprayed with cooking spray and bake for 10 minutes.
Step 10
Pull the tortillas out of the oven, sprinkle with blue cheese, and continue to cook for another 5 minutes or until the chips are golden brown and the cheese is melted and bubbly. Remove from the oven and let cool slightly.
Step 11
Add chicken to the soup and heat through. About 5 minutes.
Step 12
Remove bay leaf & thyme sprigs, stir in parsley and cilantro, and add a bit more salt and pepper if needed.
Step 13
Ladle soup into bowls, garnish with a dollop of plain greek yogurt or sour cream and serve with the bleu cheese tortilla chips.
Step 14
Enjoy!