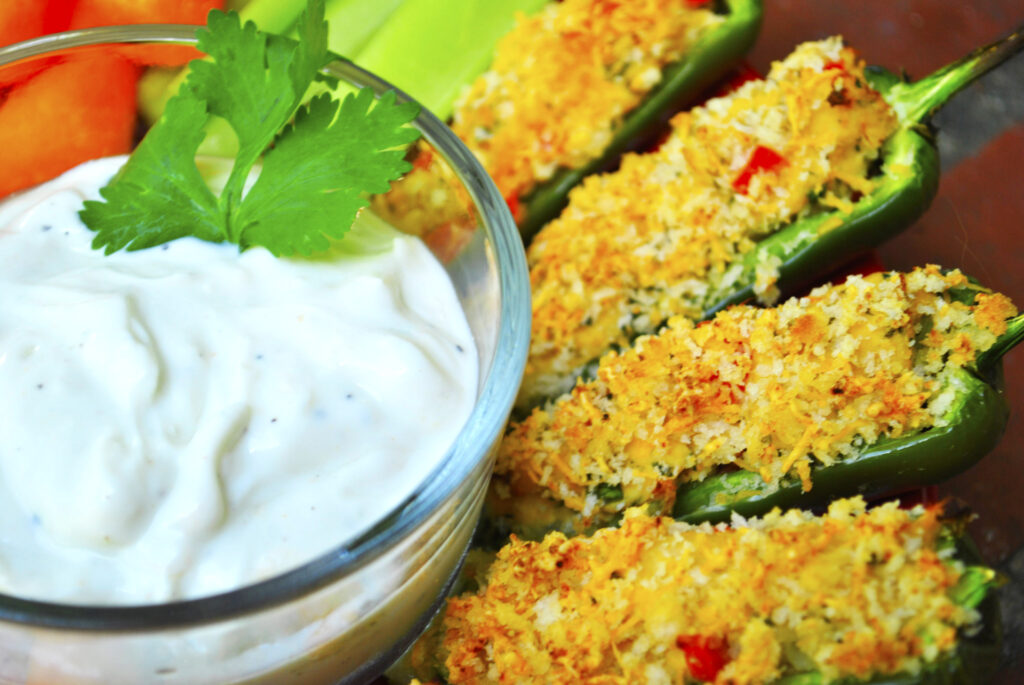 Happy Cinco de Mayo week!
This week's posts are all in honor of the Mexican holiday. Olé!
These peppers are fiery and flavorful and won't last long, especially if you take them to a party this Saturday!
I actually had to make two batches just so I could have the pictures to post! The first round was devoured by the fam last night.
Anywho, have y'all noticed that buffalo chicken something or another has been all over the place lately? It seems that Pinterest has been overloaded with different recipes such as buffalo chicken dip, buffalo chicken cheese balls, and buffalo chicken lettuce wraps.
Not that I'm complaining or anything. I love buffalo chicken stuff just as much as the next person, as you can see from this recipe.
As I was brainstorming for this week's menu, it occurred to me that I had never seen a recipe for buffalo chicken jalapeno poppers. I adore the regular ones, and thought that they would be even better when stuffed with buffalo chicken! So I made them, loved them, then googled them to see if there were other recipes out there.
Yeah...there definitely were a lot BUT none that I saw were anywhere close to mine in the terms of quality of ingredients or in health.
My peppers are stuffed with freshly grilled chicken, fresh veggies, and creamy Gorgonzola cheese then served alongside a cool and dreamy (M-word free) gorgonzola dipping sauce.
Simple, delicious, and addictive.
Note: The heat levels can definitely be adjusted to taste. The most important part about this recipe is making sure you remove ALL of the seeds and ALL of the white membranes in the peppers. Those two places are where most (if not all) of the heat is, so be sure to do this. Unless you want them super spicy, if so, then by all means leave in the membranes. Yesterday's batch wasn't hot enough for me, so I drizzled them with more hot sauce. Today's batch were perfect just the way the recipes calls for. Also, you may want to wear gloves too! I didn't and my hands are still on fire from removing the seeds :/
P.S. The back end of my blog is doing something to my photos and is completely washing them out today. Grrrrr. The original pics are bright and colorful, but the ones in this post are washed out and faded. I'm going to have to do something about that...later. So, super sorry if that bothers you (like it does me).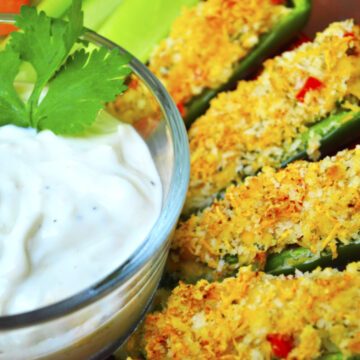 Skinny Buffalo Chicken Jalapeno Poppers
Grilled buffalo chicken and creamy gorgonzola are stuffed into fiery jalapenos
Print
Rate
Ingredients
For the Chicken & Marinade
For the Blue Cheese Dipping Sauce
⅓

cup

fat-free plain greek yogurt

½

cup

fat-free sour cream

½

cup

gorgonzola cheese

1

tablespoon

white wine vinegar

½

teaspoon

garlic powder

pinch

of freshly ground nutmeg

Juice of half a lemon

Juice of half a lime

2

tablespoon

unsweetened almond milk

pinch

of kosher salt
For the Filling & Peppers
½

fresh red bell pepper

1

large celery stalk

1

handful chopped fresh parsley

1

handful chopped fresh cilantro

½

block neufatel or fat-free cream cheese

softened

¼

cup

gorgonzola cheese

2

tablespoon

hot sauce

½

teaspoon

garlic powder

pinch

of kosher salt

10

fresh jalapeno peppers

¼

cup

panko bread crumbs

¼

cup

shredded cheddar cheese

parkay spray
Instructions
Mix all marinade ingredients together, pour over chicken breast, and marinate for 15-30 mins.

While chicken is marinating, mix all dip ingredients together, cover with plastic wrap, and refrigerate.

Preheat oven to 425°.

Preheat grill pan over med-high heat.

Once pan is screaming hot, grill chicken breast, about 5-6 minutes on each side. Remove from heat, place on a plate or cutting board and cover with tin foil. Let rest for a minimum of 5 minutes so the juices can redistribute.

While chicken is resting, slice jalapenos in half lengthwise and remove seeds and membranes.

Place on non-stick cookie sheet until ready to stuff.

Chop bell pepper, celery, and fresh herbs and mix with cream cheese, gorgonzola cheese, hot sauce, garlic powder, salt, and pepper.

Dice chicken into small cubes and add to cheese mixture, stirring until well incorporated.

Stuff jalapenos.

Mix bread crumbs and cheddar cheese together.

Sprinkle each stuffed pepper with the bread crumb mixture, spray with parkay spray, and bake for 25 minutes.

Drizzle with hot sauce, if desired.

Enjoy!
Notes
*WWpts and WWpts+= 1 pt per serving*
Nutrition
Serving:
1
g
|
Calories:
55
kcal
|
Carbohydrates:
5
g
|
Protein:
5
g
|
Fat:
2
g
|
Fiber:
1
g