This Octoberfest Beer Cheese Soup recipe is hearty, smooth, smoky, and stout making it the best rich indulgence to help ring in the holiday season.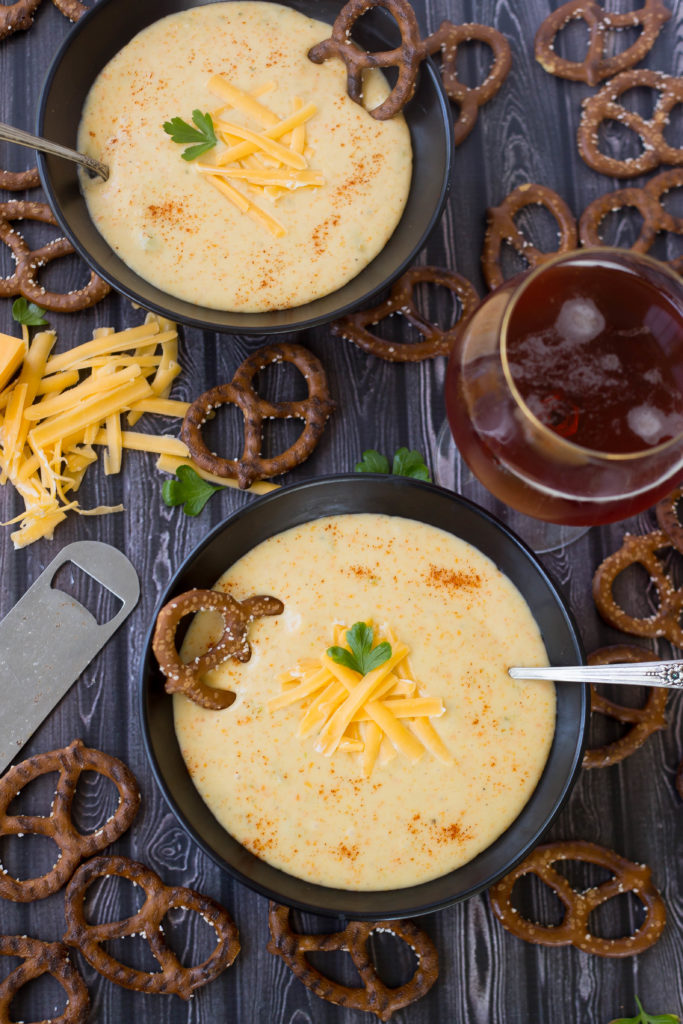 Today we're talking soup...and Octoberfest and beer and cheese.
But mostly just beer and cheese.
Here in SC it's still hot as Hades, with the heat index still maxing out in the 90's, but we're starting to move into the end of October, and I had a hankering for some beer cheese soup in my life.

Octoberfest Beer Cheese Soup to be precise.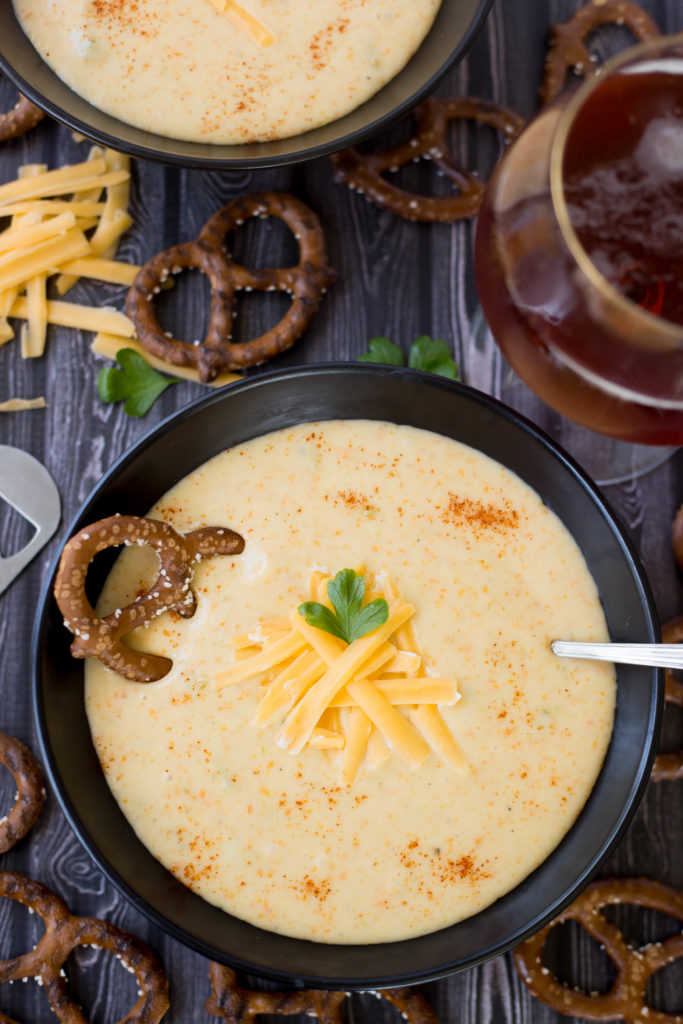 I've actually had this recipe in my arsenal since last year (when I fully intended to post it), but if 2020 has taught us anything at all, it's that life sure is unpredictable ain't it?!?!?
The great thing about Beer Cheese Soup, though, is that it is versatile too so you can mix and match and switch the ingredients around to fit the time of year.
What's the Best Beer for Beer Cheese Soup?
The best beer for beer cheese soup is truly up to you.
You can use all kinds of different beers to suit your mood or the holidays. The most important fact to remember, though, just as when cooking with wine, if you don't like drinking it, you won't like eating it.
Darker beers like stouts or Irish Reds would make for a fantastic Beer Cheese Soup for St. Patrick's Day, but keep in mind the darker bitter beers like IPAs will pass along their bitter flavor to the soup.
German Pilsners, light lagers, and any of the standard domestic beers on the market are also ok: Kolsch, Budweiser, Bud Light, Becks, Fat Tire, Sam Adams, Killians, etc. are all great choices.
Pumpkin Beers, Ciders, and Non-Alcoholic beer are just as delicious too!
Today we're going for a tried and true favorite, Octoberfest, because it's the perfect time of year for it!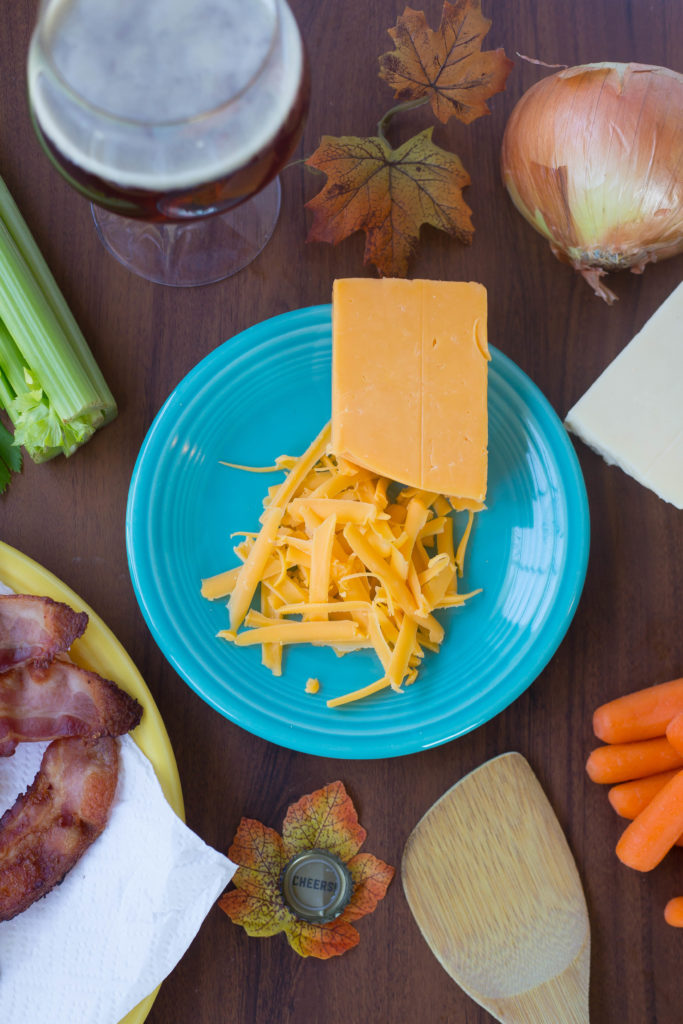 What's the Best Cheese to Use for Beer Cheese Soup?
The best cheese to use for beer cheese soup is easy. Use the best cheese you can find! Some may argue with you, but the cheese really is the star of the show in Beer Cheese Soup.
Two important rules here:
Be sure to use a high-quality cheese, and switch it around for the seasons too! Irish cheddar for St. Patricks Day, etc. You can use any kind of cheese you wish, really, but I prefer to use sharp cheddar and gruyere because their strong flavors balance nicely with the twang of the Octoberfest beer and they both melt really well.
You *CANNOT* use pre-shredded cheese from a bag. REPEAT. You *CANNOT* USE pre-shredded cheese from a bag for beer cheese soup! Pre-shredded cheese has anti-caking agents in it which will prevent it from melting, causing your Beer Cheese to be stringy and gritty. Bleck.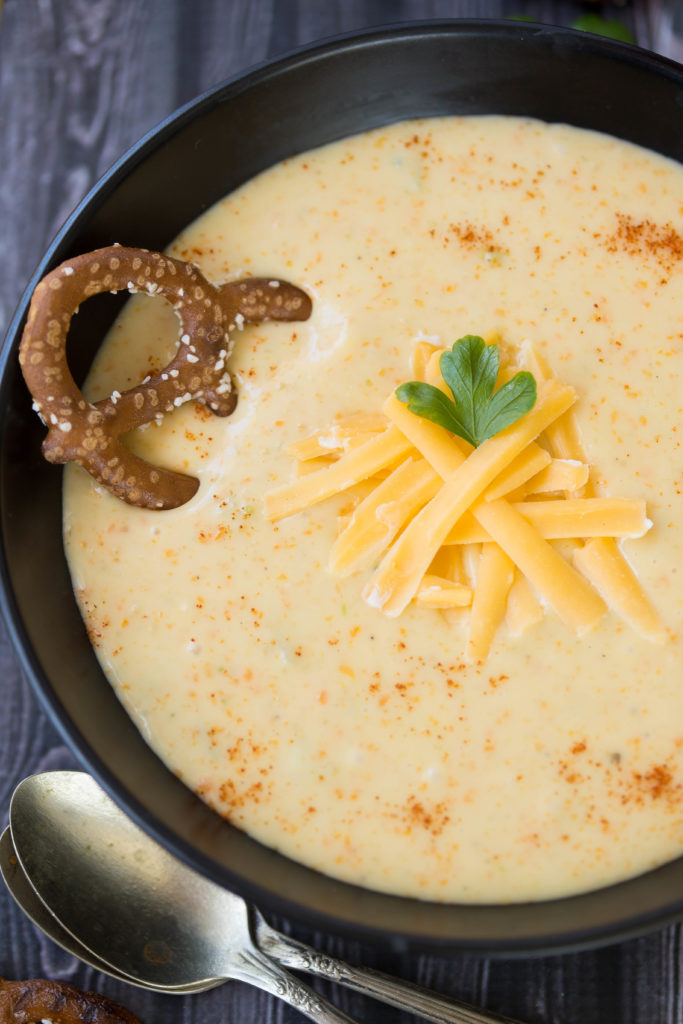 Tips for Making Beer Cheese Soup
Octoberfest Beer Cheese Soup is a souper (see what I did there) quick recipe to make, and following these simple tips will offer smooth sailing to suppertime:
Make sure your cheese, beer, stock, and cream are at room temp or at least have the chill off of them. This will allow for even mixing and will help prevent clumping.
Pour beer in slowly, gently whisking after each addition until bubbles dissipate.
Do not let the temperature get too high! Cook over medium heat and allow the temperature to rise slowly.
Remove the pot from the heat before stirring in the cheese. Adding cheese to a soup that's too hot will cause the cheese to separate and look curdled.
Don't like chunky soup? Puree the veggies in a food processor before cooking or follow the tips at the end of the post to puree the entire batch of soup!
"📖 Recipe"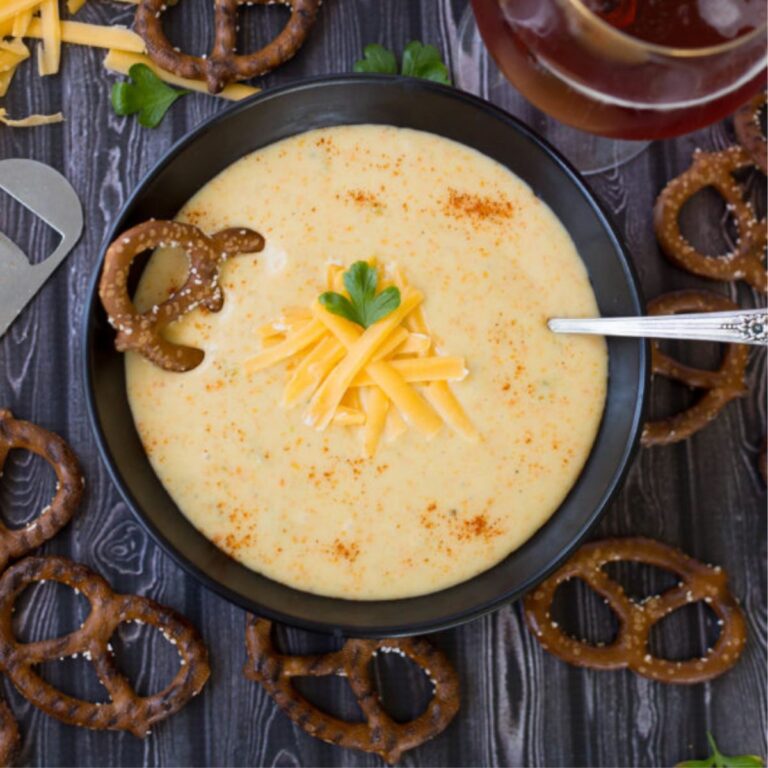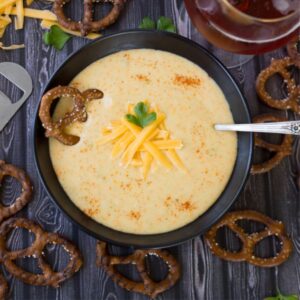 Octoberfest Beer Cheese Soup
THIS OCTOBERFEST BEER CHEESE SOUP IS HEARTY, SMOOTH, SMOKY AND STOUT MAKING IT A PERFECTLY RICH INDULGENCE TO HELP RING IN THE HOLIDAY SEASON.
Print
Rate
Ingredients
8

slices

thick-cut bacon

4

tablespoon

butter

½

onion

(1 cup)

minced

2

stalks

celery (1 cup)

minced

1

carrot

(1 cup)

minced

2

cloves

garlic (2 tsp)

minced

¼

teaspoon

sea salt

¼

teaspoon

black pepper

½

cup

all-purpose flour

2

(12 oz.)

bottles Octoberfest beer

I used Sam Adams

3

cups

vegetable or chicken stock

1

cup

heavy cream

8

ounces

extra sharp cheese

shredded

4

ounces

gruyere cheese

(or more sharp cheddar)

1

teaspoon

yellow mustard

⅛

teaspoon

freshly grated nutmeg

freshly cracked black pepper, to taste

Smoked paprika, pretzels, bacon crumbles, fresh parsley, extra cheese and a drizzle cream, for garnish
Instructions
Line a plate with a paper towel and set aside. Heat a large Dutch oven or soup pot over medium heat, and add bacon. Fry until golden and crisp to your liking then remove to the paper towel-lined plate and reserve the drippings.

Add butter to the drippings followed by the onion, celery, carrots, and ¼ teaspoon salt. Cook until the vegetables begin to soften. About 4-5 minutes. Stir in the garlic and cook for 1 minute more.

Sprinkle in the flour and whisk until well incorporated and the rawness has cooked out. About 1-2 minutes. Slowly pour in the beer, followed by the stock and cream, whisking constantly until the mixture smooths out and thickens. Heat until just bubbling then lower the heat and allow to simmer for 5 minutes, whisking often to ensure the bottom doesn't scorch.

Sprinkle in the cheese, a handful at a time, whisking after each handful until the cheese is completely melted into the soup. Stir in the mustard, nutmeg, and black pepper. Adjust salt if needed.

Ladle the soup into bowls and garnish with a sprinkling of smoked paprika, crunchy pretzels, salty bacon, bright fresh parsley, and a drizzle of cream.
For a Super Dreamy & Creamy Octoberfest Beer Cheese Soup:
Allow the beer cheese soup to cool for 5 minutes before pureeing.

Puree the soup in batches in a high powered blender. Add a few ladles full of soup to the blender, replace the lid, hold a thick towel over the top, then puree until the soup is completely smooth.

Once all of the soup is pureed, add it all back to the stockpot and heat until steaming and warm. Garnish and serve.