This Christmas charcuterie board is one of the easiest and most delicious holiday appetizers. Loaded with cured meats, rich cheeses, bright fruits, salty nuts, and sweet spreads, Christmas charcuterie trays will satisfy your entire family this holiday season.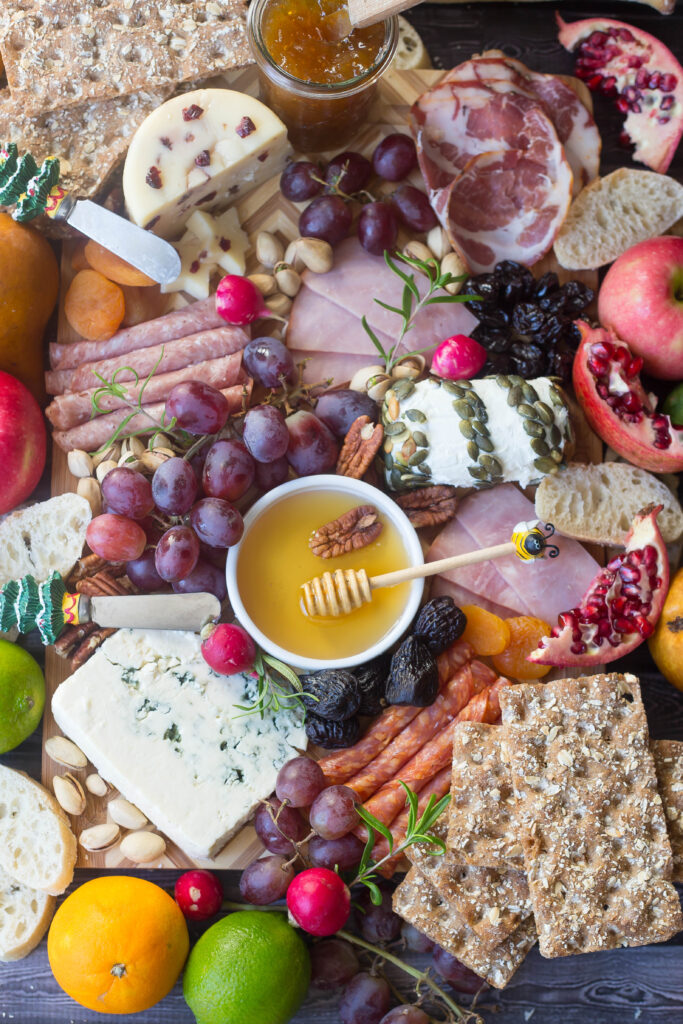 A charcuterie board would probably be my last meal if I were ever to go to prison.
Why wouldn't it be? They're loaded with all things tasty and are so easy to put together.
Charcuterie boards have become my go to for practically any event I attend and are also be a fantastic ministry meal!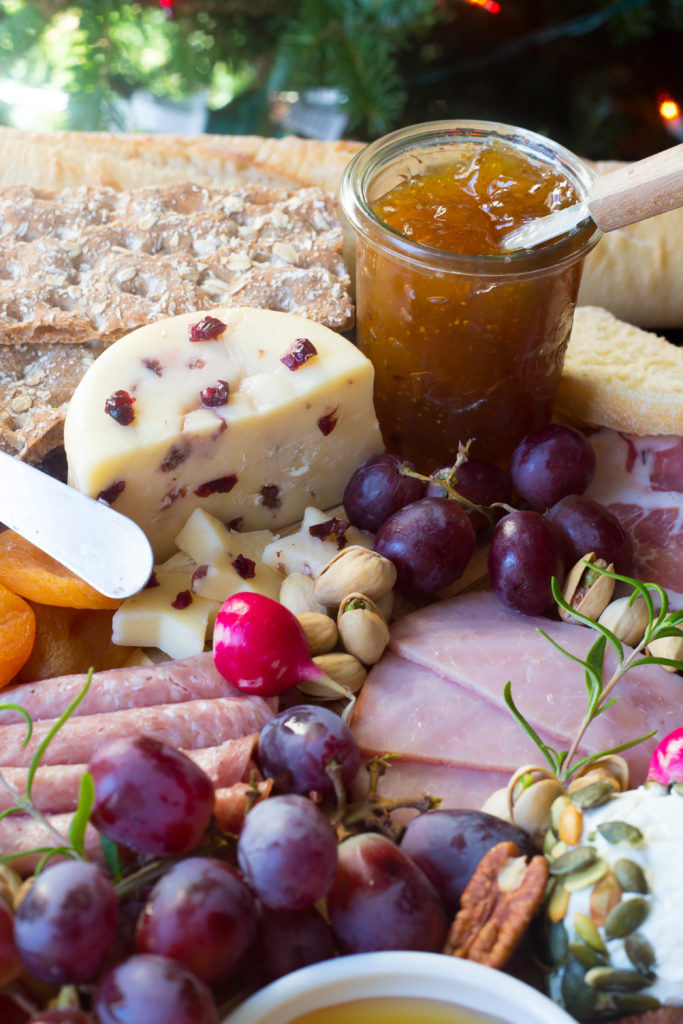 Charcuterie boards are so beautiful and impressive, your guests will never know it took minutes to throw together.
Just keep these tips in mind while building your own board of goodies, and I guarantee it will be the star of the event.
What is Charcuterie?
If you aren't familiar with the term, you may be wondering how in the world to even pronounce the word. Charcuterie is pronounced shahr-koo-tuh-ree.
Secondly, what in the world is a charcuterie board?!?
Charcuterie boards are big platters of cured and smoked meats, pâtés, cheeses, fruits, nuts, spreads, and bread.
Basically charcuteries are smorgasbords of deliciousness.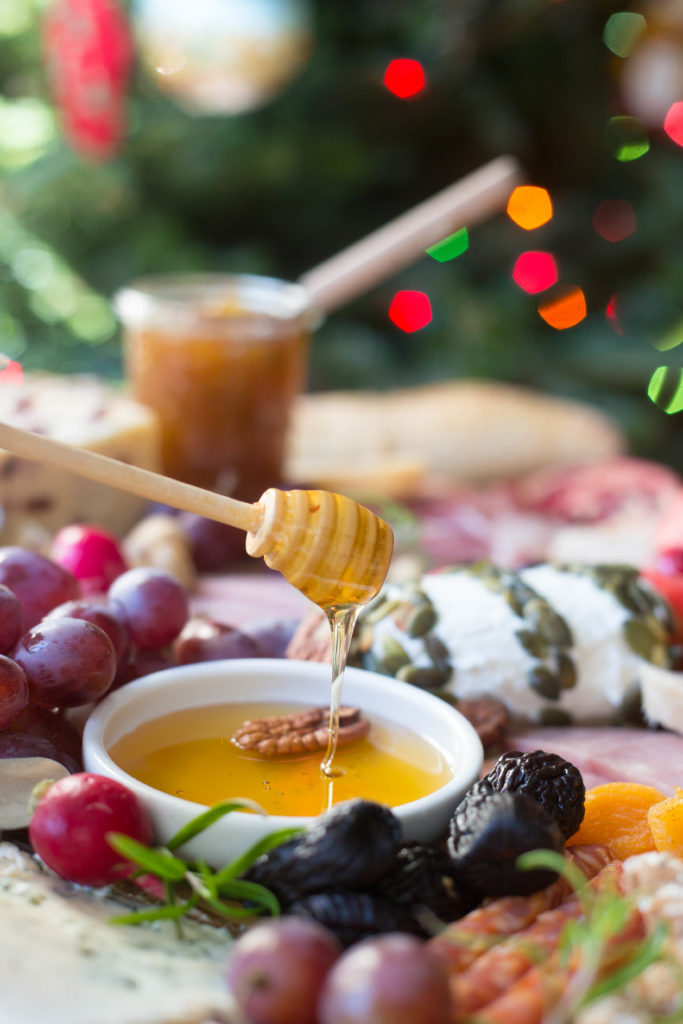 How to Make a Christmas Charcuterie Board
Everything you need for a charcuterie board can be found at your local grocer. I actually found almost everything you see on this tray at Aldi!
Before hitting up the store, think about how many guests you'll be feeding and make sure you have a large wooden cutting board or platter to display your goodies.
Now it's time to build that board!
Meats: If you're going to a potluck w/ other holiday appetizers, estimate 3-4 slices of meat per person. If your charcuterie tray will be served for supper, plan for 5-6 slices per person. Rule #1 is to include a variety of meats that compliment each other. You can have them freshly sliced at the deli or, do as I did, and buy a package of pre-sliced tapas meats. My charcuterie board included peppered salami, capicola, and spicy pepperoni. I also added in several thick slices of honey baked ham because it fits well with the Christmas theme.
Cheeses: Choose at least 3 different cheeses: 1 semi-hard, 1 soft, and 1 blue. For some added zsoosh, use holiday cookie cutters to shape your cheeses into stars, bells, or hearts. I chose a sharp cranberry cheddar, a creamy danish blue, and I also studded a roll of goat cheese w/ roasted pumpkin seeds.
Fruits, veggies, and nuts: Eat the rainbow here! Select dried and fresh fruits and a sampling of seasonal veggies that will hold up to sitting at room temperature. Dried apricots and mango, pomegranate, grapes, oranges, baby carrots, celery sticks, pickles, olives, dates, pistachios, dried cherries, and figs are all great options for a Christmas charcuterie board.
Dips and spreads: You can choose sweet, savory, or both here! Usually anything you have on hand will work: honey, preserves, spinach artichoke dip, mustards, pepper jellies and jams are all fair game.
Bread & Crackers: Slices of crusty baguette, seed laden crackers, buttery rounds, and sturdy whole wheat Wasa crackers are my favs!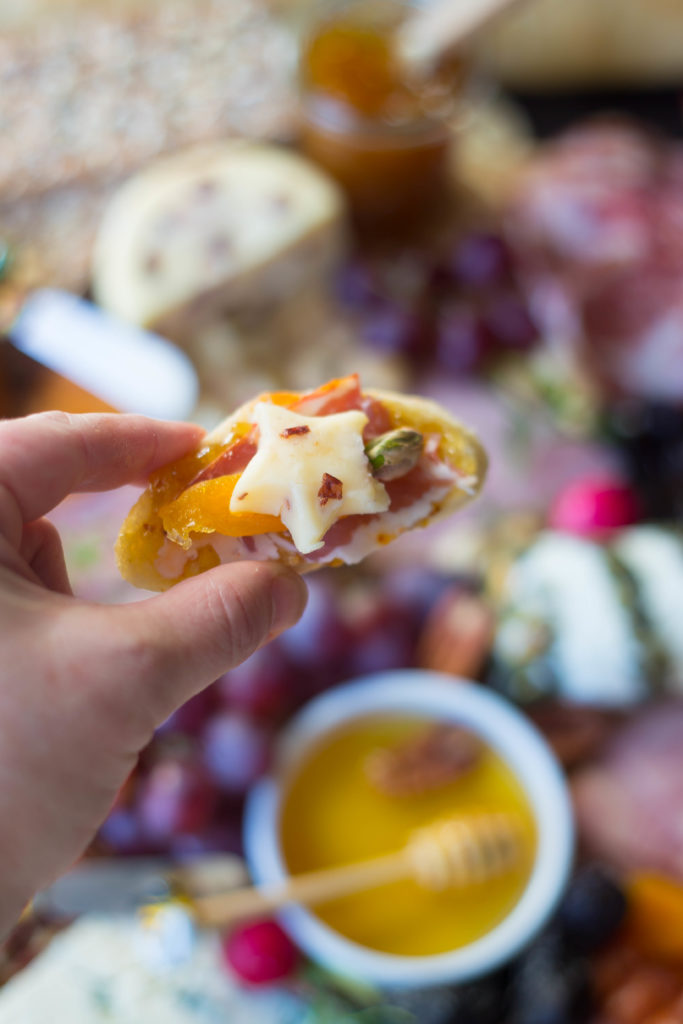 So there you have it! Charcuterie boards are the easiest, prettiest, most delicious holiday appetizers around so make sure to try making your own for the next shindig you attend or for a social distancing holiday.