Stop right there and add these Pumpkin Stuffed Bacon Wrapped Dates to your holiday menu! They're a great dish to serve as a starter, a sweet treat, or as a late night snack while snuggling on the couch with your honey.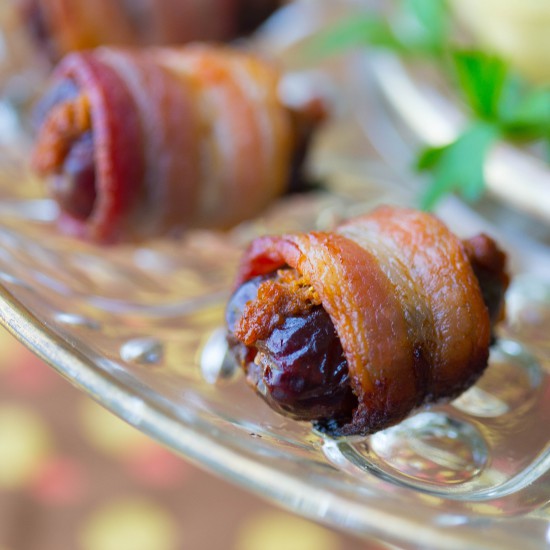 Appetizer nights are my favorite.
If it were up to me, I would live off brie, baked Buffalo wings w/celery & bleu cheese, homemade chips & salsa, pumpkin whatever, and every other appetizer you could think of in between. But, alas, we all know we shouldn't be eating those things regularly.
Womp. Womp.
I'm also a huge snacker. I don't really eat big meals during the day because Hi! I'm the mother of a toddler and ain't nobody got time for that, but also because I've realized my body functions better when I eat smaller portions 4-5 times a day rather than 3 bigger meals.
Or one very large meal...like our Thanksgiving day feast!
Have you planned your Thanksgiving menu yet? If not, please try these Pumpkin Stuffed Bacon Wrapped Dates! They are a cinch to make, cook quickly and can act as an easy holiday appetizer, afternoon or midnight snack, or even a dessert.
My awesome sauce boss, George, at Civilized Caveman Cooking has given me the honor of guest posting this holiday recipe on his site. These bacon wrapped dates are the perfect blend of savory and sweet and will absolutely be a hit at your next shindig. What are you waiting for? Thanksgiving is less than 2 weeks away! Go on and get the recipe!