Taro Rolls with Coconut Lychee Butter are a quick and easy dinner roll to make and will bring the flavors of the islands to your home!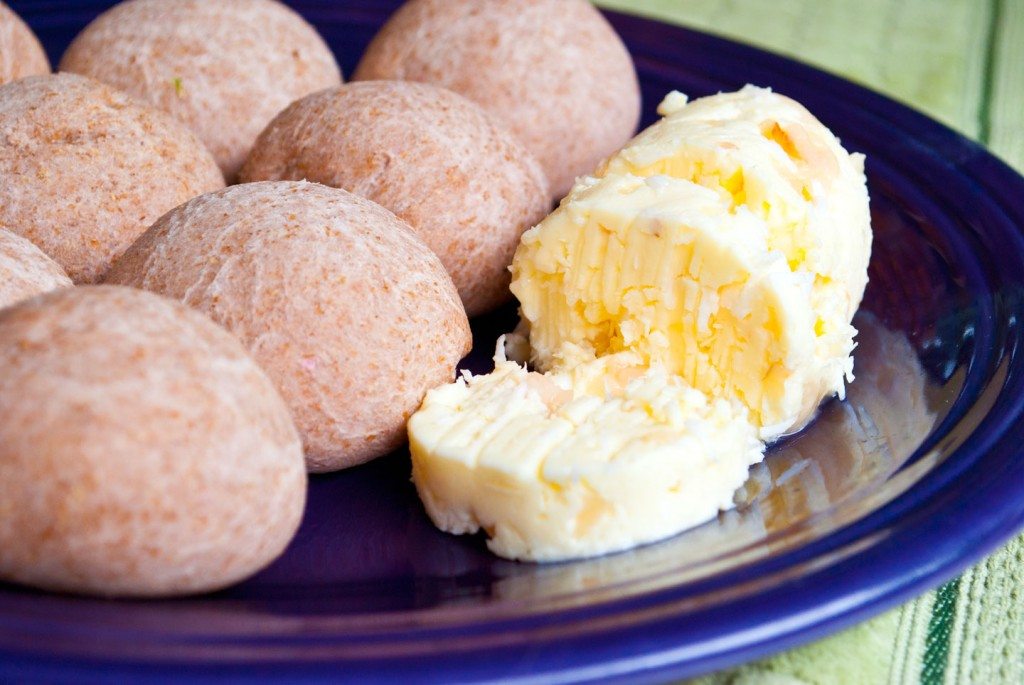 If you've ever been to Hawaii, then you are familiar with and have probably eaten your weight in taro rolls.
If you've never been, then you are probably wondering what in the H-E-double hockey sticks a taro roll is?
Taro.
Pronounced tear-o.
Rhymes with Pharoah.
Used to make Poi.
Rhymes with Koi (as in the fish).
Have I lost you yet?
I think I may have lost myself.
Anywho, from my understanding, Taro is a root vegetable that is a staple in the Hawaiian islands, traditions, and cuisine. It is used to make copious amounts of dishes, but the two most prominent that we came across while on our honeymoon were Poi and taro rolls.
Poi is a purple paste made from mashed taro root, salt, and water, and completely 100% requires an acquired taste to enjoy it. Hawaiian locals love the stuff and eat it with just about anything.
Taro rolls are almost identical to our standard dinner rolls, however, they are slightly sweeter and are also purple!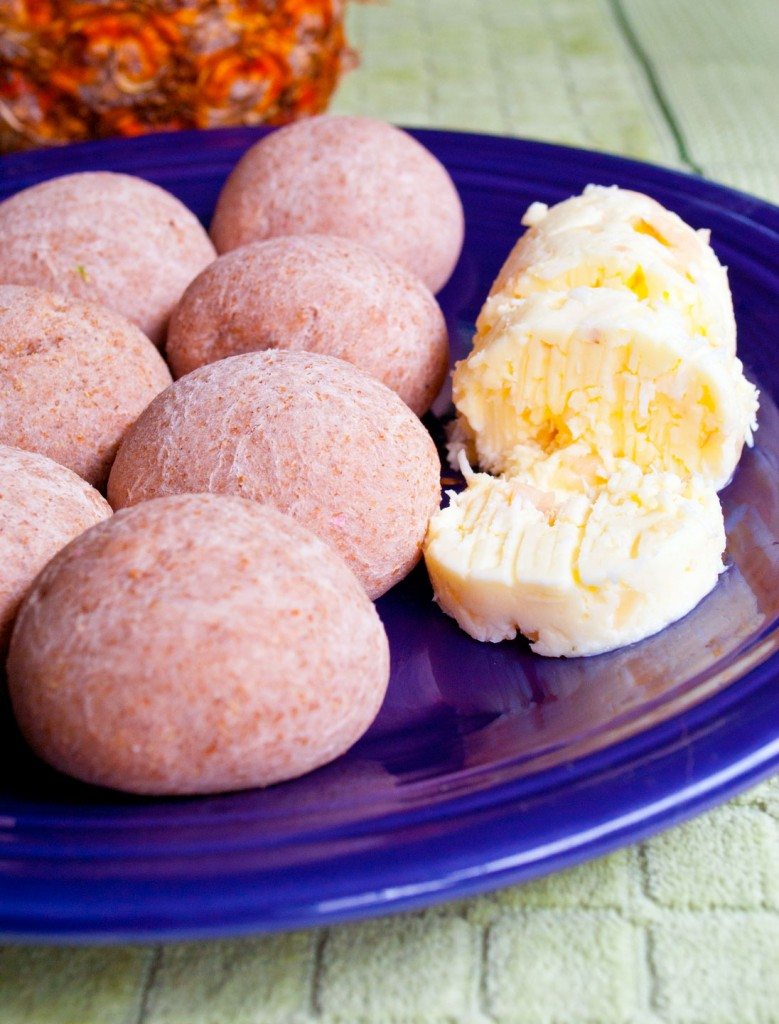 In fact, anything that is made with taro root ends up being purple…and it is purple because of food coloring not because of the root itself.
Random, I know.
Taro is white on the inside, but the skin is purple. The skin can't be eaten though (it's similar to a coconut's) so I'm assuming recipes are dyed to inform people that taro has been used in the dish.
Whatevs.
Purple is my absolutely most favoritest color ever, so I'm totally down with dying my food when required!
But, my addition to whole wheat flour kind of took that whole purple affect away when it came to my taro rolls.
Boo. Hiss.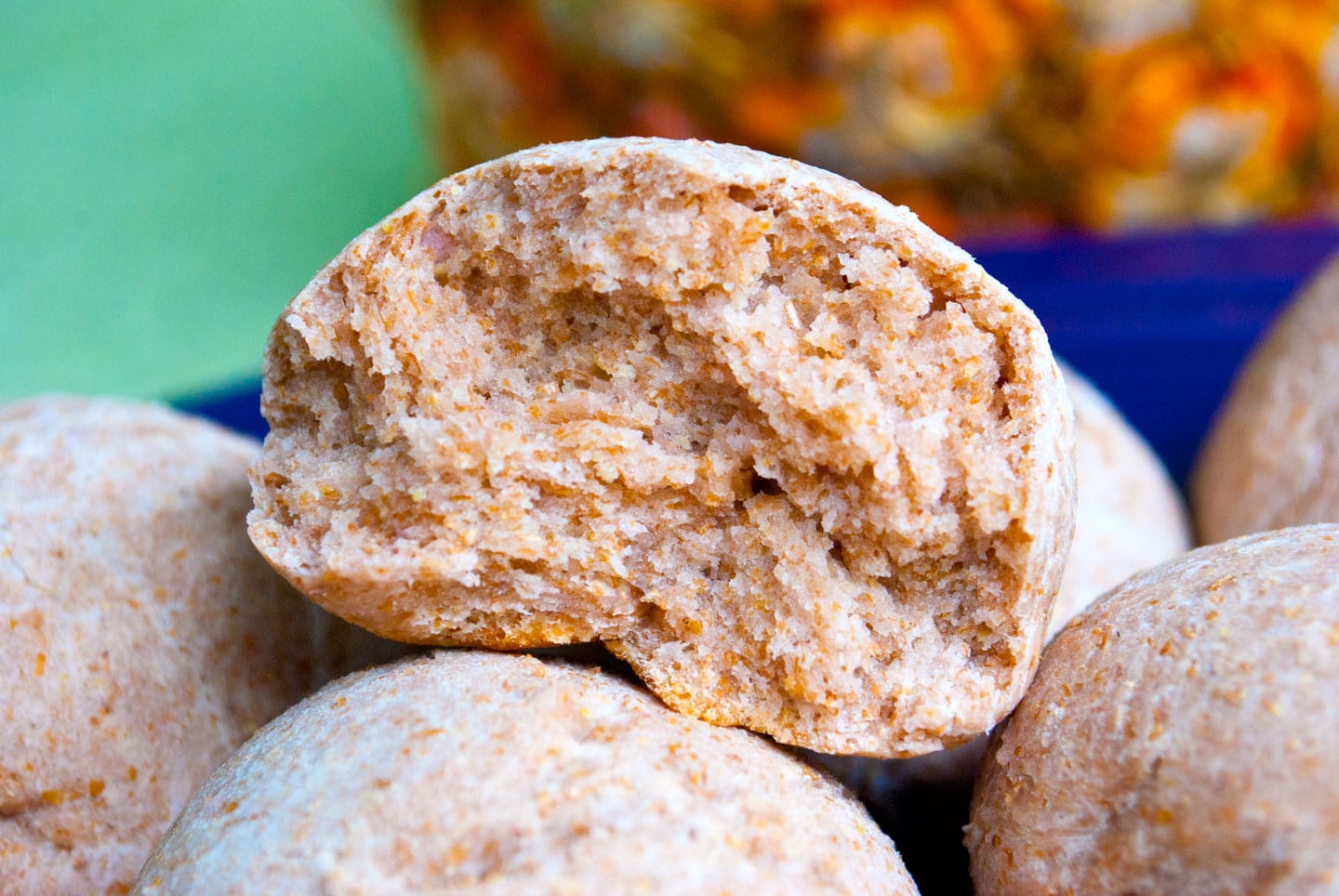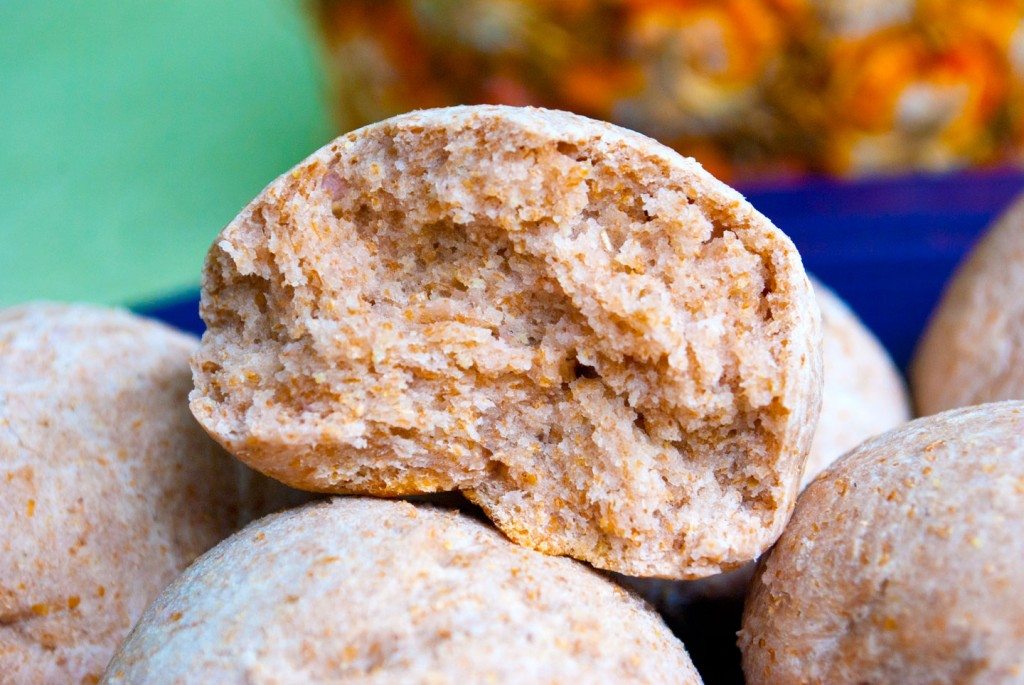 Now, my goal with this blog is to try to keep my recipes simple and attainable…meaning, I don't want to post a whole bunch of recipes that require ingredients that are hard to come by.
And this recipe kind of goes completely against that goal.
However, I just so happened to run across a ton of Taro root at Harris Teeter the other day (and if you follow me on Instagram, you'll know that's where I also found fresh passion fruit too), and I had leftover lychees from Friday's Sassy Hour post so I figured it couldn't hurt to try to combine the two into making something that Hawaiian lovers like myself could enjoy.
Plus, this recipe is sooo simple I can hardly stand it.
But, if it is absolutely impossible for you to find Taro root, try subbing with purple Peruvian potatoes and see how they turn out!
These rolls are absolutely delicious and taste very similar to the King's Hawaiian rolls we all know and love.
Slab on some of the tasty coconut butter and take your taste buds on one wild, tropical ride.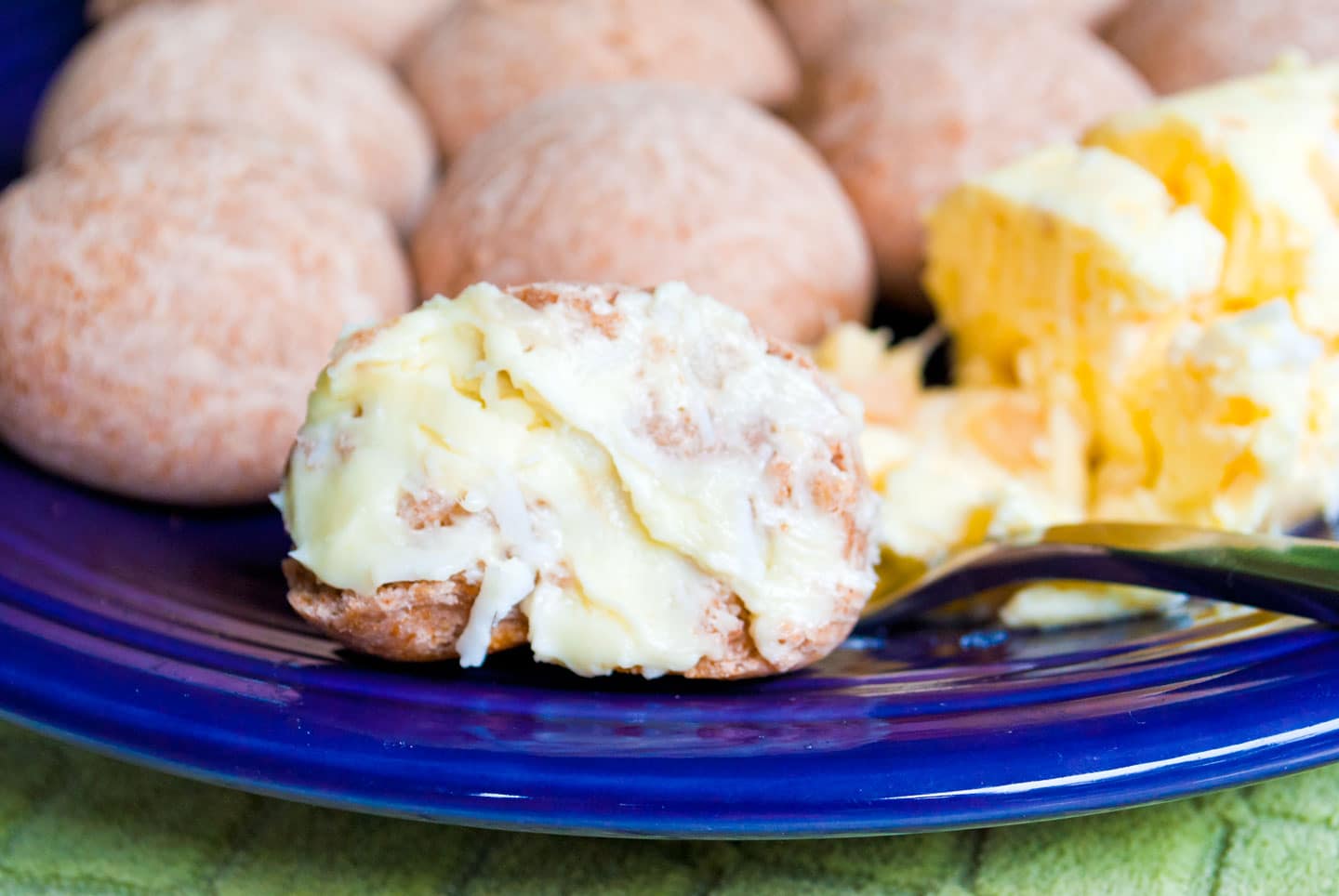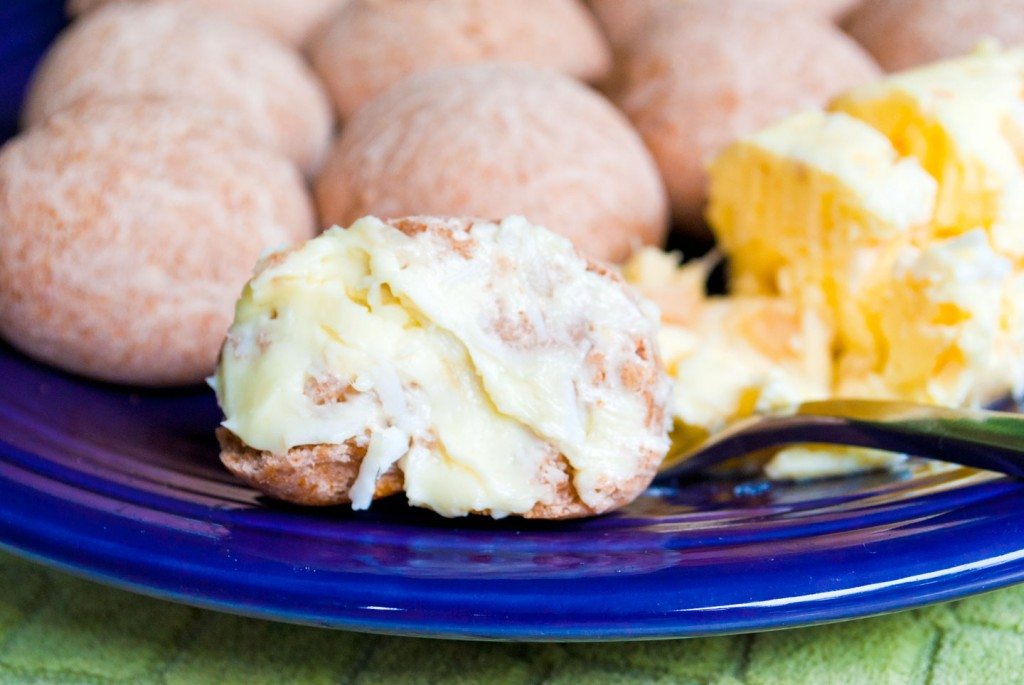 *Note: Today's recipe was adapted (or completely changed rather) from this one
Getting to know you...
What's the most unique ingredient you've ever used?
Do you have a store around you that sells tropical fruits and veggies?
Have you ever eaten (or heard of) Taro root?
"📖 Recipe"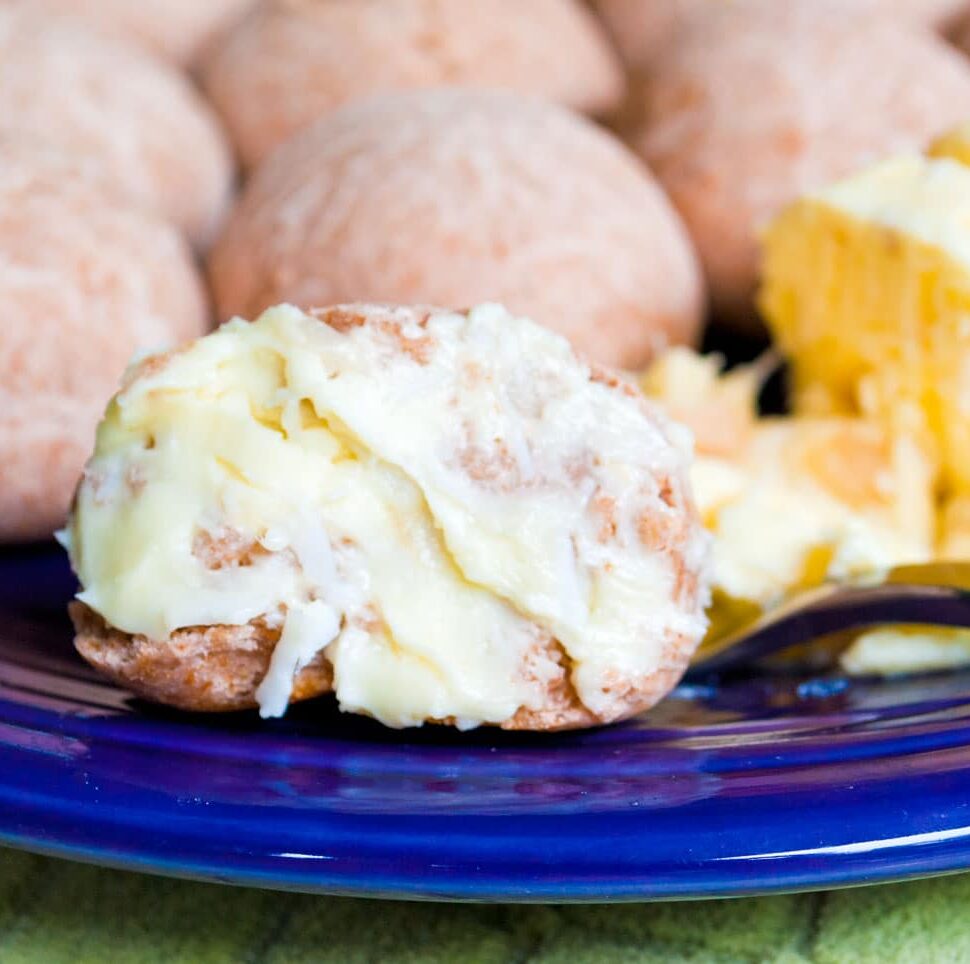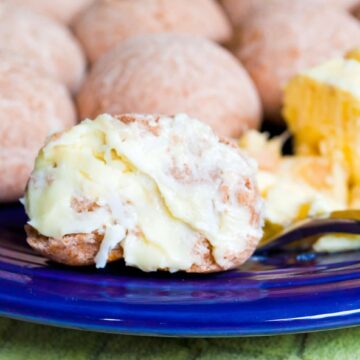 Whole Wheat Taro Rolls with Coconut Lychee Compound Butter
Two Hawaiian favorites are combined!
Print
Rate
Ingredients
1 ⅓

cups

warm water

1

large

egg

1

cup

Poi*

8

tablespoon

unsalted butter

softened

⅓

cup

sugar

3

cups

100% Whole Wheat Flour

3

cups

unbleached All-Purpose Flour

½

teaspoon

salt

2 ½

teaspoon

active dry yeast
*For the Poi:
½

cup

chopped taro root

skin removed

½

cup-¾ cup water

½

teaspoon

salt

4

drops blue food coloring

4

drops red food coloring
Instructions
Preheat oven to 350°F.

For the Poi, add chopped taro, salt and ⅛ cup water to a small microwavable bowl.

Microwave for 4 minutes or until root is softened.

Using a potato masher, mash the taro until it starts to form a paste. Add food coloring and slowly add in water (¼ cup at a time) until the mixture is violet in color and resembles a yogurt like consistency/paste. You may not need all of the water!

Now make the rolls!

In a large stand mixer with dough hook attached, combine water, egg, poi, and butter and then top off with the sugar, flours, salt, and yeast.

Mix on low until all the ingredients are combined and the dough is smooth, pulls away from the bowl, and forms itself into a ball. About 3-5 mins.

Transfer to a floured surface and knead for 1 minute.

Form the dough into 36 rolls (about 1.5 oz of dough each) and let rise for 20 minutes.

Cook for 20-25 minutes or until slightly golden brown.

While the dough is cooking and using a fork, mash together the coconut, lychees, and butter until well combined.

Transfer the butter mixture onto a piece of plastic wrap and roll into a log.

Refrigerate until set.

Once rolls are cooled, slather with the butter.

Enjoy!
Notes
*WWpts= 2 pts per serving* *WWpts+= 3 pts per serving*
Nutrition
Serving:
1
g
|
Calories:
118
kcal
|
Carbohydrates:
14
g
|
Protein:
3
g
|
Fat:
5
g
|
Fiber:
2
g