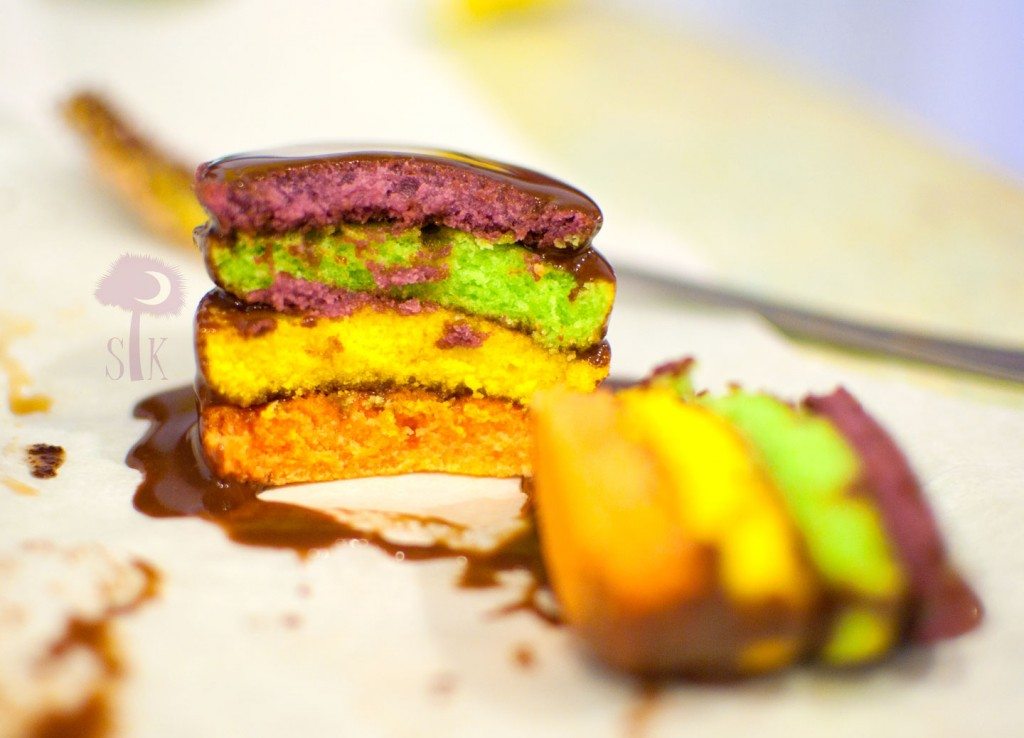 Let me start off this post by apologizing for not having my Weekend Wrap Up yesterday!
I spent the entire morning studying for our real estate exam, and then I was finally able to make it into the kitchen to make today's recipe. By the time I got everything made, I barely had any time left to my day, and then from there I was occupied with cooking dinner and taking and editing pics.
Yes...excuses, excuses...but I figured if I was going to miss a post, it should be one that doesn't necessarily include yummy goodies. Right?
Oh, and please also let me apologize for the quality of my photos in this post. I ran out of natural light and my in-laws only have fluorescent lighting in their home. Fluorescent bulbs are awesome if you want to save energy and a few pennies on your electric bill, but they are a straight up nightmare for photo shoots.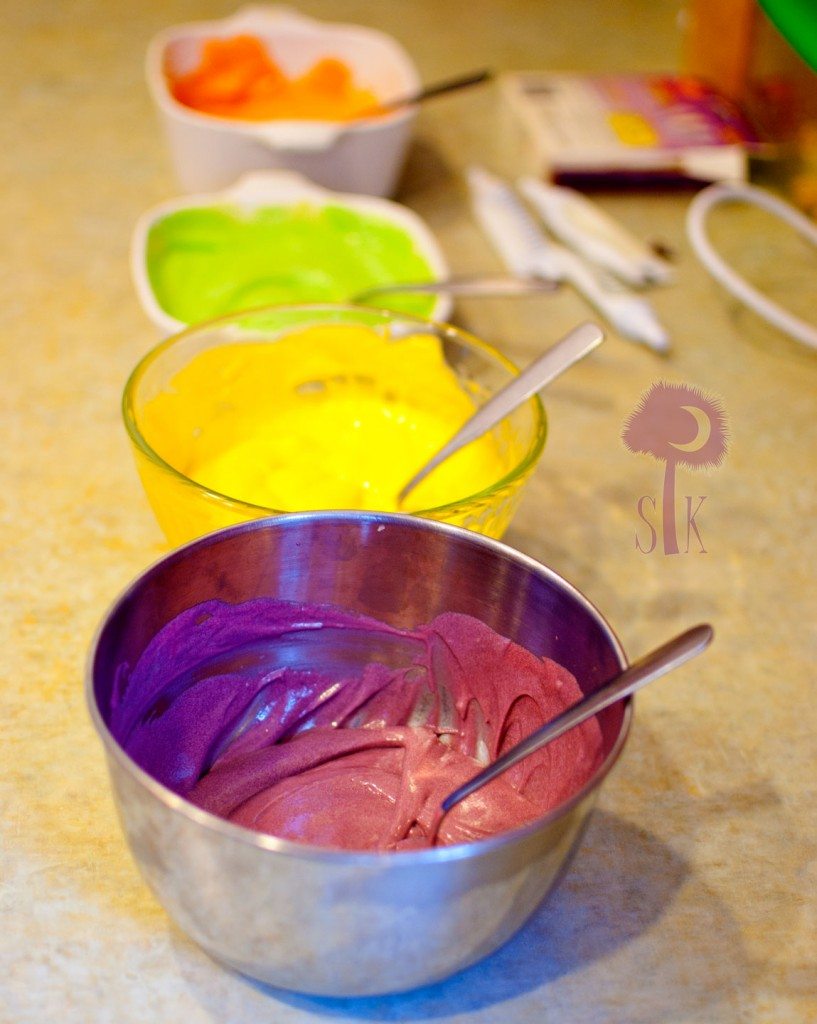 So, today's post is more of a technique rather than an actual recipe, and it sort of replicates the tie dye pancake &/or colorful layer cakes everyone has seen on Pinterest.
I just thought it would be fantabulous to make mini cakes in Halloween colors.
It's the perfect time of year for that, right?!?
Right.
Plus, there are only thirteen days left until our 1 yr wedding anniversary, and we had cupcakes at our wedding and the colors you see here are very consistent with the color scheme of our big event as well.
I'll tell you all about it AND show y'all pictures on our actual anniversary (the 29th), I pinky swear.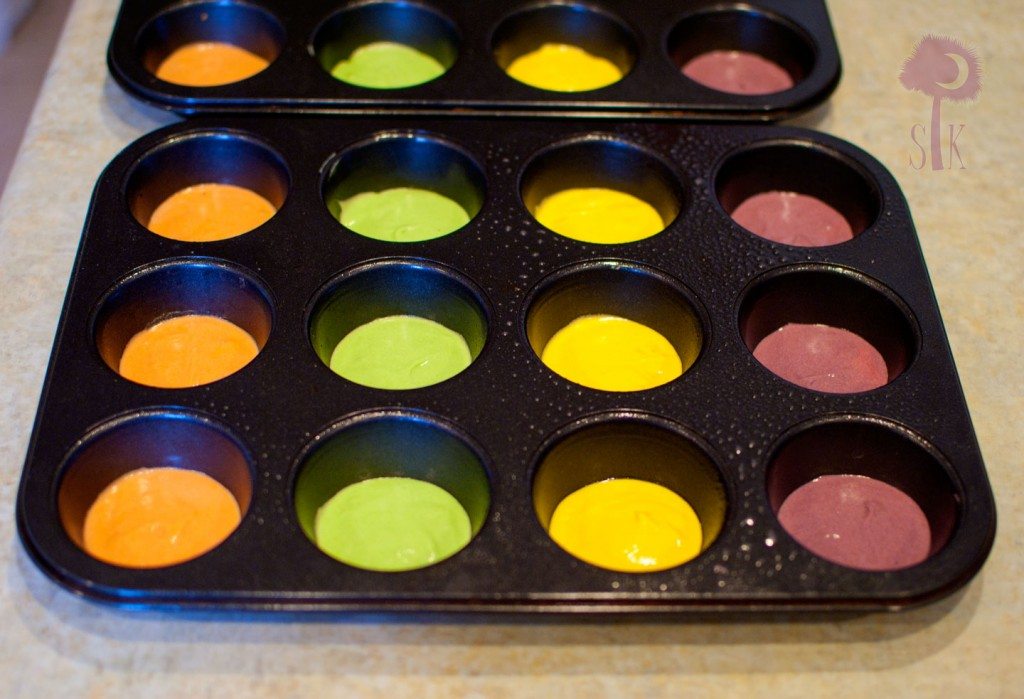 So with this "recipe" all you will need are a few simple ingredients and you will be good to go. Oh, and you also have a choice as to how you would like to make these as well.
You can make tiny layer cakes or cuppity cakes with a chocolate glaze.
That choice is up to you.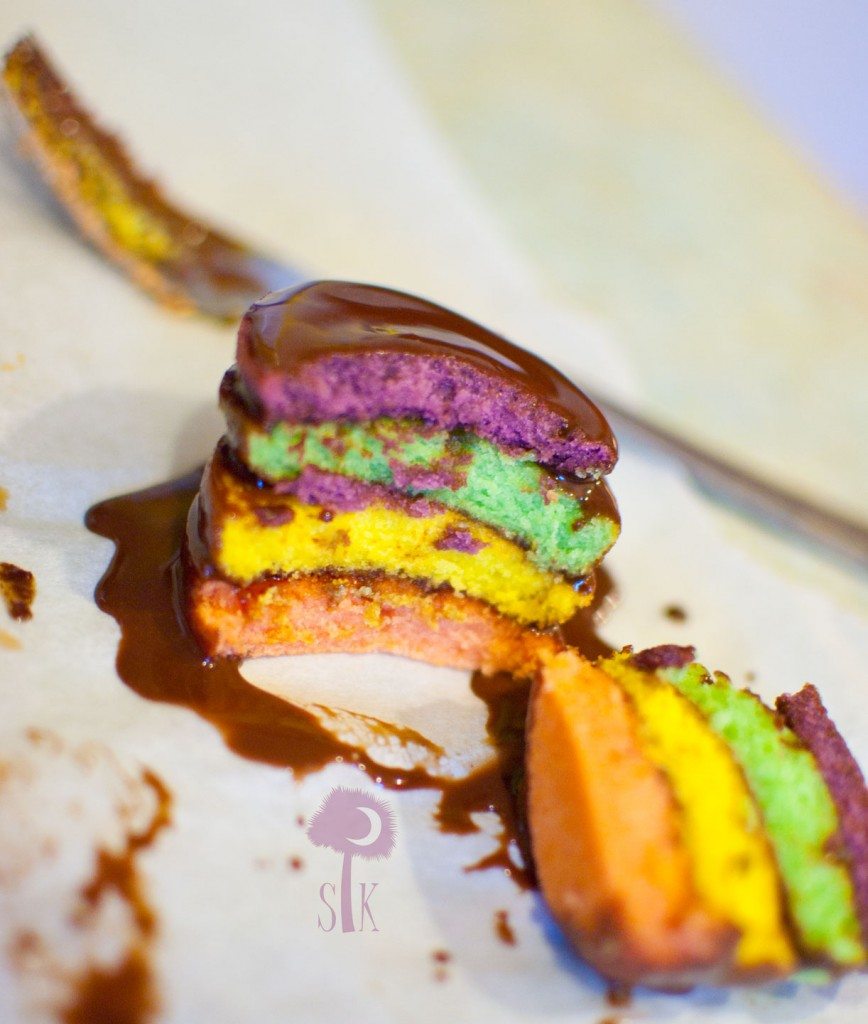 Oooor...you can do what I did and make both because you are absolutely unable to make a logical choice because you are so frickin' terrified you will make the wrong decision and will end up regretting the way you did it and you will drive yourself bonkers wondering why-oh-why did you have to do it that way instead of the other way?!?
So...yeah...I did both.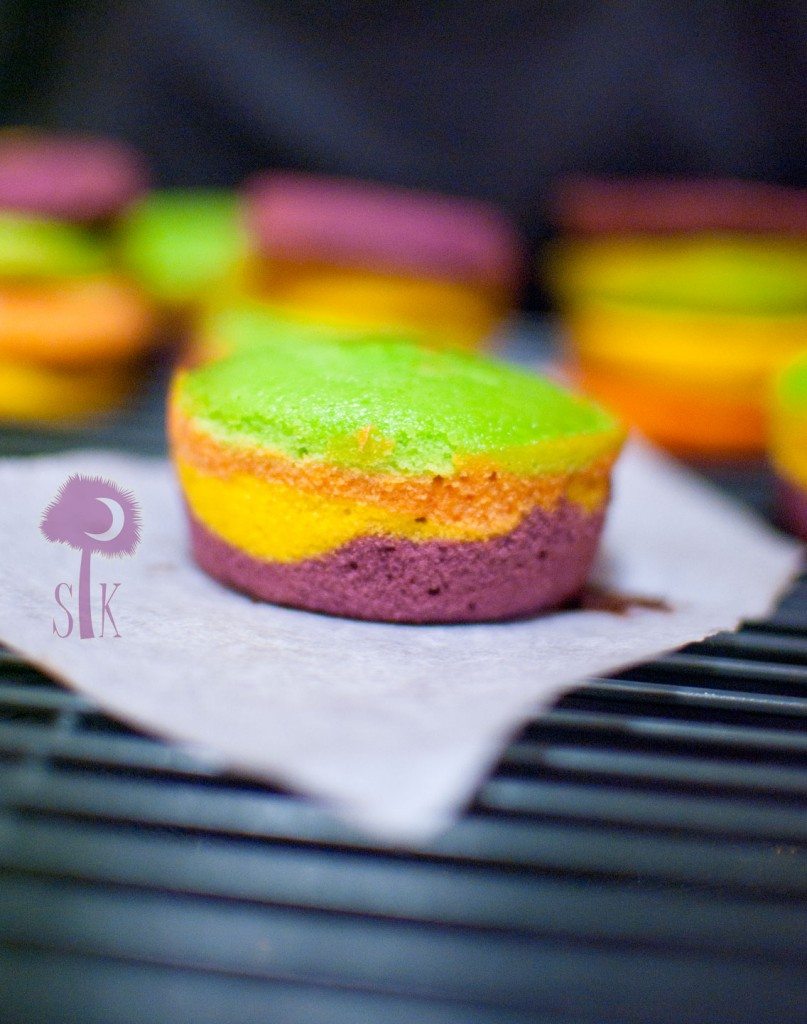 And then I made a chocolate glaze out of Splenda because there are people in our house who can't have sugar, but if you don't like Splenda (which isn't my first choice, trust me) and you don't have a hundred trillion dollars to buy Stevia that doesn't leave a bitter aftertaste when used in large quantities, then I'd suggest you make your glaze using sugar or make a super thick fudgey frosting instead.
But I don't have the patience for that kind of nonsense...especially when I have a perfectly acceptable chocolately glaze just begging to be drizzled over my splendidly beautimus cups and cakes.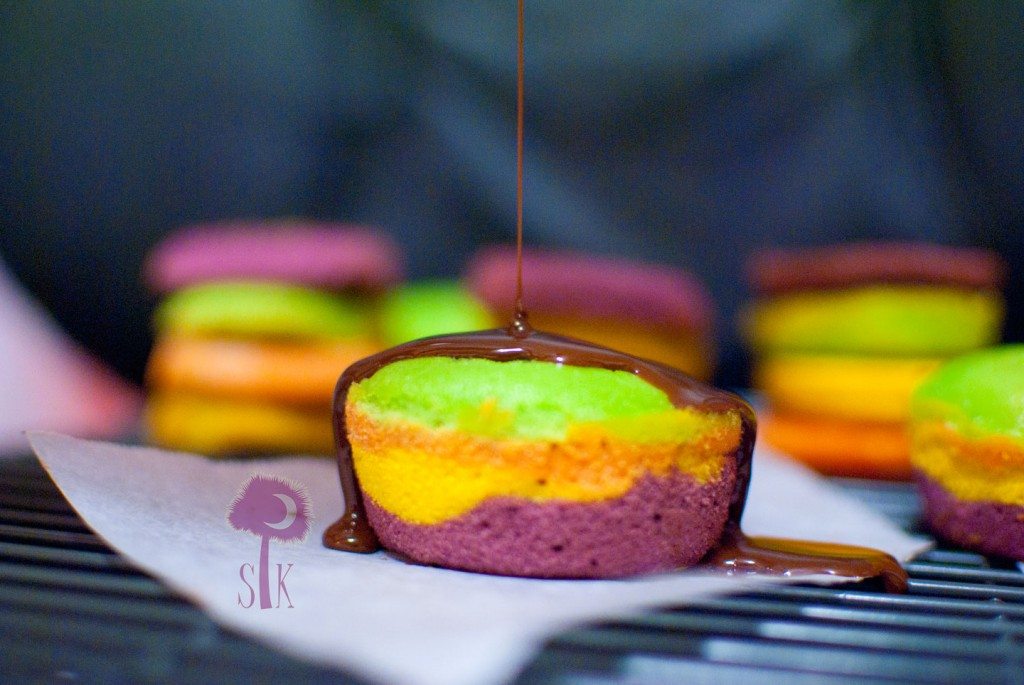 Getting to know you...
Do you prefer cupcakes or a slice of cake?
Will you make just the cupcakes or both?
What were/will be your wedding colors?
Freaky Halloweeny Cups & Cakes

Print recipe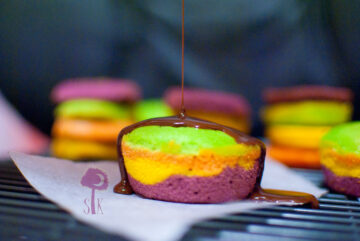 | | |
| --- | --- |
| Serves | 12 cupcakes or 8 mini layer cakes or 6 mini layer cakes & 6 cupcakes |
| Prep time | 25 minutes |
| Cook time | 20 minutes |
| Total time | 45 minutes |
| Meal type | Dessert |
| Occasion | Halloween |
Ingredients
1 batch of your favorite boxed or scratch made white or yellow cake mix (prepared to batter but not baked)
Food Coloring
1 cup Splenda (granulated)
2 ¼ tablespoons Corn Starch
1 tablespoon cocoa powder
1 teaspoon pure vanilla extract
2 tablespoons brewed coffee or expresso (I used Donut House Chocolate Glazed Donut for Keurig)
Directions
Step 1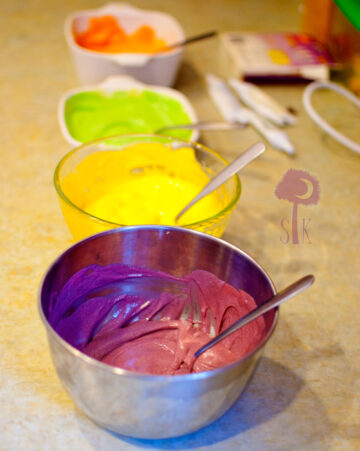 Separate the cake batter into four small bowls (just eye ball it)
Step 2
Each bowl will make one festive color. Follow the guides below to match the colors I used:

Purple= 6 drops blue, 5 drops red

Yellow= 5 drops yellow

Lime Green= 5 drops yellow, 5 drops green

Orange= 6 drops yellow, 2 drops red
Step 3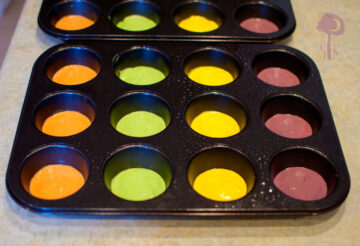 For the mini layer cakes (yeilds 8):

a. Preheat the oven to 350 degrees.

b. Using a 12 cup muffin tin sprayed with non-stick spray, drop one tablespoon of purple batter into the top 3 slots, then drop 1 tablespoon of yellow batter into the next three slots, 1 tablespoon of green into the next three, and then 1 tablespoon of orange into the slots that remain. Repeat in a 2nd 12 cup muffin tin. (See pic).

c. Bake for 6-8 minutes or until a toothpick comes out clean.

d. Let cool for a few minutes before trying to remove from pan. Once ready to remove, gently swipe a toothpick around the cakes and loosen from pan. Move to a cooling rack to cool completely.

e. Repeat steps b-d for the remaining batter.

f. Prepare icing or frosting of choice and layer the cakes and the frosting into a cute little stack.

Step 4
To make cupcakes (yeilds 12):

a. Preheat oven to 350 degrees.

b. Alternate a tablespoon of each colored batter into each slot of a 12 cup muffin tin sprayed with non-stick spray, making sure to use all four colors in each slot.

c. Bake for 15-18 minutes or until a toothpick comes out clean. Let cool for a few minutes before trying to remove from pan. Once ready to remove, gently swipe a toothpick around the cakes and loosen from pan. Move to a cooling rack to cool completely.

d. Drizzle with glaze or top with frosting of choice.
Step 5
For the chocolate glaze:

a. Add splenda, cornstarch, and cocoa powder to a magic bullet or small food processor and blend until it resembles powdered sugar.

b. Transfer the mixture to a small bowl, pour in vanilla & coffee, and stir vigorously until smooth.

c. Glaze the desserts as desired.
Step 6
Enjoy!