🙂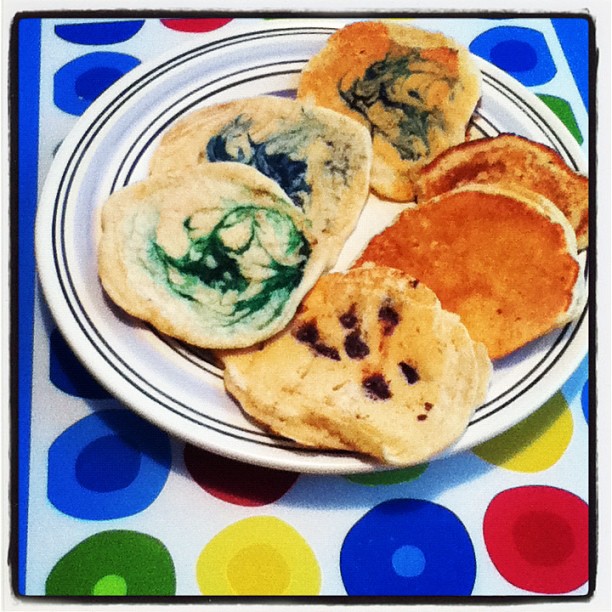 Good Morning, Y'all!
As you read on Friday (which I know you did b/c you are all incredibly loyal readers...or just booze fanatics like I am), the hubs and I went to NC this weekend to celebrate the 4th of July with his family and wouldn't you know it...I got sick right before we made the 6 hour trek to his parent's house!
Ugh...so frickin' typical.
And I'm like feel like I'm dying, whiney, crying, lying on the couch moaning and groaning transfixed on the Law & Order: SVU marathon while the rest of the family cleans up from the weekend sick too :/
Good thing they love me!
And speaking of people who love me, I am obvi not up for getting in the kitchen at the moment, so I have asked someone who is super near and dear to my heart to write today's post for me so I don't wind up poisoning my husband's family by transferring my nasty lingering sinus funk into their food.
Deetz from Cookies and Kiddos is not only one of my most favoritest people on the planet, but she also writes one of the cutest and most creative blogs I've come across since being introduced to the blogging community. She combines her love for baking with her love for reading and blends them into a kid-friendly creation made in confectionery heaven!
So, without further adieu, please help me give a big, sassy welcome to my girl, Deetz (who apparently really likes pancakes)!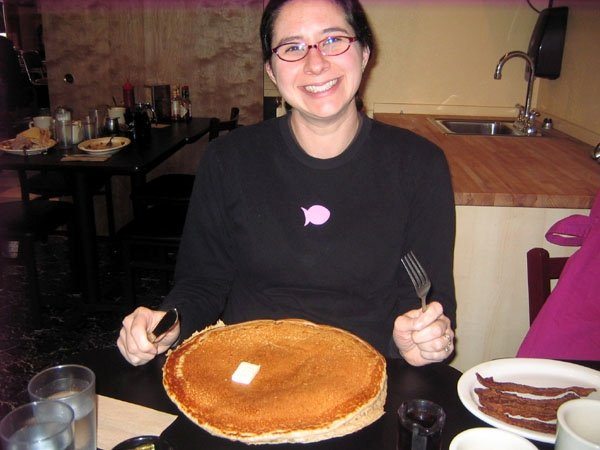 Hi, I'm Deetz from Cookies & Kiddos.  Over there I come up with the perfect pairing of a yummy recipe with a children's book. I love sharing delicious treats and story time with my kiddos. It also allows me to indulge my absolute Pinterest addiction and try making some of those sweet things we all like to pin! I also like to "test" recipes for their kid friendliness and ease of execution 😉
 At our house we love breakfast. In addition to eating it every morning we also like to have it for dinner at least once a week. The other day my daughter, Greyson, even asked if we could have breakfast for lunch! I was totally down with this idea since breakfast is generally easy and delicious to make and easy to keep healthy. I could seriously happily live in a world where you ate breakfast and dessert all the time.
One of my favorite breakfasts is pancakes. When I was growing up Saturday was pancake day. My mom was in charge of the pancakes, my dad handled the toppings. Whether it was chocolate chip pancakes, pancakes with cherries and whipped cream, crepes, they were delicious! To this day even my friends remember waking up from a sleepover to have pancakes on Saturday morning!
Now that I'm married and have my own family we have our own pancake tradition. My daughter prefers chocolate chips in her pancakes. My son likes anything as long as it has honey on it. I like pumpkin. However, the current holder of the title "Most Special of All" are my "Tie Dye Pancakes" so that's what I'll be sharing today.
"Look deep into the tie-dye... You will love these pancakes!"
 I have taken my mom's recipe and "healthied" it up a bit. Instead of using milk I use Greek yogurt to add some protein. I use a combination of all purpose flour and white whole wheat flour. White whole wheat flour is lighter colored, milder tasting, and somewhat more finely ground then traditional whole wheat flour. It has a similar nutritional profile to whole wheat flour, but has less gluten. These are so good, I bet you won't even notice!
Getting to know you...
Do you have a favorite family tradition you have carried on when you started your own family?
What is your favorite breakfast food?
"📖 Recipe"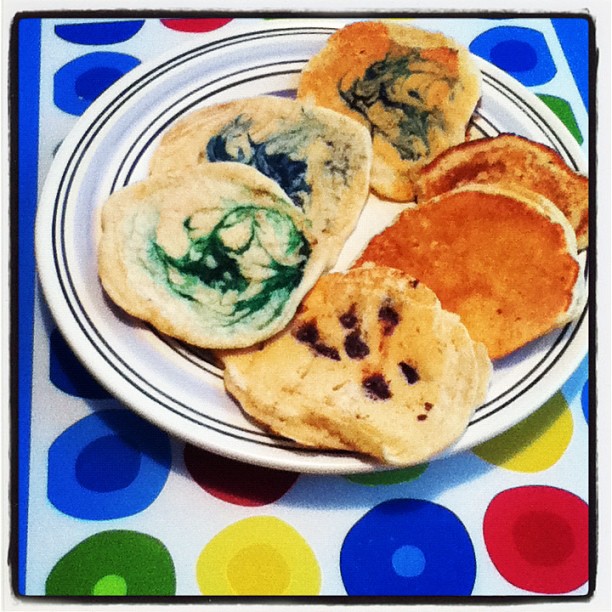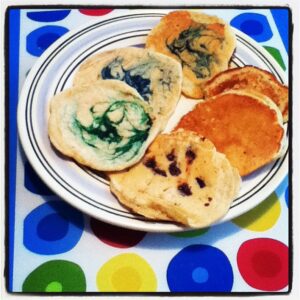 Ingredients
⅓

cup

All Purpose Flour

⅔

cup

White Whole Wheat Flour

1

tablespoon

Turbinado Sugar

2

teaspoon

baking powder

1

beaten egg

¾

cup

plain Greek Yogurt

I use chobani

¼

cup

water

2

tablespoon

sunflower oil
Instructions
Mix up all your ingredients in one big bowl. (Yay! Less to clean).

Preheat your frying pan to medium heat. If you aren't using a nonstick pan, I like cooking with coconut oil, but it's totally a personal preference.

Spoon a dollop of your preferred pancake size into the frying pan. Now comes the fun part. Put a tiny drop or two of food coloring in the center of your pancake, then use a toothpick to swirl it around causing a "tie dye" effect.

Once you start getting bubbles it's time to flip. Cook lightly with the "tie dyed" side down, then flip back over to finish cooking. (This helps keep the colors bright!)

Repeat with as many creative designs/colors as you desire. If you're more into tasty additions, you can always put in fruit, chocolate chips, etc, or you can leave them plain. Anyway you do it, they are delicious!