🙂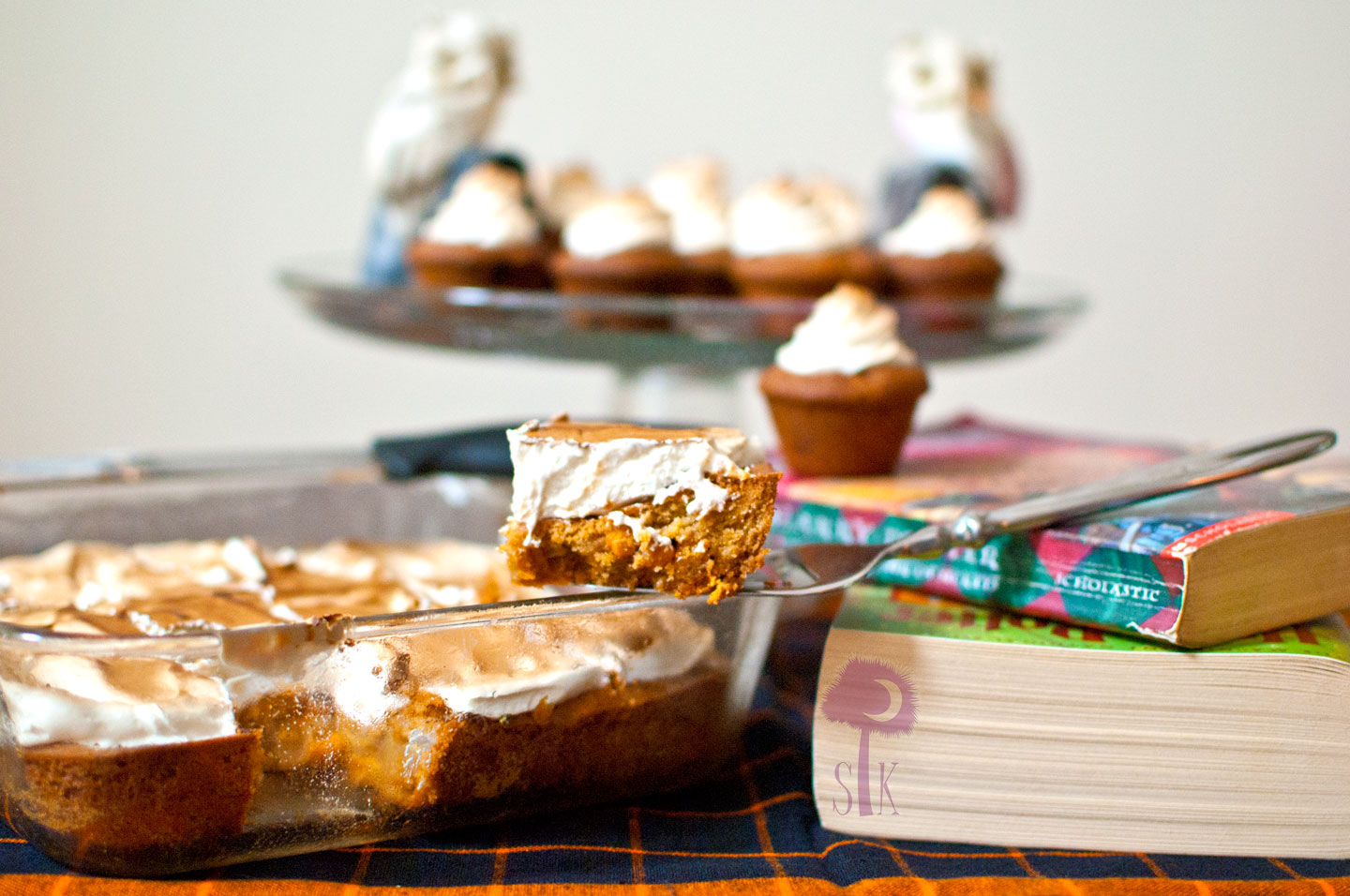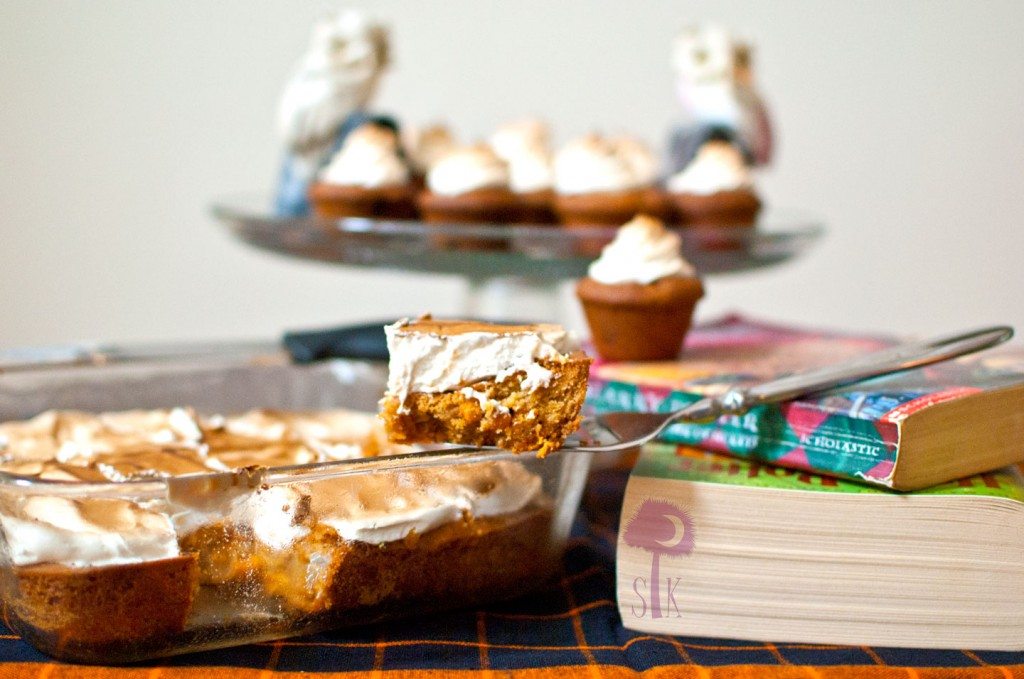 October is finally here! It's the most wonderful time of the year!
I know that I have mentioned before that I am a fall slash October slash Harry Potter slash pumpkin FAH-A-reak, so I couldn't be any happier that my favorite month is finally upon us. I've also been squirreling away recipes like a loony tune lately b/c amazingly delicious ideas just keep popping into my head, so I am absolutely *thrilled* to finally be sharing one with you!
Like, no lie, I have been waiting to post this recipe for months.
Bubbling frickin' butterbeer friggin' blondie bites.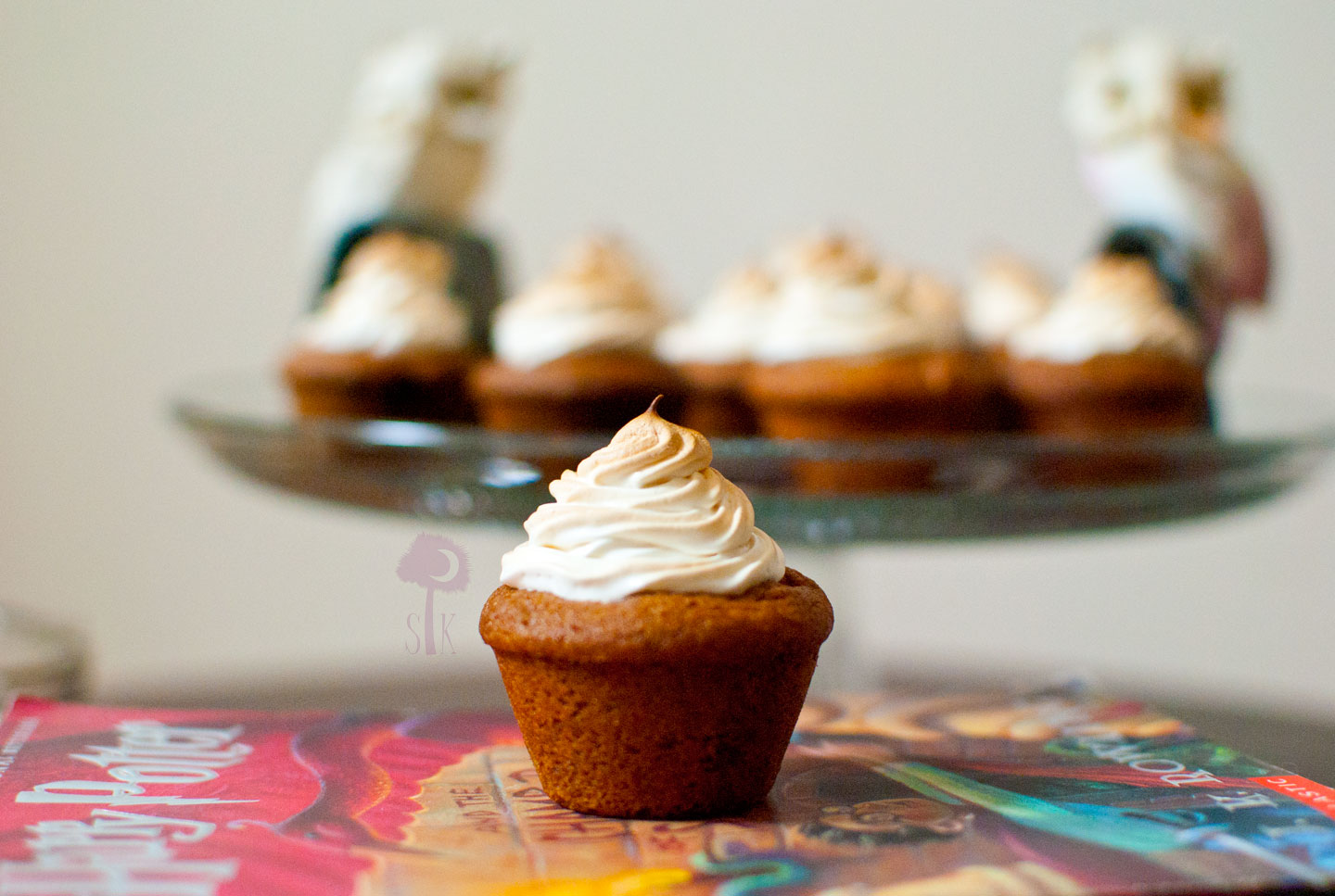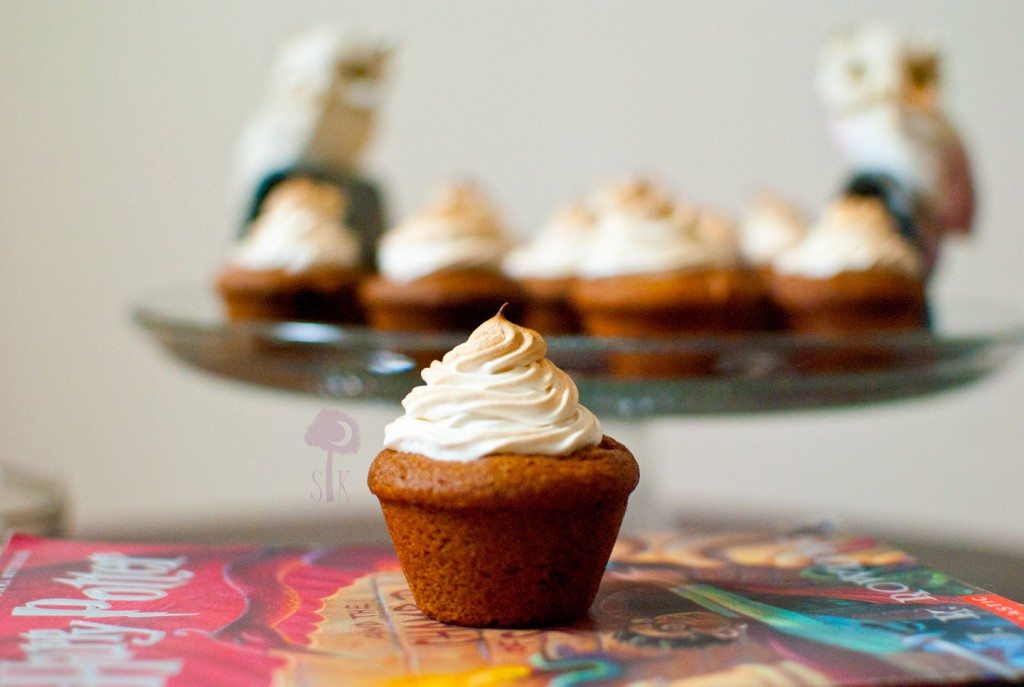 Just stop.
I can't even handle the joys of cooking sometimes.
These little jewels are just frappin' amazing, and they bring me back to our gloriously fall festooned wedding day!
Why?
Because our enchanted affair totally had butterbeer cupcakes garnished with chocolate witches hats (along with a sparkly sorting hat to guide our guests)!!!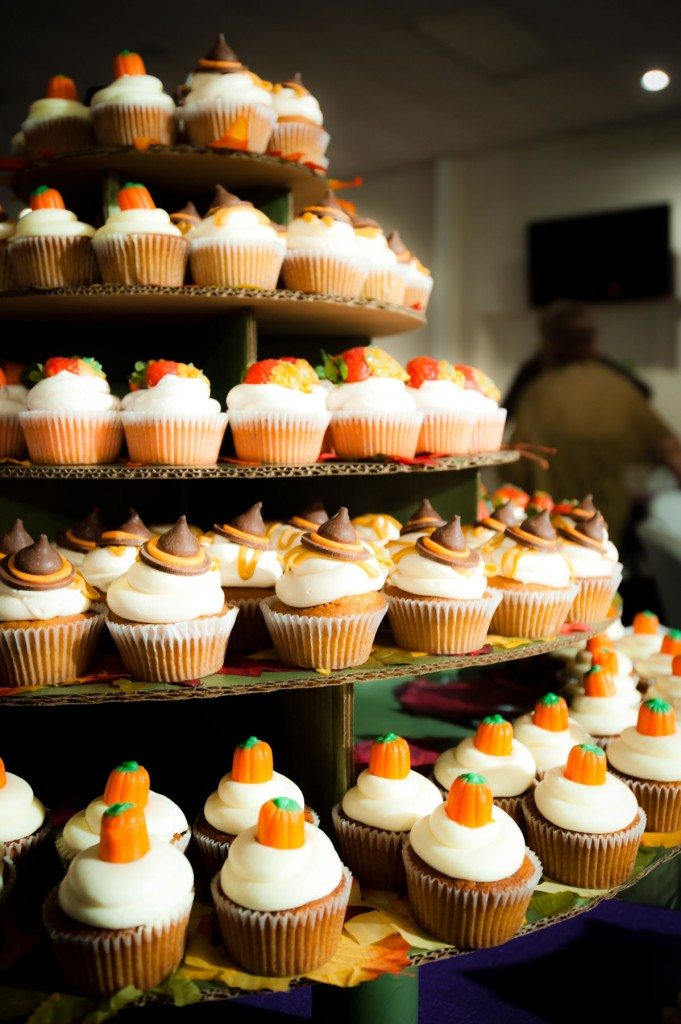 Photos by Valerie Schooling Photography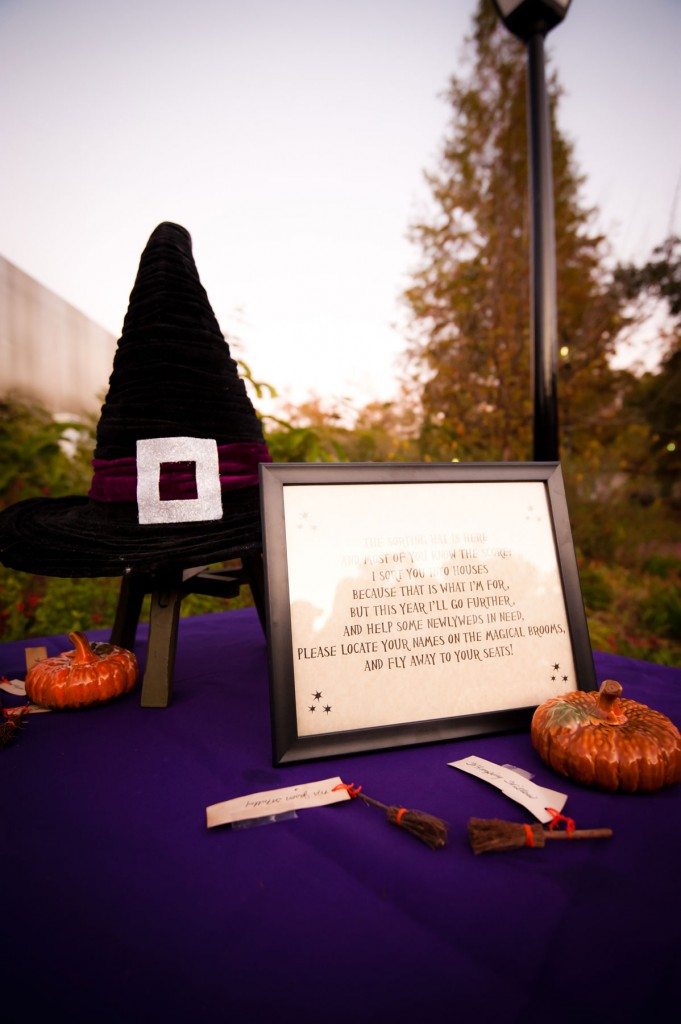 Jealous? 😉
You would be if you tasted one of those cupcakes! But, because I love my mini-minions so much, I have created a recipe that can almost compare to how amazing they were.
And because I'm incredibly impatient and only had one mini muffin tin we were making the big move yesterday, I decided to make both mini blondie bites and a basic blondie bar in order to save myself some time. I'm glad that I ended up doing that b/c it will give some of you uber-busy readers a way to enjoy these babies without spending too much time in the kitchen.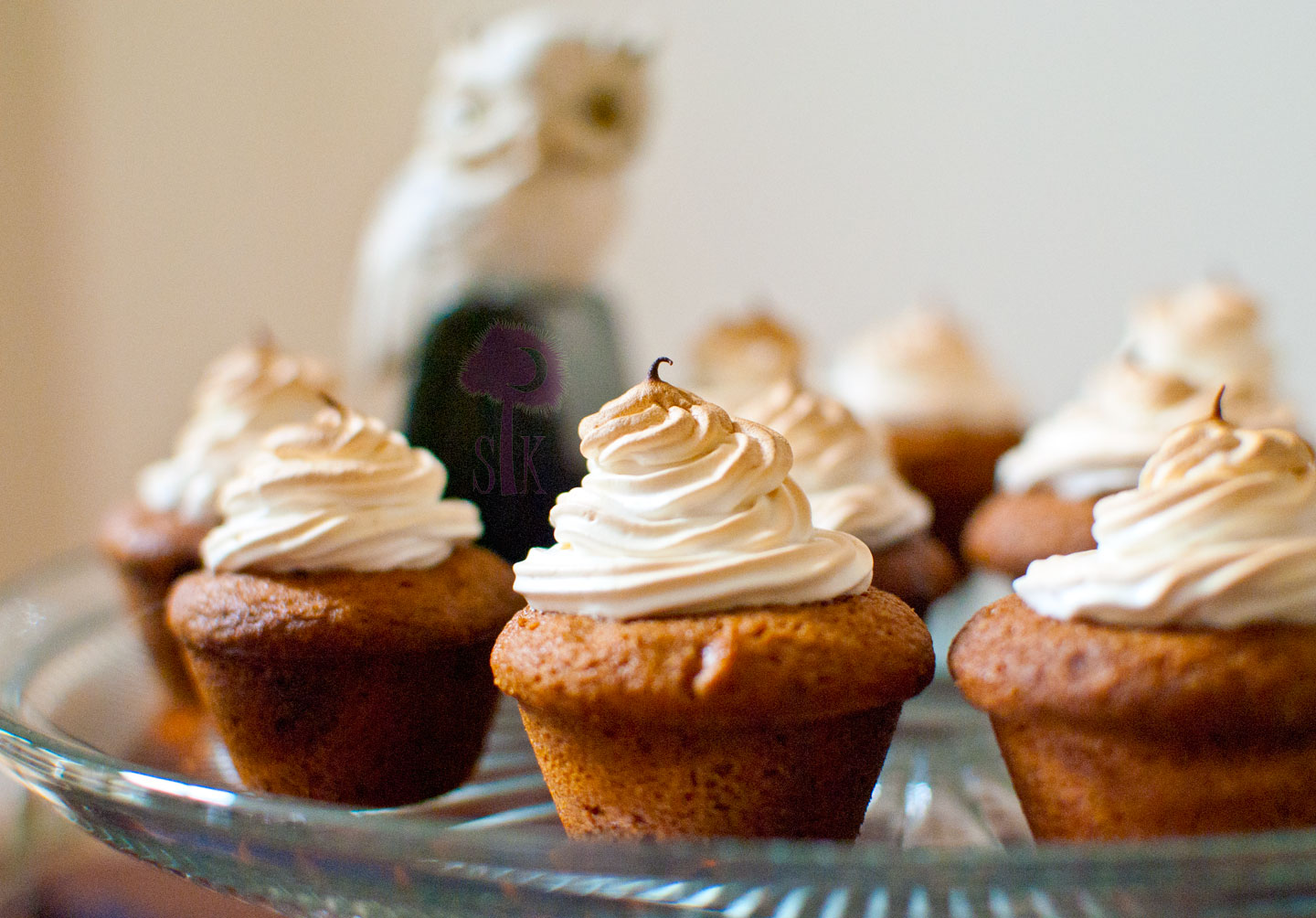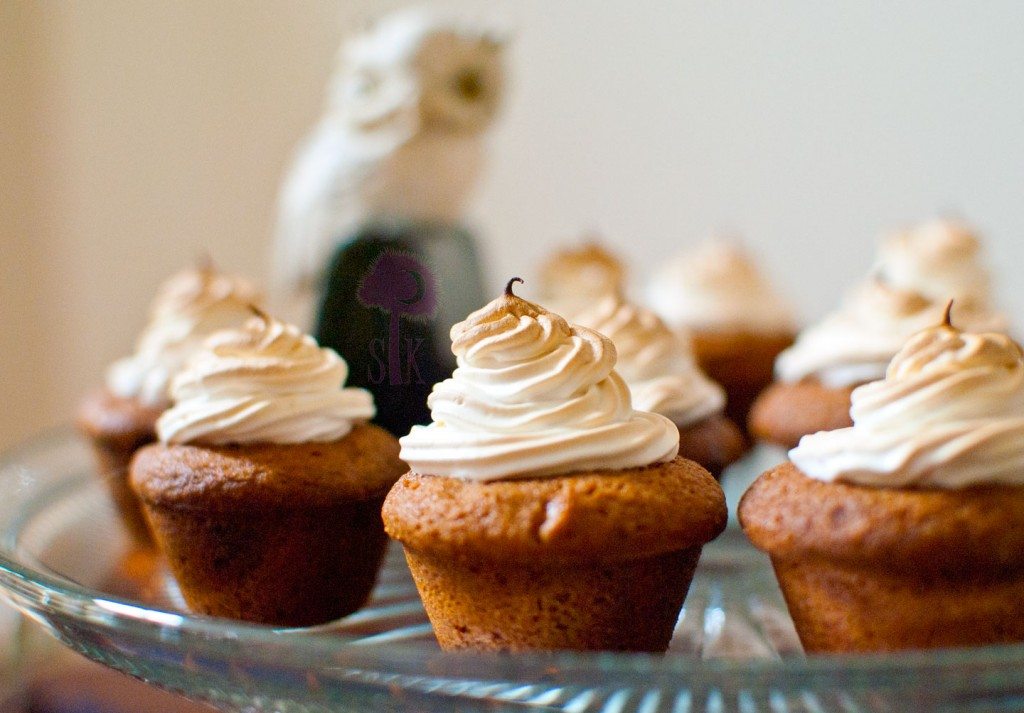 If you have visted The Wizarding World of Harry Potter, then you have had a cup of their butterbeer.
That junk is goooooood and topped with this amazing marshmallow fluffiness.
While I was researching for this recipe, I saw several people had made their own versions of butterbeer blondies; however, not a one of them were topped with any marshmallow cream!
WTF?!?!?
Purely inconceivable.
Implausible.
Unacceptable.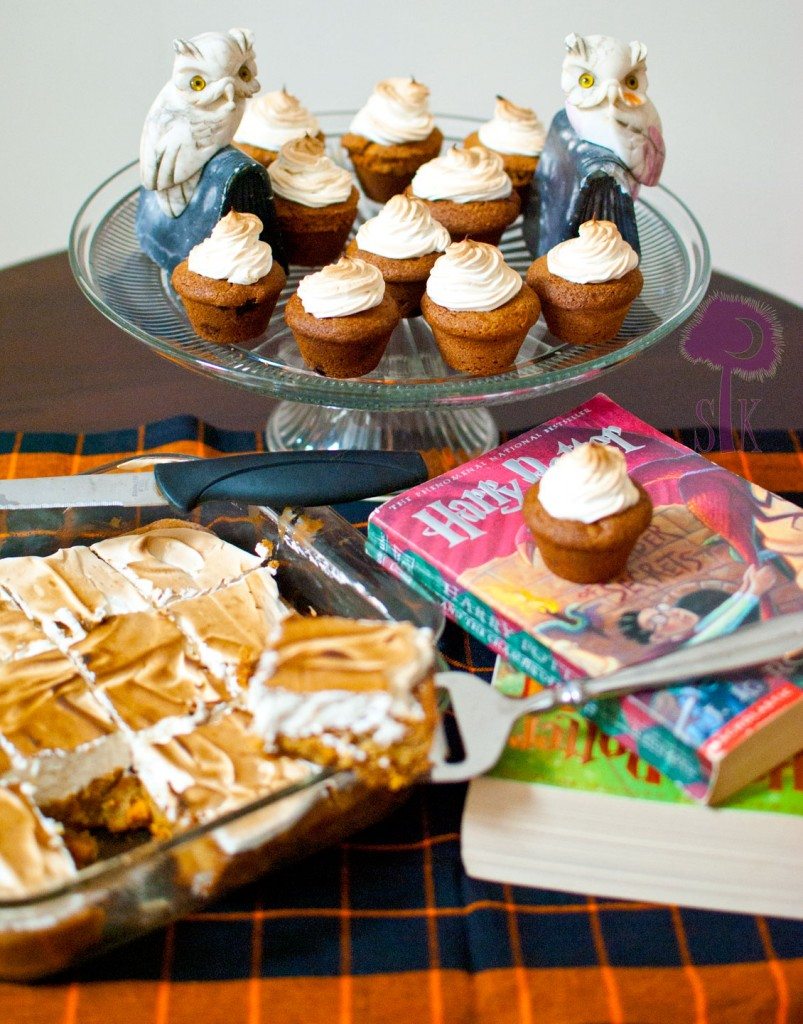 Well, these golden nibbles are brimming with the billowing clouds of fluff.
Squeeeeee!
I went ahead and made a batch of my homemade marshmallow frosting for these, but you could easily skip that step and use a jar of pre-made marshmallow cream instead if that'll be easier for you. I'm sure it will broil up just as beautifully.
It's just that I'm trying really hard to steer clear of artificial foods, fillers, and ingredients so when I get preggers again, it won't be hard for me to transition into a crazy healthy lifestyle.
Oh, and just an FYI...butterscotch chips & booze don't count in that equation b/c IMHO, butterscotch and booze are both nectar of the gods so they have to be pretty good for you right?
Right 😉
But I promise that I'll change that way of thinking as soon as I have a new little pumpkin in my oven.
Getting to know you...
Have you ever made butterbeer?
What's your favorite way to use butterscotch?
Will you buy or make the marshmallow fluff?
Adapted from Food Network Kitchens
Bubbling Butterbeer Blondie Bites & Bars

Print recipe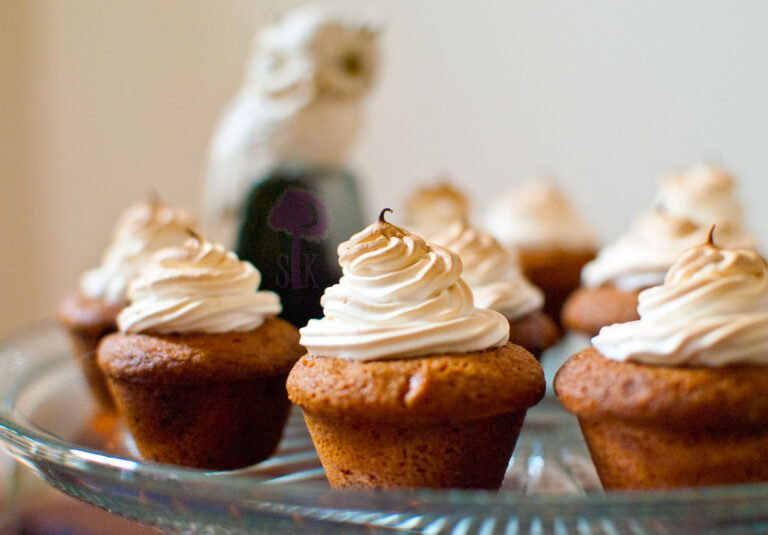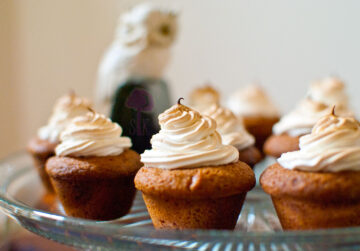 | | |
| --- | --- |
| Serves | 24 |
| Prep time | 15 minutes |
| Cook time | 27 minutes |
| Total time | 42 minutes |
| Meal type | Dessert |
Gooey butterscotch blondies are topped with a fluffy made-from-scratch butterscotch marshmallow meringue
Ingredients
1 ½ cup light brown sugar (firmly packed)
½ cup sweet cream butter (unsalted)
½ cup pure coconut oil (measured solid)
2 ¼ cups all-purpose flour
¾ teaspoons baking soda
½ teaspoon fine sea salt
2 Large eggs
2 teaspoons butterscotch schnapps (or extract, separated)
1 ½ cup butterscotch chips
1 cup water
3 Large egg whites (room temperature)
¾ cups sugar
Note
No nutrition facts at the moment. I'll explain that a bit more later this week. Thanks!
Directions
Step 1
Preheat the oven to 375 degrees F. Spray mini muffin tins &/or a 9" x 13" baking dish with all-natural cooking spray.
Step 2
Add sugar to the bowl of a large stand mixer, and melt the butter and coconut oil in a sauce pan over medium heat until fragrant and slightly bubbling.
Step 3
Using the whisk attachment, slowly whisk the butter into the sugar and stir until the mixture reaches room temperature, about 8-10 minutes. NOTE: The coconut oil causes the liquid and the sugar to stay slightly separated. Don't worry about it!
Step 4
Meanwhile, in a separate bowl, whisk together the flour, baking soda, and salt.
Step 5
Once the sugar mixture is cool enough, beat in the eggs and 1 teaspoon butterscotch schnapps then add in the flour mixture, just a little bit at a time, until the batter is smooth and well mixed.
Step 6
Gently fold in the butterscotch chips.
Step 7
For mini-muffin tin: Spoon about 2 teaspoon batter into each individual cup and bake for 15-18 minutes or until slightly golden brown. You'll want to pull these out when they are still just a bit gooey b/c they will continue to cook as they cool.

For bars: Spread the batter into the baking dish and bake for 22-25 mins or until slightly golden brown. You'll want to pull these out when they are still just a bit gooey b/c they will continue to cook as they cool.

Let cool completely in the pan/dish and wash and dry the bowl of the stand mixer if you only have one.

Switch your oven to a high broil.
Step 8
As the blondies cool, pour water into a small sauce pot and cover it with a glass bowl (bottom closest to the water), creating a double boiler. Turn the heat up to medium-low.
Step 9
Add the egg whites and sugar to the bowl and whisk constantly over the heat until the sugar dissolves and the mixture gets white and silky, about 6-8 minutes. Continue to whisk until the topping is warm to the touch.
Step 10
Immediately transfer the egg white mixture to the bowl of your stand mixer and beat, on high, until it gets fluffy and doubles in size, about 2-3 minutes. Gently stir in 1 teaspoon of butterscotch schnapps and continue to beat for another minute.
Step 11
After the blondies are cooled completely, either pipe or spread the marshmallow-meringue mixture over the tops of the bites &/or bars.
Step 12
Place under the broiler for 1-2 minutes or until the marshmallow-meringue is toasted and golden brown.
Step 13
Remove each bite from the pan &/or cut the bars into squares and serve.
Step 14
Enjoy!