A refreshingly cool, smooth margarita, made with fresh lime, cucumber and pineapple, and pureed with your favorite tequila.
Ay, dios mio, y'all.
I'm so sorry for the completely unexpected blogging break. I was tippity tapping away on a post the other day when all of a sudden I got the blue screen of death and my whole world crashed around me. The bad news is my entire hard drive went kaput, and I lost a good bit of files including about 6 weeks worth of recipes and their corresponding images I had etched into my editorial calendar.
The good news is the hard drive was still under warranty (score!), and I had literally just moved every.single.one. of the 4,500+ My Picture files off of my computer and onto an external hard drive the day before it crashed! So my engagement & wedding photos and pics of Owen's first year are totally safe!
It's going to take some time for me to get things back up and running again so, in the meantime, I'm going to drown my sorrows in margaritas and chips and salsa and ask some friends to stop by and entertain you. Without further adieu, please allow me to introduce my bloggy bestie, Erica...
Hey, y'all! I'm so happy to be hanging out over here in Slim Pickin's Kitchen today, sharing a delicious cocktail recipe with you for Cinco de Mayo!
Oh, how rude of me. Where are my manners? I haven't introduced myself and I'm already trying to get you drunk! I'm Erica, and I call The Crumby Cupcake my home!  You may have heard about me from Miss SPK herself, since we're bloggy besties and all. She somehow found me in the vast ocean of the internet, and I'm so glad she did! We connected immediately over our love of food, all things pumpkin, and Harry Potter, and got to meet and hang out and carouse face-to-face a few months ago at Food Blog Forum in my home state of Florida.
We are living proof that not everyone on the internet is a predator!
Anyhoo, in case you want to know a bit about me, I'm a thirty-something absolute nerd chick, who was lucky enough to marry a wonderful man who is a whiz in the kitchen! I'm a (formerly avid) gamer, movie lover, Disney season passholder, dog loving wino who is obsessed with cupcakes, desserts, and all things sweet. I work as a bakery manager for a major supermarket chain, but even with a full-time demanding job, I still have an entrepreneurial streak. I started my blog last July on a whim; my sweet husband bought me a fancy fabulous camera when I decided I wanted to take up photography as a hobby that could some day possibly become a lucrative side job. After two years of never touching the thing, I started snapping photos of the food we made together, and realized how much fun it was! I've been a Pinterest-aholic since it came out, so I was familiar with food blogs, and thought I'd try my hand at it.
The blog has seriously pushed me. Creating fun, original, delicious recipes is hard work, so my creativity in the kitchen has been tested, and my photography skills improve with every recipe I shoot. Thankfully, I have a wonderful support system, from my husband and my family, as well as my fellow blog friends (especially Amber!)
Enough about me. Let's talk about booze!
Being a visitor to this lovely blog, you're no doubt familiar with Amber's love for cocktails through her Sassy Hour series. I admit, I've tried a couple of them, and she's got a darn good grasp on what tastes good together in a cocktail shaker!
When she asked me to do a guest post for Cinco de Mayo on her blog, I knew the only suitable recipe to share would be a summery drink! I'm not nearly as adept at mixology as she is, but I can make a mean fresh margarita, so I put together this Cucumber Pineapple variation for you today.
The best part is it's not out of a bottle - it's made with fresh cucumber and pineapple chunks! You basically toss everything in to a blender, whir it up, dump in copious amounts of tequila, and you've got a refreshing drink that's great for parties, barbecues, or just a lazy day by the pool.
The pineapple is truly the star in this drink, but it is enhanced by the cucumber in a lovely way. You can taste the veggie in every sip (or gulp if you prefer), but it's a subtle undertone that really plays up the other flavors.
When I make these, I like to rim the glasses with Tajin seasoning, which is a great way to add the tiniest bit of spice to the drink (it's made of ground chile peppers, salt and dehydrated lime juice, and is delicious on pretty much everything.) I was first introduced to the seasoning at Disney's EPCOT; they rim a lot of their margaritas at La Cava del Tequila in the Mexico pavilion (one of the fun places Amber and I hung out at during FBF weekend), and it's absolutely delicious!
Drinking this margarita totally reminds me of the great times Amber and I had at FBF, and really has me looking forward to the next time we can get together to create more Sassy Hour-worthy memories!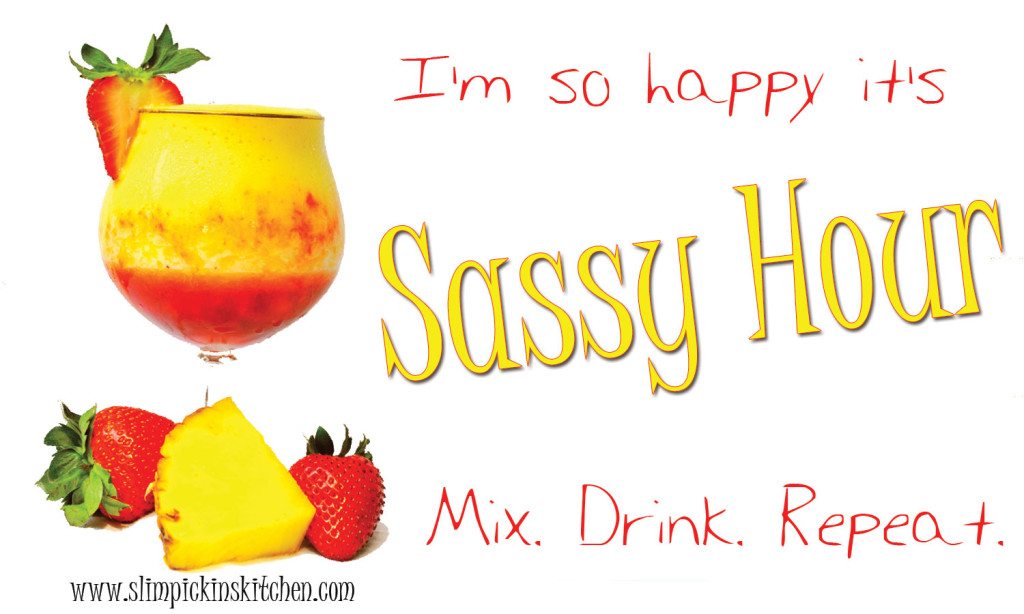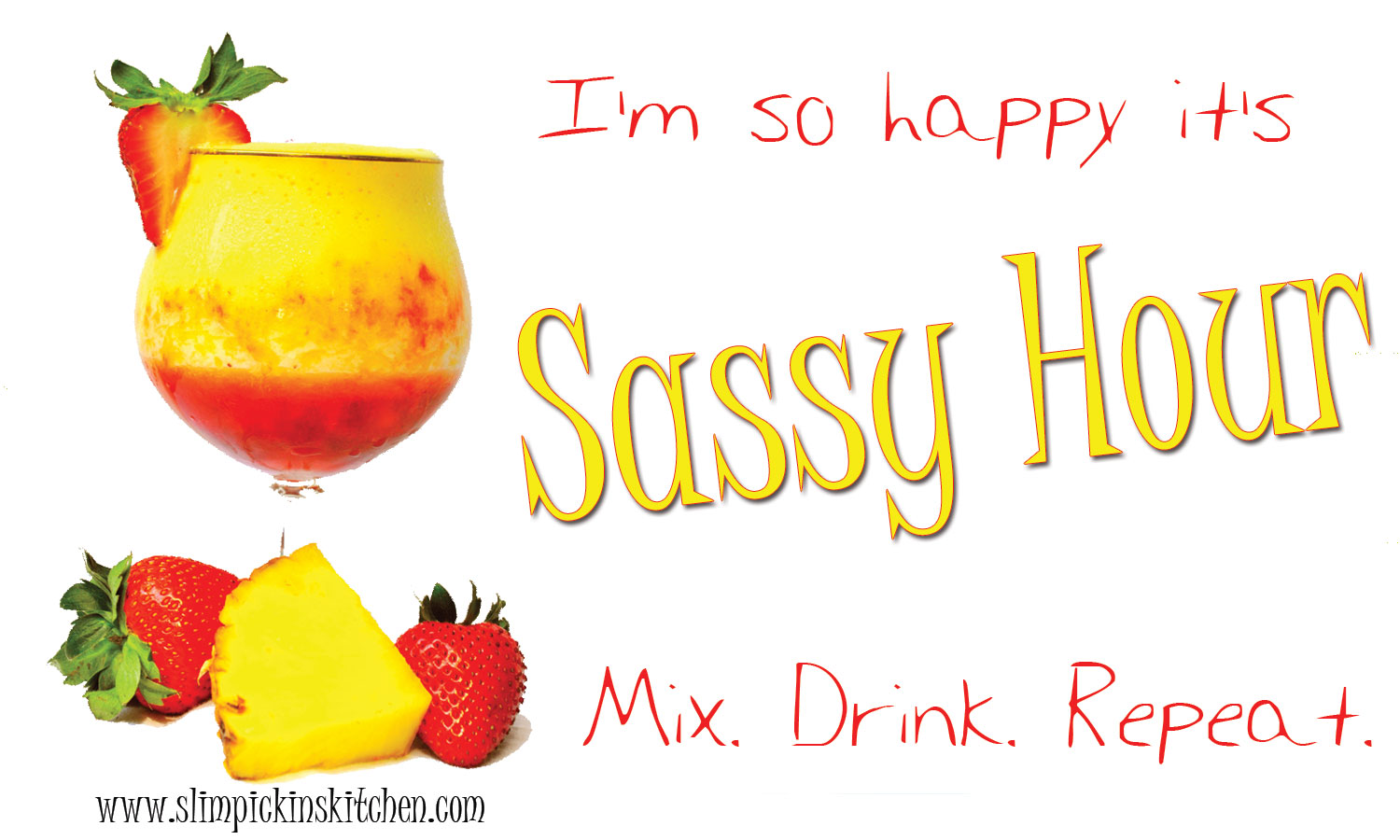 What kind of memories will you create with this tasty drink?!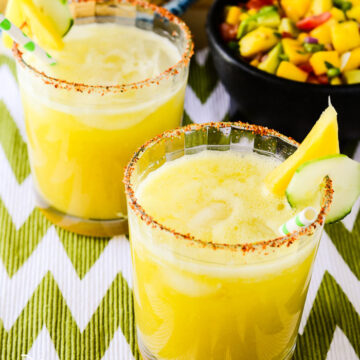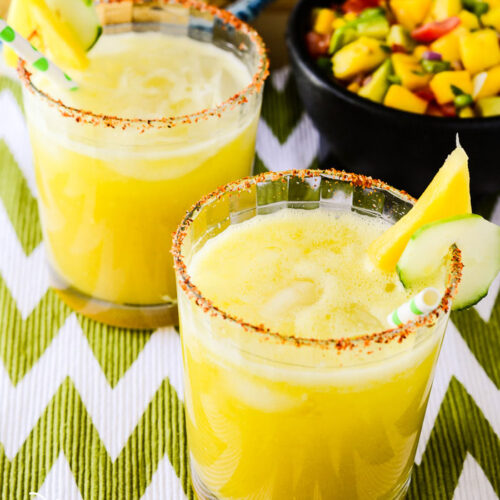 Cucumber Pineapple Margarita
A refreshingly cool, smooth margarita, made with fresh lime, cucumber and pineapple, and pureed with your favorite tequila.
Print
Rate
Ingredients
1 ½

cups

fresh pineapple chunks

½

cucumber

sliced

2

limes

juiced

½

cup

pineapple juice

½

cup

tequila

¼

cup

triple sec

Wedge of lime

Ice

Cucumber and pineapple slices

for garnish
Instructions
Rub the lime wedge on the rim of your glasses, then dip in Tajin seasoning or rimming salt.

Combine pineapple chunks, cucumber, lime juice, and pineapple juice in a blender. Pulse until mixture is smooth and consistently liquidy.

Add tequila and triple sec and pulse 2-3 times to blend.

For a frozen version, add ice at this step and pulse, and leave ice out of glass before pouring.

Add ice cubes to prepared glasses. Divide drink between glasses, garnish with cucumber and pineapple slices, add a straw, and go to town!
Hungry for more? Check out my Tropical Avocado Salsa recipe!