🙂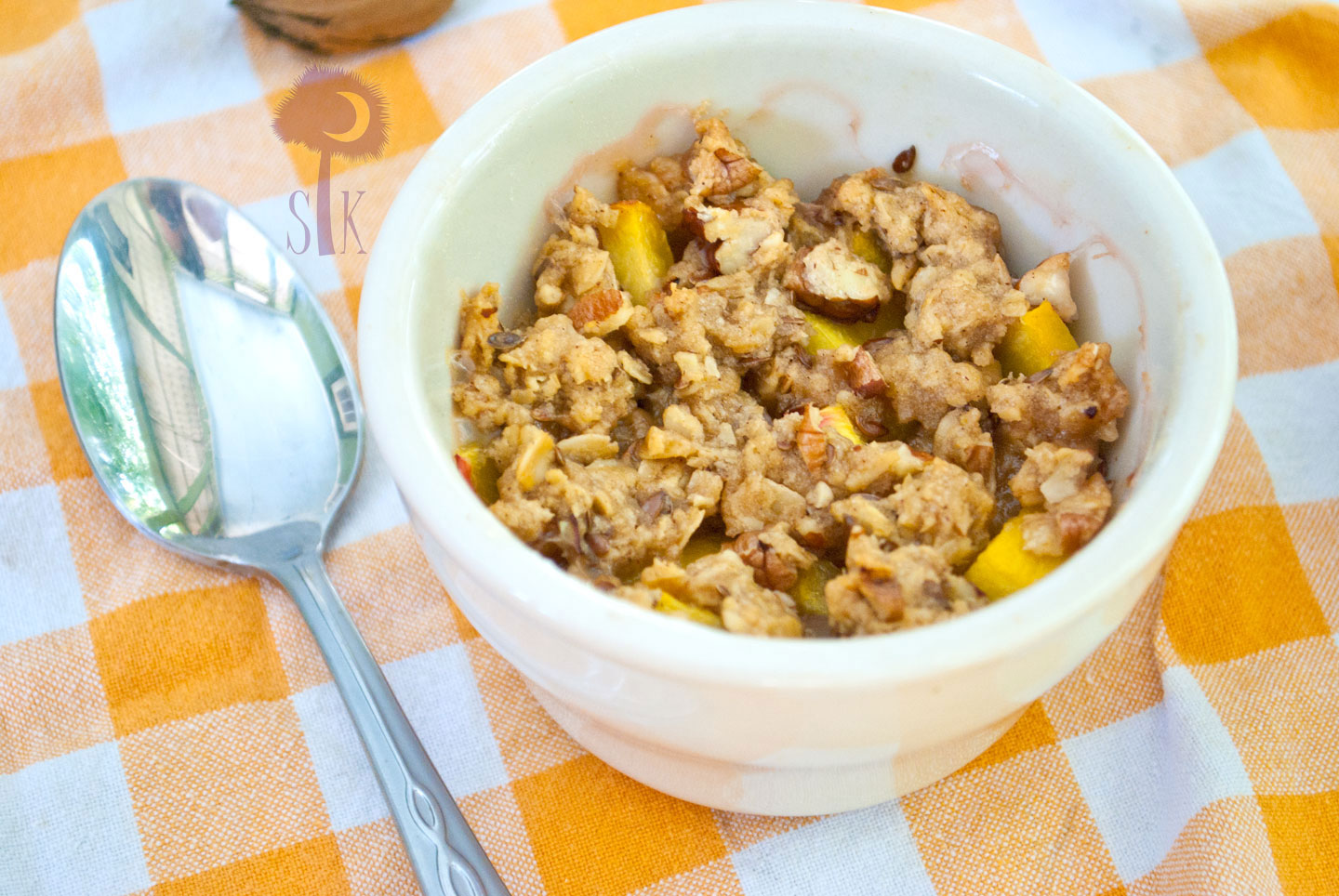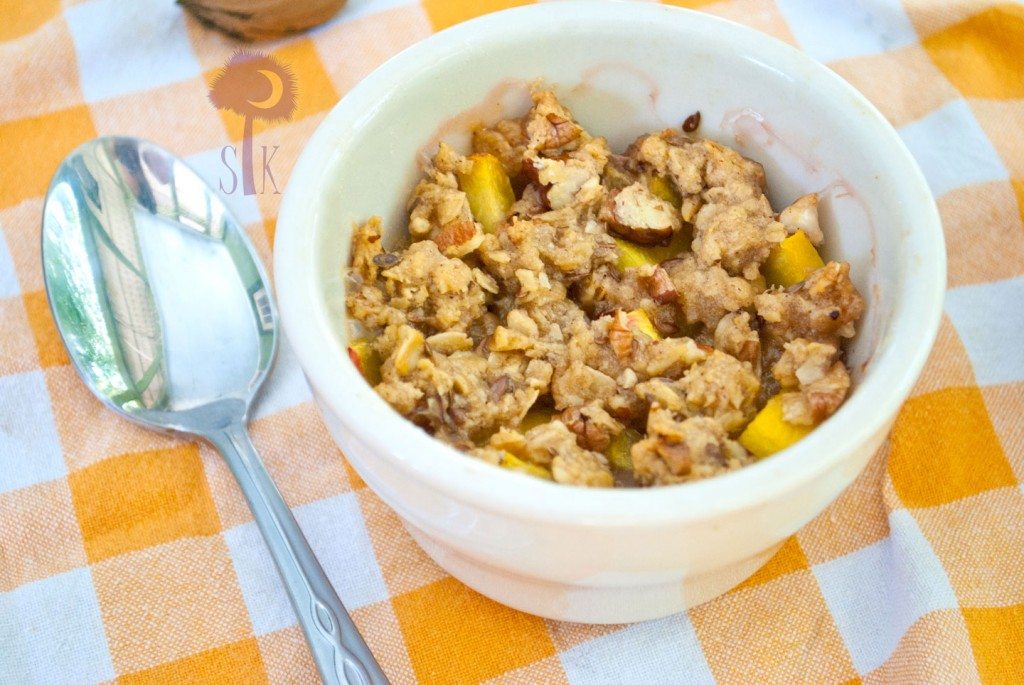 I am depressed.
Utterly and irrevocably inconsolable.
I've been crying all morning and will continue to do so, off and on, for goodness knows how long.
You see...I had to drop my brother, sister-in-law, and niece off at the airport this morning, and it was heartbreaking.
My tears started flowing before we even left their house, and they continually streamed until several minutes after I dropped them off.
I cried not because I was sad to see them go...and not because I was worried about their flight...and not because it's hard to say goodbye.
No, no...
I cried because they are going on an incredibly grand adventure on one of the most beautiful places on Earth, a place that I love more than my own hometown, a place that makes my heart swell every time I think of it.
I cried because I was not going with them.
I cried because I'm a spoiled rotten brat.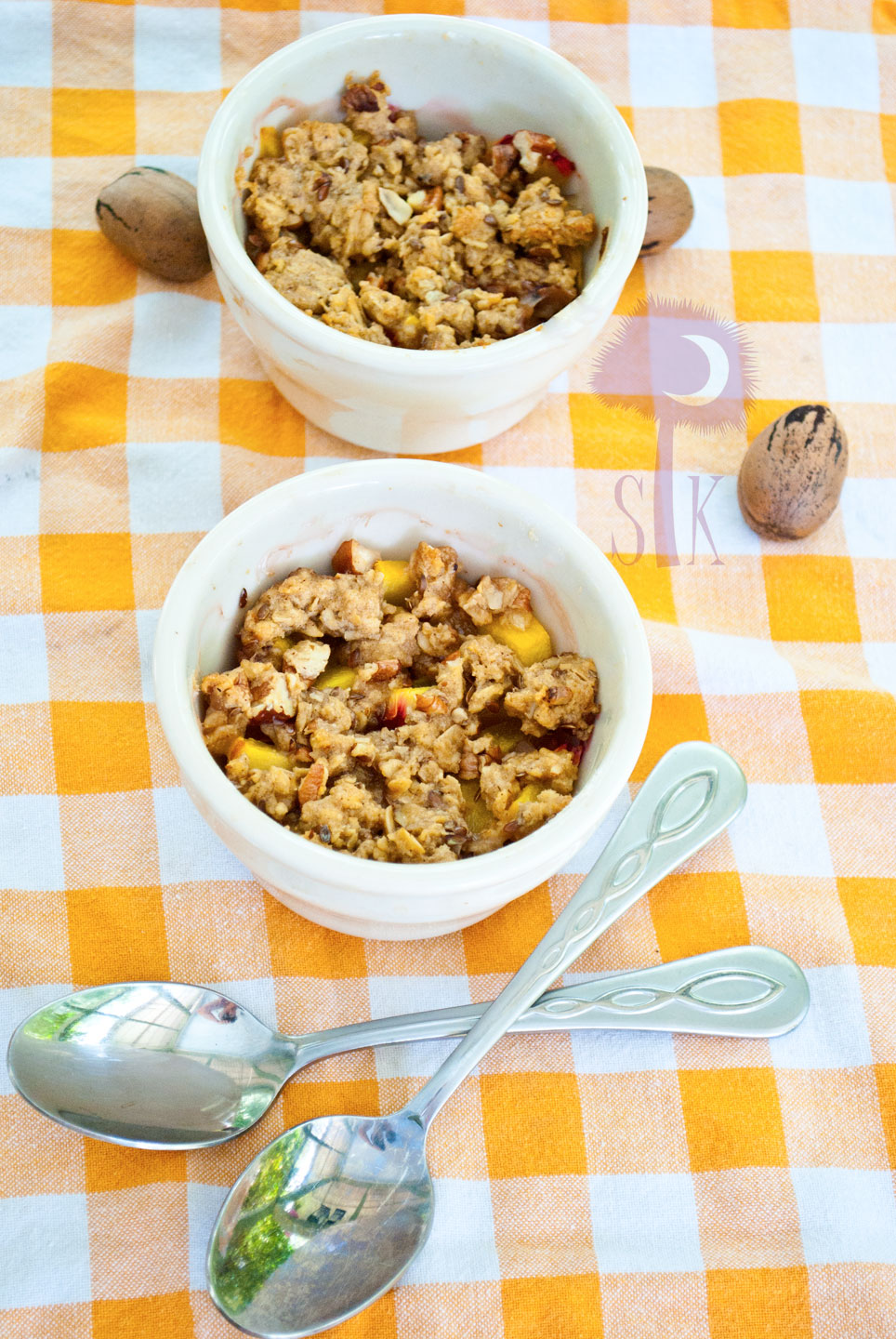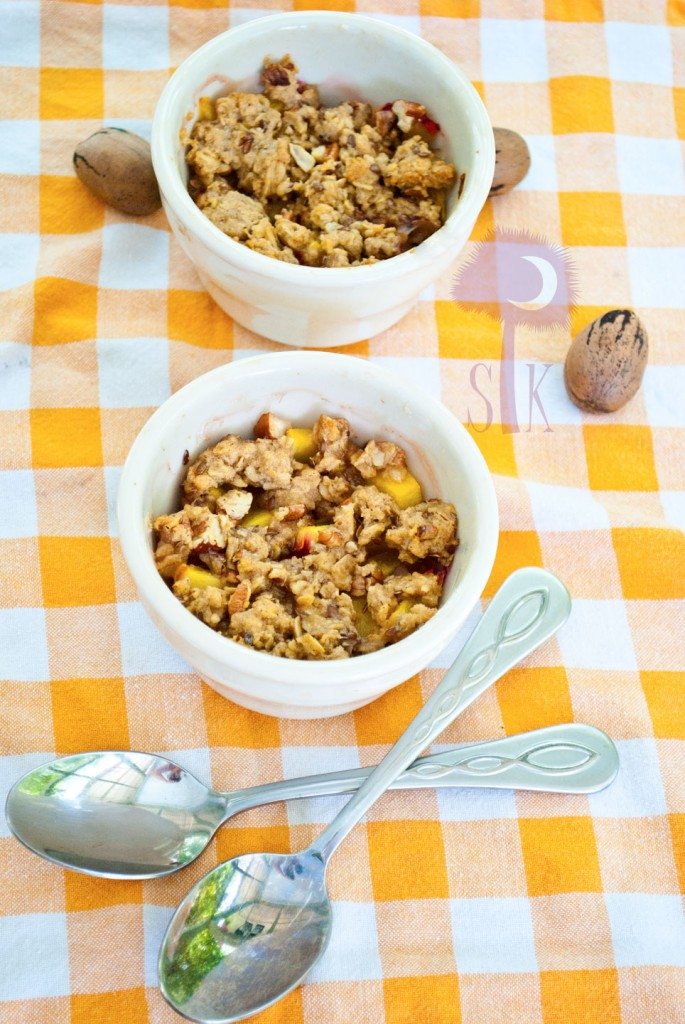 Scotland.
The mother land.
My 2nd home...and my family left without me.
It's pure devastation.
The end of the world.
And my heart is splattered on the floor.
Scotland means so much more to me than beautiful countryside, pints in the pubs, and lambing in progress. It's like a completely different world over there, a trip to Heaven, a magical re-connection to a people and a time that flourished long, long ago.
It's princesses and fairytales, knights in shining armor, and mystical creatures soaring the skies.
It's moments of true passion, memories in the making, and a life changing event that is recreated each and every time you step foot on its soil.
Scotland means the world to me...and I feel like I lost it today.
I could've easily gone...yes...and I think that's what makes it so hard.
I could have completely disregarded my responsibilities , bought us tickets with some of our life savings, and been on a plane today....but then my husband would completely freak out over finances, he'd worry himself to death, and our marriage would be strained because of it.
GAAAAAAAAAAAAAAAH...I hate being an adult and having to make responsible decisions. It truly sucks.
So, to glue back the pieces of my heart and to congratulate myself for being somewhat mature, I have made a little soul in a bowl, a comforting treat, that will hug me with its sweet embrace.
There is nothing more comforting to a southerner than fresh from the oven, gooey and rich peach cobbler.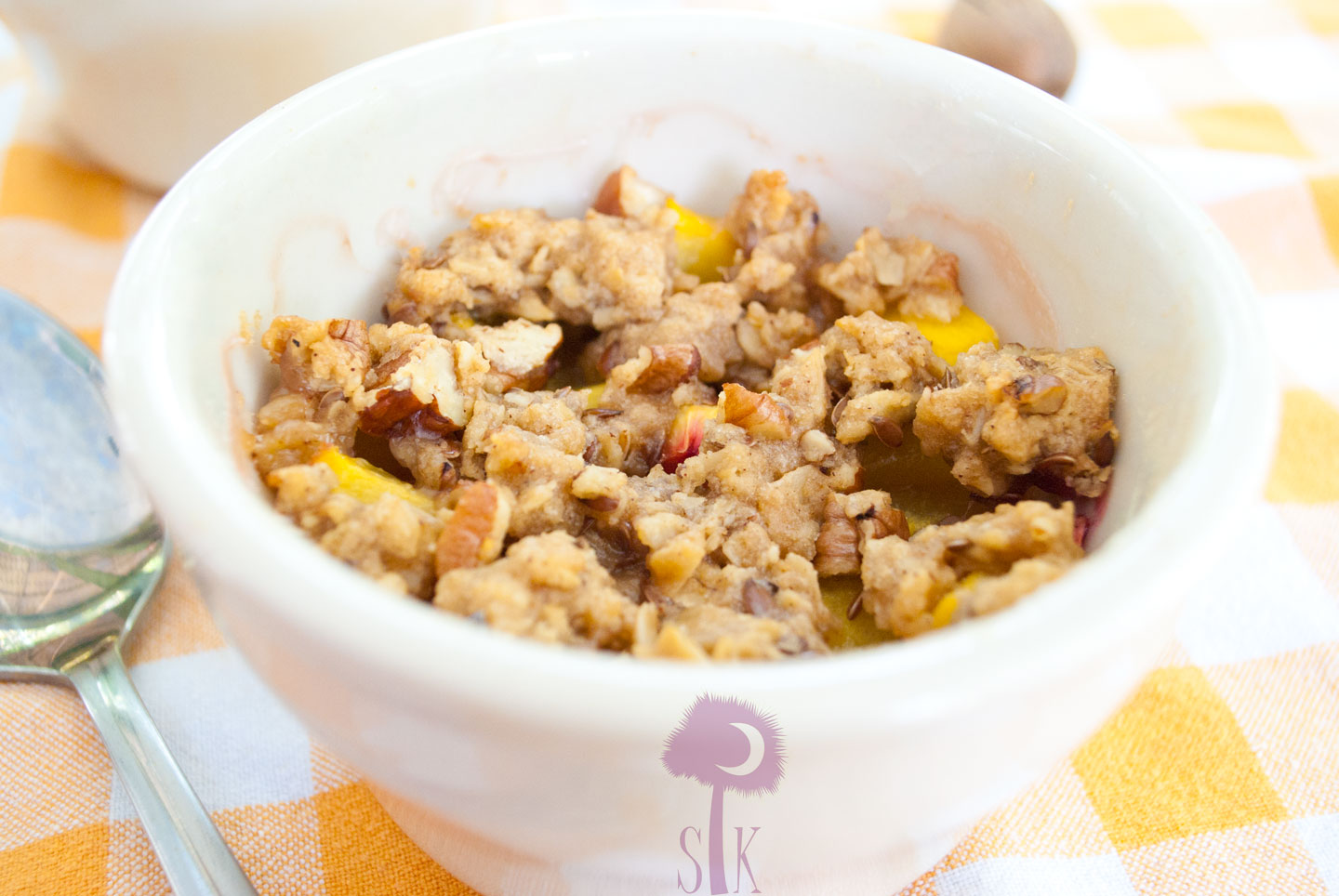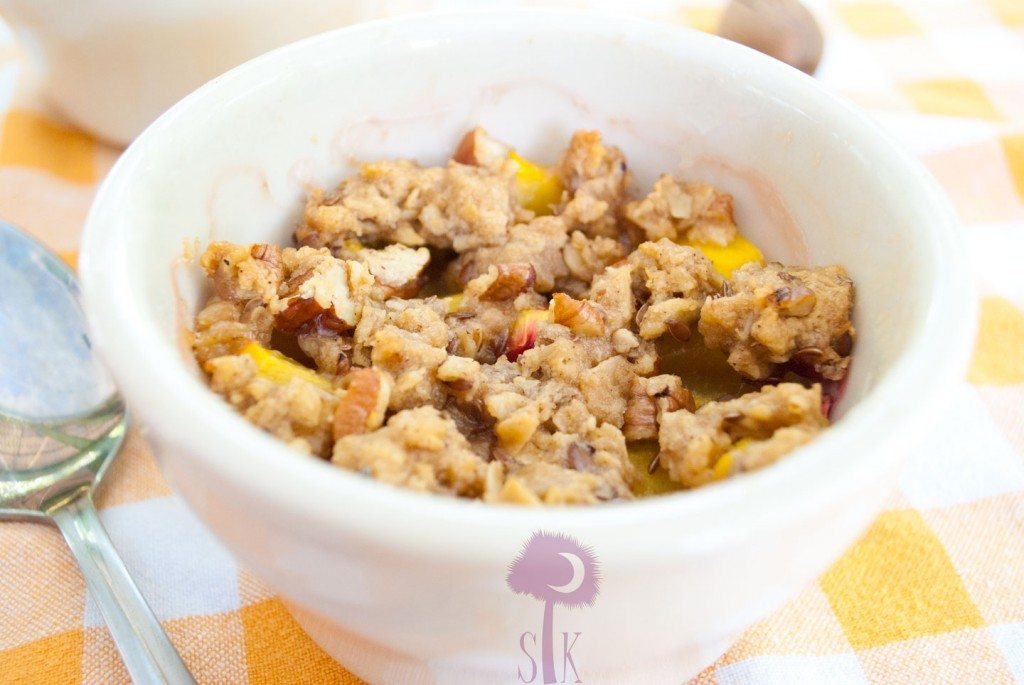 Nom. Nom.
But, because I've been watching my weight, and because I've felt like a zillion pound heifer in training lately, I had to forgo the butter, sugar, and shortening and revamp the famous dessert into something a tad bit healthier.
Thankfully, this little cup of farm fresh peaches, personally picked pecans, and toasted old-fashioned oats has made my life just a wee bit easier to face today.
The warmth of the treat is touching my tender heart and softly caressing my shattered soul.
Lawd have mercy...get me a Peach Cobbler Martini and a box of kleenex...today's gonna be a long day...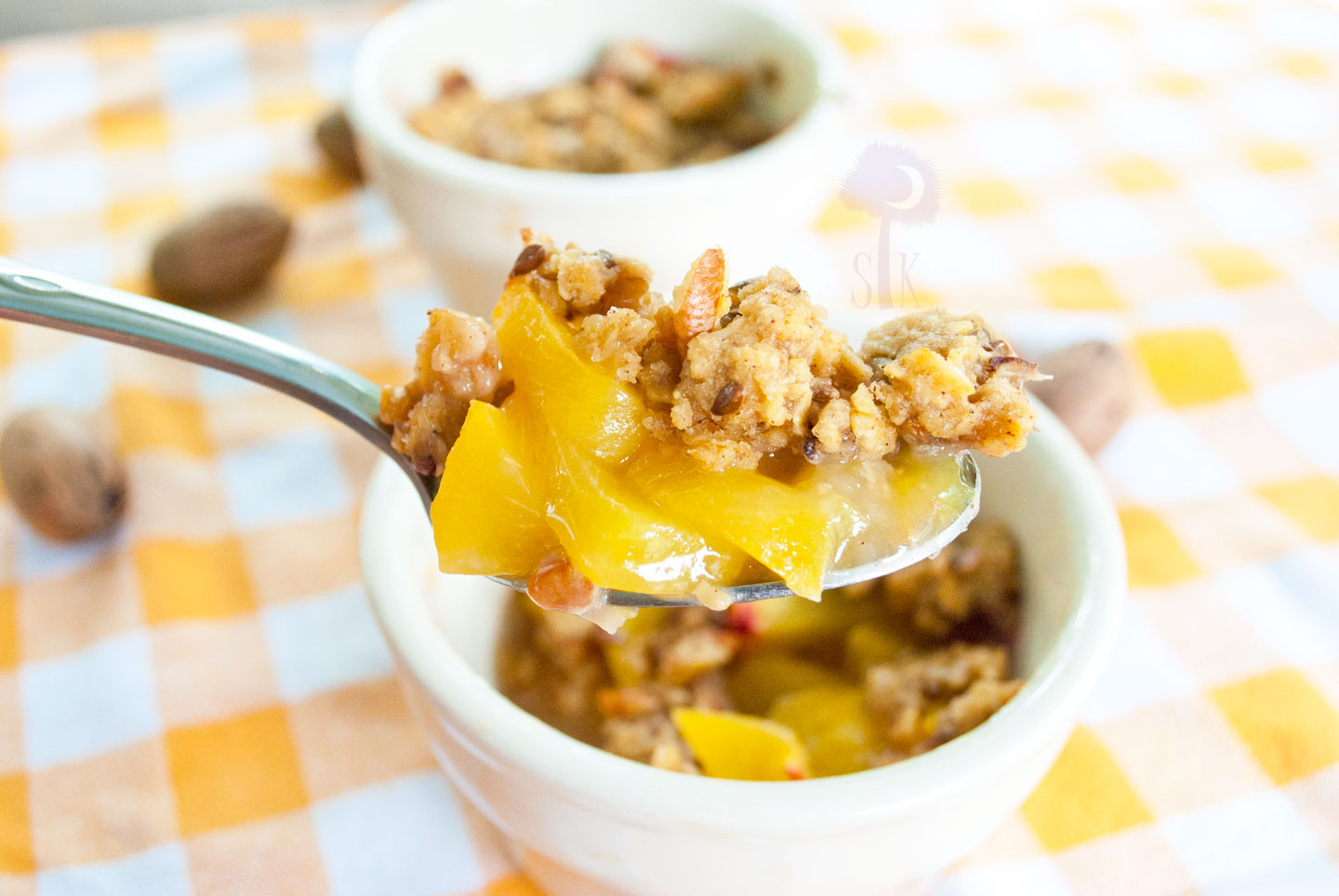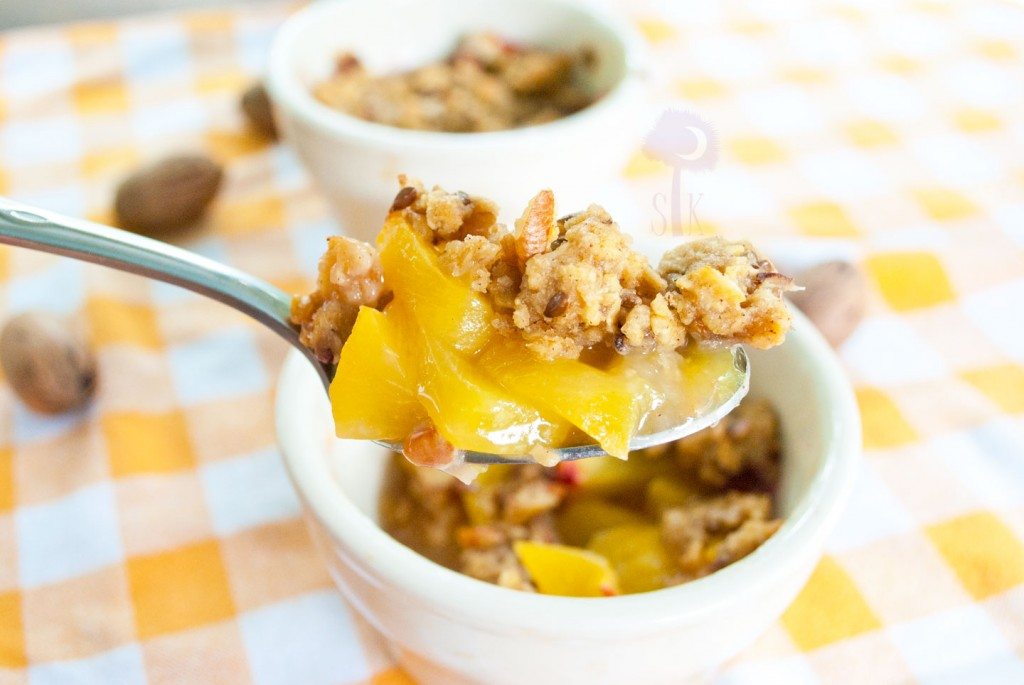 Getting to know you...
Have you ever been overseas?
What was your favorite family vacation?
Have you made a responsible decision lately?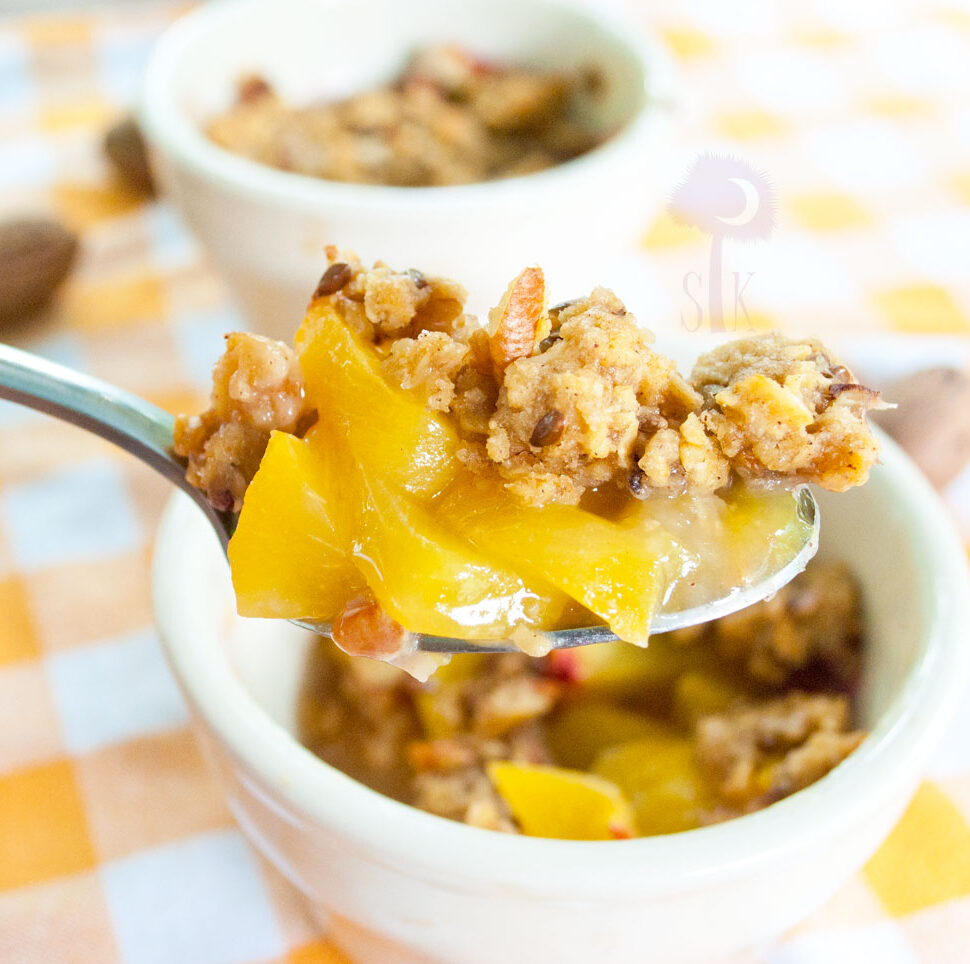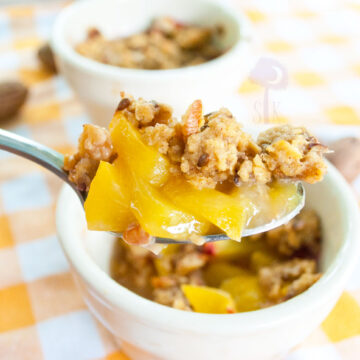 Pecan Praline Peach Crumbles for Two
A southern staple is remixed into a healthy comforting dessert
Print
Rate
Ingredients
1

large ripe

fresh peach, skin removed and chopped into bite size pieces

¼

cup

water

1

teaspoon

peach schnapps

or peach juice/nectar if you have it

2

teaspoon

organic sugar

use only if peach is not very ripe

2

tablespoon

+ 1 teaspoon whole wheat flour

1

tablespoon

margarine

1

tablespoon

brown sugar

2

tablespoon

old-fashioned oats

1

teaspoon

flax seeds

2

tablespoon

chopped pecans

sprinkle of cinnamon
Instructions
Preheat oven to 350°F.

Combine peaches, water, schnapps, organic sugar, and 1 teaspoon flour in a small bowl and stir until well combined.

Spoon peach mixture evenly into two small oven-safe ramekins.

Using a fork and the same small bowl, mix together the remaining ingredients until well combined and crumbly.

Crumble the praline topping onto the peach mixture, and bake for 30mins or until bubbling and browned.

Let cool slightly.

Enjoy!
Notes
*WWpts= 4 pts per serving* *WWpts+= 6 pts per serving* NOTE: NUTRITION INFORMATION DOES NOT INCLUDE 2 teaspoon OF ORGANIC SUGAR
Nutrition
Serving:
1
g
|
Calories:
188
kcal
|
Carbohydrates:
27
g
|
Protein:
4
g
|
Fat:
11
g
|
Fiber:
5
g