🙂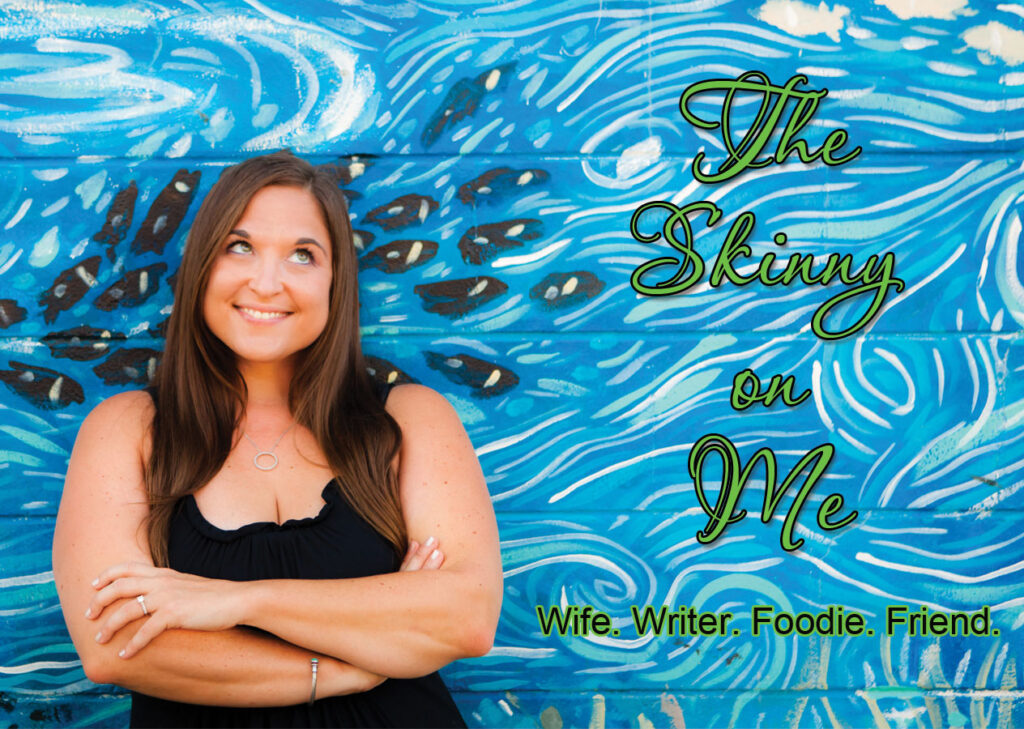 I've been doing some soul searching lately.
Since you are all loyal readers and know a good bit about me now, I have decided to open up with y'all a bit more about me and the way things have changed since I hurt my back.
I'm sure a lot of you have seen the pictures I've posted on this "skinny" driven website and thought to yourself...um...she's not skinny, so why is she writing skinny recipes?!?
Uuum...I've thought it about myself, so I'm sure that a few of you who don't know me personally have done it too.
That's totally ok and completely understandable.
And, the fact of the matter is, you're right.
I'm not a skinny person, and weight is something that I have struggled with my entire life.
I have never been the tiny cheer leading type who wore short skirts and high heels, skimpy bikinis, and skank Halloween costumes that were nothing more than lacy panties and a pair of bat wings.
Instead, I had super long hair, wore corduroys and thrift store tank tops, and walked around barefoot the majority of the time while jamming out to Bob Marley and Sublime. I didn't eat healthy at all (and that had nothing to do with the amount of pot I smoked, I'm sure :/) , and I wasn't happy with who I was inside or out. Sure, I tried fad diets, but nothing really seemed to help fast enough so I gave up quickly.
My senior year of college is when a lot of things changed for me and my physical appearance. While I was in school I gained *a lot* of weight. Like, 60+ lbs or something crazy like that. I was depressed and unhappy and was stuffing my face full of food to help myself feel better.
Yeah, a lot of good that did me!
Eventually, I was sick of the number on the scale and sick of the way I felt, so I finally decided to really do something about it. Plus, I knew that I would be walking in front of hundreds (or thousands) of students in my cap and gown and I was the Maid of Honor in my best friend's wedding, and I wanted to look good!
I started with the Weight Watchers system. It worked really well for me at first and I lost 13 lbs in the first 2 weeks. As I continued with the program, the weight was coming off super, duper slow and I decided to up the anty a little bit. So, I started adding diet pills to the mix. The weight began to fall off! Then, again, the weight loss seemed to stall. So...I upped the anty again and started restricting my calories like whoa.
I ate salads with no cheese, no dressing, no croutons, would get no sugar-fat free ice creams, and eat the healthiest things I could find.
That's when my dangerous addictive personality started to come into play.
I would go for very long periods of time without eating, and I started to feel an incredible sense of power when my stomach would rumble from lack of nutrition. I felt invincible and craved the feeling more and more. Eventually, I couldn't handle the headaches or the stomach pains so I would binge and then feel guilty for it, and then I would get rid of that guilt...fast.
It was really scary how quickly those habits took over my life, but the rewards were just so worth it to me.
I dropped all of the weight that I had gained...and then some.
I felt amazing!
And then I met the hubs.
And then I hurt my back.
You'd be surprised at how much physical activity you can't do when your back is out of commission.
So, over the course of the past few years, I have gained a good bit of the weight I lost back. Not all of it, but over 40lbs for sure. Getting pregnant certainly didn't help, and then I lost the baby and was devastated and completely lost my drive to reach a healthy medium.
Over the past two weeks I have started to get my motivation back, but, again, the weight has been coming off so slow, it has taken everything in my power to keep myself from nose diving into super unhealthy habits again.
I've kinda already fallen into those habits b/c I bought (and have been taking) diet pills.
I love the energy they give me, and I feel no guilt whatsoever for taking them.
That is not a good thing.
I've also started transitioning into using solely all natural/organic ingredients and am going to try my hand at the clean eating craze which has (rightly) taken over the blogging world. I have found myself slowly cutting my portion sizes and skipping meals and looking at nutrition labels obsessively.
I guess, what this whole post is about is...I need your help!
I need to know how to control my patience and be satisfied with a slow moving number on the scale.
I need to know what kind of low impact exercises you do that I can also do.
I feel myself being pulled back into my bad habits...and I'm considering welcoming them with open arms.
It's terrifying...yet exciting...
And I need your help to stop.
Getting to know you...
Do you have weight issues?
What have you done to control them?
Do you have an addictive personality?