🙂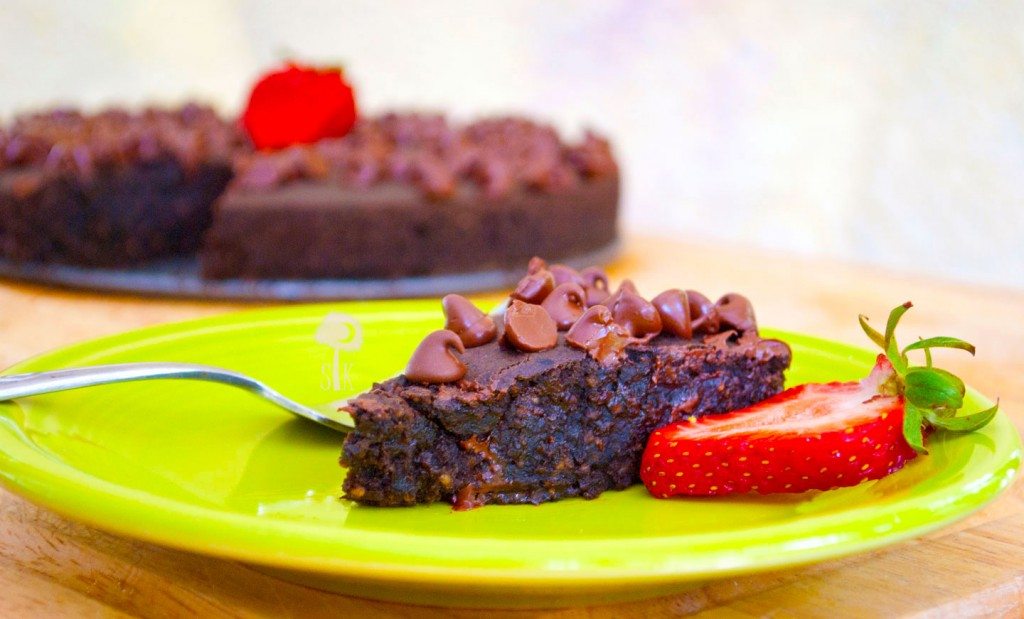 Would you believe it if I told you this hunk of decadent chocolaty goodness not only tastes divinely fantabulous, but it is also incredibly healthy, less than 200 calories a slice, is 100% vegan, and also 100% gluten free?
What...what...WHAT?!?
Yes, to the ma'am.
Last weekend, I met up with Twin for a friend's b-day supper, and I was told I was in charge of dessert.
So, since I have been having some naughty feelings about my weight lately, I hopped on over to my savior in all things sweets, Chocolate Covered Katie, and chose a recipe of hers that I have always wanted to try...her Deep Dish Cookie Pie.
I mean...just the picture of it makes my mouth water.
Anywho, as I was reading through her post I got to thinking that maybe her recipe wasn't exactly what I was looking for. Don't get me wrong, everything she makes is awesome, but it just wasn't...gasp...chocolaty enough.
I wanted something fudgey.
I wanted something thick and brownie like.
I wanted something that was sinfully sweet and oozing chocolate from every single nook and cranny imaginable.
I wanted a slice of fudgey, chocolate chip brownie cake in my belly...so I set out to make one myself.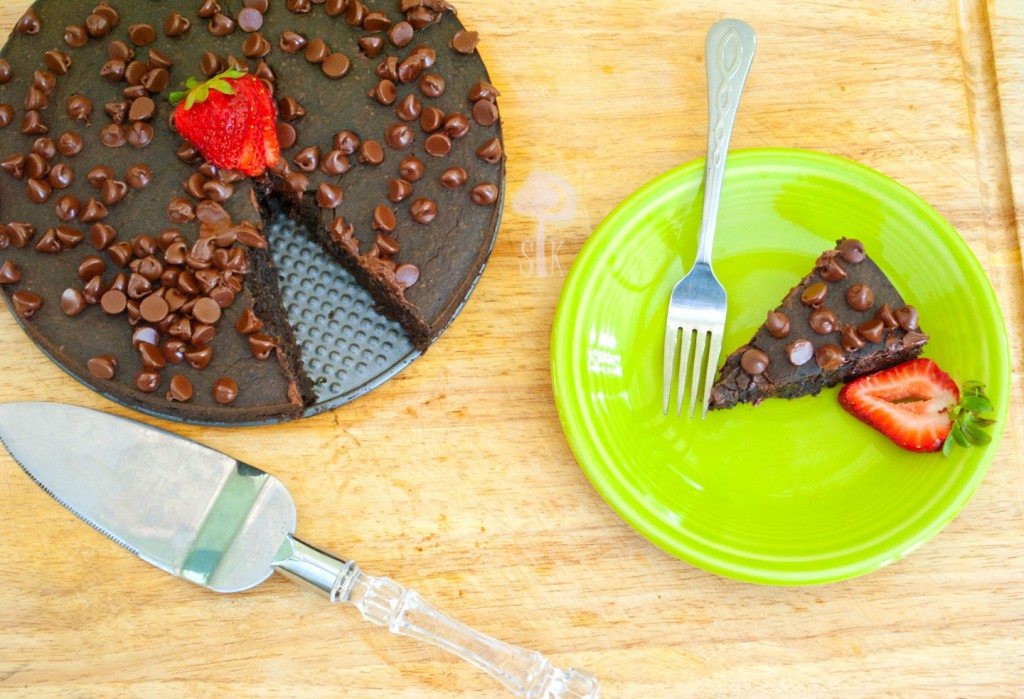 Using Katie's recipe as my template, I listened to my culinary instincts and developed a cake that tastes so good, I literally had to pull a Miranda (please tell me you watched SATC) and smother my mixing utensils in liquid dish soap so I could no longer suck the batter off of my greedy little chocoholic fingers...twice...
:/
I have also gotten several requests lately for gluten free recipes, and I am still learning the basics of those requirements, so I hope this recipe meets those requests.
I can not tell you how nervous I was when I brought this cake to the get together.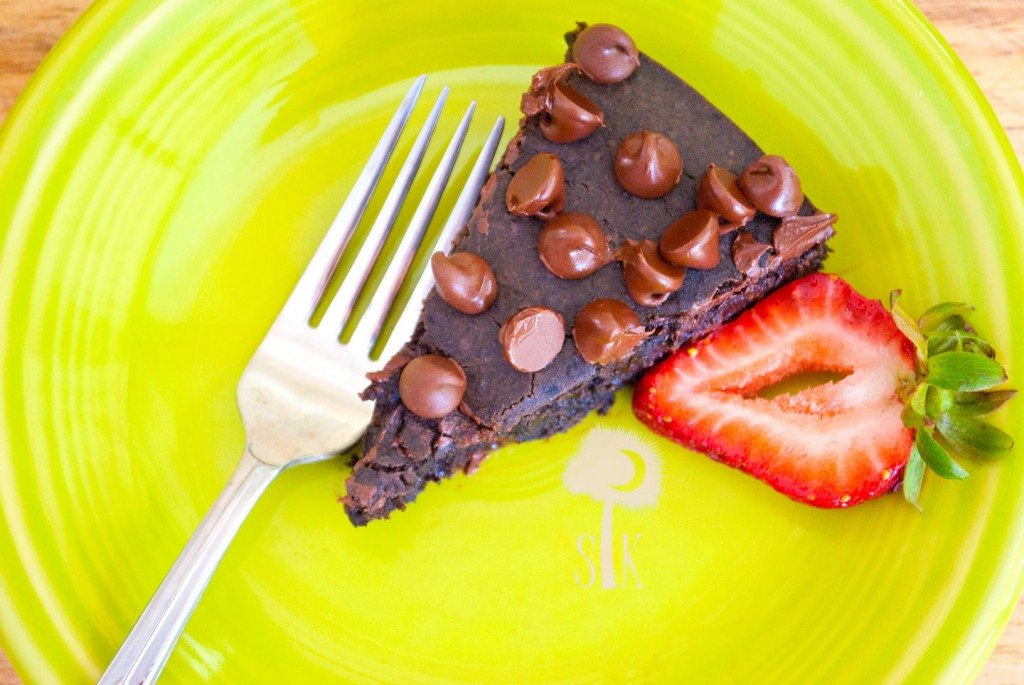 It has beans, mixed greens, and oats in it for crying out loud, so this really did have the potential to be a complete disaster. I knew my biggest critic was going to be Twin's husband.  He is incredibly picky, likes what he likes, and he doesn't necessarily worry about the health aspect of things.
He also doesn't like to be tricked.
Which is exactly what I did...tee hee 🙂
I told everyone that it was a test recipe, so to please let me know exactly how they liked it.
After I served out the pieces...I waited for someone to make a hideous Ronald Weasley slug spell face...but instead their eyes lit up and they all made remarks like, "Yum this is good" or "Oh...my...gah..." or "What's in it?"
Oh, snap.
"Uuuuuum...well...let's see...black beans..." I said.
The moment J heard the words he immediately set his fork down and looked as if he was about to hurl...but instead, he swallowed what he had in his mouth, looked at me and said, "Awww man, this stuff is healthy?!?" and then he picked his fork back up and ate every last bite.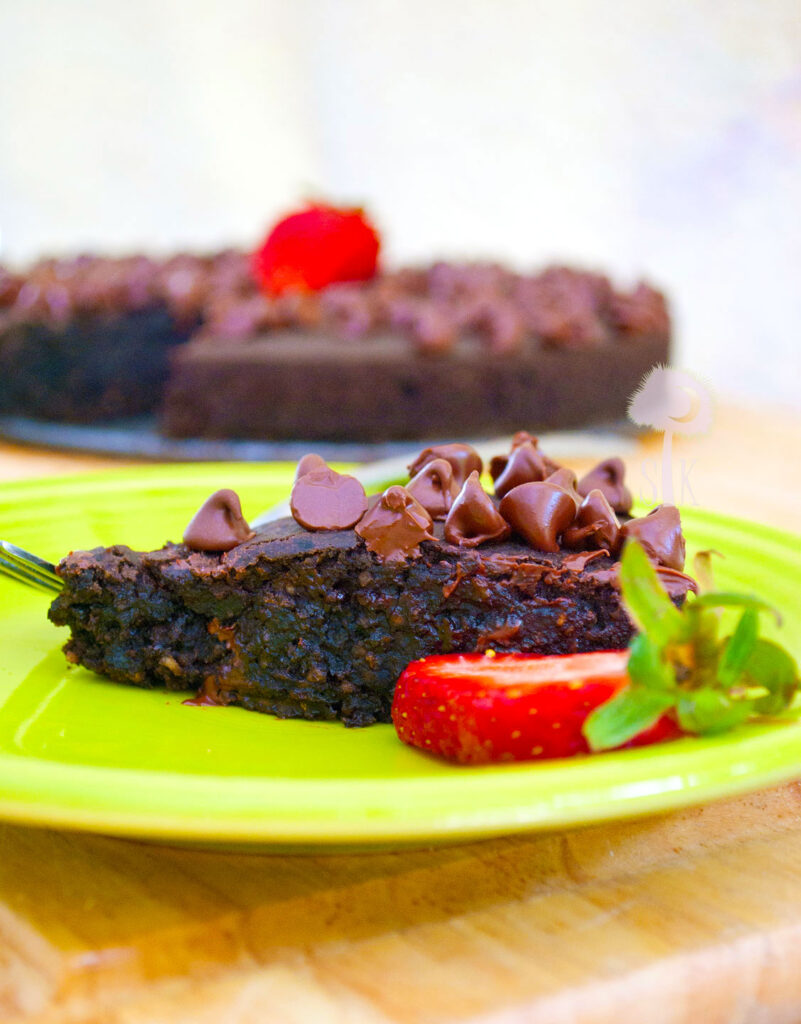 Disaster averted.
Hallelujah.
This cake is so good it was completely gone by the end of the night, and I had to make a whole new one so I could avoid taking crappy pictures for today's post.
Oh, well...looks like I'm going to have to eat another slice...darn 😉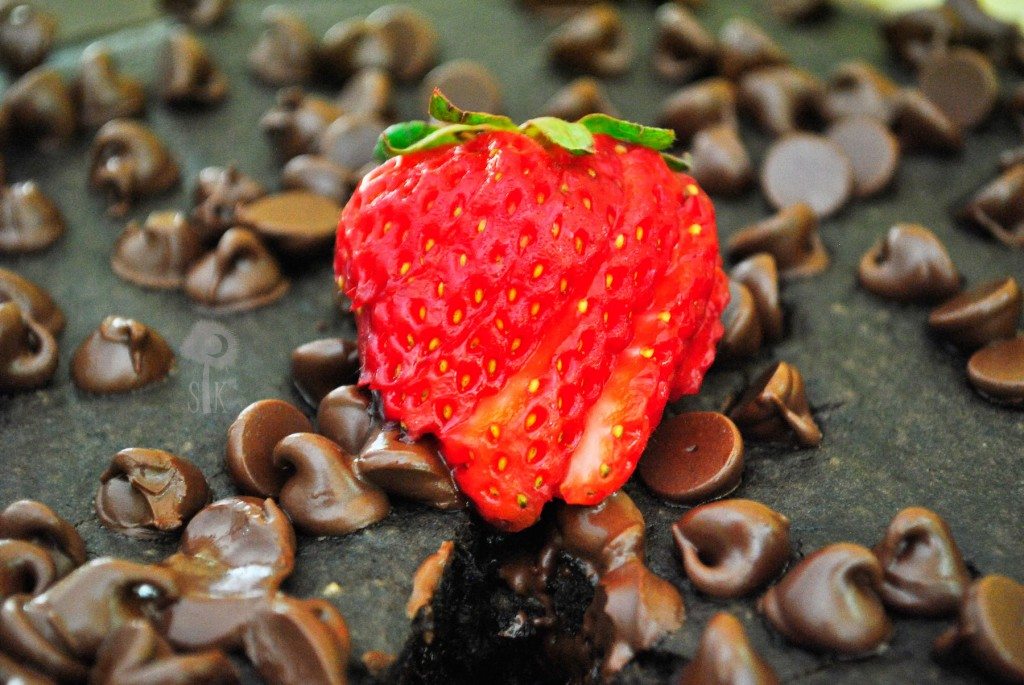 Note: If you have any special requests regarding special diets or lower calorie versions of your favorite recipes, then please let me know! Post a message below or send request through my Contact Me page, and I will do my best to meet your requests!
Getting to know you...
What's your favorite cake recipe?
Do you know someone who doesn't like healthy food?
Do you try to eat gluten free?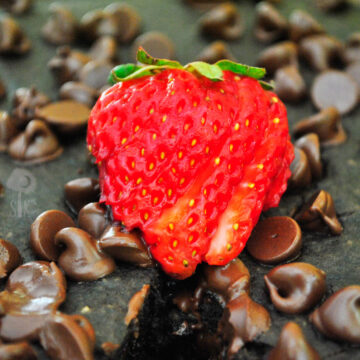 Dark Chocolate Chip Fudge Brownie Cake
A super healthy, vegan and gluten free dark chocolate chip brownie cake loses the calories, but not the flavor of a thick a standard chocolate cake
Print
Rate
Ingredients
3

cups

black beans

prepared (I used dry, but use canned for the GF version)

1

cup

certified gluten free oats

quick cooking or old fashioned

1

cup

mixed greens of choice

¼

cup

organic

unsweetened applesauce

3

tablespoon

coconut oil

1

teaspoon

pure vanilla extract

1

teaspoon

butter extract

make sure your version is GF! If not, just double the vanilla extract

½

teaspoon

baking soda

2

teaspoon

baking powder

1

teaspoon

salt

1

cup

+ 1 tablespoon light brown sugar

packed

½

cup

Stevia in the Raw

4

tablespoon

Dark Chocolate Cocoa Powder

1

tablespoon

chia seeds

2

tablespoon

prepared black coffee

½

cup

Ghirardelli chocolate chips

3-4

cups

HOT water
Instructions
Preheat oven to 350°F.

Line the outside of a 9 ½" spring form pan with tin foil, making sure the foil comes ¾ of the way up the sides and oil (or spray) the inside of the pan.

Blend all ingredients, expect chocolate chips and water, in a food processor until completely smooth, making sure to scrap down the sides and blend a couple of times to ensure everything is broken down.

Pour batter into the prepared pan and gently tap the bottom of the pan on your counter or cutting board several times, releasing any air bubbles that may have formed in the cake.

Place the pan inside a large casserole or baking dish and pour the hot water into the casserole dish, making sure it comes halfway up the side of the lined pan with the batter. (This is called a water bath. It helps the cake cook evenly and prevents the cake from cracking like a cheesecake).

Bake the cake for 30 mins, sprinkle chocolate chips on the top, and then bake for another 15 mins.

Let cool completely.

Enjoy!
Notes
*WWpts= 3 pts per serving* *WWpts+= 5 pts per serving*
Nutrition
Serving:
1
g
|
Calories:
193
kcal
|
Carbohydrates:
34
g
|
Protein:
5
g
|
Fat:
5
g
|
Fiber:
4
g