This post contains affiliate links, meaning, if you click through and make a purchase or sign up for a program, I may earn a commission. This is at no additional cost to you.
🙂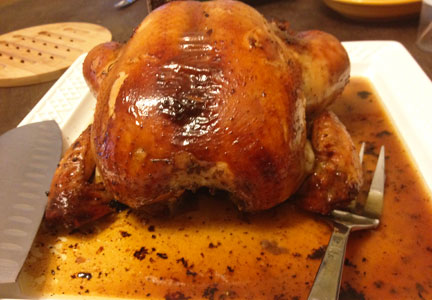 Yes…that is a blurry photograph of a roasted chicken taken with my iphone.
Oh, the shame 
*face palm*
But let me just say something here…I'd like to see you take awesome, award winning pictures of this chicken when you have a living room full of hungry taste testers salivating at the sight of this succulent bird sitting on the dining room table.
Not.even.kidding.y'all.
I barely had this sucker out of the oven before my friend's grubby lovely hands started picking away as its golden crispy skin.
And let me just say something else…this was probably by far the best roasted chicken I have ever made.
Which isn't necessarily saying much considering this was only the 2nd time in my life I have ever roasted a chicken.
:/
But then again, that just goes to show that this fancy feast is super easy to make!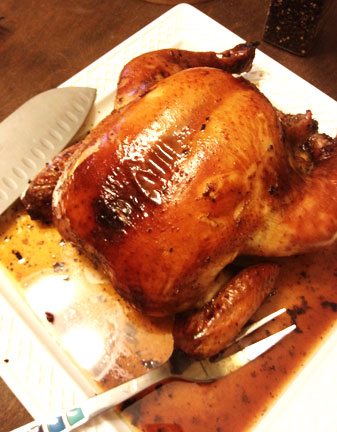 All joking aside though, this really was one of the absolute most deliciously moist tender chickens I have ever eaten.
There are two secrets at play here…one is the brine and the other is time…and I promise once you learn the technique, you will never go back to eating plain ole' dry and flaky roasted poultry ever again.
I wish I could take credit for the idea for this recipe, but I can't!
Remember a few posts back when I was telling you about the bar I used to go to when I was 16?
Well, this bar has since changed owners and has gone through a major renovation in both the restaurant itself and the menu. I was reading the local food critic's write up about it on Facebook the other day (have you liked my page yet?!?) when she mentioned their Sweet Tea Brined Fried Chicken.
I about lost it.
Sweet tea marinated chicken?!? Why didn't I think of that?!?
So, since I just so happened to have a chicken defrosting in the refrigerator, I immediately decided I was going to make my own and roast it rather than fry it.
And boy am I happy I did.
So, back to the brining.
A brine is basically a salty solution that you soak poultry in as a way to flavor the meat itself and to also prevent the meat from drying out.
So, fair warning here, when you plan to make this recipe (which I know you will) be sure to give yourself at least a 24 hr headstart.
Yes…that is a long time…but I promise, promise, promise it will be worth it in the end!
The 2nd (and most important) aspect of this recipe is at the very, very end when you let the meat rest.
I can not stress this point enough.
Whether you are making a whole roasted chicken, grilled chicken breasts, pork loin, or steak…letting the meat rest before you cut into it is the single most imperative secret to keeping the meat from being dry.
If you cut into meat right after you take it away from the heat source, the juices inside will run right out of your meat and right onto your cutting board thereby leaving you with a dry hunk of grossness.
Juices need to redistribute…and they can't do that without giving them time.
So, from one impatient person to another…take the meat away from the heat…and walk away!!! Shoot…why don't you whip up some Bacon and Brown Sugar Roasted Sweet Potato Salad, Summertime Succotash Salad, or Smoked Gouda Zucchini & Squash Casserole while you wait!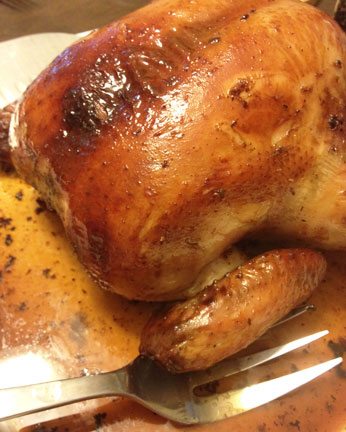 Note: I'm not exactly sure that I did the nutritional calculations correctly :/ I'm not exactly sure how it works with brines and whole chickens so I did my best! If anyone out there knows how to properly calculate the components of a whole fryer chicken and it's marinade, please leave a comment on this post! Thanks!
 Getting to know you…
Have you ever roasted a whole chicken? 
How about a turkey?
Does the word moist bother you?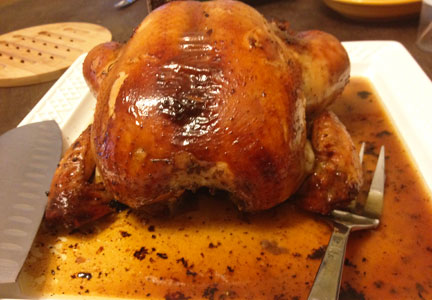 Sweet Tea Infused Oven Roasted Chicken
A whole chicken is marinated in sweet southern "syrup"
Print
Rate
Ingredients
1

gallon

water

4

family style or 6 regular Lipton tea bags

1

tbsp

whole coriander seed

½

tbsp.

whole fennel seed

1

tbsp.

pink peppercorns

or regular ones if you can't find them

1 ½

cups

organic sugar

¾

cup

fine grained sea salt

1 3-4

lb.

chicken

rinsed and giblets removed

1

large sweet onion

peeled and quartered

2

garlic cloves

peeled

1

tbsp

extra virgin olive oil

1

organic lemon

halved
Instructions
In a medium sized pot, bring 6 cups of water to a boil.

Once boiling, add teabags and remove from heat. Let steep for 5 minutes.

While tea is steeping, add coriander, fennel, and pink peppercorns to a small sauté pan over medium heat and toast until the aromas are released. The second you smell them, pull them off the heat.

Add sugar and salt to a large stock pot and pour in steeped tea mixture, stirring until completely dissolved.

Pour in the remainder of the water and add the toasted coriander, fennel, peppercorns, and herbs de Provence.

Add the chicken to the mixture, toss in the onion and garlic, and add more water (if needed) to insure the chicken is completely submerged.

Cover with plastic wrap and refrigerate for 24-48 hrs.

Preheat oven to 450°F.

Drain chicken from marinade, pat dry with paper towels, stick lemon into the cavity, and place in a roasting pan (fold wing tips over to prevent them from burning).

Pour on olive oil and massage into the skin of the chicken, making sure it's entirely coated.

Roast for 15 mins, then lower heat to 375°F for another 45mins-1hr or until the internal temperature reaches 165°F and the juices run clear. Also, be sure to baste the chicken with its own juices every 20 minutes.

Remove chicken from pan, place on serving platter, cover with tin foil, and let rest for a minimum of 20 minutes.

Enjoy!
Notes
*WWpts= 5 pts per serving* *WWpts+= 6 pts per serving*
Nutrition
Serving:
1
g
|
Calories:
236
kcal
|
Carbohydrates:
25
g
|
Protein:
16
g
|
Fat:
8
g
Love y'all!