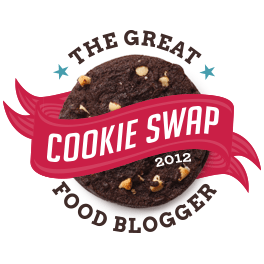 Today's the day...the day of The 2012 Great Food Blogger Cookie Swap reveal!!!
Yahoo!
But first, I have decided to join in on Jenn of Peas & Crayons What I Ate Wednesday shenanigans!!! I think it is a great way to not only hold yourself accountable for the food choices you make on a daily basis, but it is also another fun way to bond and connect with other bloggers! I totally count my calories on a daily basis too, so it's not like this whole idea is completely foreign to me. Please also forgive the horrible photography skills I've got kicking in some of those photos. I can't expect perfection from myself all the time!
So, without further adieu..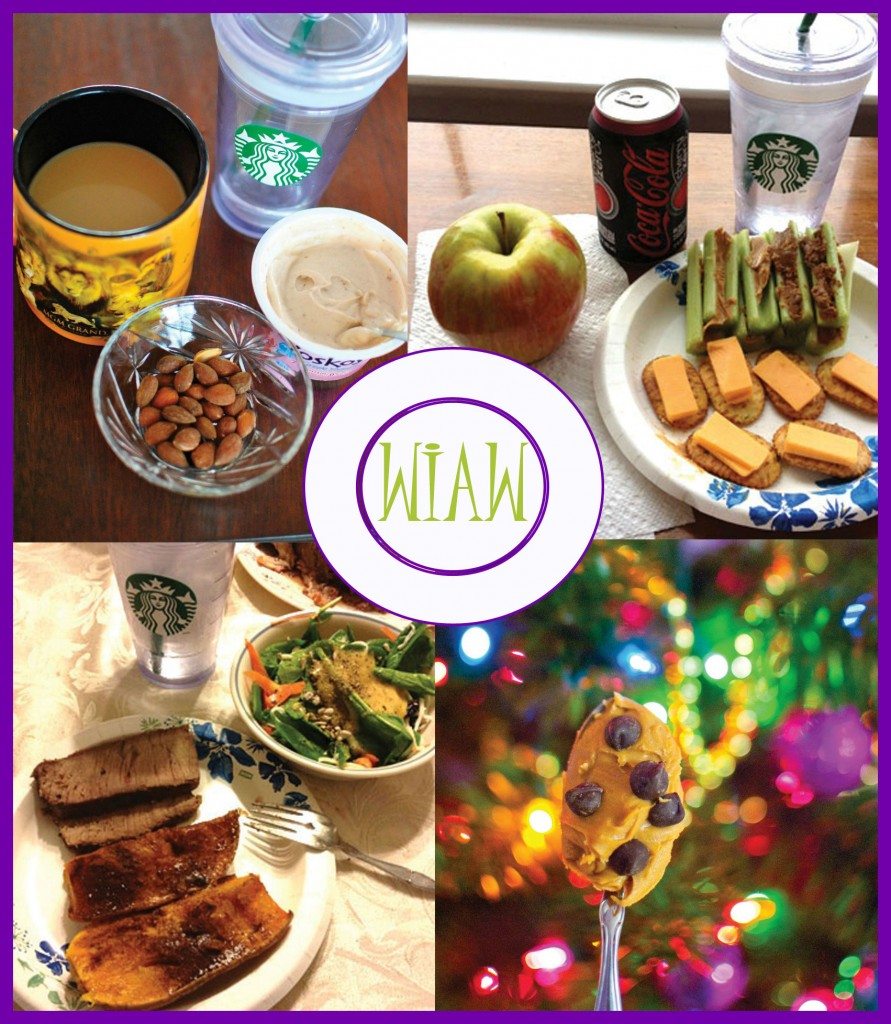 Breakfast:

Pumpkin spice coffee w/ 1 tablespoon Natural Bliss all natural caramel coffee creamer & 1 Nunaturals stevia packet, fig greek yogurt, 1 oz. dry roasted almonds, and ice water

Lunch:

2 celery stalks w/ 1tbsp Reese peanut butter & 1 tablespoon almond butter with flax seeds, 1 oz. Cracker Barrel sharp cheddar cheese with 6 Flip Side garlic herb pretzel crackers, 1 giant Honeycrisp apple, a can of cherry coke zero, and ice water.

Snack:

 (an unpictured bowl of) All natural, air-popped popcorn spritzed with olive oil and all natural popcorn seasoning, Celestial Seasonings Sugar Plum Spice tea w/ stevia and ice water.

Supper:

4 oz. of London Broil (my MIL is fab), roasted butternut squash with ground cinnamon and a touch of Nunaturals stevia, a side spinach salad with carrots, cucumbers, green peppers, dried blueberries, sunflower seeds, and a tablespoon of light honey mustard dressing and ice water.

Sweet Treat:

a peanut butter spoon speckled in chocolate chips…swoon...and, of course, more ice water!
Now back to the cookies!
This lovely charade is hosted by the lovely Lindsay of Love and Olive Oil & Julie of The Little Kitchen and consisted of bloggers creating new cookie recipes and baking up three dozen to be sent to three other bloggers.
Fun idea right?
Oh, and did I mention that we all banded together and raised over $4,400 for Cookies for Kid' Cancer. How amazing is that?!?
I had a really hard time deciding on what I was going to make, but I *finally* settled on a buttery, crumbly, whole wheat biscotti, and I was absolutely thrilled with the results.
But first...let me introduce the bloggers who shipped some goodies to me!
My first package was a box of chocolate spice gingerbread
from Sarah of The Frosted Kitchen.
How frickin' cute is that frickin' reindeer?!?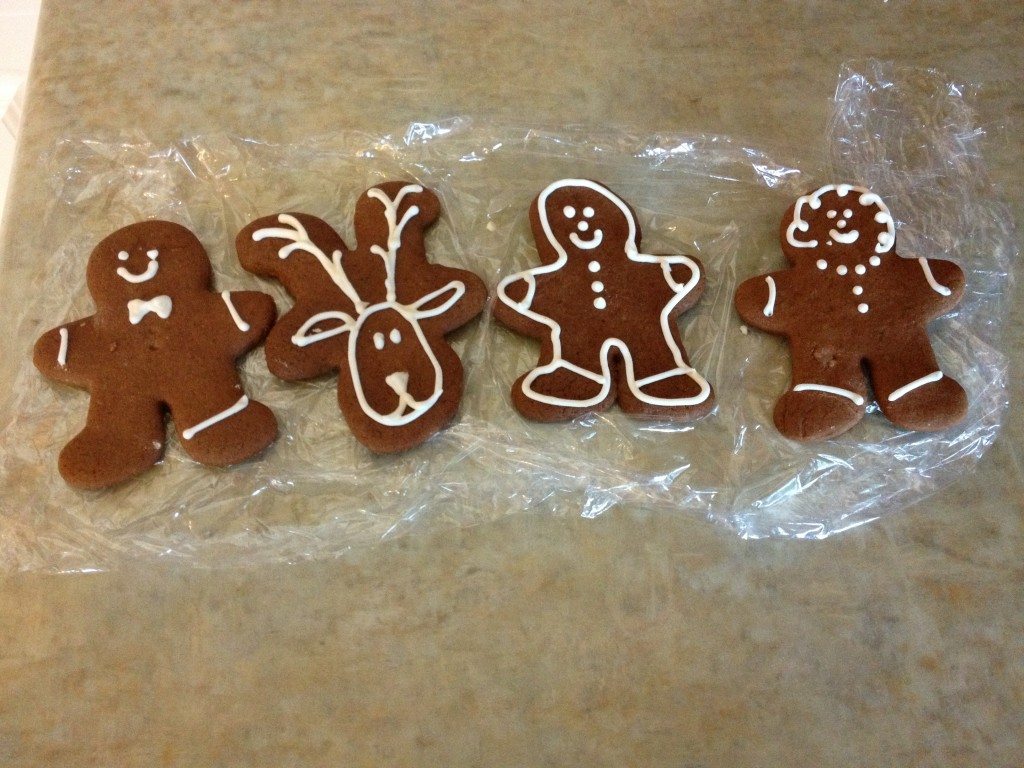 My second batch was Swedish Gingerbread
from Sara of Confectionery Tales of a Bakeaholic.
These were crispy and seasonally spicy,
and were lovely with a spot of tea!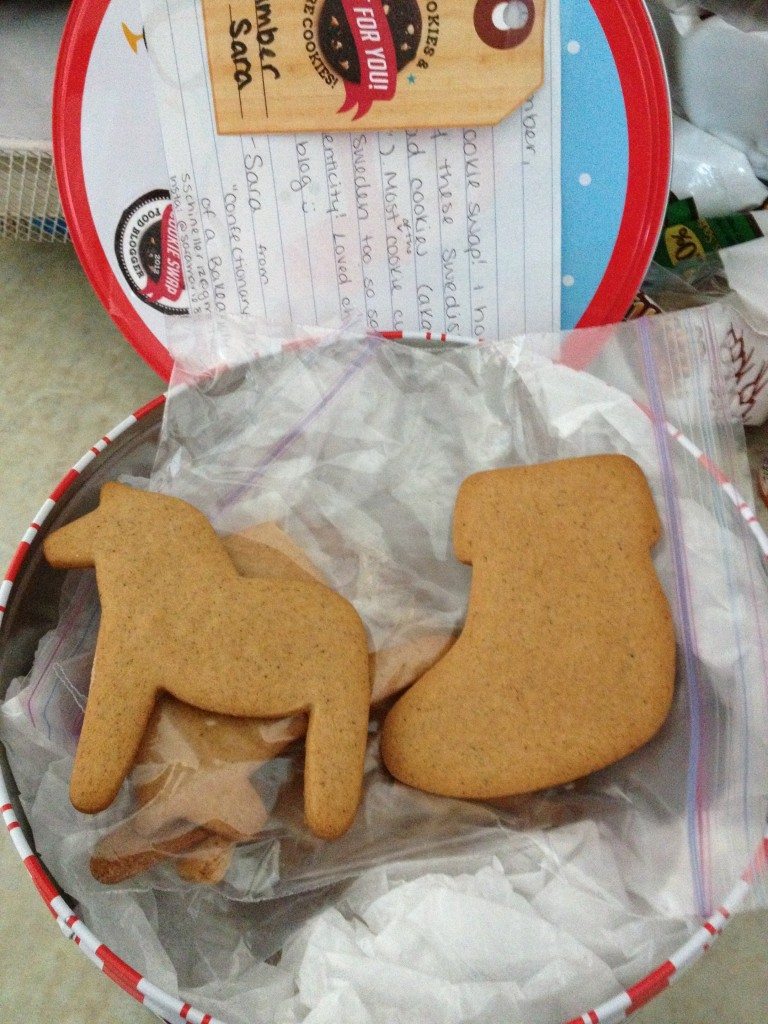 And my third batch was...you guessed it...
more gingerbread from Kara at Domestic Endeavors!
My FIL ate most of these...I could barely get my hands on them!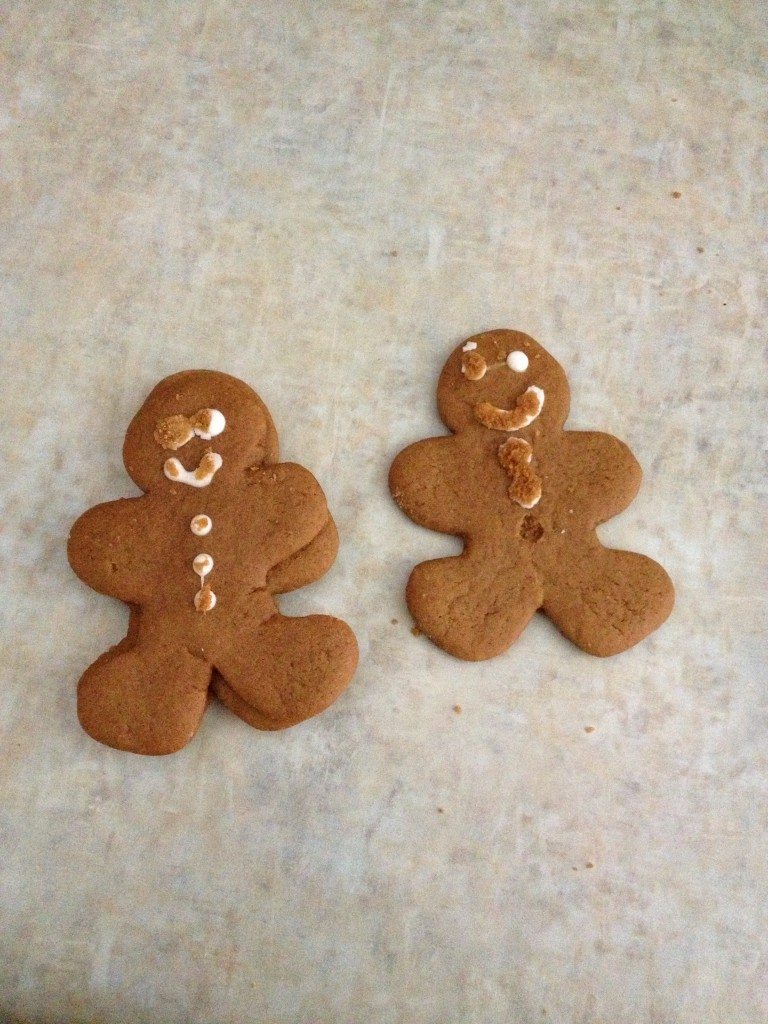 Thank you so much ladies! I appreciate the thought and effort that went behind every batch 🙂
Ready to feast your eyes on some Butter Pecan Biscotti?!?
The recipients of these yummy goodies were Felicia of Live.Life.Eat, Mary Jordan of The Newtonienne Noshes, &  Sarah of My Little Red Mixer.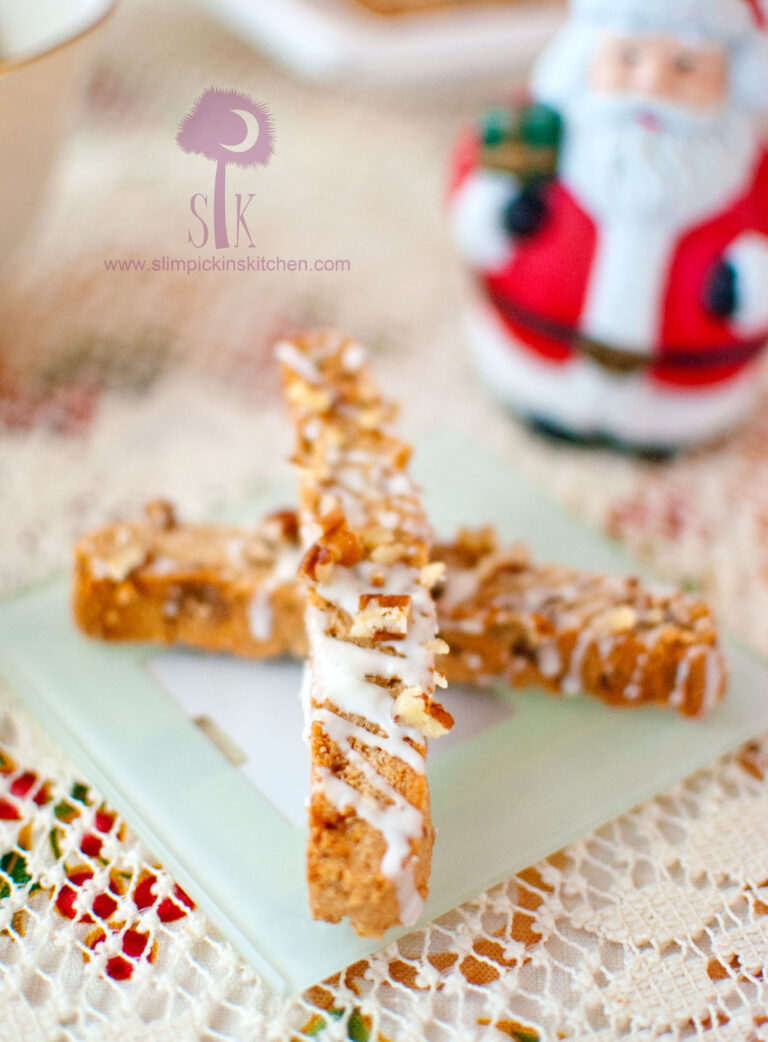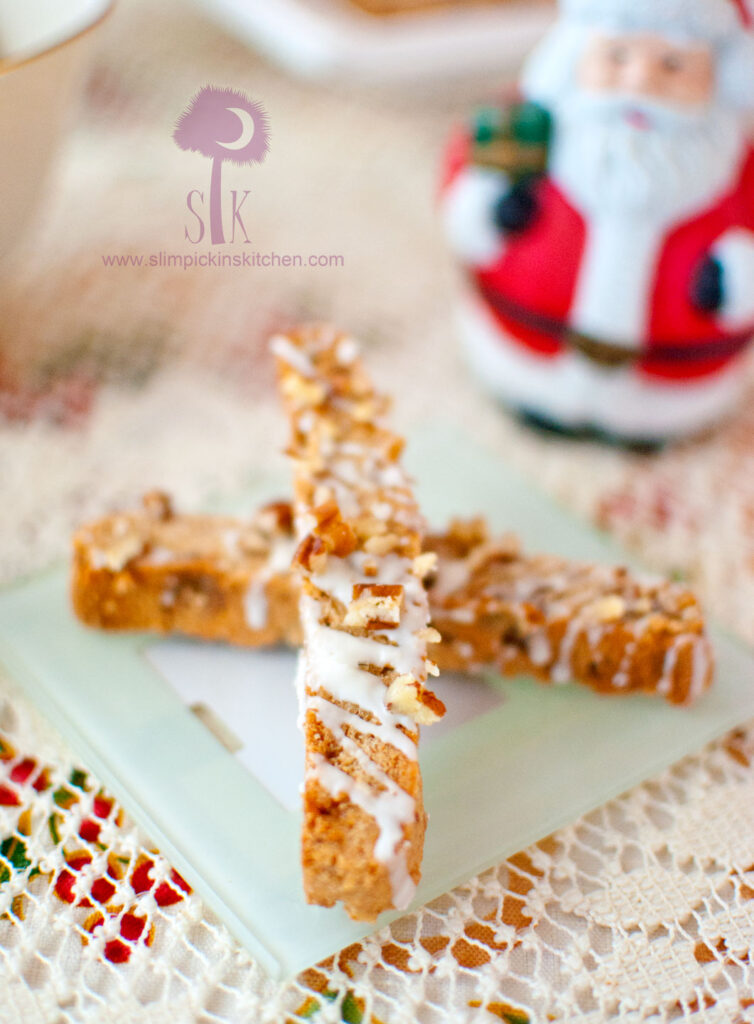 I have really been on a biscotti kick for some reason lately! There really is no explanation for it. Maybe it's because I was expecting them to be so much harder to make than they really are?
My Butterbeer Biscotti were the first batch I've ever made, and they turned out beautifully...so I guess it makes sense for me to want to make them all the time, considering I'm not the best baker and I seriously once made a cake and forgot to add the flour...don't ask.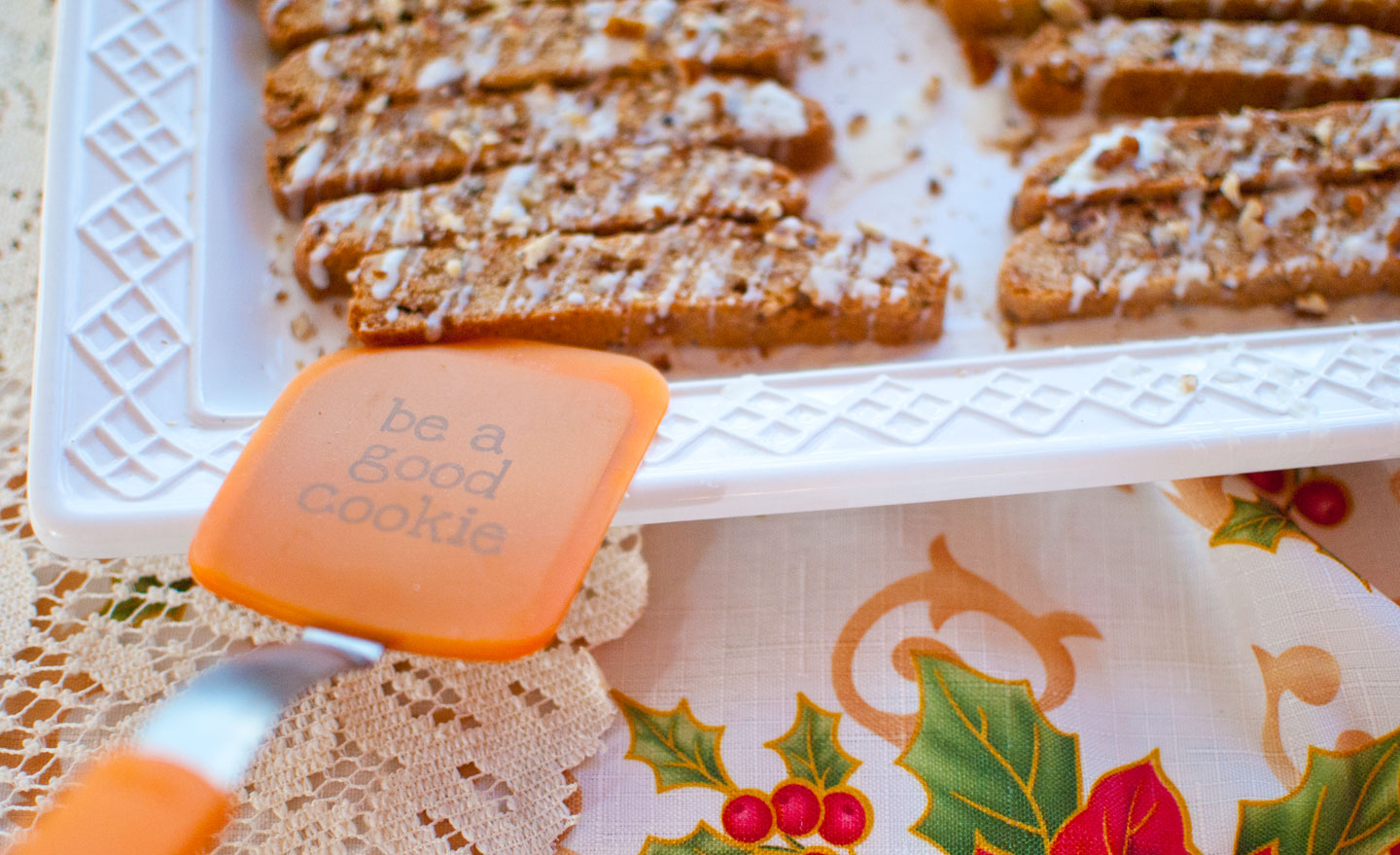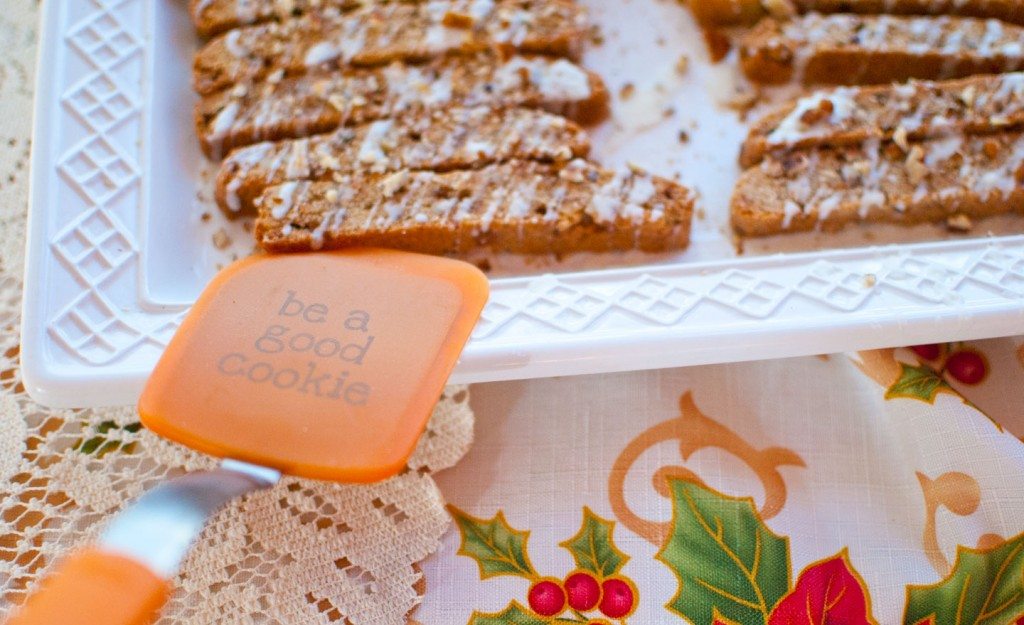 Believe it or not, I almost like this recipe better than the butterbeer ones, but I really think it's just because I made these much much smaller than the other ones.
These are the perfect nibbling size and are absolutely delightful served next to a piping hot cup of chai tea or hazelnut coffee while you are snuggled on the couch in your Snuggie reading a snuggly good book.
Oh, and a big shout out to OXO Good Grips for their absolutely *precious* "Be a Good Cookie" spatula! I think that is just above and beyond, and I can totally tell I'm going to be using it for many years to come. Now...if I can just get my hands on one of their fabulous cherry pitters I've heard so much about, I'd be set! (*cough, cough...husband...cough, cough*).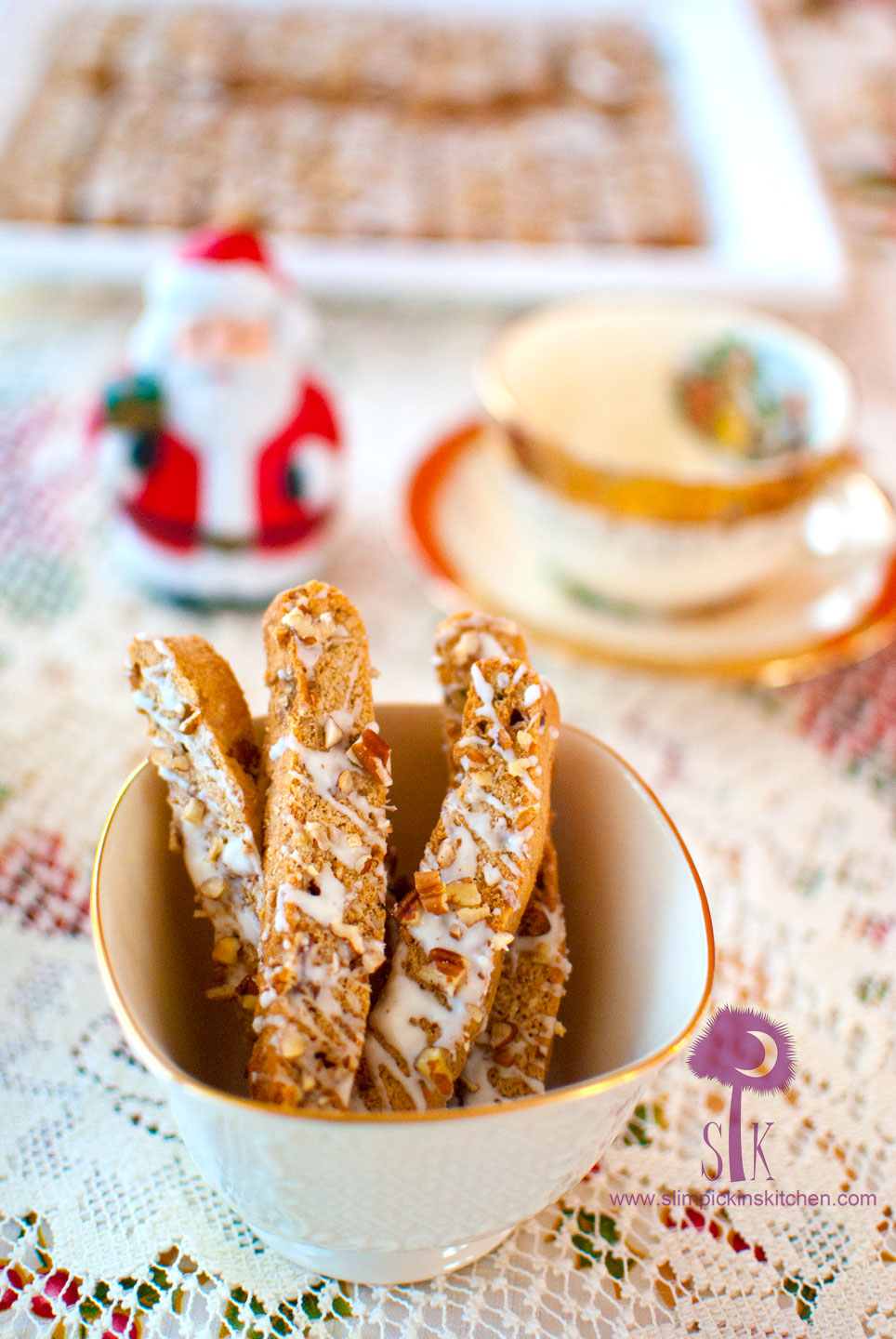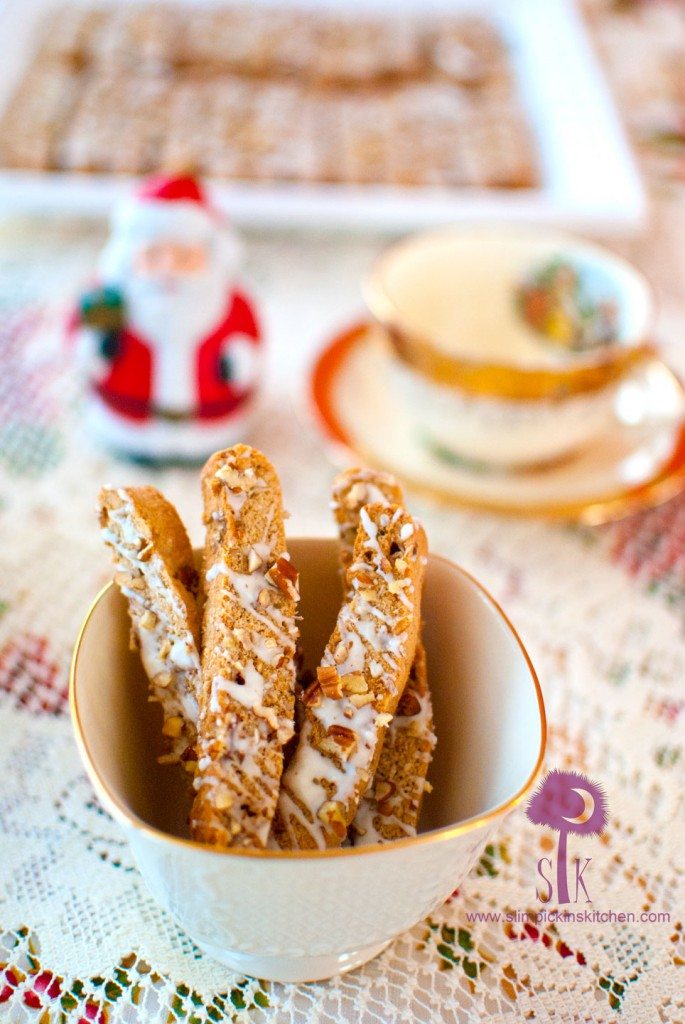 So, yeah...these cookies are fabulous, and the toastiness of the pecans combined with the sweet white chocolate drizzle is absolutely out of this world.
I'm seriously so stoked that I had to ship all of these out of the house because there is absolutely no way I could've resisted eating them.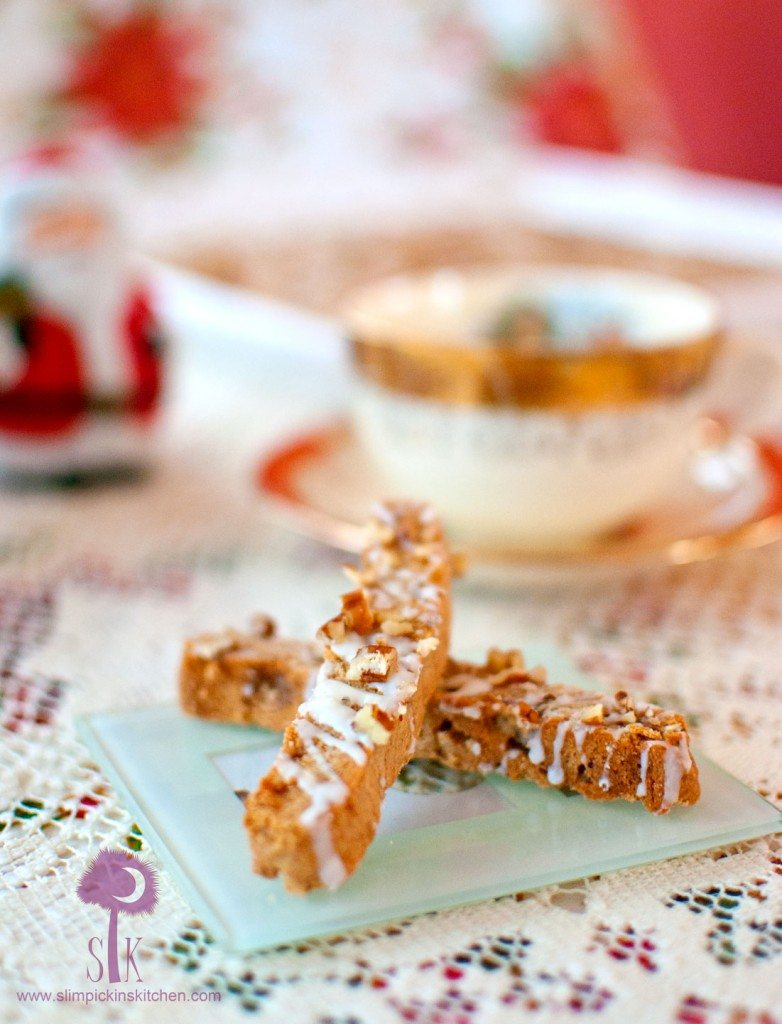 So, over all, I'd say this whole cookie swap was a super fun concept and an even more fun idea.
I'm thinking that I might go ahead and start prepping ideas for what I'm going to make next year 😉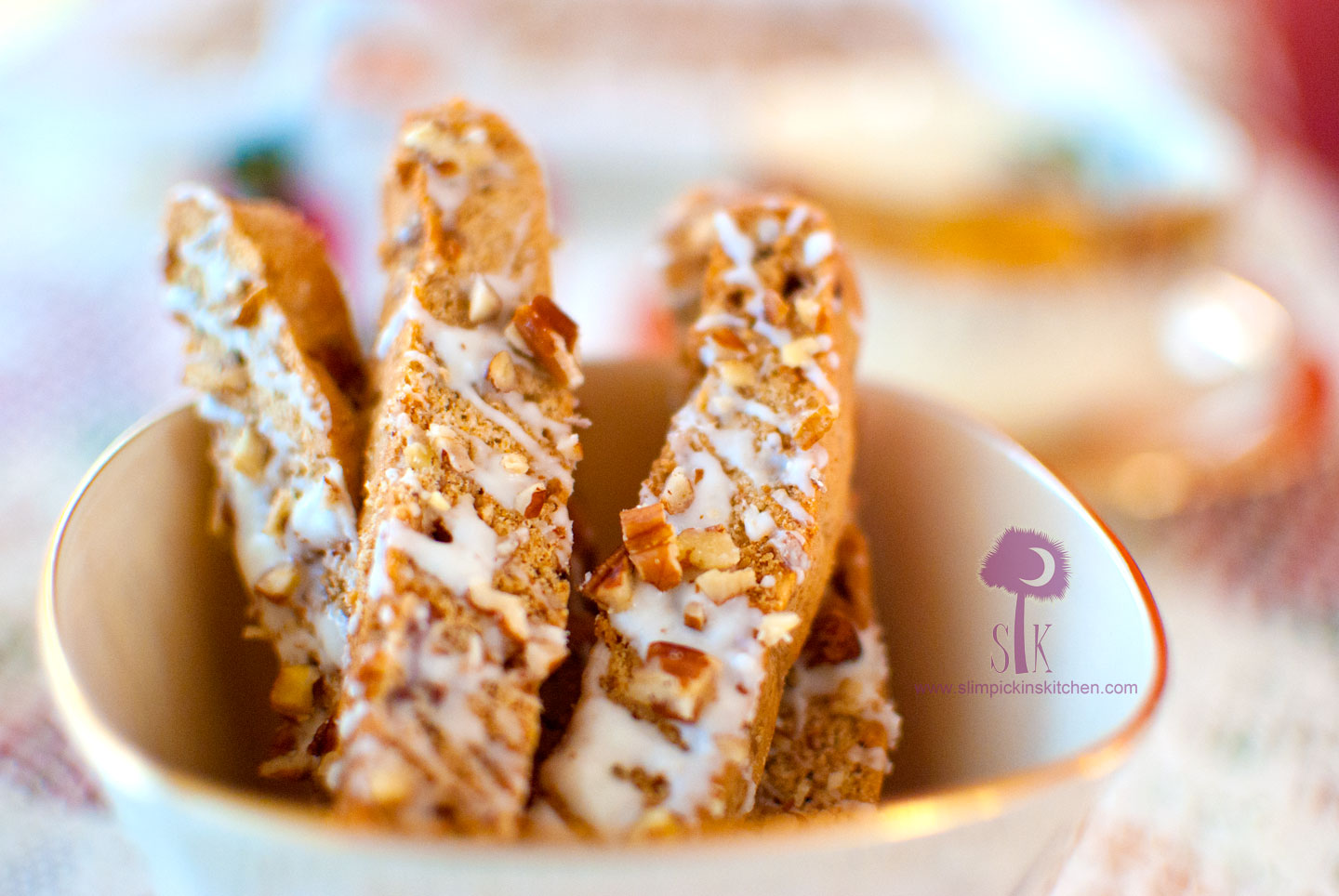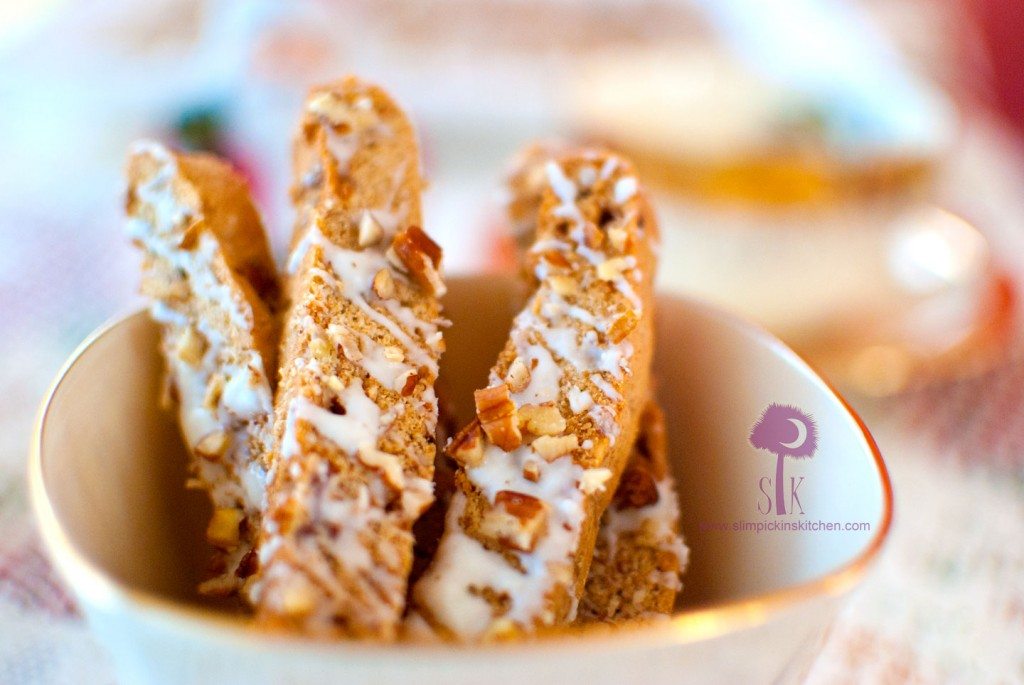 Getting to know you...
Have you ever participated in a cookie swap?
What's your favorite cookie?
Do you have a cherry pitter?
Butter Pecan Biscotti

Print recipe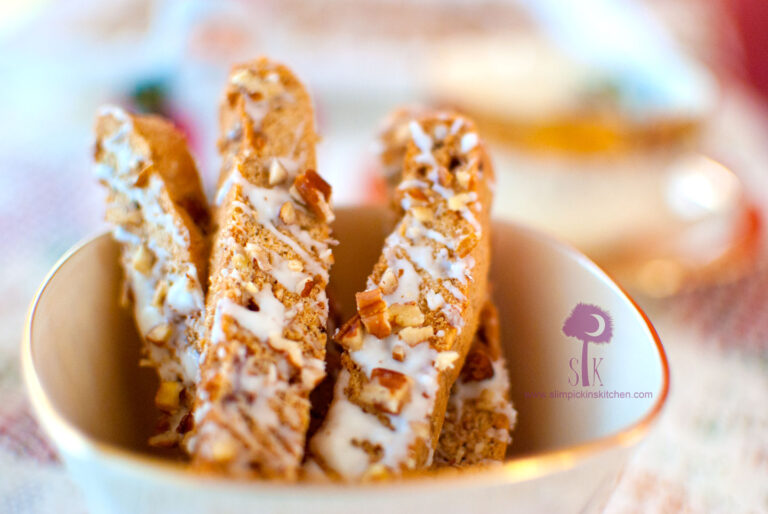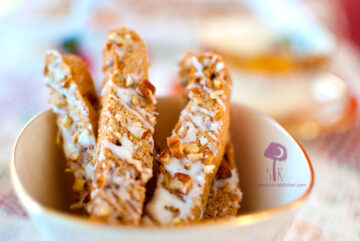 | | |
| --- | --- |
| Serves | 60 |
| Prep time | 20 minutes |
| Cook time | 45 minutes |
| Total time | 1 hours, 5 minutes |
| Allergy | Egg, Tree Nuts, Wheat |
| Meal type | Dessert, Snack |
| Misc | Child Friendly, Freezable |
| Occasion | Birthday Party, Casual Party, Christmas, Easter, Thanksgiving |
| Website | Recipe adapted from Food.com |
Ingredients
½ cup unsalted sweet cream butter or light butter (softened)
½ cup granulated sugar (or sugar of choice. If I were making these for me, I'd use stevia)
½ cup light brown sugar (packed)
2 large cage/hormone free, vegetarian fed eggs
1 teaspoon Butter Extract (rum or vanilla extracts are fine too)
2 cups 100% whole wheat flour
½ cup unbleached all-purpose flour
1.5 teaspoons aluminum free baking powder
¼ teaspoon sea salt
¼ cup crushed toffee bits
1 cup toasted pecans (chopped)
¼ cup white chocolate chips
½ tablespoon extra virgin coconut oil, measured solid (plus more if needed)
Note
*WWpts= 1pt per serving*
*WWpts+= 2 pts per serving*
Directions
Step 1
Preheat oven to 350 degrees (F). Add flours, baking powder, and salt to a small bowl, whisk together, and set aside.
Step 2
Beat butters and sugars until fluffy, add eggs (one at a time) plus the butter extract and beat until they are well combined and the sugars have slightly dissolved. Slowly add in the flours, a little at a time, until well mixed.
Step 3
Stir in toffee bits and about half of the pecans. Divide the dough into fourths and drop onto a parchment lined baking sheet. Shape each quarter into a log and smooth and pat until each log is about 7-8 inches long and ¾ of an inch thick.
Step 4
Bake for 20-25 minutes or until golden brown and a toothpick comes out clean. Cool completely, about 20 minutes. Using a serrated knife, diagonally cut the logs into ½ inch wide cookies. Place back on the baking sheet, cut side down, and return to the oven. Bake for another 10-15 minutes or until golden brown. Transfer to a wire rack and cool completely.
Step 5
When biscotti are cooled, add coconut oil to the white chocolate chips and melt in the microwave, stirring in 10-15 second intervals. Drizzle the cookies with the white chocolate and immediately sprinkle with the rest of the chopped pecans.
Step 6
Enjoy!