🙂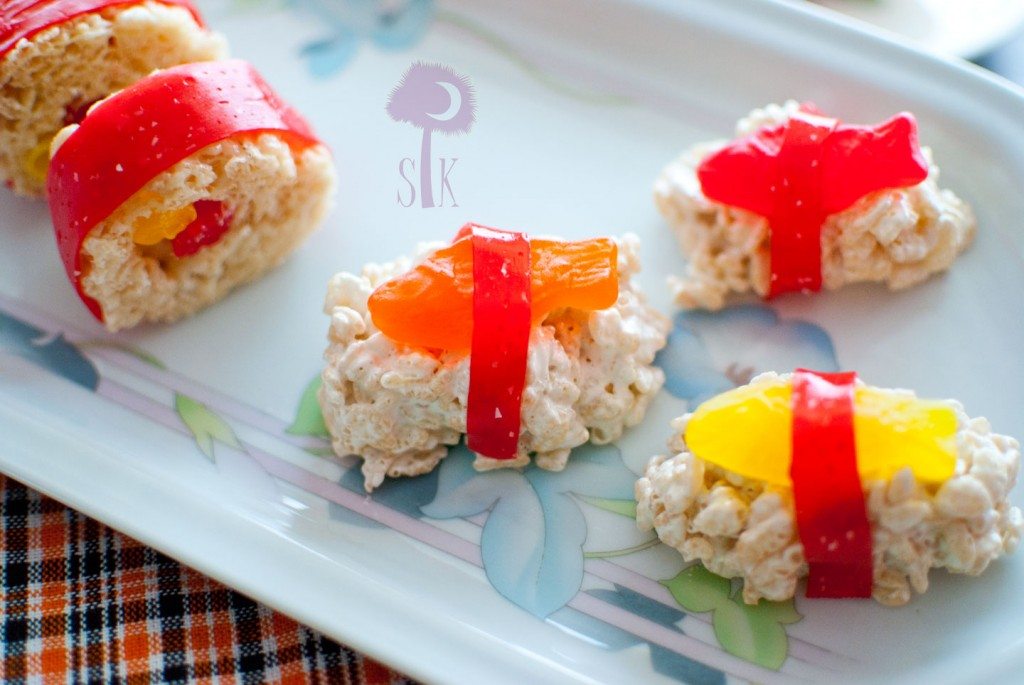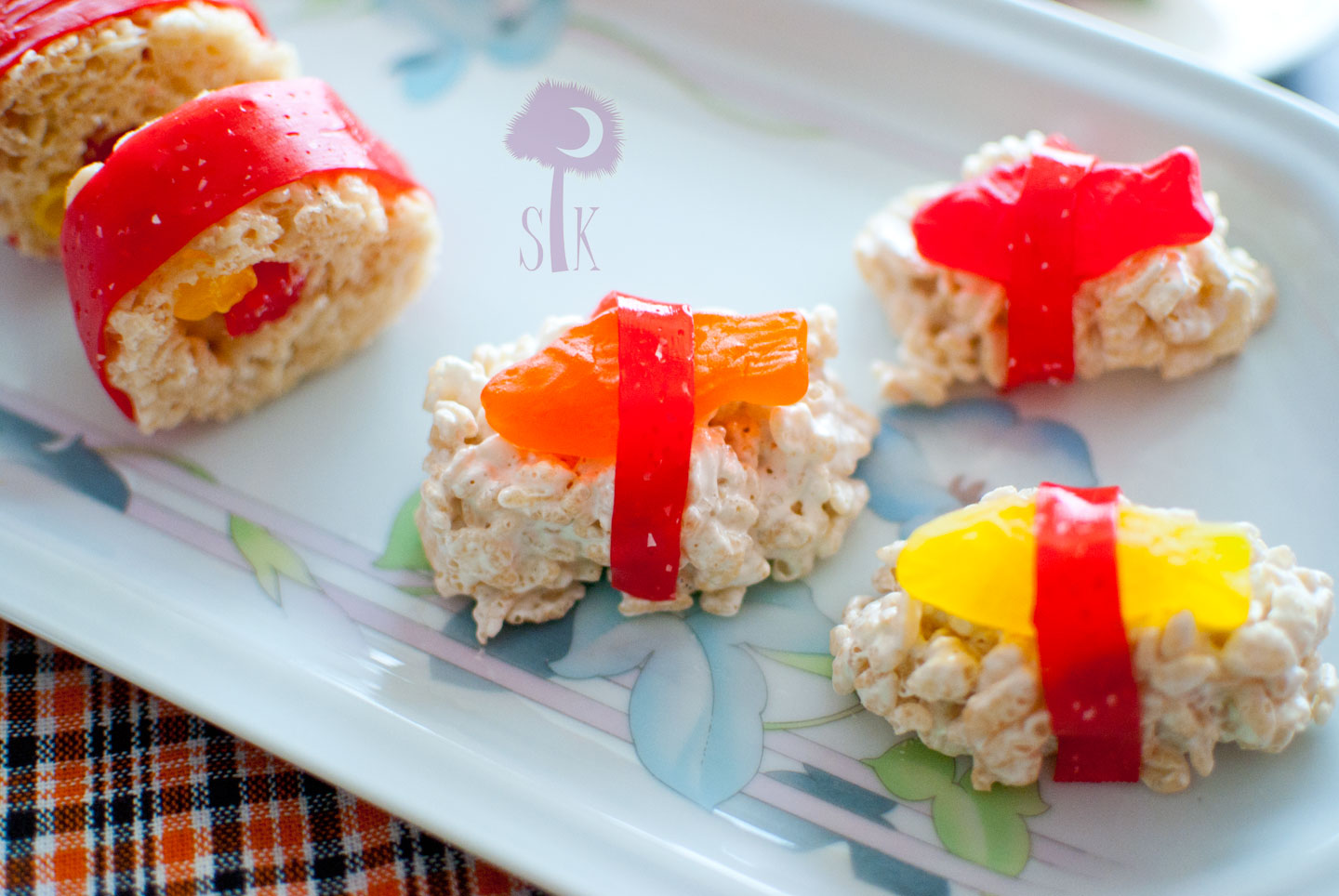 I know what you're thinking...
And I swear the only fish coming close to these yummies are Swedish.
I wish y'all could have seen my mother-in-law's face when I shoved a tray of these under her nose and offered her a sample this afternoon. The corners of her lips totally twitched, she stared at me in bewilderment and ever so politely declined.
It was hysterical.
Bless her heart.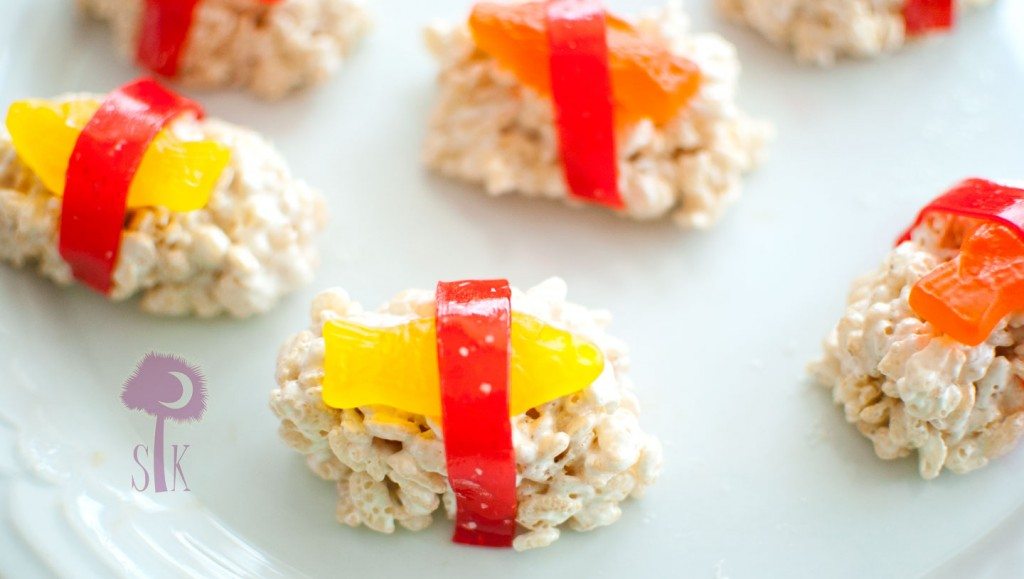 When I explained the concept of the treat and what ingredients were used, she willingly tried one...
Or two...
Or four.
I don't blame her. This candy crack is almost impossible to stay away from.
I first saw this dessert several years back while stalking my favorite Food Network star, Rachael Ray. (Don't hate. I love that yankee hooch.) Anywho, I decided to try them out when a big group of us were picnicking in Smythe Park, and I'm pretty sure every single one of the rolls were gone before I could even put the container down on the blanket we had spread underneath a looming oak.
The recipe was definitely a winner, and I've been making them ever since.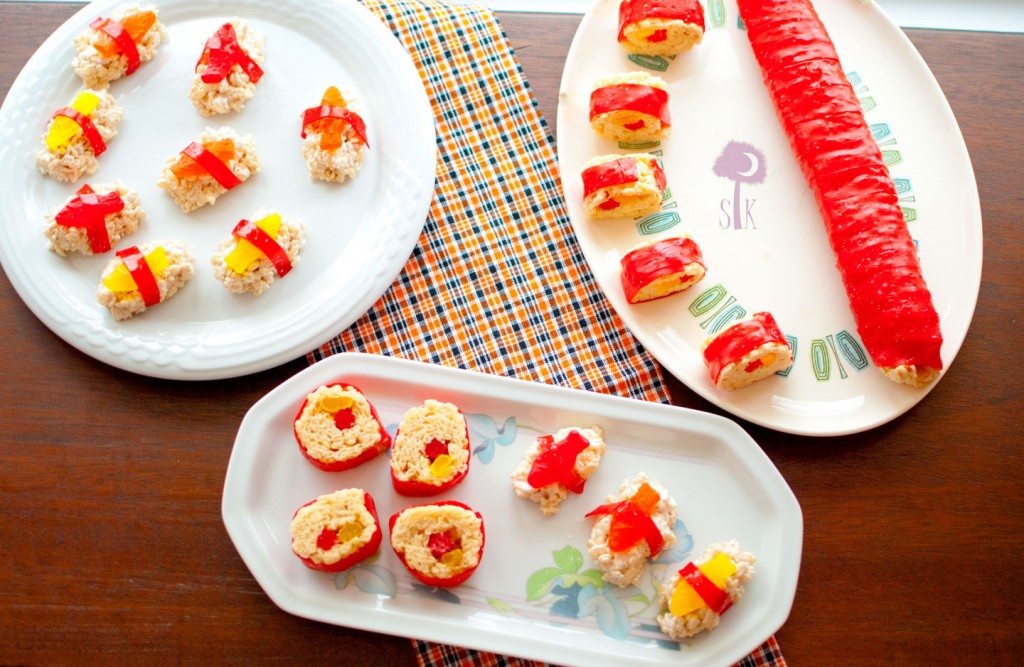 Okay, listen.
I know that I've been ranting and raving lately about my non-consumption of processed foods while trying to stick to all natural ingredients and the Paleo diet and blah, blah, blah, blah, blah. But let's be real here: I just made a very traumatizing move from my beloved hometown to the middle of BFE nowhere North Carolina, and I've barely had a chance to get settled in let alone find a grocery store within a reasonable driving distance that can provide me with all natural licorice wands and chemical free marshmallows so give me a break, will ya?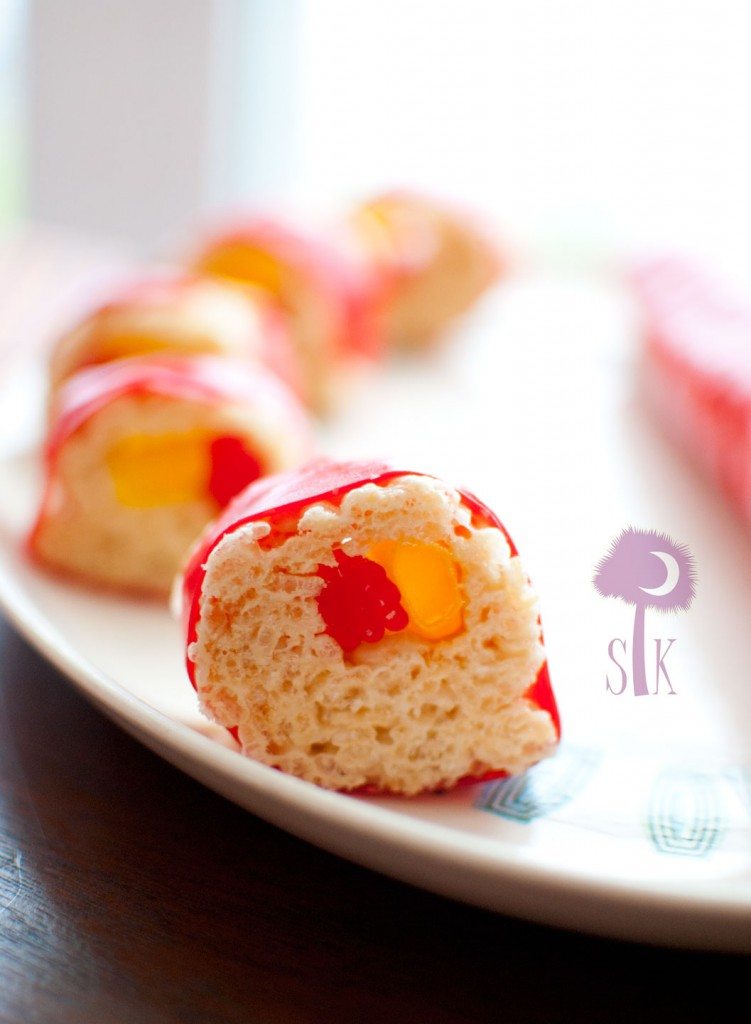 Pluuuuuus, it's October which means Halloween is right around the corner which means lions and tigers and Reese's cups, so you can't expect me to make so many changes all at once and actually stick to my guns because if I did then my head might just explode and then my husband would be left to pick up the pieces and then he would surely have a heart attack because he can't stand the sight of blood and then it really wouldn't matter if we ate naturally or not because we'd be dead.
I mean did you not just read that?
I said REE-SE CUPS.
Clearly it's just not natural to not eat Reese cups or fun Halloween snacks that will make you famous because everyone will think you are so clever and cool, especially when you tell them no, you absolutely did not run across this idea on Pinterest.
Everything in moderation people.
It is known.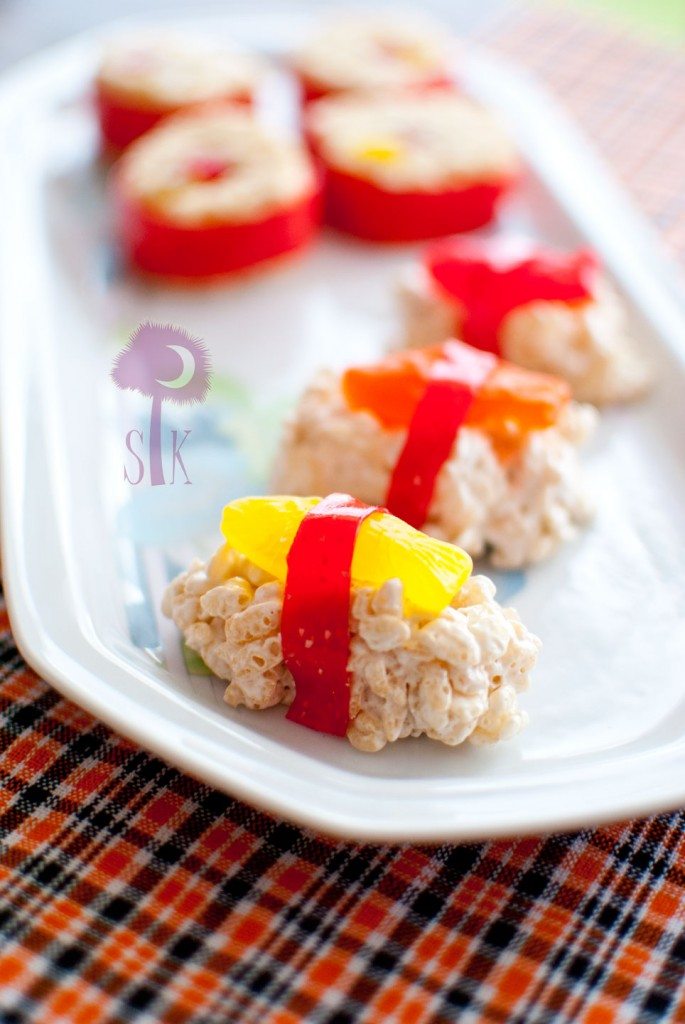 Getting to know you...
Have you ever had candy sushi before?
What's your favorite Halloween treat?
Do you live in the country?
Sassy Candy Sushi

Print recipe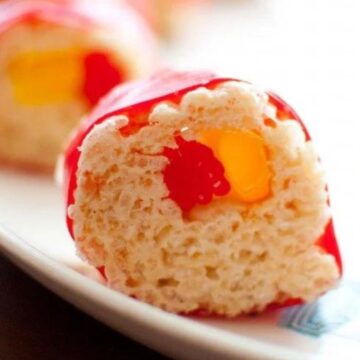 Ingredients
25 Large Marshmallows (x 2, separated)
2 tablespoons unsalted sweet cream butter (x 2, separated)
3 cups puffed rice cereal (x 2, separated)
2 red licorice wands (or any other tubular candy of your choosing. I used pull & peel twizzlers)
28 pieces gummy candy of your choosing (I used generic Swedish fish in different colors. 12 for the rolls and 16 for the sushi)
3-4 fruit roll ups (any flavor)
Directions
Step 1
Melt butter & marshmallows in the microwave in 30 second increments, stirring after each round.
Step 2
Once melted, slowly add 3 cups of rice cereal and stir until evenly coated.
Step 3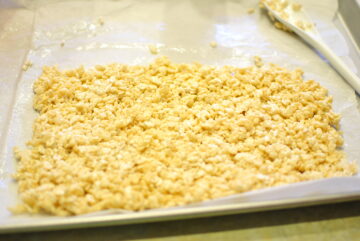 TO MAKE THE ROLLS:

At this step you can do one of two things, you could:

a. Add a thick layer of the marshmallow mixture directly to a large piece of parchment sprayed with non-stick spray, pressing down gently so the mixture is flattened. (This is the technique I used.)

b. Fully open two fruit roll ups and lay side by side on parchment paper sprayed with non-stick spray. Add a thick layer of the marshmallow mixture on top of the fruit roll ups and press down gently so the mixture is flattened and the fruit roll ups stick to the rice krispies. Make sure to not spread the mixture any larger than the fruit snack! Continue to step 4.


Step 4
Add one licorice wand just above the edge (the part closest to you) of the krispie mixture and then line 6 gummy fish (lengthwise) as close to the wand as possible.
Step 5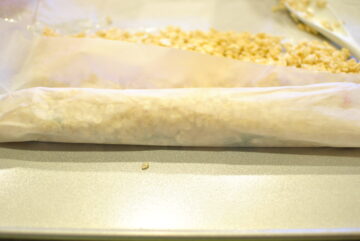 Using your parchment as a makeshift sushi mat, gently roll the mixture until the candies are covered and everything is compact. Gently squeeze the roll together so as to hold it in place better.
Step 6
Cut along the edge of the roll and repeat steps 4 & 5.
Step 7
Tightly secure the rolls and refrigerate for 5 minutes before slicing. If you chose option b above, wrap the roll with the fruit roll up after refrigerating. Slice in about one inch slices when ready to serve.
Step 8
TO MAKE THE SUSHI:

Repeat steps 1 & 2 above.
Step 9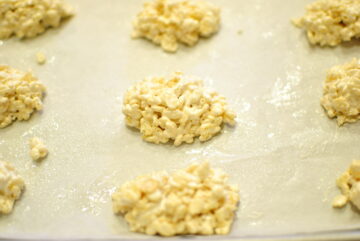 Spray your hands with non-stick spray and form the rice krispie mixture into little oval balls. You should get approximately 16-18 pieces.
Step 10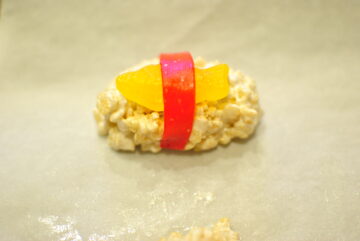 Top each ball with a swedish fish and then wrap with a small strip of fruit roll up.
Step 11
Enjoy!