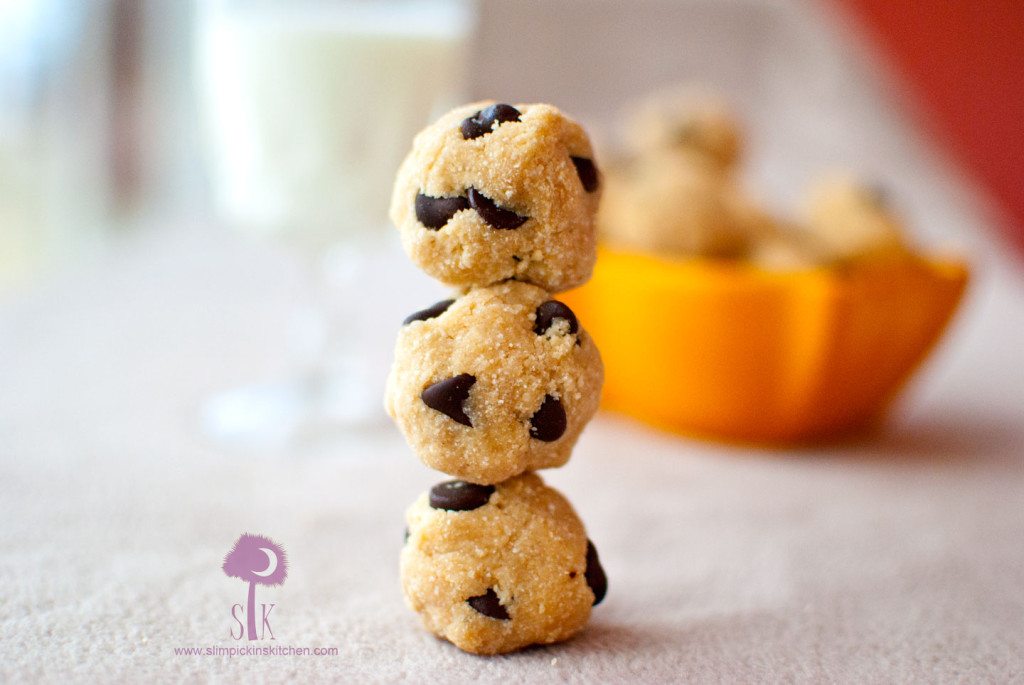 Hi.
I made you some balls.
Sweet and succulent grain free, no bake chocolate peanut butter coconut cookie dough balls.
Can you say that five times fast?
Oh, and apparently one of them has a mustache.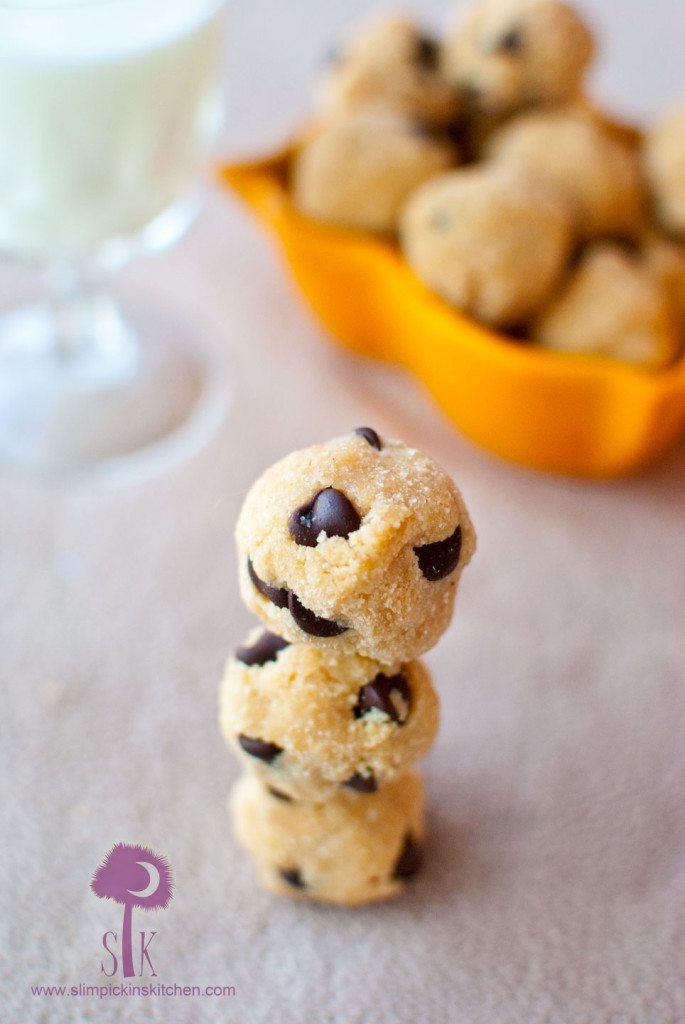 These little beauties are the perfect thing to snack on when you are craving something sweet, but you don't want to blow your calorie count, weight watchers points, or sugar intake any more than you already have because you have been slamming back brewskies and watching funny Budweiser commercials or you've just stuffed your face full of expensive steak with your Valentine.
Why?
Because you can make them ahead of time, they aren't loaded with butter, eggs or sugar, you can leave them out on a giant tray or in a heart shaped box and serve them for the aforementioned Super Bowl party or Valentine's Day soiree, and they aren't even made with your standard grain fueled all purpose &/or whole wheat flours.
Pretty flipping amazeballs if you ask me.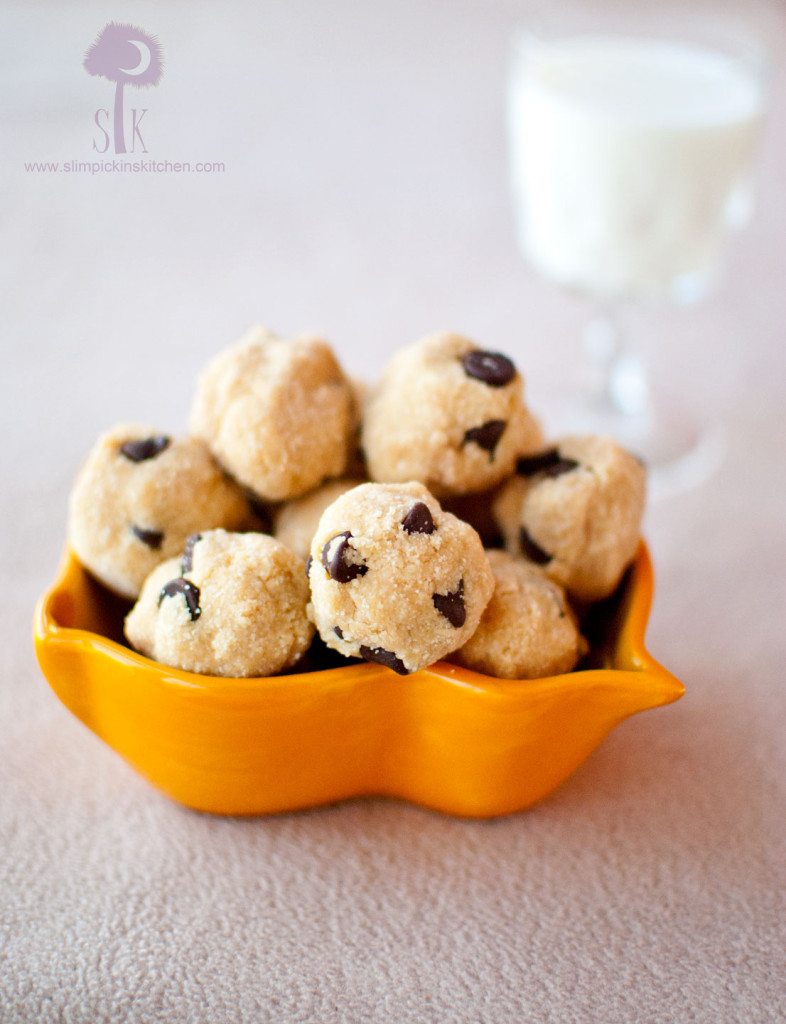 The basis for this recipe came from Katie at Katie Did who is an awesome Paleo lifestyle blogger.  We all know how much I love the Paleo diet (even though it's really hard for me to completely stick with it on a full-time basis) so when I realized I had accidentally ordered an over abundance of coconut flour b/c I'm a moron like that, her site was the first place I went. I quickly discovered her recipe for Lemon Poppy Seed No-Bake cookies, and I immediately fell in love.
Since I already have a recipe for a citrusy type cookie on here and because I had single-handedly sabotaged an entire batch of not-so-healthy frozen chocolate chip cookie dough I had made and tucked away in our freezer to bake up whenever "my husband's" (HA!) cookie craving hit, I figured I should go ahead and revamp a chocolate chip cookie dough recipe instead.
Now, I'm just going to go ahead and tell you right now that these cookie dough balls aren't nearly as moist and decadent as your standard cookie dough, and they most certainly aren't going to taste exactly like that delicious, chemical laden tube of goop we are all guilty of eating as soon as the wrapper is peeled off, but I promise they are absolutely delicious.
Coconut flour has a tendency to stay a wee bit dry, but I feel as if I added enough liquid to keep the texture soft yet sturdy enough to form into balls. Plus the coconut flour and almond flours just gives these low calorie treats such an intense depth of flavor. You can seriously taste every single ingredient that is in them, and it is completely heavenly.
The addition of peanut butter? Well, that's just because.
Because peanut butter is the shiznittle bam.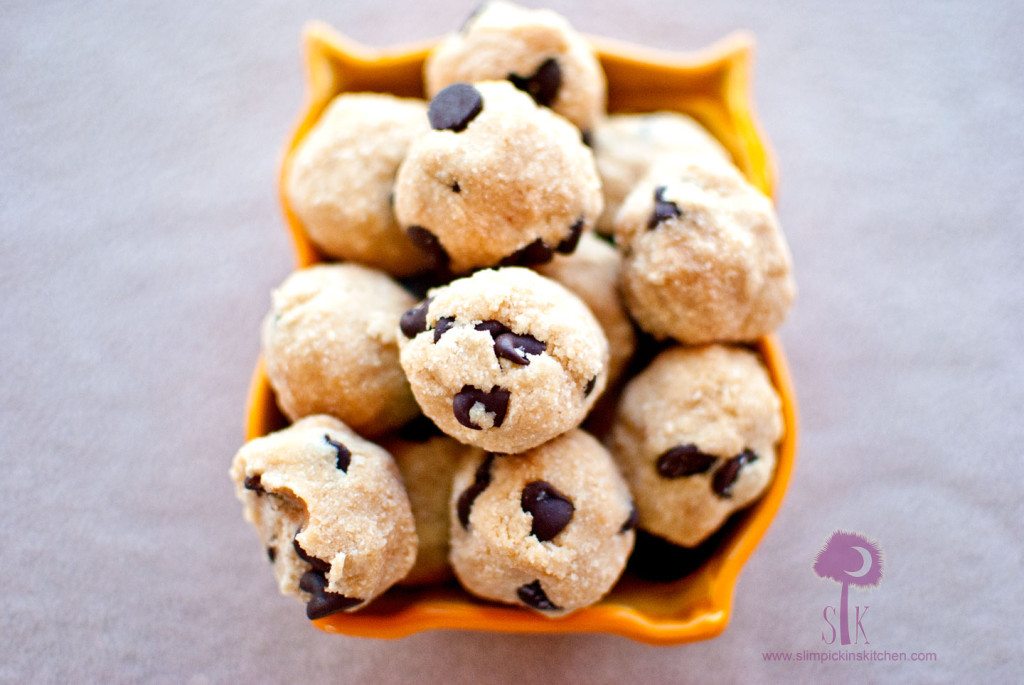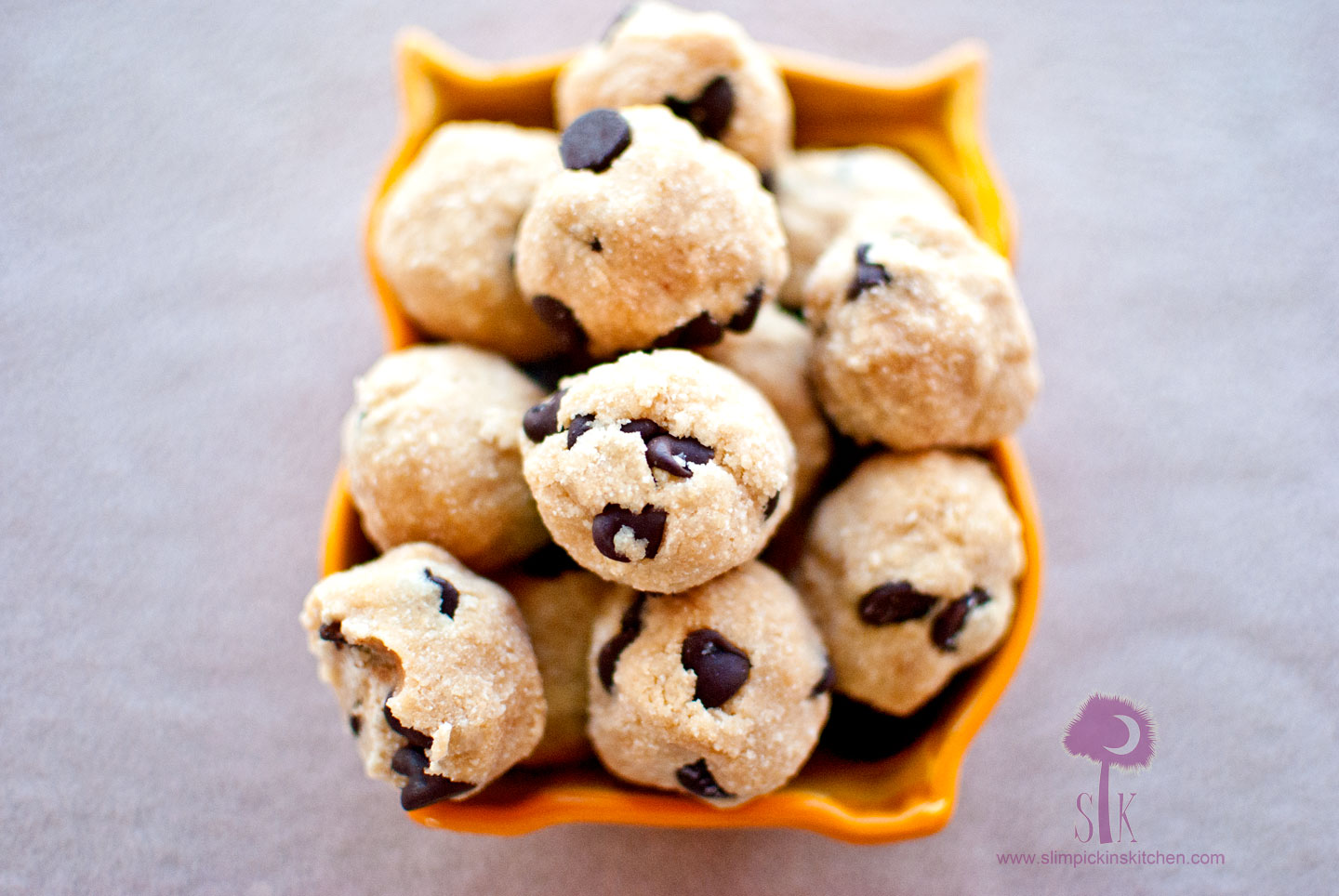 Getting to know you...
Do you follow a specific diet?
What are your Super Bowl plans?
Do you like crunchy or creamy peanut butter?
Grain Free No Bake Chocolate Peanut Butter Coconut Cookie Dough Balls

Print recipe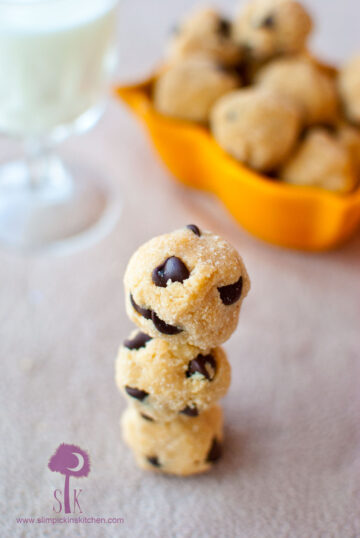 | | |
| --- | --- |
| Serves | 24 |
| Prep time | 15 minutes |
| Allergy | Peanuts |
| Dietary | Gluten Free, Vegan, Vegetarian |
| Meal type | Dessert, Snack |
| Misc | Child Friendly, Freezable, Pre-preparable, Serve Cold |
| Occasion | Barbecue, Birthday Party, Casual Party, Christmas, Easter, Formal Party, Valentines day |
| Website | Recipe Adapted from Katie Did |
Ingredients
¾ cups almond flour
½ cup coconut flour
¼ cup + 2 tablespoons unsweetened vanilla almond milk (add more if you feel the dough is too dry)
¼ cup extra virgin coconut oil (measured solid then melted)
2 tablespoons all natural peanut butter (or nut butter of choice)
1 ½ teaspoon pure vanilla extract
20-40 Nunaturals liquid stevia drops (to taste)
⅛ teaspoon salt
½ cup Ghirardelli semi-sweet chocolate or mini chocolate chips
Note
*WWpts and WWpts+= 2 pts per serving*
Directions
Step 1
Mix all ingredients in a bowl until well combined and the dough is the consistency you want.
Step 2
Roll into 24 small balls (the chocolate chips will want to separate b/c of the oil, just squeeze them together really hard and they'll stick), place on a cookie sheet, and freeze for about 15 minutes.
Step 3
Transfer to a plastic bag or container and store in freezer until ready to eat.
Step 4
To serve, remove balls from freezer and let sit for about 5 minutes until they start to soften. Place in a bowl or on a platter and you're good to go!
Step 5
Enjoy!