🙂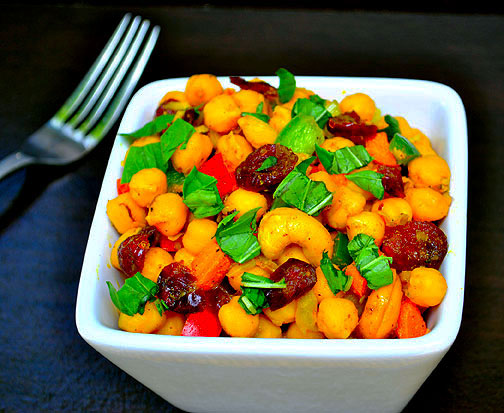 I will never forget the first time I ate curry.
I was in Ceres, Scotland at the home of my brother from another mother, Andrew.
Drew, as we so call him, became a part of my family years and years ago when he was a high school Scottish exchange student who quickly befriended my older brother. He was soon "adopted" by us and we have all kept in touch ever since.
In 2004, my family and I made the trek to the mother country (we are Scot-Irish), and stayed at the home where Drew and his sisters grew up.
By the way we were treated the 3 weeks we were there, you would've thought that we were royalty.
Every day, Andrew's mom made the most immaculate meals and snacks for us for breakfast, lunch, tea, and supper.
The evening meals ranged from freshly roasted leg of lamb served with fingerling potatoes and fresh mint, to smoked Scottish Salmon caught on the Orkney Islands and displayed with capers and fresh lemon, to an amazing vegetarian curry served over white rice with coconut, bananas, and cashews on the side.
At that point in time, curry had never graced my palate, and I fell in love with it at first bite.
So, years later, when I stumbled upon an article in the NY Times called 101 Simple Salads of the Season which had an idea for a coconut chickpea salad, I knew I had to re-create it...immediately.
I followed their ideas, sprinkled in some ideas of my own and VOILA! the perfect summertime salad was born.
When I first tested this salad, my brother *LOVED* it so much, he begged for the recipe and made another batch as soon as was utterly possible.
This salad is sweet, savory, crunchy and munchy and would be fantabulous served alongside any grilled meat or seafood. My Cinnamon and Coriander Spiced Steak, perhaps?
If meat and/or seafood don't float your boat, it is absolutely delicious served exactly as is!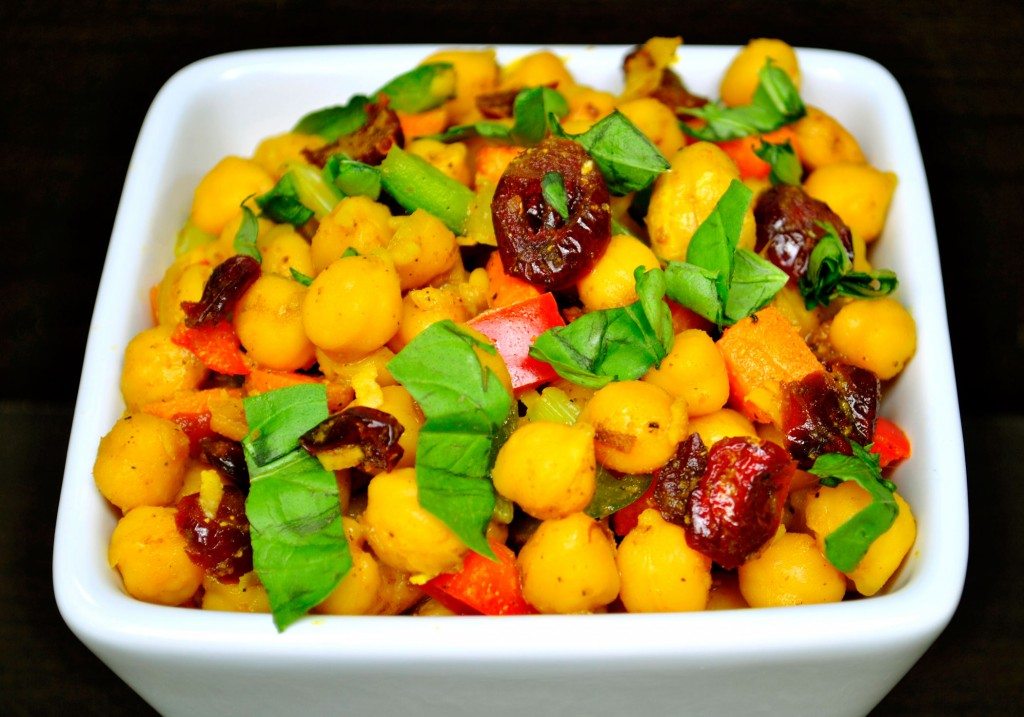 Note: You could sub canned chickpeas for this recipe, but you will be missing out on the opportunity to flavor the beans themselves. Also, dried beans are cheaper and you'll get more bang for your buck! To toast coconut, place in dry pan over low heat and cook until slightly browned.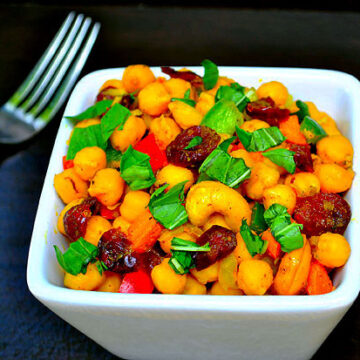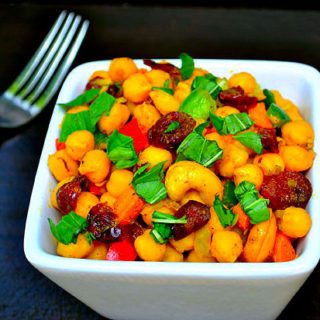 Ingredients
1

bag dry chickpeas

about 2 cups

6-12

cups

water

1

quart

chicken or vegetable stock

½

tablespoon

kosher salt

juice and zest of one fresh lime

2

tablespoon

honey or agave nectar

1.5

tablespoon

curry powder

½

teaspoon

garlic powder

1

tablespoon

olive oil

½

red bell pepper

½

green bell pepper

1

whole or 6 baby carrots

2

large celery stalks

⅓

cup

dried cranberries

½

cup

roasted cashews

½

cup

unsweeted shredded coconut

toasted

handful chopped fresh cilantro

handful chopped fresh basil
Instructions
Place chickpeas in a large bowl and top with 6-8 cups water. Let soak 6-8 hours or overnight in refrigerator.

Drain water from chickpeas.

Add peas to large pot with stock, bay leaves, and salt. Add the remaining water, or enough to cover, and bring to a boil.

Lower heat to simmer and cook until the chickpeas are fork tender. About 30-45 minutes.

While chickpeas are cooking, make dressing by whisking together lime juice and zest, honey, curry powder, garlic powder and olive oil.

Drain chickpeas and add on top of the dressing.

Chop peppers, carrots, celery, and add to the chickpeas.

Add cranberries, cashews, coconut, and herbs and stir until everything has been coated with the dressing.

Add salt and pepper to taste.

Refrigerate until ready to serve.

Enjoy!
Notes
*WWpts=3 pts per serving* *WWpts+= 4 pts per serving*
Nutrition
Serving:
1
g
|
Calories:
153
kcal
|
Carbohydrates:
22
g
|
Protein:
6
g
|
Fat:
5
g
|
Fiber:
1
g